If you're new to baking with ube or looking for an exciting way to use purple yam in desserts, we've got a delicious recipe for you: vegan purple ube cupcakes. They're super pretty and easy to make!
The great thing about this recipe is that you won't need any weird food dye, just naturally purple ube spread. You can buy it ready-made or prepare it from scratch using a few simple ingredients.
Then, use the ube spread to make both the muffins and the purple frosting, put the two together, and you'll have wonderful cupcakes — worthy of a patisserie display!
Ube spread is made from fresh purple yams cooked with sugar and then mashed into a creamy pureé. It's also known as ube halaya, which means "purple yam jam" in Filipino.
You can find ube halaya online or at your local Asian food store. But, if you can get some fresh ube, it's really easy to make it yourself following our ube butter recipe.
In our recipe, we mixed mashed ube with a little coconut oil, softened at room temperature. It adds flavour, richness, and creaminess. It's practically like butter. But purple. And 100% vegan!
And the awesome thing is you can use it as a vegan butter replacement to make all sorts of purple yam sweets and bakes, including these ube cupcakes.
By adding coconut oil to the ube spread and letting it harden in the fridge, you'll have a dense and firm frosting. Then, it will be super easy to pipe it over the cupcakes. So, all you have to do is choose your favourite nozzle shape and have fun!
As mentioned above, you'll need the ube butter also in the cupcake batter. It will replace the classic dairy butter in this vegan recipe. And at the same time, it will add colour, flavour, and texture to the cupcakes.
Time to get your kitchen apron on and get bakin'!
Ingredients
Ube Spread

recipe

220 g

Caster Sugar or Sugar-Free Erythritol

100 g

Oat Milk

100 mL

Apple Cider Vinegar

1 tsp

Self-Raising Flour

150 g
Step 1
Preheat the oven to 190°C (375°F).
As for the ube, you can make the spread from scratch using purple yams (or purple sweet potatoes), coconut oil, and maple syrup following our vegan ube butter recipe.
Alternatively, you can use ube halaya, also called ube jam, which is available online. If you do, reduce the amount to 170g (6oz) and blitz it with 50g (1.8oz) of softened coconut oil to get a denser, firmer spread.
In a bowl, beat 100 g of ube butter with sugar or sugar-free erythritol until soft and fluffy.
In a jug, mix oat milk with vinegar and let it curdle for 5 minutes.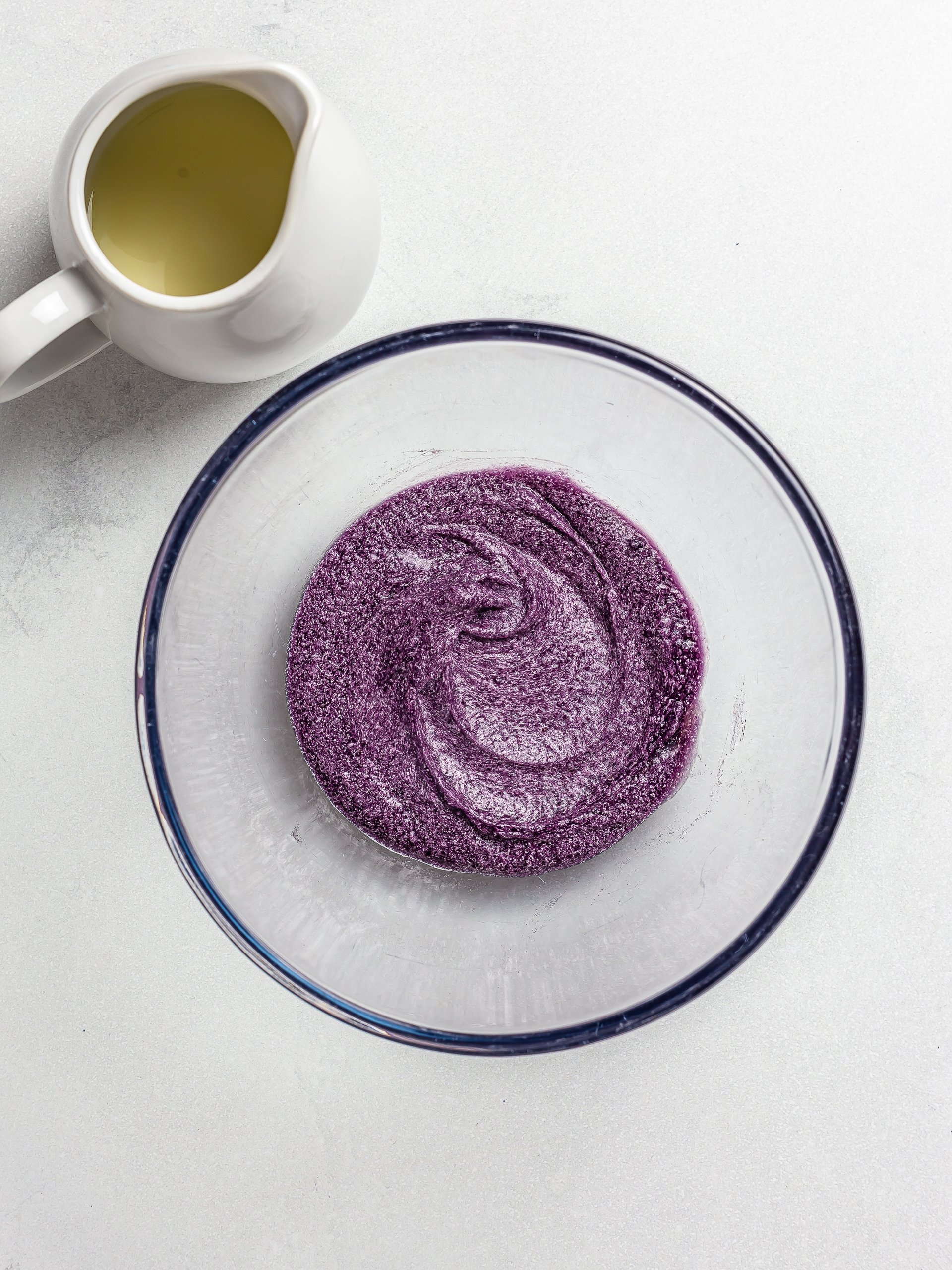 Step 2
Next, incorporate the milk into the ube mix and add sifted flour a bit at a time.
Beat all into a smooth and silky purple batter.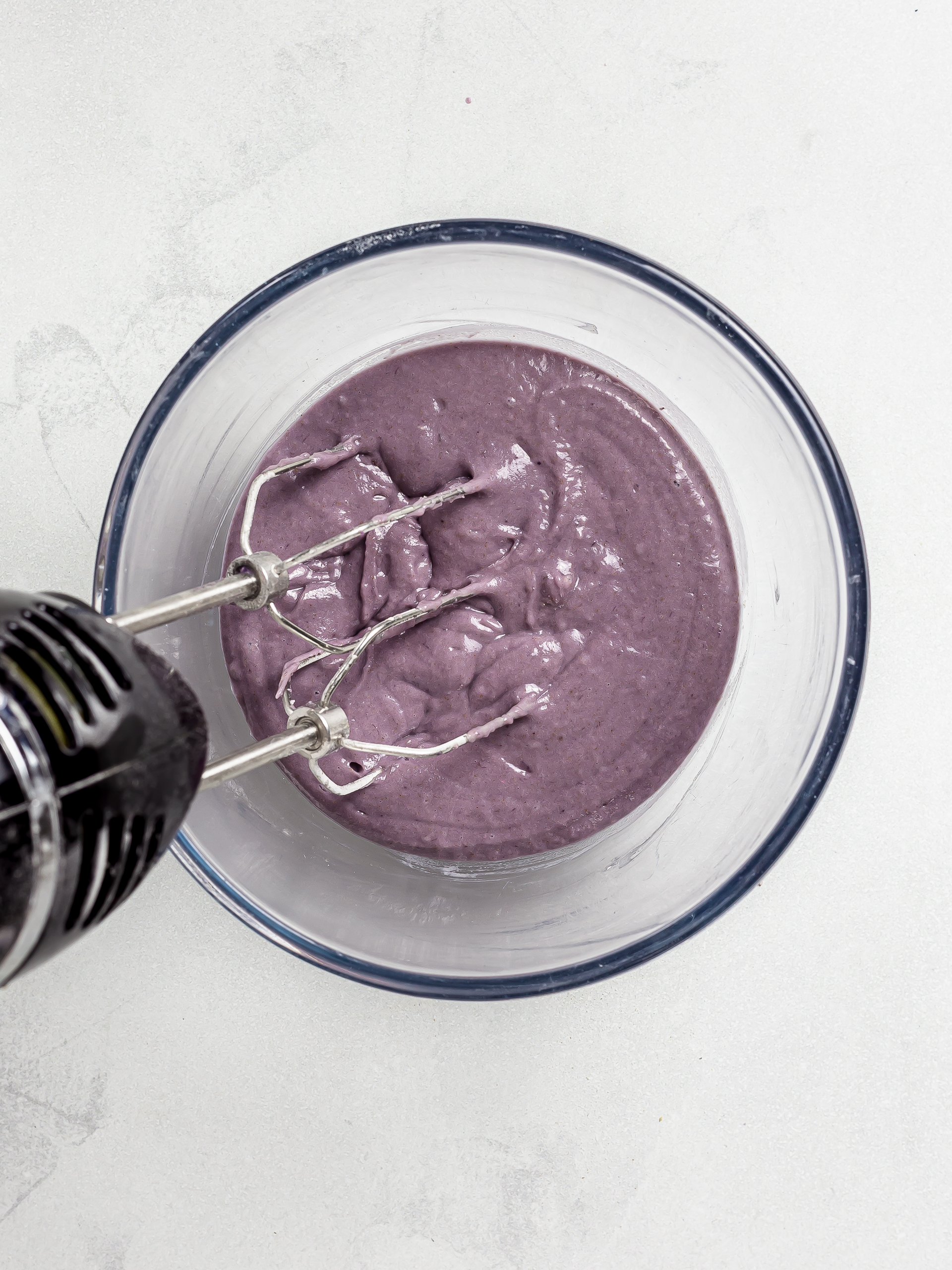 Step 3
Now, line muffin tins or ramekins with paper cases and pour in the ube batter, filling the cases at 3/4.
At this point, you can use a little trick to make sure the muffin will rise uniformly and won't crack on the edges.
Mix a bit of vegetable oil with some starch in a cup to make a runny mixture similar to melted butter. Then, dip the tip of a knife into the oil mix and mark a cross into the batter at the centre of the muffins.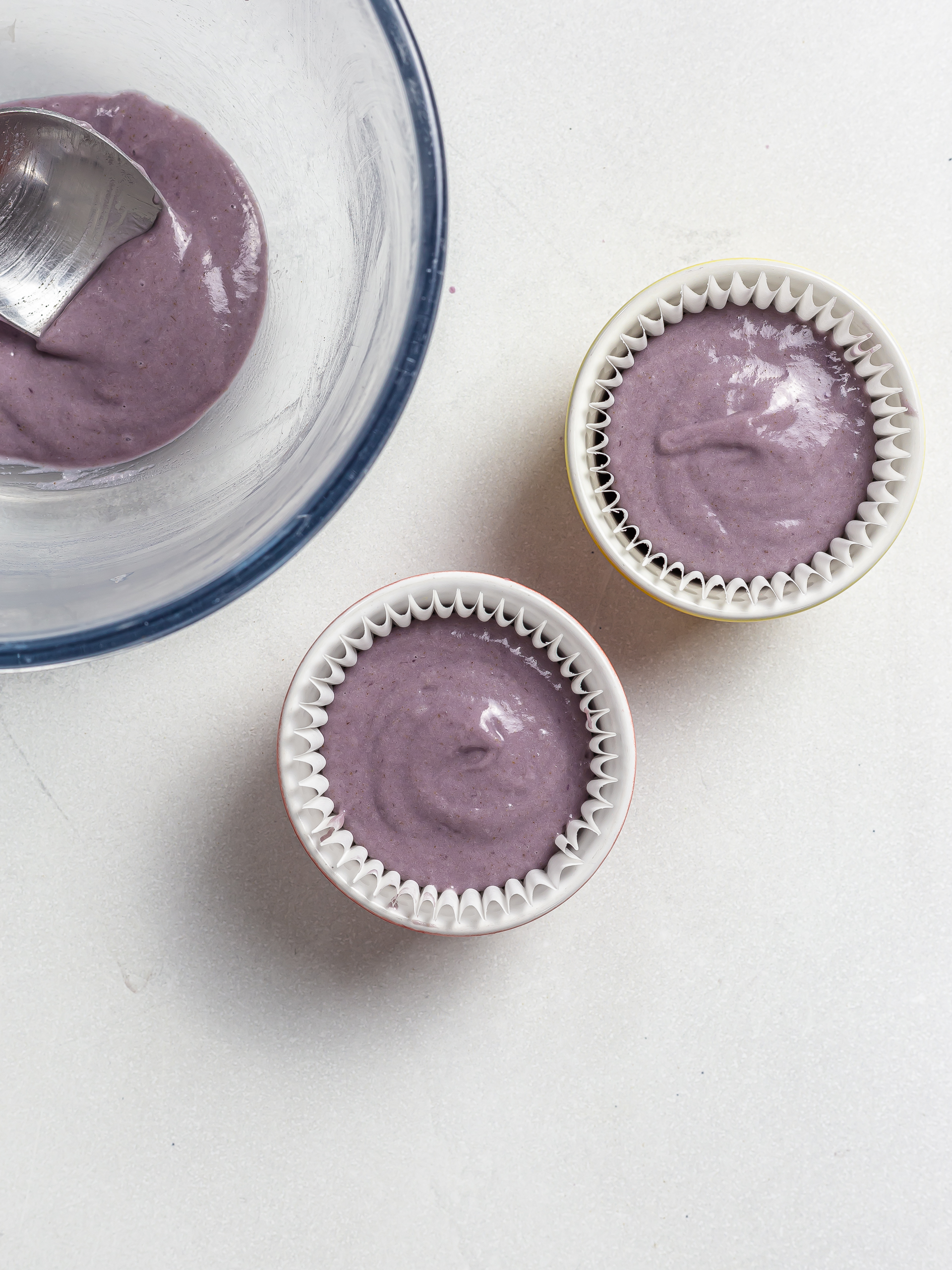 Step 4
Bake the ube muffins for 25-30 minutes or until a skewer inserted in the centre comes out clean.
Once ready, remove the cupcakes from the tins and let them cool down completely on a rack before frosting them.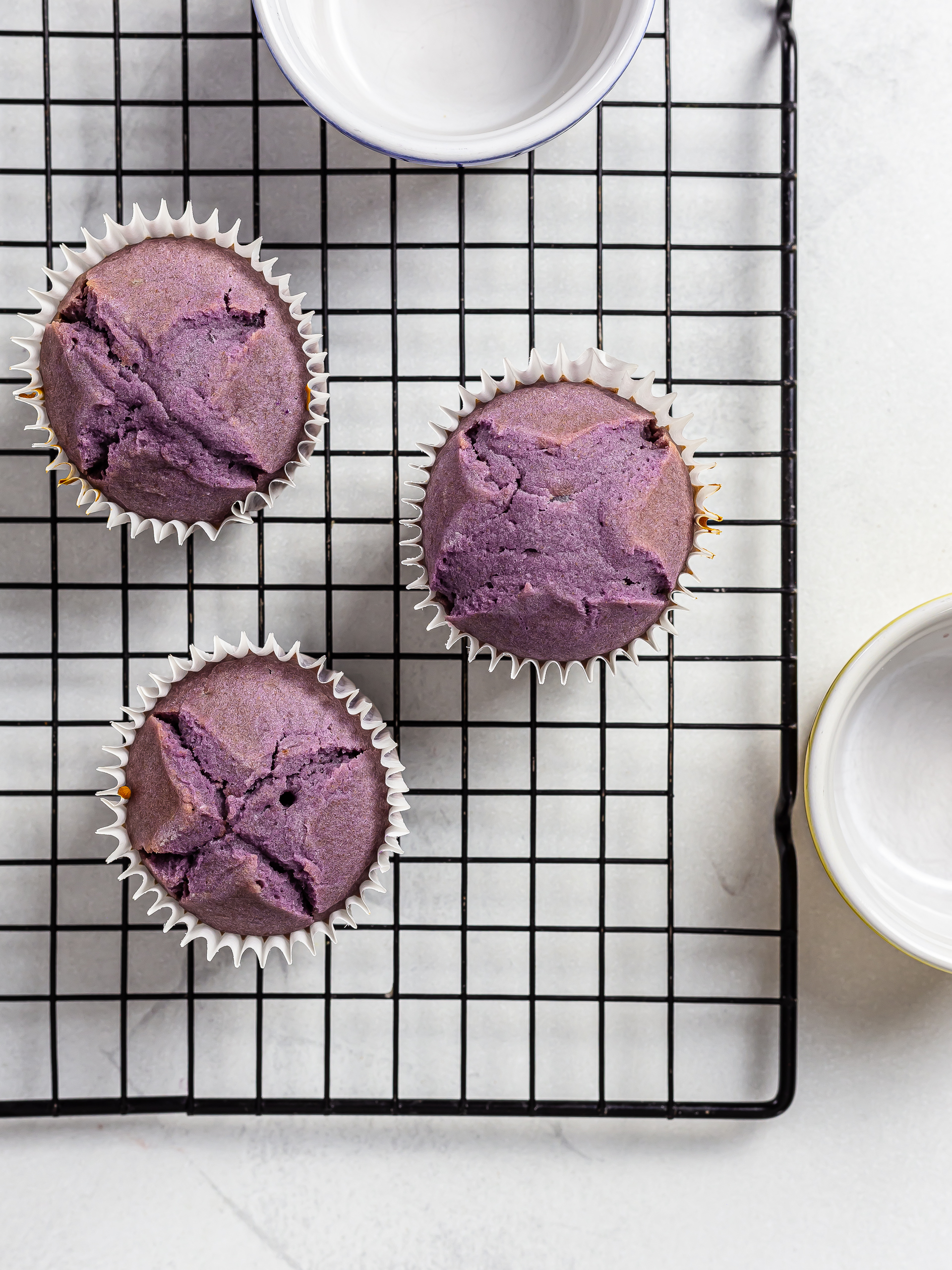 Step 5
Before decorating the cupcakes, make sure the ube spread is firm, creamy, and holds its shape. If needed, keep it in the freezer until hardened.
Now, spoon the remaining ube spread into a piping bag fitted with a star nozzle (or any nozzle shape you like).
Hold the bag perpendicular to the cupcake and, starting at the outer edge of the cupcake, pipe the ube frosting to make a circle.
When you complete a full circle, move the piping bag slightly inward to create the next circle. Continue piping until you have done three circles and finally pull away the bag.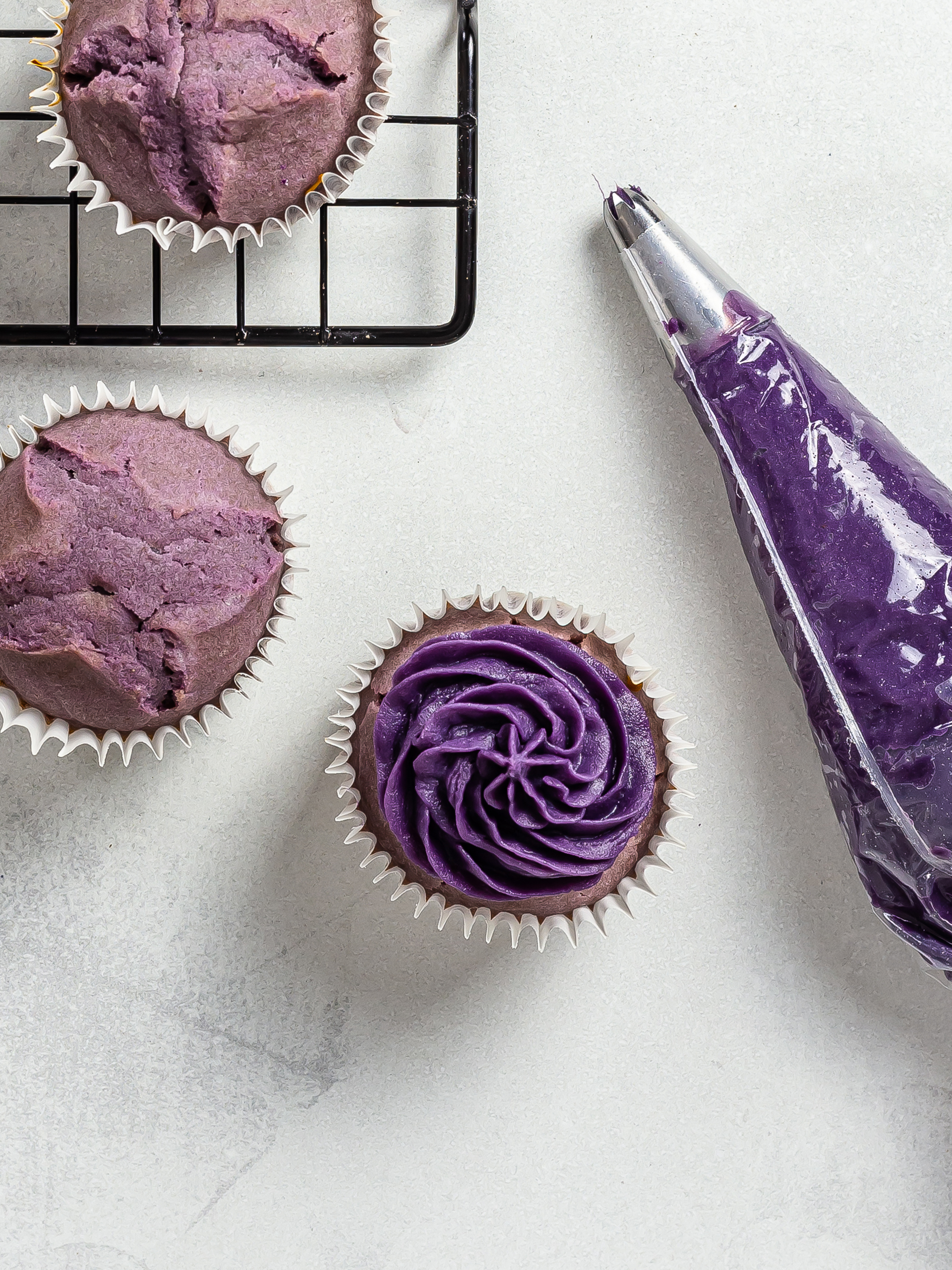 Tips
You can flavour the ube batter with one teaspoon of vanilla or almond essence or a pinch of ground cinnamon.