After making a healthy refined-sugar-free caramel sauce, we could find no better recipe to try it on than a silky flan.
Among the various Vietnamese dishes we enjoy making, their coffee flan (Cà Phê Bánh Flan) is one of our favourites. So today, we'll show you how to make a healthy Vietnamese coffee flan, that is both vegan and refined-sugars-free.
Like any classic creme caramel recipe, the Vietnamese coffee creme caramel contains eggs, milk, and white sugar. Making allergen-free recipes is one of our primary objectives, so we made this flan both dairy-free and vegan by replacing eggs with vegan gelatin and cow milk with almond milk.
Moreover, this recipe contains zero refined sugars, thanks to our date caramel sauce and erythritol. Caramel made with raw dates has the consistency of real caramel and tastes like dates — yum. And it's easy to make! We'll show you how to do it below.
By preparing flan with just plant-based ingredients, you can enjoy a dessert that is both wholesome and tasty. One of these mini creme caramels has only 100 calories, with 3.9% carbs, 5% fats, and 2% sugars RDI. It's quite the thing considering that a traditional creme caramel has 267 calories, four times more sugars, and double the fats!
And you'll be happy to hear that this recipe is very simple to make. In fact, this is a no-bake flan. We broke down all the steps below to make it a breeze for you to follow along. Ready for something special? Let's go!
Frequently Asked Questions
What can I use instead of silken tofu?

To replace the heavy cream and eggs used in the classic flan recipe, we used blended silken tofu. Thanks to its high protein content, tofu gives structure to vegan bakes and desserts without affecting the flavour.

However, if you don't have it at hand or have a soy allergy, you can swap it with full-fat coconut cream, thick yogurt, or a mixture of milk and cornstarch.
Can I make this flan without vegan gelatine?

Instead of vegan gelatine, you can use agar agar but it's a little expensive. For every 250ml (1 cup) of milk, you can use 1/2 tsp of agar powder and then add it the same way we did for the gelatine in this recipe.
How can I make the coffee caramel?

To keep the sugars as low as possible, we used our date caramel recipe to prepare the coffee caramel for this flan. It's super simple to make!

However, you can also prepare it with maple syrup and coconut sugar. Combine two tablespoons of maple syrup with two tablespoons of coconut sugar/brown sugar in a pot. Allow the mixture to boil and then pour it in the ramekins.
What can I use instead of erythritol?

Erythritol is a zero-calorie natural sweetener that tastes almost as sweet as sugar, but it doesn't get digested.

To keep the sugars low, you can replace it with stevia, another sweetener.

Alternatively, you can use maple syrup, or if not vegan, honey.
Ingredients
Caramel
Pitted Dates

100 g

Water

200 mL

Instant Coffee

1/2 tsp

Pudding
Almond Milk

250 mL

Erythritol

35 g

Silken Tofu

130 g

Vanilla Extract

1/2 tsp

Vegan Gelatine

4 g
Step 1
We made the coffee caramel with a healthy syrup of dates, but you can also check our FAQ below for more ways you can make it.
Boil the dates in water for 15 minutes over low heat. Then, transfer all into a food processor and blitz until smooth (1).
Next, pour the date cream into a cheesecloth or nut bag and squeeze it tightly to extract the syrup water out and into a bowl (2).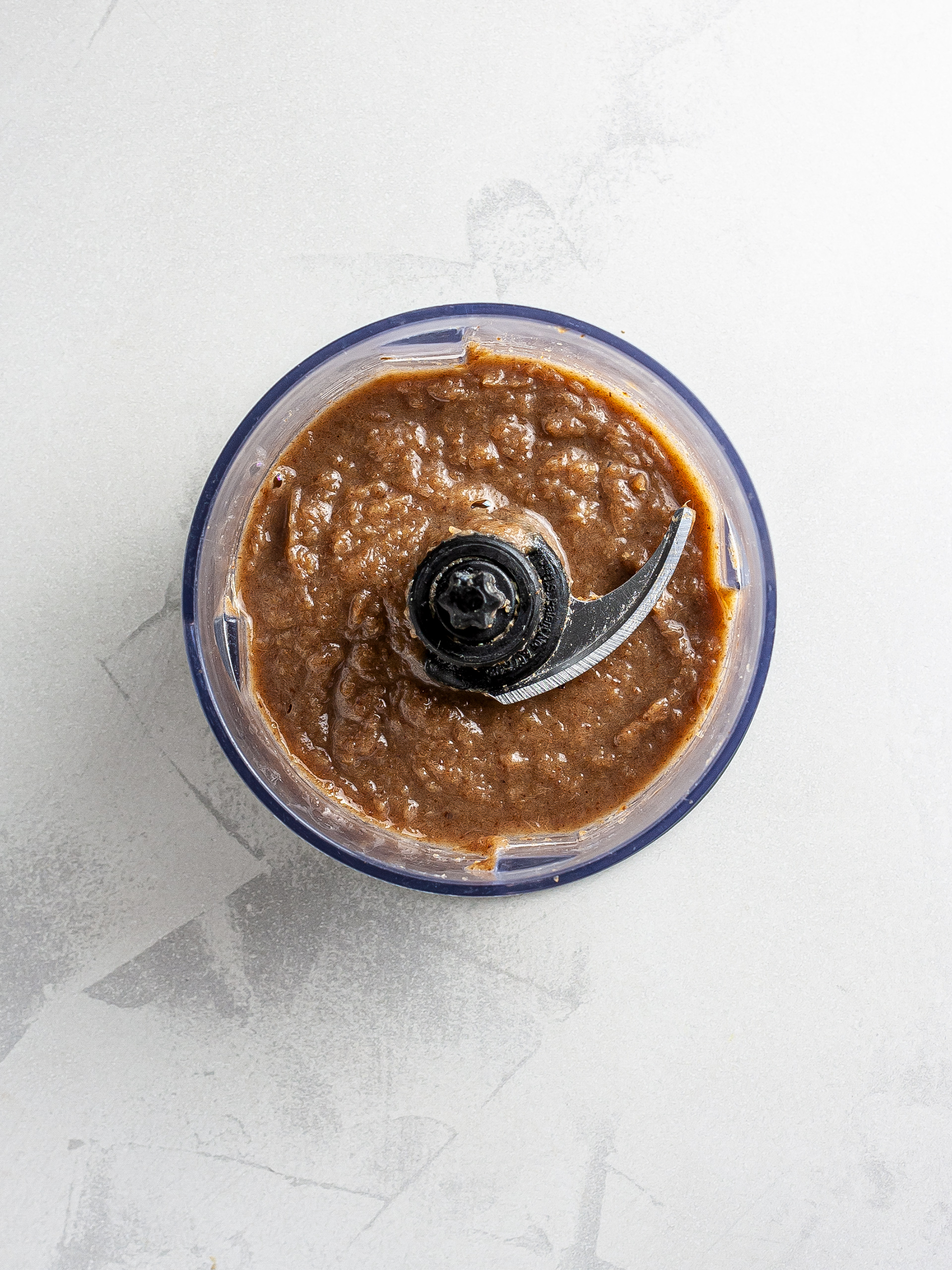 1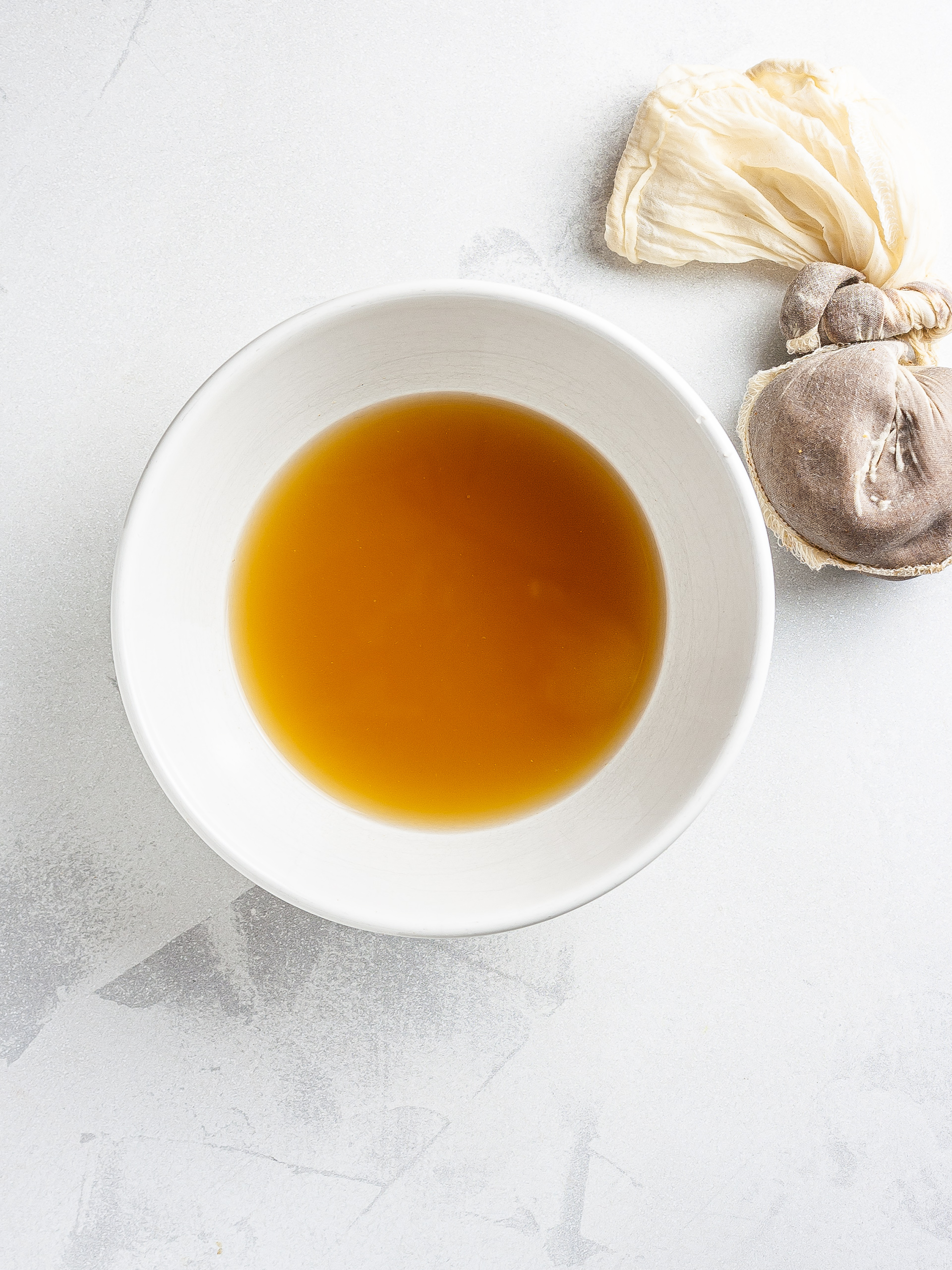 2
Step 2
Now, pour the date syrup in a saucepan and stir in the instant coffee.
Bring all to a boil and simmer over medium heat for 8 minutes. When, the surface is covered with frothy bubbles, and the syrup turns dark brown, the caramel is ready.
Next, divide the coffee caramel among ramekins and place them in the fridge.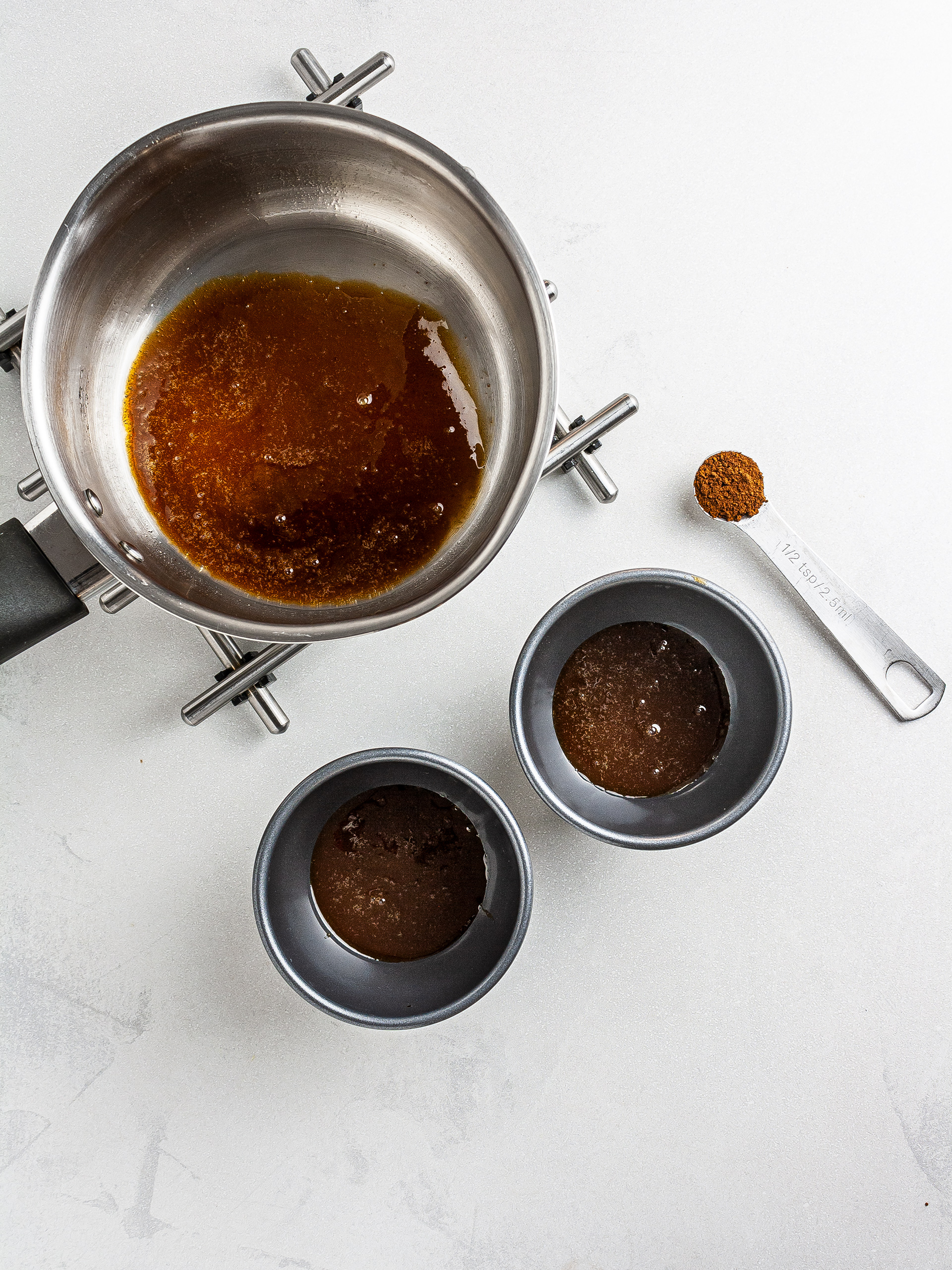 Step 3
Next, whizz the silken tofu in a food processor until smooth (1).
Whisk the tofu with almond milk, erythritol, vanilla, and vegan gelatine in a saucepan.
Then, bring the mixture to a boil over medium heat to let it thicken (2).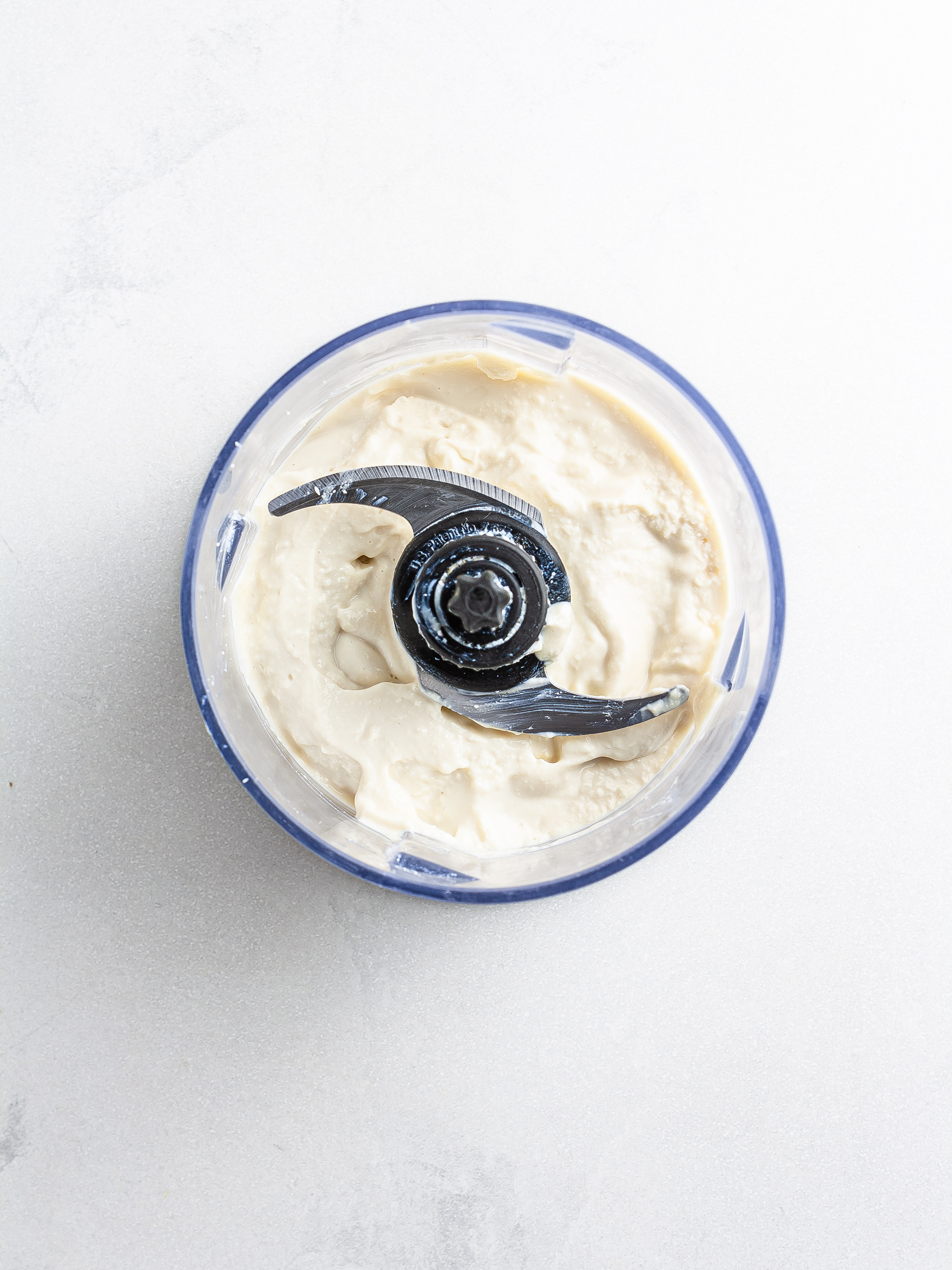 1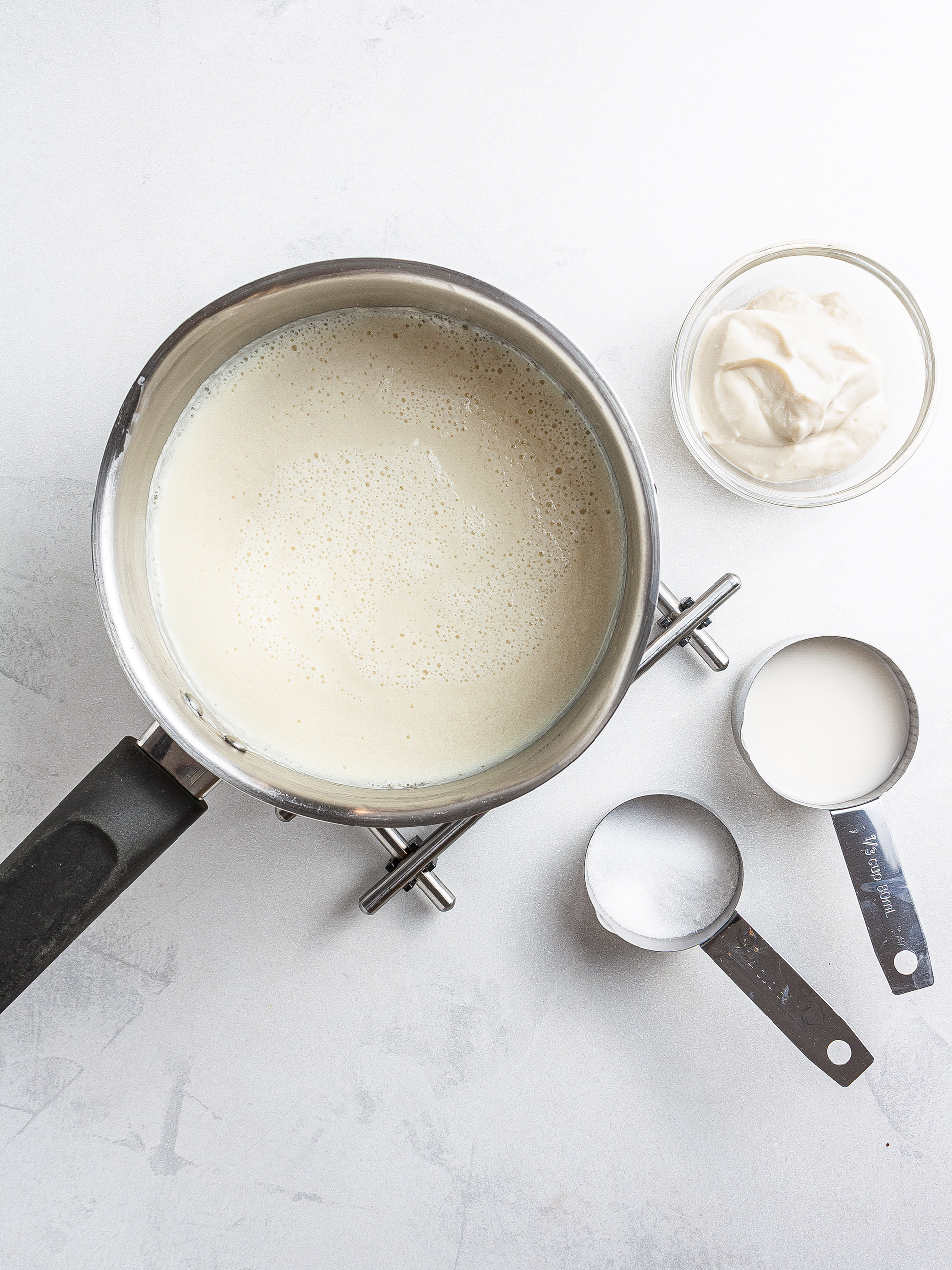 2
Step 4
Now, allow the pudding mixture to cool down in the pot, covered, for 15 minutes.
Then, divide the custard among the prepared ramekins pouring it over the hardened caramel base (1).
Wrap the flan tins with cling film and refrigerate them for 1 hour or 1 hour and 30 minutes (2).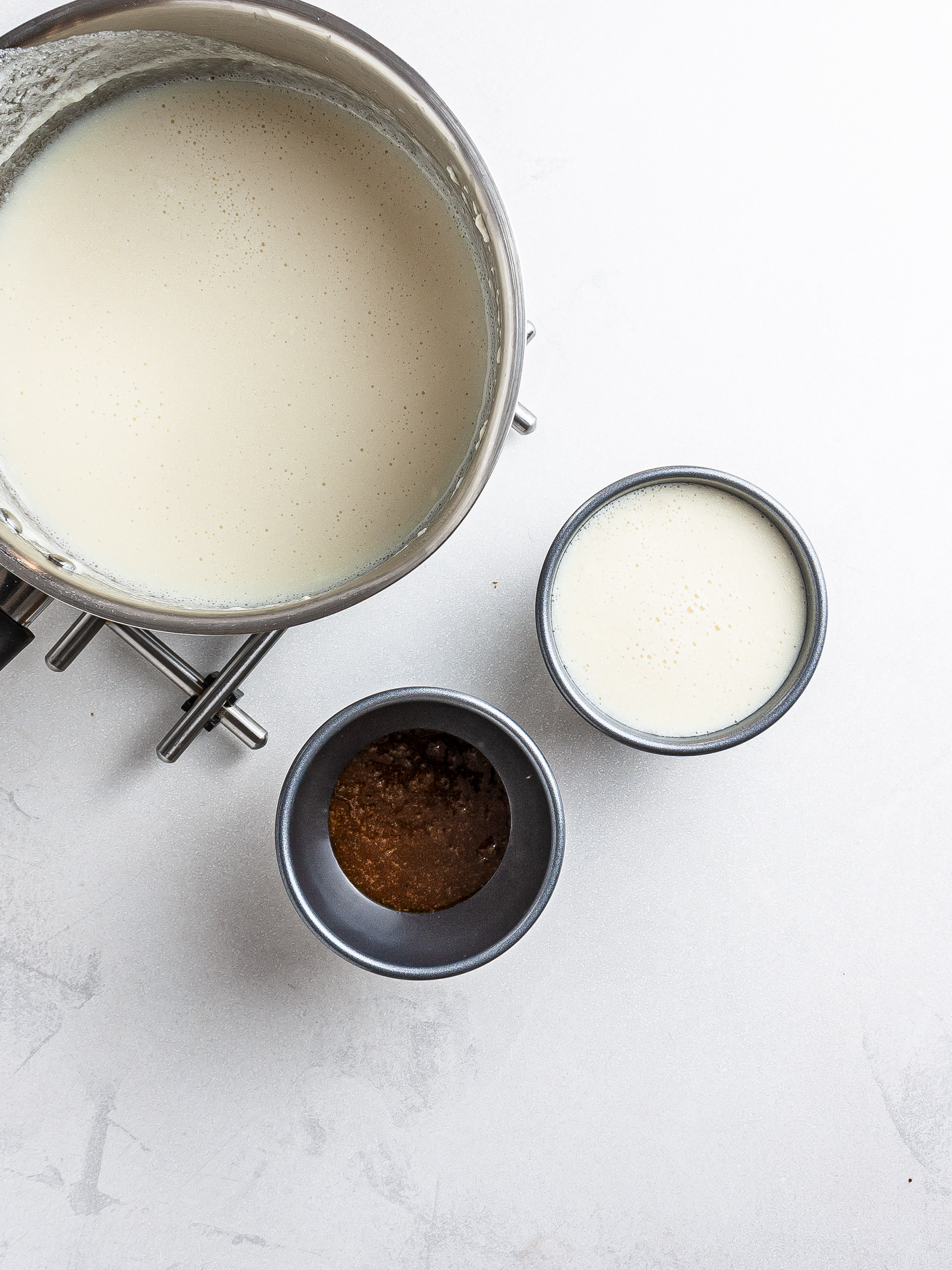 1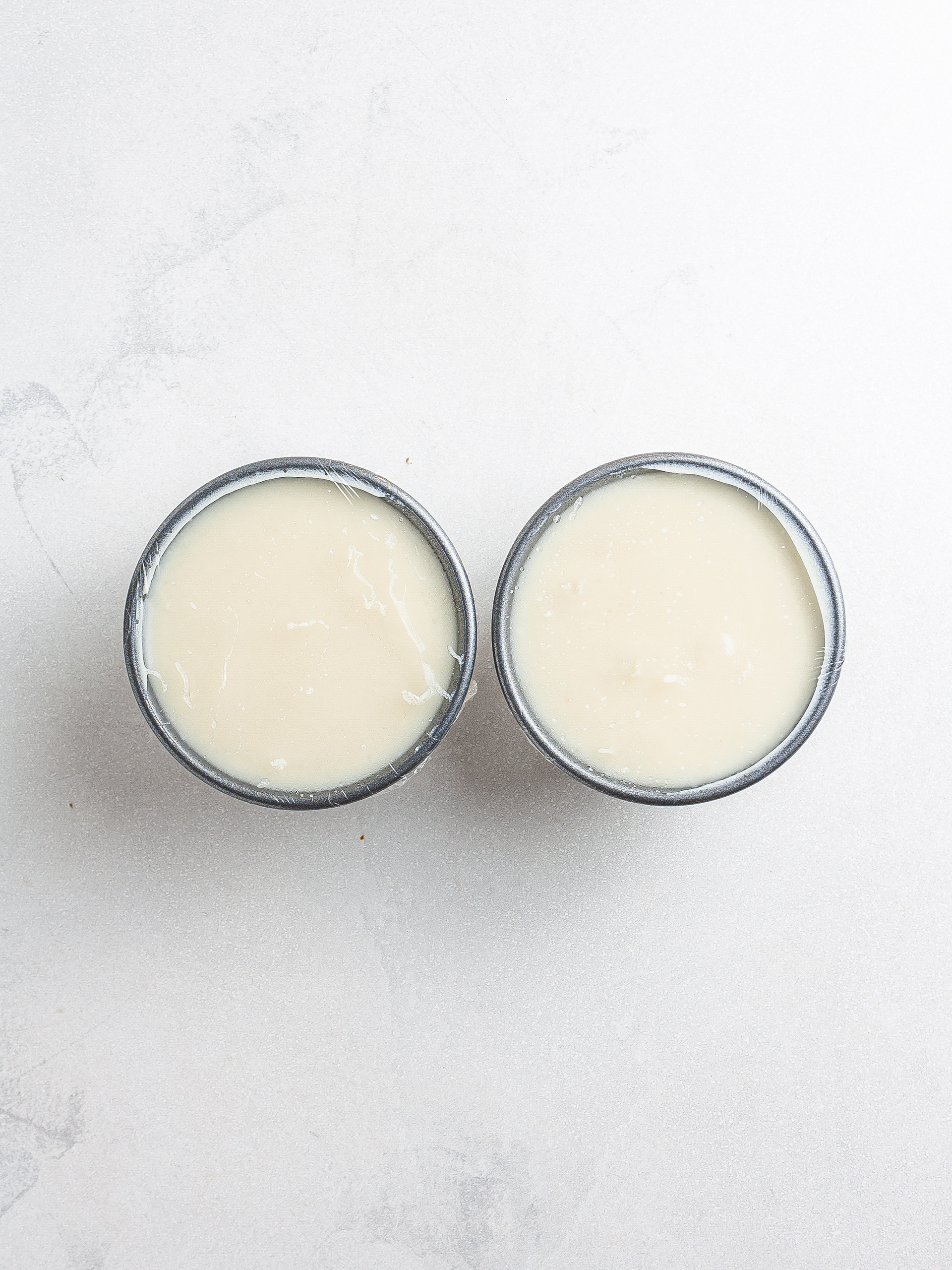 2
Step 5
Finally, run the tip of a knife along the ramekin edge to loosen up the flan and turn it upside down on a dessert plate.
If you have troubles unmoulding the creme caramel, then dip the tins in a hot water bath before flipping them.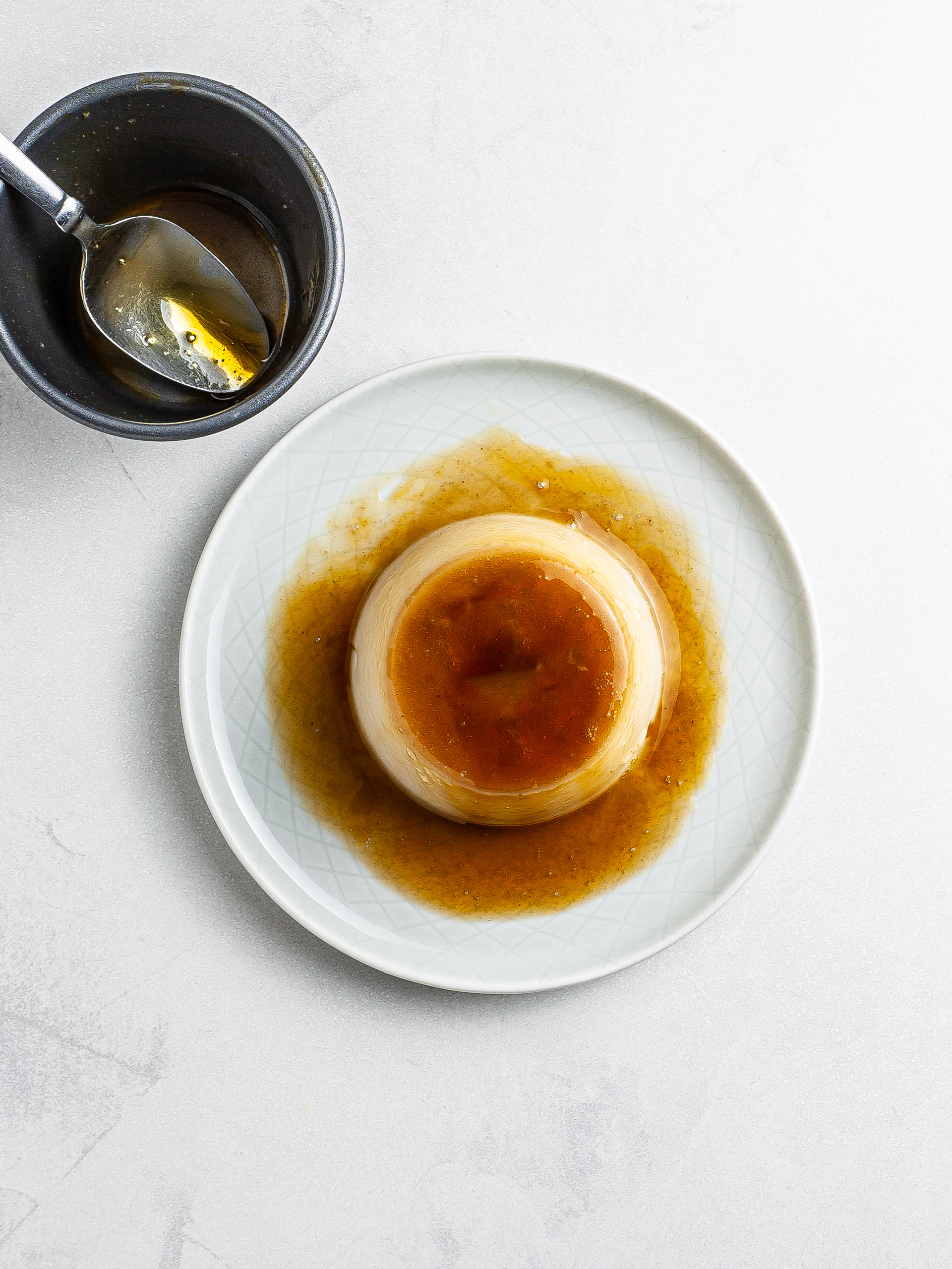 Tips
Try swapping vanilla with ground star anise for a unique flavour.