They say you have to keep betting on the winners. So after our incredibly tasty cauliflower brownies, we bring you another healthy revision of this classic recipe. This time around, we'll prepare brownies using courgettes!
Our zucchini brownies are vegan, gluten-free, sugar-free, and low-carb. The main ingredients we used are dates, courgettes, dark chocolate, cocoa powder, and cashews. No butter, eggs, or sugars here! What follows is another crazy-healthy brownies recipe with just 127 calories per square.
And not just that, these brownies also have three times more fibres and three times fewer fats. The dates and zucchini bring in a lot of fibres, which make these brownies fully suitable for people on a low-sugar diet.
By blitzing zucchini and dates into a paste, we get incredibly fudgy and soft brownies, just as if we used butter. But with zero of the nasty saturated fats.
Dates also make the brownies naturally sweet, with no need for white sugars. We are used to eating zero sugar treats, and we encourage you to practice that too, to stay healthy. But if you are not there yet, taste a pinch of the dough before baking it and add in one or two spoonfuls of maple syrup.
Courgette leftovers? Not anymore! Follow this simple recipe below and enjoy these healthy veggie brownies. We think you'll love them.
Ingredients
| | |
| --- | --- |
| Chia Seeds | 2 tbsp |
| Water | 70 mL |
| Dates | 250 g |
| Zucchini | 360 g |
| Dark Chocolate 99% | 50 g |
| Cocoa | 90 g |
| Peanut Butter | 45 g |
| Baking Powder | 11/2 tsp |
| Vanilla Extract | 1 tsp |
| Cashew Nuts | 40 g |
Step 1
Let's start by preparing the "chia-egg".
In a bowl, combine the chia seeds with the given water and leave them to soak for 10 minutes.
The seeds will absorb the water and form a thick, gel-like mixture.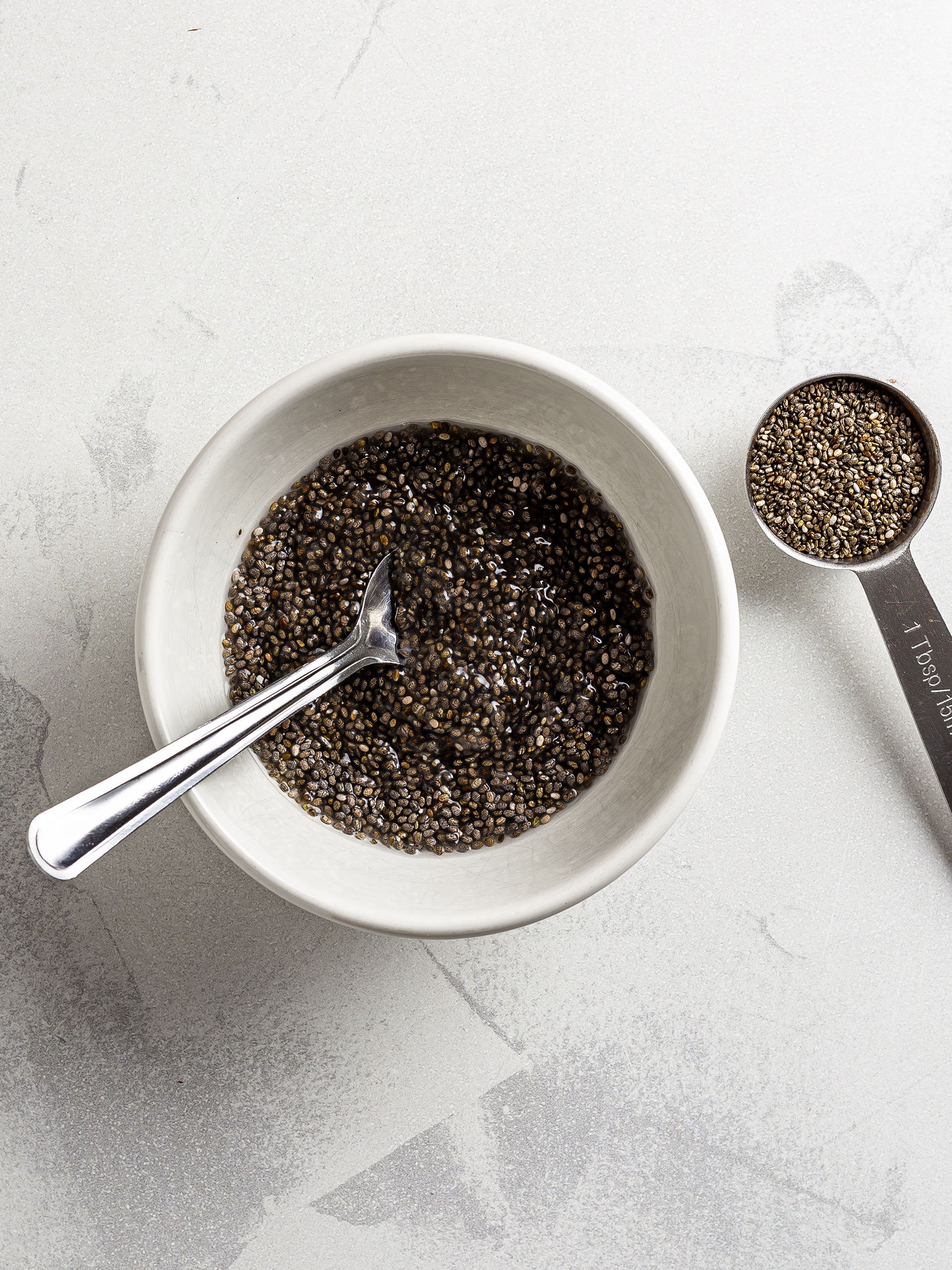 Step 2
Next, add the pitted dates to a bowl, cover with water, and leave them to soften for 10 minutes at room temperature.
After this time, drain them well.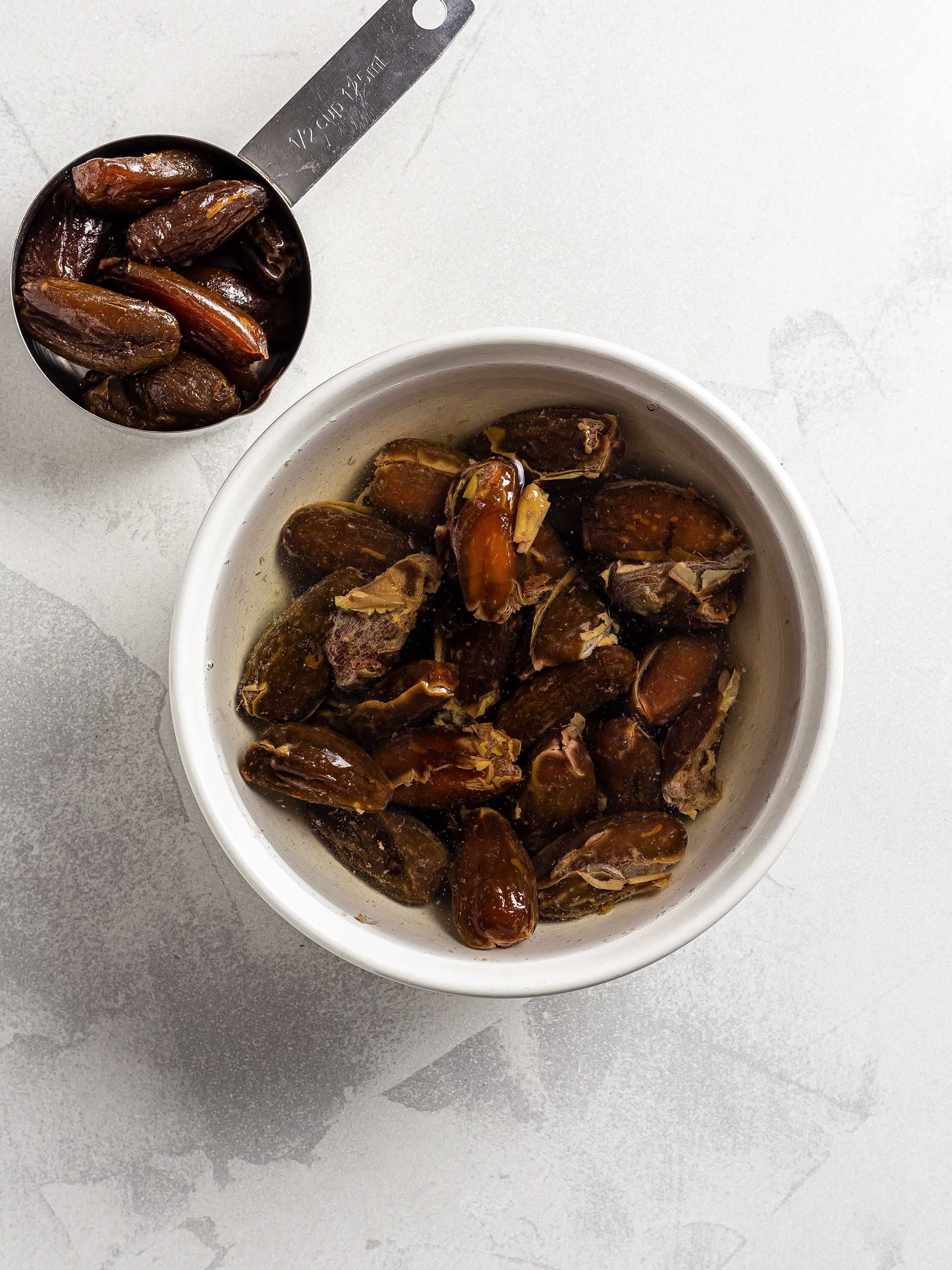 Step 3
Now, rinse the zucchini, trim the ends, and keep the skin on.
Roughly chop them into chunks and transfer them into a food processor.
Tip in also the drained dates and blend all into a smooth purée.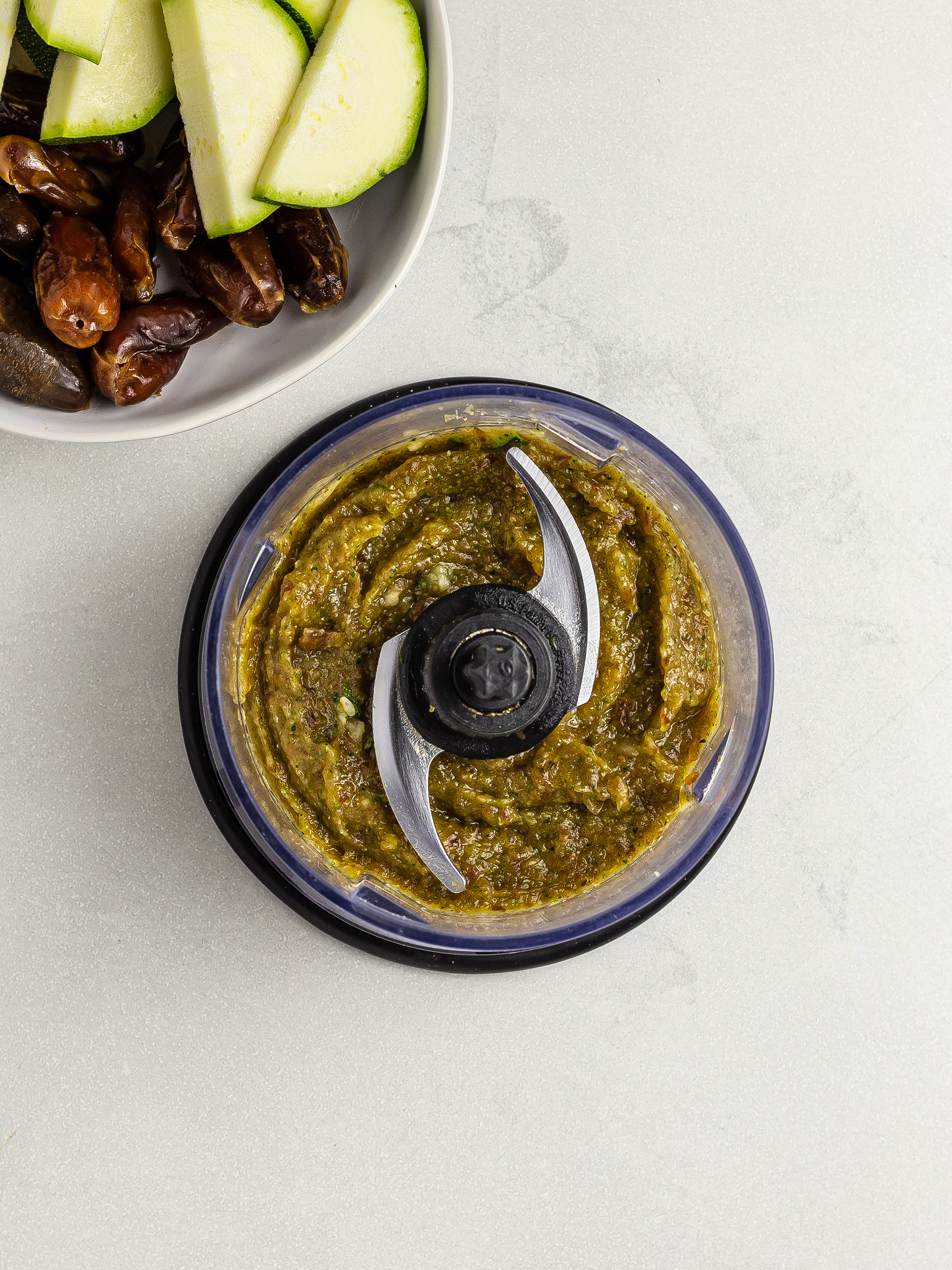 Step 4
Melt the chocolate either in the microwave or over a double boiler. Check out our tips below where we explain how to do it.
Then, transfer the zucchini cream to a mixing bowl along with cocoa, chia-egg, peanut butter, baking powder, and vanilla extract.
Mix the ingredients and then pour in the melted chocolate. Stir well until you have a creamy, soft, and moist batter.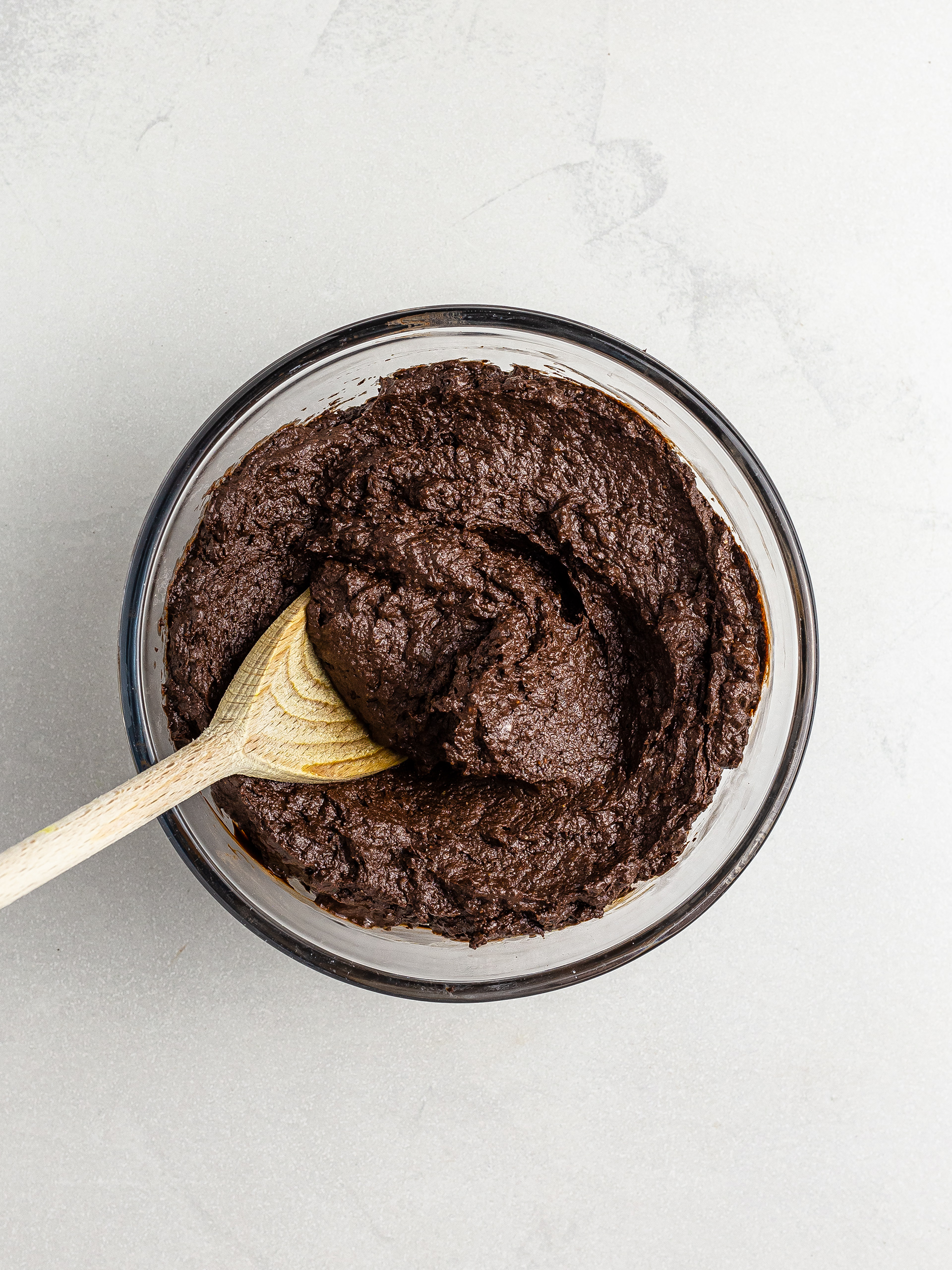 Step 5
Transfer the chocolate batter into a 20 cm (8 inches) square baking tin lined with parchment paper.
Then, level the brownie mixture with the help of a spatula or the back of a spoon.
For a crunchy finish, blitz the cashew nuts in short pulses in a food processor and then sprinkle them over the brownie's surface.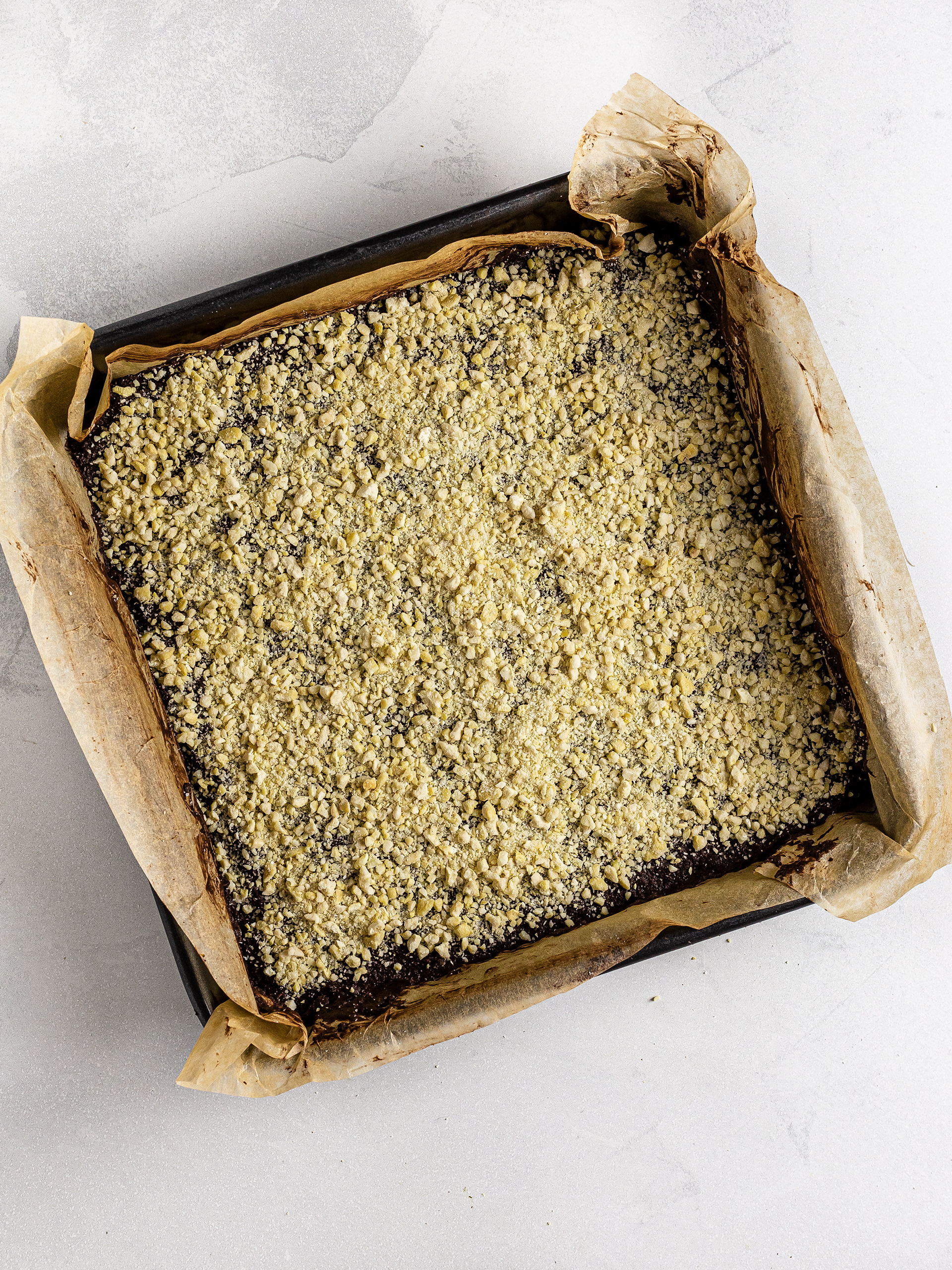 Step 6
Bake the brownies for 35 minutes in the preheated oven at 200°C (390°F) for static ovens or at 180°C (355°F) for fan ovens.
Once ready, transfer the brownie slab onto a wire rack and leave it to cool down for 15 minutes in the fridge before slicing it into squares.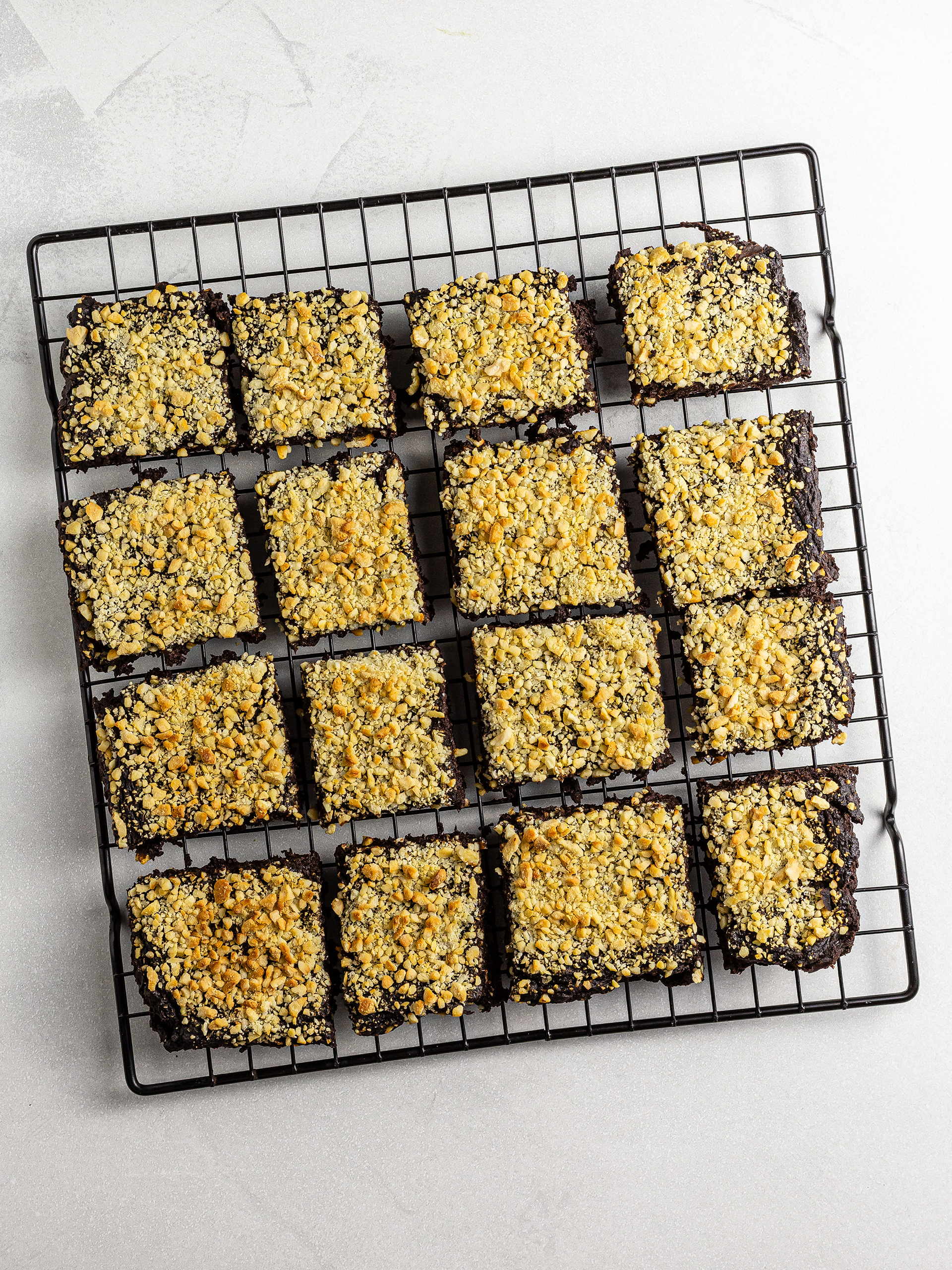 Tips
Try adding the zest of an orange for extra flavour or chopped nuts in the brownie dough.

You can melt the chocolate either in the microwave or over a double boiler. Break down the bar into smaller chunks and then add them to a heat-proof bowl. Place it in the microwave for 20 seconds over high heat, then stir the chocolate, put it back, ad repeat this process until it's completely melted. For the bain-marie, instead, sit the bowl over a pan with simmering water and allow the chocolate to melt stirring occasionally. Make sure no water or steam gets into the bowl or it will harden the chocolate.

Store these zucchini brownies in the fridge in an airtight container for up to 4 days. You also freeze them on the same day and keep them for two months.
Watch on Youtube