If you love this world-famous Italian street food but you don't eat meat, then our vegetarian arancini are definitely a must-try!
Arancini are risotto balls which are usually stuffed with bolognese sauce, coated with breadcrumbs, and then deep-fried.
As here at Foodaciously we like to try out tasty and healthy variations of the food you love, we have made these rice balls lower in fats and calories without giving up on taste.
What's so great about this recipe, is that the arancini are oven-baked instead of deep-fried and have no butter. Moreover, the vegetarian filling made with aubergines, tomatoes, and chickpeas replaces beef mince which is known for its high saturated fats. This way each arancino provides just 200kcal and 1/4 of the fats compared to other recipes.
These rice balls taste great both warm and cold, making a great recipe to prepare as a party snack, a dinner appetiser, or as a picnic idea. You can even make a meal out of it and pack them in your lunch box.
To get more vegetarian and healthy recipes like this one sent right into your inbox, make sure to subscribe to our newsletter and you'll also get our awesome free e-book!
Ingredients
For the Coating
White Flour

80 g

Cold Water

130 mL

Breadcrumbs

120 g

Garlic Powder

1 tsp

Dried Basil

1 tbsp

For the Filling
Garlic Clove

1

Aubergine

180 g

Tinned Chopped Tomatoes

100 g

Tinned Chickpeas

120 g

Fresh Basil

5 g

Fresh Parsley

5 g

Paprika

1 tsp

Lemon Zest

1 tsp

For the Rice Balls
Extra Virgin Olive Oil

2 tbsp

Onion

50 g

Arborio Rice

300 g

Vegetable Stock

600 mL

Salt

to taste

Black Pepper

1/4 tsp

Saffron

1 tsp

Parmesan

45 g
Step 1
In a large pan, heat 1 tbsp of olive oil, add finely chopped onions and sizzle until soft.
Add the arborio rice and stir it for a few minutes.
In the meantime, bring the vegetable stock to the boil. Pour a ladle of broth in the pan with the rice and stir well. Allow each ladleful to become absorbed before adding the next and continue to do so until the rice is cooked through.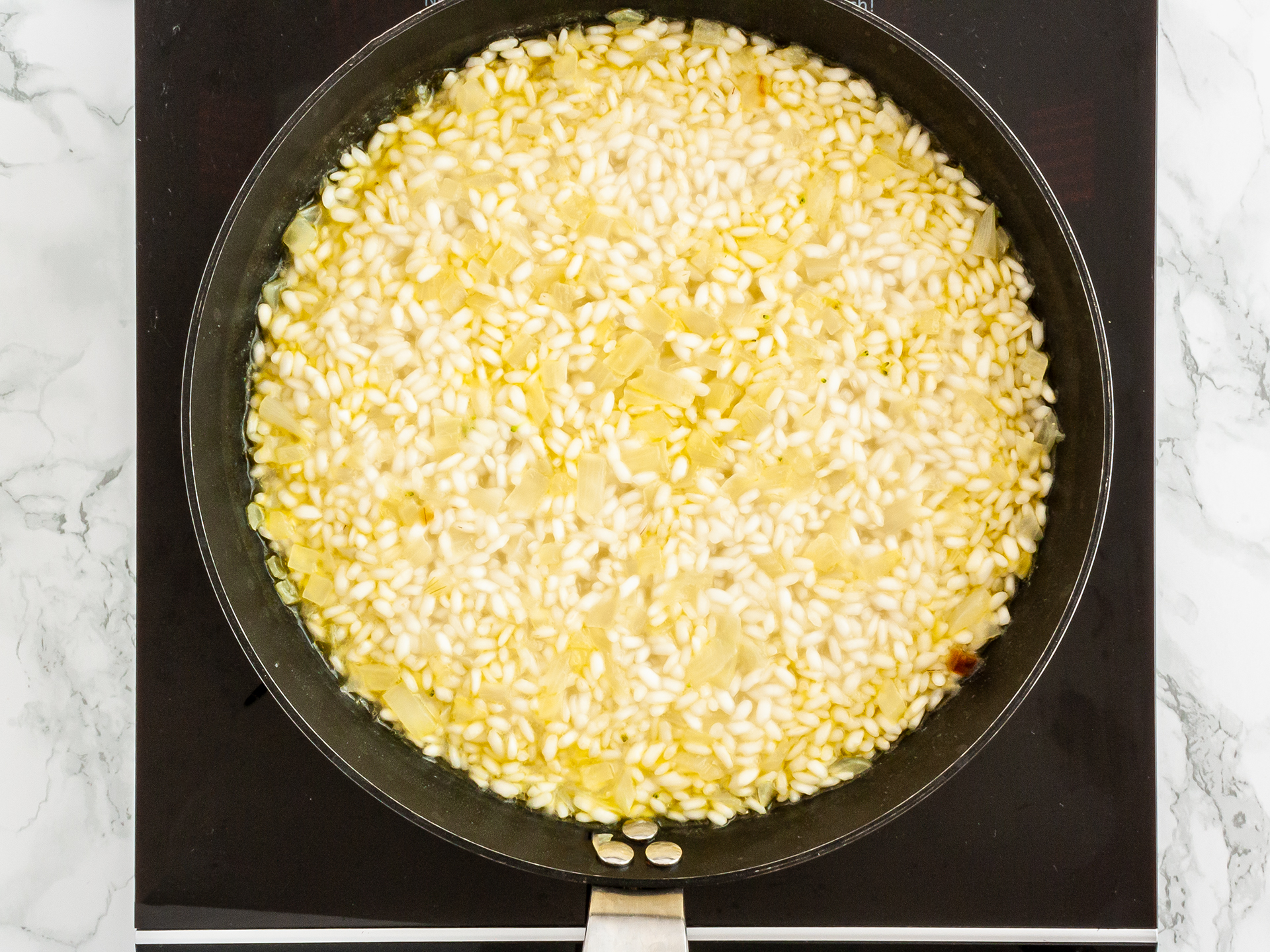 Step 2
Season the risotto with salt, pepper, and saffron.
Add the grated parmesan and stir until well incorporated.
Remove the pan from the heat and spread the rice over a baking tray. Cover it with cling film and place it in the fridge while you prepare the filling.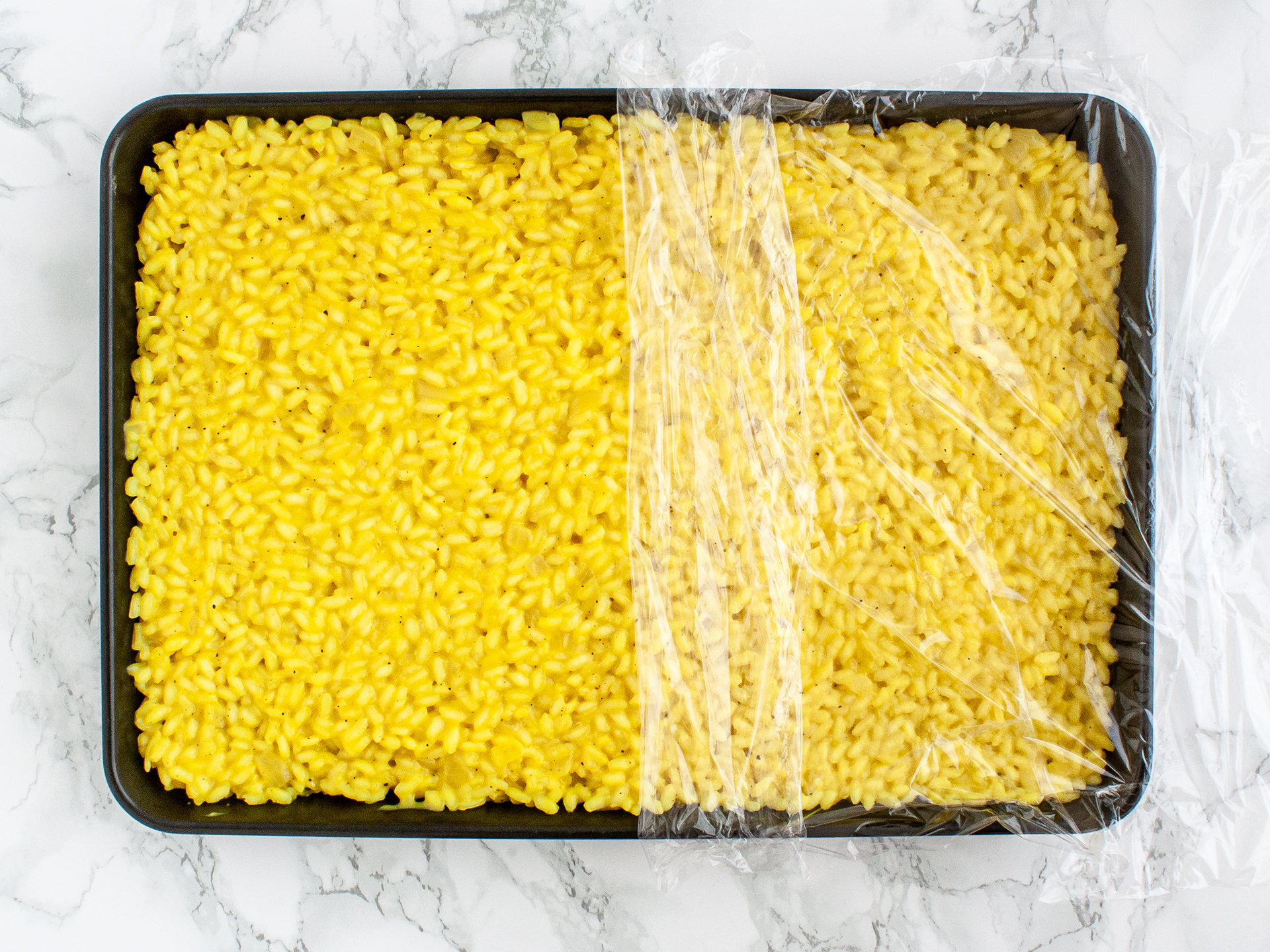 Step 3
Sizzle the remaining 1 tbsp of olive oil with crushed garlic until fragrant.
Add diced aubergines, tinned chopped tomatoes, and chickpeas and cook for 10 minutes.
Stir in fresh basil and parsley, finely chopped. Season with salt, paprika, and lemon zest.
Transfer the cooked aubergine filling onto a plate or tray to cool down.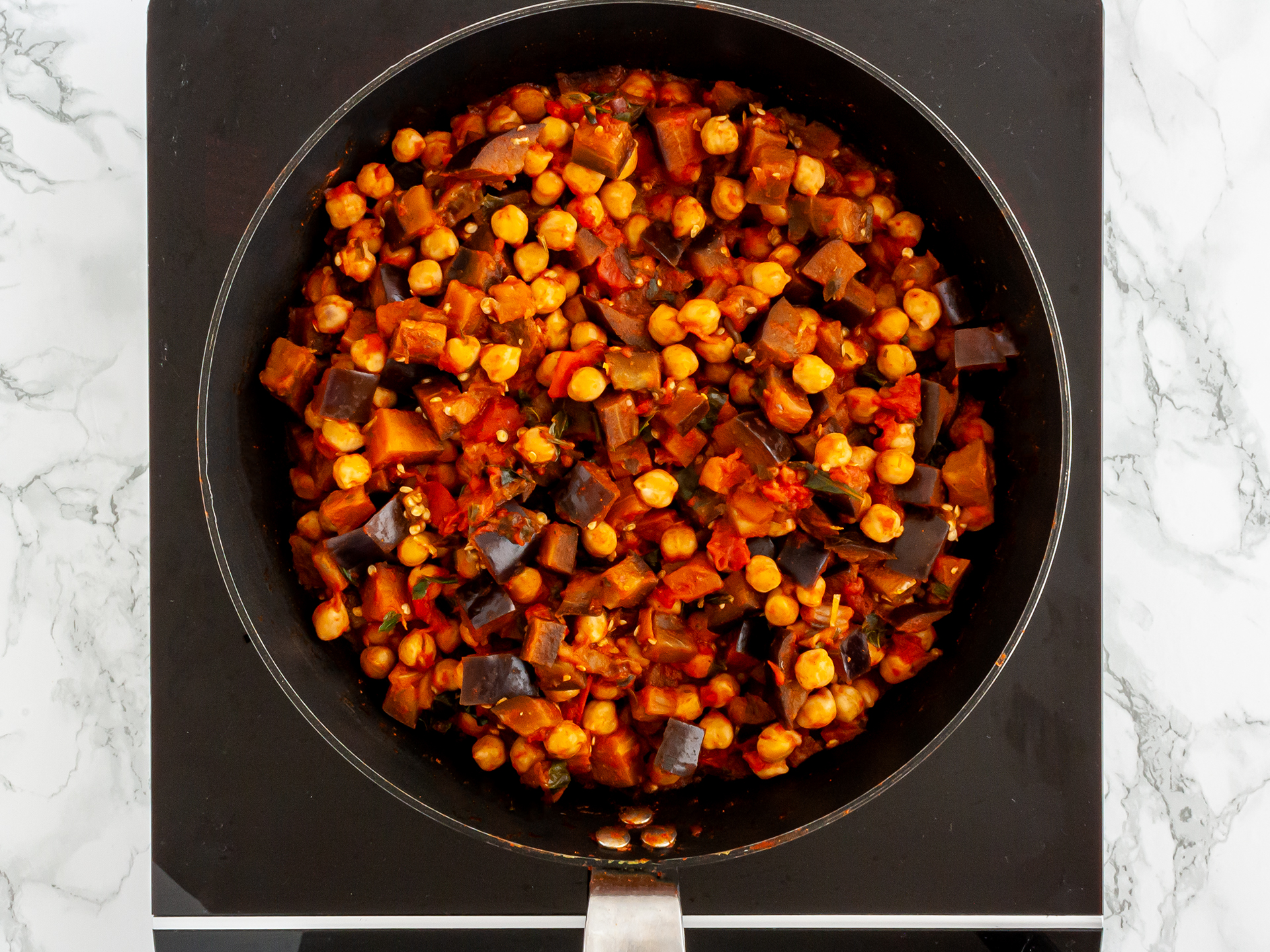 Step 4
To make one rice ball, scoop a portion of the rice into your hand and place one tablespoon of the aubergine mix in the centre. Then, seal it by wrapping the rice around the filling (1).
Dip the rice ball in a batter made with flour and water and then in a mix of breadcrumbs, garlic powder, and dried basil (2).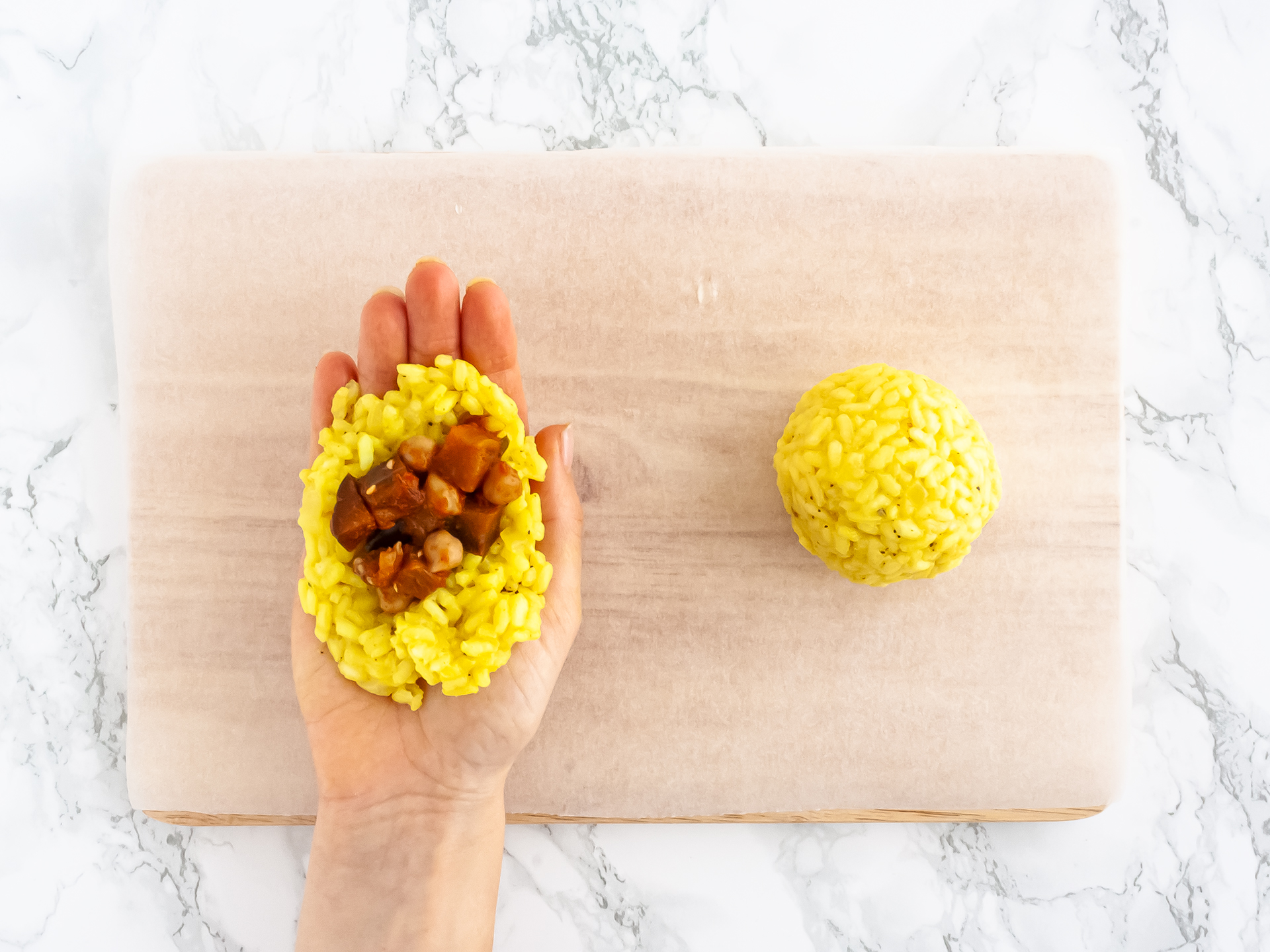 1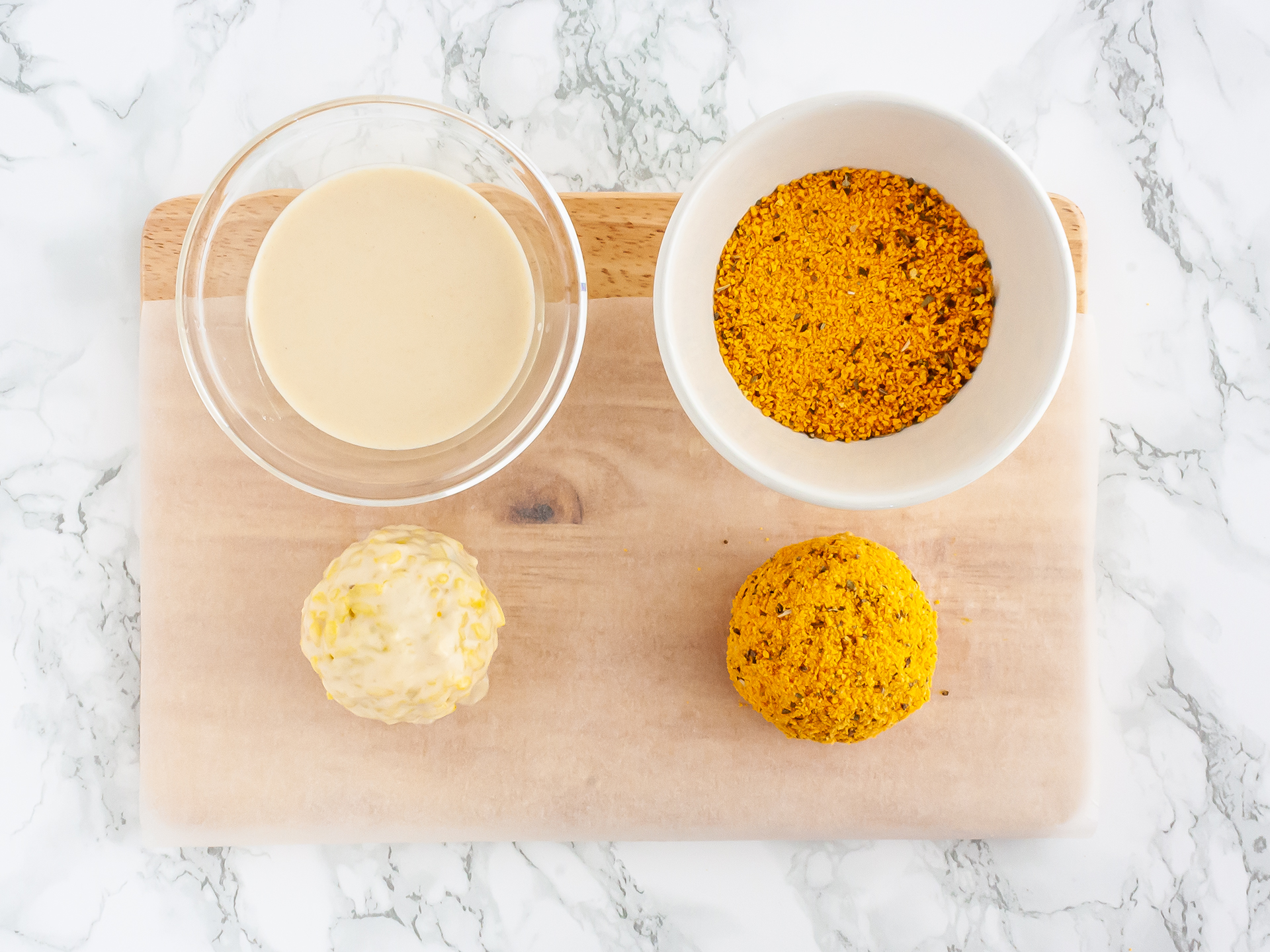 2
Step 5
Place the arancini over a non-stick baking tray and brush them with a bit of extra virgin olive oil.
Cook them in the oven for 30 minutes at 180°C (355°F) or 160°C (320°F) for fan ovens.
Enjoy these delicious oven-baked vegetarian arancini while still warm with a sprinkle of grated parmesan and fresh basil.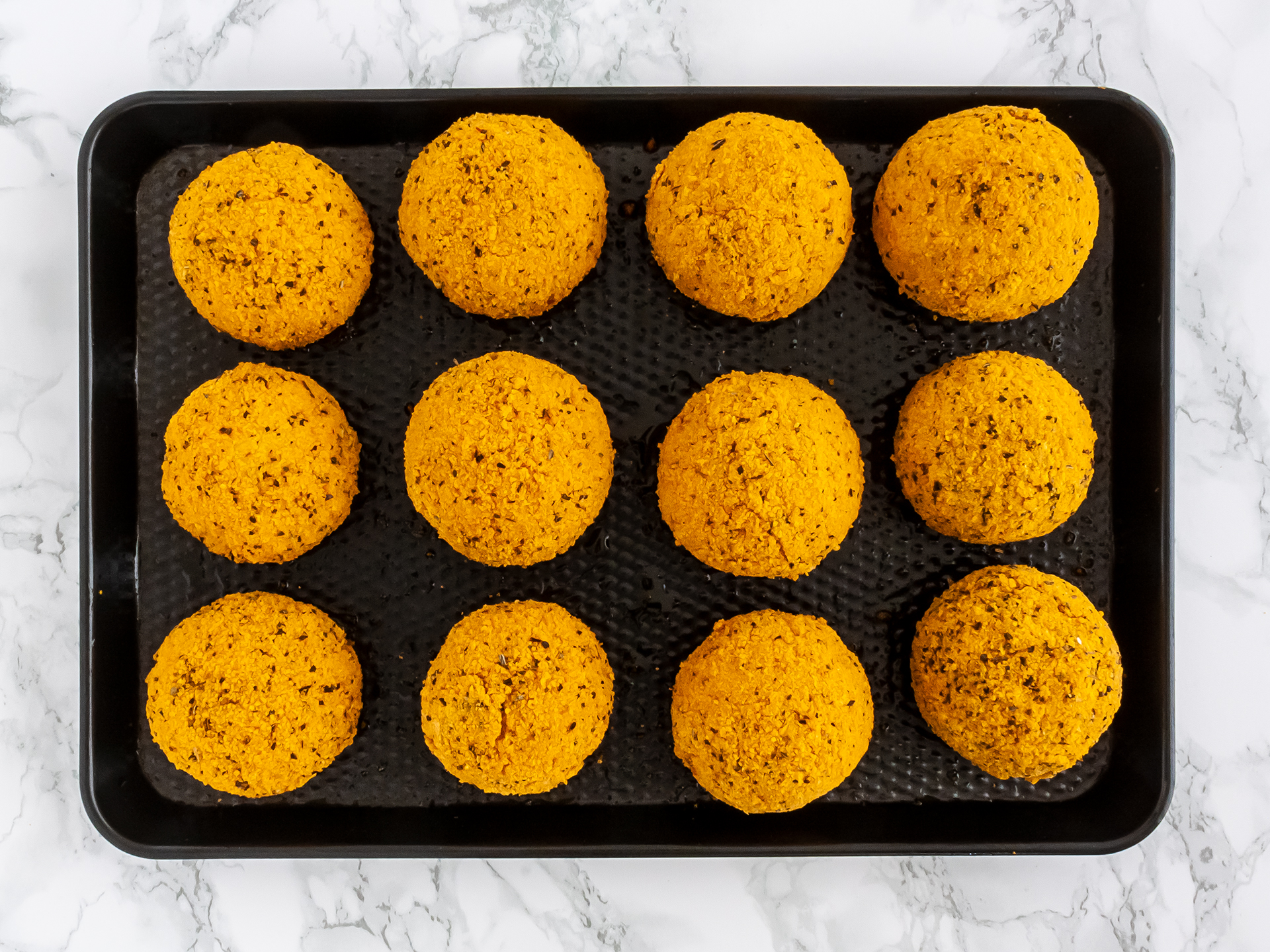 Tips
Make sure both the rice and the filling are cool and dry before making these vegetarian rice balls or they won't hold together.

If you prefer a cheesy filling, just add some parmesan or smoked cheese.

You can also cook these Italian rice balls in an air fryer and they will get even crispier.

For a vegan version of these rice balls, just swap parmesan with nutritional yeast or a 'flax egg' (1 tbsp of flaxseeds mixed with 3 tbsp of water).

If you don't have time to make the full recipe in one day, then simply prepare the rice and filling the night before, store them in the fridge and then bake these vegetarian rice balls when you need them. Easy!