Bún Riêu is a quintessential Vietnamese noodle soup, typically made with crab meat, pork, and a rich fish and tomato broth.
Although delicious, the classic recipe includes a long list of ingredients and requires a few hours of cooking time.
Today, we want to show you how to make crab bún riêu quickly and with fewer ingredients.
We omitted the pork from the recipe to reduce the fats and make this recipe suitable for pescatarians. Instead of pork, we used king oyster mushrooms, which are incredibly flavourful and "meaty".
To save you cooking time, we made a broth using ready-made fish stock and then added in the tomatoes and the mushrooms. This way, you still get a flavourful surf and "turf" soup, without having to make the fish broth from scratch.
In the classic dish, a paste made with dried shrimps, crab meat, fish sauce — and other ingredients — is added to the simmering broth and left to flow atop forming a foamy mixture. Doing this is a bit tricky and requires some ingredients hard to find in western supermarkets.
To make simplify things further, we mixed crab meat, egg whites, and starch into a paste, shaped it into bite-sized balls, and added them to the stew. These crab balls are delicious!
No Vietnamese soup is complete without a generous amount of noodles. We used rice vermicelli and finished off the dish with a side of yummy greens.
In less than one hour, from pot to bowl, you can enjoy a hearty crab tomato soup that serves as a full meal with less than 430 calories. Time to put your apron on!
Frequently Asked Questions
Is bun rieu gluten-free?

Yes, it is. The crab balls are prepared with starch, and the soup is served with rice noodles, so it's absolutely safe for those suffering from gluten sensitivity.
What type of crab meat should I use?

When it comes to fish and crustaceans, if you can get fresh meat, your dish will be much more flavourful.

However, finding fresh crab can be a bit difficult, so we opted for the canned one. It comes already shredded which is a plus, as it means less work for you.
Can I reheat the soup?

Yes, you can. Keep any leftover broth in the fridge in an air-tight container for up to two days.

Then heat the Vietnamese rieu in the microwave or on the hob and add fresh rice noodles.
Ingredients
Broth
Fish Stock

1 L

Rapeseed Oil

1 tbsp

Onion

1

Garlic Clove

1

Fresh Chillies

4

Paprika

1 tsp

Tomatoes

6

King Oyster Mushrooms

250 g

Crab Paste
Egg Whites

2

Shredded Crab Meat

200 g

Potato Starch

6 tbsp

Shrimp Paste (optional)

2 tsp

To Serve
Vermicelli Rice Noodles

240 g

Mint

to taste

Pak Choi (or Lettuce)

100 g

Limes

2

Beansprouts

160 g
Step 1
To keep this recipe simple and quick, we use ready-made fish stock, but you can also prepare it yourself from scratch if preferred.
Pour the fish stock in a deep pot and bring to a boil.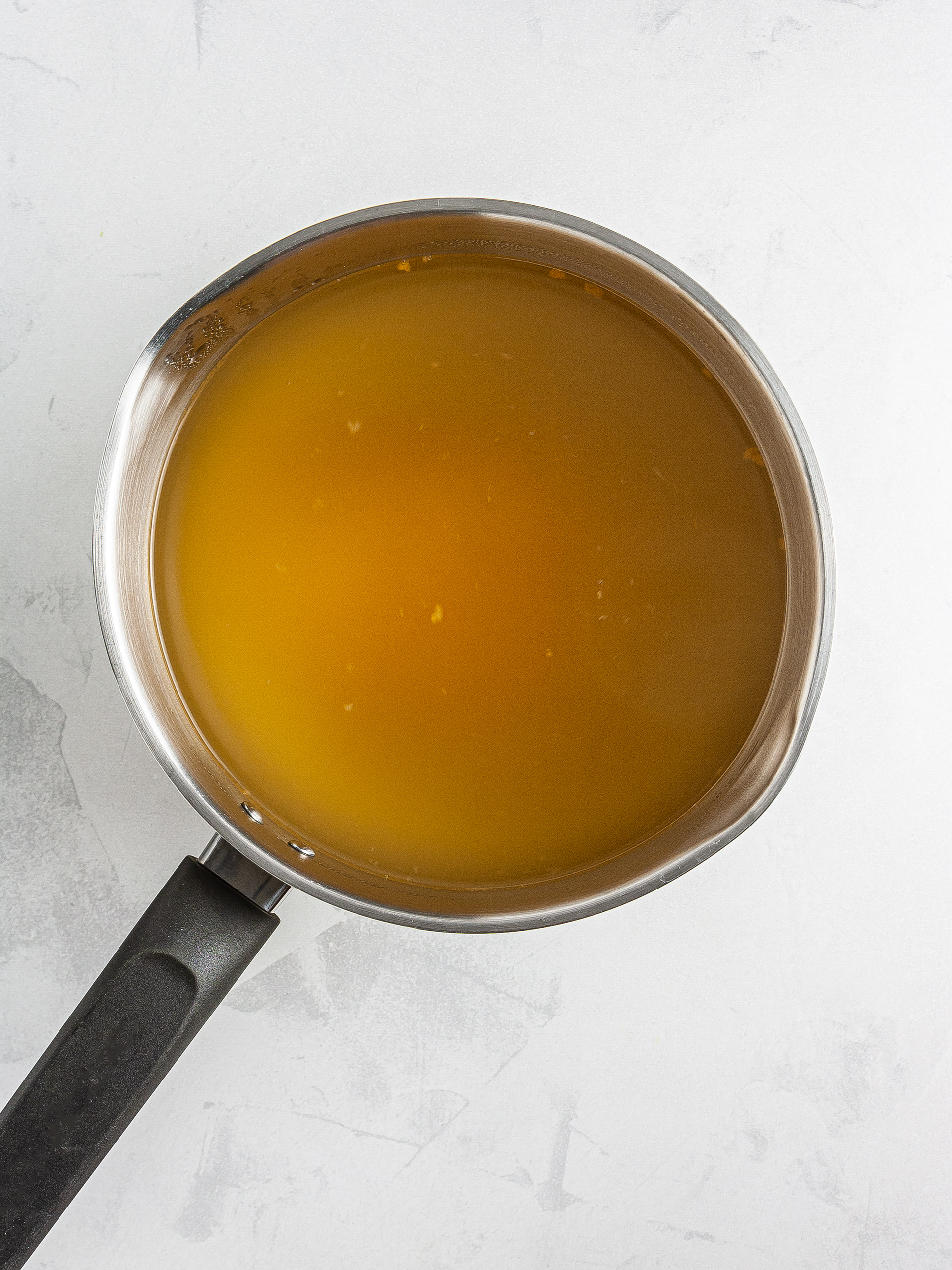 Step 2
In a skillet, heat the oil with finely chopped onions, minced garlic, sliced chillies, and paprika (1).
Sizzle the ingredients for a few minutes and then stir in halved tomatoes and diced mushrooms.
Stir-fry the vegetables over medium-high heat for 10 minutes or until they're lightly browned (2).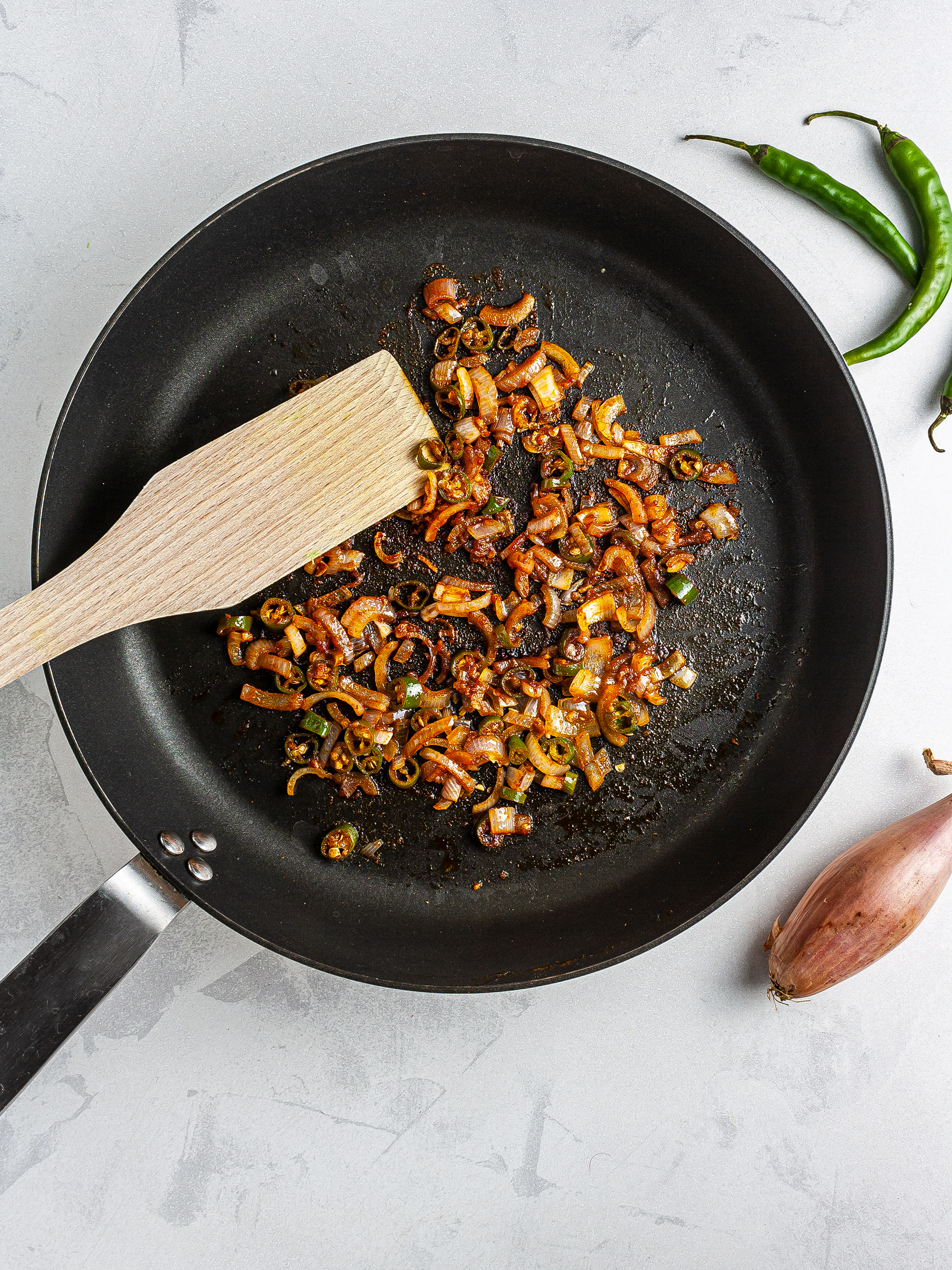 1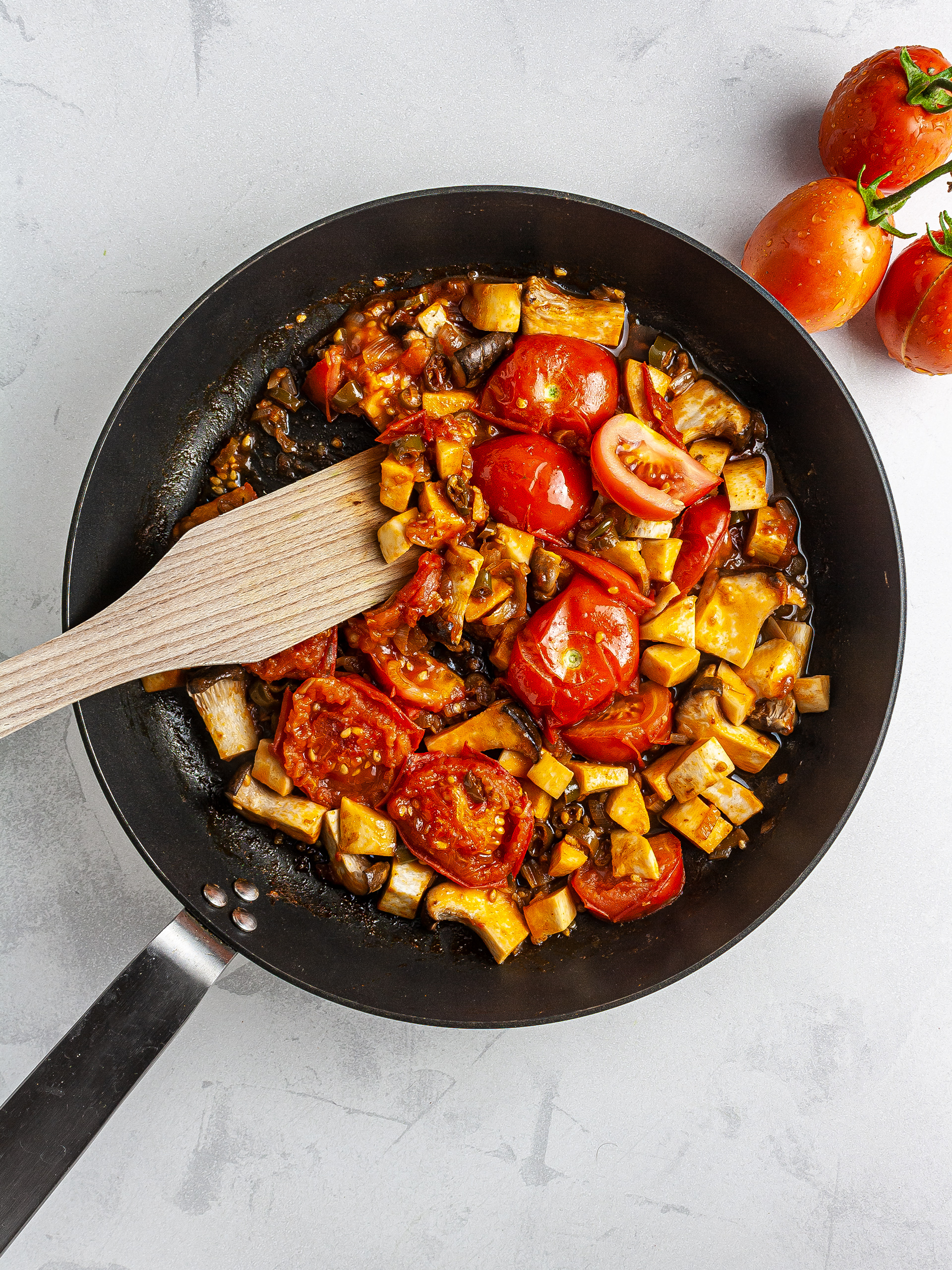 2
Step 3
Now, transfer the tomatoes and mushrooms into the pot of boiling stock and simmer over medium heat for a further 10 minutes.
Stir the broth occasionally and season with salt and pepper to taste.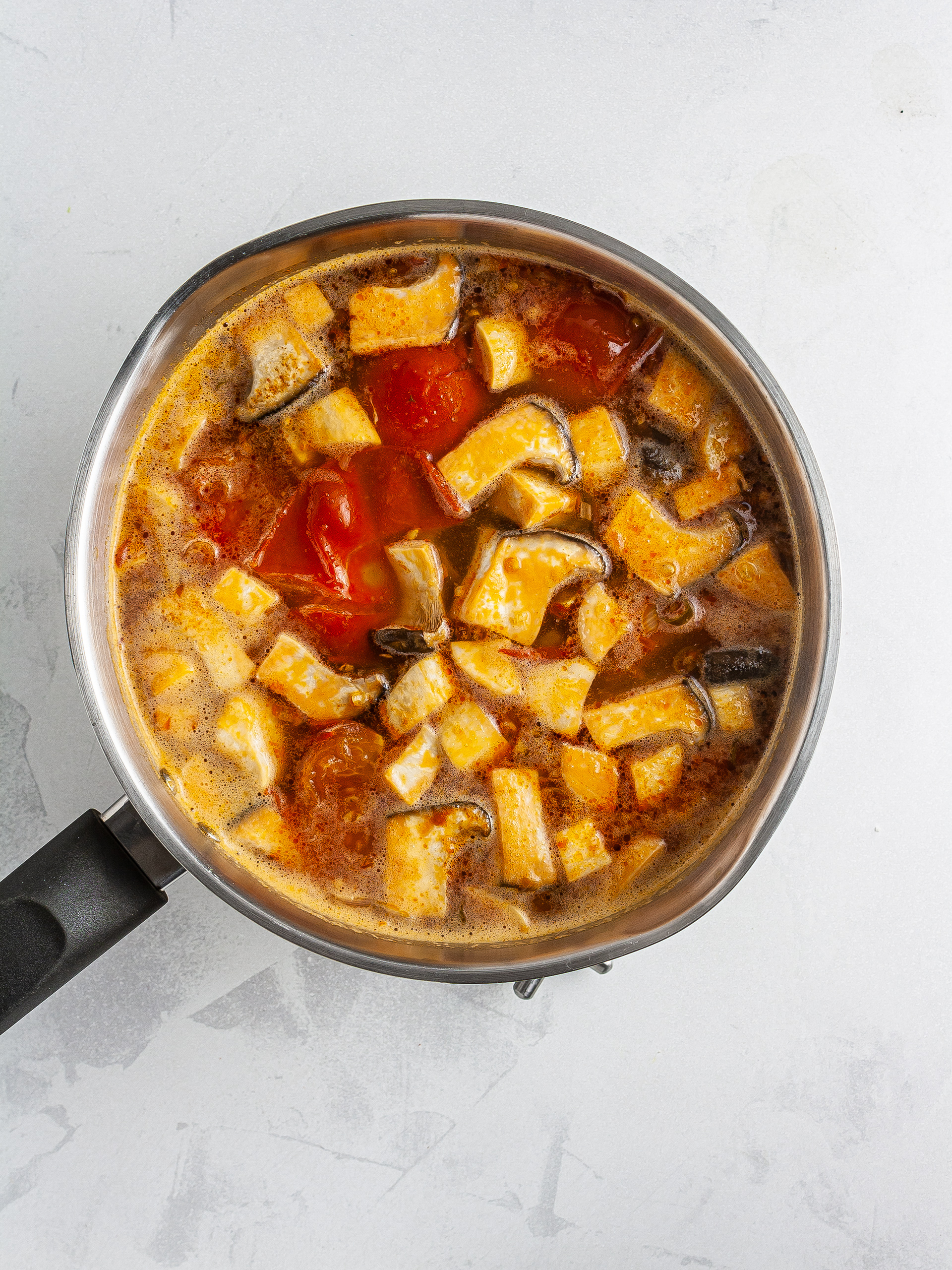 Step 4
Meanwhile, let's prepare the crab paste.
Whisk the egg whites in a bowl.
Then, add sifted potato starch, a few spoons at a time, while you keep whisking.
Now, add the minced crab meat to the egg mixture and stir well.
Before you add it in, make sure the crab meat is thoroughly drained. If needed, leave it to drain on a colander or pat it dry with a kitchen towel.
Finally, incorporate the shrimp paste, if you're using it, and mix all into a thick paste.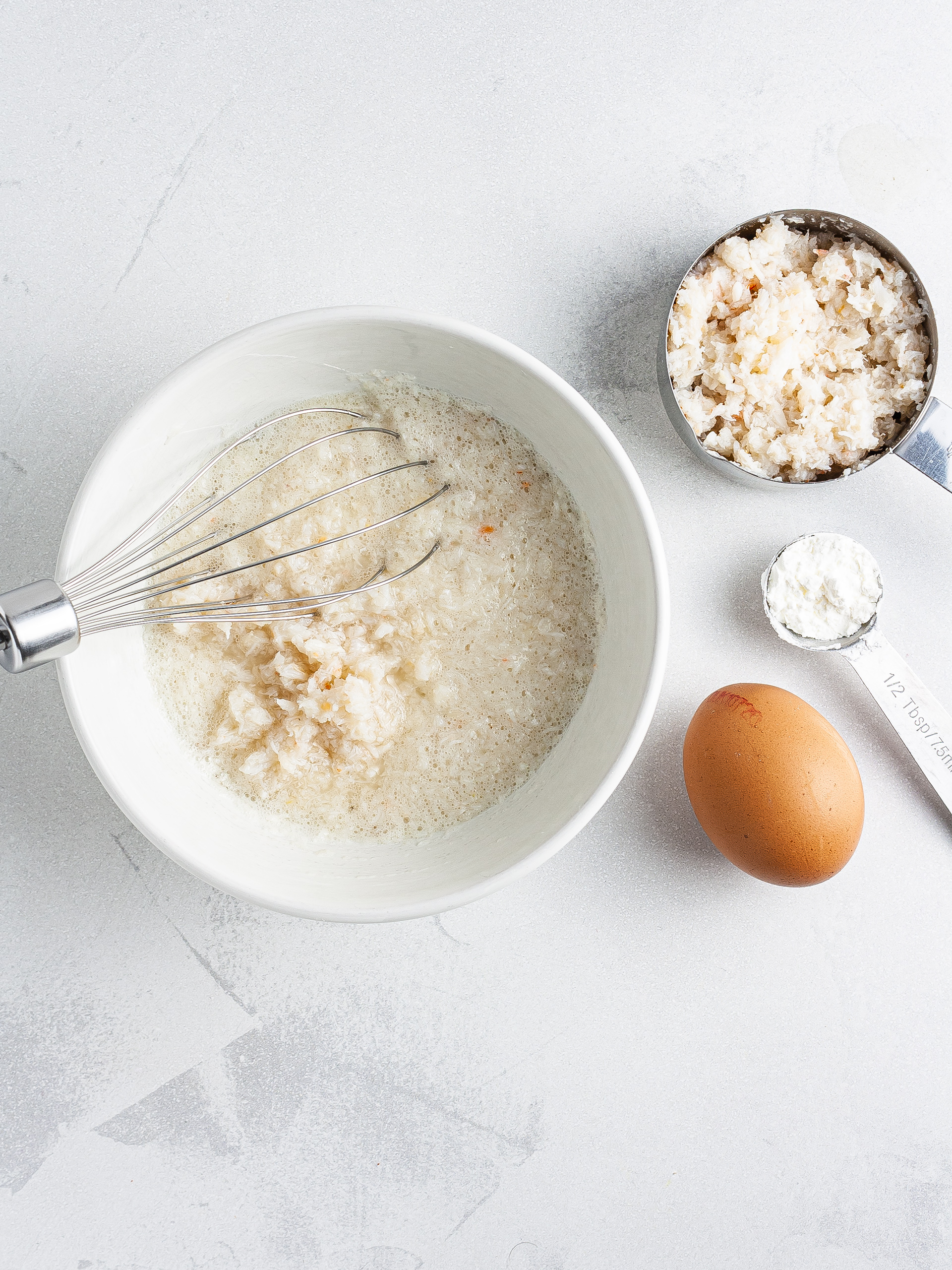 Step 5
Next, mould the crab paste into bite-sized balls, add them to the tomato broth, and cook for 10 minutes.
You'll see them floating on the surface as they get cooked.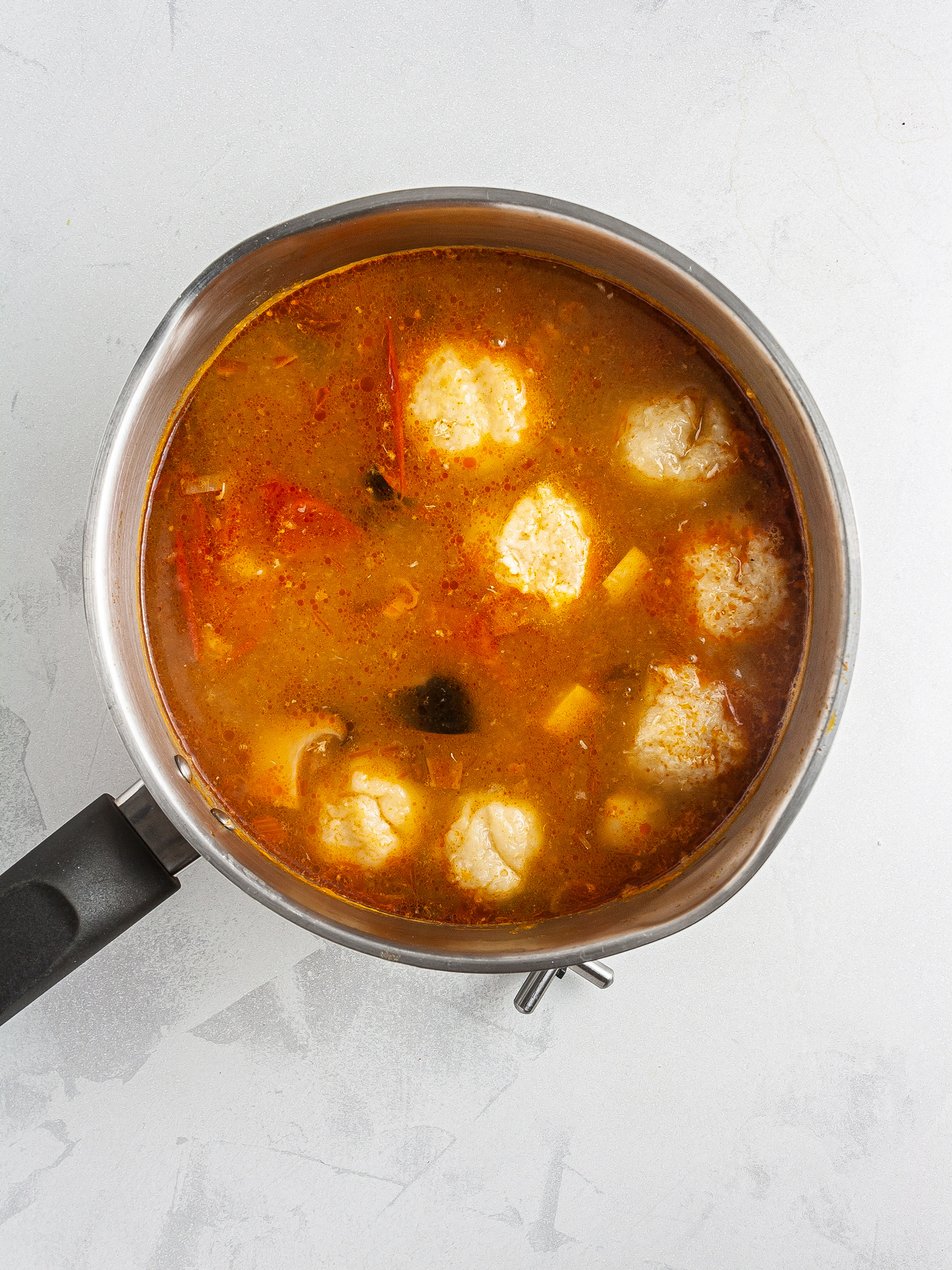 Step 6
Meanwhile, add the rice noodles to a pot of boiling water and cook them for 3 minutes.
Drain and rinse the vermicelli under cold water before dividing among serving bowls (1).
Now, pour a few ladles of tomato broth in each bowl and top with the crab balls.
Serve the bun rieu with a side of mint leaves, shredded pak choi, lime wedges, and beansprouts (2).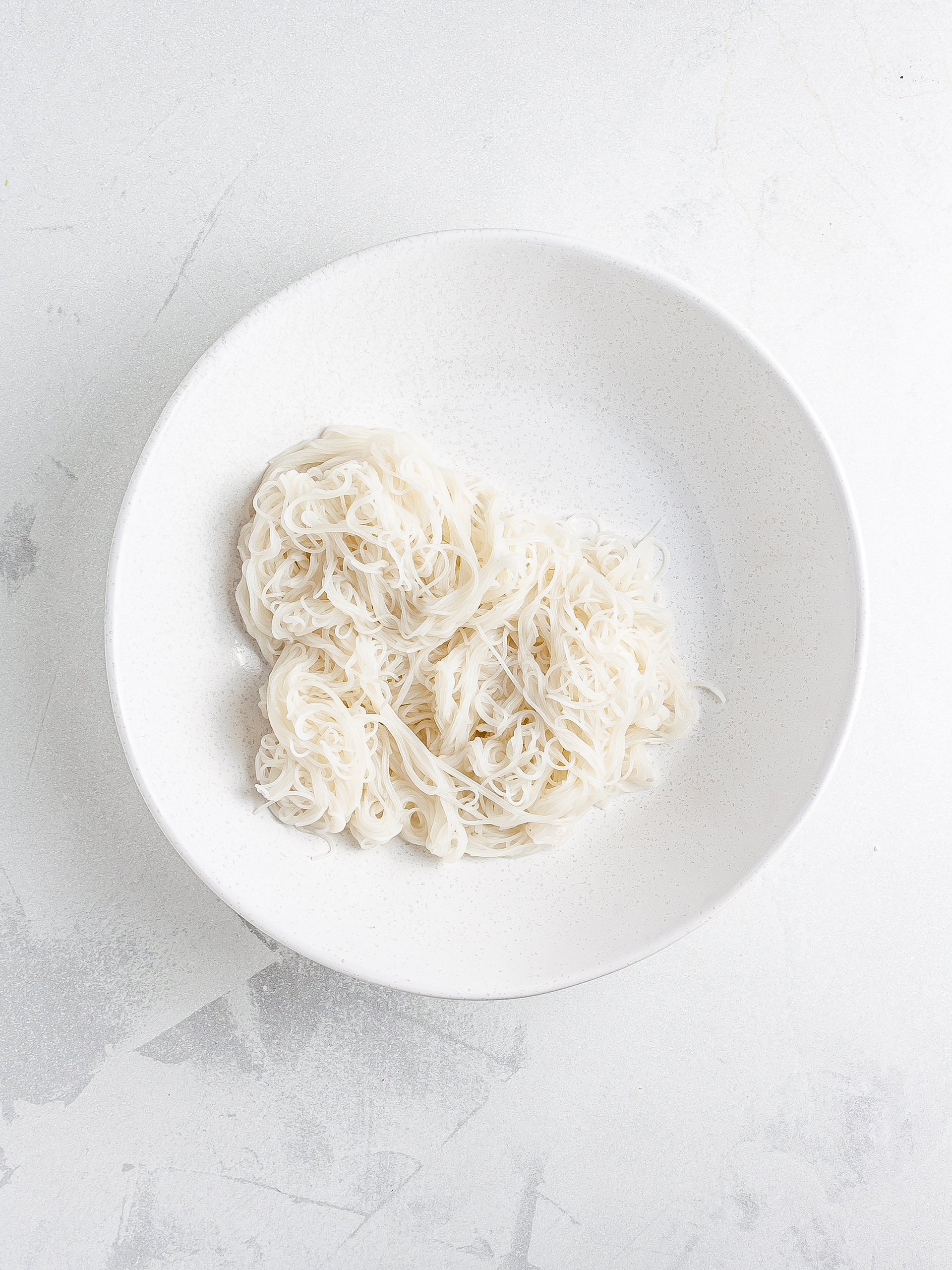 1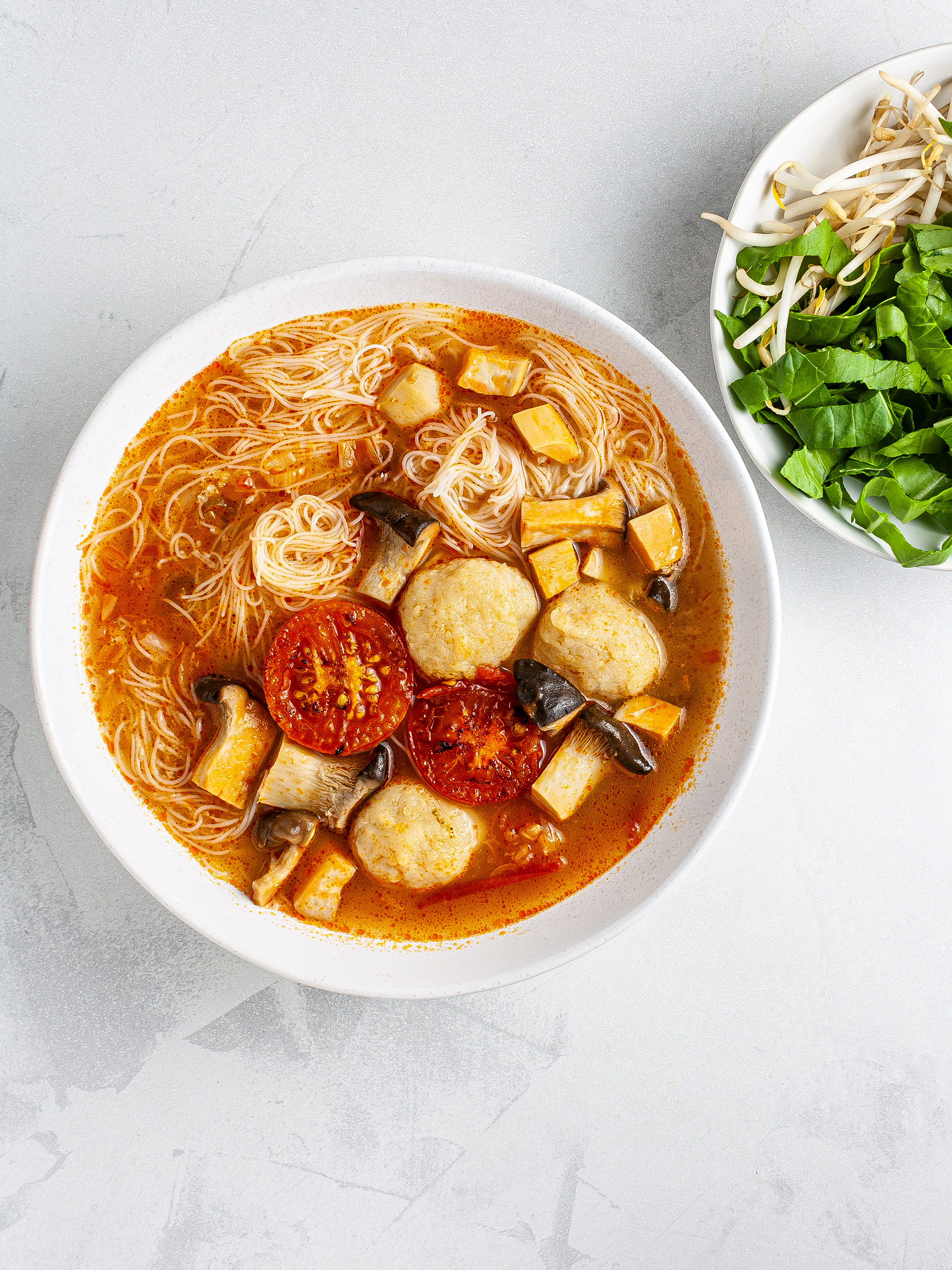 2
Tips
We used paprika to give the bun rieu its characteristic red tone. However, you can swap it with a spoon of tomato sauce, ketchup, or, as in the classic recipe, with a pinch of annatto powder.