Pâté Chaud, also known as Bánh patê sô, is a savoury Vietnamese puff pastry pie with a filling consisting in onions and a choice of ground pork, chicken, or beef. As you can tell by the ingredients, this recipe is akin to a classic Western meat pastry, and in fact, it originates in French colonial Vietnam.
Today, we propose a slight variation to the traditional recipe, with two goals in mind:
accentuate the flavours of traditional Vietnamese cuisine

reduce the amount of cholesterol and fats of the classic recipe
To do so, we first opted to use chicken instead of pork. Chicken is lean meat that has half the amount of saturated fats and cholesterol than pork[1][2]. We also chose a low-fat pastry sheet to keep fats further in check.
Then, we added a selection of typical Vietnamese herbs and veggies to the filling:
Lemongrass

Bird eye chillies

Mint
We also added aubergines, which often feature in the Vietnamese cuisine, to make our filling juicier and healthier. Aubergines are a low-calorie vegetable and an excellent source of fibres and antioxidants [3].
All these ingredients bring spicy Vietnamese flavours to this otherwise western dish, and we love it! They also improve the overall nutritional profile of Bánh patê sô. Each pie has 190 calories and covers only 13% of the recommended daily intake (RDI) for fats.
Whether you know and love the traditional dish, or are just starting to explore the rich and flavourful Vietnamese cuisine, we hope you'll enjoy our spin on this famous recipe. Let's get started!
Frequently Asked Questions
Which are some good Pâté Chaud filling ingredients?

The classic Pâté Chaud filling consists predominantly of minced pork meat, and onion. It's also common to use other types of ground meat, like beef or chicken.

But don't let traditions dictate what can and can't go into your Bánh patê sô! Because this is a Vietnamese recipe, we added some ingredients typically used there, like lemongrass, green chillies, and mint.

You can also mix the meat with the vegetables, as we did with aubergine, or even make this pastry completely vegan by replacing meat altogether.

Here are some great ideas of vegetables often used in Vietnamese recipes that make the perfect filling for Pâté Chaud:

Cabbage

Bamboo shoots

Chayote

Kohlrabi

Spinach

Chinese broccoli (Cai Lan)

Pickled Carrots

You can follow our recipe above and replace the aubergines (or chicken), with any of these ingredients.
Can I freeze and reheat Bánh patê sô?

If you have any leftover pies, you can store them in an airtight container in the fridge for two days.

Alternatively, you can freeze them on the same day and keep them for 4 weeks.

If you freeze them, we suggest you interleave the pastries with sheets of baking paper so that they won't stick one to another. Then, leave them to thaw before warming them up in the oven at 150°C (300°F) for 10 minutes.
Do you eat these Vietnamese pastries hot or cold?

In Vietnam, pate chaud is also known as "Bánh patê sô" which means "hot pastry pie".

Therefore, these meat-filled pastries are meant to be eaten piping hot from the oven.

However, they also delicious when cold, and they make the perfect finger-food to prepare for or bring over to a party.
Ingredients
| | |
| --- | --- |
| Chicken Breast | 100 g |
| Rapeseed Oil | 1 tbsp |
| Shallot | 1 |
| Bird Eye Chillies | 4 |
| Eggplant | 100 g |
| Lemongrass Stalks | 1 |
| Mint Leaves | 4 |
| Vegan Low-Fat Puff Pastry | 370 g |
Step 1
Add the chicken breasts to a food processor and blitz until minced.
Alternatively, you can dice the meat into small cubes with a sharp knife.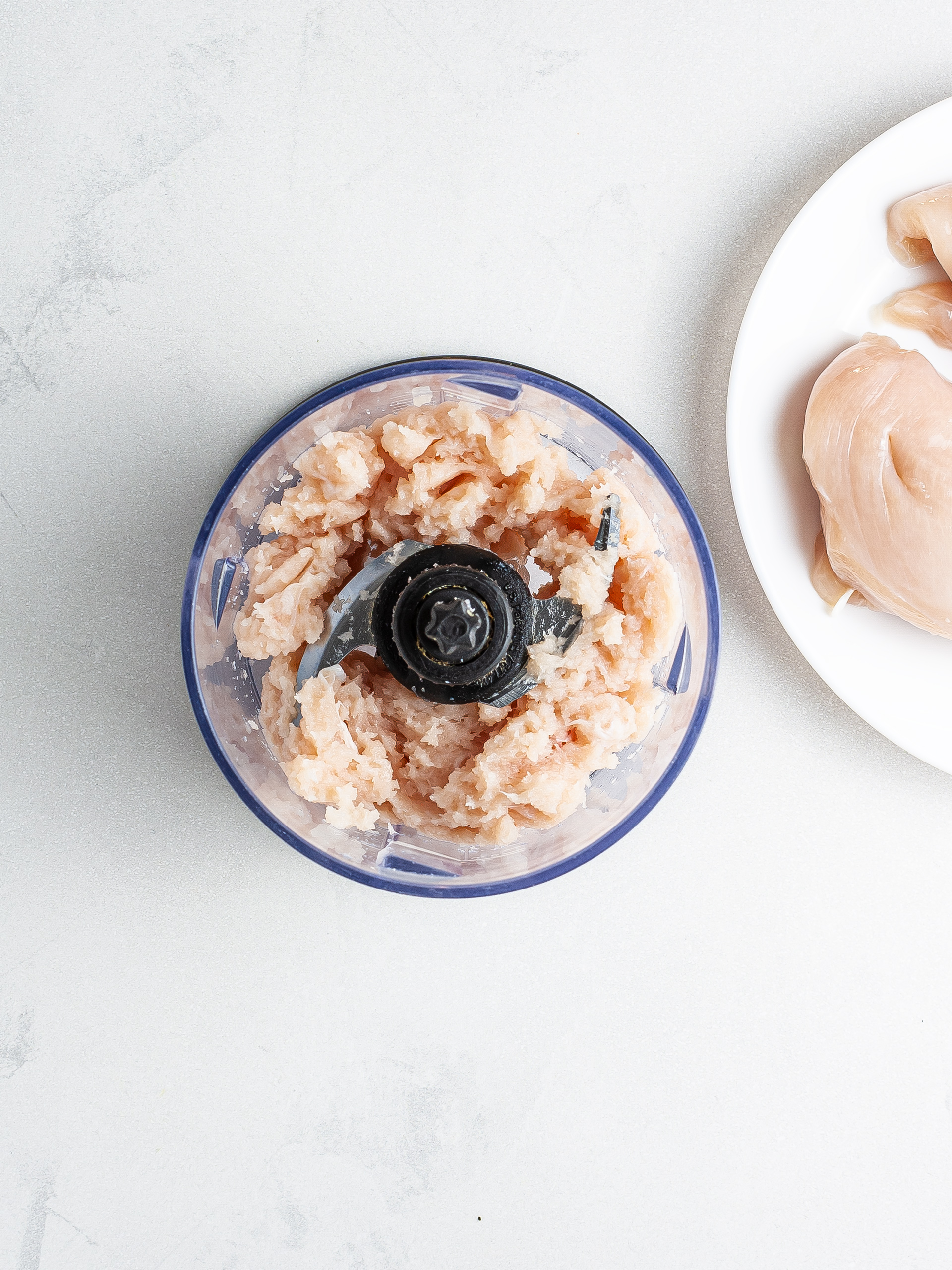 Step 2
Now, heat the vegetable oil in a skillet and add thinly chopped shallot and sliced chillies.
Sizzle for a few minutes and then tip in diced aubergines, sliced lemongrass, mint, and minced chicken.
Add a splash of water, and cook the ingredients for 15 minutes, stirring occasionally.
The stuffing mix must be as dry as possible, or it will make the pastries soggy. So, make sure all the juices released from the eggplants have dried out.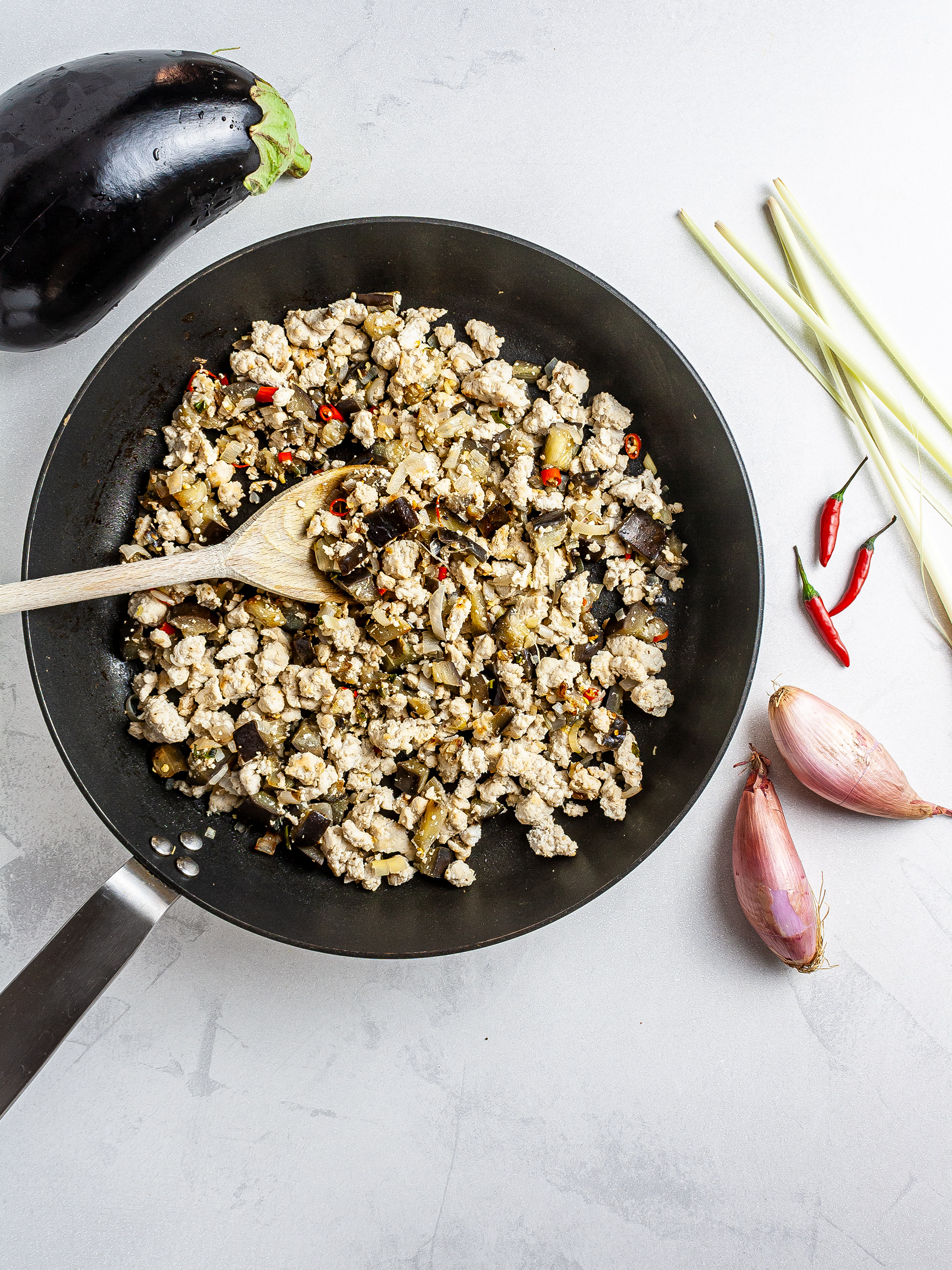 Step 3
Roll out the puff pastry to a 1/2 cm (1/5 inch) thickness with the help of a rolling pin.
For each pie, cut out two pastry discs, one slightly larger than the other. Place a tablespoon of filling in the center of the small circle and then top it with the bigger one.
To make ours, we cut discs 8 cm (3 inches) and 9 cm (3.5 inches) in diameter.
Next, seal the edges pressing down with your fingertips or the tines of a fork.
Poke the surface of the pie with a fork or toothpick to allow the steam to escape during baking.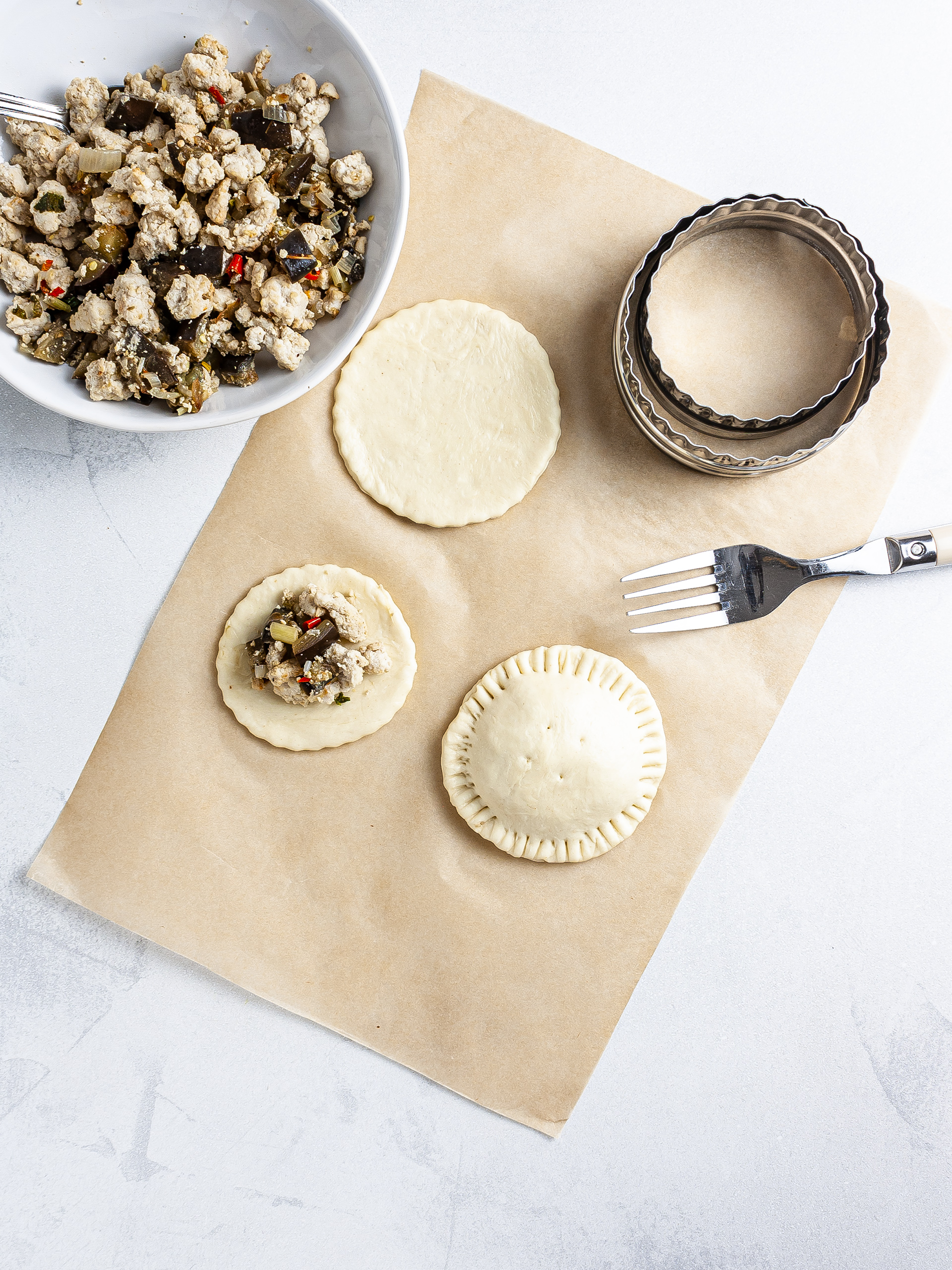 Step 4
Now, place the prepared pies on a tray lined with parchment paper.
Bake for 15-20 minutes at 220°C (430°F) for static ovens or at 200°C (390°F) for fan ovens.
Once browned and crispy, remove the pate chauds from the oven and leave them to cool down for a few minutes on a wire rack before serving.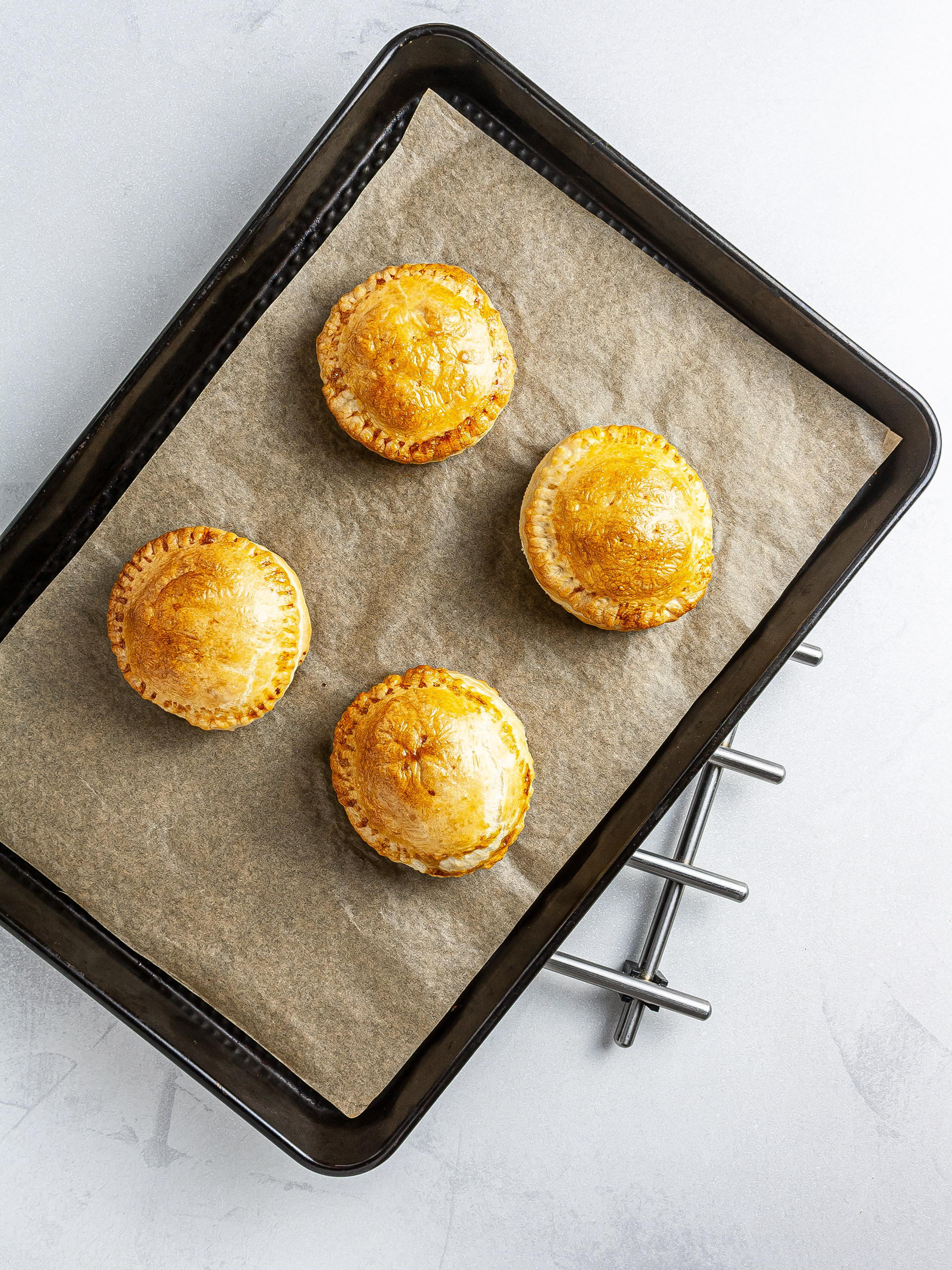 Tips
If the pastry becomes sticky when you're cutting or assembling the pies, refrigerate it for 10 minutes. As it cools down, it will harden, and it will be easier to handle.