If you have been looking for an easy, smooth soup recipe this asparagus and zucchini soup with watercress pesto is a must-try. Let us show how to make it from scratch in just 30 minutes, pan to bowl!
Inspired by the classic Italian zucchini soup, we have prepared ours with courgettes, asparagus, leeks, and potatoes. We blended the veggies into a velvety cream and topped it with fresh watercress pesto.
This courgette soup has no cream, and it's vegan, gluten-free, and paleo.
Here at Foodaciously, we want to help everyone enjoy the food they love without compromise. That's why we have created a Smart-Search tool that matches our best recipes with your diet needs. You should check it out.
Perfect for your weekly meal prepping, this cream of zucchini is a balanced recipe ideal for weight loss as it provides just 300 calories per serving. Courgette and asparagus are low-calorie vegetables, rich in fibres and vitamins. Potatoes contain a good source of carbohydrates with fewer calories than bread or pasta, making them a better choice for folks on a weight-loss plan.
Moreover, this healthy soup is high in fibres, with 7g per serving, which will keep you full for longer and curb your hunger.
If you love healthy recipes like this, make sure to subscribe to our newsletter, and you'll get our newest recipes sent right into your inbox every week, plus our free ebook!
Frequently Asked Questions
Can zucchini soup be frozen?

Yes, zucchini soup freezes well. We recommend you make two or three batches of this delicious soup so you'll always have a healthy recipe at hand when you don't feel like cooking.

The best of way to freeze this asparagus and zucchini soup is to let it cool down right in the pan. Then, with the help of a ladle, pour the soup into freezer-friendly tight seal containers or zip-top plastic freezer bags. Make sure to fill them at two thirds to prevent them from cracking as the water in the soup will expand as it freezes.

It will keep in the freezer for two to three months.

You can freeze this courgette cream right into single servings so you won't have to defrost the whole batch for just one meal.
Can zucchini be used in soup?

Zucchini is an excellent addition to soups. They soften as they cook and make blended soups very creamy. Also, they add a hint of sweetness to the whole dish.

They go well in soups with vegetables which aren't too strong flavoured like tomatoes, potatoes, aubergines, and carrots.

When preparing the courgettes for your soup, trim the tips and chop the zucchini into chunks. Did you know that most of the fibres and antioxidants are in the skin? Avoid peeling these veggies to retain most of their beneficial compounds.
Is zucchini soup healthy?

This creamy zucchini soup is incredibly healthy as courgette provide nutrients, fibres, and antioxidants in a satisfying low-calorie dish. Soups make a quick, balanced, and convenient meal which is perfect for any weight loss plan.

Zucchini is rich in vitamins, including vitamin A, B, and C, and iron, calcium, and zinc. Moreover, they contain antioxidants, including carotenoids lutein and beta-carotene. Antioxidants are essential for better health and wellbeing as they protect our cells from disease-causing free radicals 1 .

The other great thing about this handy vegetable is that it's super low in carbs. That's why our zucchini soup recipe is a fabulous meal for those on a weight-loss diet.
How many calories in zucchini soup?

Our soup has 300 kcal per serving. It also has less than 10% of the recommended daily intake (RDI) for carbohydrates and almost 30% RDI of fibres.

Because fibres take longer to digest, they make us feel full for longer. Having ways to suppress or delay our appetite is the best way to lose weight.
How can I thicken zucchini soup?

Thickening zucchini soup, like most other vegetable soups, is easy. There are many ways to do it. We will show you the most common below.

Add starchy and fibre-rich vegetables, like potatoes. Add these to the soup while cooking and blend.

Add one tablespoon of ground flaxseeds per serving while simmering the soup. Flaxseeds natural fibres will absorb water and expand into a gel-like mixture which thickens the soup. These seeds will also boost your meal with plant-based omega-3 and loads of fibres.

Add dairy products like single cream or yoghurt to make your soup creamy and silky. Make sure you add them at the end of the cooking time, or they will curdle if boiled.

Add coconut milk or oat milk as a vegan alternative to dairy products.

Add cashew cream made with soaked and blended cashew nuts. They're also great to boost proteins and healthy fats in your soup.

Add starches like cornflour or potato starch. Similarly to flaxseeds, they will also give a jelly-like consistency to the soup. Whisk 1 tsp of starch with some cold water first, and then add it to the soup. Stir well while it thickens. Plain flour works well too.

Add red lentils along with the vegetables and blend into a vibrant and thick soup.
Ingredients
| | |
| --- | --- |
| Extra Virgin Olive Oil | 4 tbsp |
| Onion | 80 g |
| Garlic Clove | 2 |
| Leek | 80 g |
| Potatoes | 280 g |
| Zucchini | 500 g |
| Asparagus | 150 g |
| Vegetable Stock | 500 mL |
| Watercress | 40 g |
| Sunflower Seeds | 30 g |
| Sesame Seeds | 15 g |
| Lemon Juice | 20 mL |
Step 1
In a deep pot, sizzle 1 tbsp of extra virgin olive oil with finely chopped onions until they get soft and translucent. Then, add crushed garlic and sliced leeks, and cook for a minute or so until fragrant.
Next, add peeled and diced potatoes, trimmed and diced zucchini, and chopped asparagus.
Stir well and cook the vegetables for 5 minutes.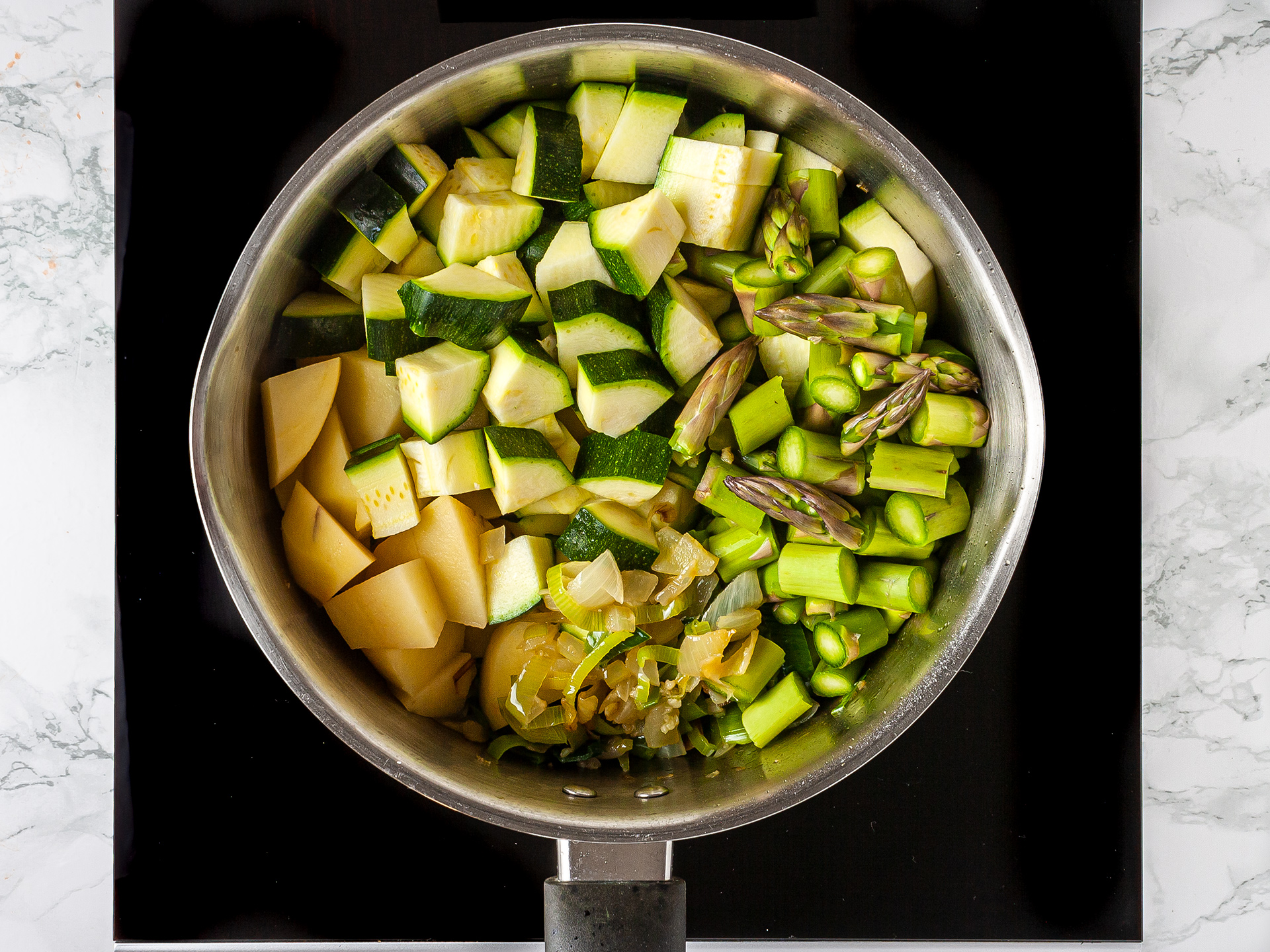 Step 2
Now, pour in the vegetable stock and bring to the boil. The stock should be enough to cover the vegetables, so adjust the amount if needed.
Simmer the soup at medium heat for 15 minutes or until the vegetables are tender.
Then remove from the heat.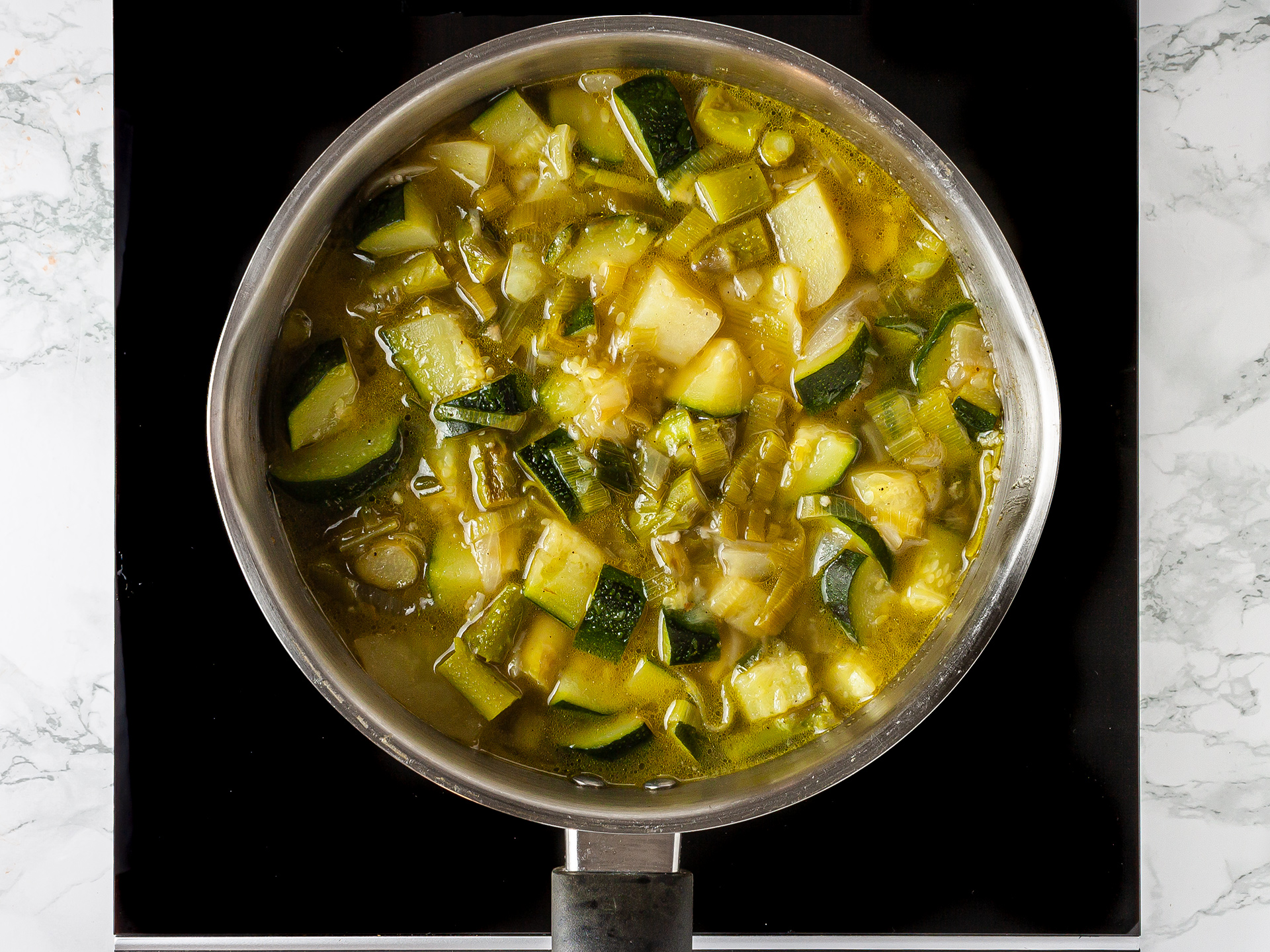 Step 3
In the meantime, prepare the watercress pesto. Blitz in a food processor the watercress, 3 tbsp of extra virgin olive oil, sunflower seeds, sesame seeds, and lemon juice.
A lemon squeezer will save you time and effort as it squeezes lemons to the last drop while keeping the seeds from falling into your food processor. It's critical that no lemon seeds get blended, as they are incredibly bitter.
Blend until you have a creamy pesto.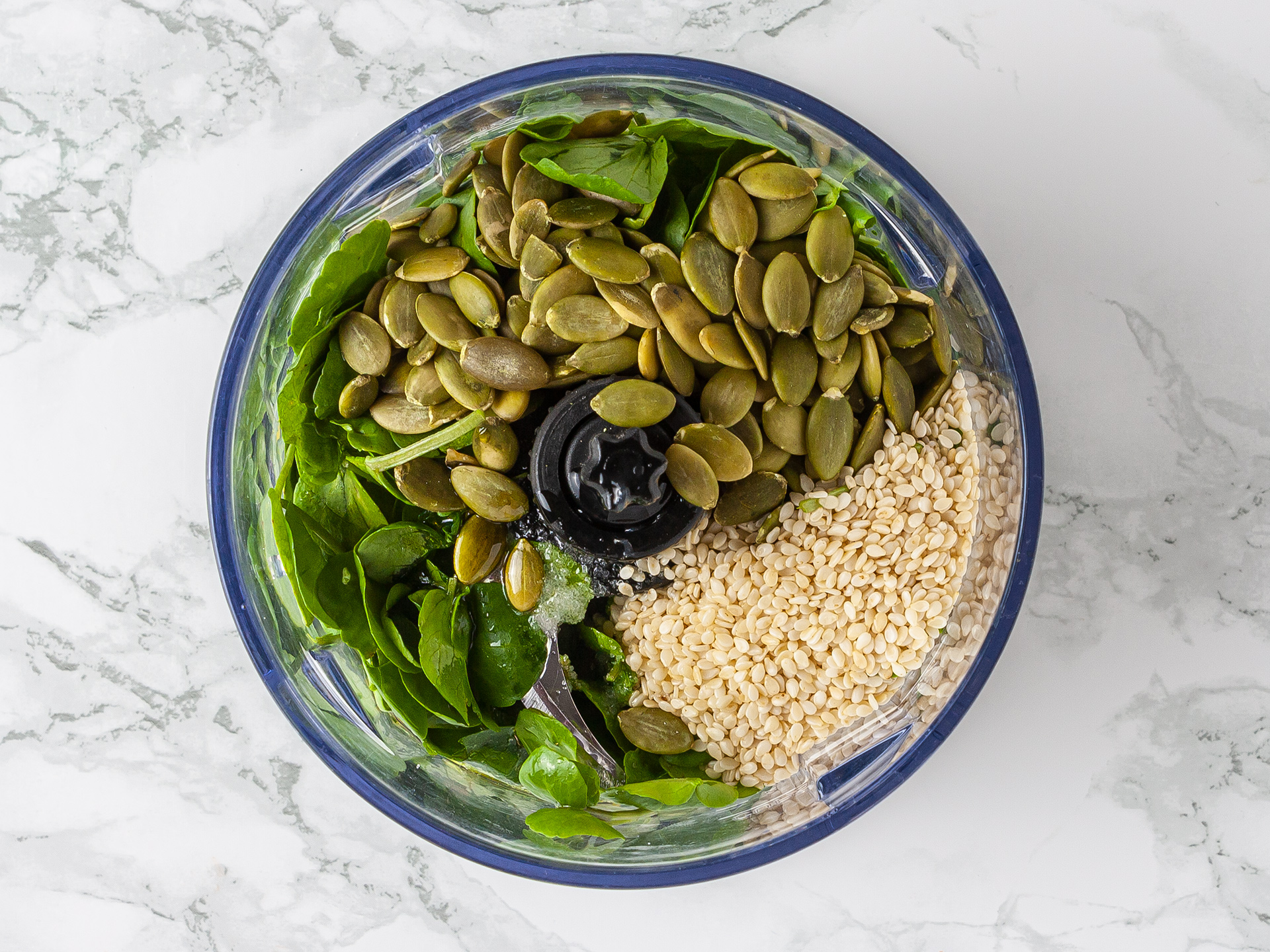 Step 4
Blend the green soup with the help of an immersion blender or a food processor until it's perfectly smooth.
Divide the soup among serving bowls and top with a spoonful of watercress pesto.
If desired, you can garnish with spring onions, mint, and freshly cracked black pepper.
Enjoy your creamy asparagus and zucchini soup with toasted sourdough bread!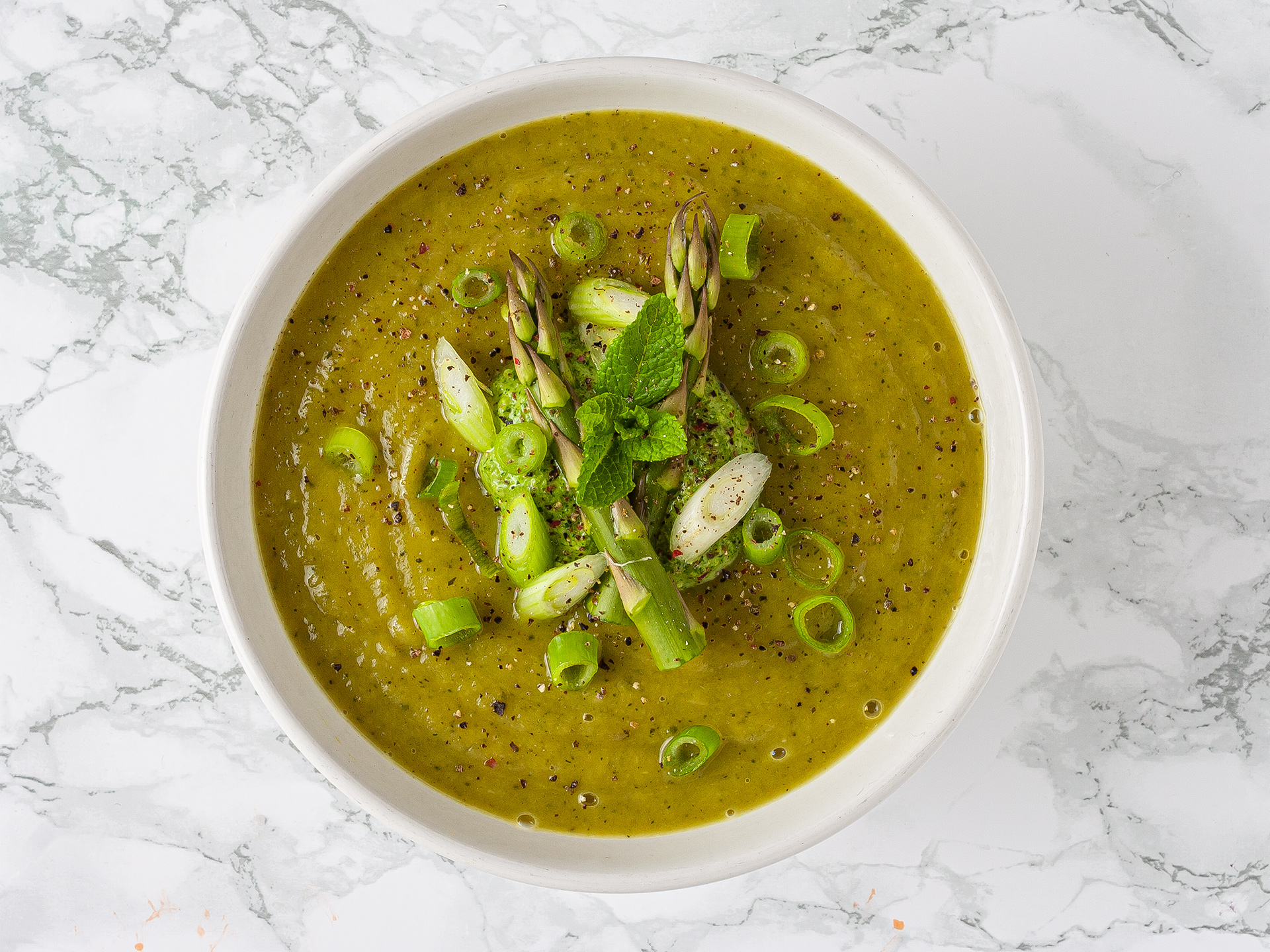 Tips
Store this smooth zucchini soup in an airtight container in the fridge for up to two days.

To boost the protein content, you can add red lentils or top with toasted nuts.