Teriyaki is one of our favourite ways to enjoy Japanese food. It involves cooking ingredients in the eponymous glaze of soy sauce, rice vinegar, and sesame. Although the most common pairing to Teriyaki sauce is chicken, you can cook veggies with it too. Today, we'll show you how to make delicious teriyaki tofu, perfect on a bed of sticky white rice.
Our recipe is both vegan (meatless, egg-free) and gluten-free. Important note for celiacs: make sure you buy a soy sauce that is clearly labelled as gluten-free. You may think that soy sauce is naturally gluten-free, as it is a byproduct of soybeans. But the traditional way to prepare the sauce is to ferment the soybeans with wheat. Some labels may fail to disclose this, so make sure your soy sauce clearly states "gluten-free", if you are intolerant to gluten.
Instead of using pre-made teriyaki sauce, we'll prepare it ourselves. It's easy and quick, don't worry. To make it healthier and lighter, we reduced the fats and sugars contained in the classic sauce. We did it by halving the amount of sesame oil and replacing white sugar with maple syrup. Our teriyaki sauce is also vegan, as we used maple syrup instead of honey to make it refined-sugar-free.
We also opted to oven-bake our tofu teriyaki instead of frying it. Some teriyaki chicken recipes involve deep-frying the chicken first and then smothering it with sauce. You could apply the same technique to tofu, but we suggest you shy away from frying and stick with the oven instead, to make this a healthier meal.
Overall, this recipe is great for vegans or flexitarians with a craving for a healthier teriyaki dish. A serving of this teriyaki tofu will net you 158 calories, and cover 28% of your RDI for proteins and only 14% RDI of fats. You can make a meal out of it by serving the tofu with a bowl of sticky rice and steamed greens.
Just follow along with our easy steps below, and you'll be nibbling healthy tofu teriyaki in no time. Enjoy!
And if you're looking for more tofu seasoning ideas, we think you'll love this firecracker sauce for roasted tofu, miso marinade for baked tofu, or spicy honey-glaze for stir-fried tofu.
Frequently Asked Questions
Is the classic teriyaki sauce vegan?

Teriyaki sauce is a staple of Japanese cuisine, and the most basic version is prepared with a few simple ingredients:

Popular variations also include grated ginger root and crushed garlic, plus a starch slurry to thicken the sauce.

As one can see, classic teriyaki sauce is 100% vegan. However, some recipes swap sugar with honey, making it unsuitable for those following a plant-based diet.

We decided to make our vegan teriyaki sauce with maple syrup instead of refined white sugar, and we swapped sake with extra rice vinegar.

Weight by weight, maple has two-thirds of the sugars and a lower glycemic index, perfect for a healthier teriyaki variation.

To keep this recipe also alcohol-free, we replaced sake, an alcoholic beverage made from fermented rice, with mirin. Mirin, or rice vinegar, is stronger and sweeter than sake, so we used one tablespoon of rice vinegar and one tablespoon of soy sauce for every two tablespoons of sake.
Which type of tofu should I use?

There are two types of tofu: silken and regular. They both come in different varieties like extra-soft, soft, firm, or extra-firm.

For this recipe, we recommend using the firm or extra-firm regular tofu as it will hold its shape better when sliced and coated, and it will have a "meatier" texture, similar to chicken meat.

Silken tofu, instead, is the go-to choice when you're preparing desserts, smoothies, and soups. It has a higher water content than regular tofu, and it can be blended easily into a smooth cream.
What can I serve with tofu teriyaki?

We love pairing this oven-baked tofu slabs with a steamy bowl of sticky rice. We have a detailed recipe here, where we show you how to make sticky rice for onigiri.

Alternatively, you can serve this teriyaki-glazed tofu on a bed of brown rice, for a fibre boost, or with cauliflower rice, for a low-carb meal.

Finally, we recommend adding a good serving of vegetables to your bowl to stay on track with your 5-a-day. You can try:

- Steamed greens like pak choi, spring greens, cabbage, spinach, or swiss chard

- A vegetable stir fry. Find inspiration in our vegan stir-fry noodles recipes

- Sauteed mushrooms and tenderstem broccoli

- Root vegetables like carrots, sweet potatoes, and potatoes

- A simple green salad
Ingredients
| | |
| --- | --- |
| Gluten-Free Soy Sauce | 3 tbsp |
| Rice Vinegar | 3 tbsp |
| Maple Syrup | 1 tbsp |
| Sesame Oil | 1 tbsp |
| Garlic Cloves | 1 |
| Fresh Ginger Root | 10 g |
| Starch (Potato or Corn) | 1/2 tbsp |
| Water | 2 tbsp |
| Firm Tofu | 400 g |
Step 1
To prepare the teriyaki sauce, combine soy sauce, rice vinegar, maple syrup, sesame oil, crushed garlic and grated ginger in a bowl.
Then, whisk the starch with cold water until it's dissolved and add it to the soy sauce mixture.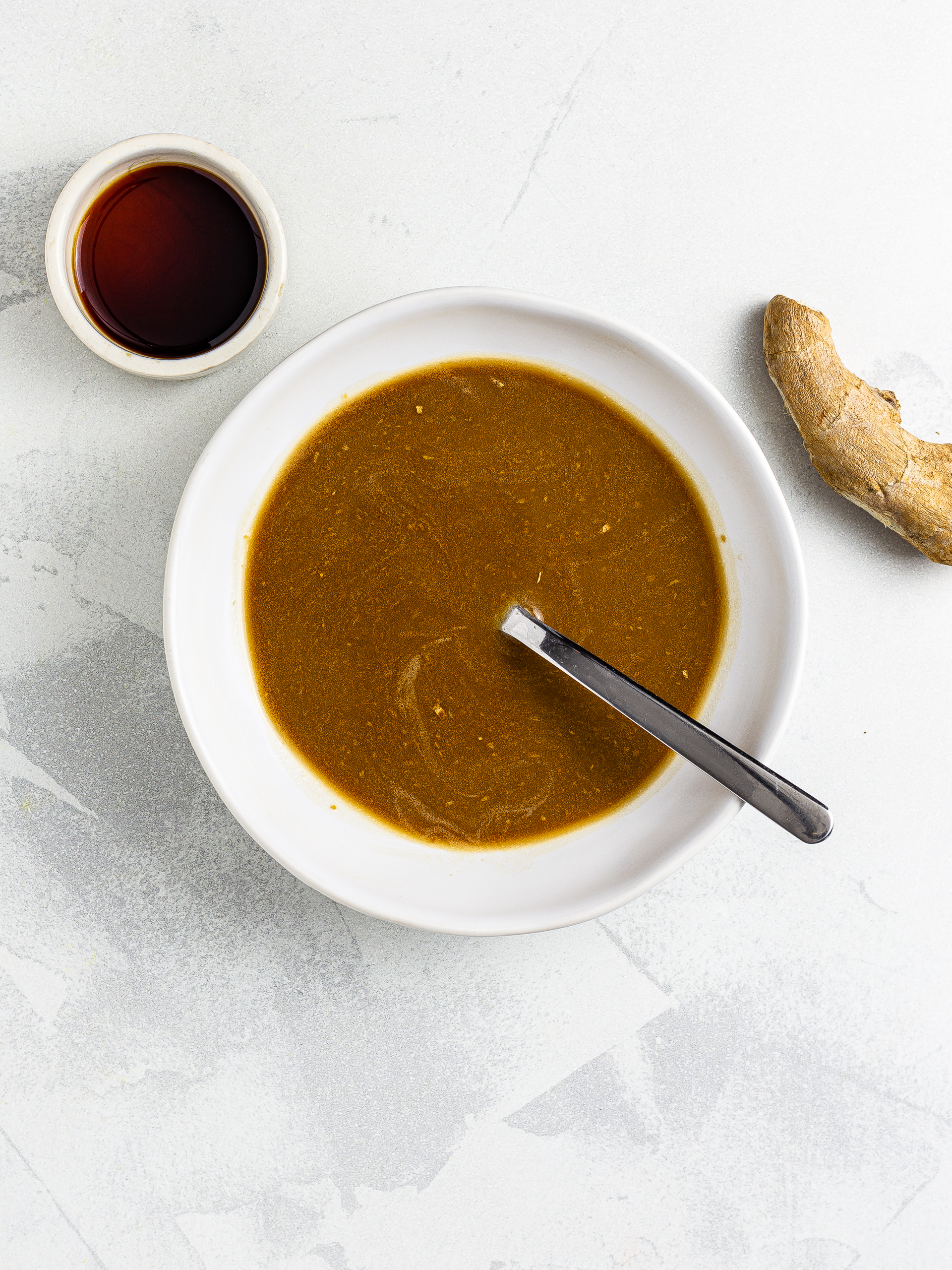 Step 2
Next, transfer the mixture into a pot and bring it to a boil over low heat.
As soon as you see the first bubbles, remove the pot from the heat, and whisk it vigorously for a minute.
You should have a thick and glossy sauce, but if it feels too dense, you can add a splash of water and whisk.
Step 3
Now, rinse and drain the tofu block under cold water. Then, squeeze it to remove excess water.
Slice the tofu into thick slabs or dice it into bite-sized cubes.
Then, coat them with the prepared teriyaki sauce smearing it with the back of a spoon.
Glaze the tofu with just enough sauce to cover the whole surface evenly and then scoop out the excess, keeping it for later to serve.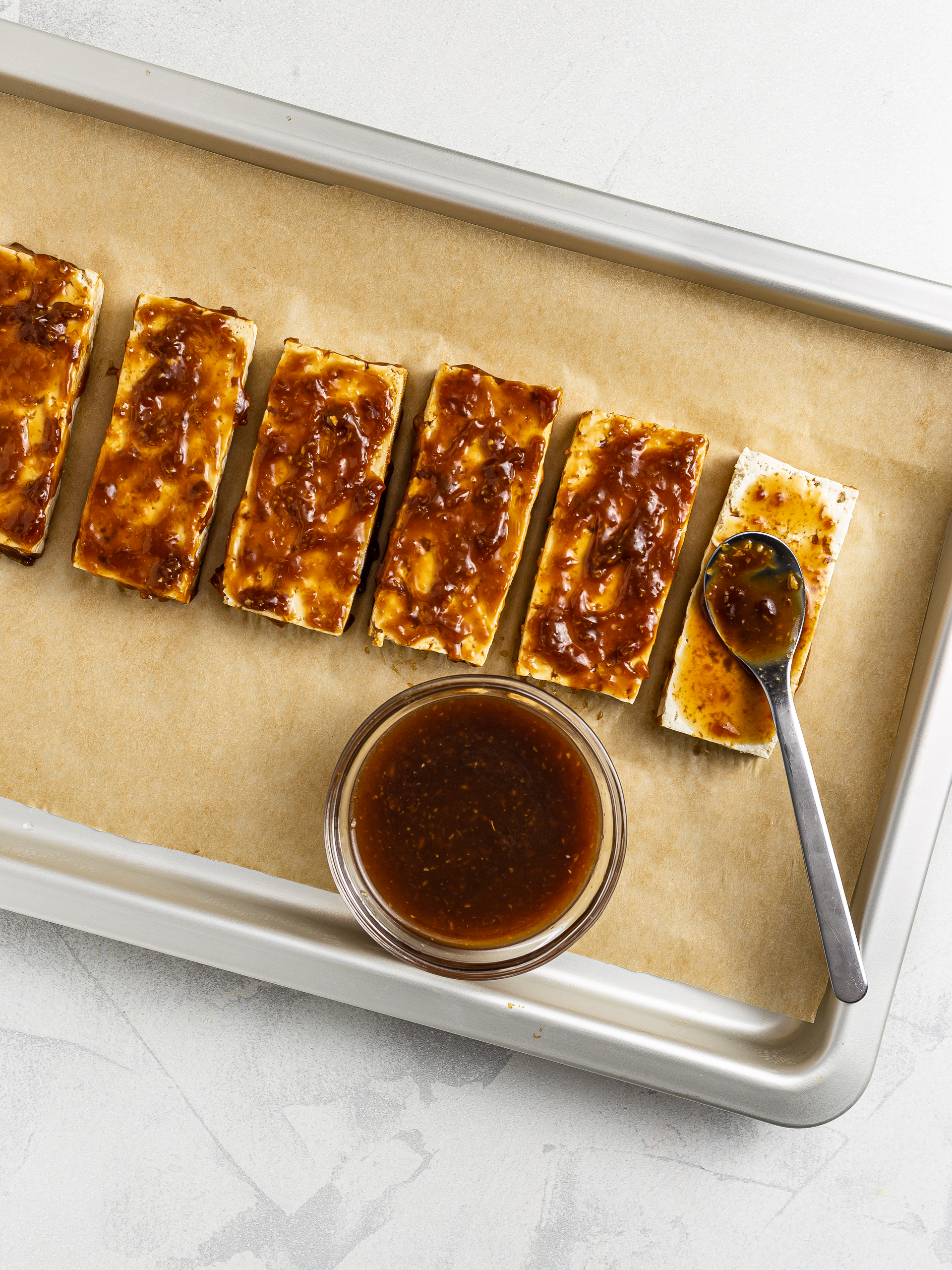 Step 4
Place the teriyaki-coated tofu slices onto a baking tray lined with parchment paper and bake them for 20 minutes at 200°C (390°F) in static mode.
Serve this baked tofu with extra teriyaki sauce and a sprinkle of sesame seeds. Enjoy it with a side of sticky rice (see how we made it in this recipe here) and steamed greens.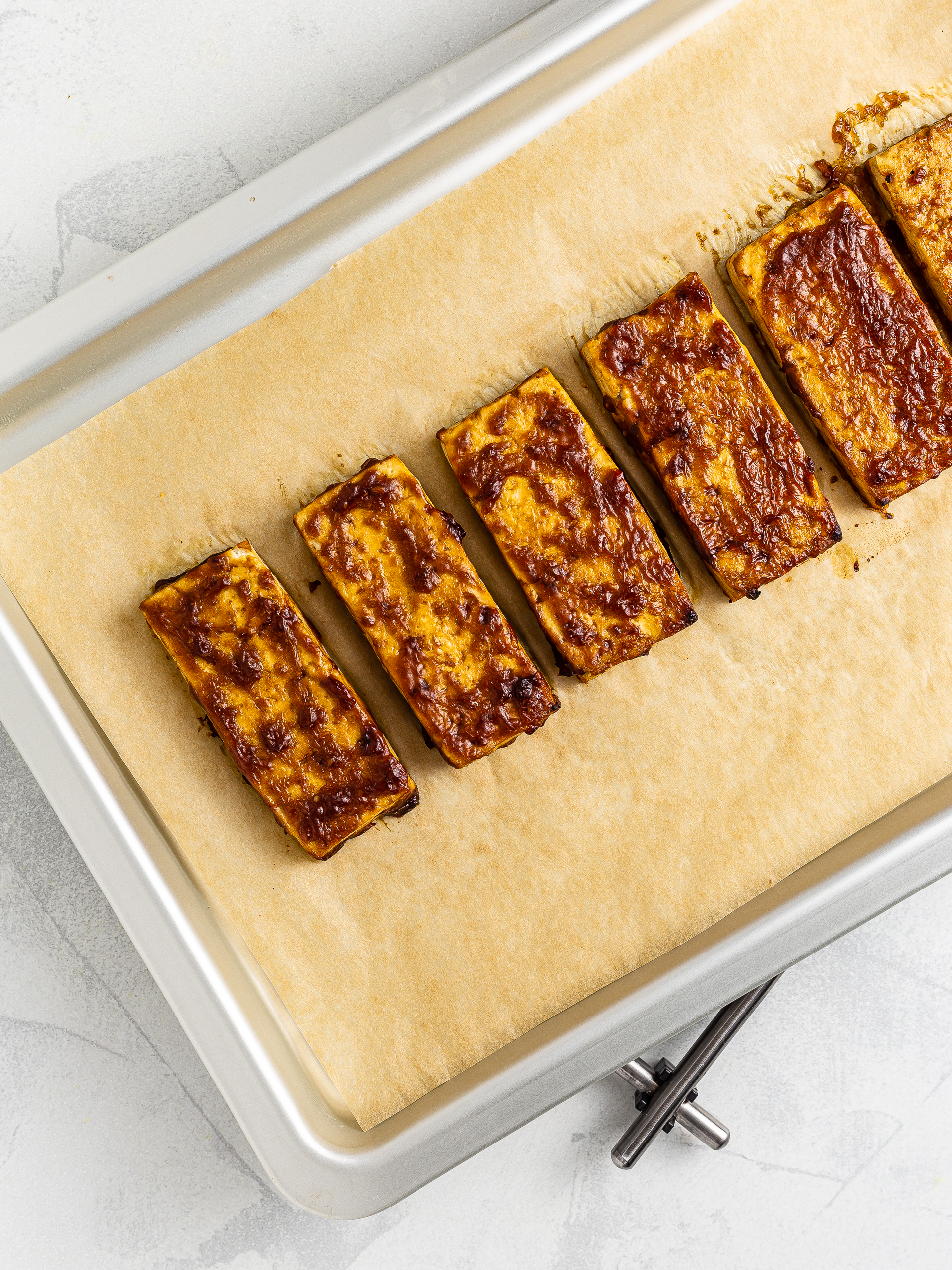 Tips
Once coated with the sauce, you can leave the tofu to marinate for 20-30 minutes in the fridge.