We bring you a hearty vegan soup with fresh spinach, wholesome barley, crunchy pears, and dairy-free crème fraîche.
Ready in less than 30 minutes, this recipe doesn't require much work, but it packs big flavour. Let's take a quick a look at what makes this soup special.
The flavour. We layered the comforting flavours of peas, spinach, and pearl barley, with that of sugary and crunchy pears. We love this contrast as it gives us a soup that is still very much homey but with a tad of complexity that makes every spoonful stand out.
The fibres. Nothing says "healthy" as much as fibre-rich food. Spinach, pears, and barley all have lots of dietary fibres that will fill you up and aid your digestion.
The creaminess. Creamy, warm, and hearty. That's the good stuff! We blended all the base ingredients into a smooth velouté soup and topped everything off with a swirl of low-fat, vegan crème fraîche. Yum!
Overall, our barley and spinach soup makes a full meal with a hearty yet exciting flavour and a balanced nutritional profile. From a big bowl, you'll get 60% RDI for fibres, 28% RDI for proteins, and 20% RDI of carbs. Great for a weekend lunch or cosy dinner!
Love barley and on the look out for more healthy vegan barley recipes? Try some crunchy Cretan rusk bread made with barley flour or this posh vegan barley risotto with beets and cashew cream.
Ingredients
Soup
Pearl Barley

200 g

Extra Virgin Olive Oil

2 tbsp

Medium Red Onion

1

Spinach

200 g

Peas

200 g

Pears

2

Vegan Crème Fraîche
Cashew Nuts

50 g

Soy Yogurt

100 g

Lemon Juice

1 tsp
Step 1
Rinse well the barley, add it to a pot, and cover it with water.
Bring to a boil and cook the barley for 15 minutes over medium heat.
Then, drain it and set it aside.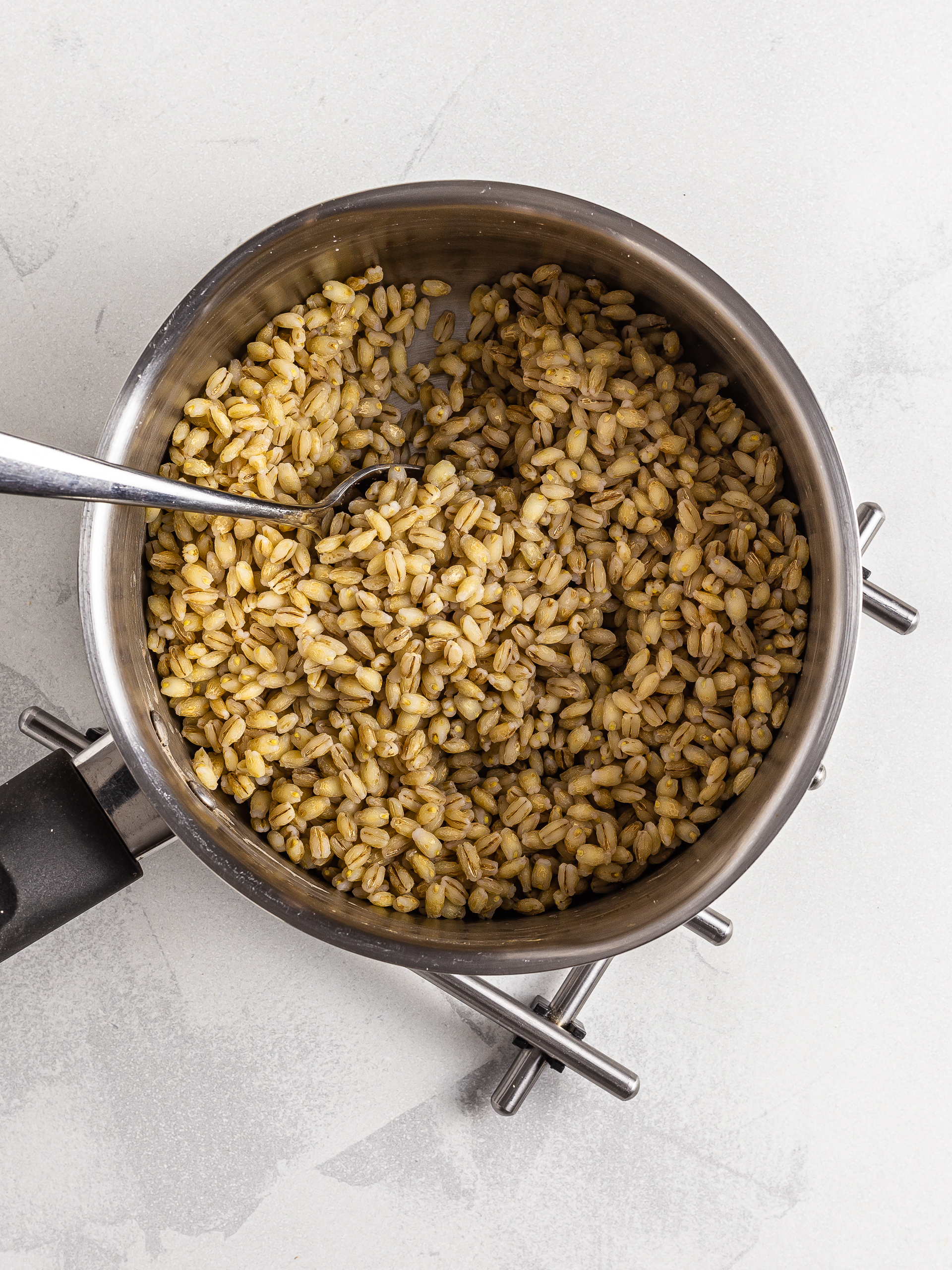 Step 2
Meanwhile, heat the oil in a clean pot and sizzle the chopped onions for a few minutes.
When they're soft and fragrant, add fresh spinach, peas, and pears, peeled and cored.
Then, pour in enough water to almost cover the vegetables, bring it to a boil and cook the soup for 15 minutes.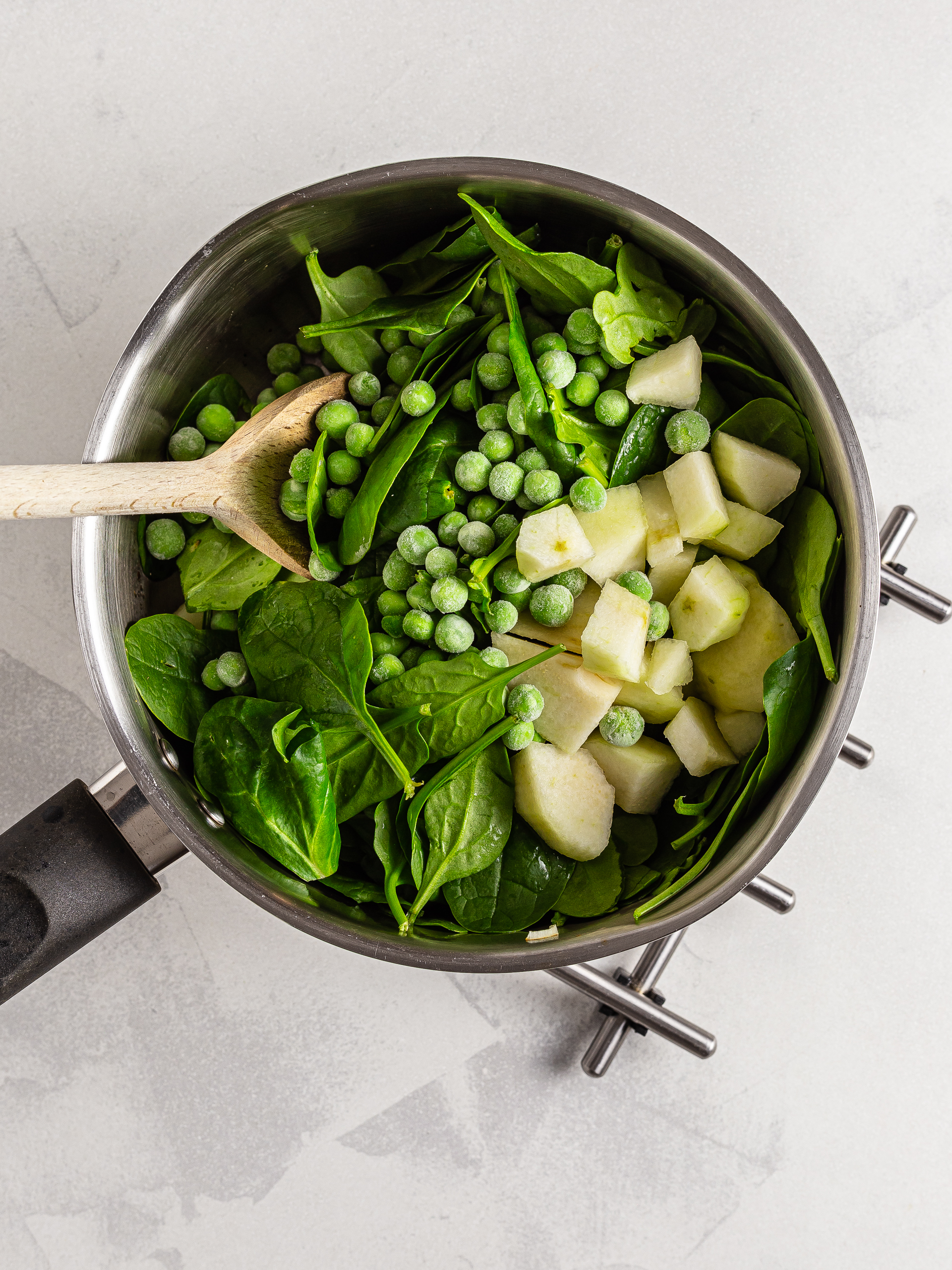 Step 3
Once the vegs are soft and cooked through, blitz the soup with an immersion blender to make a creamy velouté.
Then, season it with salt and pepper to taste.
Step 4
To prepare the vegan crème fraîche, soak the cashew nuts in a bowl with water for 10 minutes.
Then, drain them and transfer them to a food processor along with the soy yogurt and lemon juice.
Blitz the ingredients into a velvety paste and season it with salt to taste.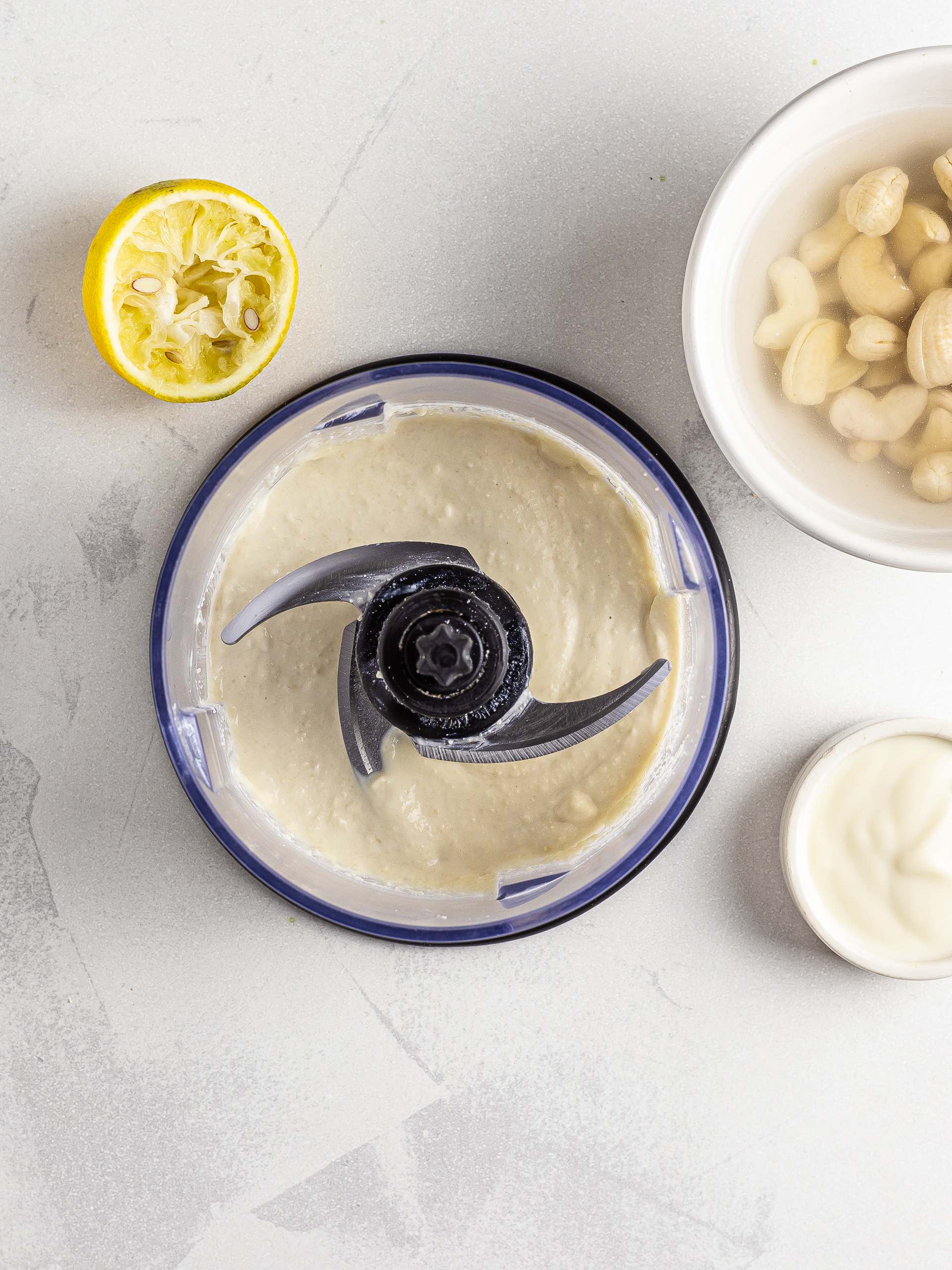 Step 5
Finally, add the cooked barley to the spinach velouté and divide the soup among bowls.
Then, top it with a few tablespoons of crème fraîche and stir all into a gorgeous swirl.
You can garnish the soup with cracked black pepper and chopped coriander if you like.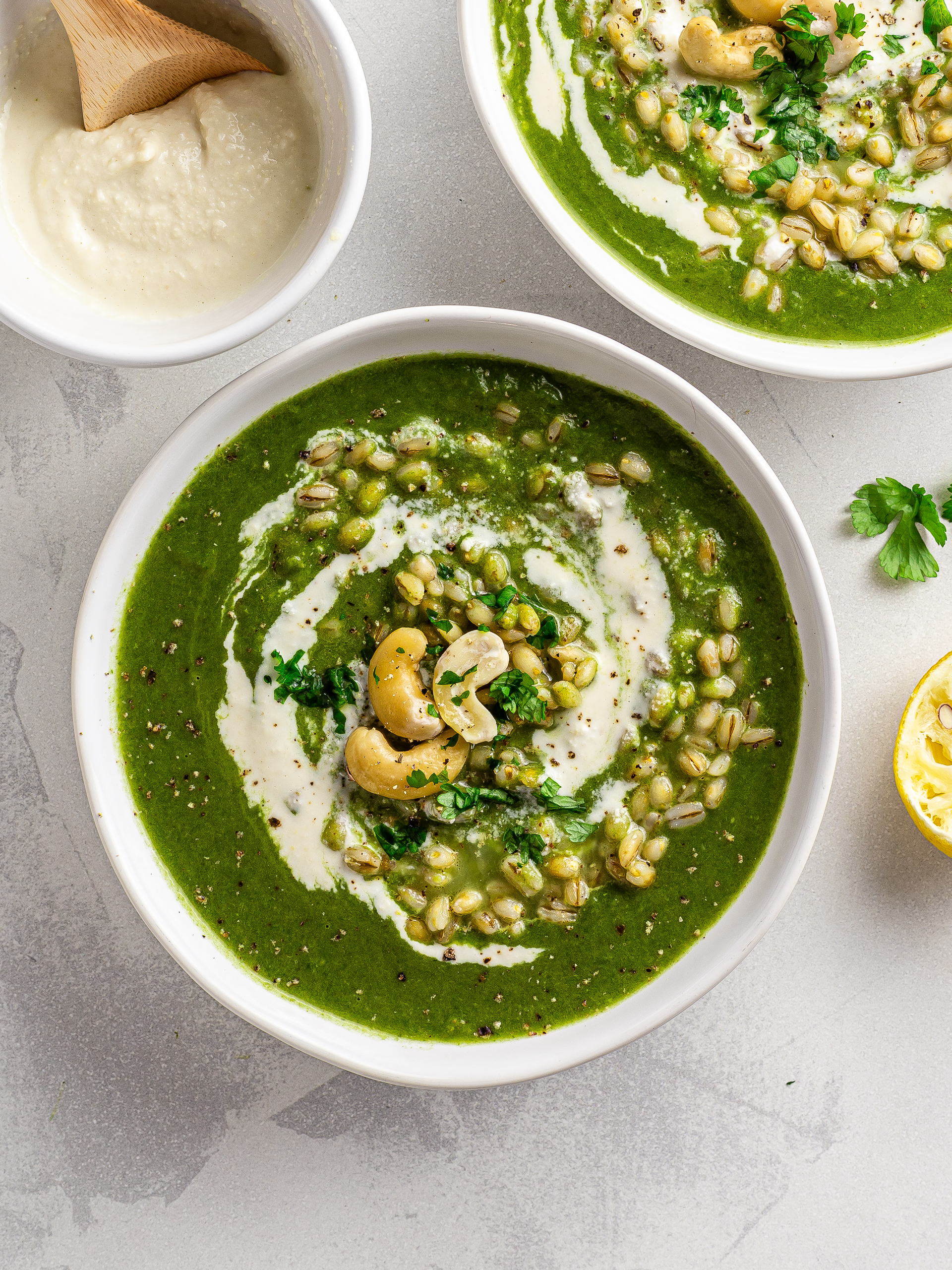 Tips
Sprinkle the soup with chilli flakes for a spicy kick.

Instead of peas, you can use white beans like cannellini, butter beans, or chickpeas.

Store the soup in the fridge in an airtight container for up to three days.