If you are in the market for a low-carb but nutritious smoothie that bursts with antioxidants, then this beets and kale smoothie is the real deal.
Bananas, fresh kale and beetroots, a splash of almond milk, and a handful of sweet dates offer a balanced mix of vitamins, proteins, fibres and minerals.
Have this smoothie for breakfast, and your body will thank you for hours to come.
If you'd like to hear about the major health benefits of the ingredients we used, then keep reading. Otherwise, just scroll down to the recipe to get this done!
You'll get a lot of potassium, vitamins B6 and C from the bananas. Potassium plays an important role in regulating blood pressure, particularly important during hot summer days.
Kale, like most other leafy greens, is an excellent source of antioxidants, vitamin K, and nitrates. These nutrients help to fight disease-causing free radicals and support a healthy heart.
Kale also provides iron, which is essential for good energy. Just like for spinach in this iron-rich smoothie, adding kale here can help increase your daily iron intake!
Beetroots are also good at lowering blood pressure. Red and purple vegetables are those with the most antioxidants.
In particular, beetroots are rich in folate and manganese, which help regulate your body's metabolism and blood sugar levels.
Finally, if you decide to top this kale and beetroots smoothie with nut spreads, you'll get lots of healthy plant-based fats and proteins.
Want even more proteins? Add in a splash of yogurt.
This recipe is suitable for vegans, and it's also great for weight watchers thanks to low-calorie, high-fibre ingredients like beets and kale.
In fact, we used this awesome combo also in our weight-loss raspberry kale smoothie recipe — try it next!
Frequently Asked Questions
Which type of kale should I use?

You should use curly "baby-leaf" kale, as its more tender and suitable for blitzing. You may also use other types, like the super healthy black Tuscany kale, but know that you may have to blitz a bit longer to get a smooth drink.

Finally, if you don't have kale at hand, but would still like to make this smoothie, then use baby-leaf spinach instead.
Can I make it without bananas?

You can make this beet and kale smoothie without bananas if you wish. Bananas help make it creamer, and that is why we used them.

One way to still have a creamy smoothie without using bananas is to use yogurt or silken tofu. Both these options are ideal if you'd like to add proteins to your smoothie.
Is it good for people with diabetes?

Overall this smoothie is suitable for people with diabetes, or anyone that needs to keep an eye on blood sugar levels. But it's worth mentioning a few things about the ingredients used:

Kale has a very low Glycemic Load, so no risks there.

Bananas have a medium GI, so they should be consumed in moderation. If you have diabetes and feel like you already had enough carbs today, then make this smoothie without bananas.

Although beetroots have a medium-high Glycemic Index, their Glycemic Load is very low. What this means is that it's perfectly safe to eat an average-sized portion of beetroots if you have diabetes. Because we don't use too much of this ingredient in our smoothie, you are good to go.
Ingredients
| | |
| --- | --- |
| Kale | 80 g |
| Almond Milk | 200 mL |
| Pitted Dates | 2 |
| Bananas | 2 |
| Fresh Ginger Root | 1 tsp |
| Cooked Beetroots | 1 |
Step 1
To get a smoother juice, remove the stalks from the shredded kale. You can then use them in soups or stews, or simply discard them.
If your dates feel a bit hard, then soak them in almond milk for about five minutes. This way, they will blend better into the smoothie without leaving bits.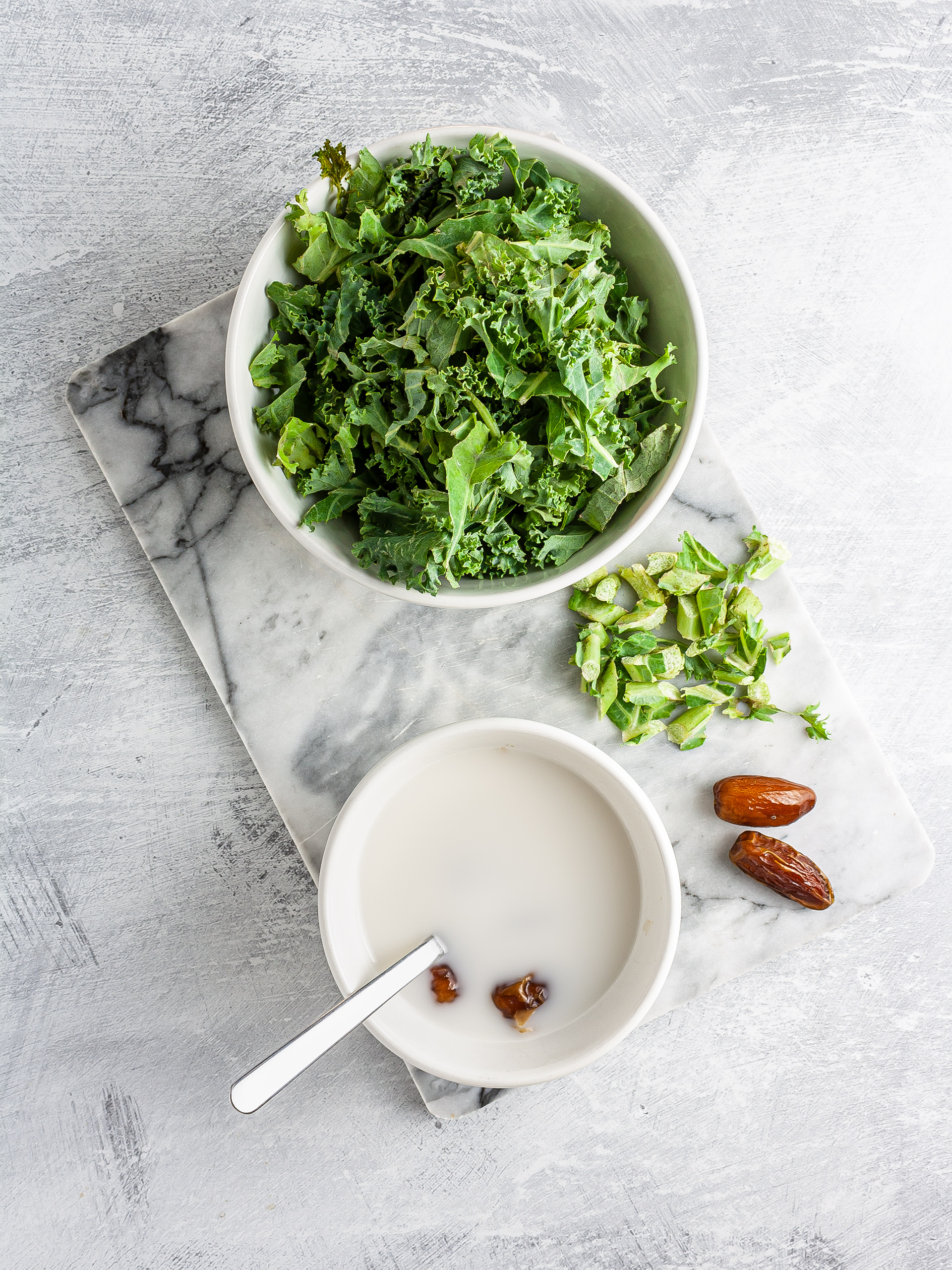 Step 2
In a powerful food processor, add peeled bananas, grated ginger, cooked beetroots, kale, and the almond date mix.
Blitz the ingredients until smooth.
The juice will be nicely thick, but you can add more milk or water if you prefer a runnier consistency.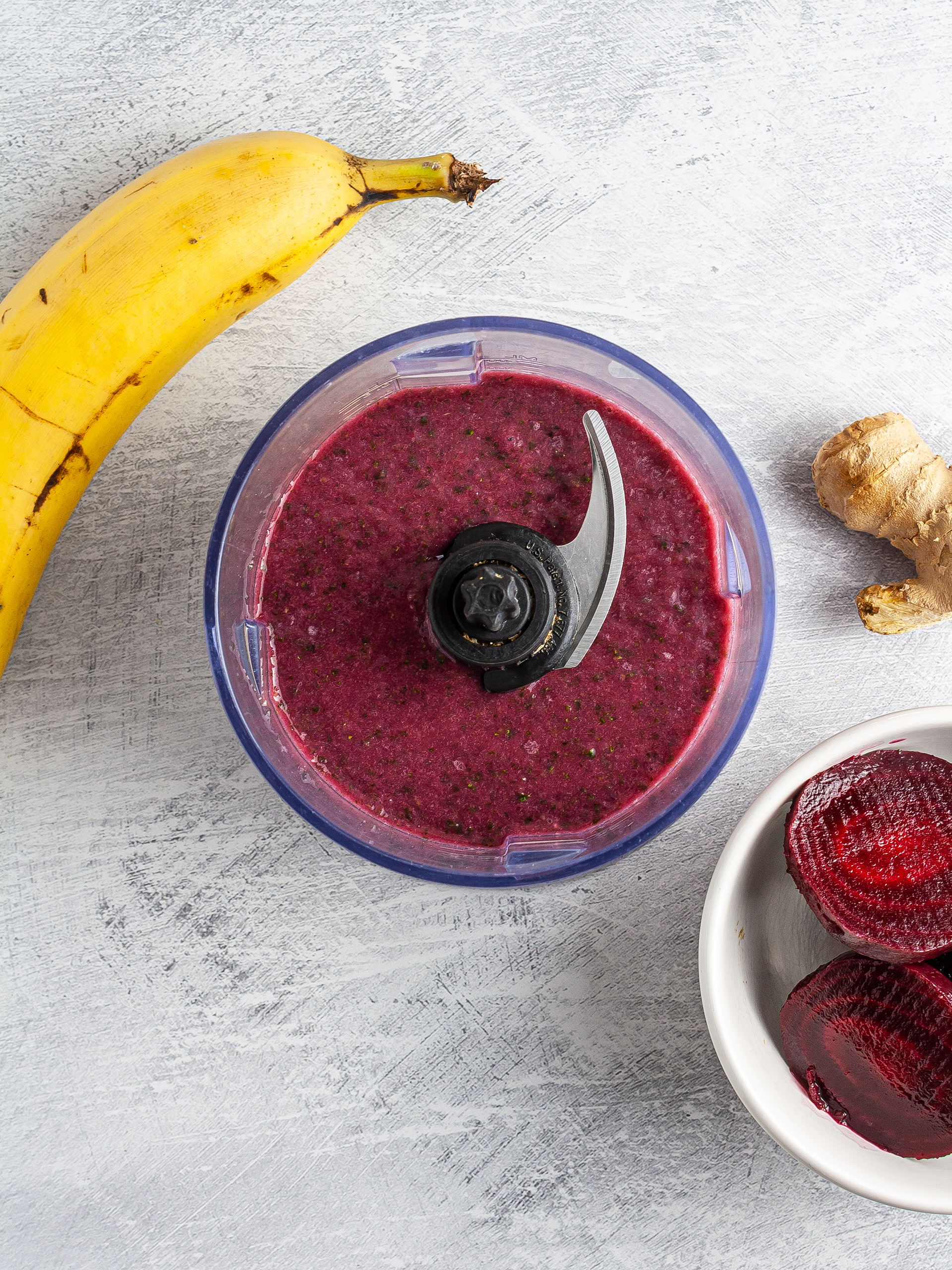 Step 3
Your healthy beet smoothie is ready.
You can enjoy it right away or store it in the fridge for two days.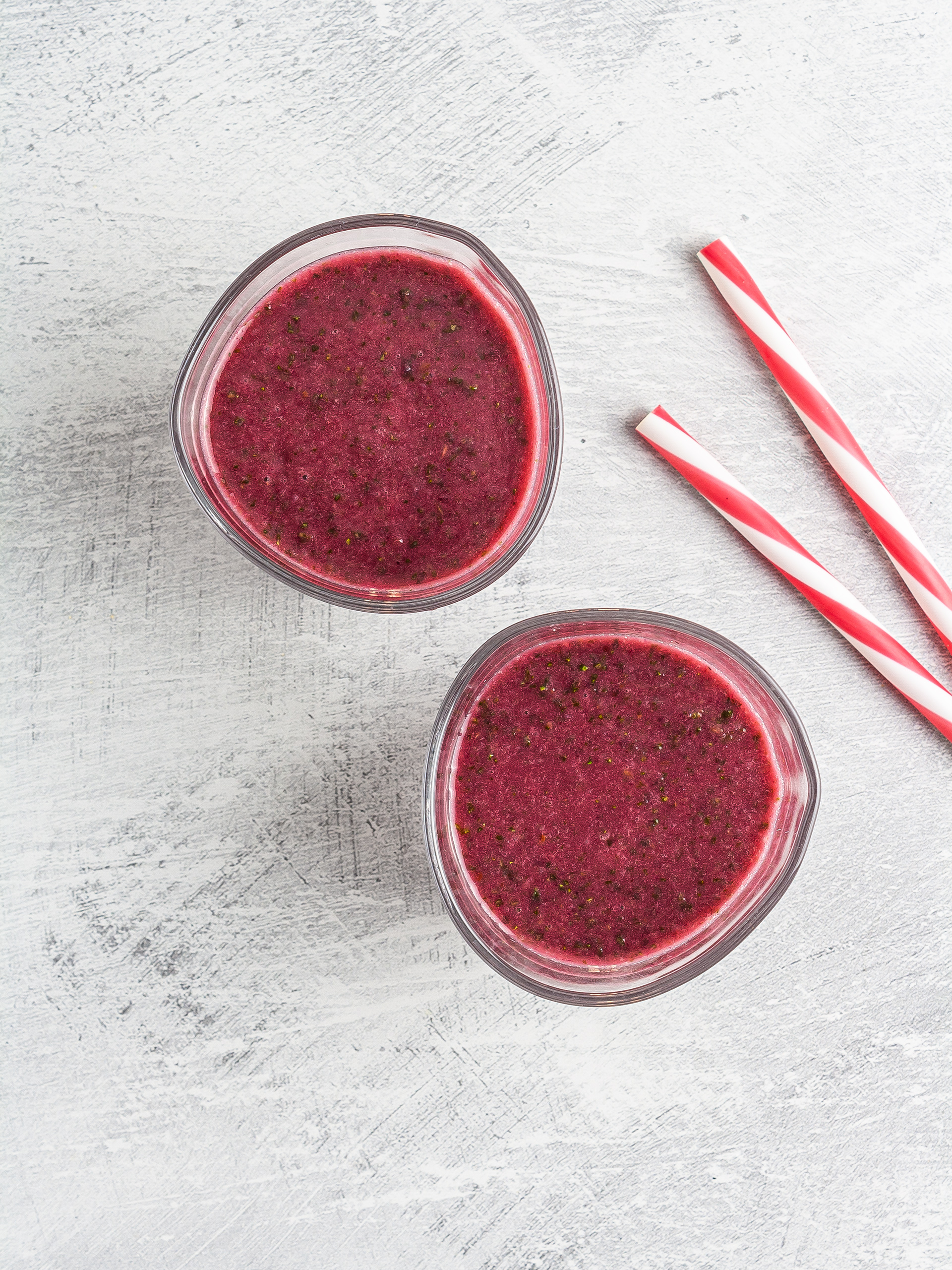 Tips
For a boost of nutrients, try adding bee pollen or acai berry powder to the kale juice.