Isn't it great when you can make an awesome breakfast by letting things soak overnight? Bircher muesli (the Swiss version of overnight oats) are just that: lots of flavour without breaking a sweat.
Today we'll show you how to make dairy-free and vegan bircher muesli. We'll use a mix of nuts and seeds, apples, goji berries, and a really special blend of spices. It's a surprise!
This recipe is so simple it's silly. Just combine all ingredients in a bowl, leave it to soak overnight, and take your breakfast out the fridge the next morning. Top it with crunchy nuts, and you're good to go.
To make it vegan, we substituted dairy yogurt and milk with soy yogurt and soy milk. Everything else is plant-based, so no need to make any alterations to make this a healthy breakfast. Because we used fruit (dry and fresh), there's no need for added sugar. This recipe is naturally sweet and 100% sugar-free.
The nice thing about mixing all these wholesome ingredients is that we get a big portion of our daily nutrient intakes in one fell swoop. A bowl of our yogurt and fruit muesli will provide you with 33% RDI of proteins, 34% RDI of fibres but only a meager 1.5g of saturated fats (8% RDI) and 12g of sugars (13% RDI). Not bad as a day-starter, right?
The last benefit of making muesli at home is that it will be much cheaper than that bought in a store. It's quite shocking how much you get ripped off buying those pre-made boxes. You can say goodbye to that! Plus, you can control exactly the freshness and quality of the ingredients you use, and cut out any preservatives.
Ingredients
| | |
| --- | --- |
| Large Red Apple | 1 |
| Soy Yogurt | 125 g |
| Soy Milk | 90 mL |
| Goji Berries | 40 g |
| Jumbo Rolled Oats | 60 g |
| Ground Cinnamon | 1 pinch |
| Cardamom Pods (optional) | 1 |
| Pistachios | 12 g |
| Almonds | 12 g |
| Pumpkin Seeds | 12 g |
Step 1
Keeping the skin on, halve and core the red apple. Then, finely grate it with a box grater or blitz it in a food processor.
Add it to a bowl along with soy yogurt, soy milk, goji berries, oats, and cinnamon.
Crack open the cardamom pods, discard the shells and crush the seeds pressing them under the back of a spoon or grind them with a mortar and pestle. Alternatively, you can swap one cardamom pod with 1/6 of a teaspoon of already ground cardamom.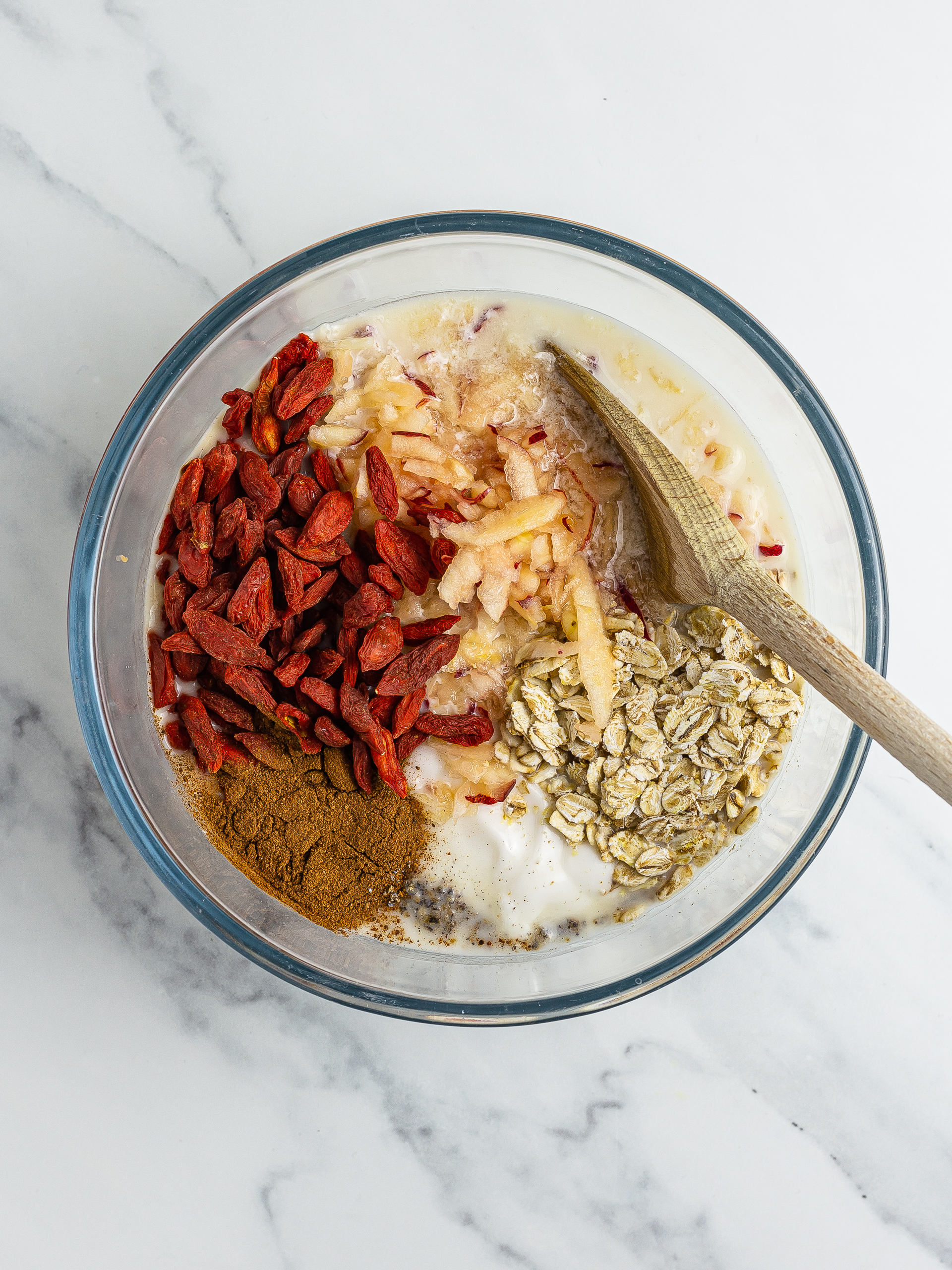 Step 2
Give all a good stir and then divide the muesli mix among single-serving jars or bowls.
Next, seal the jars or wrap the bowls with cling film and keep them in the fridge overnight.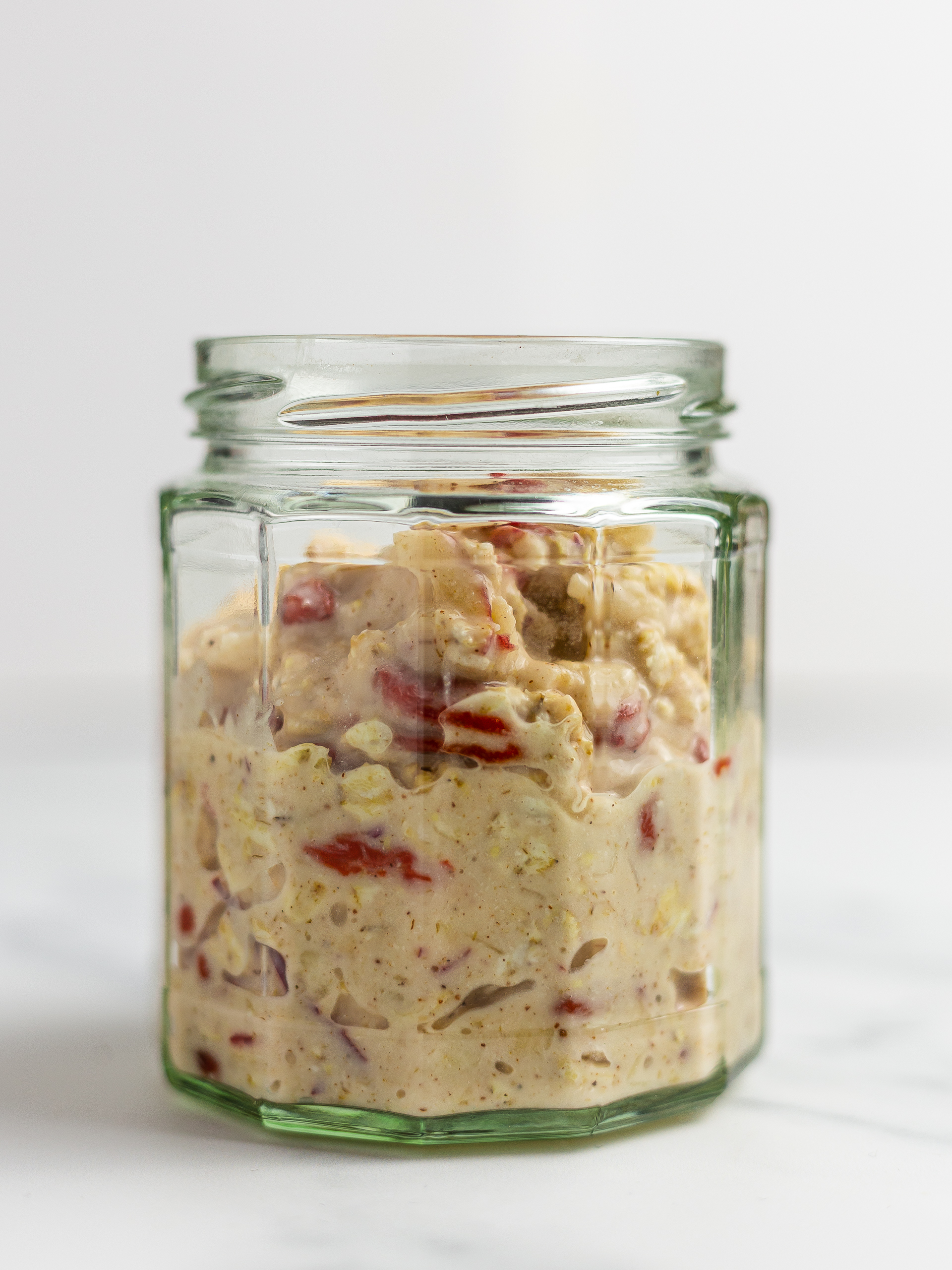 Step 3
The next morning, take the jars or bowls out of the fridge and add chopped pistachios, almonds, and pumpkin seeds.
Give your bircher muesli a good mix and dig in!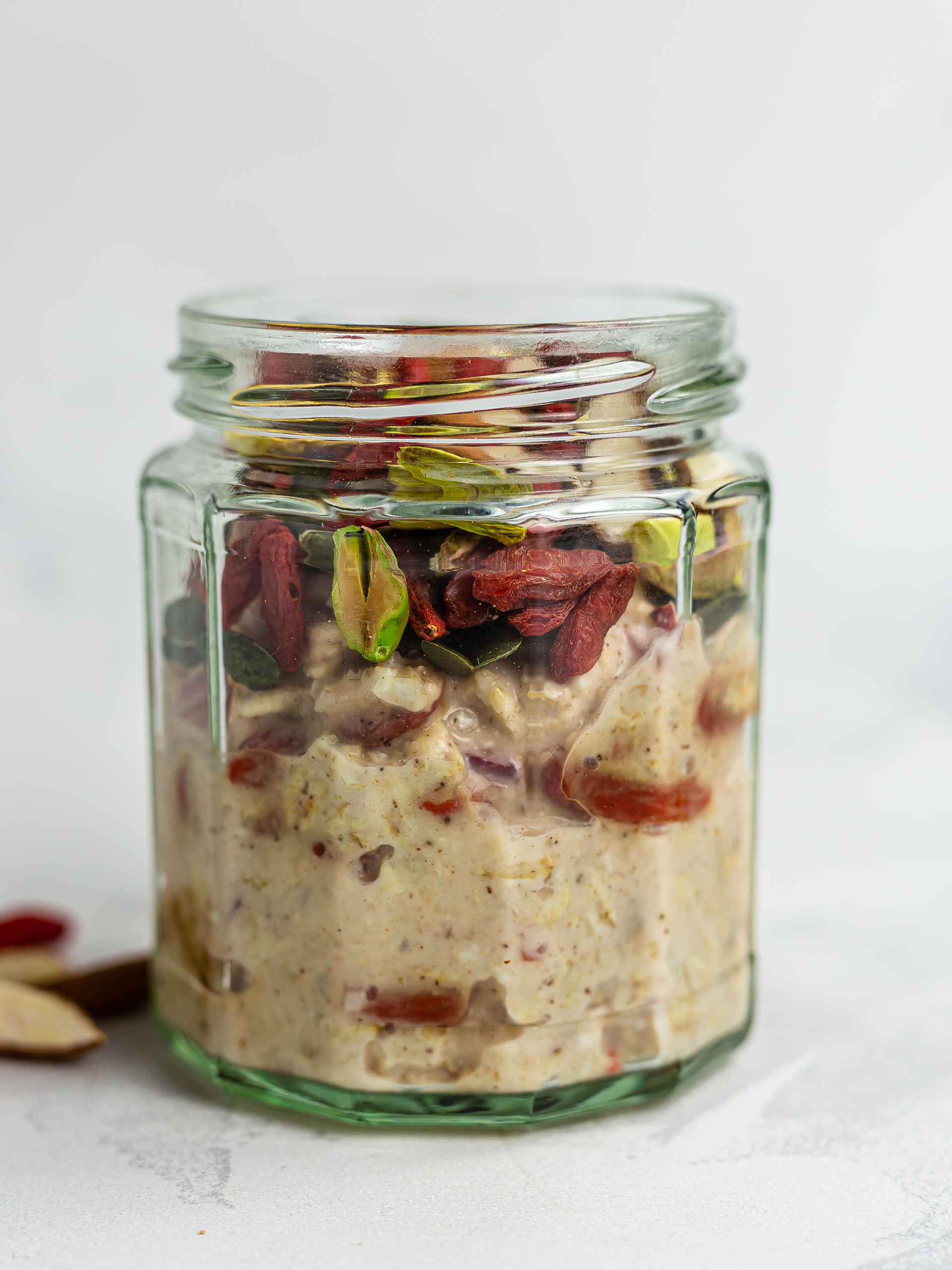 Tips
Add the zest and juice of one orange or pink grapefruit for extra flavour and antioxidants.