For today's recipe, we want to show you how to make Thai mango sticky rice with blue rice using butterfly pea flowers. It's a sweet, creamy, and colourful dessert as simple as delicious!
Called khao niao mamuang (ข้าวเหนียวมะม่วง) in Thai, mango sticky rice is a super-famous dish you'll see everywhere in Thailand during the mango season.
It consists of glutinous rice stirred with sweetened coconut milk and served with sliced mango on the side. You can enjoy it as a dessert or for breakfast, either warm or cold.
Butterfly pea flowers are vibrant blue flowers native to tropical Asia. They're widely used in Thai cuisine to add a pop of colour and a sweet, grassy flavour.
In our mango blue sticky recipe, you'll find all the traditional Thai coconut rice ingredients — namely glutinous rice, coconut milk, a sweetener, and mango. Plus, dried butterfly pea flowers to make the rice blue.
Let's have a look at each ingredient:
White Glutinous Rice
Also called sweet sticky rice and known as khao niao (ข้าวเหนียว) in Thai, this long-grain rice turns super sticky when cooked due to its high starch content.
You should be able to find it at your local Asian food store, well-stocked supermarkets, or online.
You must use glutinous rice for best results, but if you can't find it, you can use other sticky rice varieties like Thai jasmine rice or sushi rice.
Dried Butterfly Pea Flowers
Butterfly pea flowers are also called Asian pigeonwings or blue pea. They're sold dried or powdered at Asian food stores or online, and you can use one or the other depending on what you can find.
Don't worry, we'll show you how to use both!
To make the blue sticky rice, you have to steep the flowers in hot water so they'll release their blue pigments and then use the blue water to cook the rice in. Easy!
If you prefer to steam the rice instead, soak the raw rice in the blue water first, for about 3-4 hours, and then drain it before cooking the rice.
Coconut Milk
Canned coconut milk is the go-to choice for preparing Thai blue rice as it's thick and creamy. It's also dairy-free and vegan, which is a nice plus!
Sweetener
The classic Thai mango sticky rice uses sugars like caster sugar or palm sugar to sweeten the coconut milk — and quite a lot of it.
In our recipe, we halved the amount of sugar as the combination of glutinous rice, coconut, and butterfly pea flowers already tastes quite sweet.
But if you want to completely cut down on sugars, you can also use erythritol instead. This safe and natural sweetener is almost as sweet as sugar but has zero calories — try it out!
Mango
Mangoes have to be ripe, sweet, and juicy. And the best variety of mango for Thai sticky rice is nam dawk mai.
It's a mango with yellow skin and incredibly sweet flesh. We tried it and absolutely loved it!
But, you can still make this Thai blue rice with green-skinned mangoes if they're easier to find.
Ok now, time to gather all the ingredients and jump right into the recipe!
And if you'd like to discover more ways to use butterfly pea flowers, check out this butterfly pea latte, blue cake, and blue chia pudding recipes!
Ingredients
Blue Sticky Rice
Butterfly Pea Flowers

2 tbsp

Hot Water

380 mL

Glutinous Rice (Sweet Sticky Rice)

190 g

Sweet Coconut Milk
Canned Coconut Milk

250 mL

Sugar (or sugar-free erythritol)

40 g

Salt

2 pinch

To Serve
Fresh Mangoes

2
Step 1
Add the dried butterfly pea flowers to a bowl or jug and pour in the given amount of boiling water.
Give a quick stir and let the flowers steep for 5 minutes so they'll release their blue pigments.
If you can't find the flowers, you can use 1/2 teaspoon of butterfly pea powder.
When the water is dark blue, filter out the flowers, and leave to cool down until lukewarm.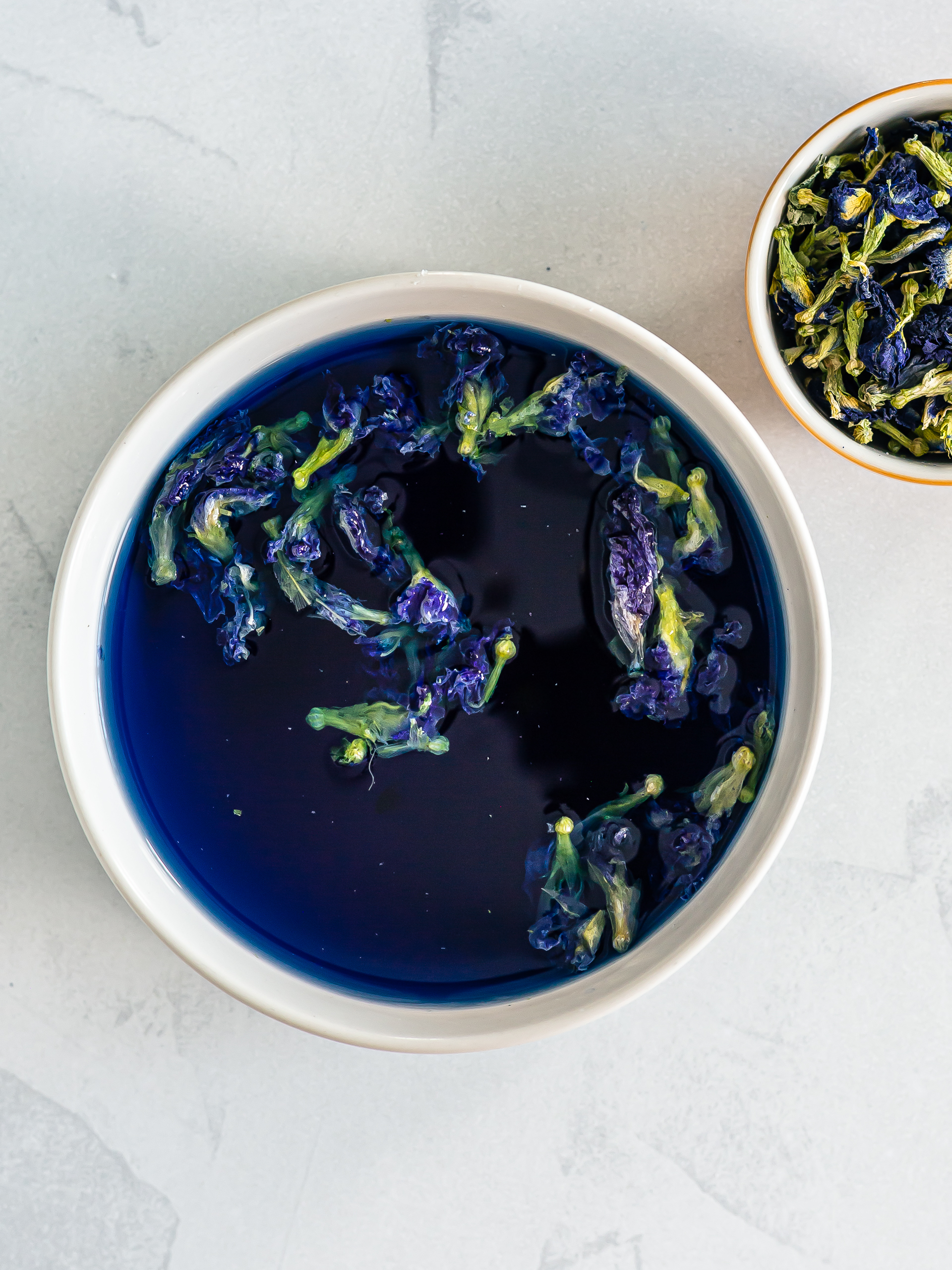 Step 2
Meanwhile, add coconut milk, sugar (or sugar-free erythritol), and salt to a pot.
Heat the milk and stir it until the sugar has dissolved.
Then, turn off the heat and set the pot aside.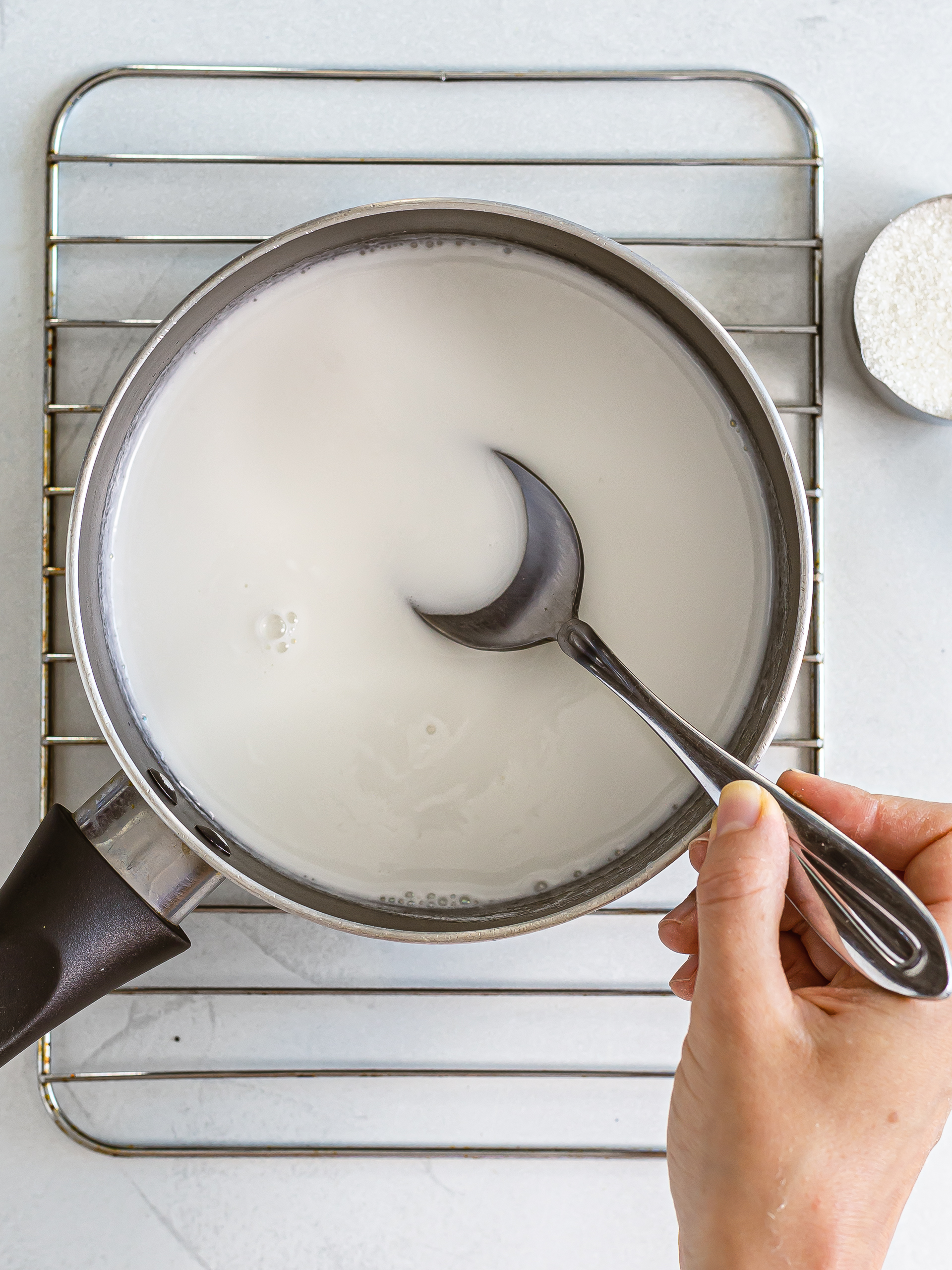 Step 3
Rinse the white glutinous rice (also called sweet sticky rice) with cold water until the water runs perfectly clear — about 4-5 times.
If you can't find it, you can swap the classic glutinous rice with long-grain Thai jasmine rice; or use short-grain sushi rice instead.
Drain the rice and add it to the rice cooker (or a pot).
Then, pour in the prepared butterfly pea blue water, give a quick stir, and cover with a lid.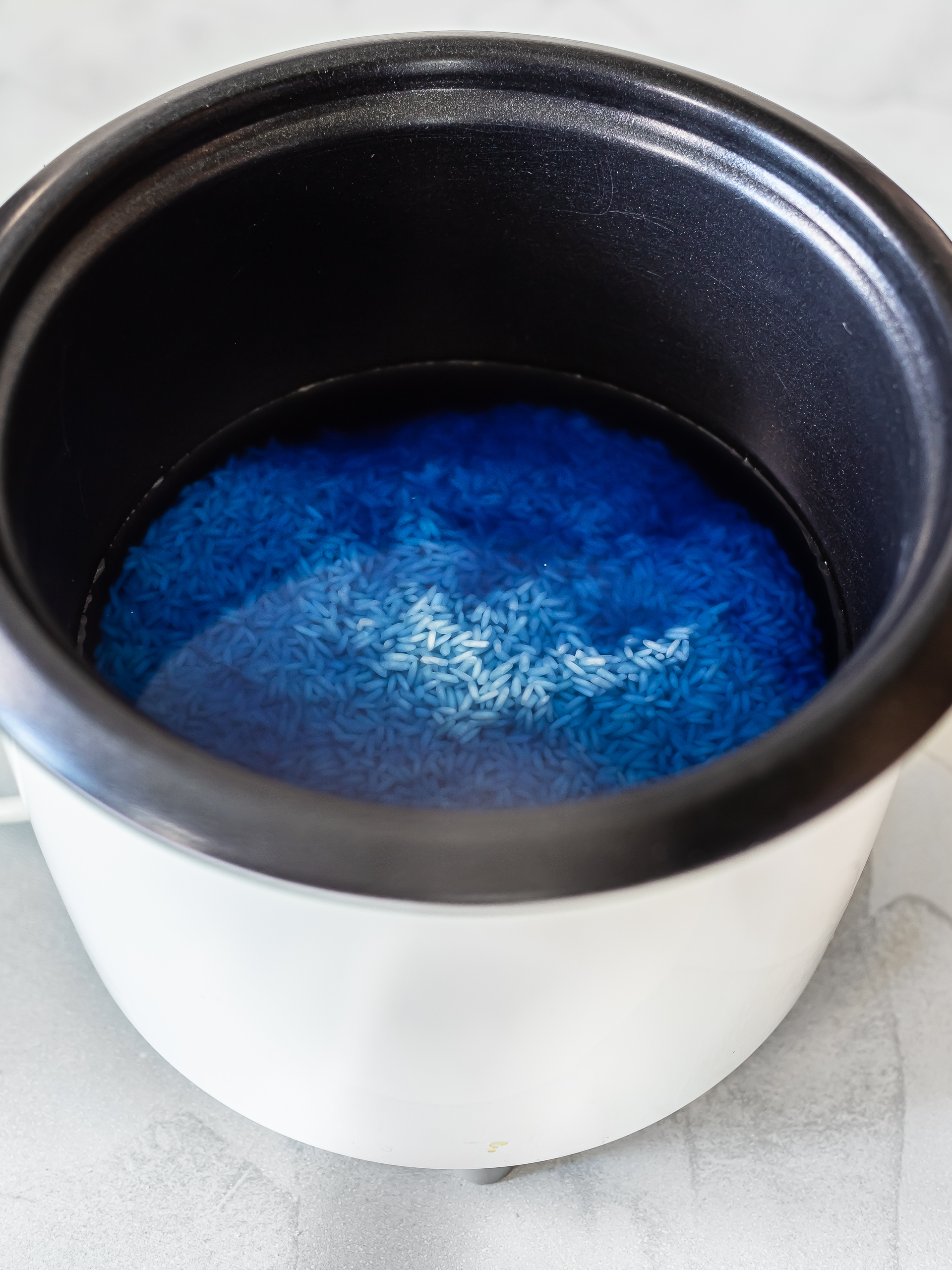 Step 4
Now, turn on the rice cooker (or set the hob to medium-low heat), and cook the rice until all the water has evaporated.
Don't open the lid or stir the rice while it cooks.
We cooked the sticky rice in the rice cooker for 5-7 minutes, but it can take less or more depending on the type or brand of rice, so keep an eye on it while it cooks.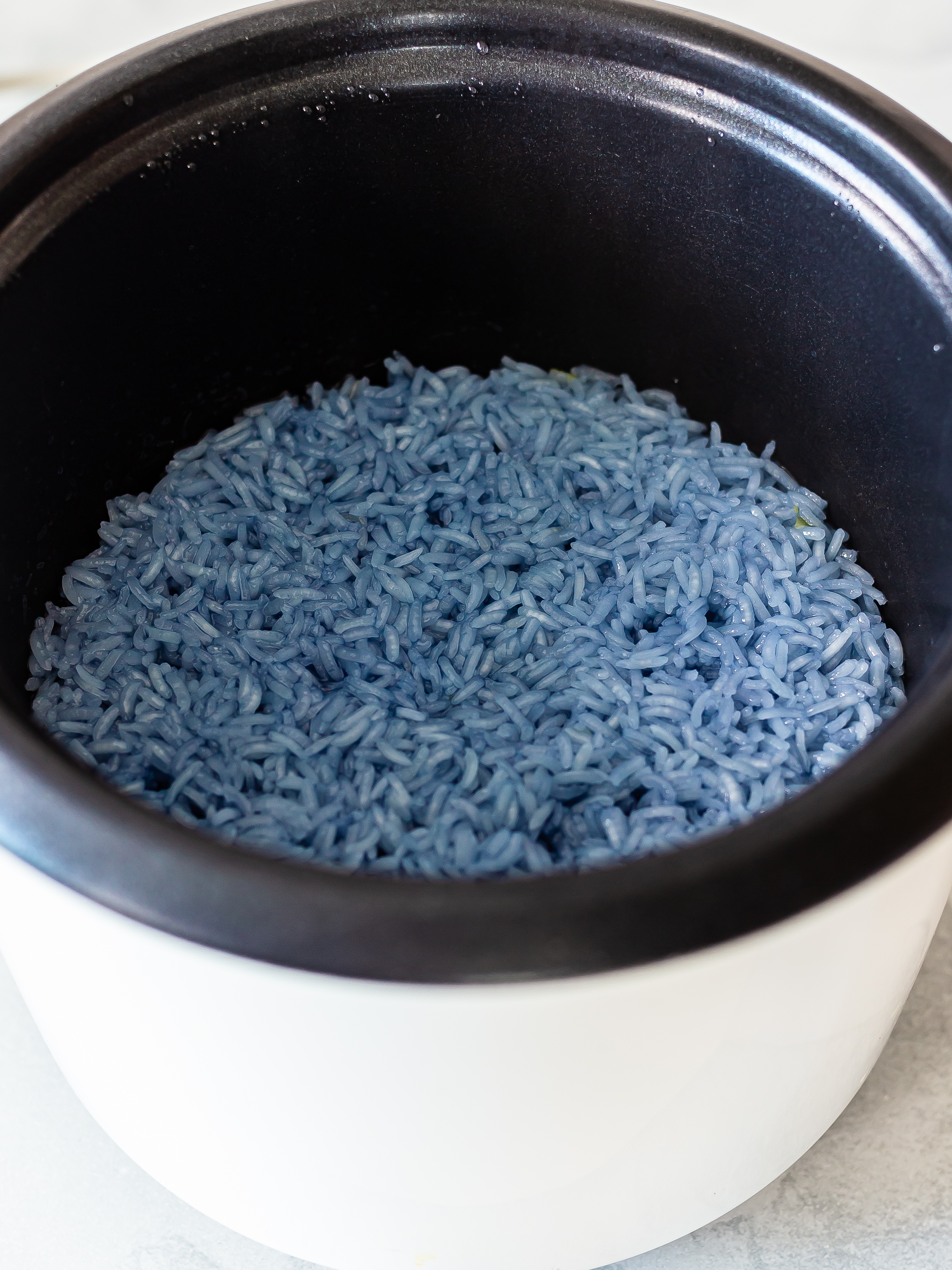 Step 5
Now, pour the sweetened coconut milk over the cooked blue sticky rice.
Stir delicately to break up any lumps and distribute the milk evenly.
Then, cover the Thai blue rice with a lid or plate and let it sit for 10 minutes to absorb the coconut milk.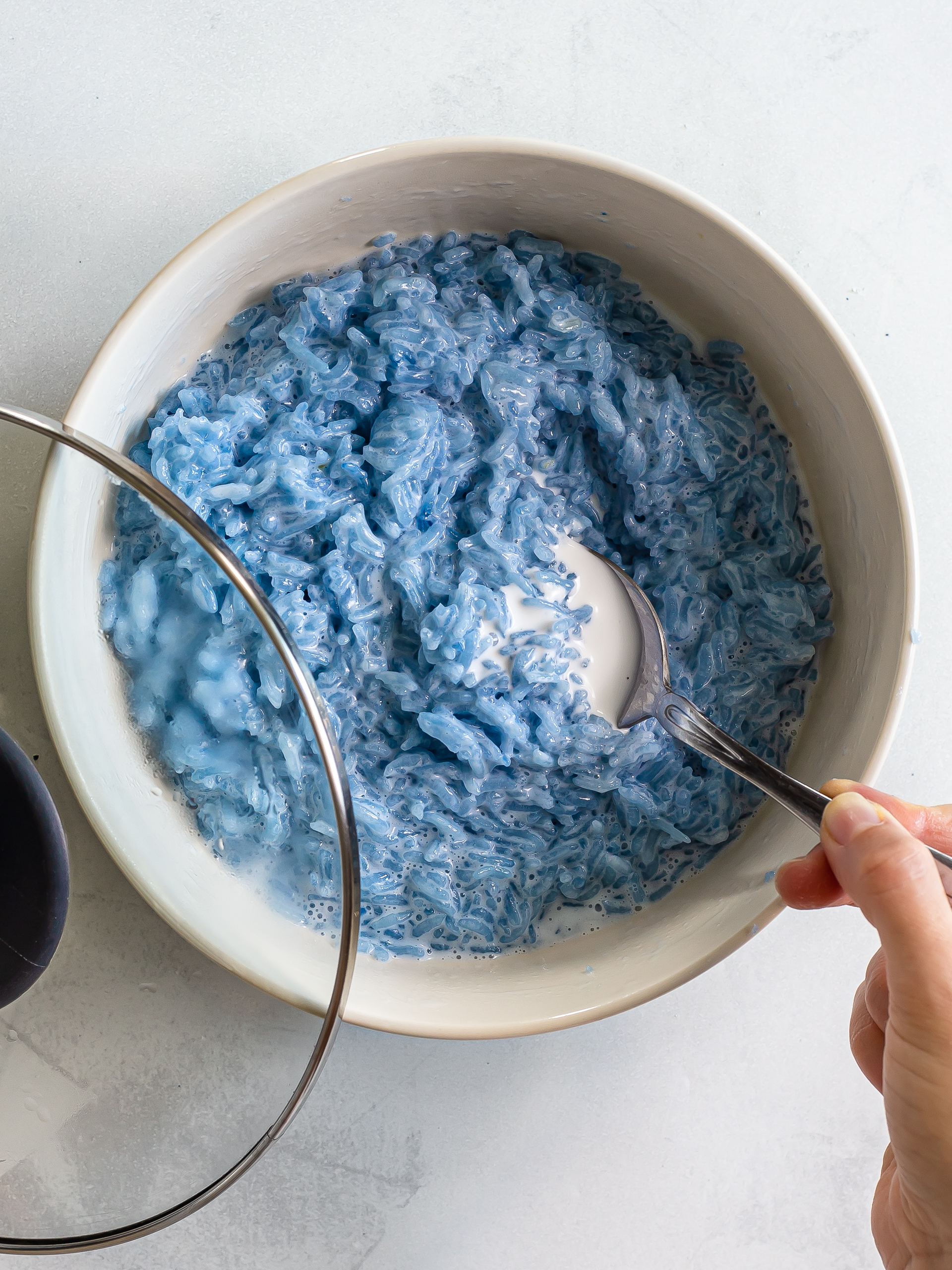 Step 6
Your butterfly pea sticky rice is ready.
Spoon the blue coconut rice over serving dishes and enjoy it warm or cold with fresh mango slices.
You can drizzle it with more coconut milk if you like.
If you want to make a cute blue rice dome as we did, compact the rice into small bowls and let it sit for a few minutes.
Then, loosen the rice dome with a spatula and flip it over a plate.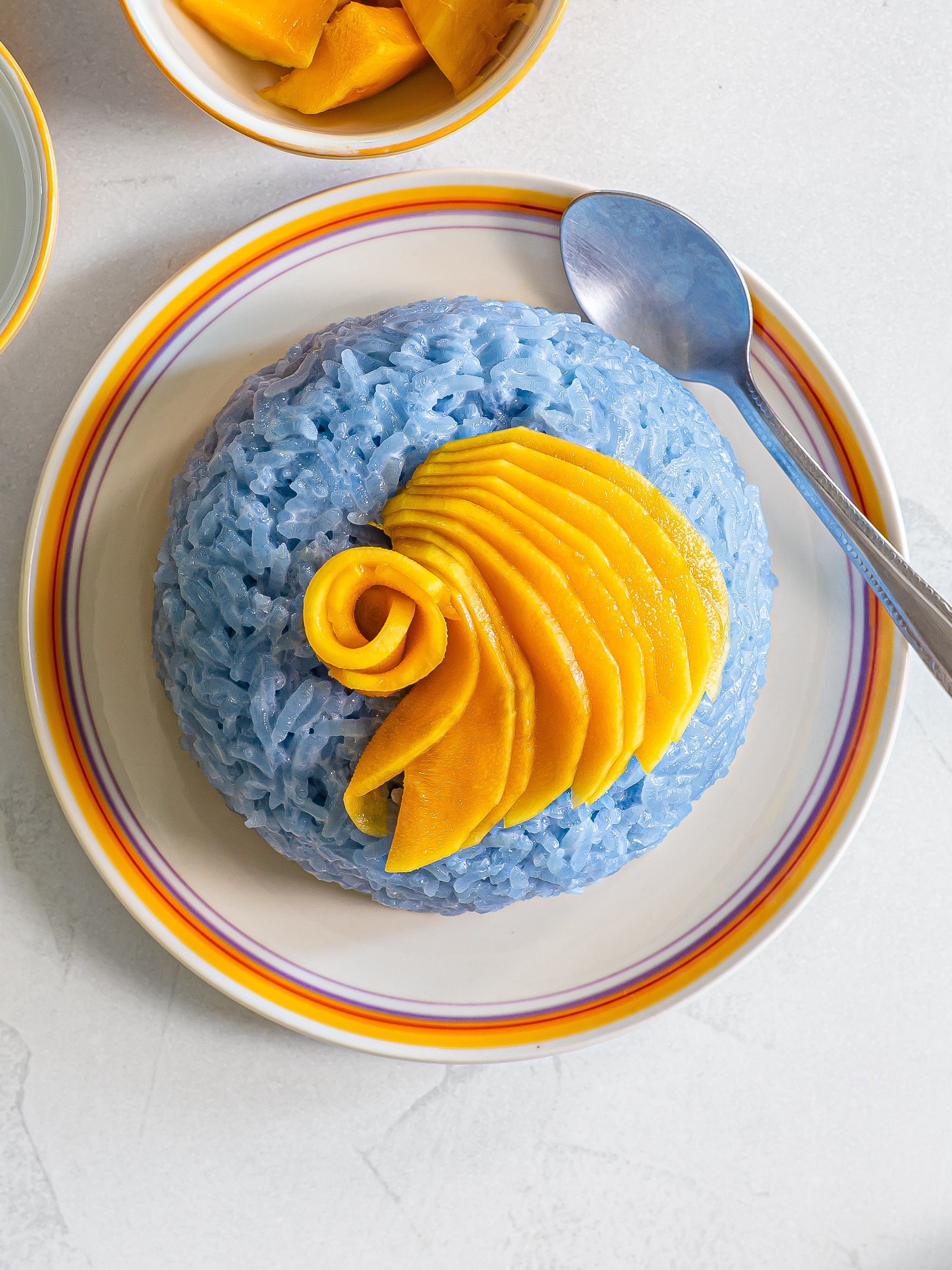 Tips
You can top this mango blue sticky rice with fried split mung beans, as they do traditionally in Thailand, or sprinkle it with toasted black sesame seeds.

If you have any blue sticky rice leftovers, wrap them in cling film or pack them into an air-tight container and store them in the fridge for up to 3 days.