How about adding a pop of colour (and lots of antioxidants) to your breakfast chia pudding? Let us show you how to make blue chia pudding using butterfly pea powder. It's pretty, delicious, and packed with goodness!
Chia pudding is a quick and easy breakfast idea, both healthy and versatile.
Simply let the seeds soak in milk for 10 minutes or overnight until they form a thick jelly. Then, top the pudding with nuts, fruit, and yogurt to taste.
Chia seeds are incredibly high in soluble fibres. What makes soluble fibres so cool is that they dissolve in water and form a mesh that traps water in, creating a gel.
And did you know that these tiny seeds can swell up to 10 times their size when soaked in water? Wow!
The same fibres that make your chia pudding so jelly are also a bliss for your health.
They fill you up for longer and keep your blood sugars and cholesterol in check. They also feed your gut flora, promoting a happy and healthy digestive system.
On top of that, chia seeds are a powerhouse of plant-based proteins and omega-3 and provide iron, calcium, and vitamins.
No wonder why having chia pudding for breakfast is so healthy!
What you can do to make your chia pudding even more awesome is to tip in a little butterfly pea powder. You'll get a colourful blue chia pudding and a blast of antioxidants all in one go!
Butterfly pea is a vivid deep blue flower found in South Asia and Southeast Asia.
The dried flowers are widely used in Thai, Vietnamese, and Malay cuisines as a natural food colourant for desserts, rice dishes, and to brew blue tea.
Butterfly pea powder is made from ground dried flowers, and it tastes sweet, earthy, grassy, and floral.
You can find it at your local Asian food store or online and use it in many recipes, from smoothies and lattes to bakes and ice cream for a pop of colour.
Butterfly pea flowers are packed with blue pigments, plant compounds that are also powerful antioxidants - great to fight off those nasty free radicals.
When you dissolve butterfly pea powder in milk and mix it with chia seeds, you get a bright blue chia pudding that's super pretty!
You can increase or decrease the amount of powder if you want to get a deeper or lighter shade of blue. Have fun experimenting with different hues; we'd love to hear about it in the rating section at the bottom of the page.
And if you're looking for other recipes with butterfly pea powder, check out our blue latte and butterfly blue smoothie — both cute and delicious!
For more chia pudding ideas instead, try this aromatic chai-spiced chia pudding or this strawberry tofu protein pudding!
Ingredients
Chia Pudding
Coconut Drink (or any plant-based milk)

240 mL

Butterfly Pea Powder

1/2 tsp

Maple Syrup

2 tsp

Chia Seeds

40 g

To Serve
Soy or Coconut Yogurt

to taste

Blueberries

to taste
Step 1
To make the blue chia pudding, you can use either butterfly pea powder or dried flowers.
In this step, we'll show you how to use the powder.
For the option with the dried flowers, follow our butterfly pea latte recipe and then let the blue milk cool down completely before mixing it with chia seeds in the next step.
Ok now, whisk a little coconut milk drink with butterfly pea powder in a bowl or jug until it's completely dissolved and you have no lumps.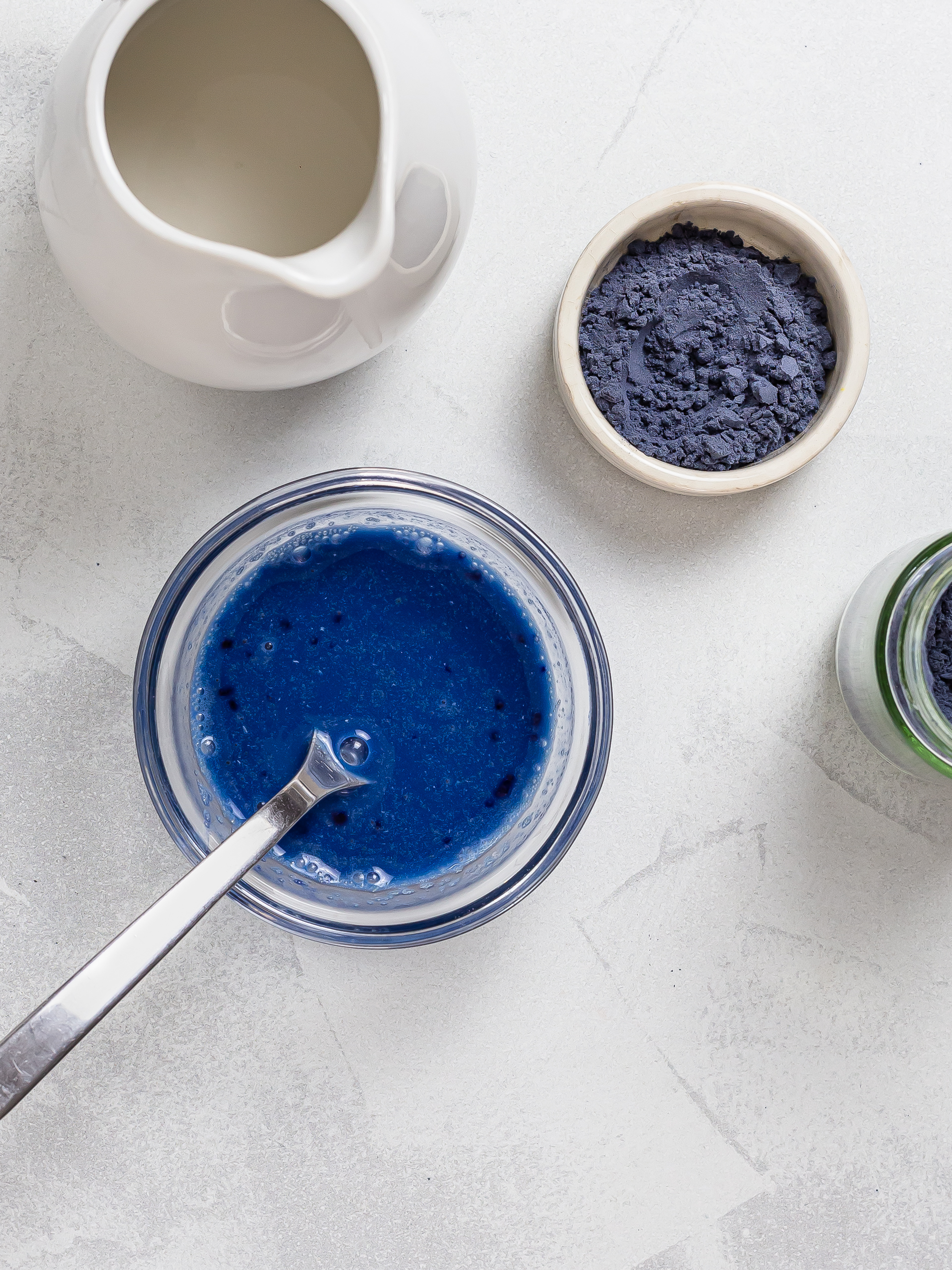 Step 2
Then, pour in the remaining milk and tip in the maple syrup and chia seeds.
Mix well and let the blue pudding sit for 10-15 minutes in the fridge.
The chia seeds will soak up the water, swell, and form a jelly mixture.
The pudding is ready when it's thick enough that you can scoop it with a spoon.
You can also prepare the pudding the day before and let it soak overnight, ready for the next morning. If by then, you feel the pudding got too thick, you can add a splash of milk and stir.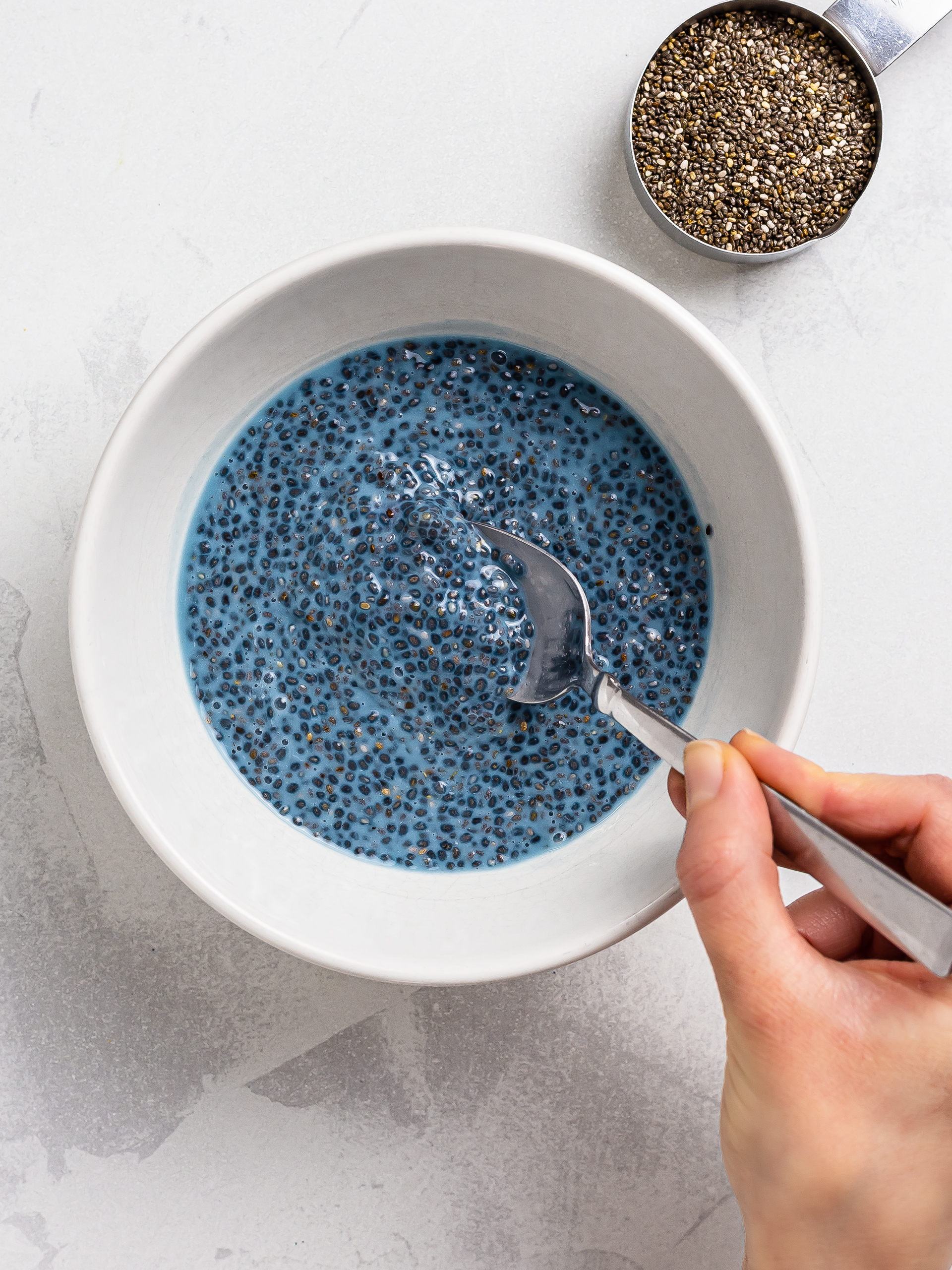 Step 3
To serve, divide the blue chia pudding among bowls or jars and top it with plant-based yogurt, like soy yogurt or coconut yogurt, and fresh or frozen berries.
Enjoy!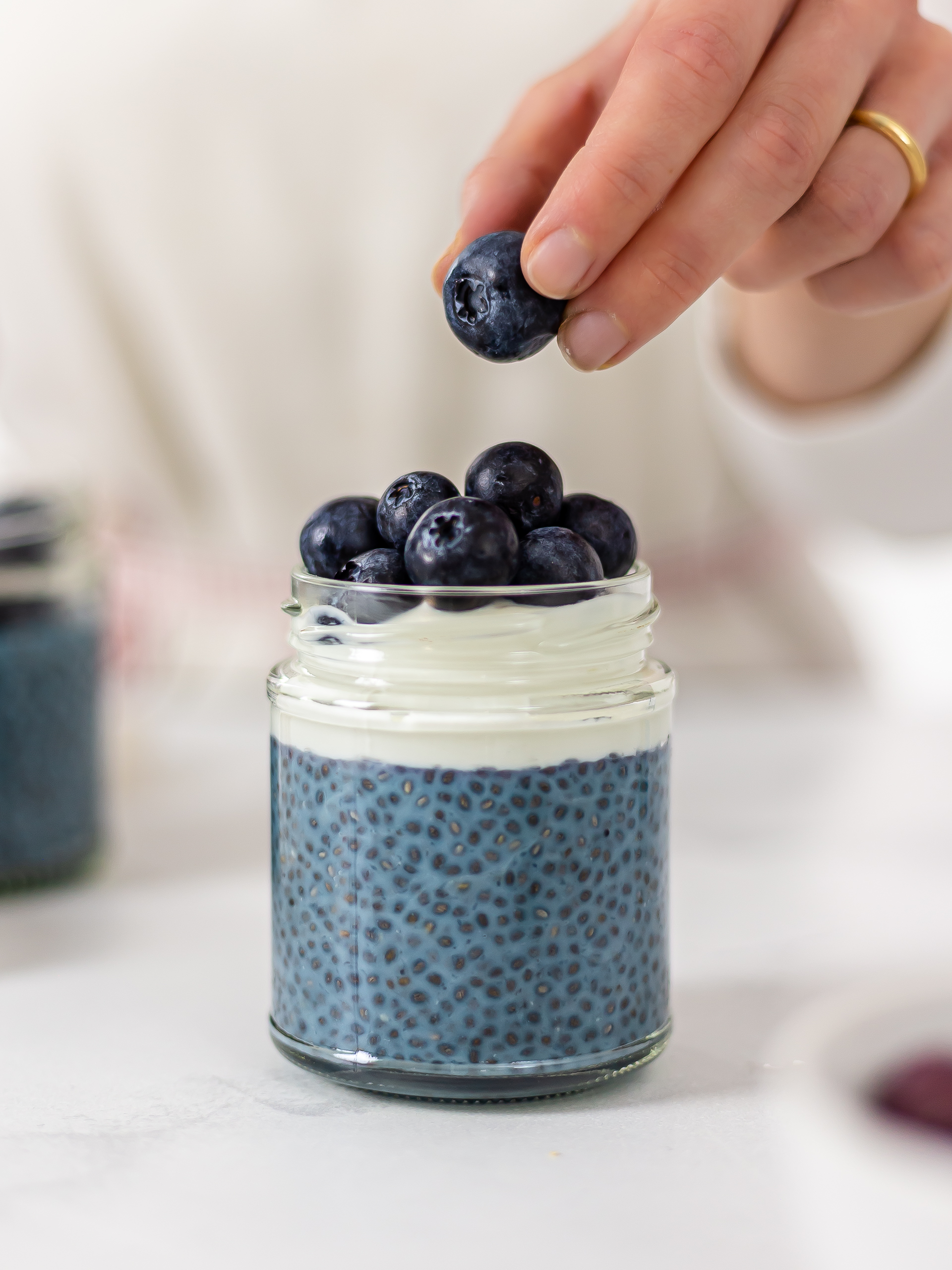 Tips
Top up this butterfly pea pudding with crunchy granola, like our homemade cashew butter granola, and a dollop of peanut butter for a healthy and filling breakfast idea.