They are among the most used fruits in smoothies, but they seldom find each other in the same blender. We are talking about pineapples and blueberries. Well, let us show you just how well they go together with this high-protein blueberry and pineapple smoothie!
When you combine these two fruits, you get a ton of good nutrients and an exciting flavour. The pineapple brings a layer of sweetness and a bit of tanginess to the delicate berries, creating a pleasant tingling sensation.
And did you know that blueberries are among the fruits and veggies with the most antioxidants? Studies have shown that one class of antioxidants in these berries, called anthocyanins, are particularly beneficial to our body. They help us keep the bad cholesterol at bay, and fight against cellular damage[1].
We made our smoothie without bananas or yogurt and used silken tofu instead.
Tofu is a great source of proteins, and it's an excellent way to make creamy smoothies.
For extra plant-based proteins, we added a spoonful of almond butter and topped the drink with pumpkin seeds. Check out the FAQ at the bottom of the page for some alternatives to tofu and more useful tips.
Tofu (and soy in general) is also rich in iron, a precious nutrient for energy. So, adding it to a smoothie helps increase your iron intake, just as we did in our iron-rich green smoothie recipe.
Each serving covers 30% of your recommended daily intake (RDI) for proteins, 22% of your RDI for fibres, and only 7% of your RDI for saturated fats.
If you like a healthy energy and protein drink for breakfast or after your workout, then give this recipe a try!
Frequently Asked Questions
What can I use instead of tofu?

If you have a soy allergy or can't find silken tofu, you can replace it with other ingredients and still make a delicious smoothie.

Alternatives to silken tofu include:

Yogurt - you can opt for coconut, soy, or Greek yogurt and use it in the same amount as tofu.

Ripe bananas - use one fruit per serving and keep in mind the sugar content will increase.

Milk - any plant-based varieties will do. Made it this way, the smoothie will be much runnier but still healthy and delicious.
Can I use frozen berries?

If you like your smoothie fresh, then go for it! Using frozen berries is a great way to make smoothies and shakes without ice cubes.
Can I use frozen or canned pineapple?

If fresh pineapple is out of season, then you can opt for the frozen chunks or canned varieties.

Compared to the fresh one, frozen pineapple has the same nutritional value, but it will be slightly different in texture and flavour.

Canned fruit, instead, isn't always the best choice as it's often packed with juices and preservatives. Also, canned pineapple has more sugars and almost five times less vitamin C.

Therefore, we recommend you opt for tinned pineapple if you can't find it fresh or frozen and make sure to drain it and rinse it thoroughly.
Ingredients
| | |
| --- | --- |
| Pineapple | 160 g |
| Blueberries | 180 g |
| Silken Tofu | 240 g |
| Almond Butter | 1 tbsp |
| Pumpkin Seeds | 15 g |
| Almonds | 15 g |
Step 1
Add pineapple chunks and fresh blueberries to a food processor.
Then, blitz the fruit until smooth.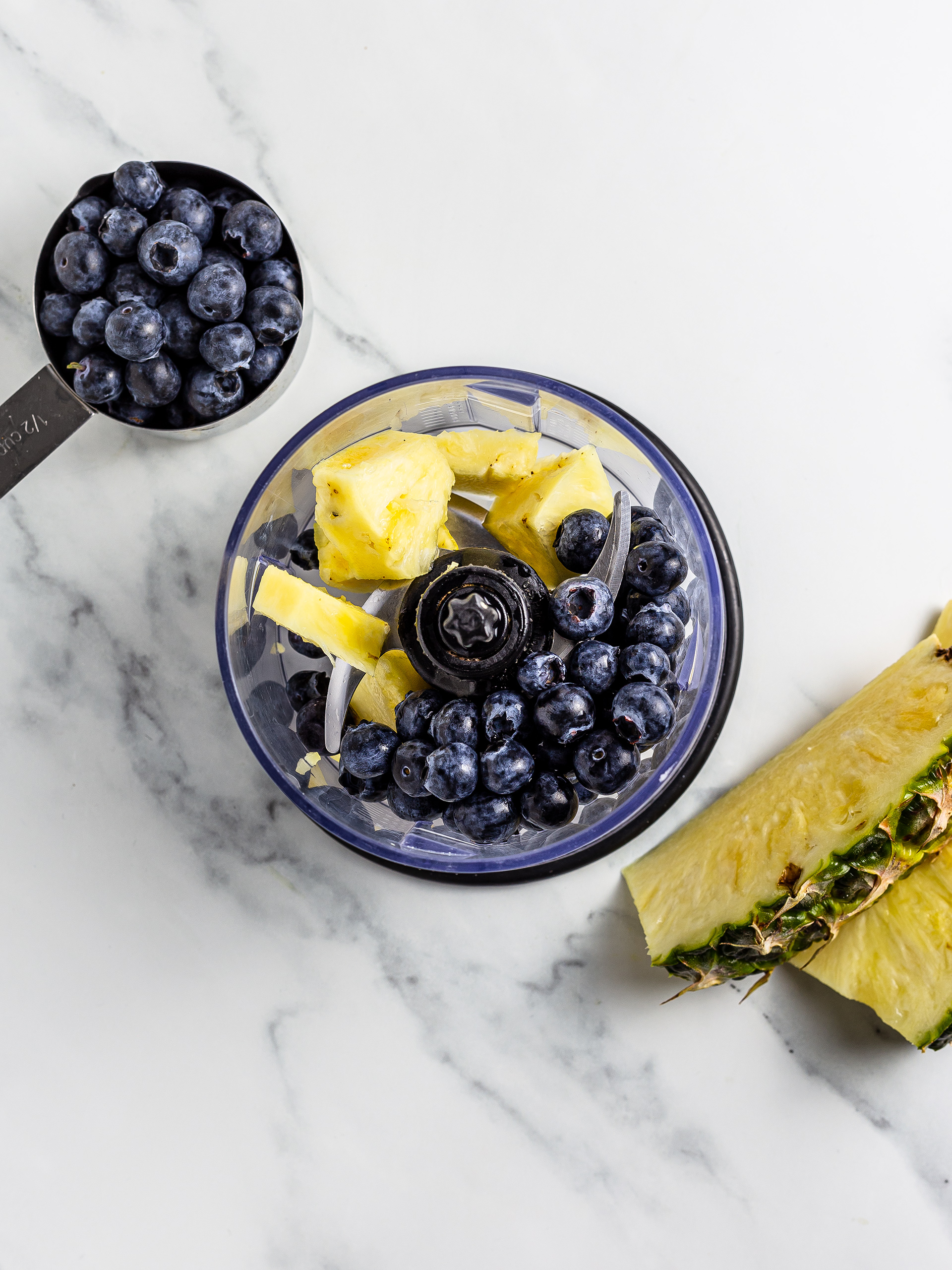 Step 2
Remove the silken tofu block from its package, rinse it well, and drain excess water.
Now, tip the tofu in the blender along with almond butter and whizz all into a creamy smoothie.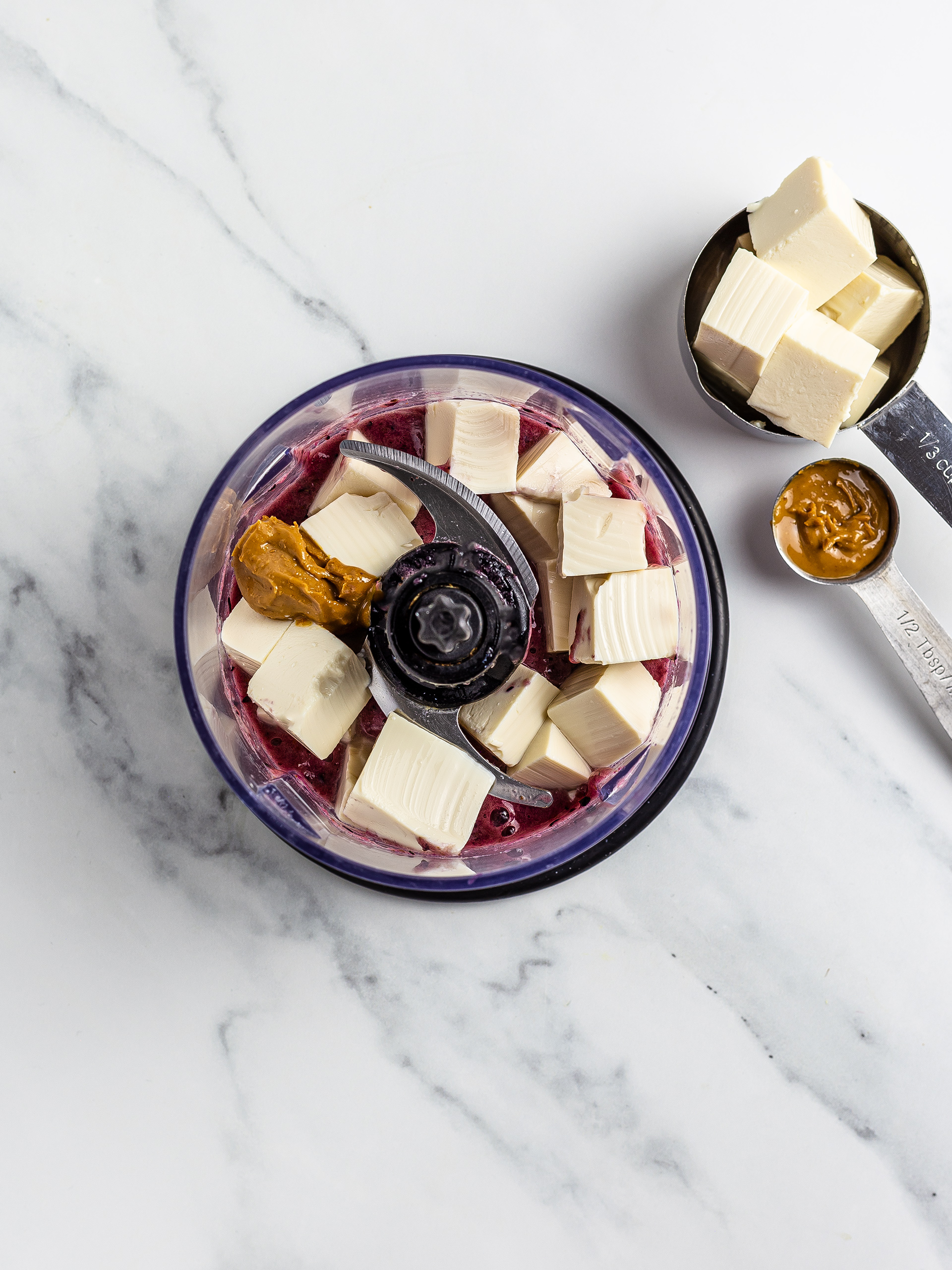 Step 3
At this point, the smoothie will be quite thick. If you like it runnier, then add enough water to reach the consistency you prefer.
Divide the berry smoothie among serving glasses and top with pumpkin seeds, sliced almonds, and extra blueberries.
Alternatively, transfer it into a tight seal jar or bottle and store it in the fridge for later.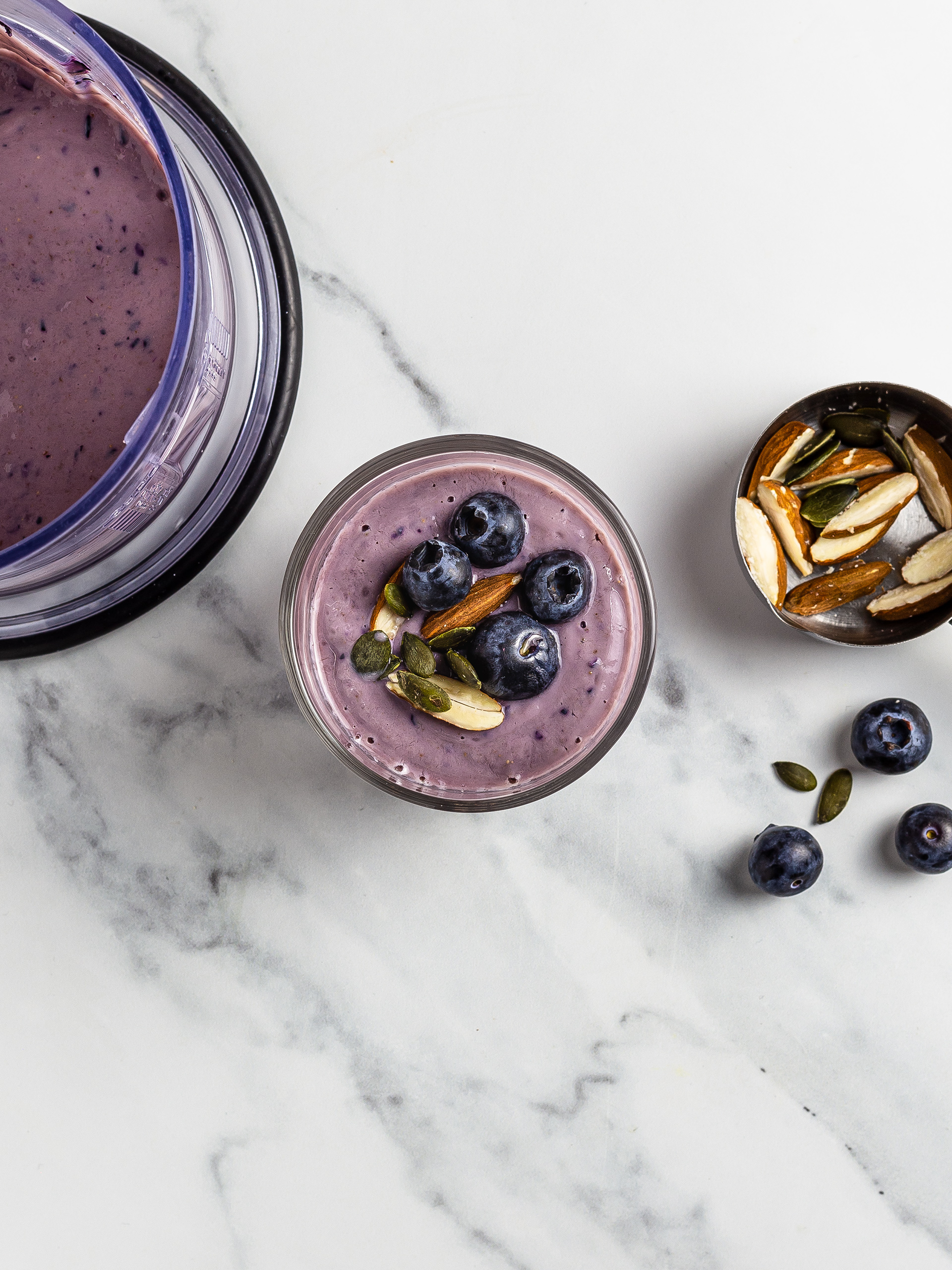 Tips
For a boost of antioxidants, garnish the smoothie with dark chocolate shavings.

The smoothie will keep two days in the fridge.