In just three simple steps you can prepare this easy butternut squash velouté, a hearty vegan and gluten-free soup recipe perfect to cheer you up on a cold day.
Loaded with precious nutrients from red lentils, turmeric, nuts, and seeds this pumpkin velouté soup is also incredibly healthy.
Butternut squash is a starchy vegetable rich in fibres and vitamins. In fact, a single serving of this soup provides over 200% of your recommended daily intake of vitamin A, which is essential for a healthy immune system, eyes, and skin.
Adding red lentils and turmeric not only gives velvety texture, spicy flavour, and deep yellow colour to this squash soup, but also a source of proteins, iron, and powerful antioxidants.
If you love healthy recipes like this, make sure to subscribe to our newsletter and you'll get our newest recipes sent right into your inbox every week, plus our free ebook!
Ingredients
For the Velouté
Extra Virgin Olive Oil

1/2 tbsp

Onion

1

Garlic Clove

1

Chillies

1 tsp

Cinnamon

1/2 tsp

Turmeric

1 tsp

Butternut Squash

350 g

Dried Red Lentils

90 g

Vegetable Stock

350 mL

Salt

to taste

Black Pepper

to taste

Lemon Juice

1 tsp

To Garnish
Pumpkin Seeds

25 g

Pistachios

25 g

Fresh Coriander

8 g

Desiccated Coconut

1 tsp
Step 1
In a deep pan, sizzle the extra virgin olive oil with finely chopped onions until they are soft and translucent.
Stir in crushed garlic, hot chilli flakes, cinnamon, and turmeric and sizzle for a minute or until the garlic is fragrant.
Then, add diced butternut squash and dried red lentils. Cook them for 5 minutes.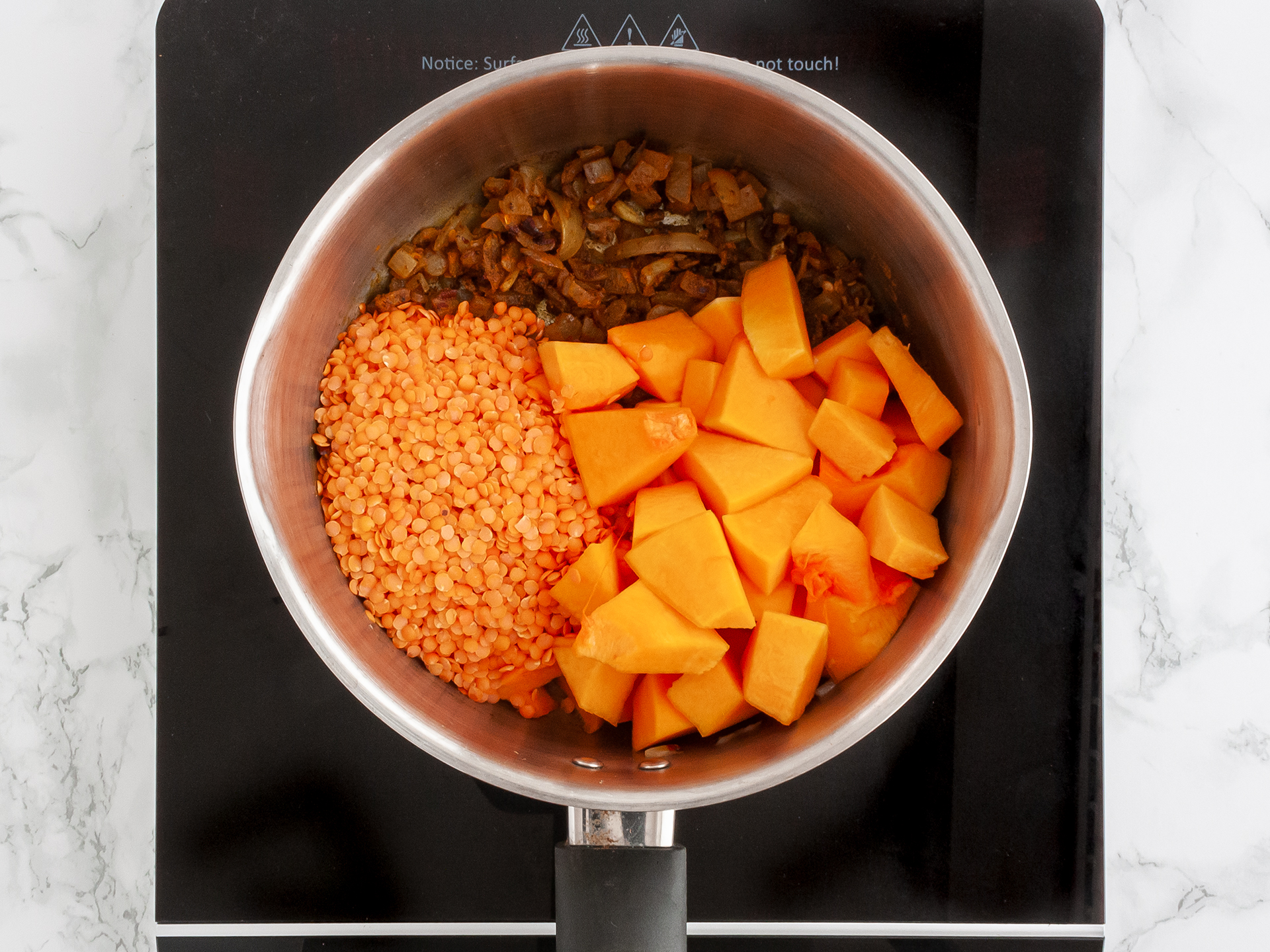 Step 2
Pour in the vegetable stock, cover, and bring to the boil.
Simmer for 20 minutes until the squash is soft and lentils are cooked through.
Season with salt and pepper according to taste.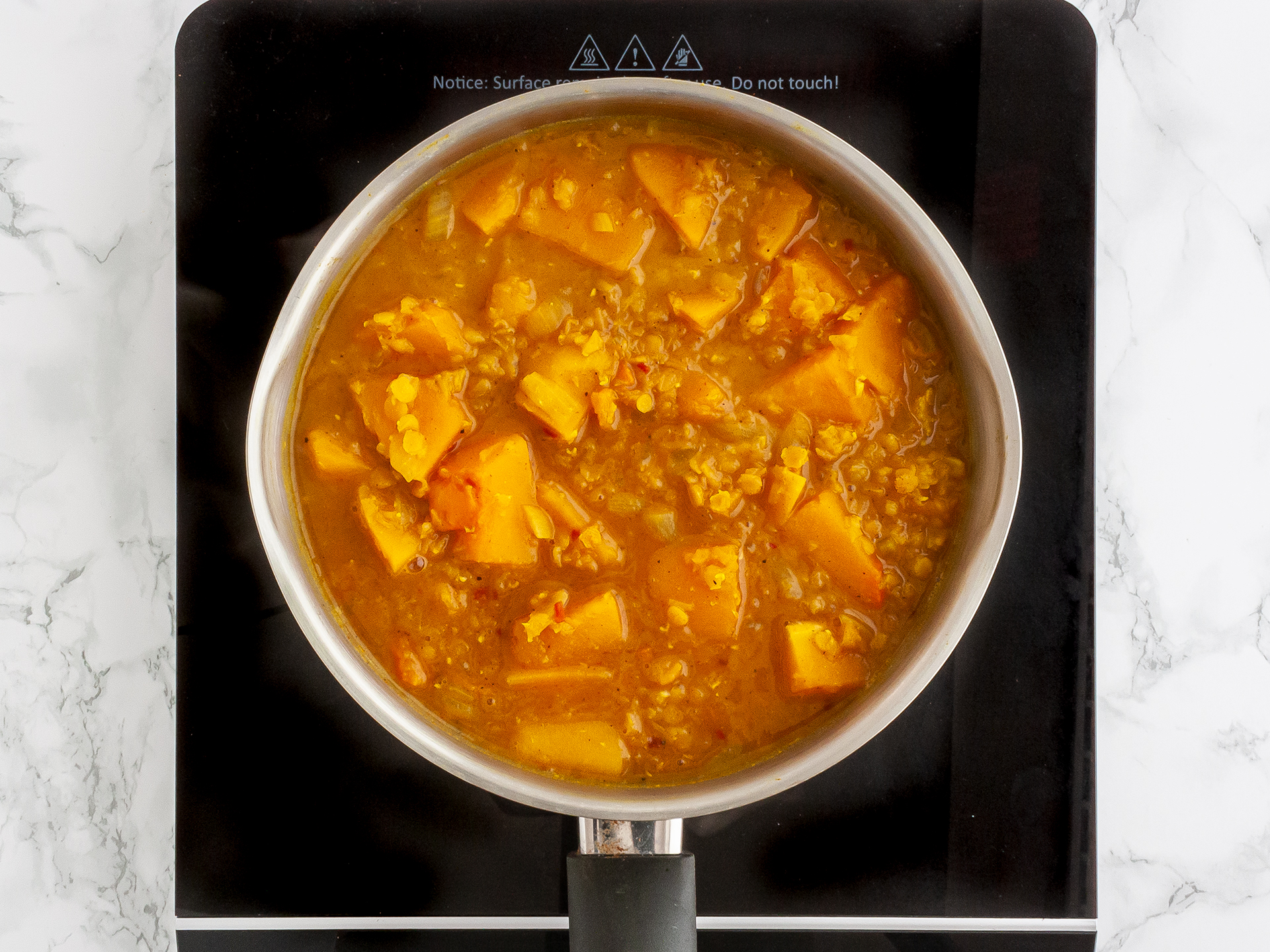 Step 3
Remove the pan from the heat and add freshly squeezed lemon juice.
Blend the pumpkin soup with an immersion blender or in a food processor.
Garnish each serving with toasted pumpkin seeds, chopped pistachios and coriander, and coconut flakes.
Enjoy your vegan butternut squash velouté with steamed rice or with this fragrant garlic bread!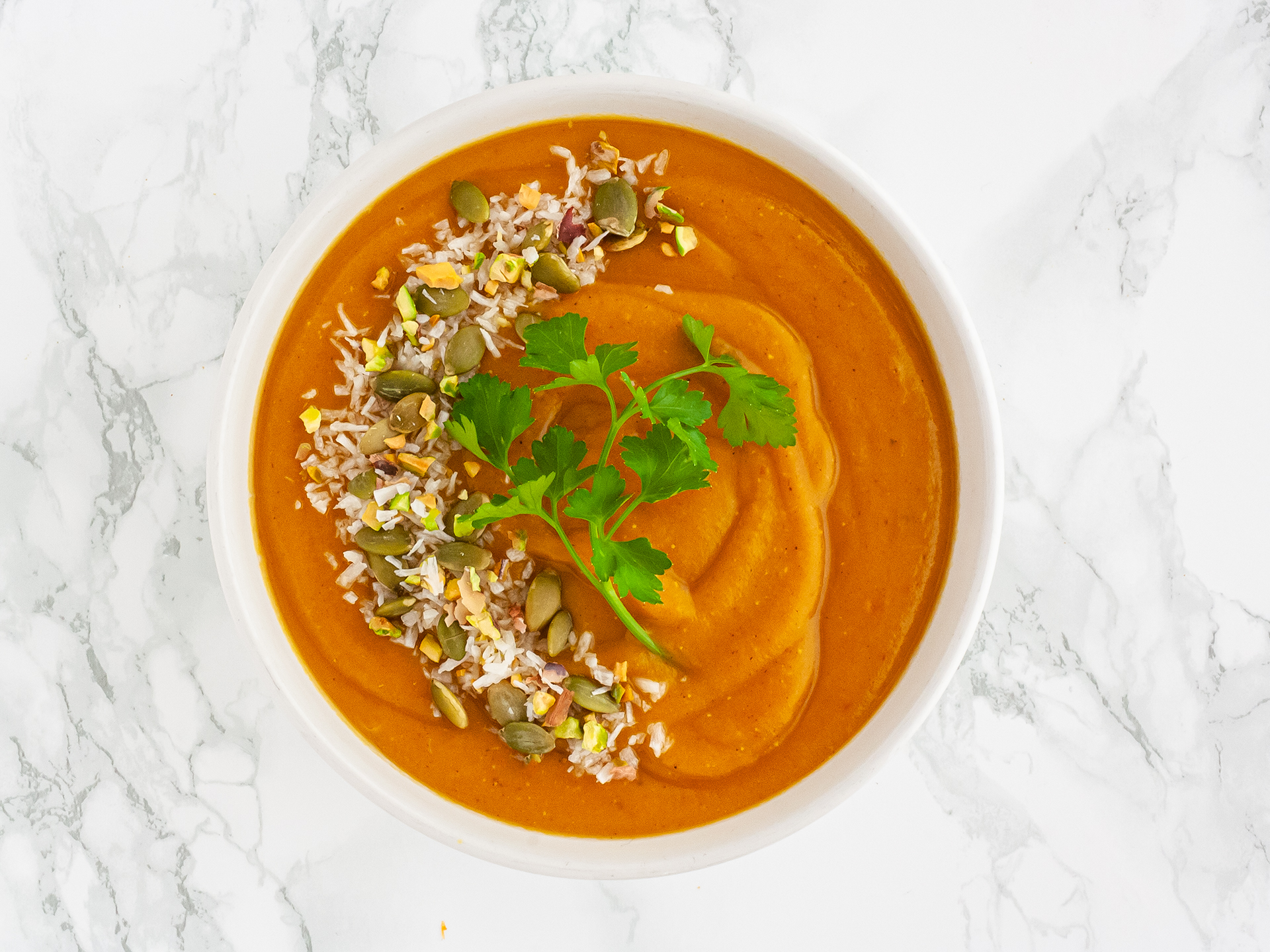 Tips
Add a splash of coconut milk for a richer velouté soup recipe.

You can prepare this butternut squash soup also with sweet potatoes: add a serving of 100g per portion or substitute for half of the squash.

To top up this vegan soup with healthy nutrients, add a tablespoon of nutritional yeast per serving.