Today we will show you how to make a cute upside-down carrot cake with pineapple that is both vegan and gluten-free. With the right ingredients, cakes can be as wholesome for you as eating fruit and vegetables, and even more nourishing. Don't believe it? Keep reading and see how we have designed this uber-wholesome bake, then check the list of ingredients!
We prepared our pineapple and carrot cake without any animal products - it's dairy-free, oil-free and egg-free. We substituted these ingredients with plant-based alternatives that perform just as well, but are much healthier. The tiny but mighty flax seeds make a great egg-replacement when soaked in water. Instead of butter or oil, we used mashed bananas, and we swapped cow milk with almond milk.
For our dear celiacs and people with gluten intolerance, we substituted wheat flour with oat flour. We love using oat in our gluten-free recipes because of just how wholesome it is. Oatmeal is rich in fibres which fill you up and boost your digestive system health.
Our carrot and pineapple cake is also sugar-free. Instead of refined sugars, we took some naturally sweet dates, blended them with water and turned them into a paste. Dates make our recipe suitable for anyone on a low sugar diet, like people with diabetes or those on a weight-loss diet.
All of these wholesome ingredients come together in a moist and spongy cake bursting with flavour and nutrients. You can finally strike cake off the cheat day list, and enjoy it any day of the week!
Ingredients
| | |
| --- | --- |
| Ground Flaxseeds | 25 g |
| Water | 270 mL |
| Pitted Dates | 300 g |
| Carrots | 400 g |
| Peeled Bananas | 130 g |
| Oats | 400 g |
| Potato Starch | 50 g |
| Baking Soda | 10 g |
| Cinnamon | 1/2 tsp |
| Walnuts | 80 g |
| Almond Milk | 200 mL |
| Canned Pineapple Slices | 8 |
Step 1
Let's start by getting the cake batter ingredients ready.
In a bowl, combine ground flax seeds with 120 mL of water and leave them to soak for 10 minutes until you have a thick gel-lick mixture.
Meanwhile, blend dried pitted dates with 150 mL of water in a food processor until you have a creamy paste (1).
If your dates are too dry, you can soak them in lukewarm water for 10 minutes before blitzing them.
Next, peel the carrots and finely grate them with the help of a cheese grater. Alternatively, you can pulse them in a food processor until they are finely chopped.
Leave them to drain excess water on a colander and pat them dry with a kitchen towel.
Finally, mash the bananas into a smooth and soft paste(2).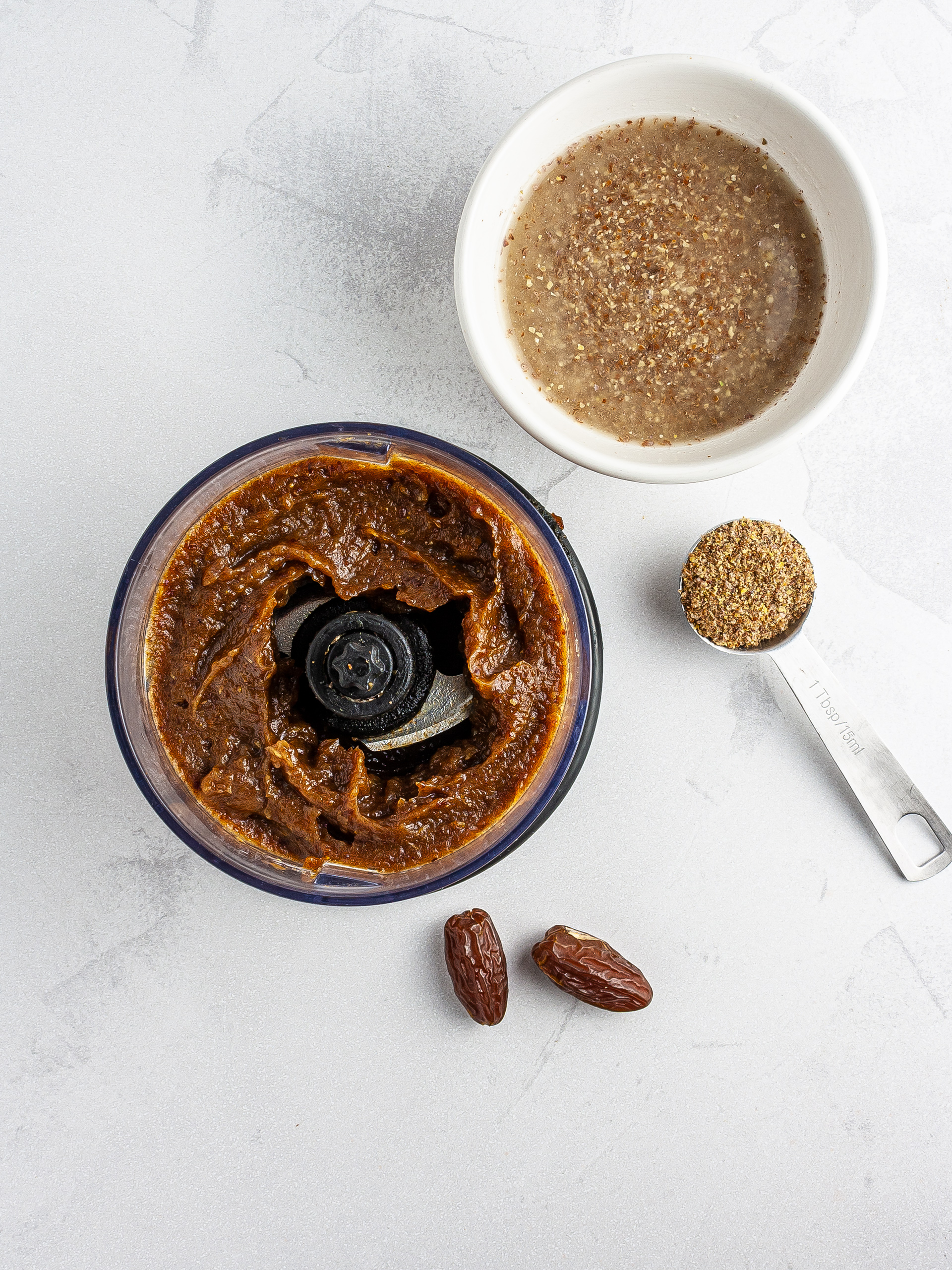 1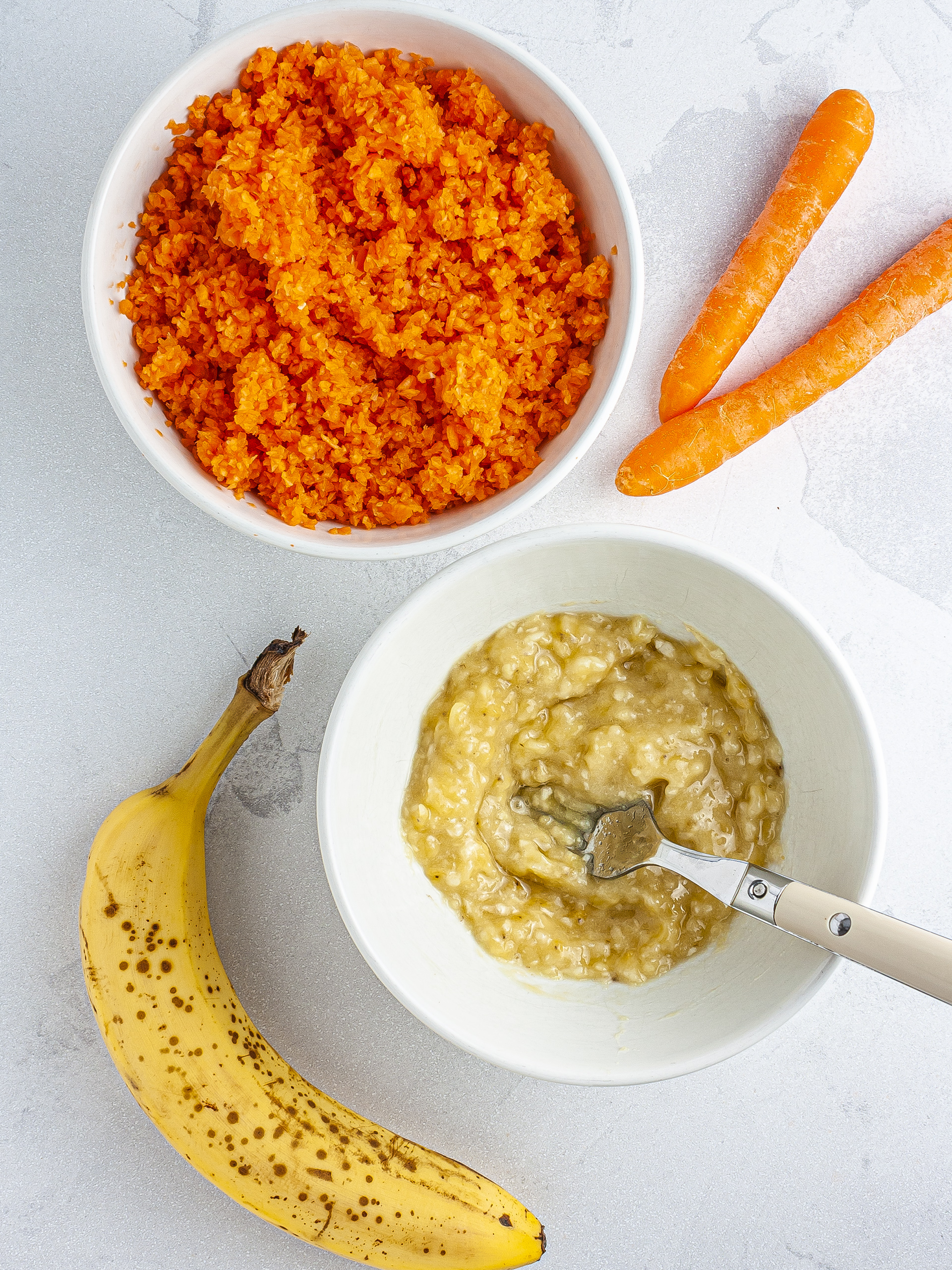 2
Step 2
Blitz the oat flakes in a food processor to make gluten-free flour. Then, combine it with sifted potato starch, baking soda, salt, and cinnamon.
In a large mixing bowl, stir the 'flaxegg' with mashed bananas, date paste, chopped walnuts, and grated carrots.
Then, slowly incorporate the oat flour mixture into the wet ingredients adding in a few spoons at a time.
Pour the milk and whisk the batter until you have a smooth cake dough. The mixture should be dense enough to hold together but also runny enough to be poured into a cake tin.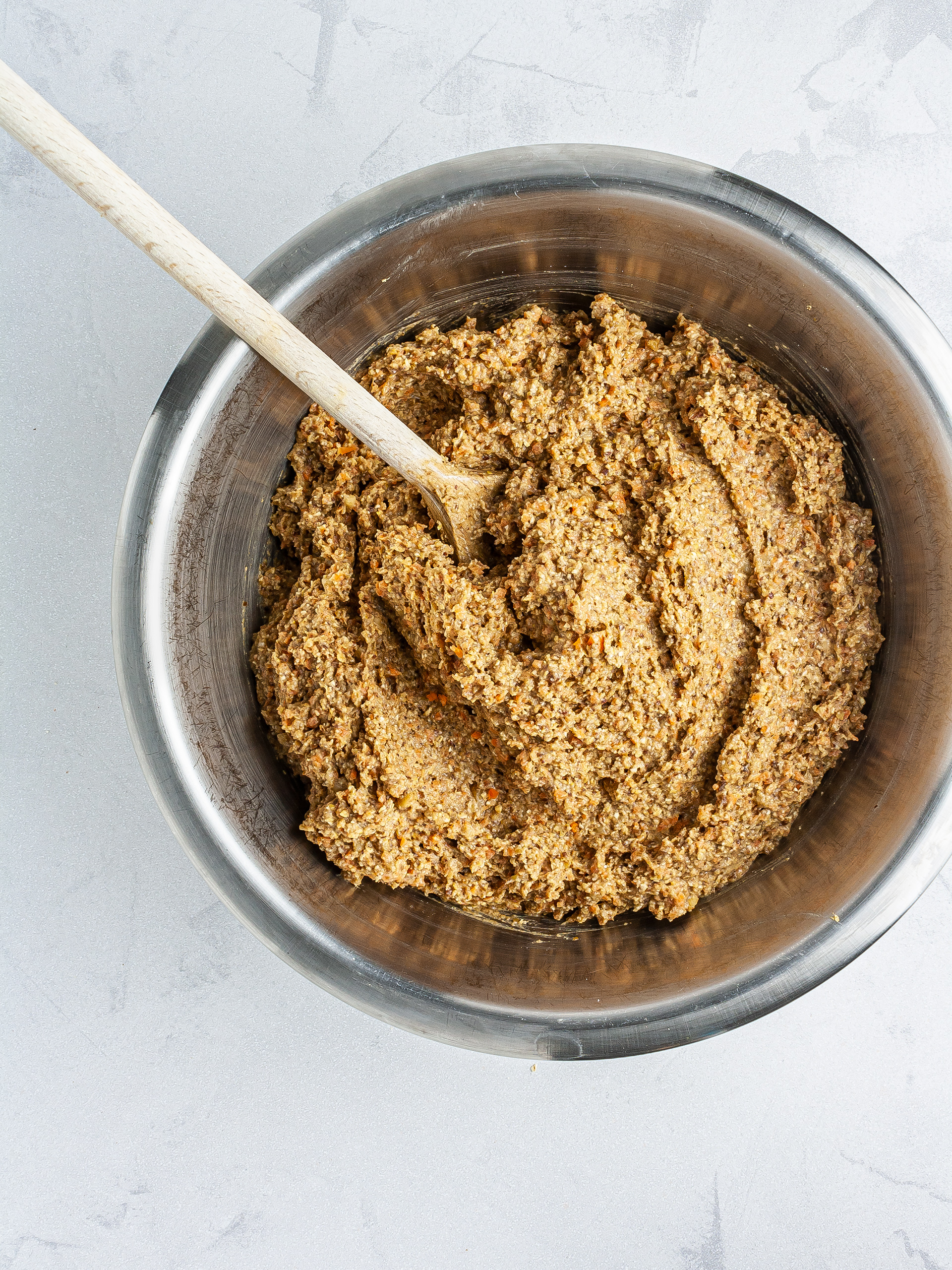 Step 3
Arrange the pineapple slices in a single layer on the bottom of a round baking tin lined with parchment paper.
Then, add a few tablespoons of the pineapple juice drained from the canned fruit tin.
Next, transfer the carrot batter into the prepared tin and level with a spatula. Take care not to displace the fruit as you pour the cake mixture.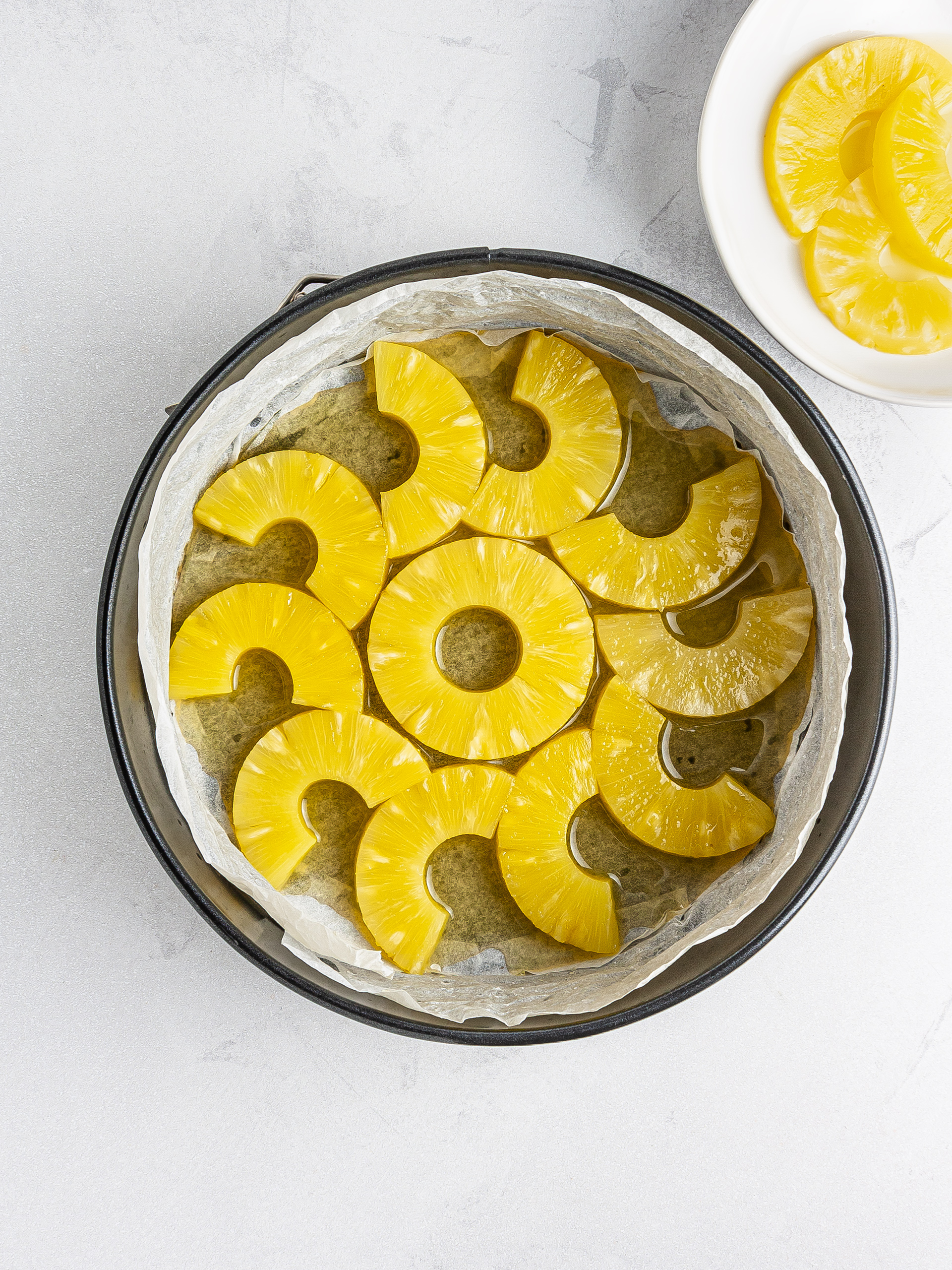 Step 4
Bake for 50 minutes at 175°C (345°F) for static ovens or at 155°C (310°F) for fan ovens.
The cake is ready when a skewer inserted in the centre comes out clean.
Leave the dessert to cool down for 15 minutes before flipping it onto a serving dish.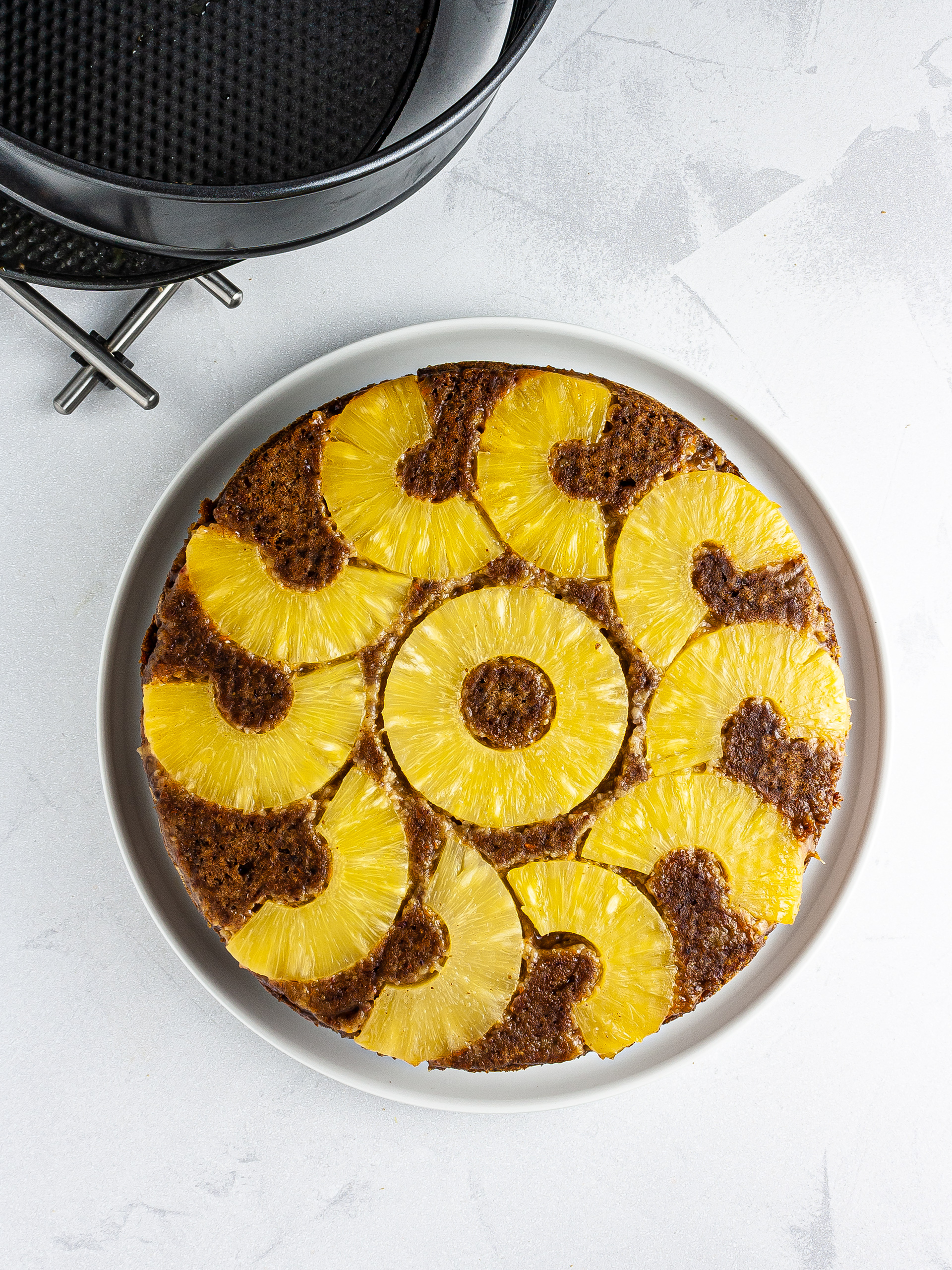 Tips
You can swap walnuts with other nuts like almonds, cashews, or pecans.

Instead of using only oat flour, you can replace half of it with other gluten-free alternatives like almond flour or coconut flour. However, make sure to adjust the milk proportions accordingly if the cake batter gets too dense or too runny.