Here is another recipe where you probably thought cauliflower wasn't going to work: falafels. Well, caulis prove everyone wrong again! Below we'll show you how to make delicious falafels using cauliflowers instead of chickpeas. This recipe is very low-carb and suitable for a keto diet. And just like the classic one, it's vegan and gluten-free.
Chickpeas and herbs are what make falafels yummy. We kept all the original herbs but swapped out the chickpeas with a mix of shredded cauliflowers and almond flour. Both these foods have a delicate flavour that will let the other spices take over. Exactly what we needed here.
To make our falafels even tastier, we blended some sundried tomatoes and added them to the mix. We needed something with a punch to compensate for the missing chickpeas. Sundried tomatoes did a wonderful job there. They are piquant and chewy and quintessentially Mediterranean. A perfect match for our falafels!
We compared the nutritional profile of our falafels with a few traditional ones from the supermarket. Ours have 60% fewer carbs, weight-for-weight! Want to cut on carbs but not on flavour? Check out all our low-carb recipes for more ideas.
So follow our steps below, have fun, and enjoy these cauliflower falafels on their own, in salads, or wraps.
NOTE: The default ingredients yield 16 falafels and one serving consists of 4 balls.
Ingredients
| | |
| --- | --- |
| Chia Seeds | 2 tbsp |
| Water | 60 mL |
| Raw Cauliflower Florets | 500 g |
| Sun-dried Tomatoes in Oil | 5 |
| Fresh Cilantro | 25 g |
| Almond Meal | 60 g |
| Paprika | 1/2 tbsp |
| Cayenne Pepper | 1/2 tsp |
| Cumin | 1/2 tsp |
| Garlic Powder | 1/2 tsp |
| Baking Powder | 1 tsp |
| Zested Lemon | 1 |
| Sunflower Oil | 1/2 tbsp |
Step 1
Combine the chia seeds with water in a bowl and then leave them to soak for 5-10 minutes in the fridge.
The seeds will absorb the water and form a thick, gel-like mixture called "chia-egg".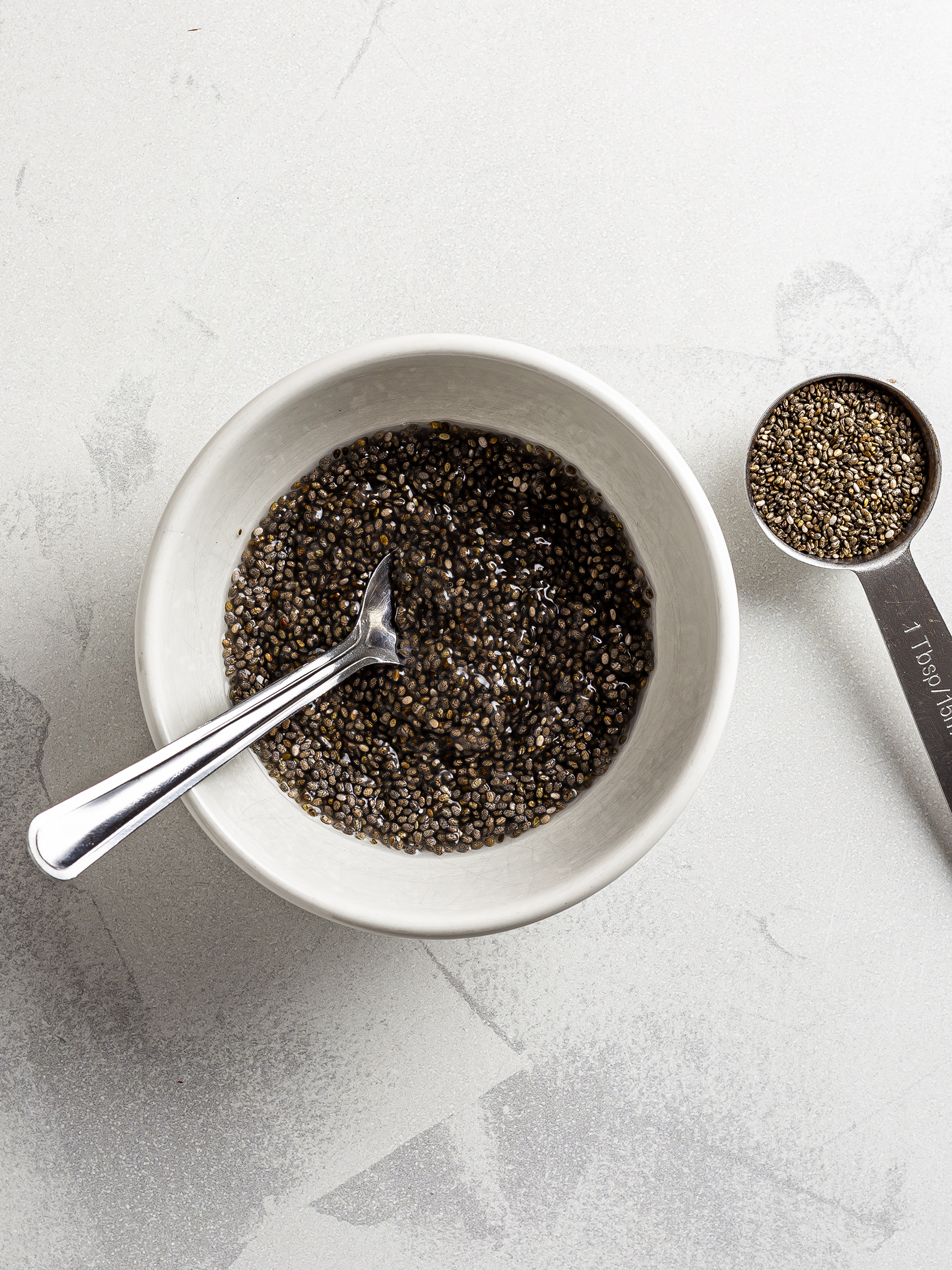 Step 2
Meanwhile, add the cauliflower florets to a food processor along with the sun-dried tomatoes and fresh cilantro.
Make sure to drain well the tomatoes and remove excess oil.
Then, blitz the ingredients until they're finely ground.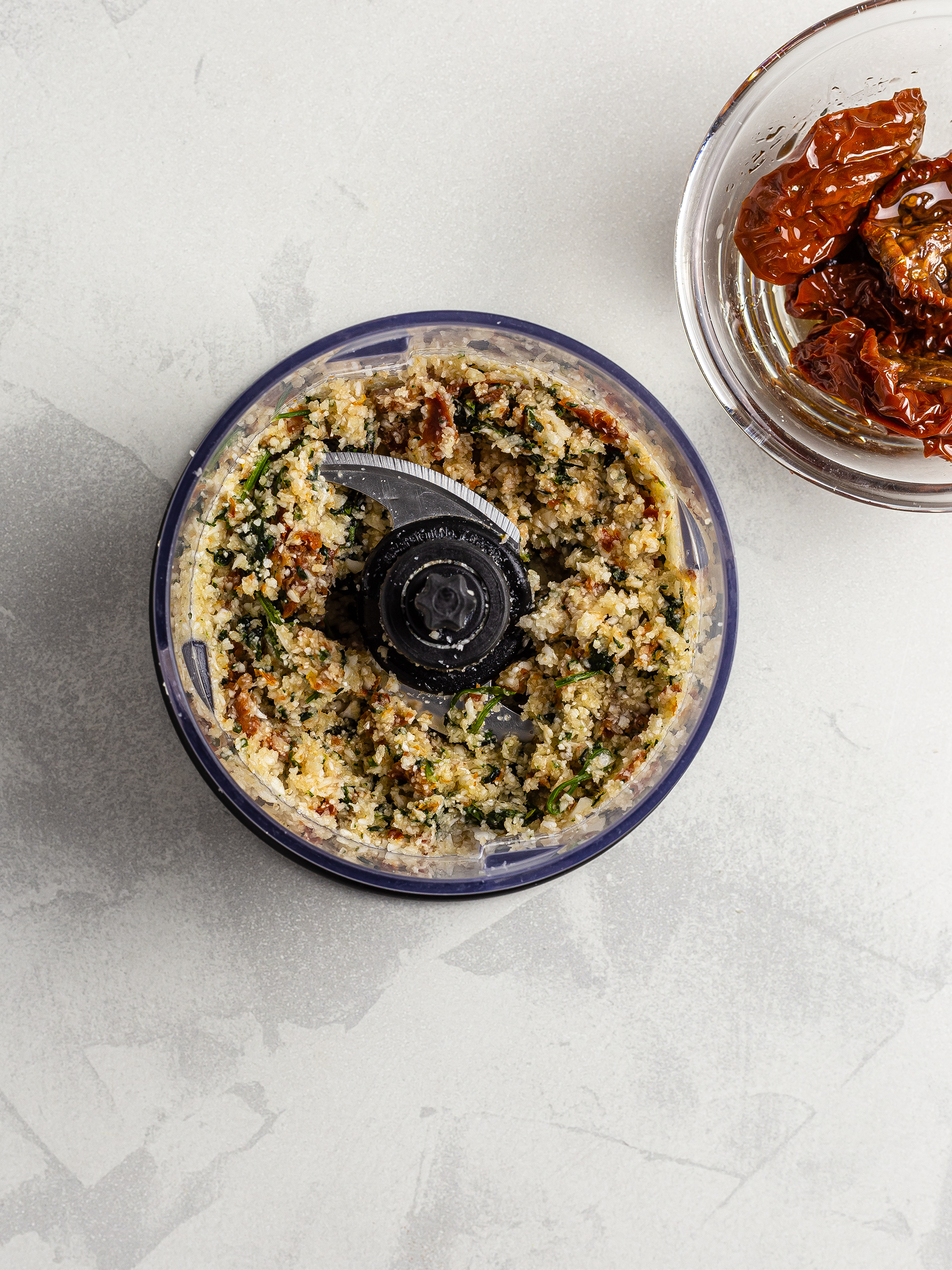 Step 3
Next, transfer the cauliflower mix to a large bowl and add the prepared "chia-egg".
Then, tip in all the remaining ingredients except for the oil as you'll need it for brushing the falafels later on.
Mix the ingredients until they come together into a moist dough.
When pressed in between your palms, the dough should stay together into a ball. If not, add more almond meal, but keep in mind the falafel dough is still quite delicate.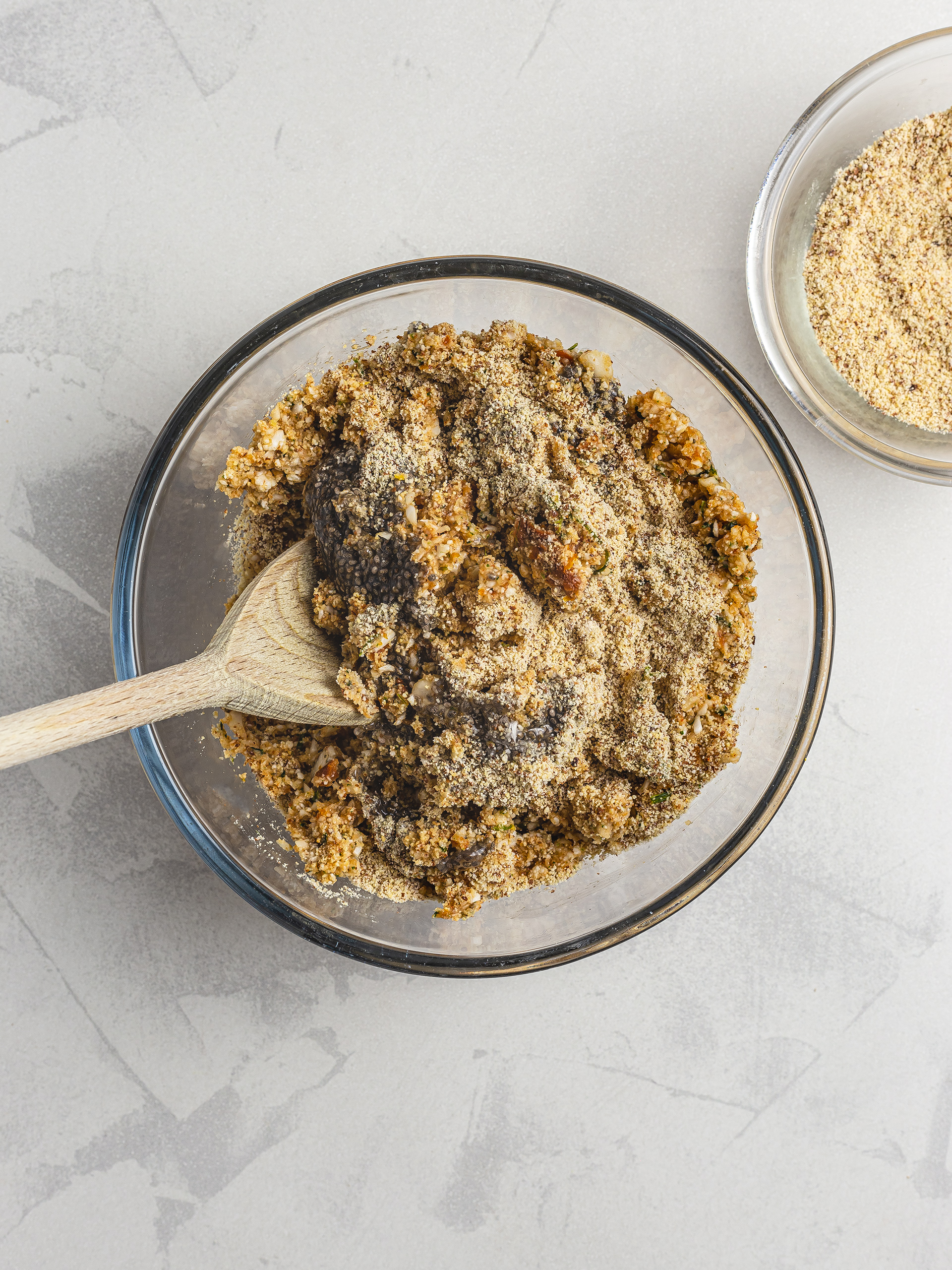 Step 4
Before shaping the patties, you can refrigerate the dough for 10-15 minutes to make it easier to handle.
For each falafel, squeeze a handful of dough in between your palms to compact it and remove excess water. Then, roll it into a ball and place it on a baking tray lined with parchment paper.
Repeat this step until you have used all the dough.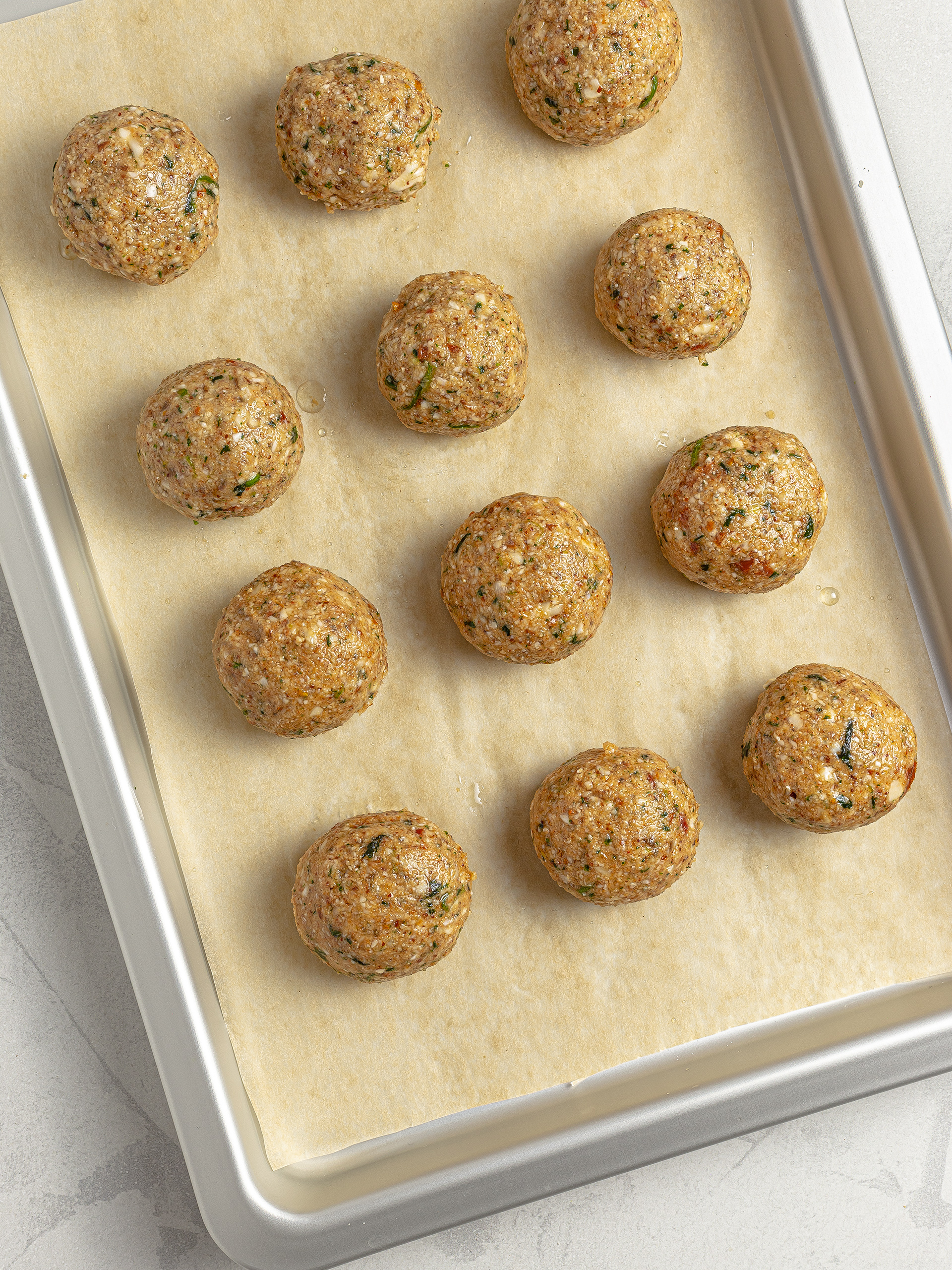 Step 5
Now, brush the falafels with the vegetable oil and bake them for 30 minutes at 220°C (430°F) in static mode.
Once the cauliflower balls are lightly browned and crispy on the outside, remove them from the oven.
Enjoy them warm or cold with pitta bread, a side salad, and tahini.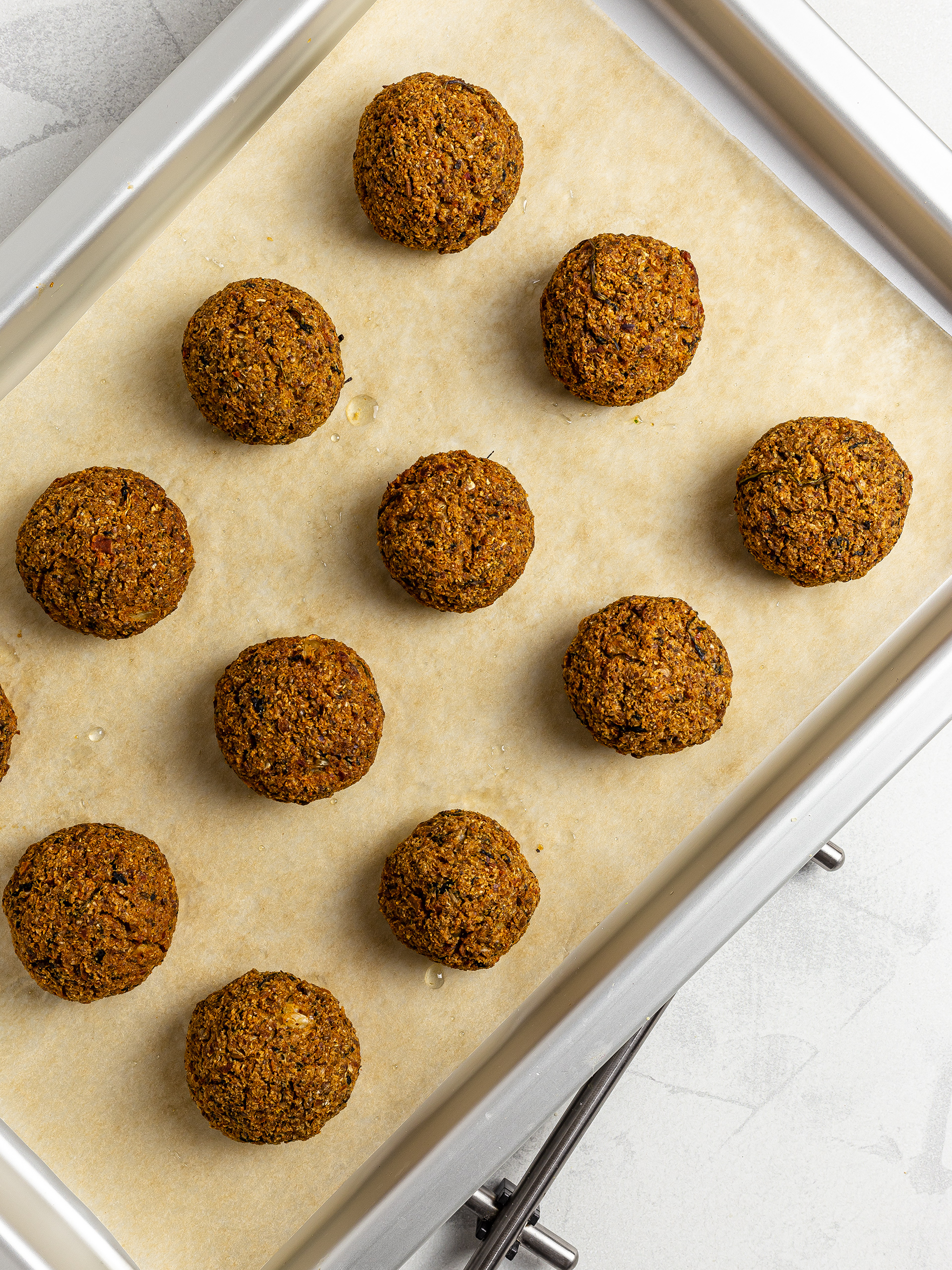 Tips
You can use frozen cauliflowers instead of the raw florets. However, make sure to thaw them completely and drain excess water before blitzing them. You can pat the defrosted cauliflowers with kitchen paper to dry them quickly.