This delicious vegan chocolate raspberry cake is the perfect dessert recipe to prepare for a special occasion like a birthday or an anniversary celebration or for the festivities.
It's prepared with a batter of cacao, ground oat, and soy yogurt. Then it's filled with a sugar-free raspberry jam and garnished with chopped berries and chocolate nibs. Absolute mouth-watering softness!
Oat makes the cake moist and adds flavour and lots of fibres. Just keep in mind that because of the lack of gluten, the dough is denser. We use additional baking powder to make up for this.
What we think makes our raspberry chocolate cake special is the healthy ingredients we selected. In fact, our contains much less sugars and fats than most desserts and it's packed with fibres, proteins, and vitamin C.
Moreover, it's gluten-free, egg-free, and dairy-free, so it is suitable for vegans, vegetarians, celiacs, and those with related food intolerance conditions. A few more tips regarding food intolerance: If you can't eat soy, replace it with coconut yogurt; if instead, you are allergic to nuts, just replace the almond milk with oat or rice milk.
For more tasty allergen-friendly recipes, check out our easy-to-use Smart Search Tool. Now let's get baking!
Ingredients
| | |
| --- | --- |
| Ground Oat | 500 g |
| Cocoa Powder | 75 g |
| Baking Powder | 30 g |
| Salt | 1 pinch |
| Unrefined Brown Sugar | 230 g |
| Rapeseed Oil | 100 mL |
| Vanilla Extract | 1 tbsp |
| Soy Yogurt | 370 g |
| Almond Milk | 280 mL |
| Fresh Raspberries | 300 g |
| Water | 70 mL |
| Potato Starch | 20 g |
| Dark Chocolate 85% | 8 g |
Step 1
Add finely ground oat, sifted cocoa, baking powder, and salt into a mixing bowl and stir well to evenly distribute the baking powder (1).
In a separate bowl, combine the brown sugar, oil, and vanilla extract with the help of a hand mixer. Spoon in the soy yogurt and mix well (2).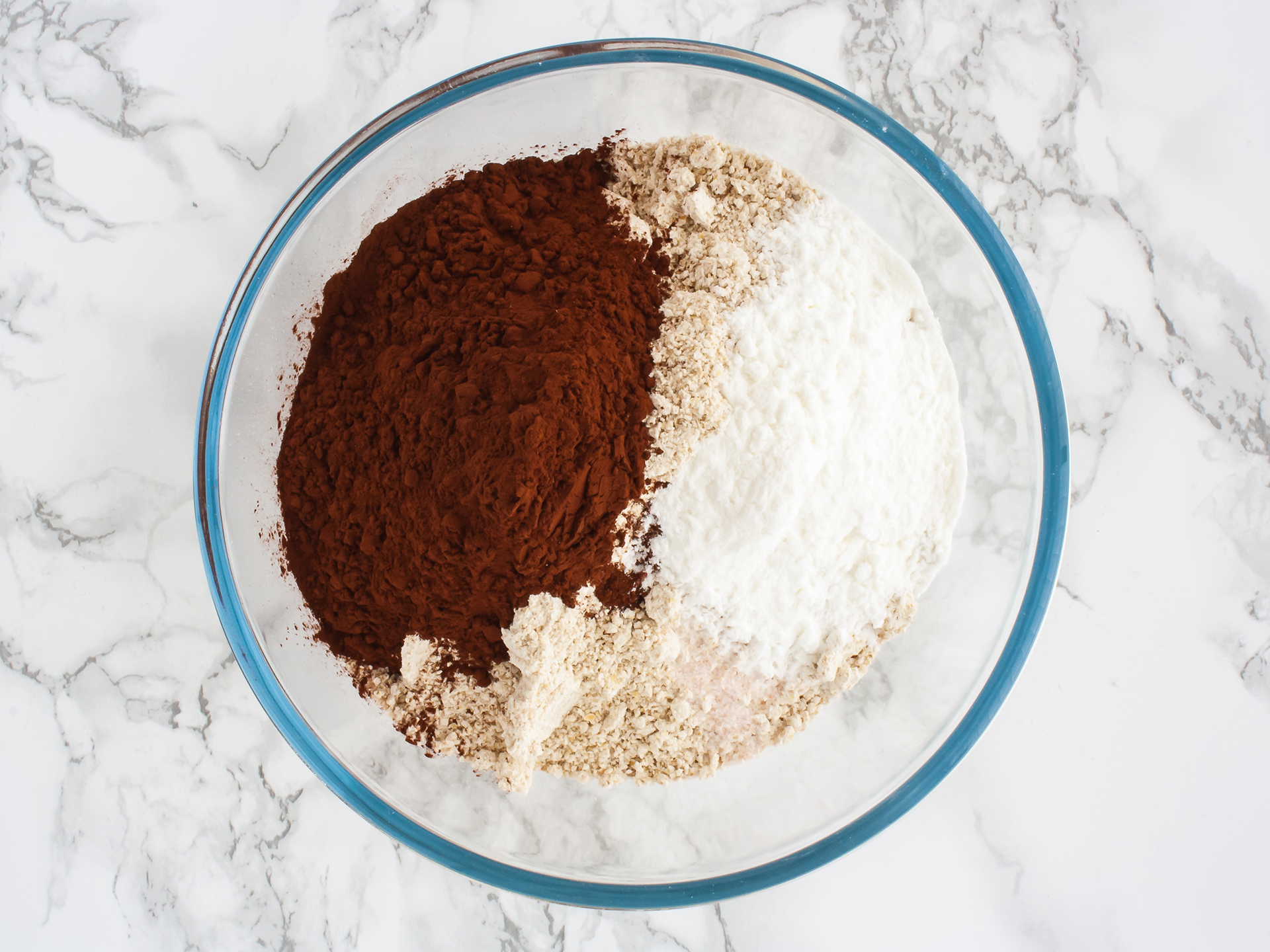 1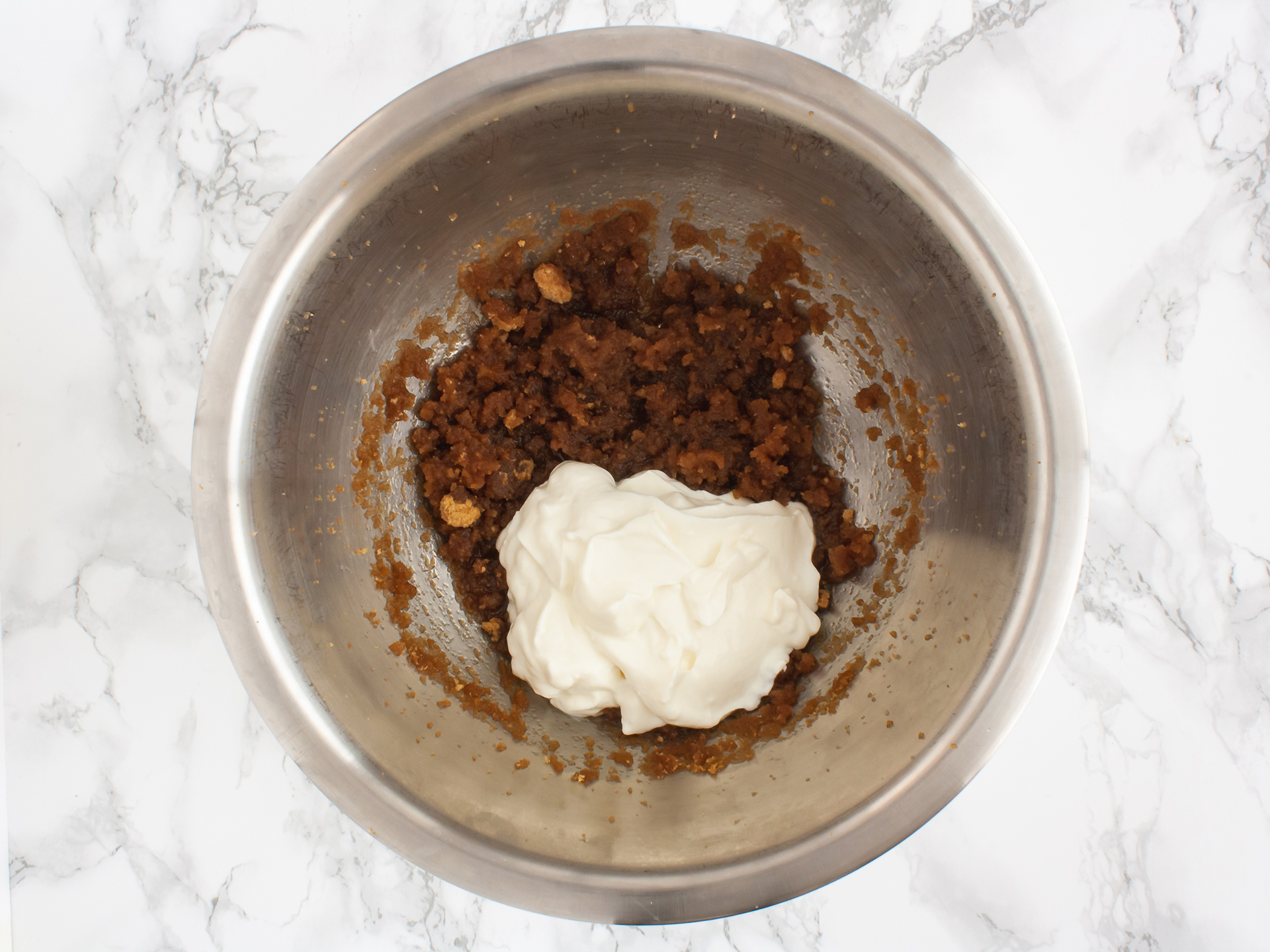 2
Step 2
Gently incorporate the flour and cocoa mix into the liquid ingredients while mixing with the hand mixer (1).
Pour the almond milk and whisk until you have a smooth and dense batter (2).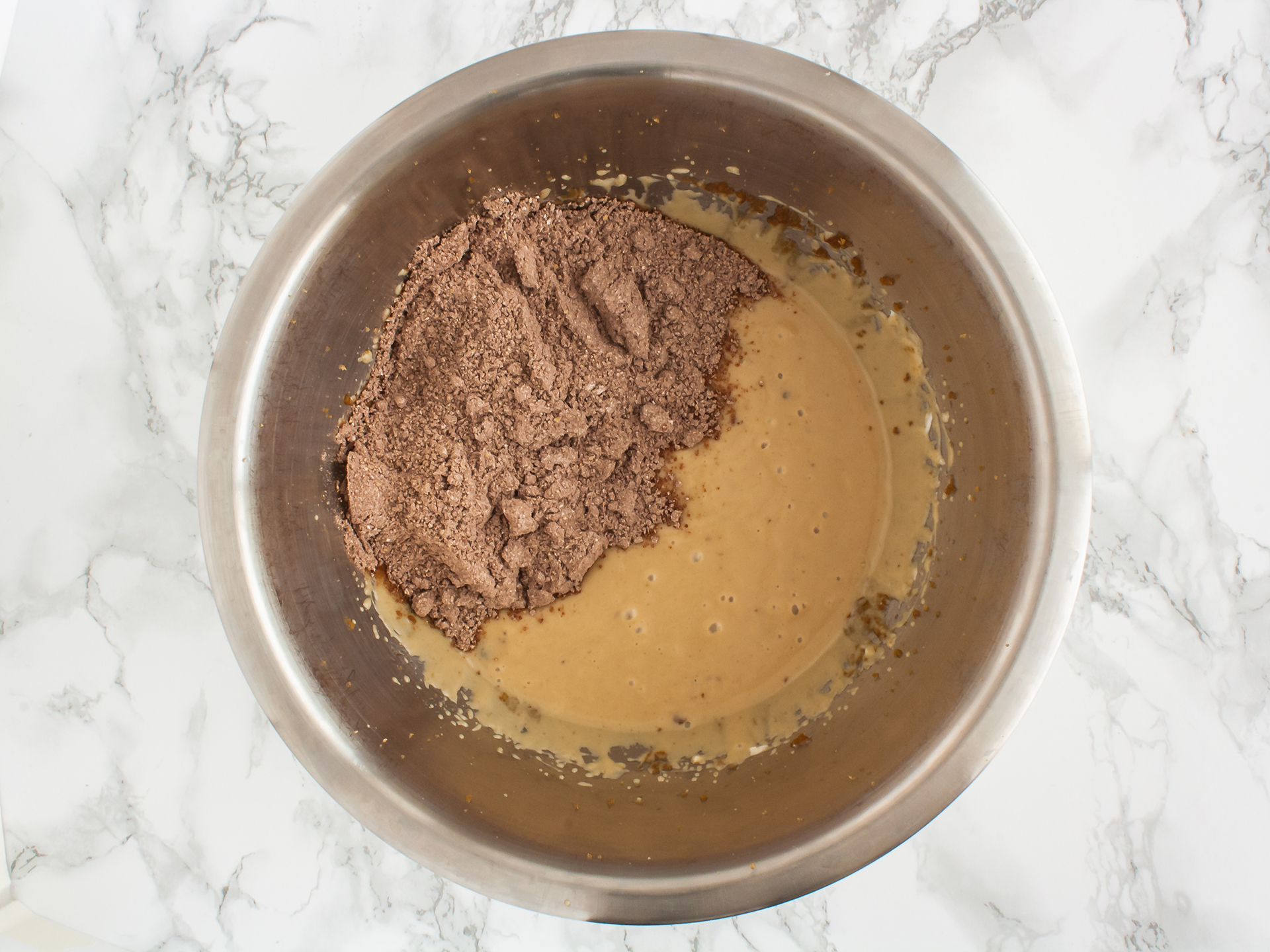 1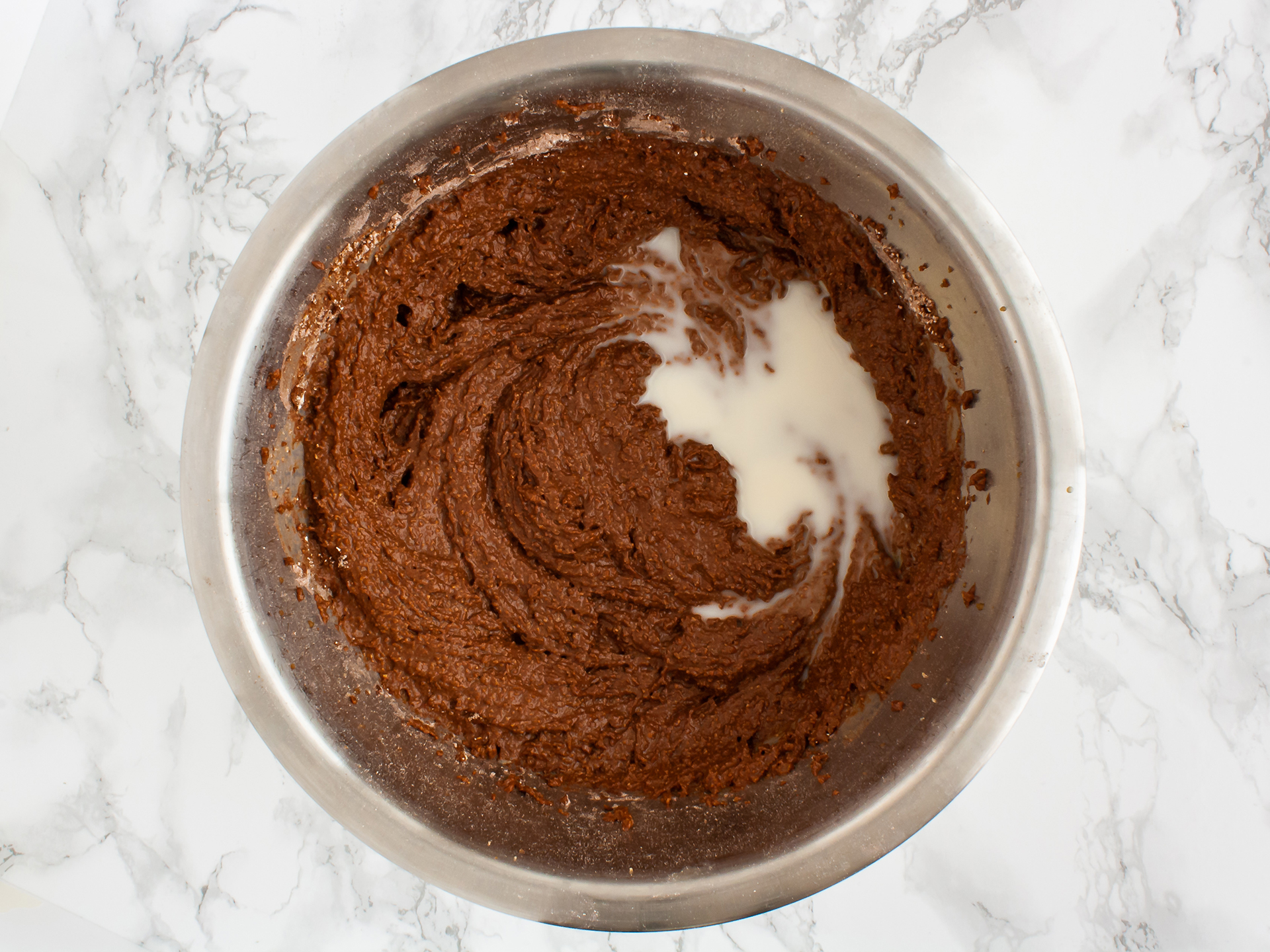 2
Step 3
Transfer the batter to a round 23 cm (9 inches) baking tin lined with parchment paper and level with a spatula.
Bake in the preheated oven at 180°C (356°F) or 160°C (320°F) for fan ovens for 45 minutes or until a skewer inserted in the centre comes out clean.
Leave the cake in the oven with the door ajar for 5 minutes then remove from the tin and cool it down over a wire rack.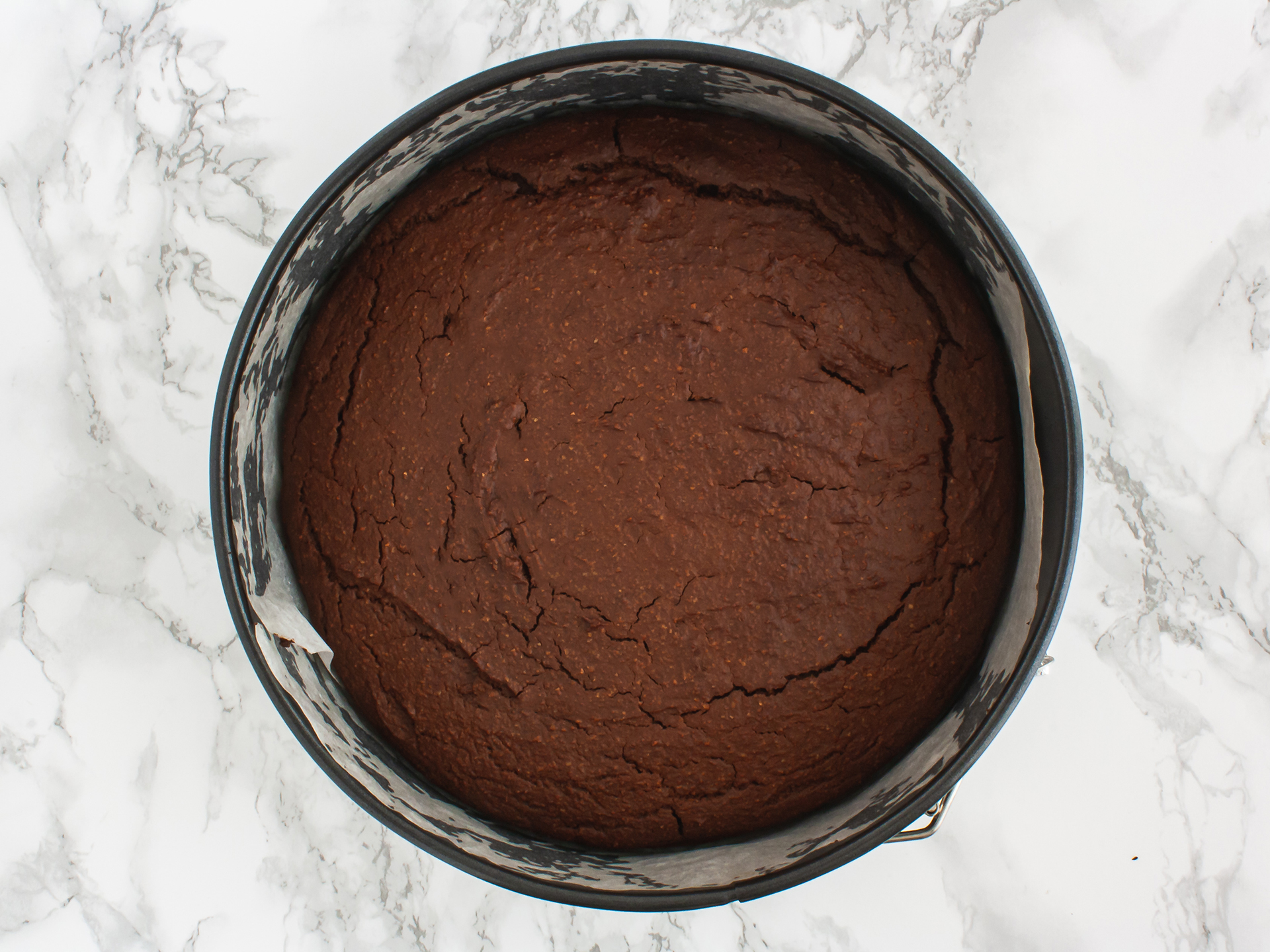 Step 4
In the meantime, prepare the sugar-free raspberry filling.
Cook 200 g of raspberries in a saucepan until mashed, then reduce the heat.
In a small bowl mix cold water with potato starch and add it to the raspberries.
Stir a few times with a whisk until the sauce thickens, then remove from the heat and allow to cool down.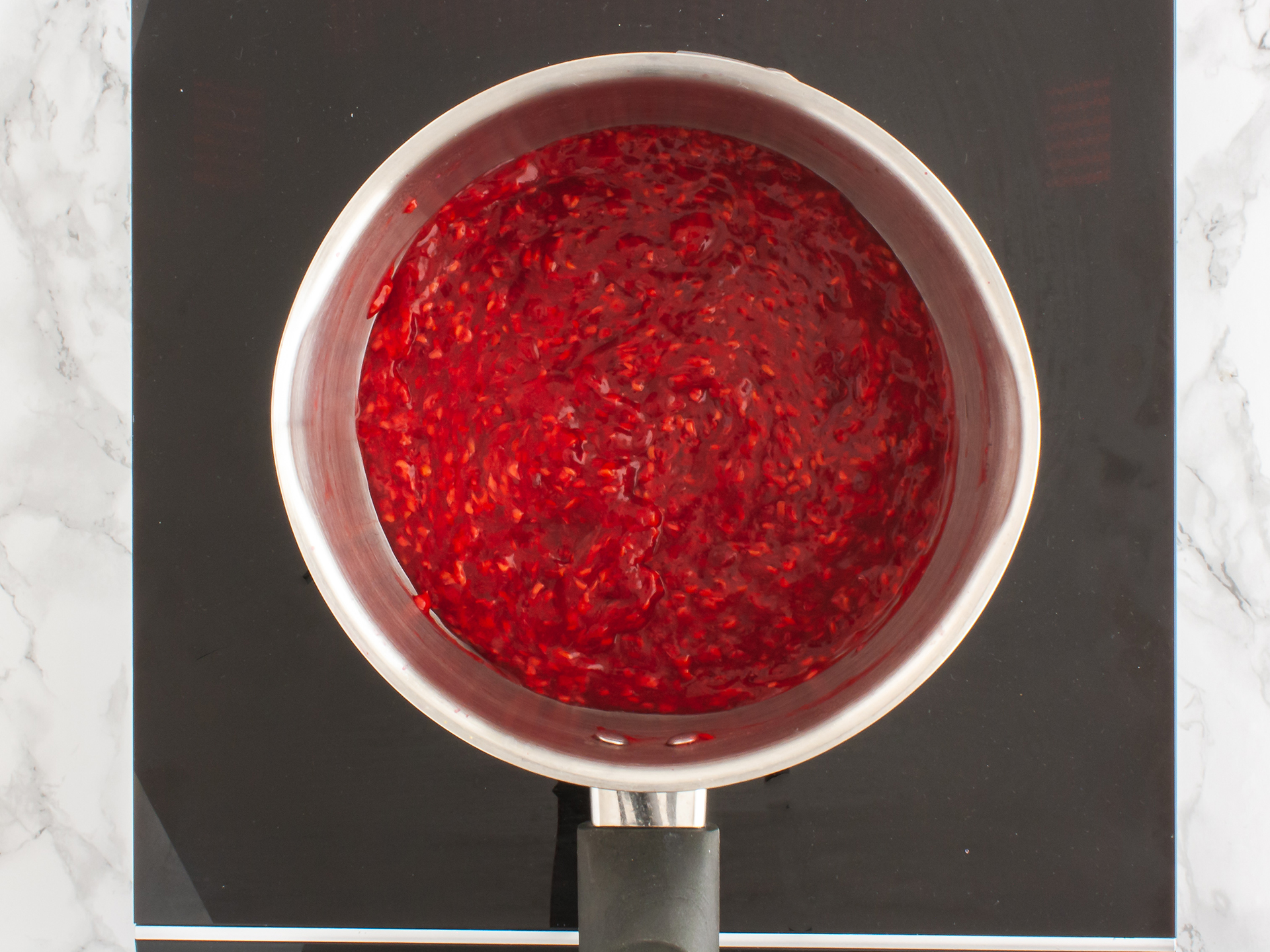 Step 5
Slice the cake horizontally with a sharp knife or with the help of a cake cutting wire and spread the raspberry filling over one half of the cake (1).
Then cover with the other half and dust the top with cocoa powder.
Sprinkle 100 g of chopped raspberries and dark chocolate nibs (2).
Garnish the centre with a handful of whole raspberries and serve.
Enjoy!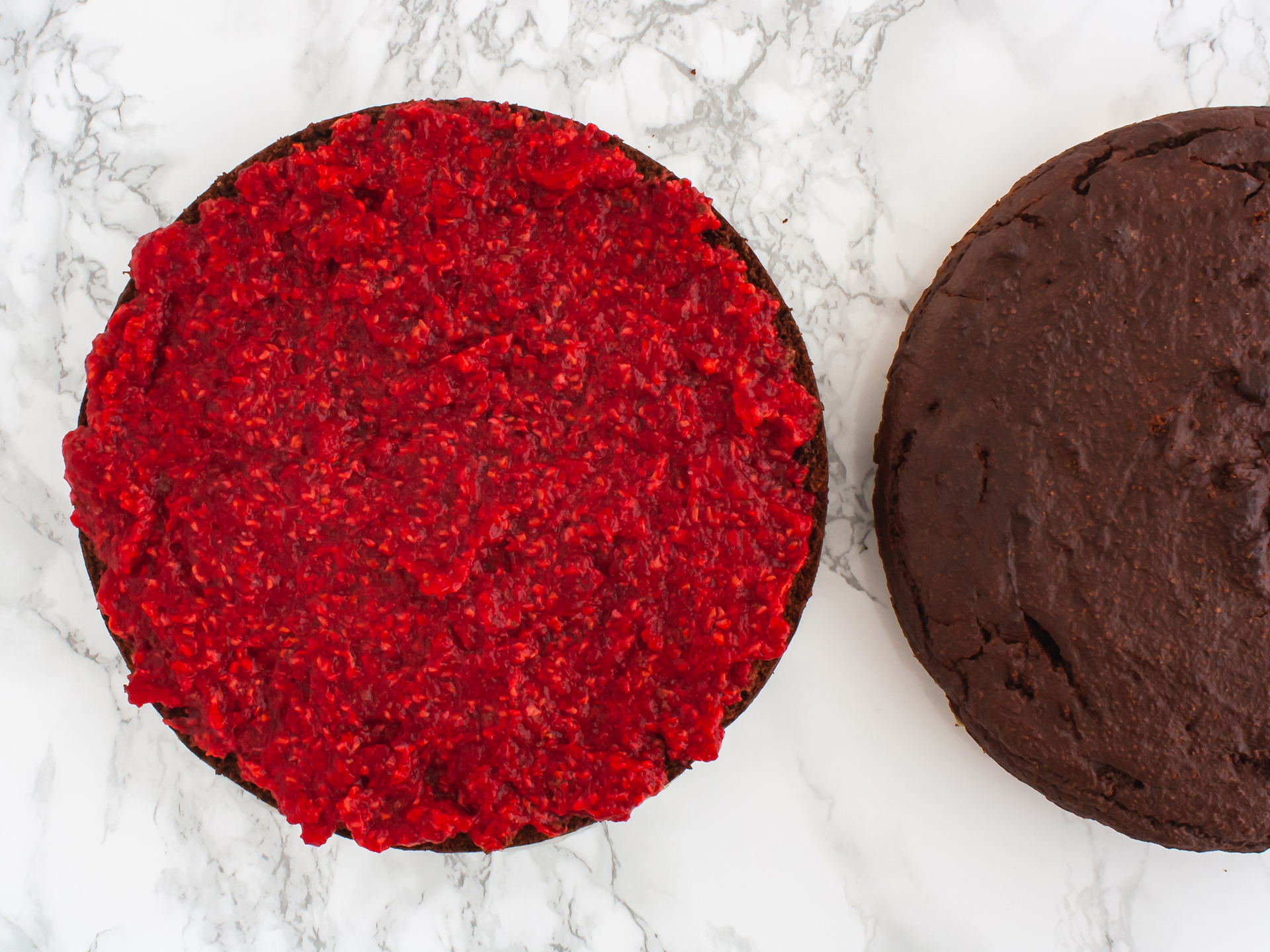 1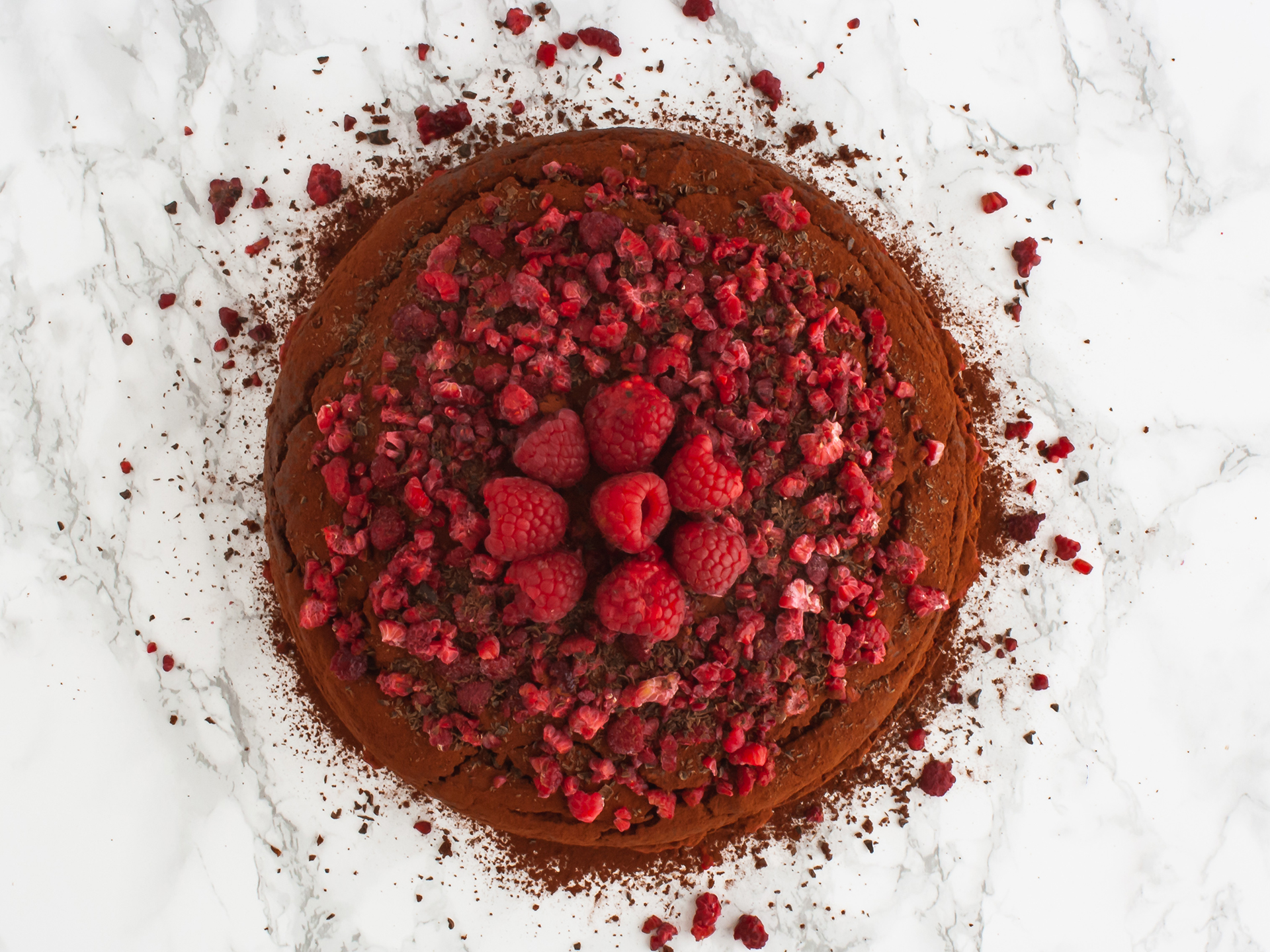 2
Tips
You can use frozen raspberries if you can't find fresh ones.

Be careful when lifting the top half of the cake to spread the filling as gluten-free and egg-free cakes are usually crumblier than regular cakes.

For a nutritious boost and a floral taste (and if you're not vegan), sprinkle bee pollen over the cake when garnishing.
Watch on Youtube