Below we'll show you how to make vegan chocolate chip brioche buns. They are eggless, sugar-free, and made without any dairy product. Only plant-based goodness!
We recently made some tasty vegan Hawaiian rolls, which lasted only a few hours. They were that good, yes! So we thought: "Heck, let's do it again! But let's use chocolate chips next". And so we made some few alterations to that recipe and got these delicious dark chocolate brioche rolls.
We really like the idea of using fruit juice in bakes. It saves us from using refined sugar, and it adds a refreshing vibe. In this recipe, we used orange juice. Orange and dark chocolate are such a wonderful pair. Do you think the same? Then check our vegan and gluten-free jaffa cakes recipe next!
To make these brioche rolls vegan, we replaced eggs and butter with soy yogurt and canola (rapeseed) oil. Instead of cow milk, we opted for our beloved almond milk. You can use any other type of vegan yogurt or milk you like.
We also opted to mix all-purpose flour with wholemeal flour, for a boost of dietary fibres. Oh, and to keep out extra sugars, we used 85%+ dark chocolate. We suggest you stick to a 70%+ dark chocolate if possible.
These little tweakings delivered big results. One of these homemade brioche rolls has 156 calories but only 6g of fats (9.8% RDI) and 1.9g of sugars (2% RDI). Sweet deal!
Making your own brioche rolls is so simple and satisfying. We hope you'll enjoy this recipe as much as we did!
Frequently Asked Questions
Are brioche buns vegan?

Brioche is a traditional French bread enriched with eggs and lots of butter. The result is a puffy roll with a rich and soft crumb, whose consistency is in between bread and pastry. Also, the loaf or rolls are often brushed with some eggwash to yield a dark flaky crust.

Because the classic brioche bread contains eggs and butter, it isn't suitable for those following a plant-based diet.

However, with a few simple tweakings, we turned this recipe into a healthier vegan-friendly treat for everyone to enjoy. We made this brioche buns vegan and weight-loss friendly by replacing butter and eggs with vegetable oil and soy yogurt. Each roll has half the calories and ten times fewer saturated fats, yet a super soft crumb.
Can I make brioche dough in a bread machine?

Preparing this chocolate brioche in a bread machine is ultra-convenient.

As the brioche dough is very moist and sticky, you won't be able to knead it by hand. You'll need a hand or stand mixer fitted with dough hooks instead.

But you can also let the bread machine do all the hard work you, for a zero-hassle brioche recipe. The non-stick basket and special paddle found in bread machines are absolutely perfect for kneading almost any type of dough, especially brioche dough. Just add the ingredients in, set the dough program, and relax.

The bread machine can take care of the proving part too, just follow the manufacturer instructions. As soon as the first proving is done, shape the chocolate rolls following our recipe above.
How to make brioche rolls without eggs?

Eggs are a staple ingredient in the classic French brioche recipe. They are used both in the batter and the egg wash to give richness and texture to this sweet bread.

If you have an egg allergy or follow a vegan diet, you can still prepare these fluffy rolls without eggs.

In our recipe, we replaced eggs with soy yogurt. You can use any plant-based yogurt, like coconut or almond milk varieties - just make sure it's unsweetened to avoid unnecessary sugars.

Yogurt is an excellent egg replacement as it adds moisture, flavour, and has satisfactory binding properties. In the French brioche recipe, eggs aren't used to help with the leavening process as the yeast takes care of that. Therefore, you can safely replace them with yogurt without affecting the overall consistency of your buns.
How do you make brioche dough dairy-free?

Brioche dough has a high butter content, about 200g (7 oz) for every 500g (1.1 lbs) of flour. Using butter yields a rich, soft and flaky crumb, and crispy crust. It also adds a slightly sweet flavour to the dough.

Although incredibly delicious, brioche bread isn't very healthy due to its high-fat content and certainly not suitable for those on a vegan diet or with lactose intolerance.

In our recipe, we reduced the total amount of fats and swapped butter with vegetable oil. Using oil instead of butter gives a less flaky, but lovely moist crumb. And the best part is that you'll get half the fats and ten times fewer saturated fats in each roll. It's so worth it!
Ingredients
| | |
| --- | --- |
| All-Purpose Flour | 250 g |
| Instant Dry Yeast | 10 g |
| Almond Milk | 130 mL |
| Wholemeal Flour | 150 g |
| Starch (Potato or Corn) | 20 g |
| Salt | 5 g |
| Canola Oil | 50 mL |
| Fresh Orange Juice | 130 mL |
| Soy Yogurt | 100 g |
| Dark Chocolate Chips | 100 g |
Step 1
In a bowl, whisk 15 g of plain flour with the dry yeast and 30 mL of lukewarm almond milk.
Then, leave the mixture to sit undisturbed for 5 minutes.
As the yeast gets activated, the mix will bubble and increase in volume.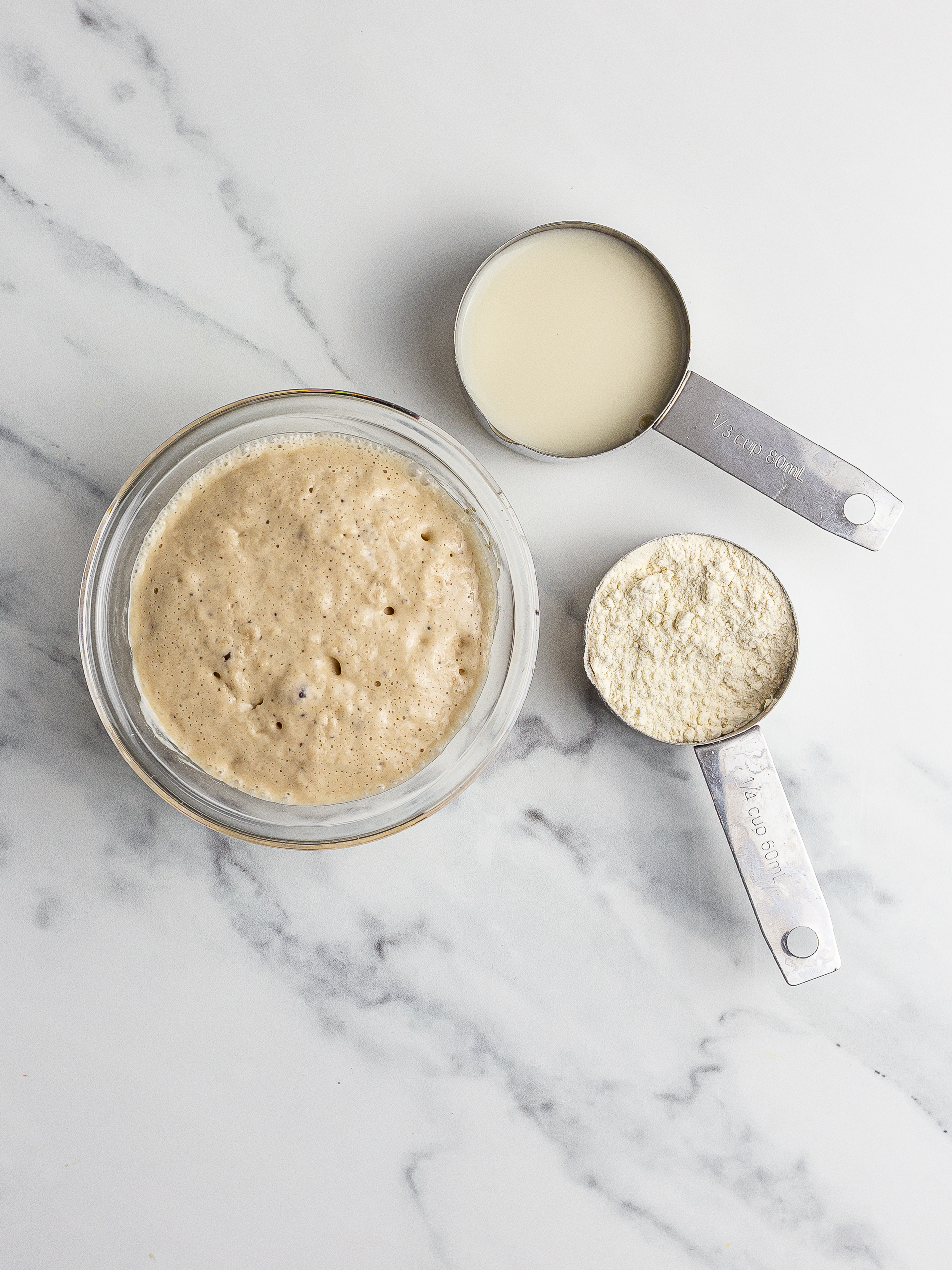 Step 2
Meanwhile, combine the remaining plain flour with wholemeal flour, starch, and salt in another bowl (1).
Next, add oil, orange juice, yogurt, and the remaining 100 mL of lukewarm almond milk. Then, add the yeast mixture (2).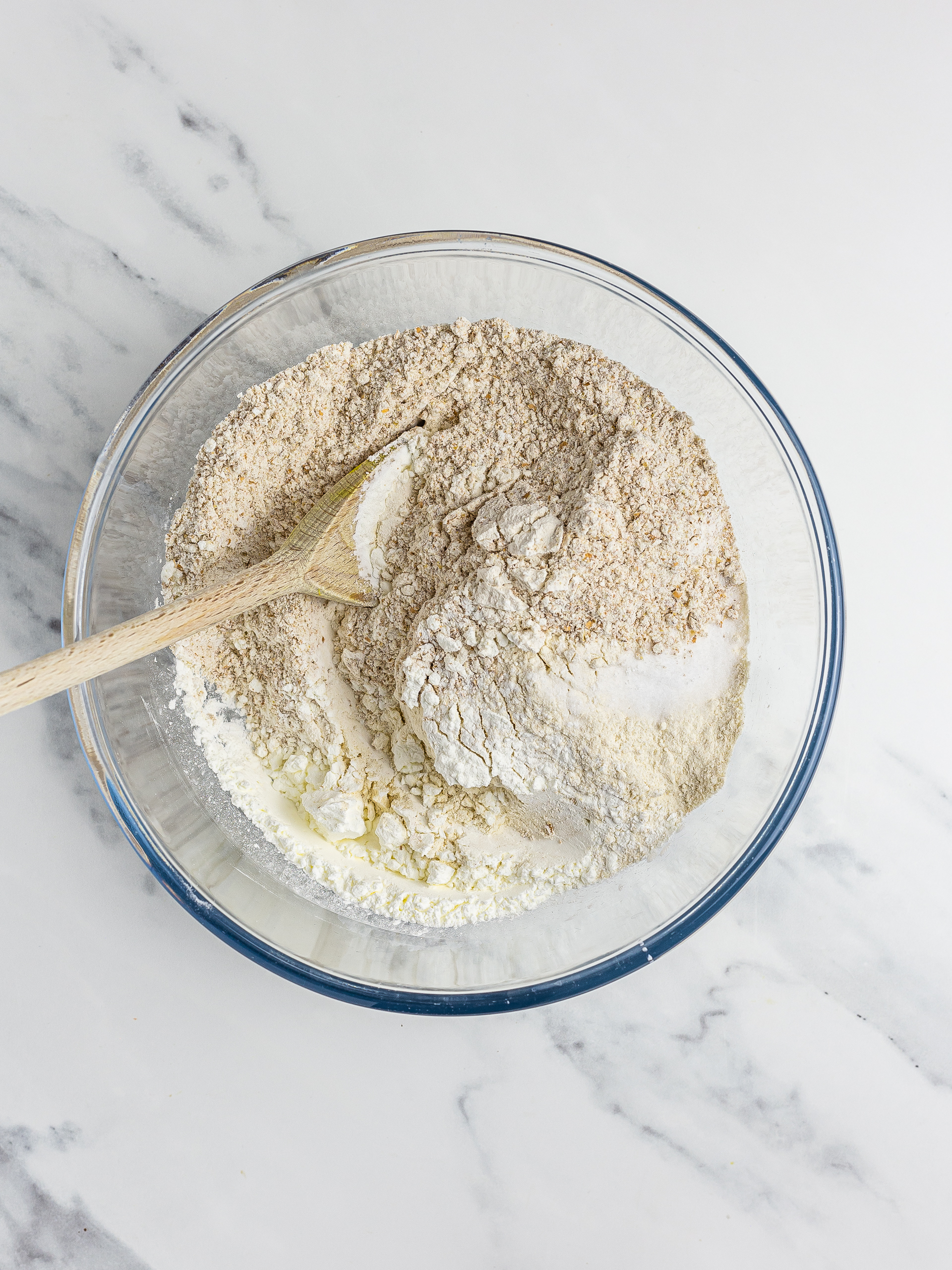 1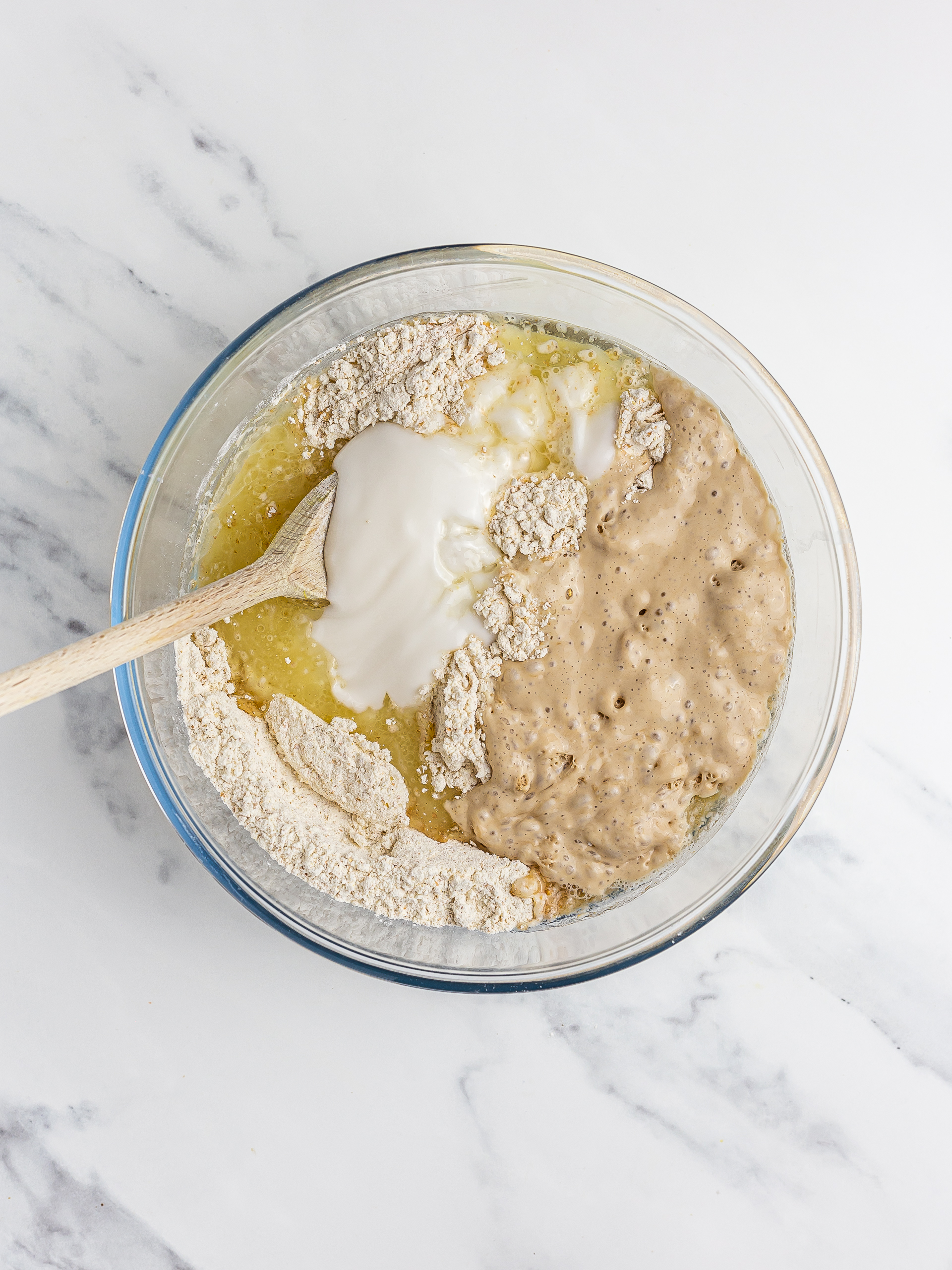 2
Step 3
Give all a rough mix to incorporate the ingredients and add in the chocolate chips.
We recommend using dark chocolate with at least 70% cocoa solids to keep the sugars low.
Work the dough with a hand or stand mixer fitted with dough hooks for 5 minutes or until you have a smooth, sticky, and elastic dough.
If you don't have the hooks, keep the dough in the bowl and use a spatula. The brioche dough is too sticky to be kneaded by hand.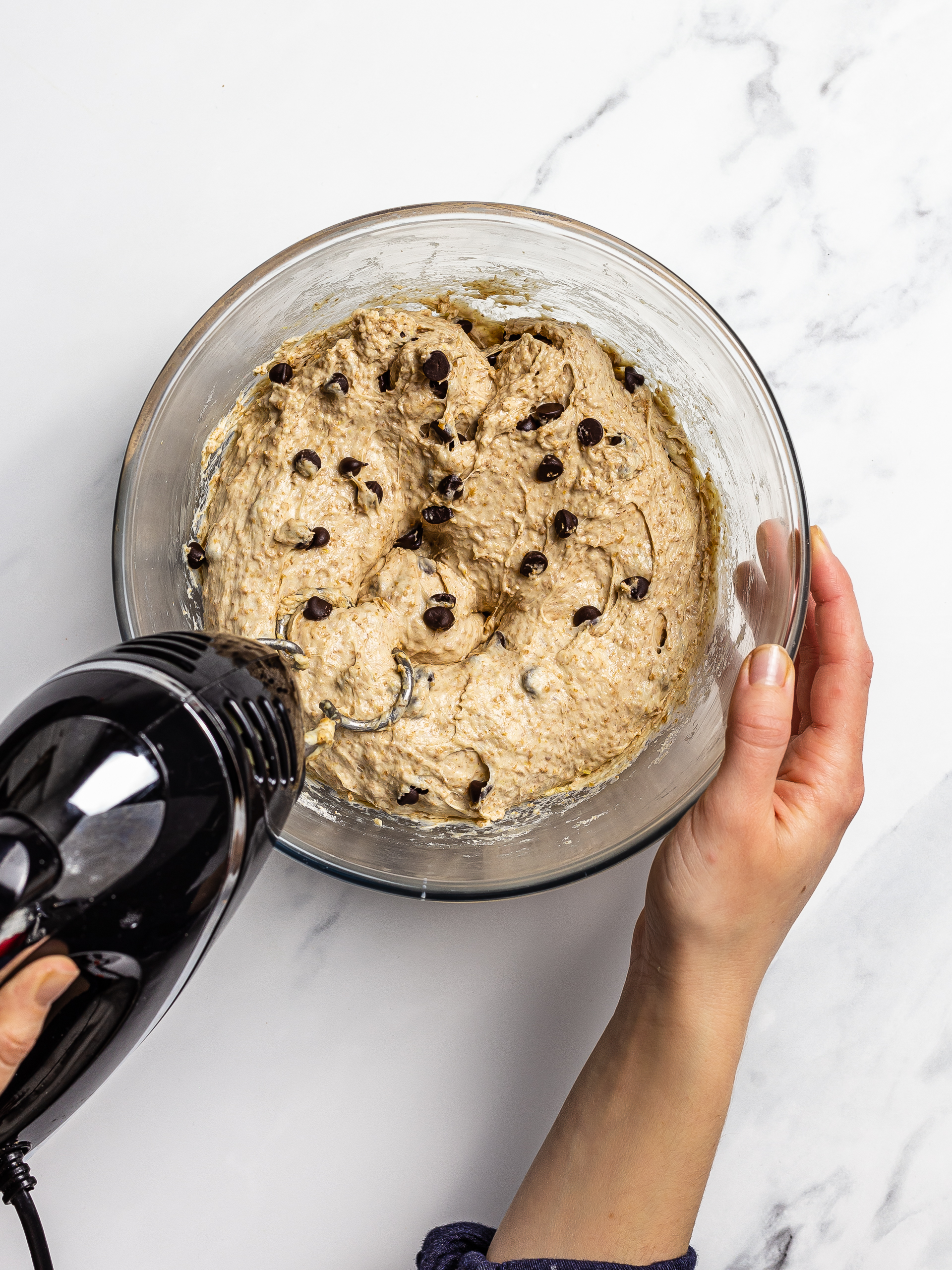 Step 4
Now, transfer the brioche dough into a large bowl greased with a little oil. Then, wrap the bowl with cling film (1).
Leave the dough to prove in a warm place for at least 50 minutes or until it has doubled in volume (2).
For example, you can keep it next to a radiator or wrapped in a wool blanket.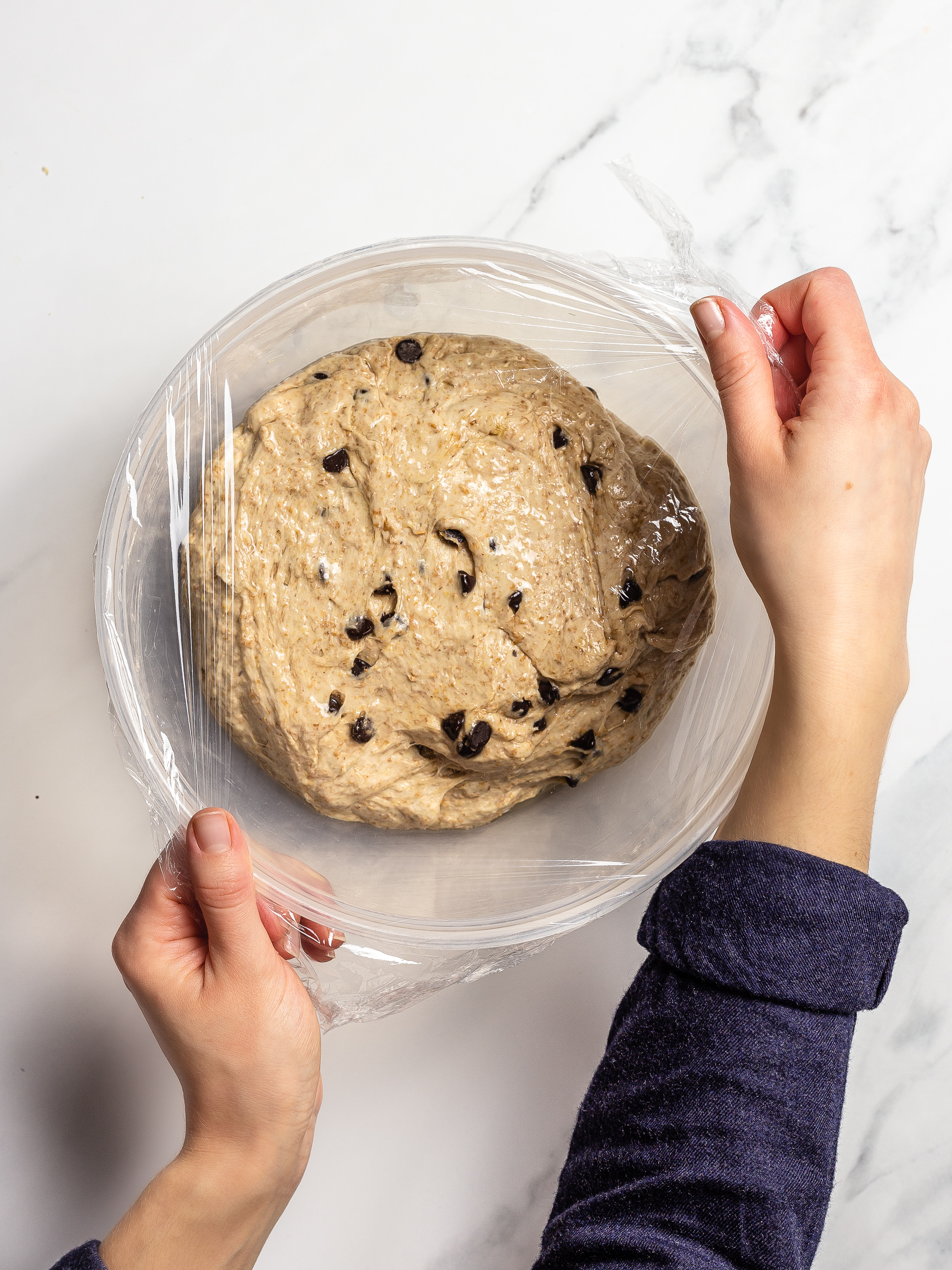 1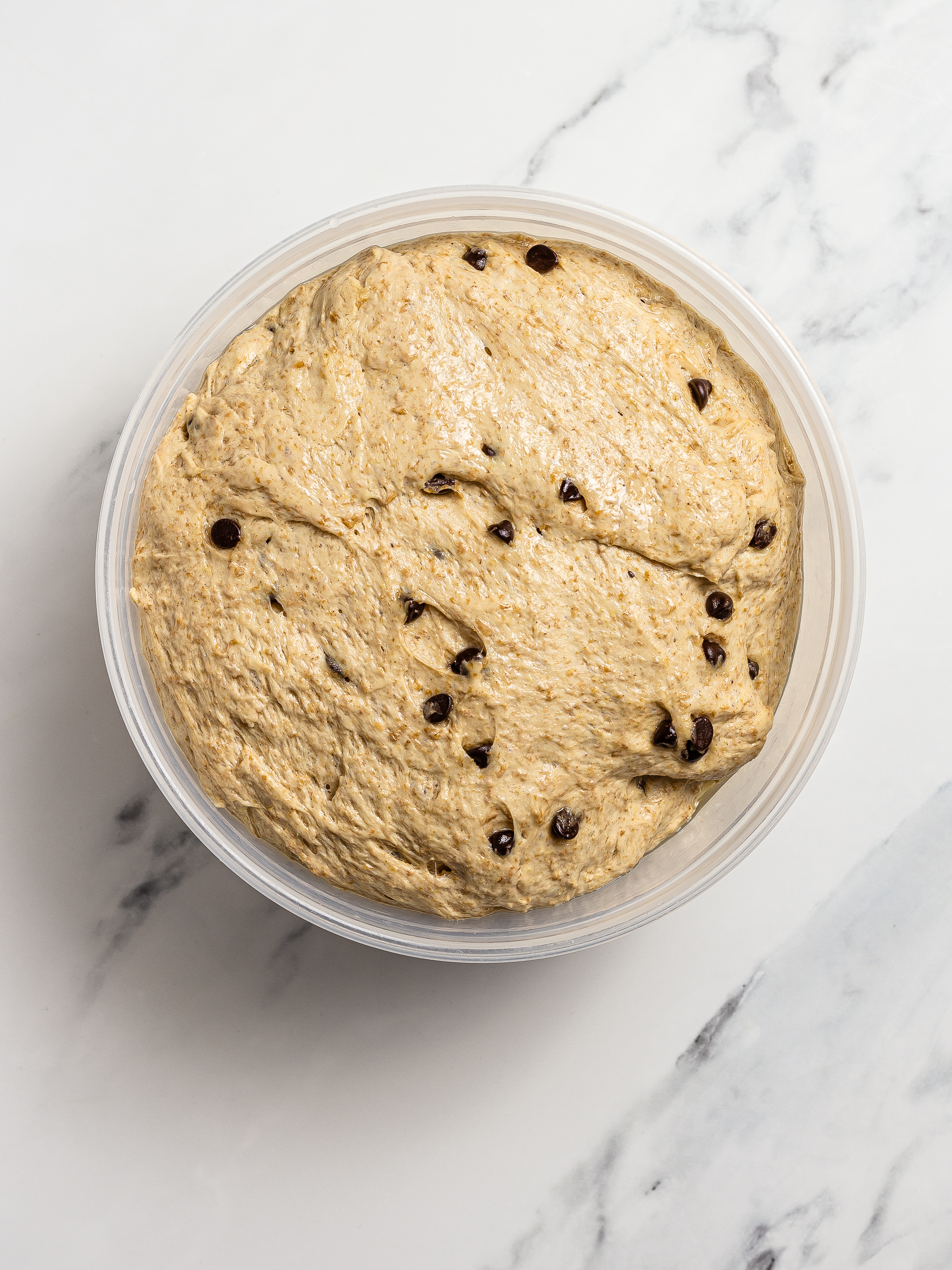 2
Step 5
Now, get a deep baking dish and oil it well. Ours is 28 by 20 cm (or 11 by 8 inches).
Ensure your hands are thoroughly greased for the next step. The dough is very sticky, but if you rub your hands with oil, it will be much easier to handle it.
Transfer the proved dough onto your worktop and use a baker blade or sharp knife to cut 16 equal pieces or as many pieces as the number of servings.
To shape the brioche buns, take one portion of dough, stretch it, and then fold the edges into the middle a few times without pressing too hard. Then flip it, pull and tuck the sides of the dough underneath to form a tight and smooth ball.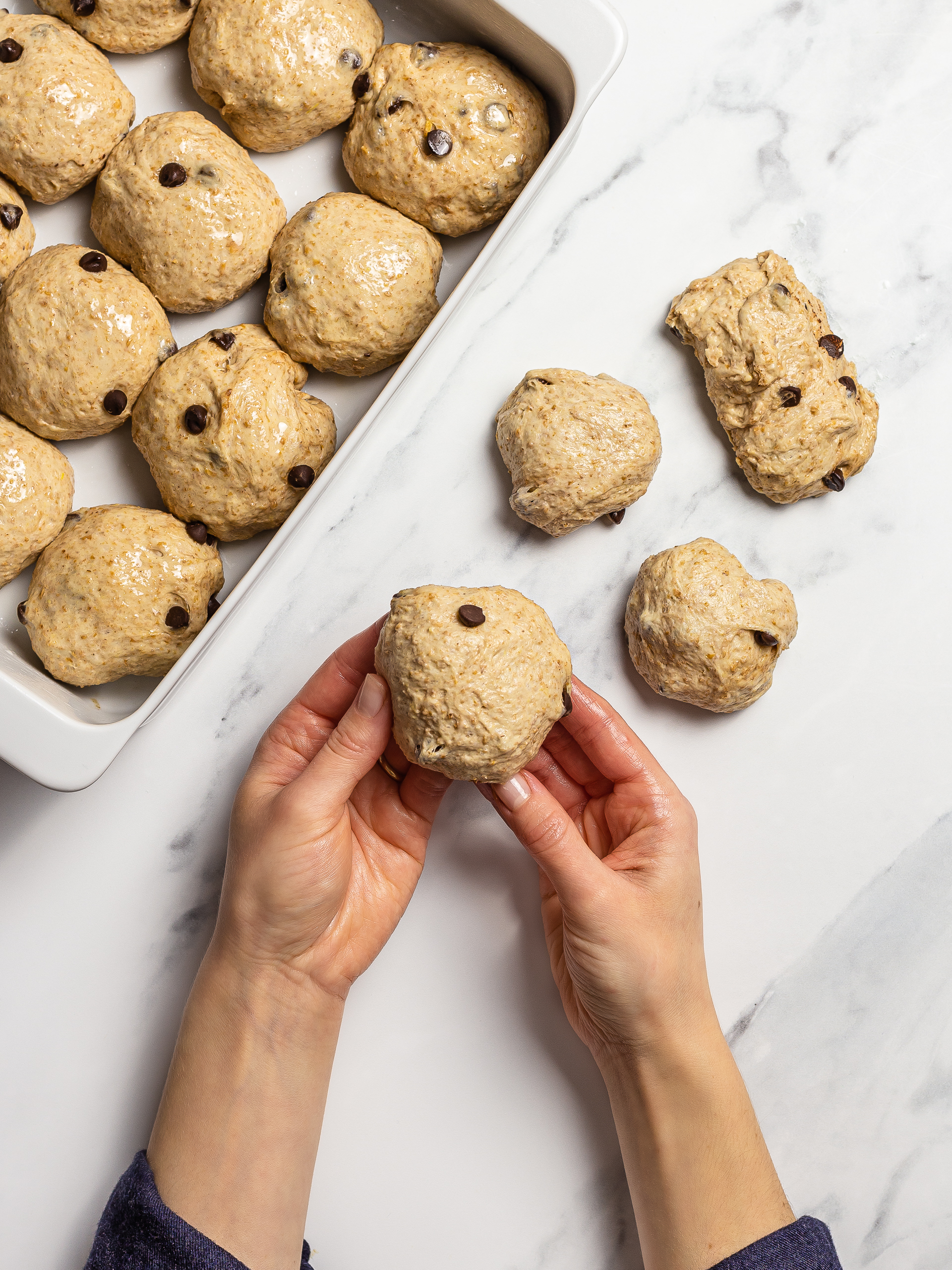 Step 6
Now, position your buns into the prepared baking dish close and equally distant from one another. Avoid leaving large empty gaps in your tray or the brioche buns will grow horizontally instead of vertically.
Depending on the size of your tray, you might not be able to fit all of them at once. In this case, we recommend using a second baking tray.
Next, brush the buns with a little oil, wrap the tray with cling film, and leave the rolls to prove in a warm place for 30 minutes or until they have doubled in volume.
After this time, you can brush them with a little bit of oil or a vegan egg wash. Check out our tip section below more for more info.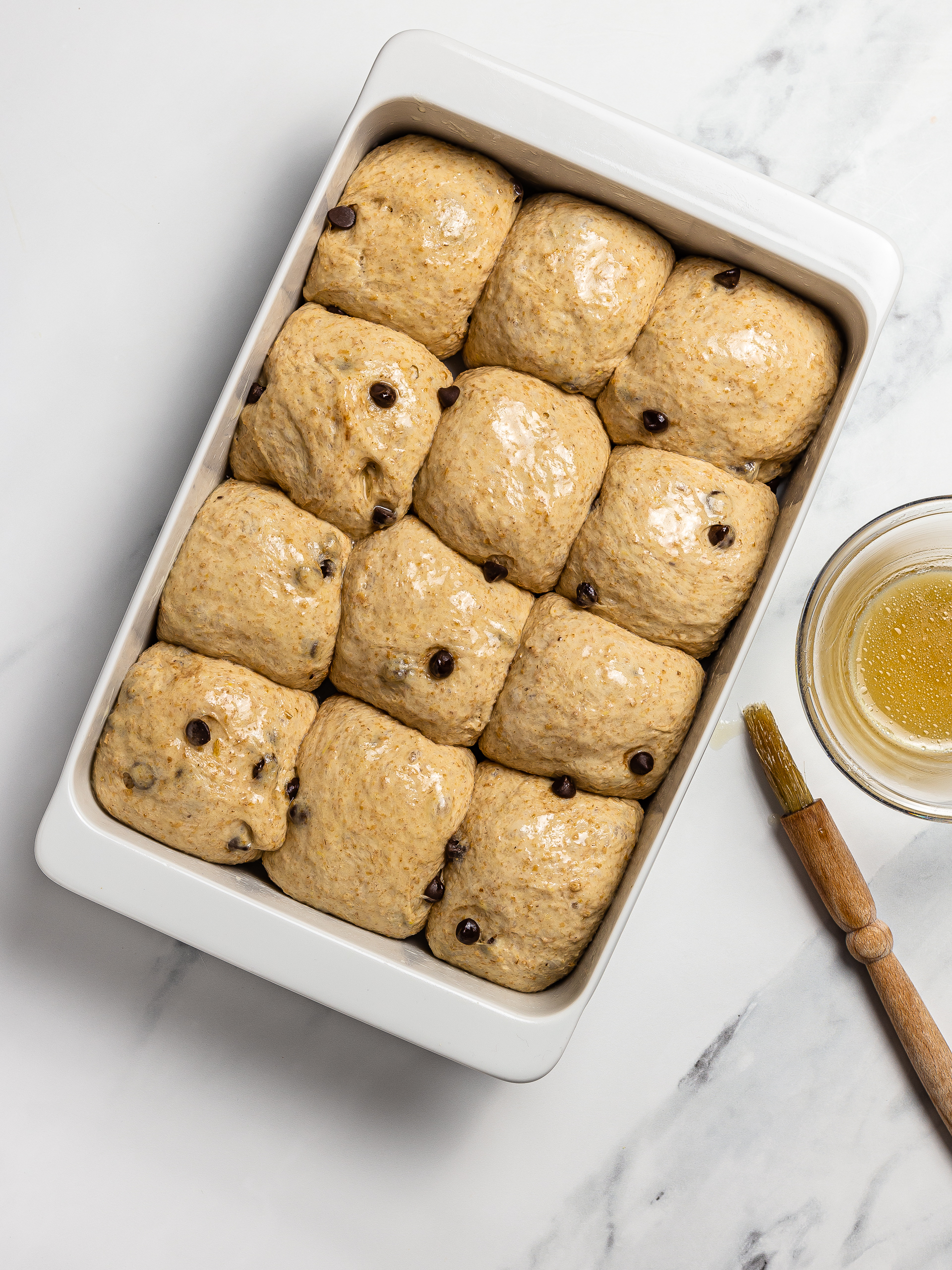 Step 7
Preheat the oven to 180°C (355°F) in static mode while the buns are proving and then bake them for 25 minutes.
Once ready, they should look nice and browned. Wait a few minutes and transfer them to a wire rack to cool down.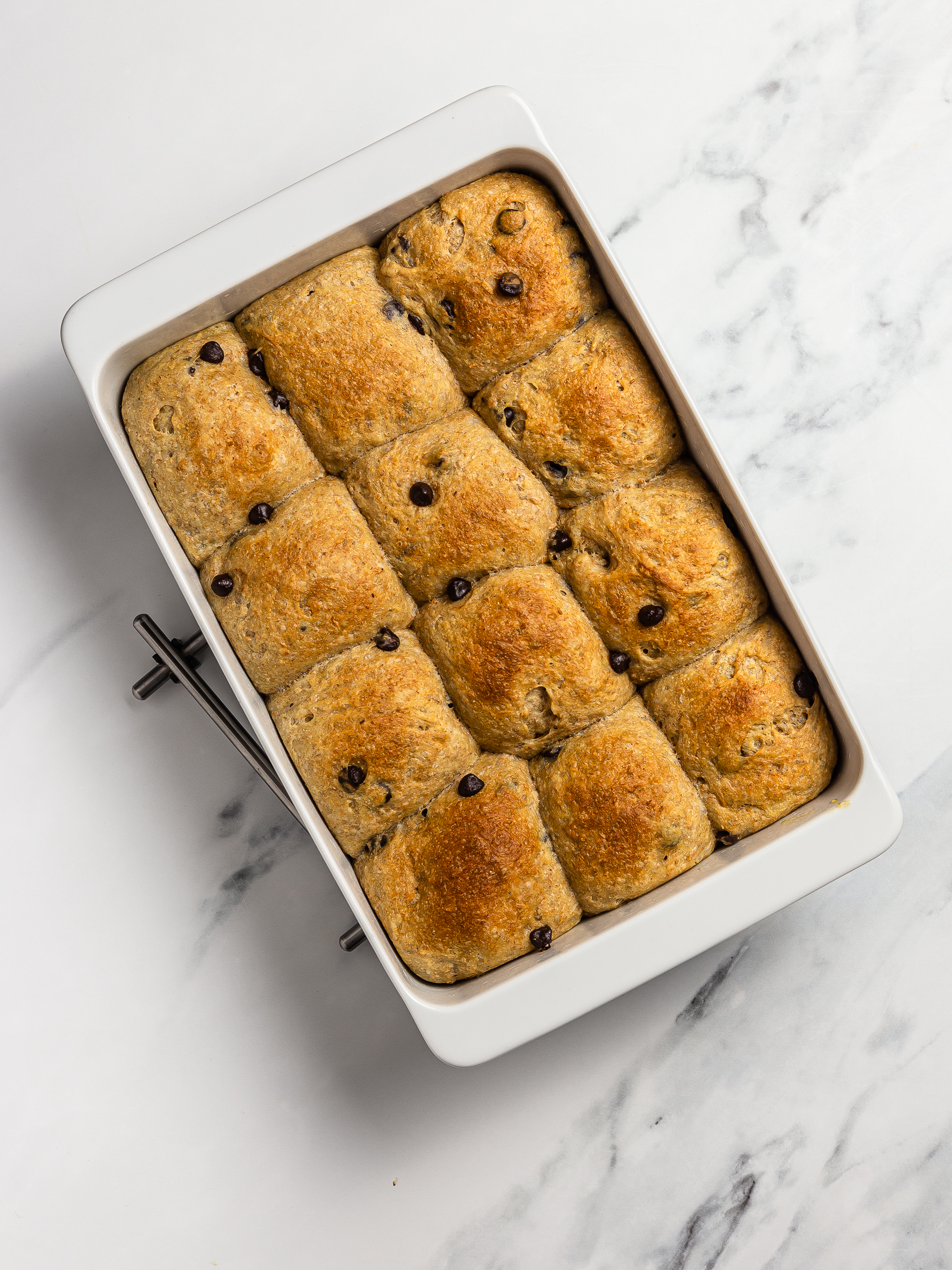 Tips
To make the vegan eggwash, combine 1 tbsp of almond milk with 1 tbsp of maple and 1/2 tbsp of vegetable oil. Whisk it well, and then brush the mixture over the buns.

You can store these brioche buns in an airtight container for up to 4 days.
Watch on Youtube