As summer approaches, it's time we start thinking of new nutritious ways to keep us hydrated and fresh. Lemonade is the staple drink to sip during hot days, with a delicate taste that lends itself to many exciting variations.
Today we propose a healthy sugar-free lemonade made with coconut water and lavender flowers tea. We promise this one is going to quench your thirst like nothing else while enriching your body with powerful nutrients. Read to learn more or jump to the recipe below.
The best things you get from our coconut lavender lemonade are:
Anti-anxiety properties from the lavender.

Refuelling and energizing electrolytes from coconut.

Loads of immune-boosting vitamin C.

No added sugars, thanks to the zero-carbs sweetener erythritol.
As an optional ingredient, and to give this drink a bit of lavender-purple colour, we have added a few drops of beetroot juice. Purple is the result of mixing red and blue. The lavender tea is on the orange side, and the beetroot juice is magenta, so we can get pretty close to purple by mixing the two, without resorting to nasty food colourants. If you want a lush purple, you'll need to add a blue ingredient: try spirulina powder.
Besides, beetroot juice is good for more than just colour. It is a good source of vitamin C, as well as minerals and powerful antioxidants. Moreover, studies found that drinking this juice can lower blood pressure, it's superb on a weight-loss diet, and can even reduce the risk of cancer with its betalains antioxidants [1]. So down it goes into our floral lemonade!
This recipe is a breeze, and it will require only a few minutes of work. So without further ado, let's get sipping!
And if you're looking for more refreshing drinks, we think you'll like this blue pea galaxy lemonade and dragon fruit cooler drink. They're easy and delicious, give them a go!
Frequently Asked Questions
Does lavender lemonade help relieve stress?

Our lavender and coconut cocktail is the ultimate summer drink for chilling, because:

It's refreshing

Lavender has potent anti-anxiety and calming properties.

What makes lavender so relaxing? As we said in our lavender smoothie recipe, when compounds from this plant enter our system, they affect a variety of essential brain circuits which play a crucial role in modulating your mood and sleep.

Better mood and more regular sleeping patterns result in less stress during the day, which in turns make you sleep better at night. This virtuous cycle eventually leads to a satisfying feeling of ease and calm.

Science agrees with the stress-relieving properties of lavender, as many medicines compound these flowers to ease insomnia, depression and after-surgery pain [2].

But you can get some of these benefits from the comfort of your home. Steep a spoon of culinary lavender flowers in water and add the resulting tea to any bake or drinks. As the lavender gets digested, you'll quickly feel its calming effects permeating your body.

Anything good in life turns bad if consumed excessively. Extreme consumption of lavender can lead to headaches and constipation [3], but you'll be fine by drinking up to three glasses of our lemonade throughout the day.
Can I make lavender lemonade look purple without artificial colourants?

You may think that seeping lavender flowers in water would yield a pretty purple tea, ready to give colour to any recipe. It isn't the case, sadly, as lavender tea has a faint orange tint.

To those that are only interested in the many benefits of culinary lavender, this is not a problem. Just follow the first two steps of our recipe above and enjoy a healthy and refreshing lemonade.

But if you're into food-styling, then you'll need to resort to some trickery to get back the original colour of these pretty flowers. You could use artificial food colourants, or use a combination of natural ingredients instead. We recommend you go for the latter option, as we did.

Quick colour theory reminder: purple is the result of mixing red and purple, in equal parts.

We have tested two different ways of adding a purplish colour to our lavender and coconut lemonade:

Beetroot juice and blue spirulina powder. These two ingredients produce a deep purple colour when mixed. We found the ratios of 1/8 tsp spirulina and 1 tsp beetroot juice to every 400 ml of lemonade to give good results.

Only beetroot juice. Although we got a more vibrant purple colour with the option above, we ended up using beetroot juice alone to make the recipe more accessible. Beetroot juice is closer to magenta than red, and the lavender tea mixed with coconut milk has a light yellow tint. Blending the two yielded a faint purple/pinkish colour, which we liked.

It can be fun to experiment with foods as natural colourants. The best recommendation we can give you is to add the dyes a tiny bit at a time until you get the colour you like.
Can I use lavender essential oil instead of flowers?

You can swap dried lavender with lavender essential oil to prepare this coconut lemonade. To do so, replace each tablespoon of flowers with one drop of extract and add it right into the water without the need for boiling it. Then, pour the mixture along with coconut water and lemon juice into a serving jug and follow our recipe above.

As the essential oil is a highly concentrated essence of the plant, you won't need much to add an intense flavour and floral aroma to this recipe.

However, make sure you're using food grade edible essential oil, meaning that the extract has been properly certified for consumption and it's safe when ingested. Some oils, instead, are only intended for topical application or cosmetic use.

There's no advantage in using lavender essential oil over the dried culinary buds, so you can include one or the other in this sugar-free lemonade recipe depending on what you have at hand.
Ingredients
Lavender Tea
Culinary Lavender

2 tbsp

Water

200 mL

Erythritol

10 g

Lemonade
Lemon Juice

100 mL

Coconut Water

500 mL

Optional
Beetroot Juice

1/2 tsp
Step 1
Let's start by preparing the lavender tea.
In a teapot, bring water to a boil and add dried lavender. Then, remove the pan from the heat and stir in the erythritol.
Leave the infusion to steep and cool down for 15 minutes.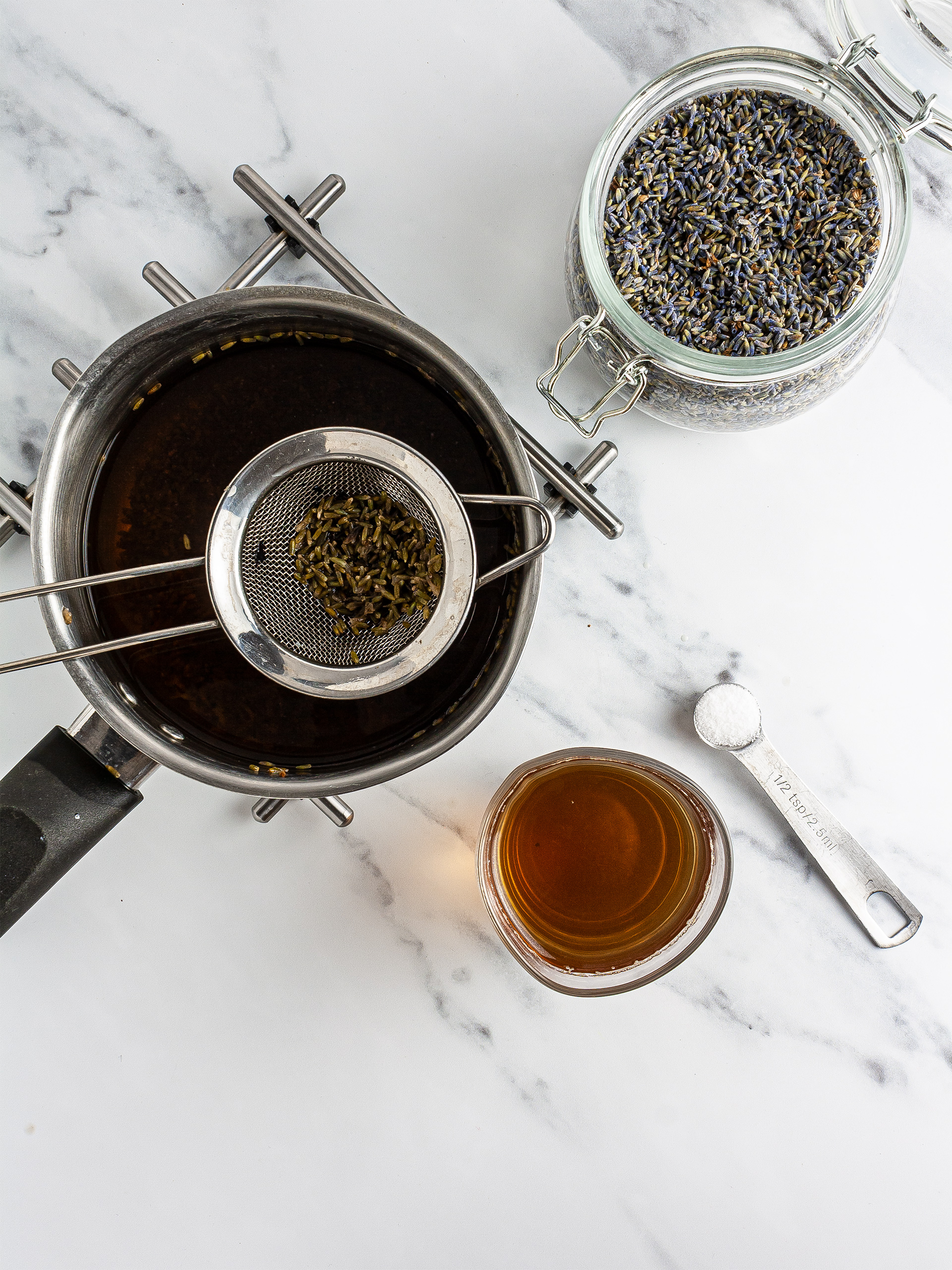 Step 2
Next, combine the prepared lavender tea with coconut water and lemon juice, and give all a good stir.
You can use a serving jug or large bottle to mix the lemonade ingredients.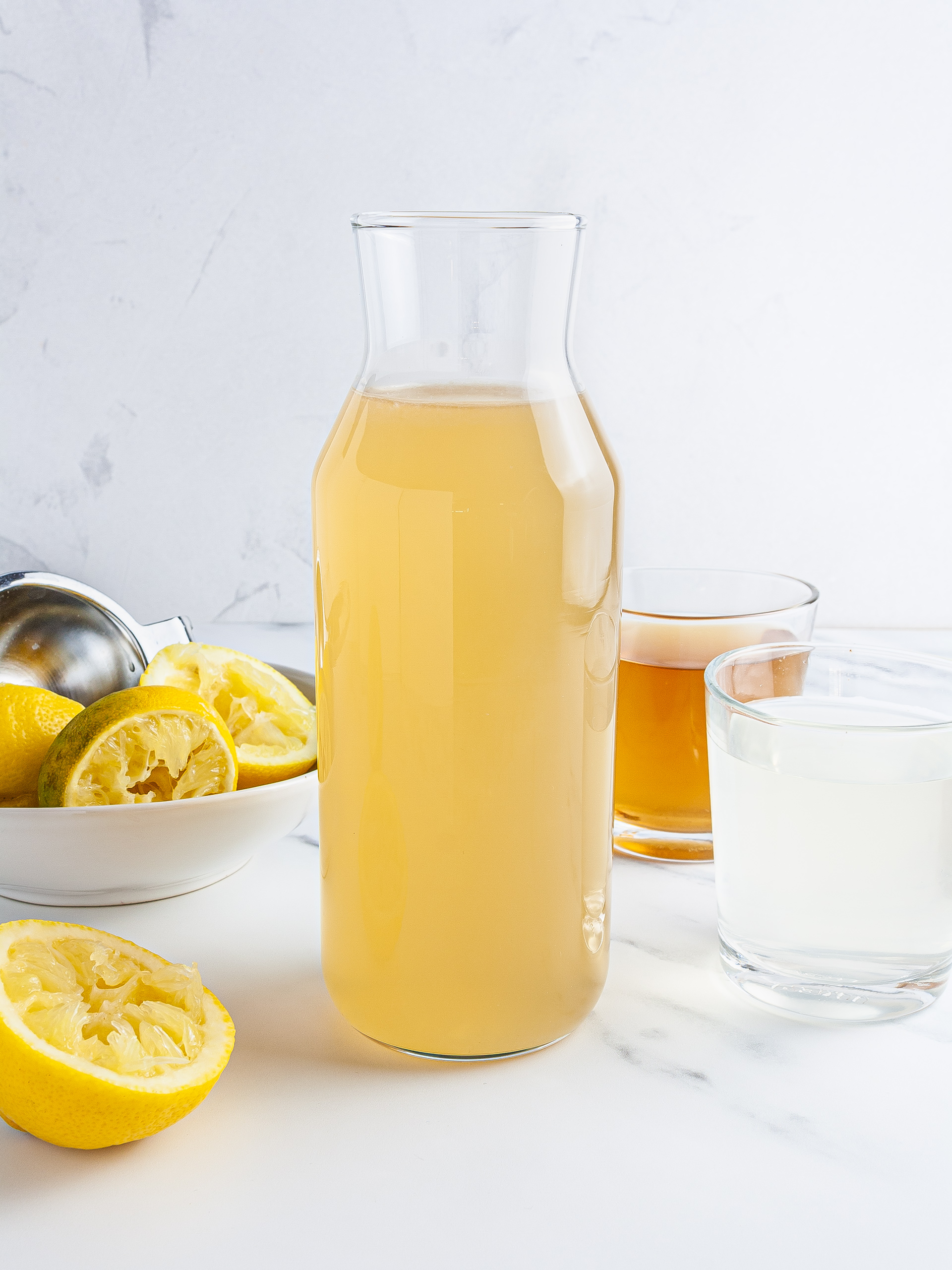 Step 3
You coconut lemonade is now ready, but keep reading for a fun trick to give this drink a beautiful pinkish tone.
Slowly pour beetroot juice into your cocktail bottle and stir until the lemonade gets a purplish colour.
Store your lavender lemonade in the fridge and serve with ice cubes for a refreshing and soothing drink.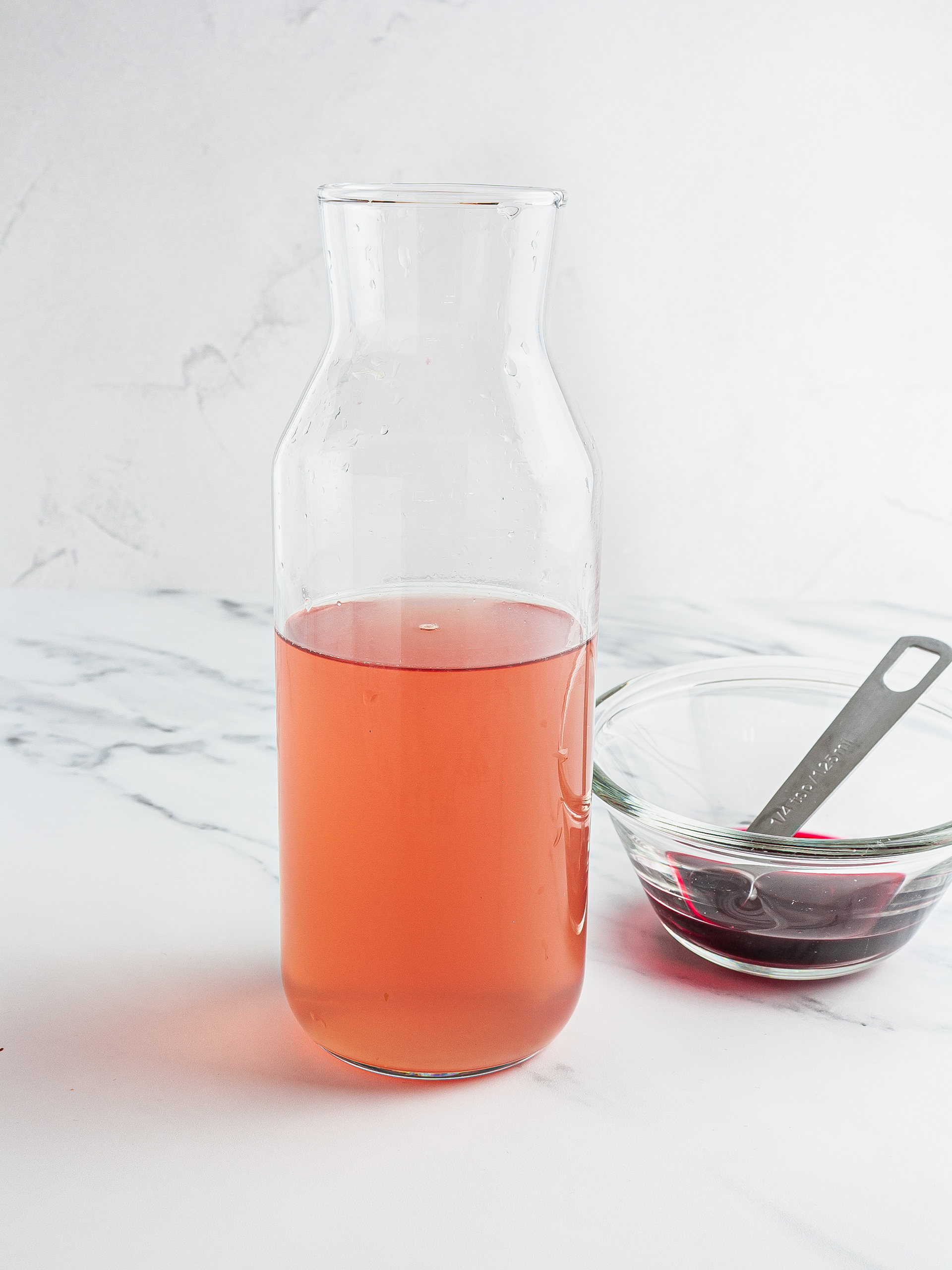 Tips
You can swap the lemons with limes or pink grapefruit juice.

If you can't get sugar-free erythritol, you can use another sweetener like stevia. Alternatively, opt for raw honey, agave, or maple syrup, using 10g/0.5 oz for a serving of 4 lemonade glasses.