This fragrant olive tapenade bruschetta topped with mango chunks and fried egg is an original and simple breakfast recipe that will energize your day. Eggs are not only a source of proteins with high biological value but they also provide healthy fats and many vitamins, minerals and trace elements.
If you're bored with the same old French toast or those simple scrambled eggs, this will surely bring some excitement!
We quite enjoyed experimenting with different flavours here, and found that sweet mango and tangy olives went really well together! Moreover, these two ingredients are healthy and nutritious:
Olives are a great source of healthy monounsaturated fats and they add richness to any dish.

Mango is naturally sweet and it provides over 50% of the vitamin C RDA and almost 20% of the vitamin A RDA per 100g.
As a healthier choice for the toasted bread, we recommend using whole wheat or whole rye bread slices, as they are higher in iron and fibre, and with a lower GI compared to plain white bread, meaning you'll feel full for longer.
Oh, and if you want perfectly shaped eggs like in the picture above, you could use poachette rings. These rings help keep the white in place, resulting in round and juicer fried eggs.
Now go and make this tasty recipe yours by following the simple steps below!
Ingredients
| | |
| --- | --- |
| Black Olives | 70 g |
| Garlic Clove | 1 |
| Capers | 1/2 tsp |
| Extra Virgin Olive Oil | 2 tsp |
| Mango | 70 g |
| Sliced Rye Bread | 80 g |
| Eggs | 2 |
| Black Pepper | 1 pinch |
| Salt | 1 pinch |
| Spring Onion | 1 tsp |
Step 1
To make this healthy egg breakfast toast, start by preparing the black olive spread.
Slice the olives, removing the pit, and bash them in a mortar with crushed garlic, capers and 1 tsp of extra virgin olive oil (1).
We recommend using a small garlic clove to avoid a strong garlicky taste in the olive tapenade.
Bash the ingredients until the olives have released their juices and you have a paste(2).
It is ideal to have a coarse mortar, as it will grind the ingredients more easily, like a granite mortar.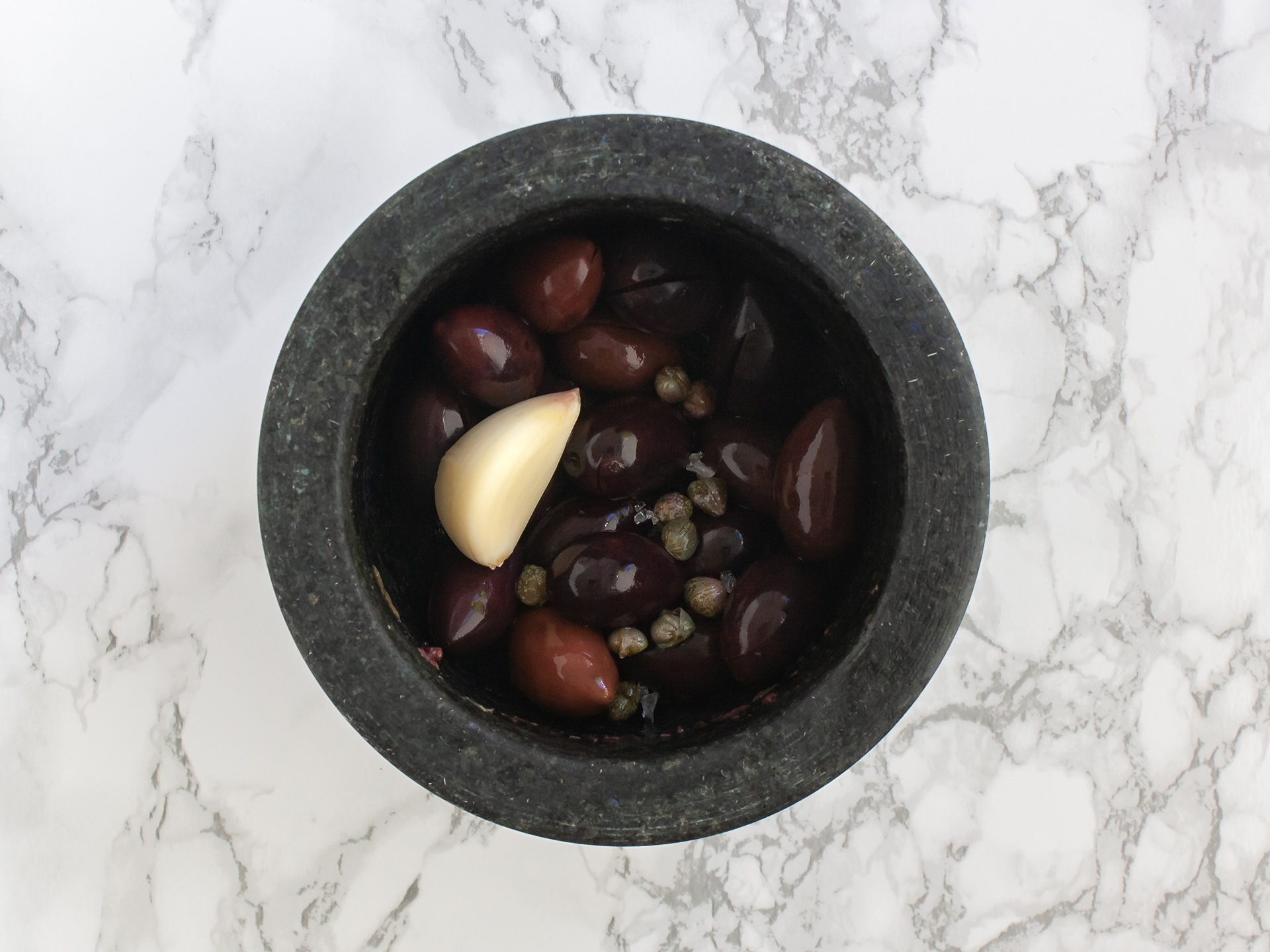 1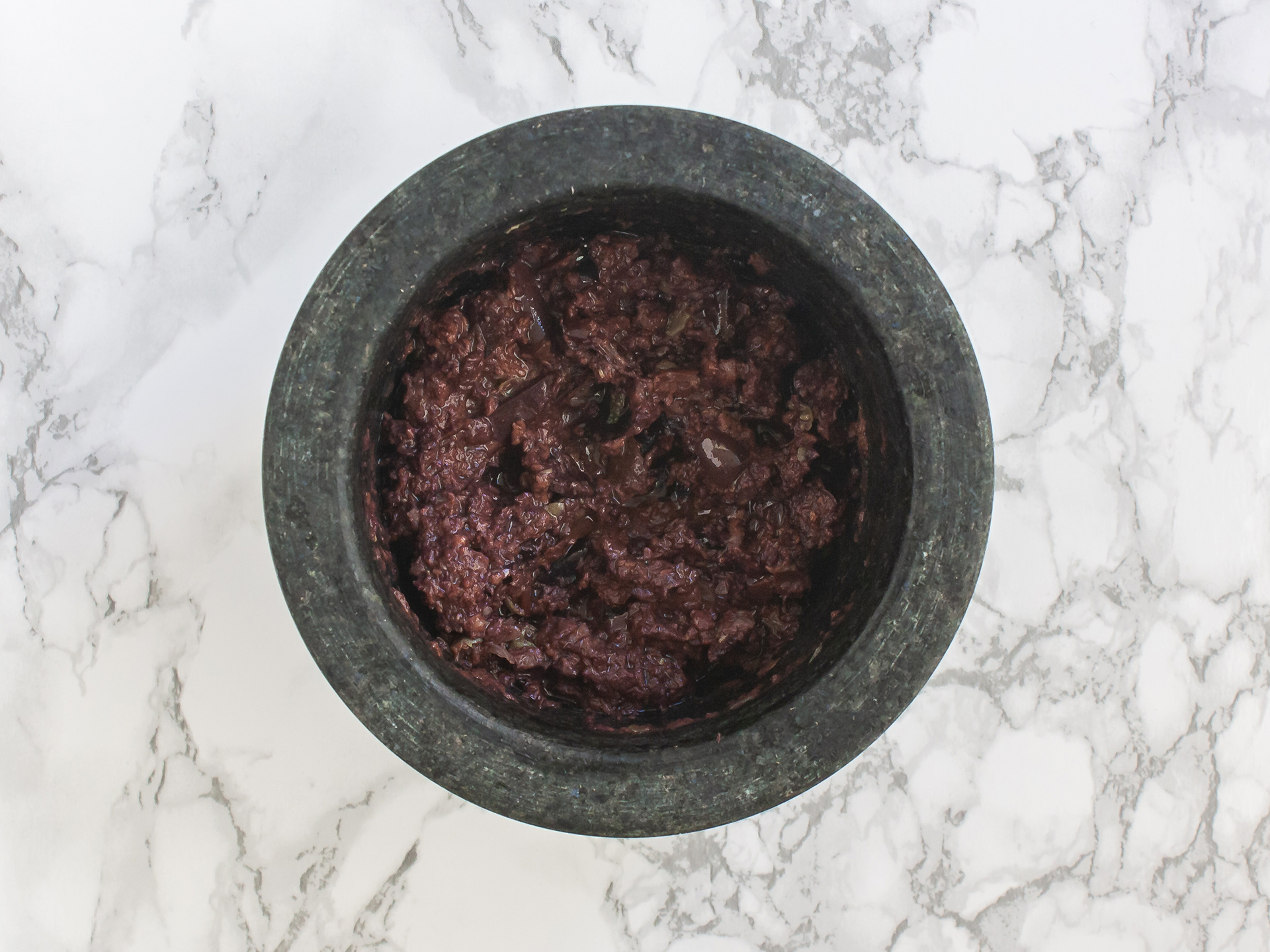 2
Step 2
Dice the mango into small chunks (1). (and, if there's any mango left, just blend it in a super delicious smoothie!)
Toast the rye bread slices in the toaster or in the oven until crispy and lightly golden (2).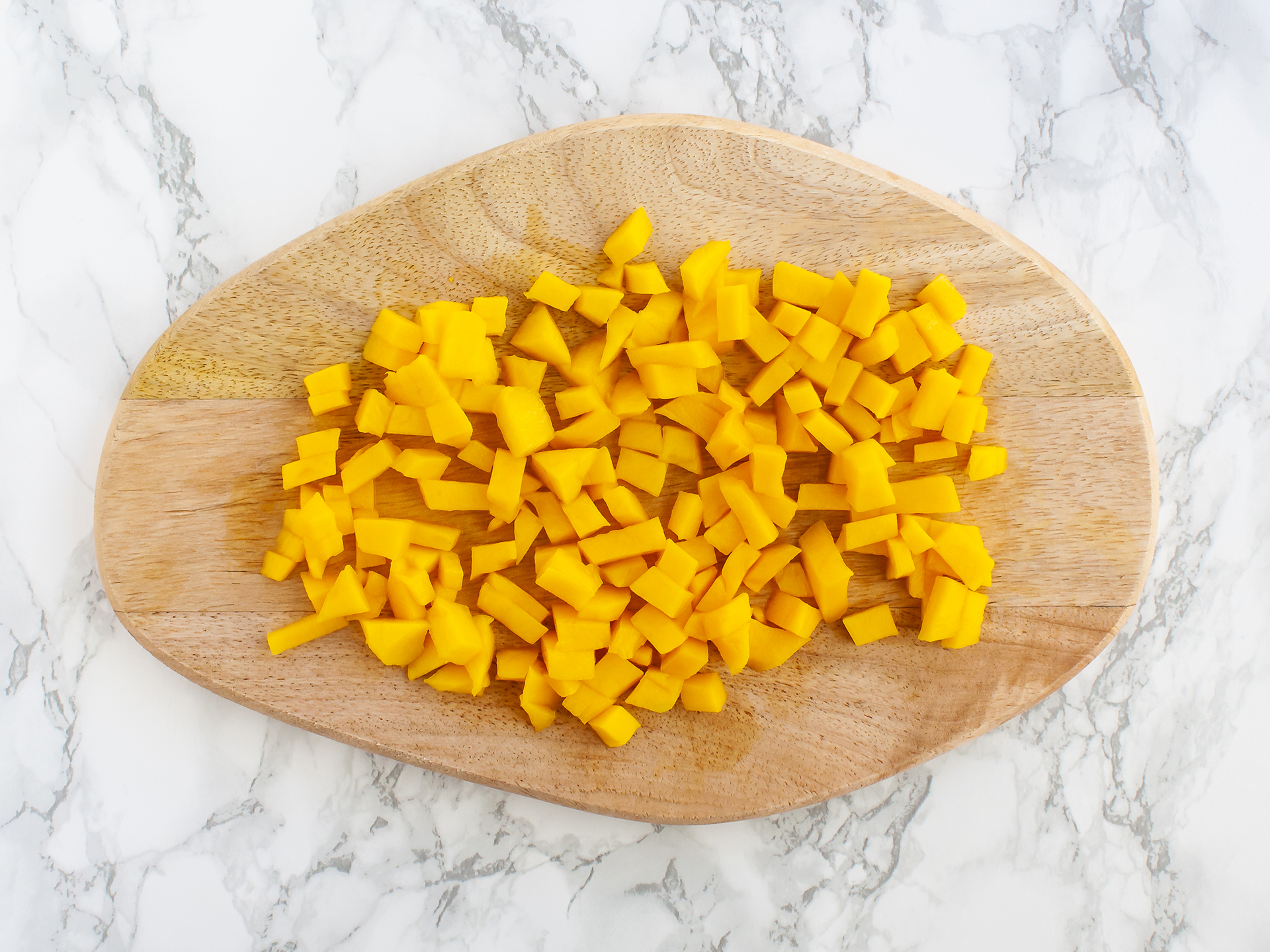 1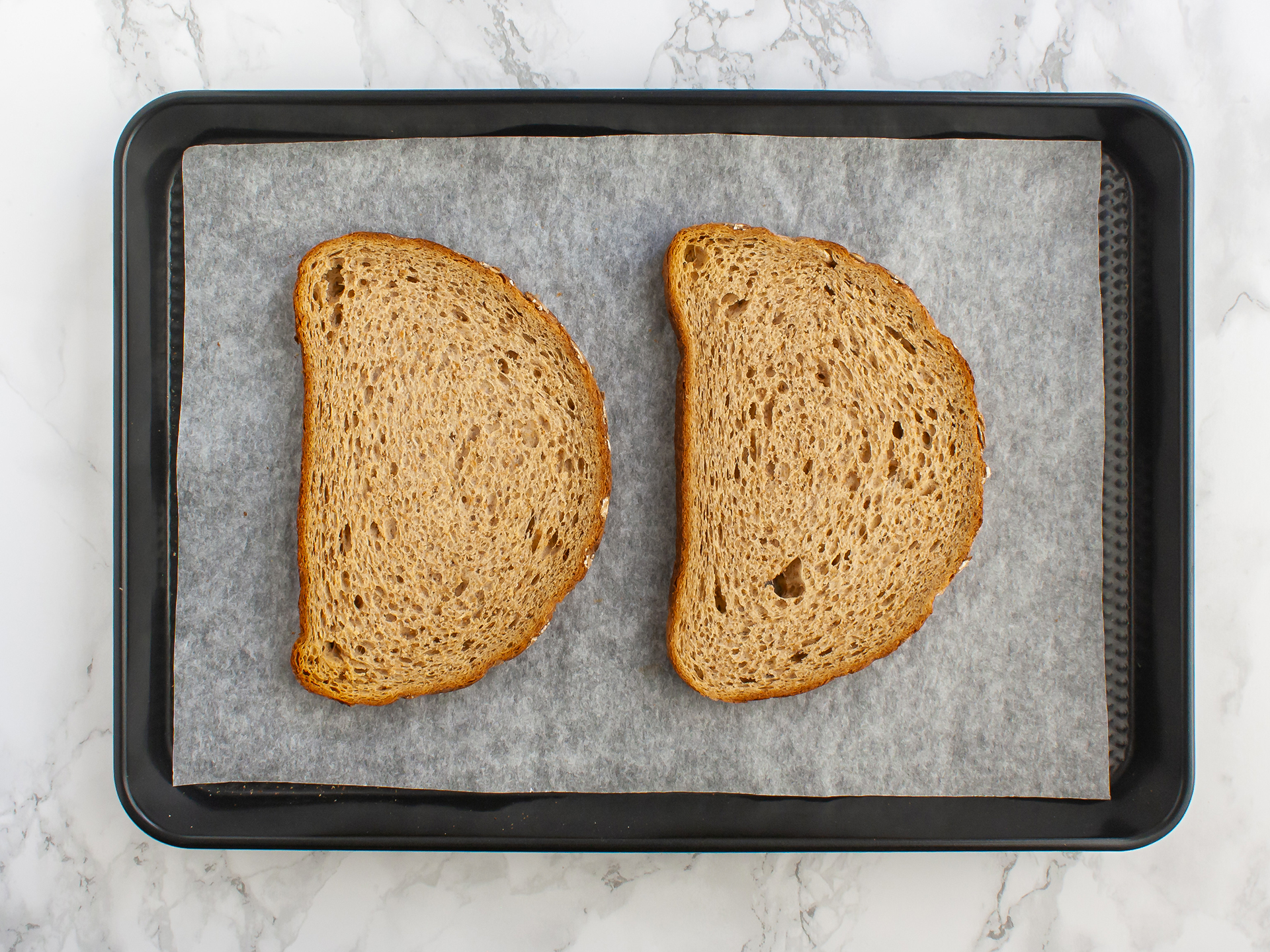 2
Step 3
To prepare the fried egg, heat 1 tsp of extra virgin olive oil in a pan.
Use egg poaching rings to get nice round eggs, perfect for sitting on the toast. To do so, brush the rings with some olive oil to prevent the eggs from sticking, place them into the pan and crack the eggs directly into each egg ring.
Cook the eggs at medium heat for 3 to 5 minutes or until you have a firm, bouncy white and a runny yolk. Then, season with black pepper and salt (1).
To assemble these yummy toasts, spread the olive paste over each bread slice, sprinkle with mango chunks and then lay one fried egg.
Finally, garnish with chopped spring onions (2).
Enjoy this nutritious breakfast toast with a healthy smoothie!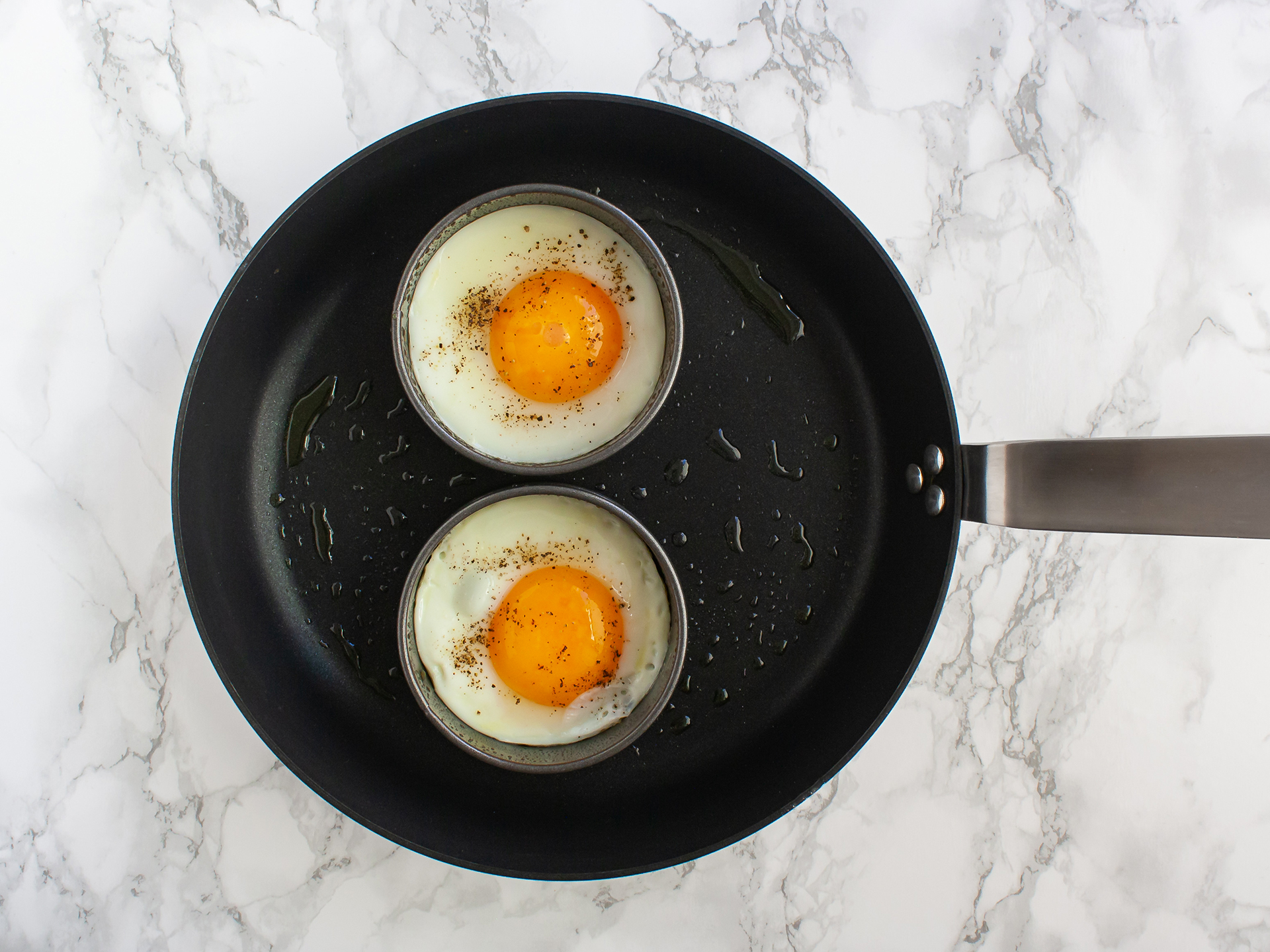 1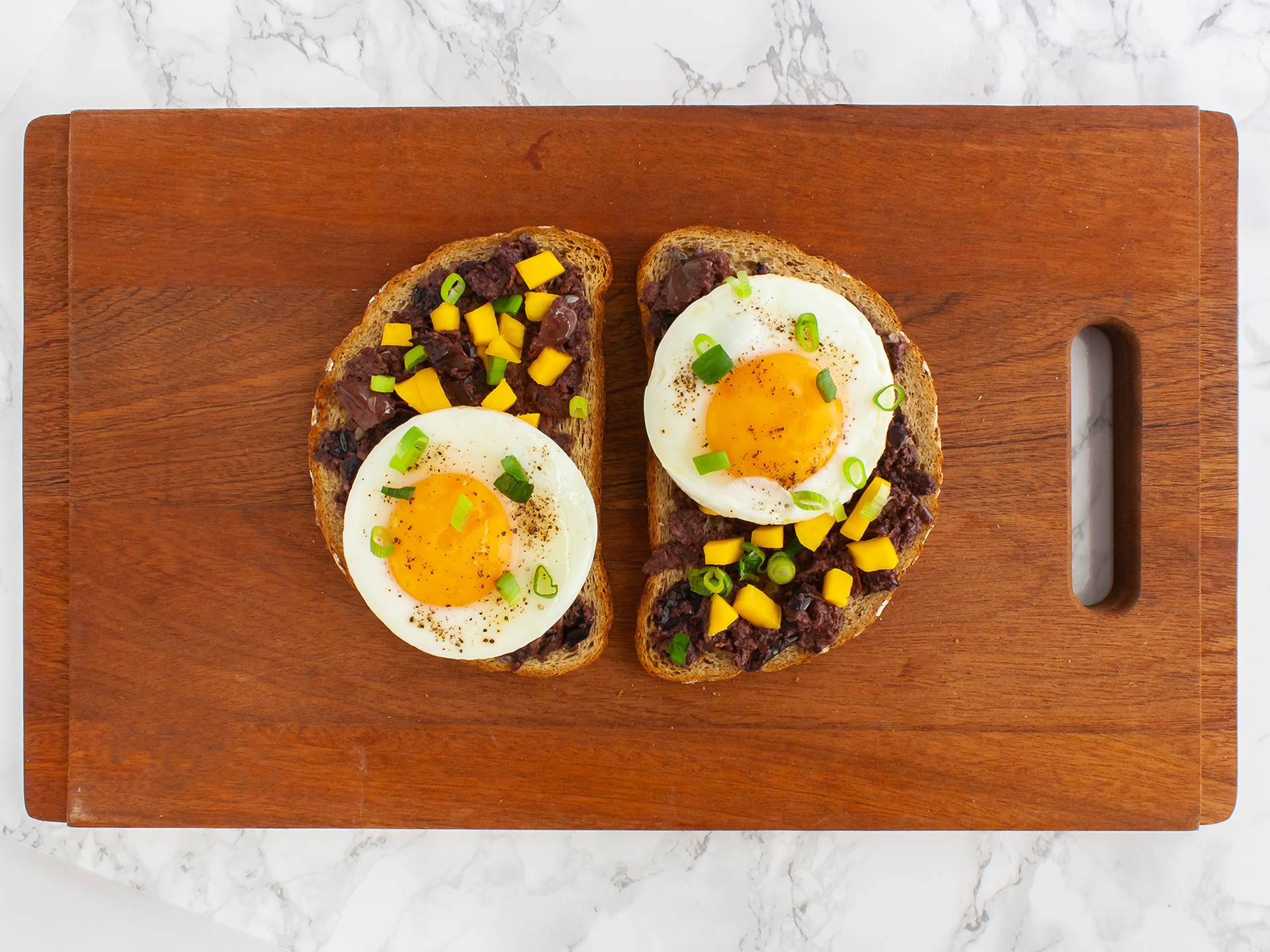 2
Tips
To boost this egg breakfast toast even more with healthy toppings, you can sprinkle it with seeds, like ground flaxseeds or hemp seeds.