If you love the classic German poppy seed cake, but you're looking for a healthier way of preparing it, you've come to the right place. With our easy recipe, you can make this sweet roll both vegan and sugar-free, using a few simple ingredients.
Known as mohnkuchen, poppy seed cake is incredibly popular in Germany, where it's often baked to celebrate Easter and Christmas festivities. The classic recipe consists of a roll of sweet yeast bread with a rich filling of ground poppy seeds. As both the dough and the filling contain butter, eggs, and milk, it isn't suitable for those with egg and dairy allergies or following a vegan diet.
But worry not! We made our poppy seed roll without butter and eggs, perfect for everyone to enjoy. Plus, we swapped refined white sugar with a splash of maple syrup and wholesome dates for extra goodness. Each slice bursts with the wonderful floral and fruit flavour of poppy seeds. It will surprise you with its super spongy texture — and believe us, the cake won't last long once baked!
We made the dough with a simple mix of plain flour, wholewheat flour and instant yeast, all sweetened with maple syrup. Then, we swapped eggs and butter with olive oil and oat milk. For the filling, we soaked whole poppy seeds and dates in hot plant-based milk and then blended them into a paste with nut butter. Finally, we spiced it with cinnamon and orange zest for a tasty finish.
Although the traditional filling is prepared with ground poppy seeds, you can still make it with the whole ones. We found that soaking them in milk for 30 minutes and then blending them makes them much softer and chewier. So, don't worry if you can't find ground poppy seeds at your local store, the filling will taste just as good with the whole ones, and will have a nice crunchy feel too.
Follow our quick step-by-step recipe, and you'll have a delicious poppy seed cake in no time. Once crusty and golden, serve with a drizzle of icing, and savour it with a hot cup of coffee — happiness is guaranteed!
Ingredients
Dough
All-purpose Flour

200 g

Wholemeal Flour

130 g

Instant Dry Yeast

5 g

Maple Syrup

3 tbsp

Warm Oat Milk

200 mL

Extra Virgin Olive Oil

3 tbsp

Filling
Poppy Seeds

45 g

Pitted Dates

120 g

Hot Oat Milk

120 mL

Nut Butter (almond, cashew, or peanut)

45 g

Cinnamon

1/2 tsp

Orange Zest

2 tsp
Step 1
Add poppy seeds and pitted dates to a bowl and cover them with hot oat milk.
Let them soak for 30 minutes while you prepare and prove the cake dough.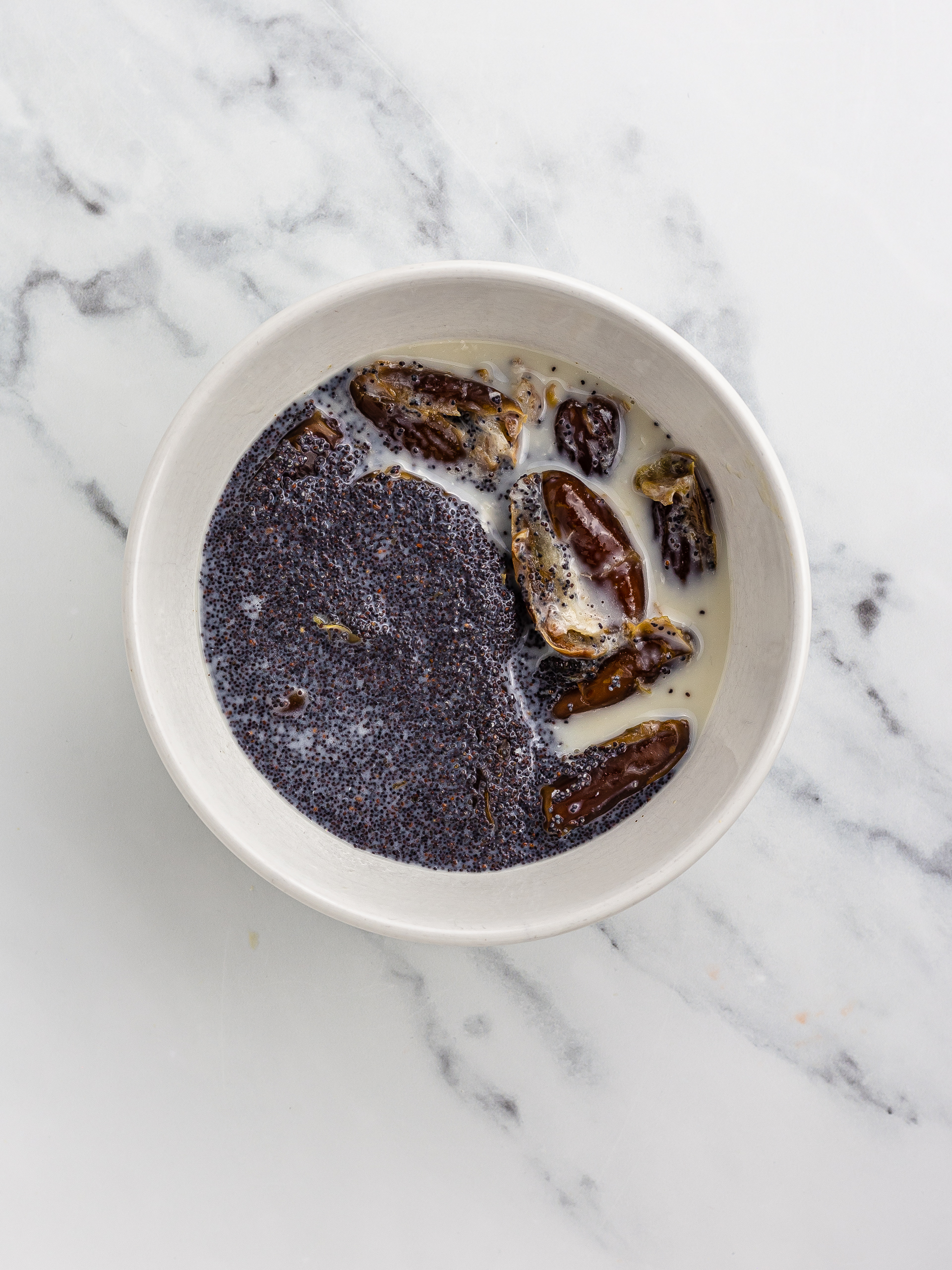 Step 2
Combine plain flour with wholemeal flour, instant yeast, and a pinch of salt in a bowl.
Then, tip in the maple syrup, lukewarm oat milk, and olive oil.
Mix the ingredients with a spoon until they come together, and then transfer the dough onto a lightly floured surface.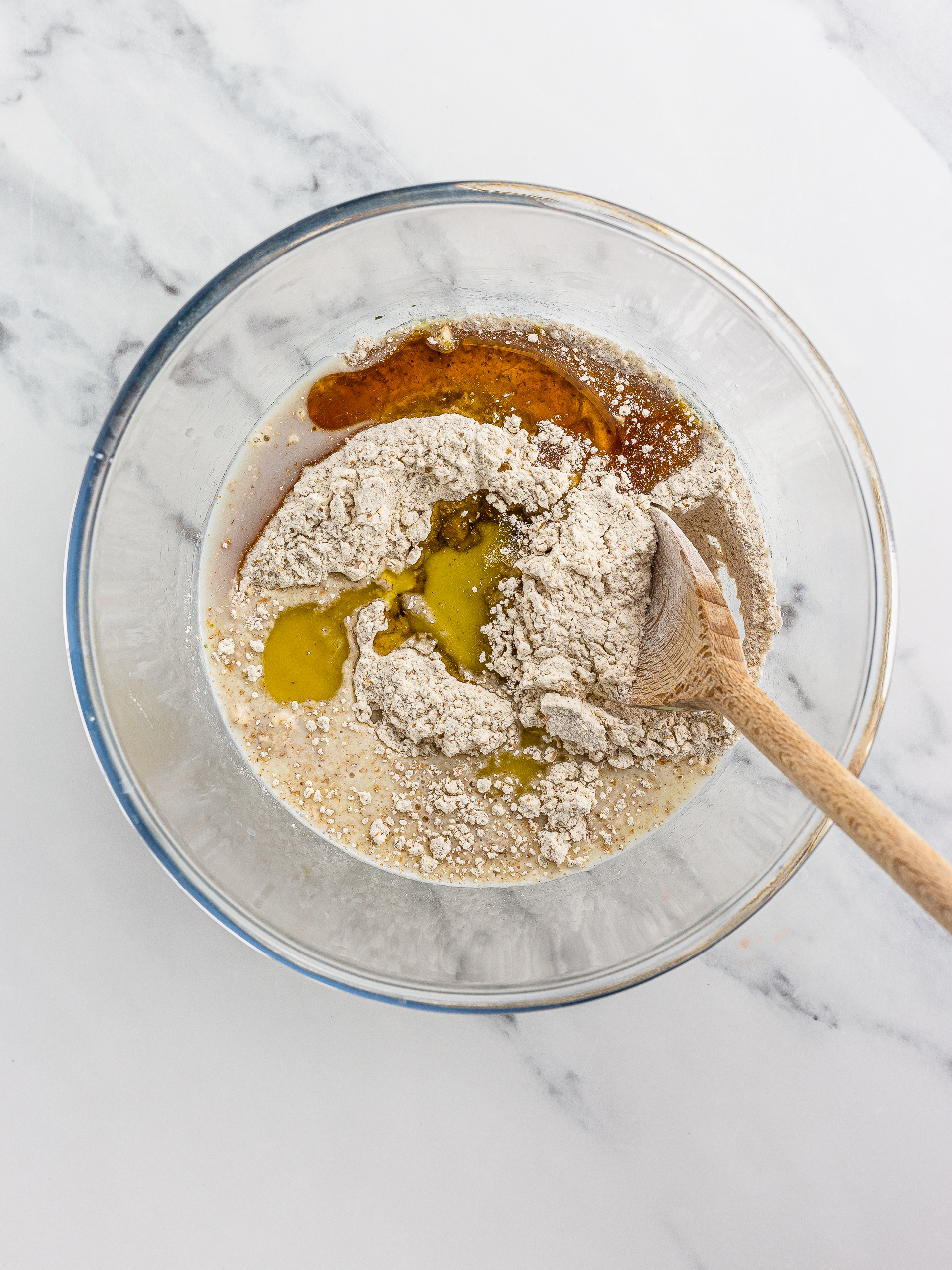 Step 3
To knead the dough, push it forward with the heel of your hand, fold it back, turn it sideways, and repeat (1).
Work it this way for 5 minutes until it's smooth and elastic, similar to bread dough.
Don't worry if it feels crumbly and sticky at first; the more you knead it, the more uniform and pliable it will get.
Now, roll the dough into a ball, place it in a greased bowl, and wrap it in cling film.
Let it prove in a warm place away from drafts for 30 minutes. The dough will increase in volume and feel springy when poked (2).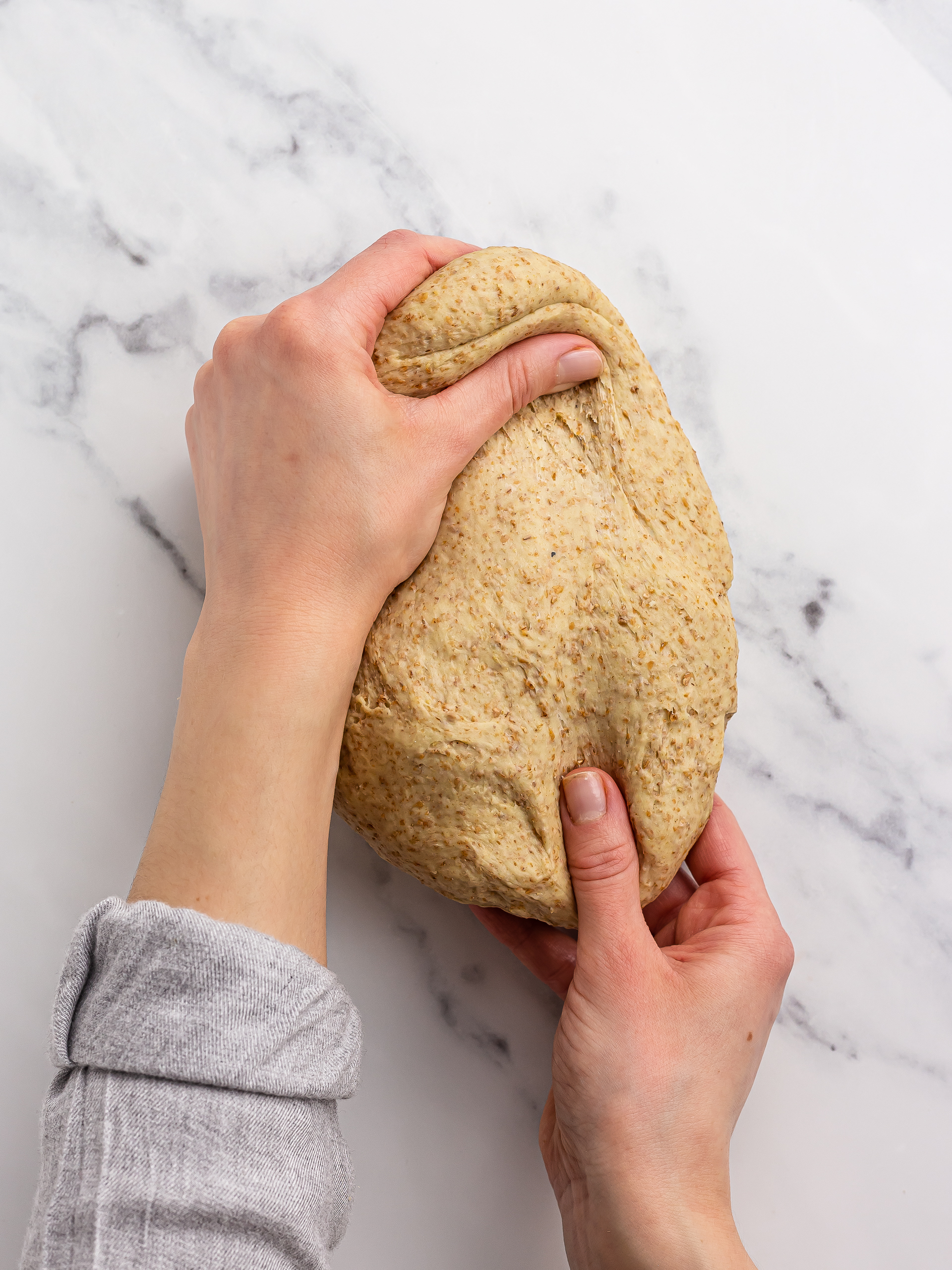 1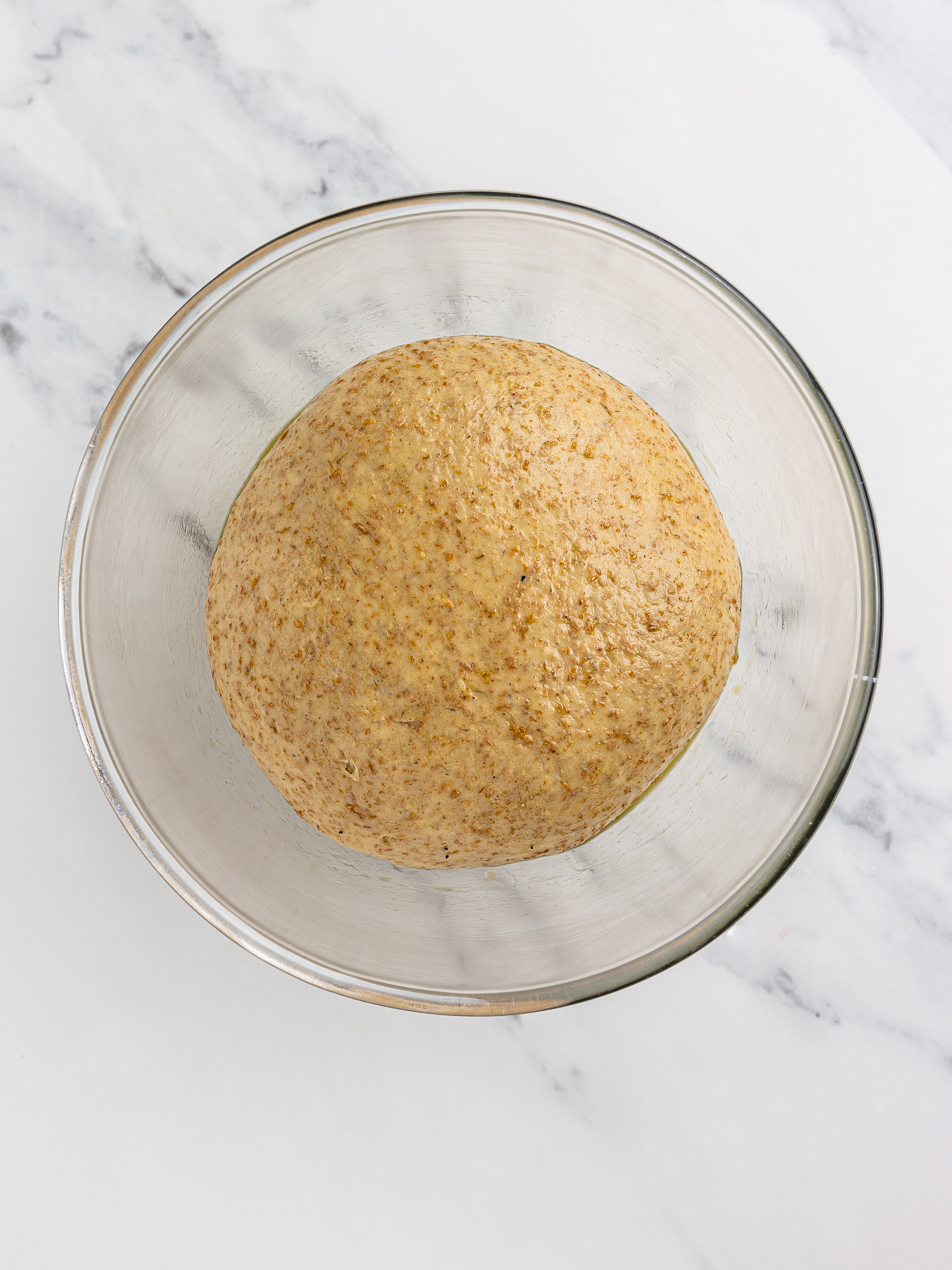 2
Step 4
Meanwhile, transfer the soaked poppy seeds and dates into a food processor along with the milk.
Blitz them into a smooth paste, and then combine it with nut butter, cinnamon, and orange zest in a bowl.
The poppy seed filling should be creamy and moist.
At this point, you can let it set in the fridge while you roll out the dough.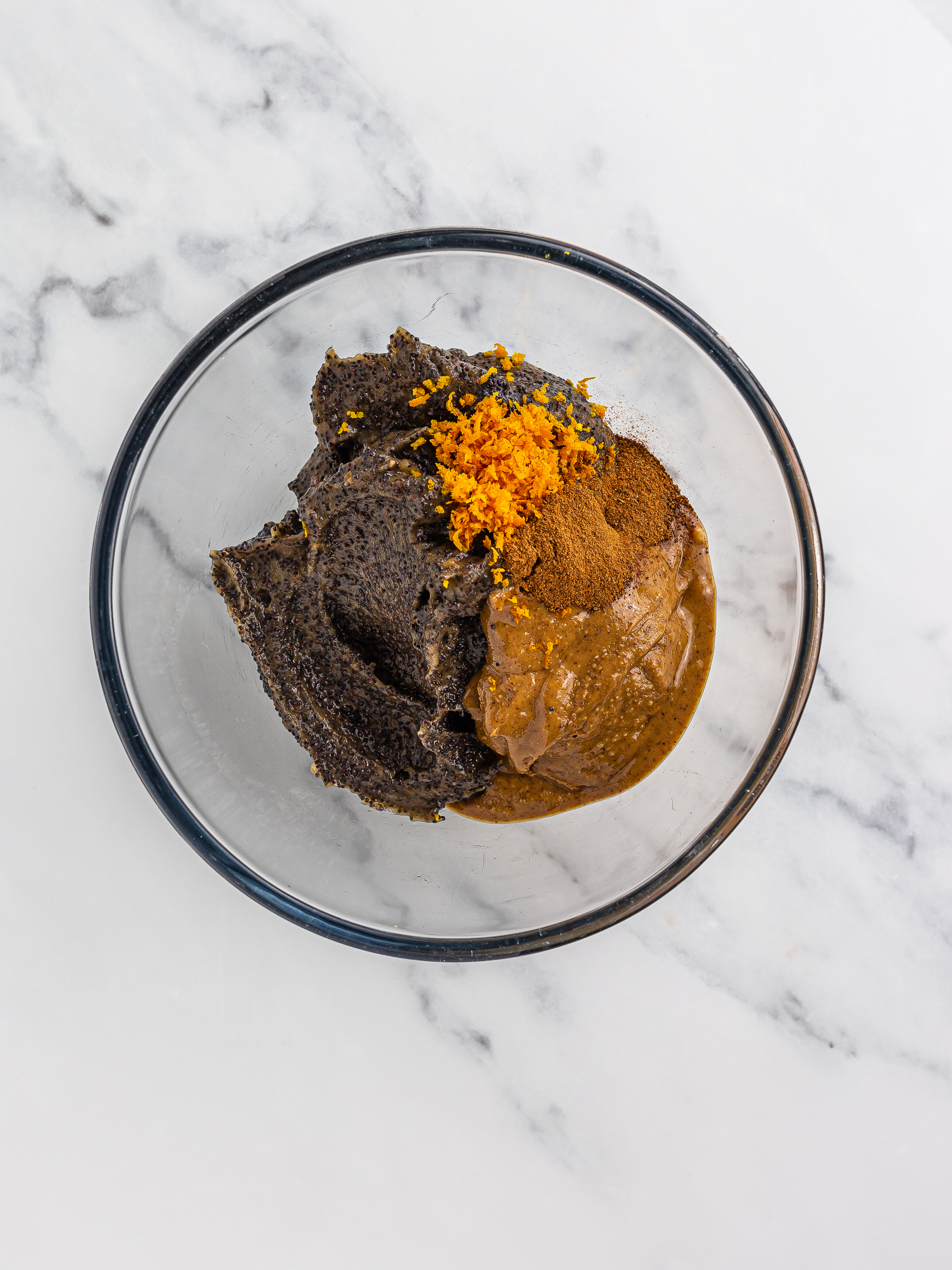 Step 5
Transfer the proved dough onto a large sheet of baking paper and flatten it down into a rectangle, about 1 cm (1/2 inch) thick.
Orientate the dough so that the short side of the rectangle is towards you.
Then, spread the filling over the dough into a 1 cm (1/2 inch) thick layer, levelling it with a spatula.
Make sure to leave a 6 cm (2.5 inch) gap at the top edge and 2 cm (1 inch) on both sides to prevent the filling from leaking out when rolling the dough (1).
Now, starting at the short edge, roll up the dough over the filling, grabbing it with the help of the baking paper.
Keep rolling until you have a thick log (about 30 cm/12 in long), and place it seam-side down on the paper (2).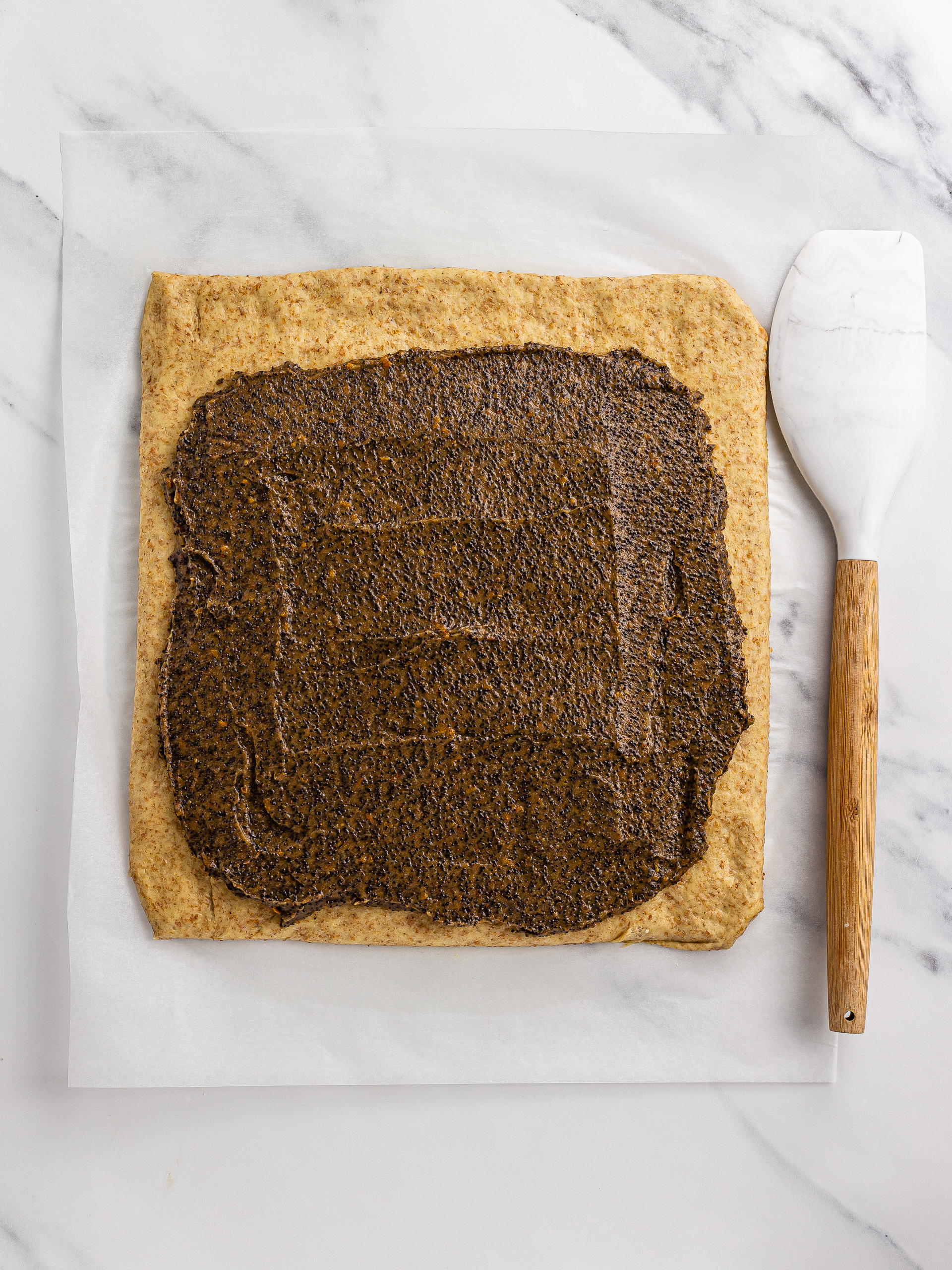 1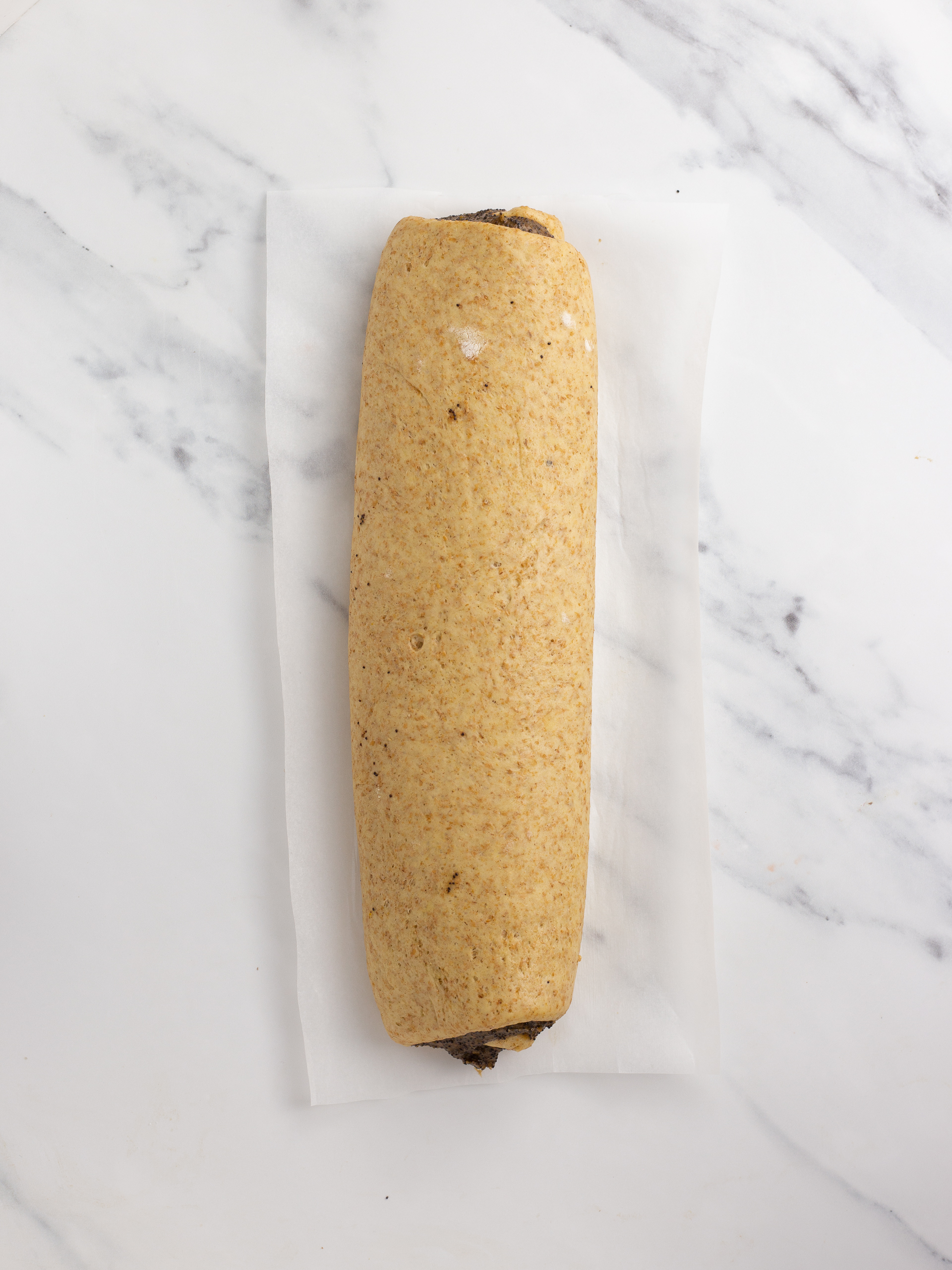 2
Step 6
Now, ease the roll into a loaf tin, grabbing it by the baking paper.
If instead, you don't have a tin big enough to fit the cake, you can roll a large sheet of parchment paper around the cake.
Then, loosen up the paper roll to leave enough space (about two fingers) for the cake to rise with the second proving.
Let the poppy seed roll prove for 40 minutes.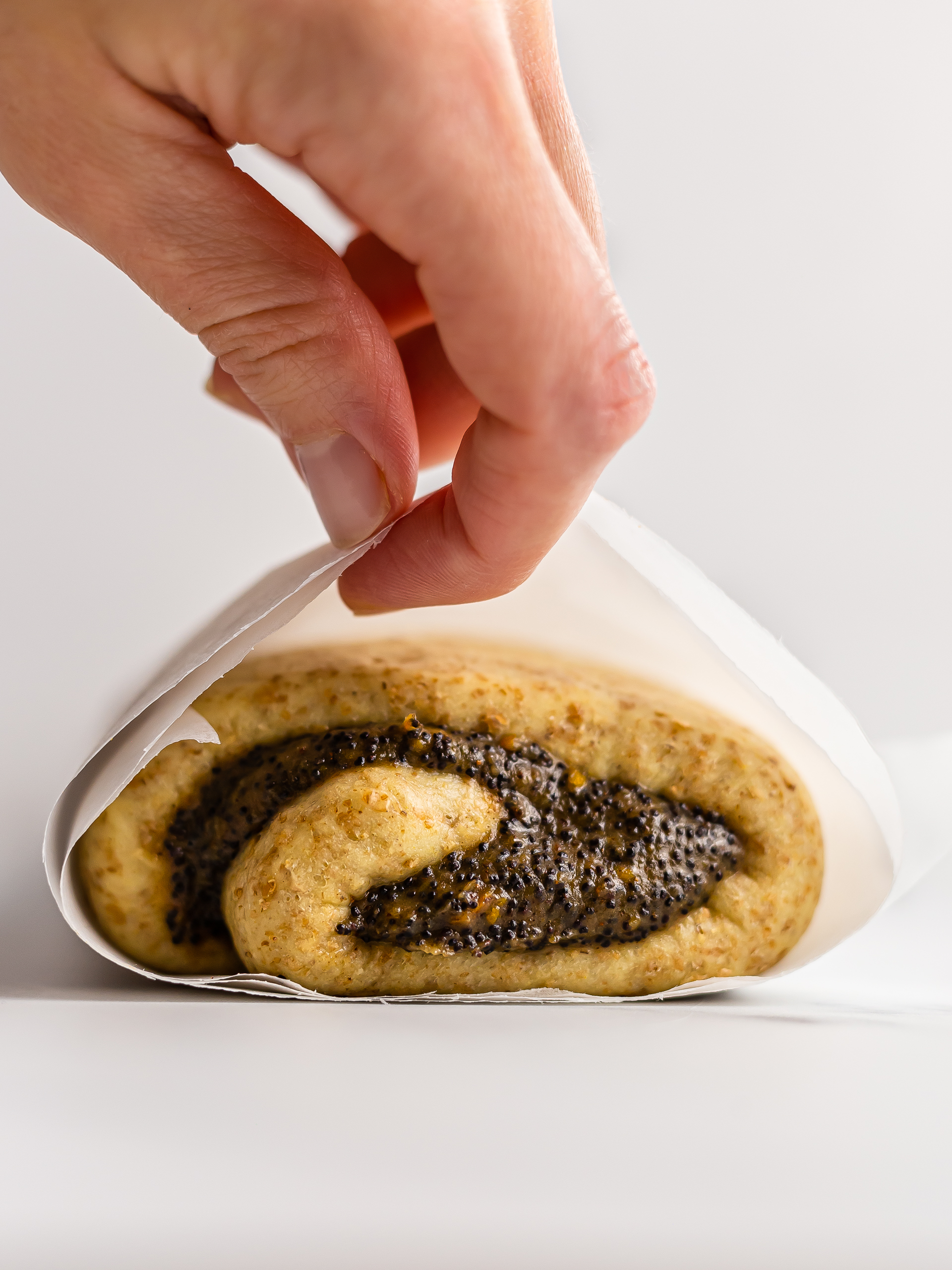 Step 7
At the last 10 minutes of proving time, preheat the oven to 180°C (355°F) in static mode.
If you proved the roll in the loaf tin, you can now brush it with a bit of oat milk and maple syrup for extra colour, but this optional.
If, instead, you proved it wrapped in baking paper, just transfer it onto a baking tray without removing the paper.
Bake the cake roll for 35 minutes until the top is golden and crusty (1).
Finally, let it cool down on a wire rack and serve sliced (2).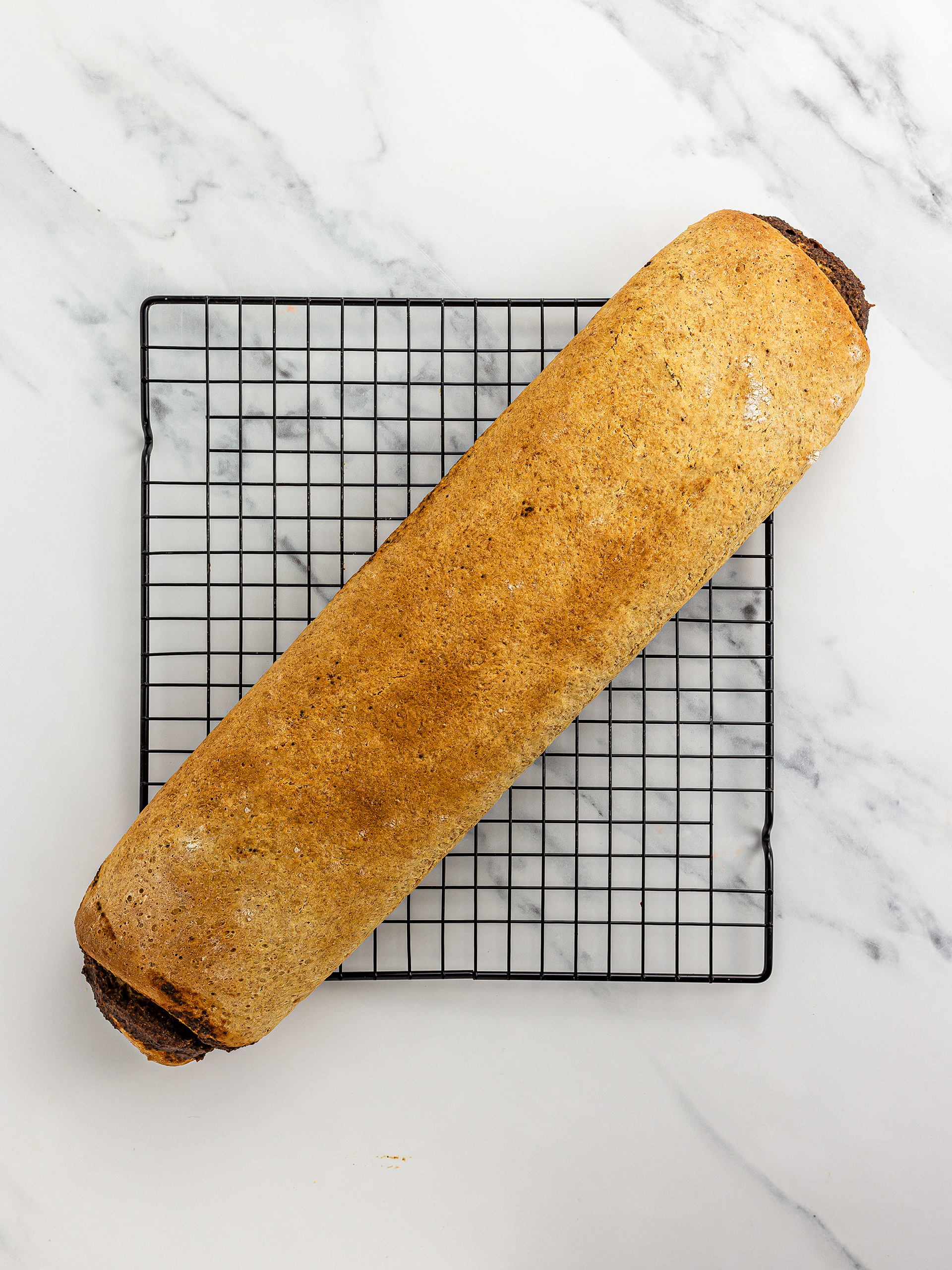 1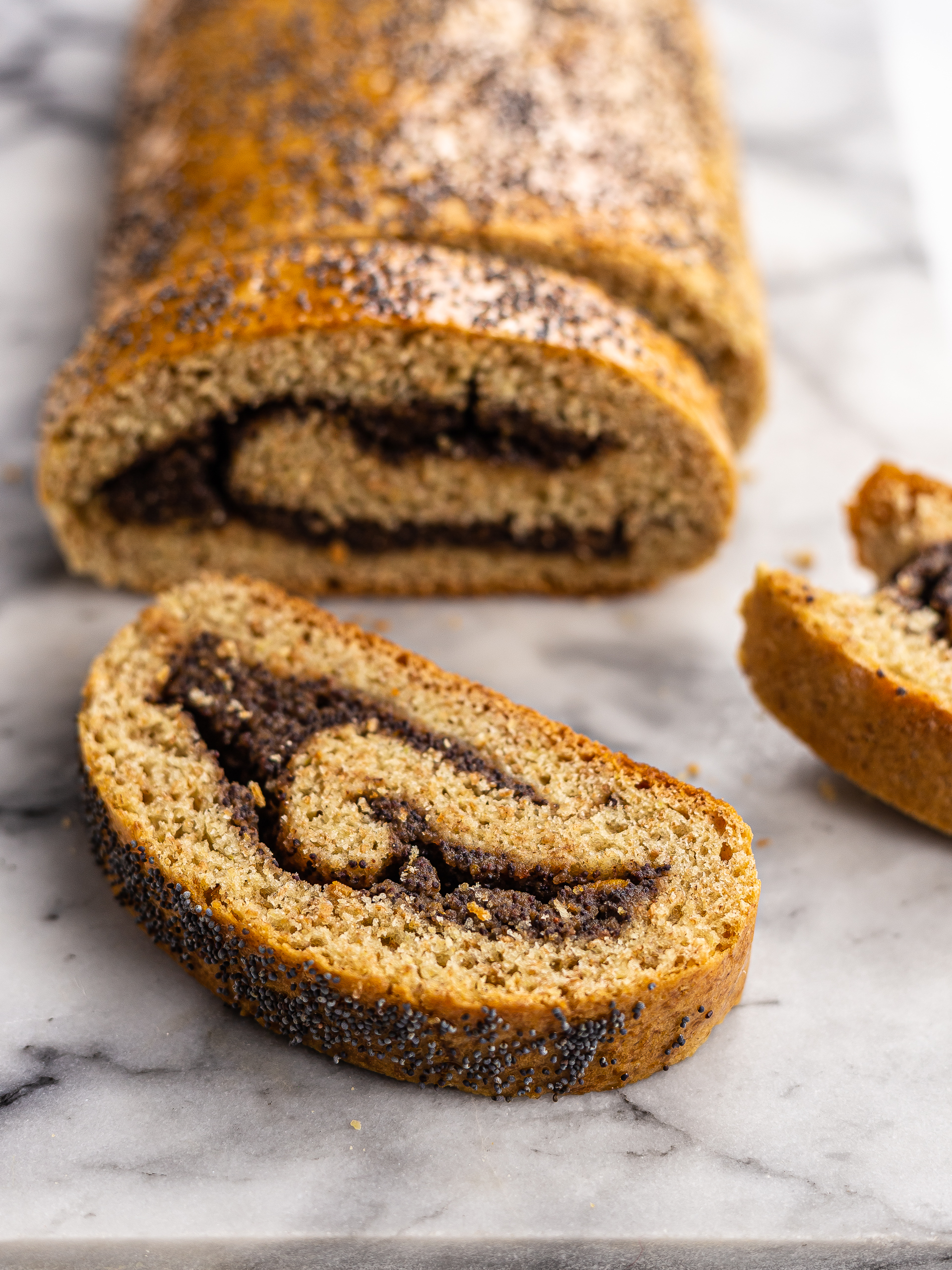 2
Tips
Once baked, you can glaze the roll with our sugar-free icing or brush it with maple syrup for a glossy finish. Then, sprinkle it with poppy seeds and slice it.

Store the sliced roll in an air-tight container for up to 4 days. If the slices feel a bit dry, you can warm them up in the oven before serving.