This fluffy gluten-free apple cake is a fantastic dessert recipe to prepare when you want to impress your guests with its beautiful apple rosette pattern. And it's not only nice to look at, it's also so easy to prepare with our step-by-step recipe!
We have swapped wheat flour with ground rice and almond meal to make this classic Italian apple cake gluten-free. Ground almonds make a low-carb flour with a rich and nutty flavour perfect for your baked goods.
With a delicate batter made with whipped eggs, soy yogurt, and warm almond milk, this sponge cake has no butter or oil and thus it is a healthier version of the well-known apple cake.
For healthy recipes like this, make sure to subscribe to our newsletter and you'll get our latest recipes sent right into your inbox every week, plus our free ebook!
Ingredients
| | |
| --- | --- |
| Red Apples | 4 |
| Lemon | 1 |
| Almond Flour | 260 g |
| Rice Flour | 260 g |
| Baking Powder | 30 g |
| Potato Starch | 40 g |
| Cinnamon | 2 tsp |
| Allspice | 1 tsp |
| Eggs | 6 |
| Brown Unrefined Sugar | 200 g |
| Soy Yogurt | 120 g |
| Arrowroot Powder | 20 g |
| Water | 35 mL |
| Almond Milk | 310 mL |
| Salt | 1 pinch |
Step 1
Before you start make sure all the ingredients are at room temperature and check out our baking guide.
Rinse the apples, slice them thinly, and toss them with lemon juice. This will prevent them from browning.
To soften the apple slices, put them in a microwave for 2 minutes or in the oven at 130°C (266°F) for 10 minutes. This way they will lose excess water and will be easier to arrange over the cake.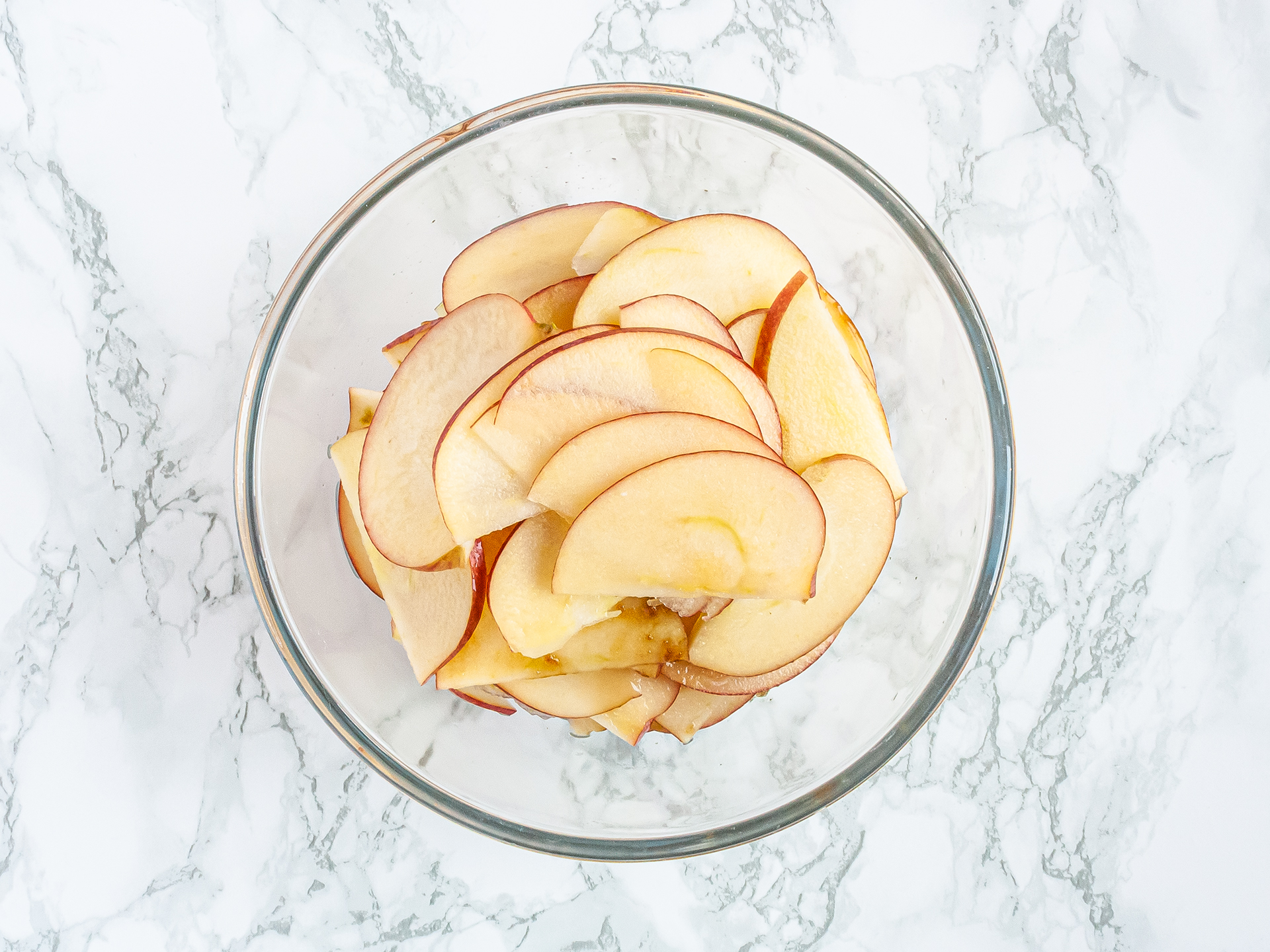 Step 2
In the meantime, combine almond meal, rice flour, baking powder, potato starch, cinnamon, and allspice in a mixing bowl.
Make sure the baking powder is well distributed otherwise your cake won't rise evenly and will be prone to cracking.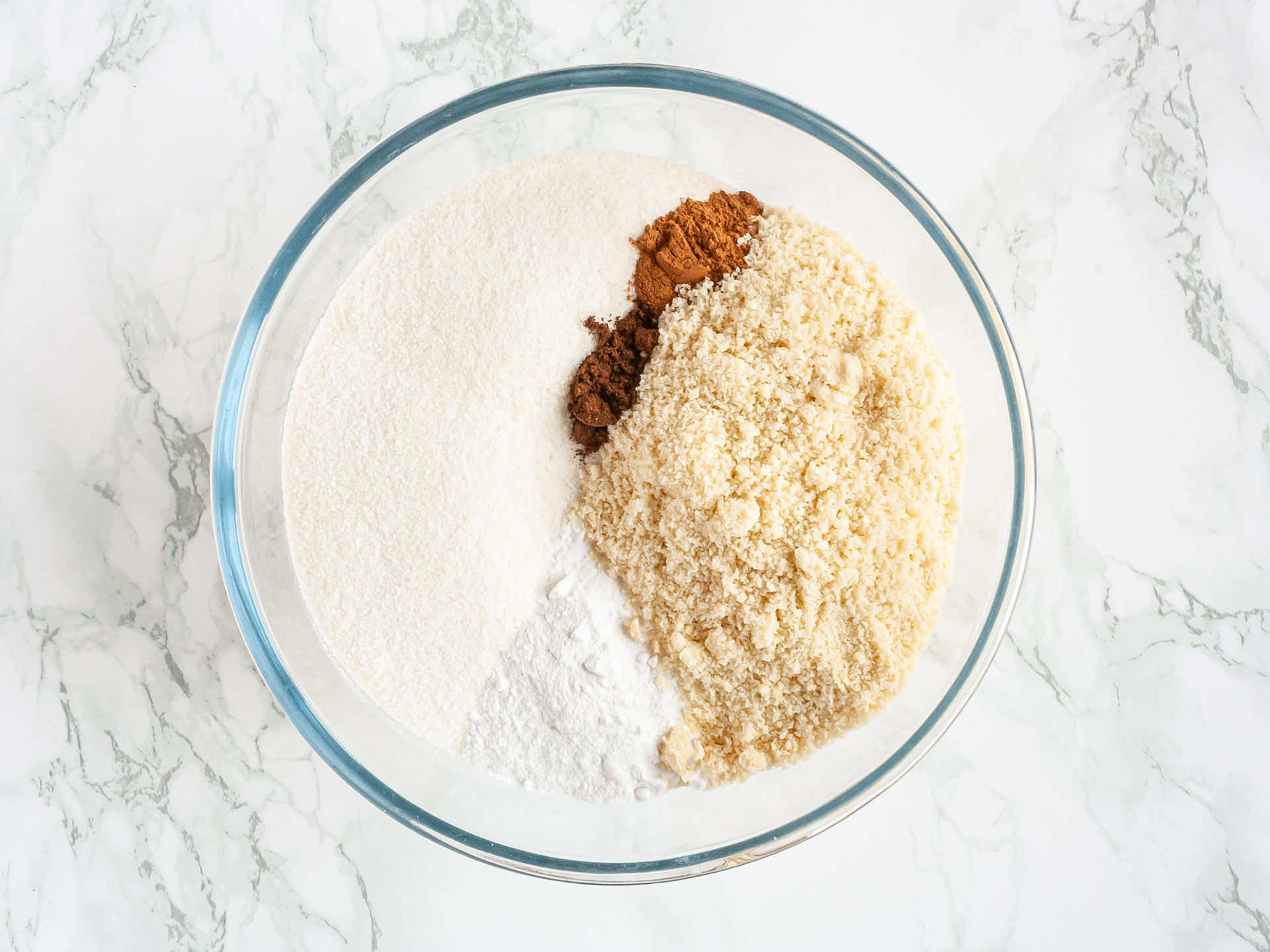 Step 3
Separate the egg whites from the yolks.
Whip the egg yolks in a large bowl with a hand mixer for 5 minutes until creamy. Then stir in the sugar a few spoons at a time and keep whisking for further 5 minutes.
Incorporate the flours into the beaten eggs a bit at a time.
Then, add the yogurt, the arrowroot powder mixed in water, and lukewarm almond milk. Whisk until all the ingredients are well incorporated.
Next, whip the egg whites with salt for until you have firm peaks, and then fold them into the cake batter while gently mixing with the help of a spatula to keep them fluffy.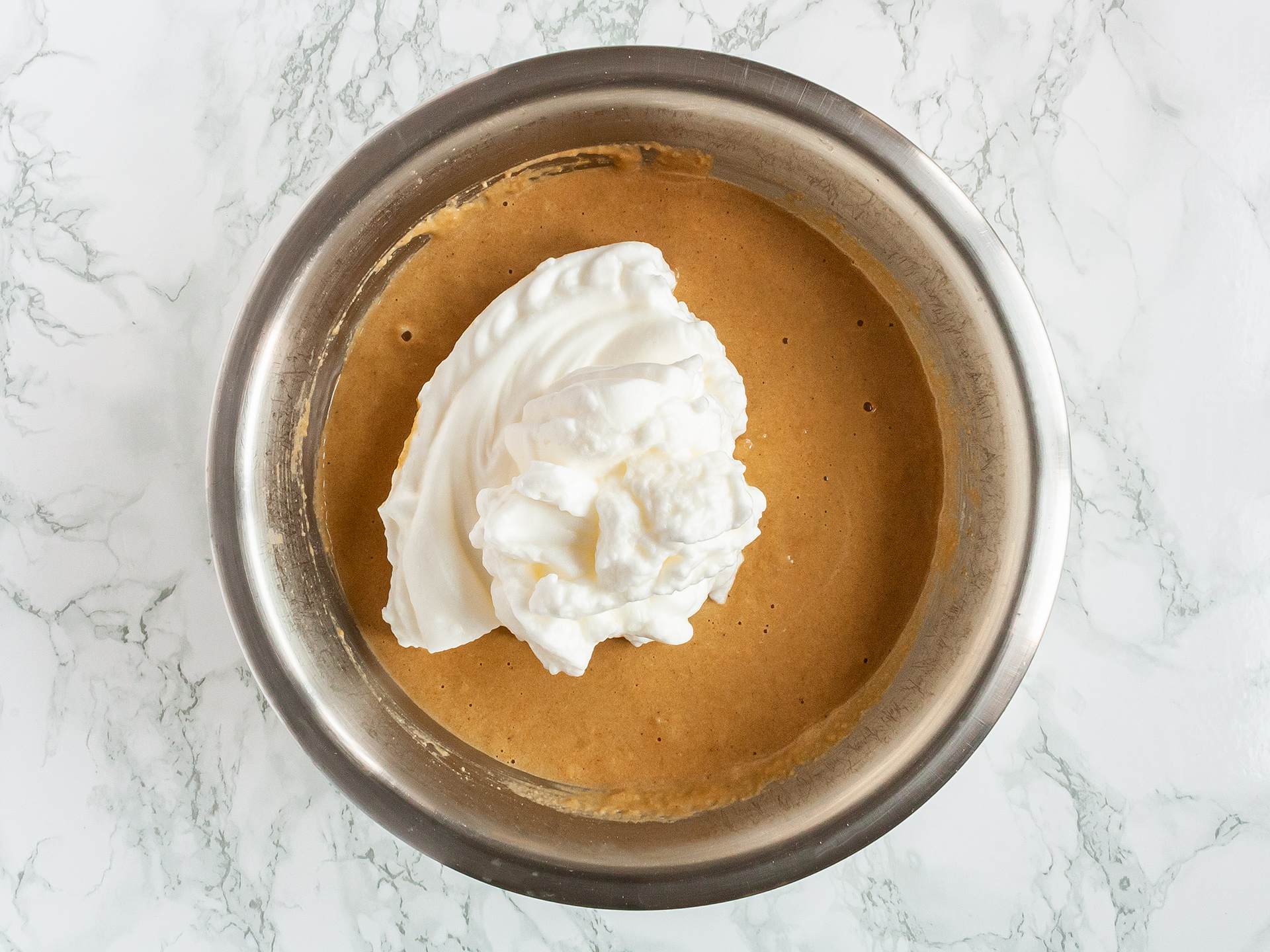 Step 4
Pour the apple cake batter into a round spring-form baking tin of 23 cm (9 inches) diameter, greased and floured or lined with parchment paper.
Place the apple slices over the batter to form a rosette pattern. To do so, start from the outer edge of the tin and arrange the slices flat going in circle until you reach the centre. Slightly overlap them as you start a new circle.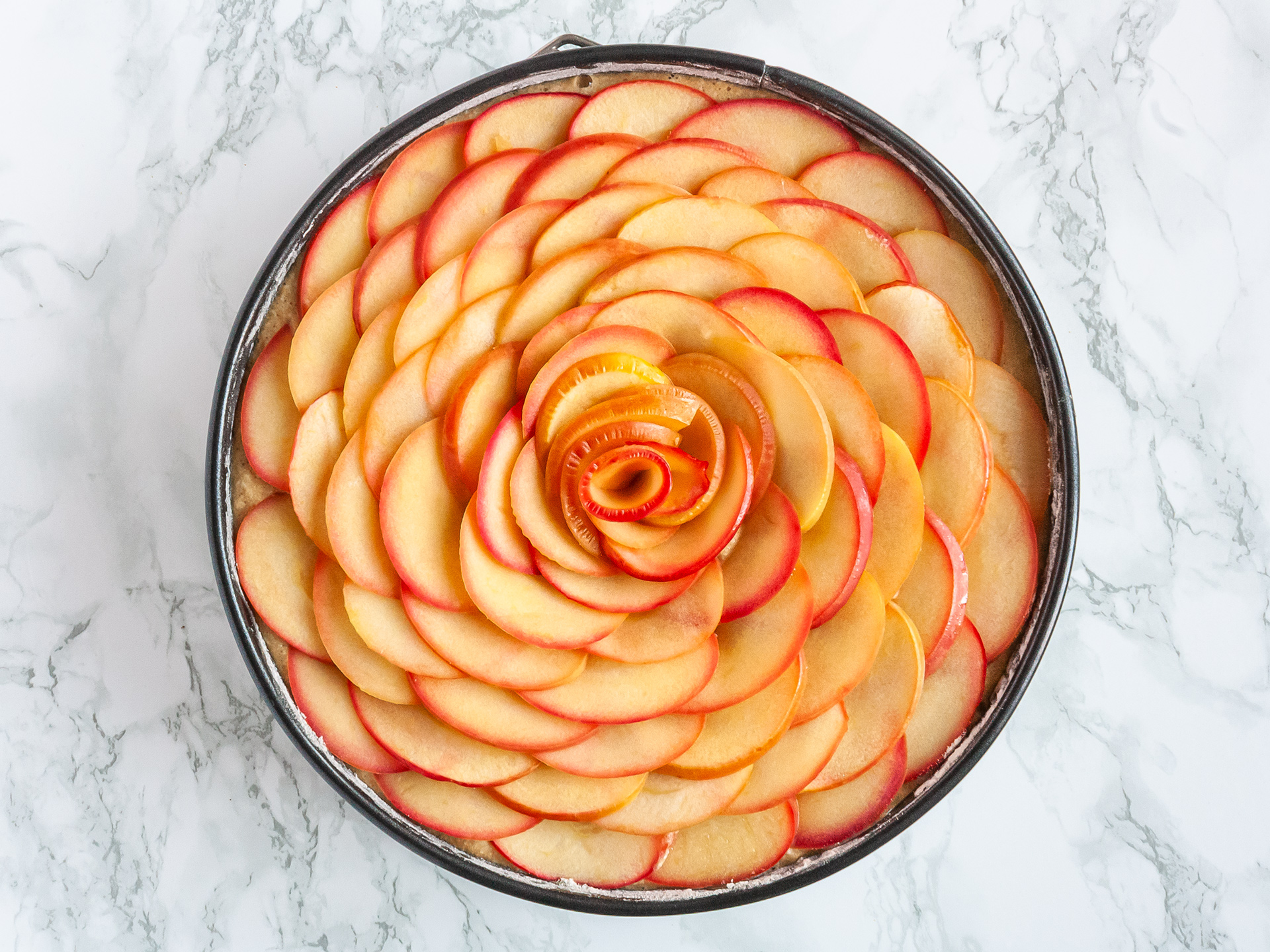 Step 5
Bake the apple cake at 180°C (355°F) for 45 minutes or until a skewer inserted in the centre of the cake comes out clean.
Allow cooling down before removing it from the tin.
Dust your delicious gluten free apple cake with icing sugar or glaze it with melted honey before serving.
Enjoy!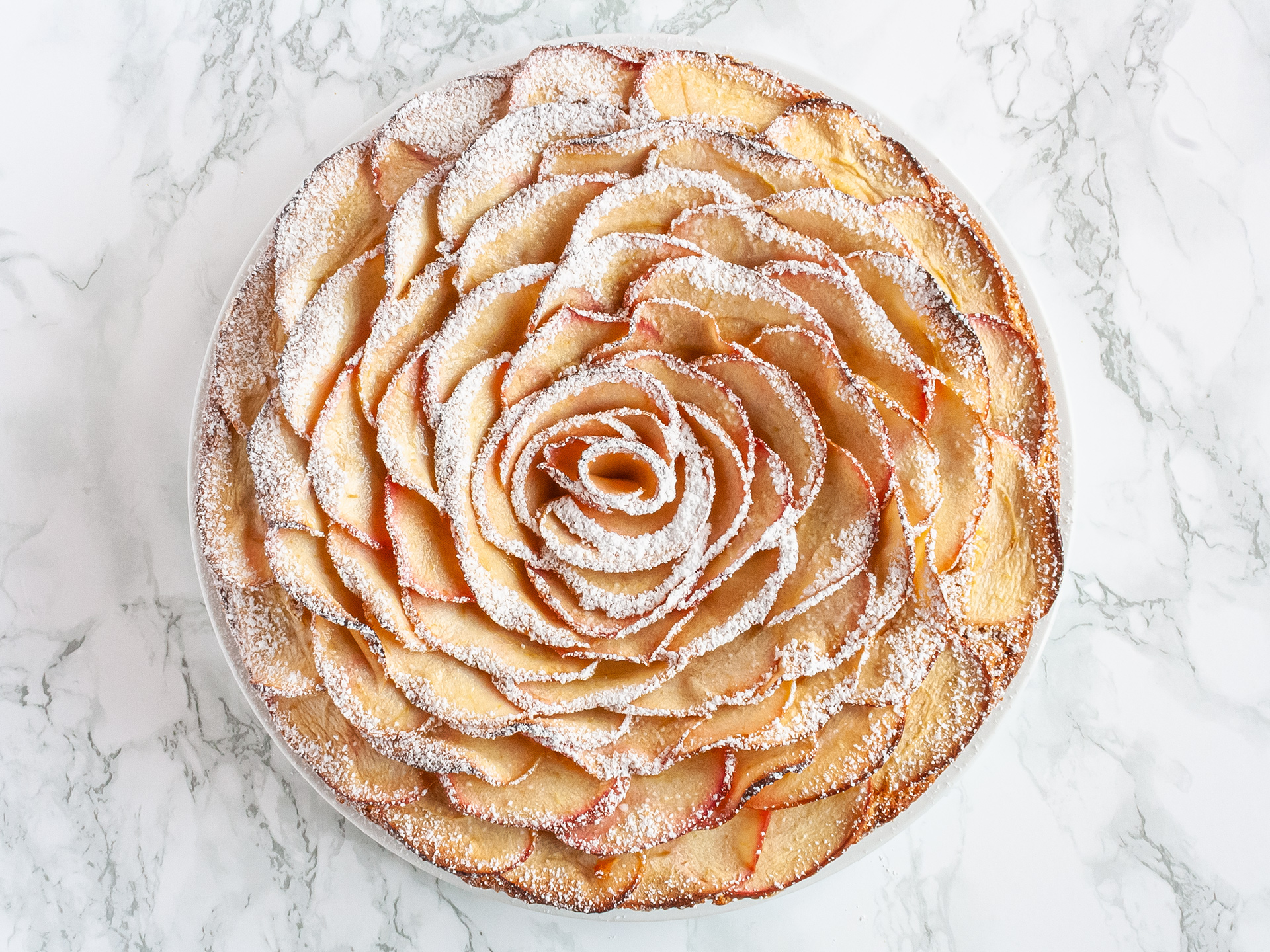 Tips
The secret to a fluffy sponge cake is the whipping of the eggs. Add a pinch of cream of tartar to the egg whites while whipping to increase their volume and stability.

To check if the egg whites are whipped, just tilt the bowl sideways and, if they don't slide, they are ready.

Keep this apple cake in an airtight container in the fridge and consume within 3 days.