Today we are making super healthy, oven-baked Sicilian Cannoli. They are gluten-free, vegan, 100% sugar-free, low-fat and rich in plant-based proteins. We'll show you how to make both the filling and the cannoli shells. Don't worry if you don't have cannoli moulds; we'll help you build them using foil. How fun!
After our delicious vegan cannoli with chocolate and orange filling, we promised you a variation that would also be gluten-free. Here it is! The filling we are making below is the classic Sicilian pistachio cream. But it's dairy-free and vegan, of course. If you want to make gluten-free cannoli with chocolate and orange filling, follow this recipe from step 2 to step 7, and then make the filling following the other recipe.
The hardest thing when making gluten-free bakes is keeping the dough stretchy. This property is essential here, as we have to wrap the dough around the cannoli mould. We can't have it break or crack! We have tested this recipe extensively and found the perfect ratios of plant-based ingredients to make a pliable and tasty dough. So just relax and follow our ingredient list. Success is guaranteed!
The biggest difference between this recipe and our other vegan cannoli is in the flour. Here we have used gluten-free flour made from rice. Most store-bought GF flours are rice-based, so you shouldn't have any problems finding it. But in case you don't, we'll tell you how to make the same flour-mix we used here.
Now for our favourite part. Nutritional data! These gluten-free cannoli are really healthy. One cannolo has 16% RDI for proteins, 5% RDI for saturated fats, 3% RDI for carbs, and 139 calories. If you are not intolerant to gluten, make sure to check the nutritional profile of our other vegan cannoli recipe and use whichever fits your dietary goals better.
Don't forget to check the tips and FAQ section at the bottom to learn more about this recipe and the substitutions you can make. Have fun!
Frequently Asked Questions
How do you fry cannoli shells?

We decided to oven-bake the cannoli shells in this recipe to keep the fat content and thus the calories low.

However, if you want to cook them with the classic deep-frying method, we'll explain how to do it below:

Heat one litre (1.7 pints) of vegetable oil in a pot until it reaches the temperature of 180°C (355°F).

Add in one cannoli shell at a time, while keeping it on a slotted spoon.

Fry it for less than 1 minute flipping it constantly. This way, the shell won't sink at the bottom of the pan and get burnt.

Then, transfer the fried shell onto a tray lined with kitchen paper.

Leave it to cool down before removing the mould.

Repeat the steps above until you have fried all the shells.
What can I use instead of erythritol?

We swapped white sugar with erythritol to make this dessert recipe sugar-free and suitable for those following a low-sugar diet.

Erythritol is a zero-calorie sweetener that tastes almost as sweet as sugar. Unlike sugar, though, it doesn't get digested and absorbed, making a safe and diabetes-friendly alternative to sugar.

If you don't have erythritol or prefer using sugar instead, you can prepare the gluten-free cannoli with white or brown sugar. As the sugar to erythritol conversion is 1 to 1.5 ratio, you'll need 135g (4.7oz) of sugar instead of the 200g (7oz) listed in the ingredients to make 12 cannoli.

To sum up, if you want to make cannoli with sugar, follow our recipe as above and:

Add 35g (1.2 oz) of sugar to the cannoli shell dough in step 4.

In step 4, also reduce the amount of almond milk from 35ml (1.2 fl oz) to 25ml (0.8 fl oz) in the shell dough to compensate for the reduced volume.

Add 100g (3.5oz) of sugar to the pistachio filling in step 8.
How do you make a gluten-free flour mix from scratch?

Most grocery stores sell ready-made gluten-free flour blends, but you can easily make them from scratch at home.

To make about 500g / 1.1 lbs of gluten-free flour, combine:

White rice flour, 280g / 9.8 oz

Starch (potato or corn), 110g / 3.8 oz

Tapioca starch, 115g / 4 oz

Xanthan gum, 1 tsp

Tapioca starch is made with the starch extracted from the cassava root, and it gives a thick, chewy texture to your baked goods. You can swap it with cornstarch, potato starch, cassava flour, or arrowroot starch.

Xanthan gum is made from fermented sugar. It has thickening properties and it provides elasticity in gluten-free bakes. You can swap it with psyllium husk (2 parts for every 1 part of xanthan gum) or guar gum (3 parts for every 2 parts of xanthan gum).
Ingredients
| | |
| --- | --- |
| Pistachios | 100 g |
| Chia Seeds | 1/2 tbsp |
| Water | 11/2 tbsp |
| Gluten-Free Flour | 100 g |
| Xanthan Gum | 1/2 tsp |
| Erythritol | 200 g |
| Cocoa | 1 tsp |
| Nut Butter (Almond, Cashew, or Peanut) | 30 g |
| Almond Milk | 35 mL |
| Firm Tofu | 400 g |
Step 1
Add shelled pistachios to a bowl and cover with lukewarm water.
Then, leave them to soften at room temperature while you prepare the cannoli shells.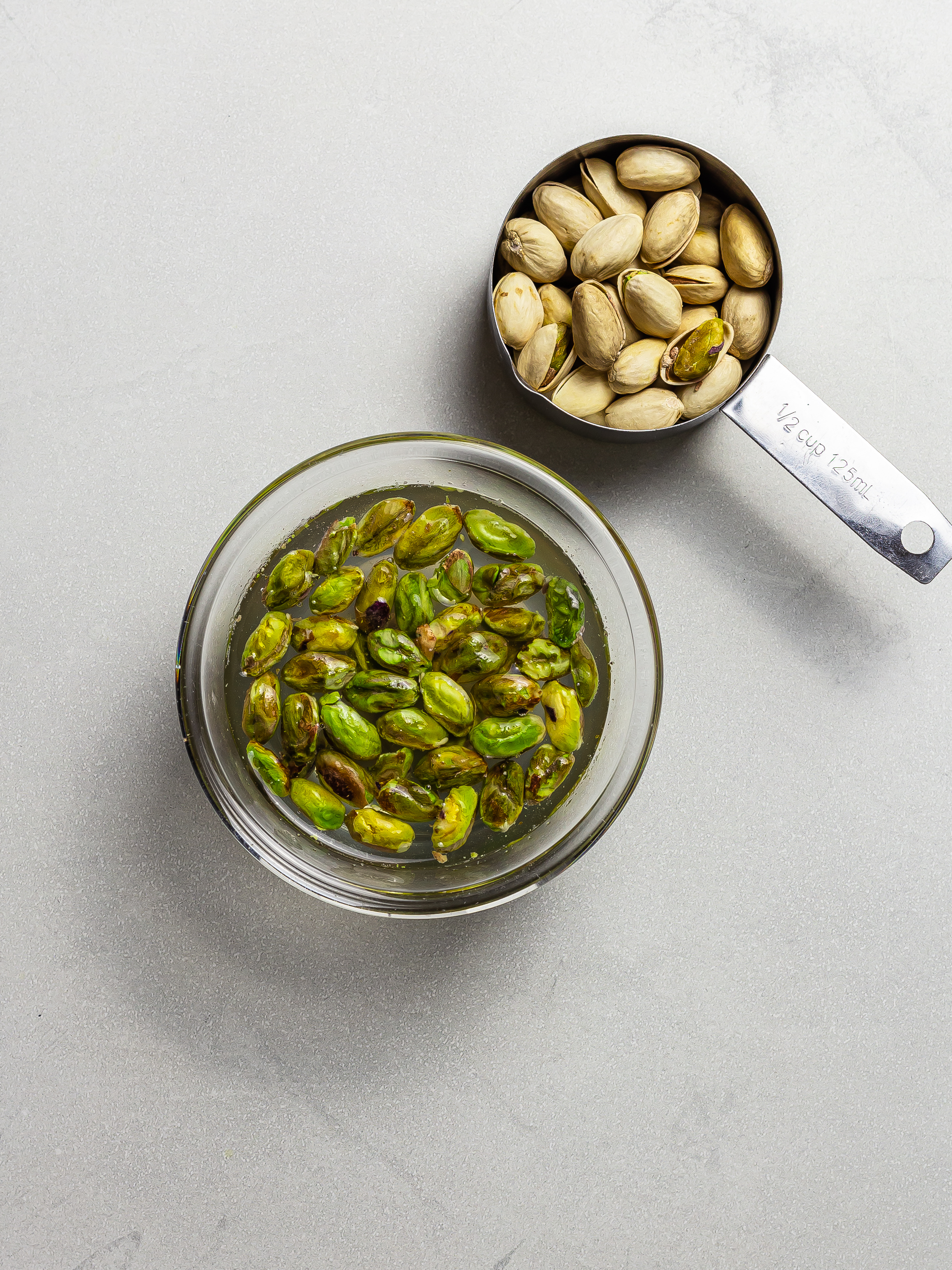 Step 2
Next, combine the chia seeds with the given water in another bowl. Leave them to soak in the fridge for 5-10 minutes or until they form a thick, gel-like mixture.
This chia seeds mixture will be our vegan egg replacement.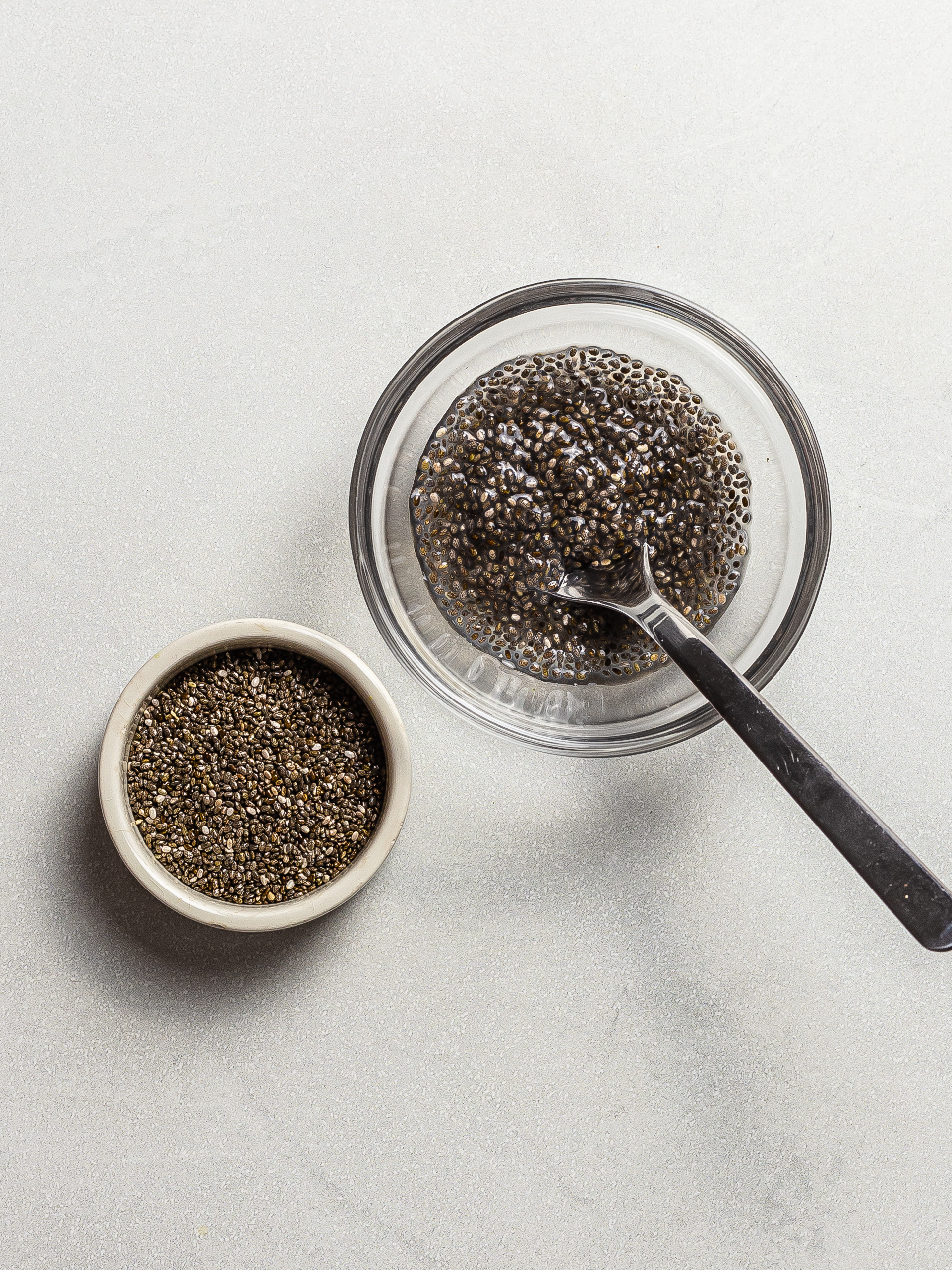 Step 3
To make cannoli shells, you'll need specific cannoli moulds. If you don't have them, you can easily make them yourself from kitchen foil.
To do so, take a 30 x 30 cm (12 x 12 inches) foil sheet, fold it in half, and then fold it again on itself to make a square. Then, tightly wrap it around a used cling film, foil, or parchment paper tube (1).
Next, pull one end of the wrapped foil out of the tube and press it down to seal it. This will help you handle the cannoli mould without ruining it (2).
Finally, pull the mould out of the support tube and fill it with some loose bits of foil. This will make it sturdier and will let you press on it when shaping the cannoli shells (3).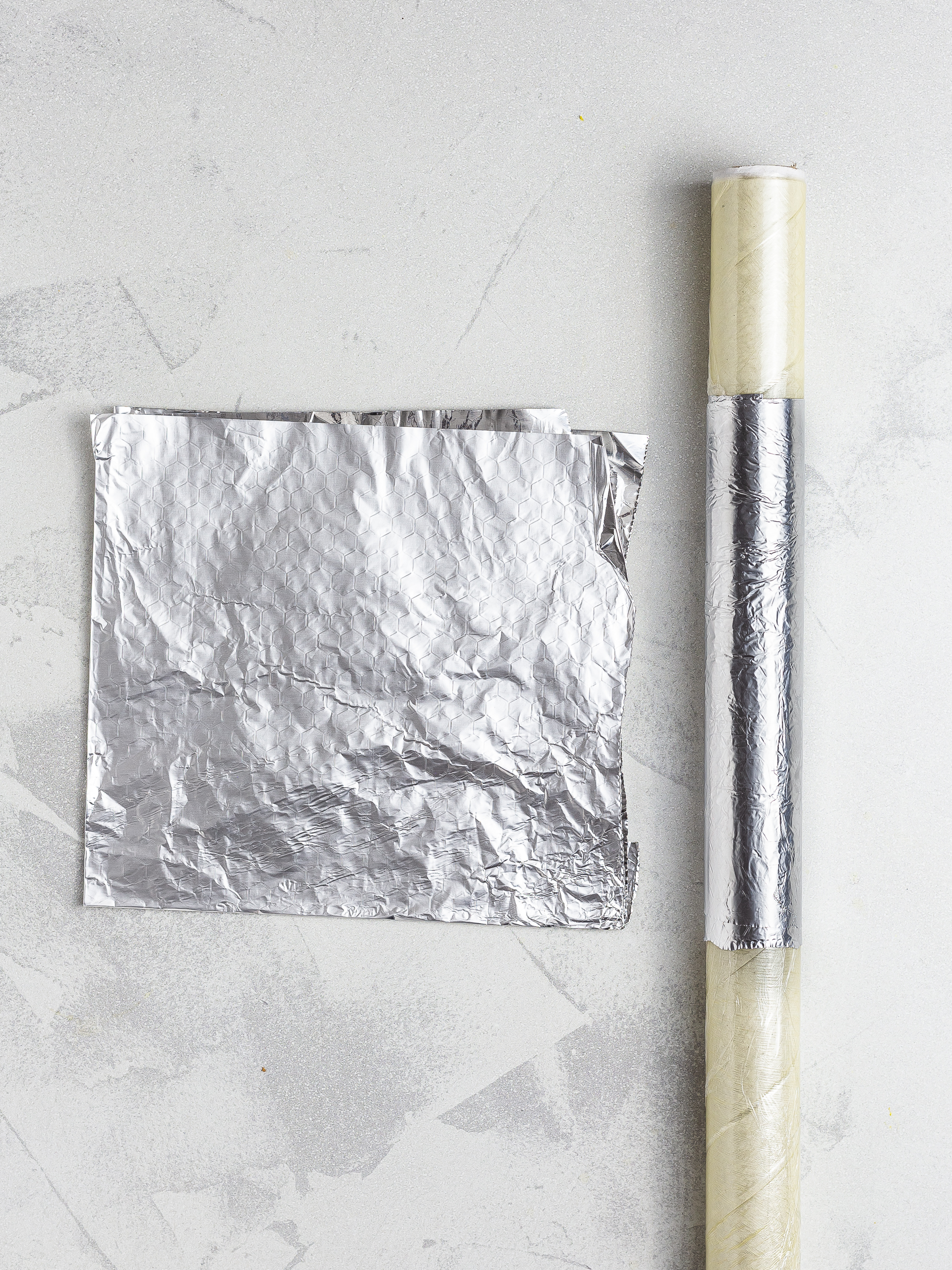 1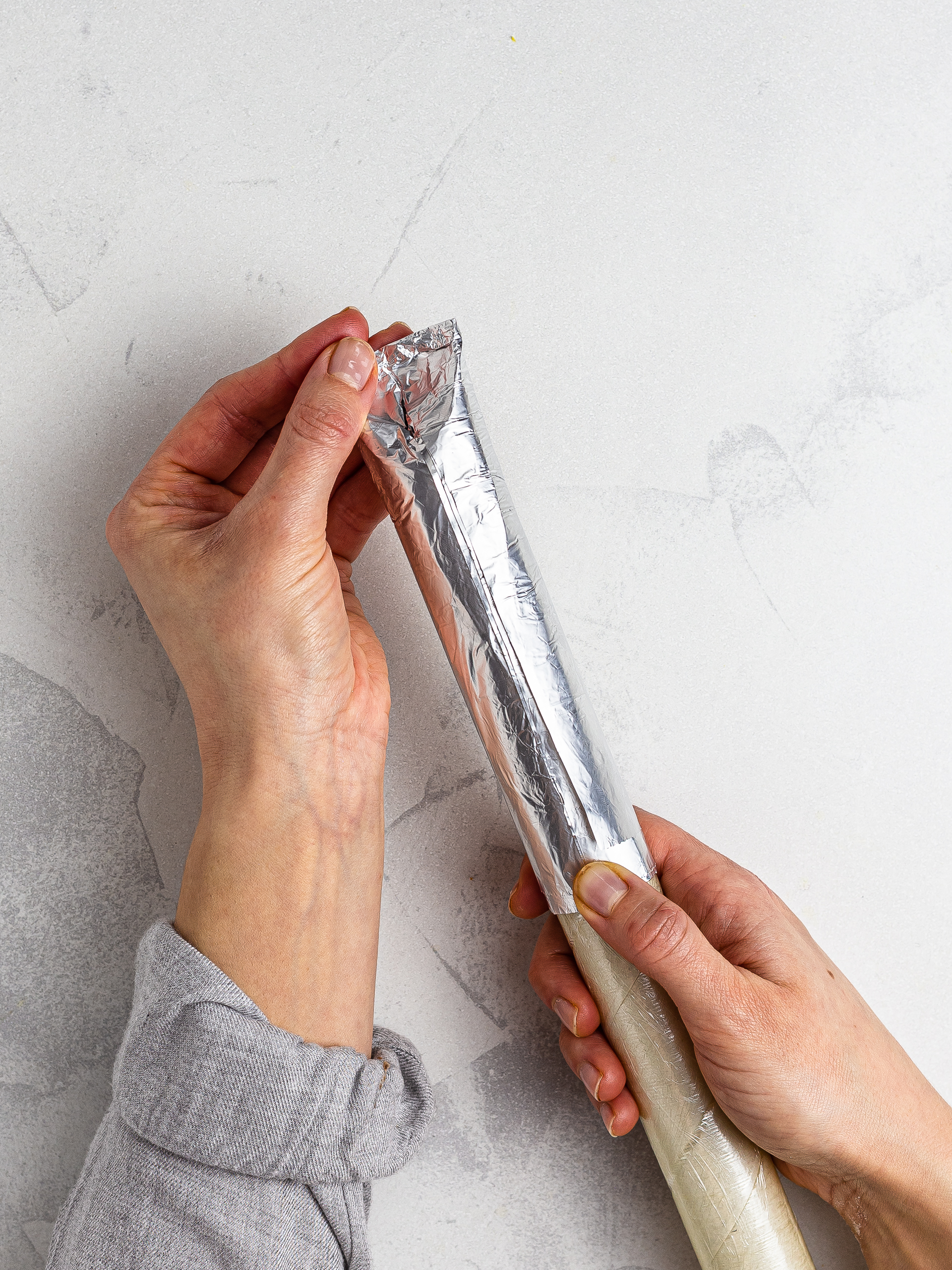 2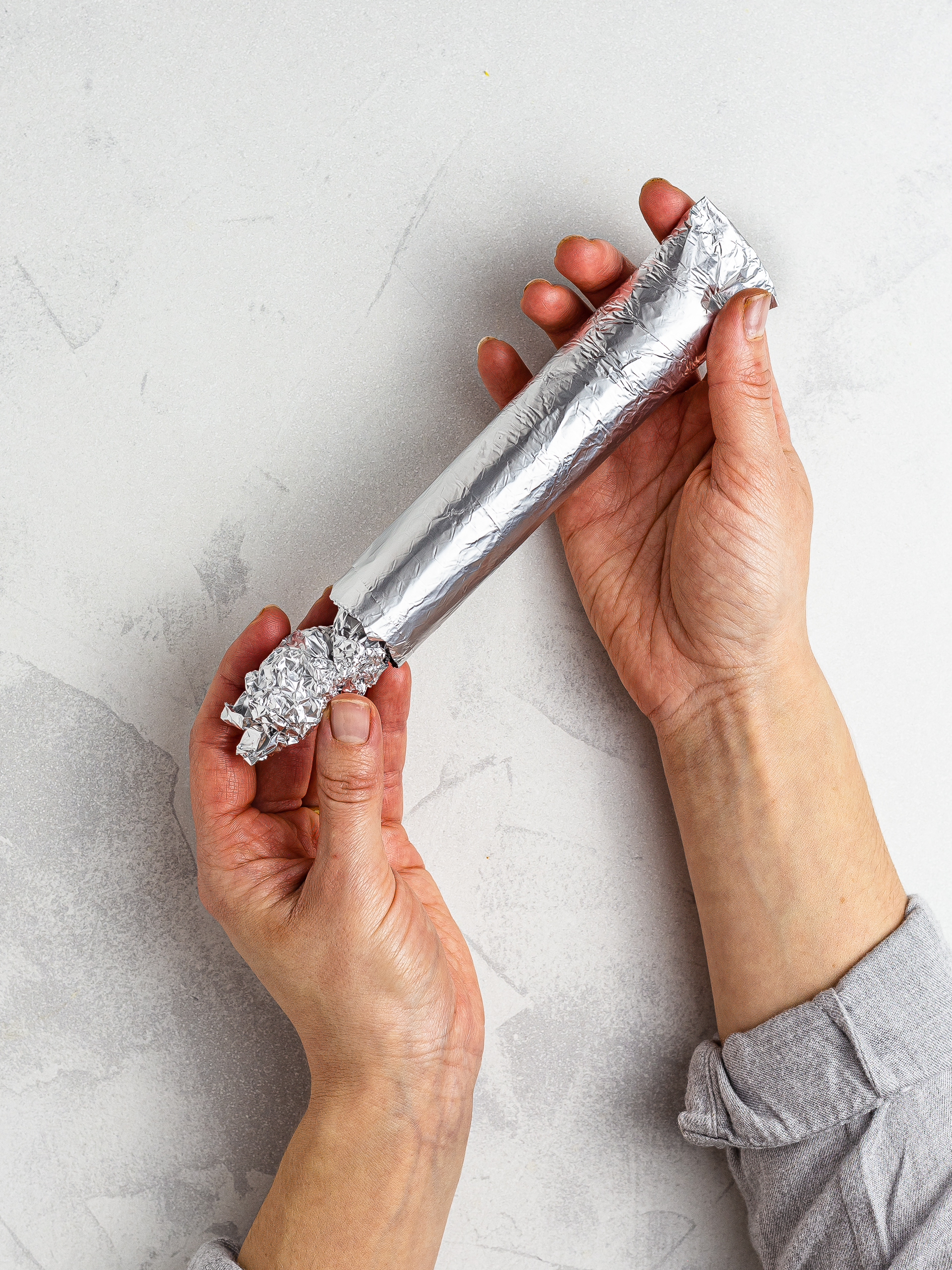 3
Step 4
Now, let's move onto the cannoli shells dough.
If your gluten-free flour mix includes xanthan gum already, you can omit it from the ingredients' list. Also, if you don't have erythritol or prefer other alternatives, including sugar, check out our FAQ section.
In a mixing bowl, combine gluten-free flour with xanthan gum, 50 g of erythritol, and cocoa powder.
Then, incorporate the "chia-egg", nut butter, and plant-based milk.
Give all a quick mix and then knead it into a smooth, pliable, and slightly sticky dough.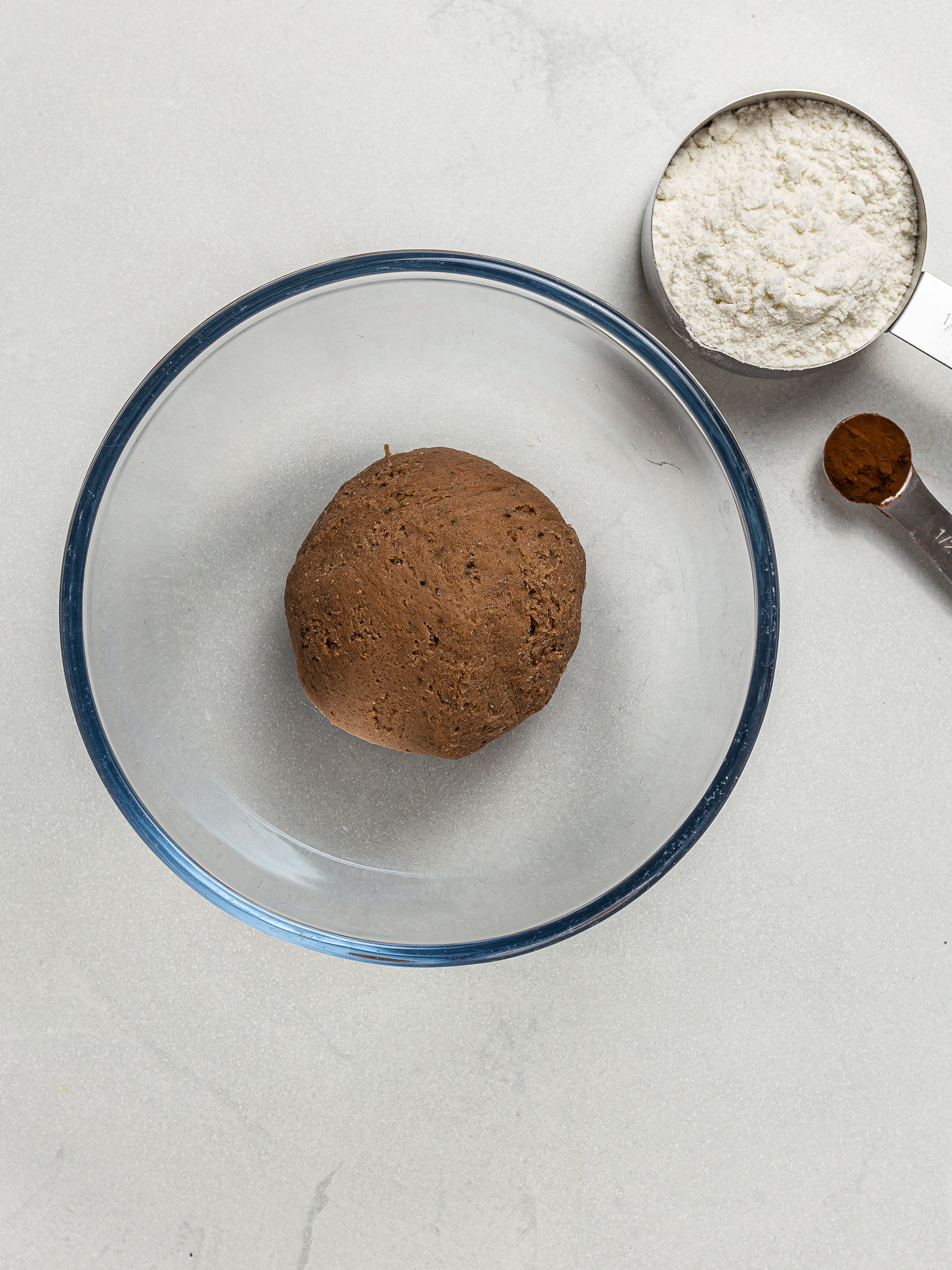 Step 5
Now, roll out the cannoli shell dough as thinly as you can, about 1-2 mm thick. The thinner you flatten the dough, the crispier your cannoli shells will be.
If you have it, you can also use a pasta roller machine for best results.
We recommend rolling out the dough in batches as it will be easier to spread it thinly. Keep any unrolled dough wrapped in cling film to prevent it from drying out.
Then, use a cookie cutter or a sharp-edged bowl to cut out dough discs about 9 - 10 cm (3.5 - 4 inches) in diameter.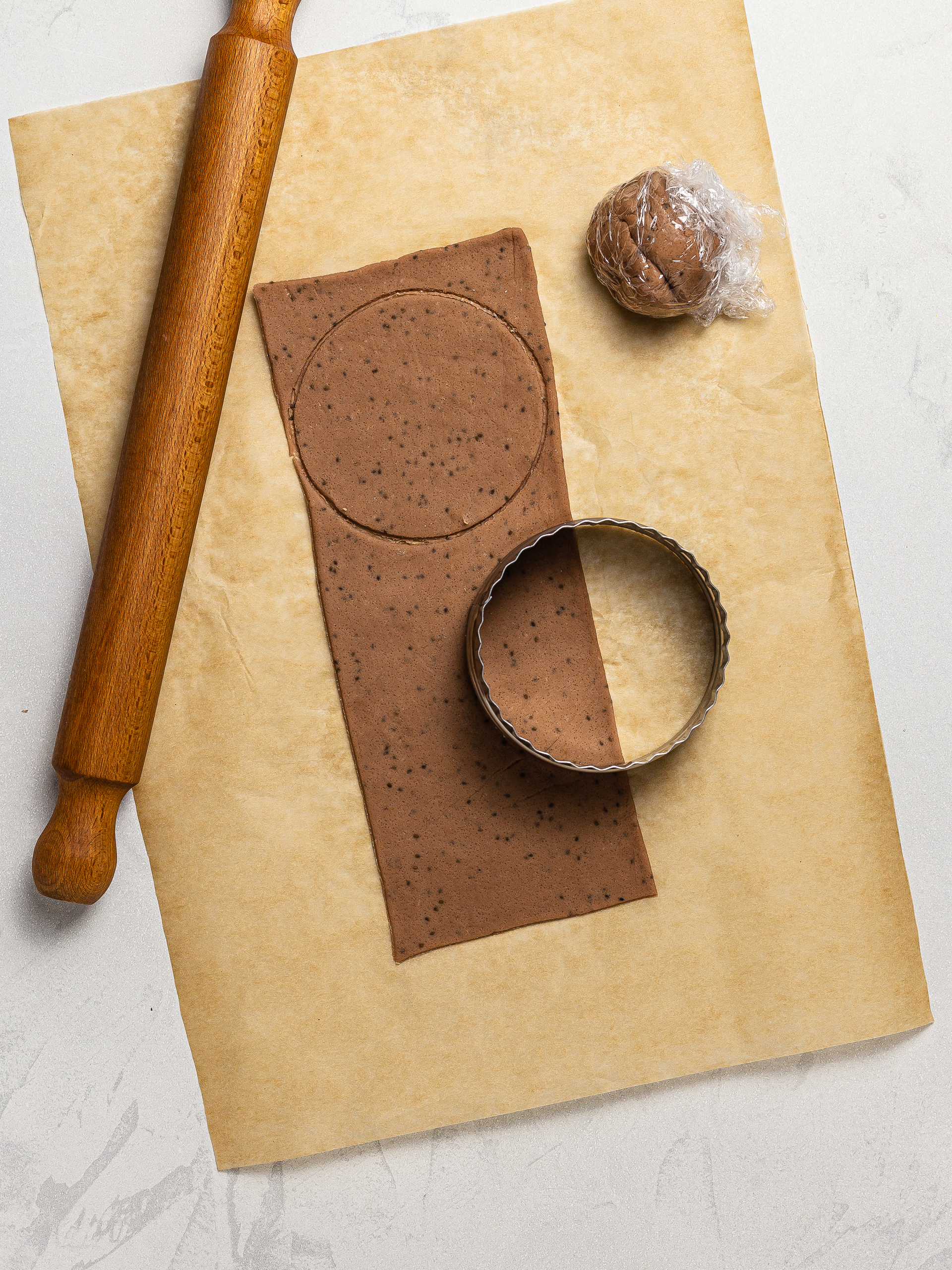 Step 6
Next, brush the cannoli moulds with a little bit of vegetable oil. Then, carefully wrap each dough disc around one cannoli mould.
Make sure to overlap the discs' edges and press down on them to keep the wrap from unfolding.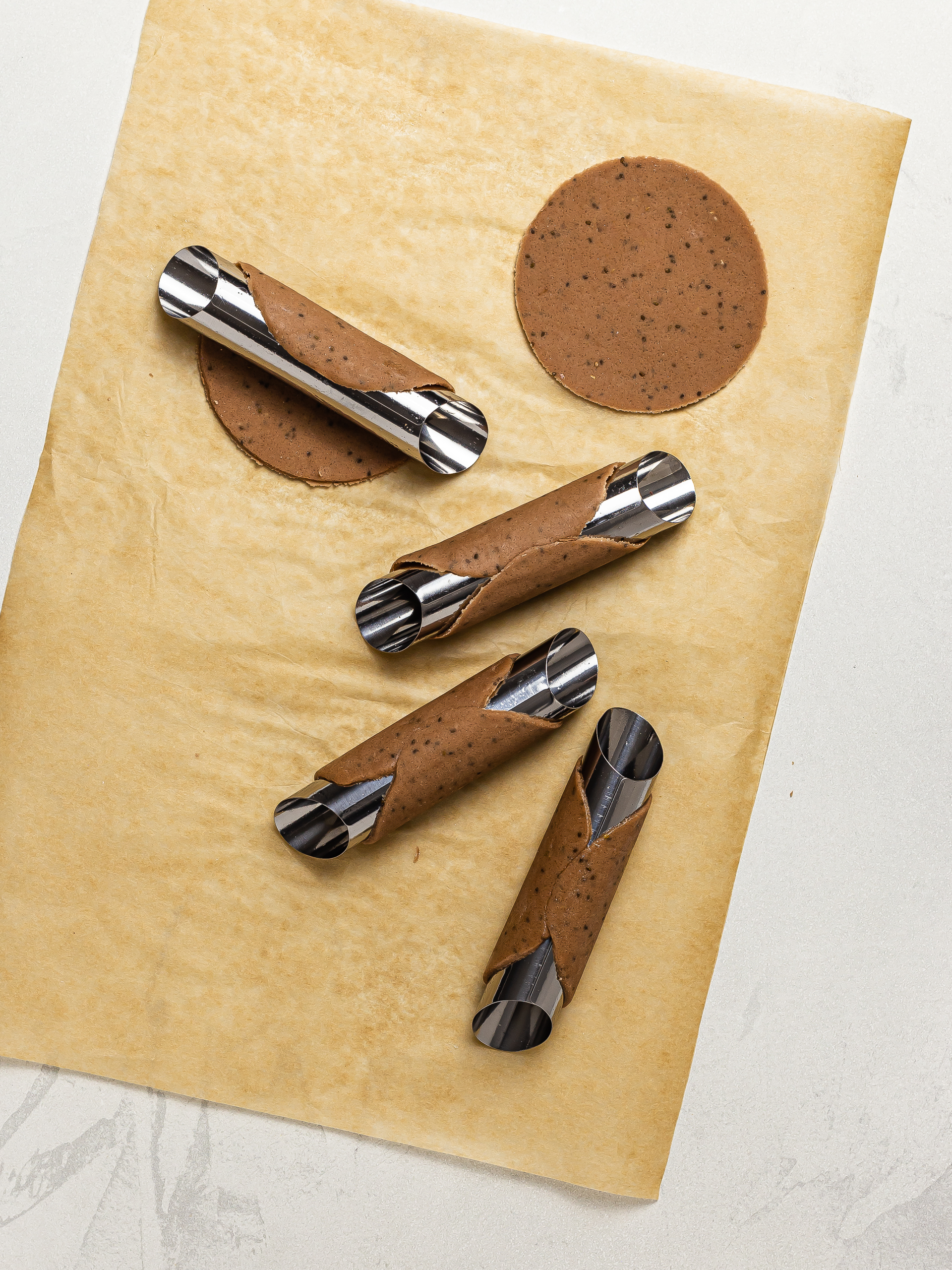 Step 7
Transfer the prepared cannoli onto a baking tray lined with parchment paper and bake them for 12 minutes at 200°C (390°F) in static mode.
If you prefer the classic deep-frying method, check out our FAQ section for tips on how to do it.
After the cooking time, immediately transfer the cannoli onto a wire rack to cool down. Don't worry if the cannoli feel a bit soft at first, they will harden and crisp up as they cool down.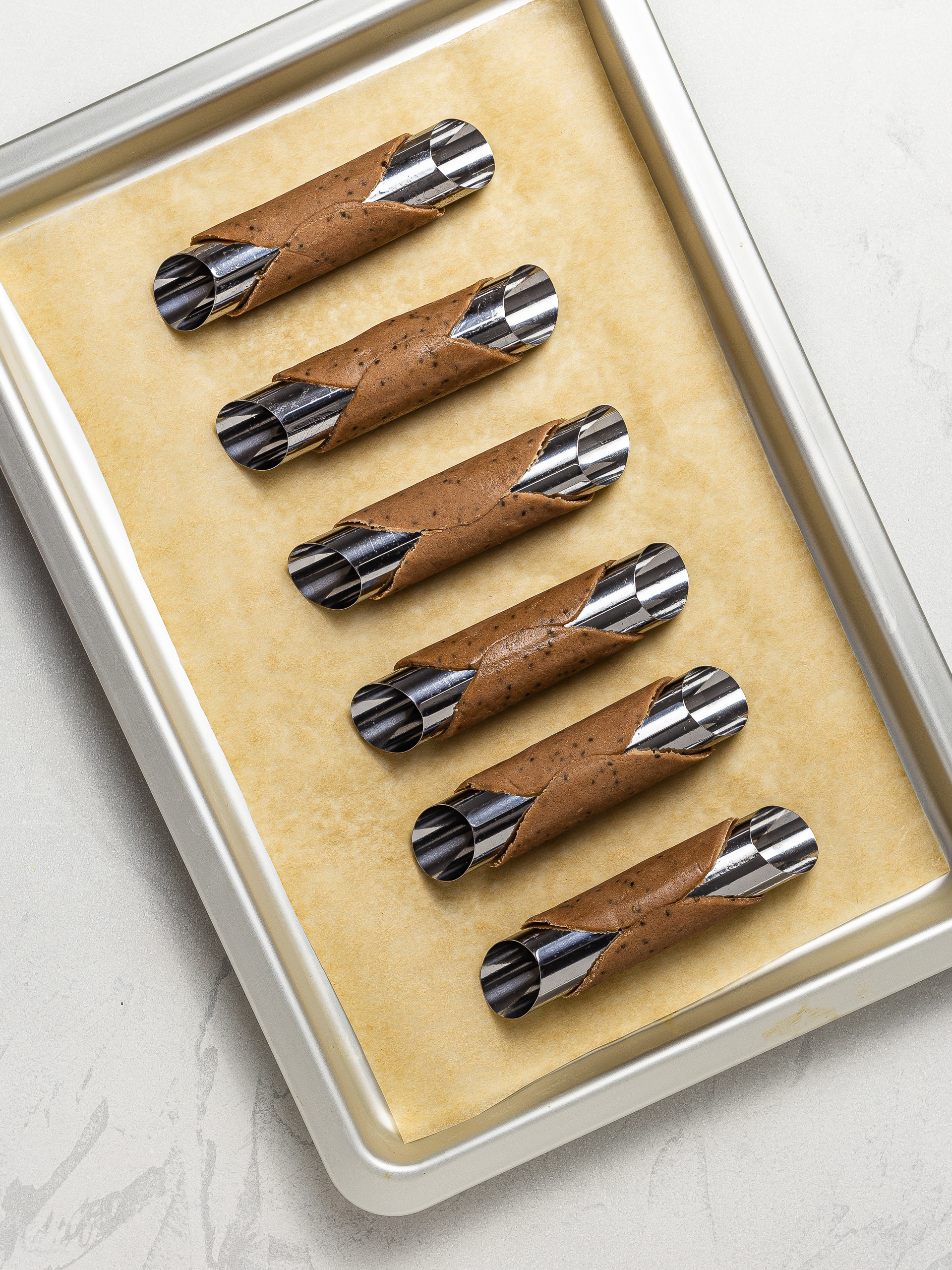 Step 8
In the meantime, let's prepare the pistachio filling.
Rinse the tofu block under cold water and then squeeze it tightly to remove excess water.
Next, add it to a food processor along with the remaining 150 g of erythritol and the soaked pistachios.
Blitz the ingredients until you have a smooth, light green cream.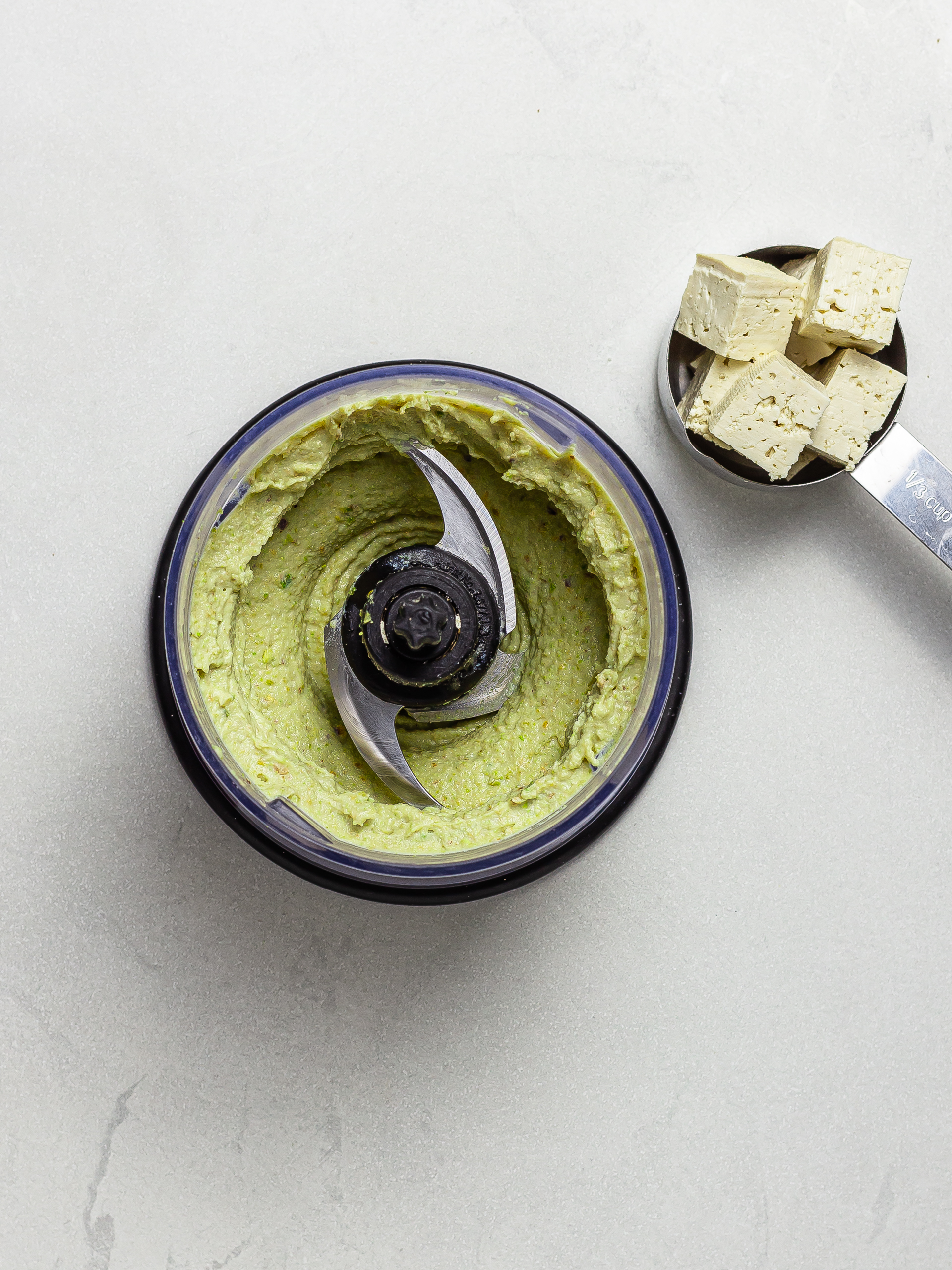 Step 9
Once the shells have cooled down, you can remove the moulds. If you are using proper moulds, compress them and slide out the shells, delicately.
If using the DIY moulds, remove the foil padding and crumple down the foil tube. Then delicately twist out the shells (1).
Finally, spoon the pistachio cream into a piping bag fitted with a wide nozzle and pipe it into each cannolo (2).
If you don't have a piping bag, you can push the filling into the cannoli with a teaspoon.
Enjoy your gluten-free cannoli right away.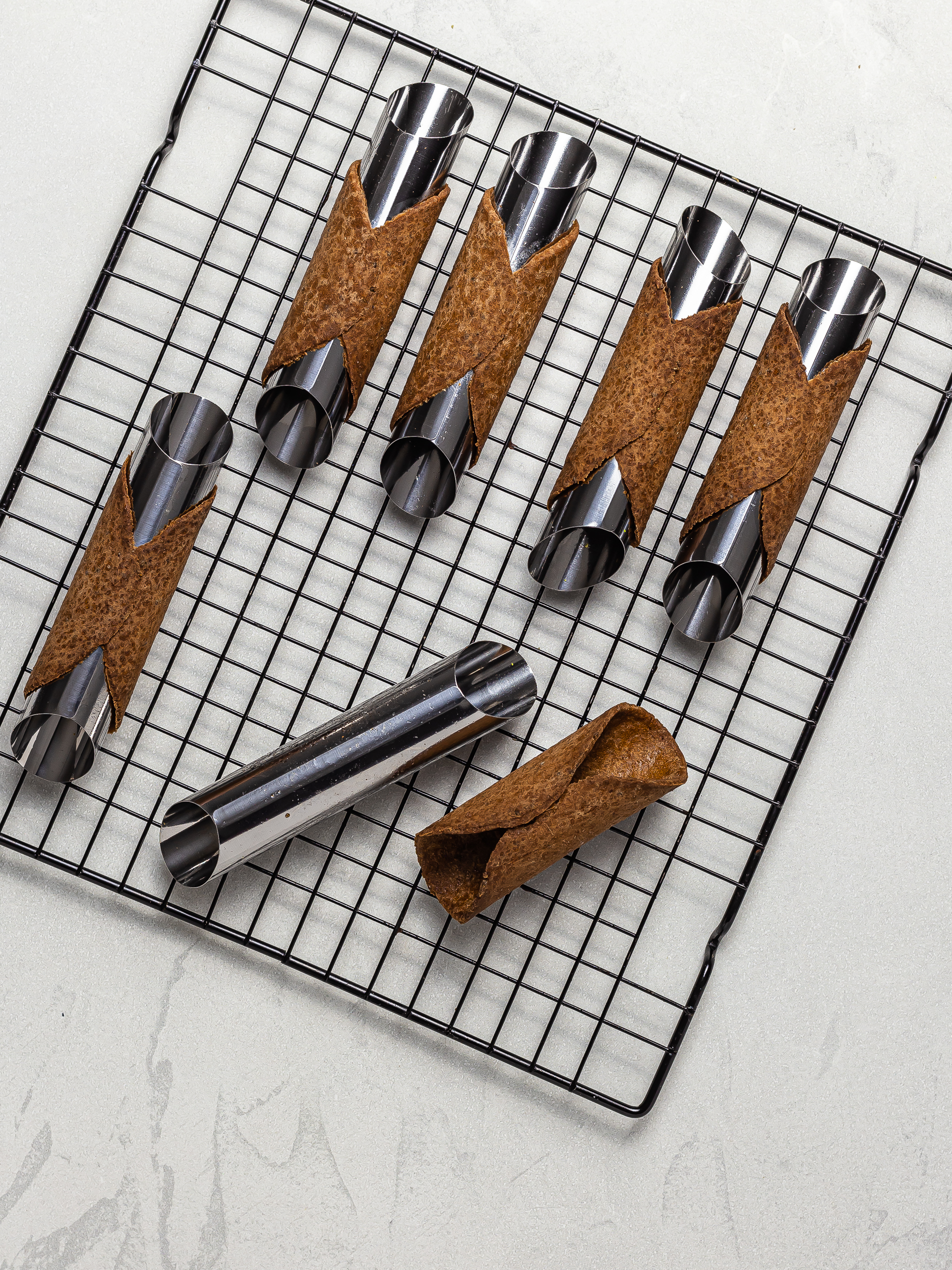 1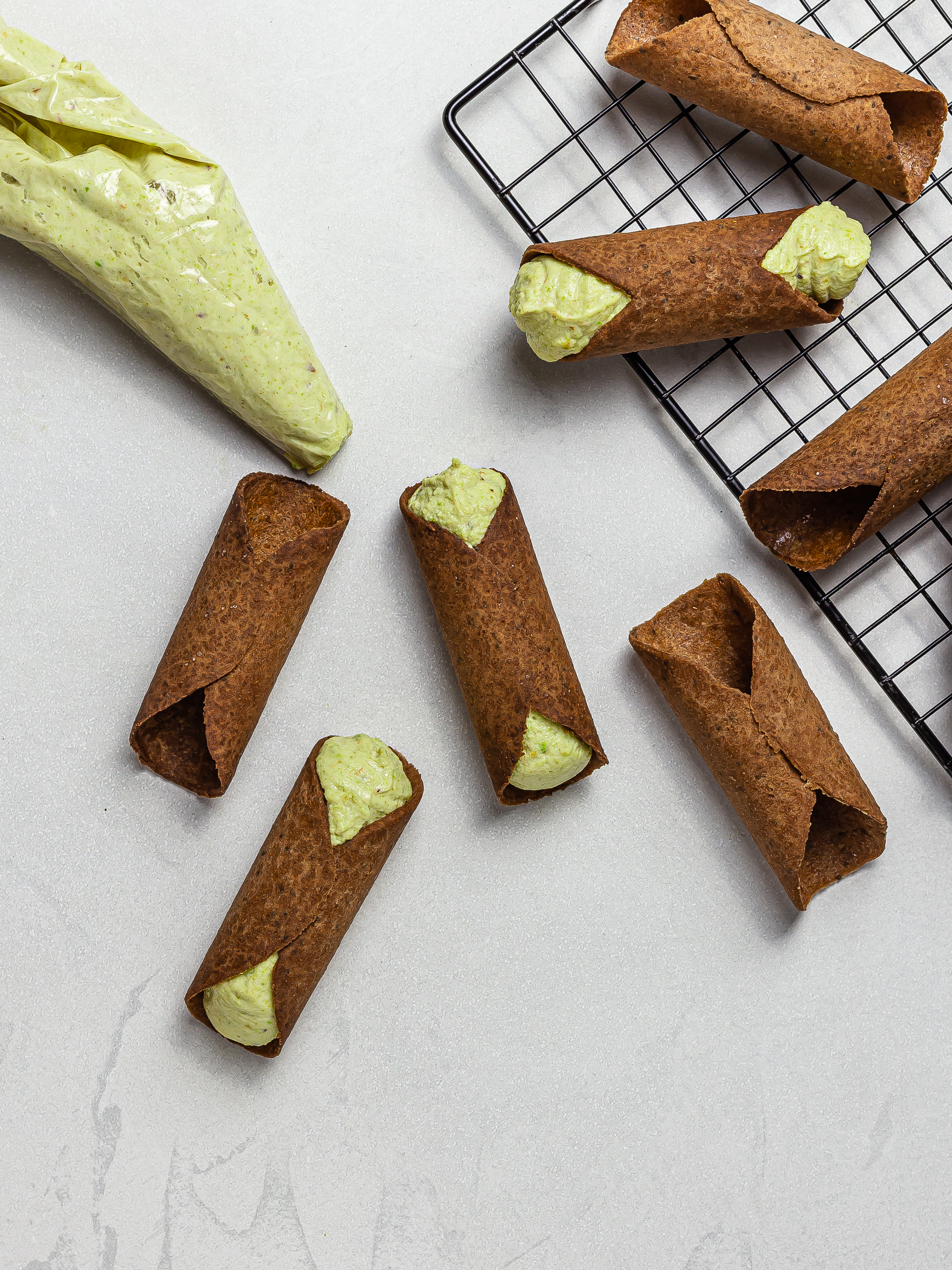 2
Tips
If you're making the cannoli ahead of time, keep the pistachio cream in the fridge and the shells in an airtight container. Don't put them together until you're ready to eat or the shells will get soggy, and the cream will dry out.
Watch on Youtube