Classic cannoli are perhaps the most famous Italian dessert. Marta's family is from Sicily — the home of cannoli — and we both grew up gorging on these treats. But the classic recipe is not healthy, nor is it suited for people with allergies or those on a diet. Just a glimpse at the ingredients is enough to make you gain a kilo: eggs, sugar, butter, ricotta cheese, whipped cream; all deep-fried. Our mission today is to show you how to turn this recipe around and make it super healthy.
It took us two days of testing, but now you can have eggless, dairy-free, vegan, low-fat, sugar-free, and low-calorie cannoli. We think you'll love them! Of course, frying food gives different results than oven baking it, but these cannoli will be just as crispy and delicious.
We strived to use as few ingredients as possible, to keep the recipe simple and accessible. Check out the FAQ section below where we give you a few substitution options.
First, we'll show you how to make vegan cannoli shells. Here we used wholemeal flour, so the recipe is not gluten-free. But our pistachio cannoli are both vegan and gluten-free, so feel free to check that recipe out too. By the way, don't worry if you don't have proper cannoli moulds. We'll show you how to make some DIY cannoli tubes easily.
Once you have the shells, we'll help you prepare the most low-fat filling possible, made with tofu and sugar-free sweetener erythritol. The filling will burst with chocolate and orange flavour, so yummy!
Did our hard work pay off? Let's take a look at the numbers. Compared to the traditional ones, these vegan cannoli have almost half of the calories, seven times fewer saturated fats and sugars. So, if you are on a weight loss or vegan diet, or have dairy and egg allergies, you can now enjoy Sicilian-style cannoli without a worry in the world. Have fun making these!
Frequently Asked Questions
How to make vegan cannoli filling without using soy (tofu)?

Tofu makes an excellent cannoli filling in this recipe. It's low fat, and it's thick enough to stay inside the cannoli wrap. Moreover, its subtle flavour gets completely overtaken by the orange and chocolate essence, which is what we want.

But soy may not be a good option for you. Maybe you don't like it, or maybe you are allergic to it. Fear not, dear reader. We've got you!

We recently made vegan mayo using cashews. You wouldn't use mayo in this recipe, but the consistency of that cashew spread is just what we need here. So we are going to make some small alterations to that recipe to make it suited to our vegan cannoli.

Take 100 grams (3.5 oz) of cashews. Soak them for 30 minutes, and then drain them.

Make aquafaba following our vegan mayo step number 2.

Blend the cashew into a cream

Whip the aquafaba for 5 minutes until it forms a firm foam (like the one you would get from whipped egg whites)

Fold the aquafaba into the cashew cream, with a vertical circular motion.

Add the erythritol, chocolate and zest following the cannoli recipe above (step 7)
How to make cannoli shells extra crunchy without frying them?

The secret to a crunchy cannoli shell is in the rolling. The thinner you can roll that dough into sheets, the crunchier the cannoli moulds will be once baked.

Ideally, you'd roll the dough into a one-millimetre sheet.

If you can't get it to be quite as thin, don't stress about it. Do the best you can, and the cannoli will still come out crunchy. We promise.
Can I freeze cannoli?

We wouldn't suggest freezing the cannoli because the moulds won't be crispy once thawed.
When is the best time to fill cannoli?

Sicilian tradition suggests filling the cannoli right before eating them. You do that to keep the filling from turning the moulds soggy. We recommend you follow this advice, if possible.

A little tip if you want to batch cook this recipe. Make the shells and make the filling, but don't put them together just yet. Keep the moulds in an airtight container, and the filling in the fridge. Only fill the moulds when you are ready to eat your cannoli.
Can I make cannoli without cannoli tubes/moulds?

Yes, you can! Time to put on your DIY hat and follow our step number 3 in the recipe above. We'll show you how to make it using kitchen foil simply and affordably.
Ingredients
Cannoli Filling
Firm Tofu

400 g

Dark Chocolate 90%+

50 g

Orange Zest

1 tbsp

Cannoli Shells
Wholemeal Flour

150 g

Erythritol

160 g

Cocoa

5 g

Ground Cinnamon

1/2 tsp

Soy Milk

90 mL

Canola Oil

20 mL
Step 1
In a bowl, combine wholemeal flour with cocoa powder, ground cinnamon, and 40 g of erythritol.
Then, add soy milk and vegetable oil.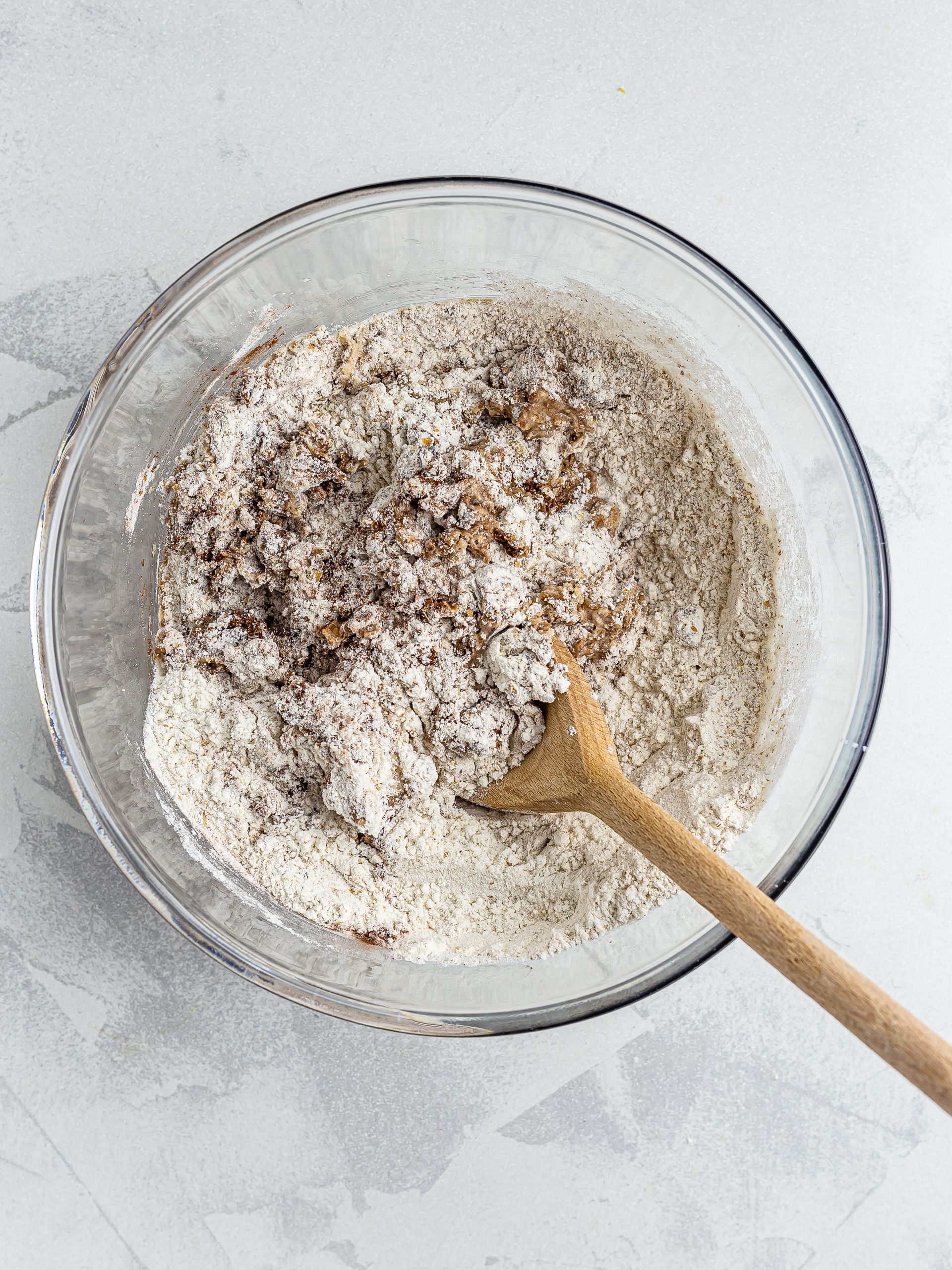 Step 2
Work the ingredients until they come together into a crumbly dough and then transfer the mixture onto a lightly floured surface.
Knead the dough for about 10 minutes or until it's smooth and elastic.
Then, roll it into a bowl, wrap it in cling film, and keep it in the fridge while you make the cannoli tubes.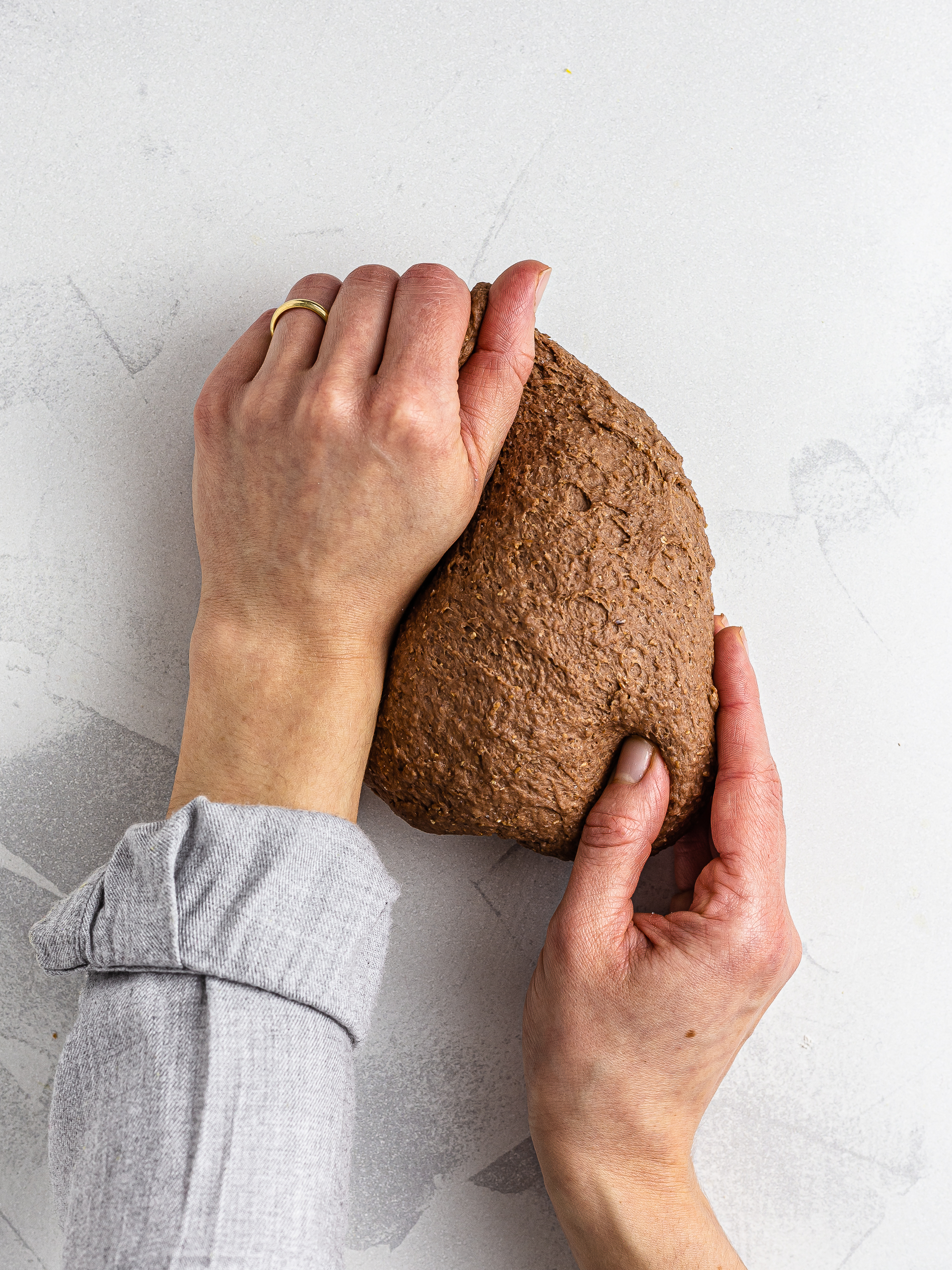 Step 3
In this step, we'll show you how to make cannoli moulds from scratch using foil. If instead, you already have the cannoli tubes, you can skip this step and move onto the next.
Take a 30 x 30 cm (12 x 12 inches) foil sheet, fold it in half, and then fold it again on itself to make a square. Take a used cling film, foil, or parchment paper tube, and wrap the foil square around it tightly (1).
Next, pull one end of the wrapped foil out of the tube and press it down to seal it. This will help you handle the cannoli mould without ruining it (2).
Finally, pull the mould out of the support tube and fill it with some loose bits of foil. This will make it sturdier and will let you press on it when shaping the cannoli shells (3).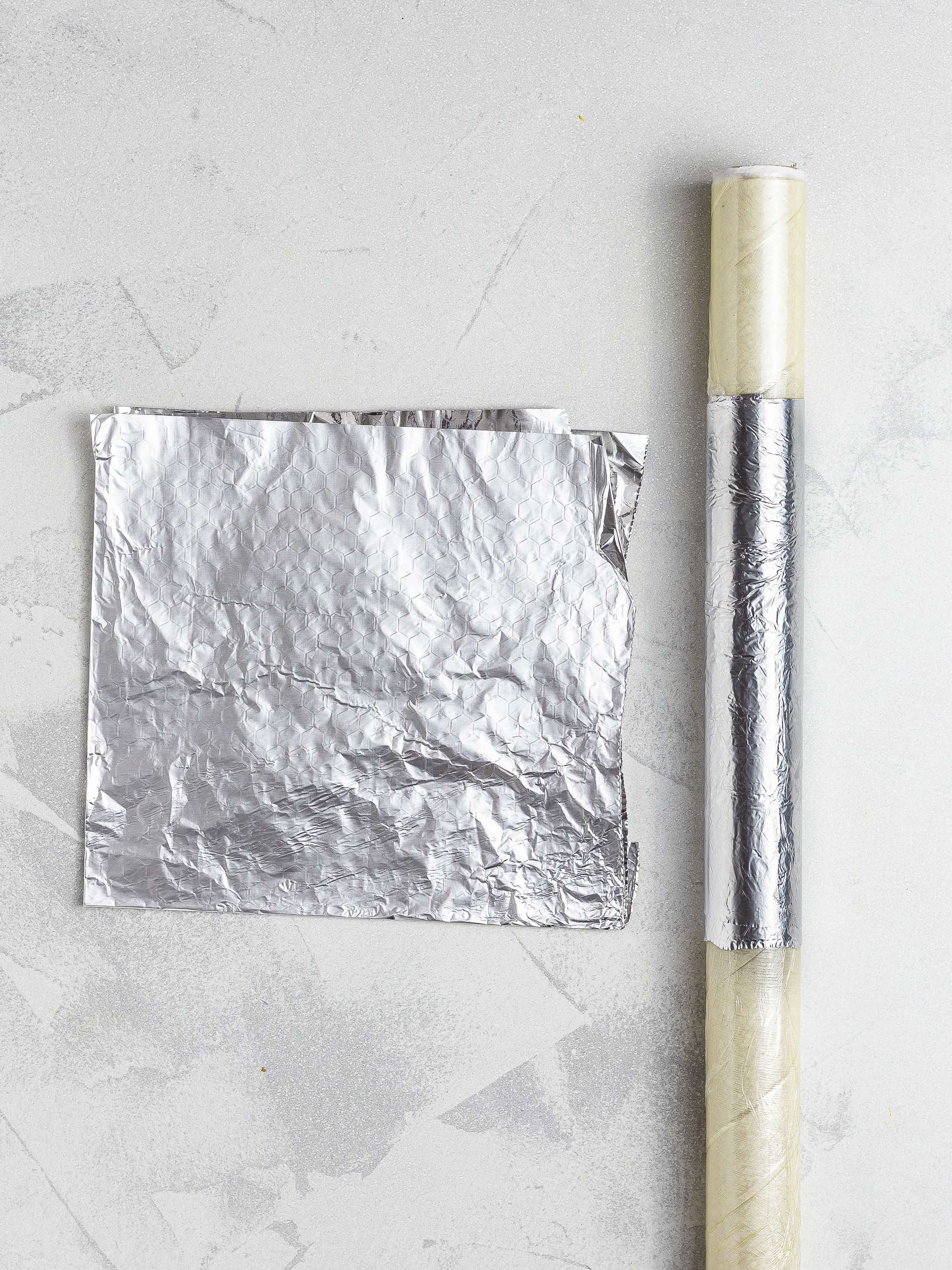 1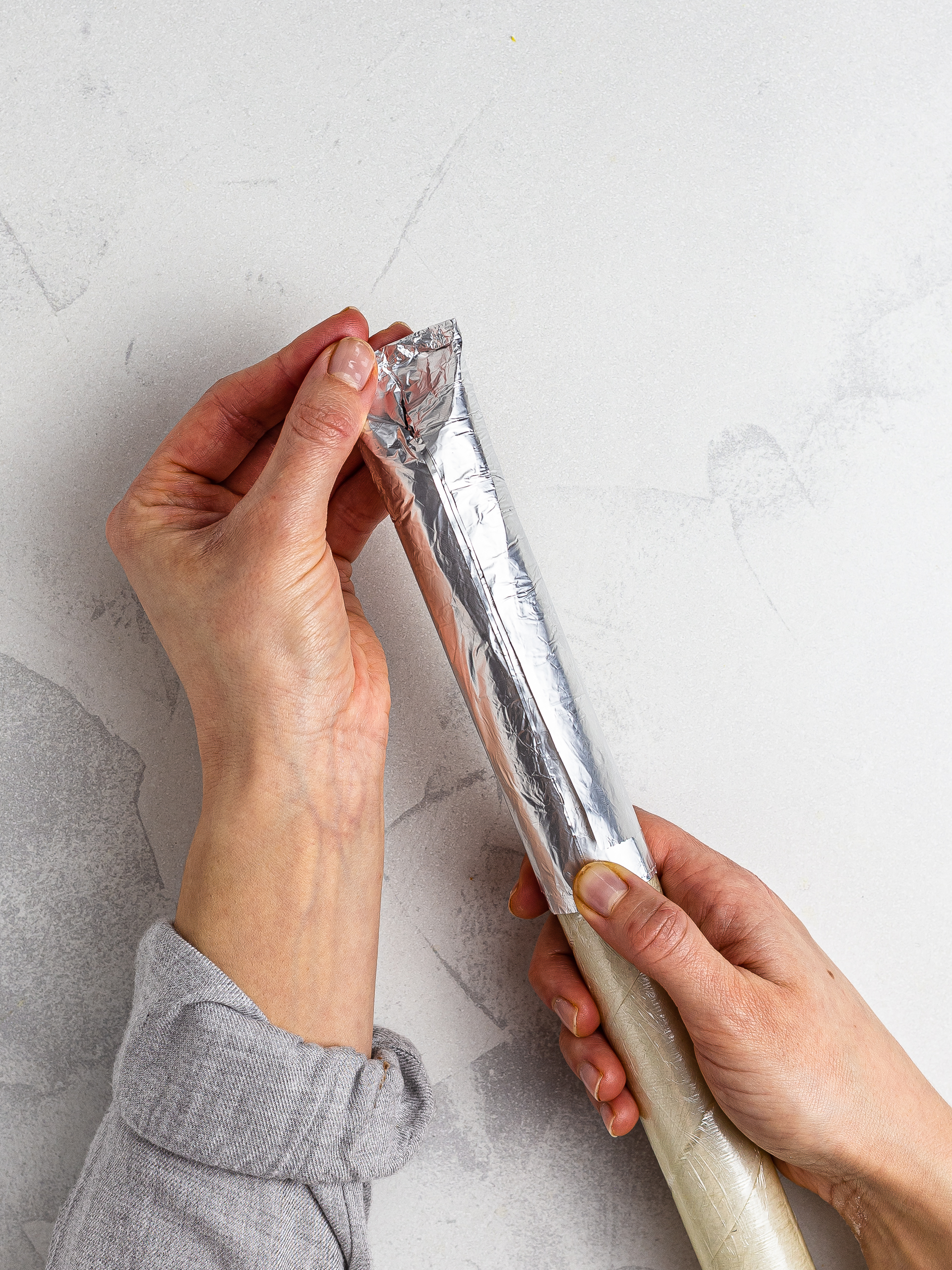 2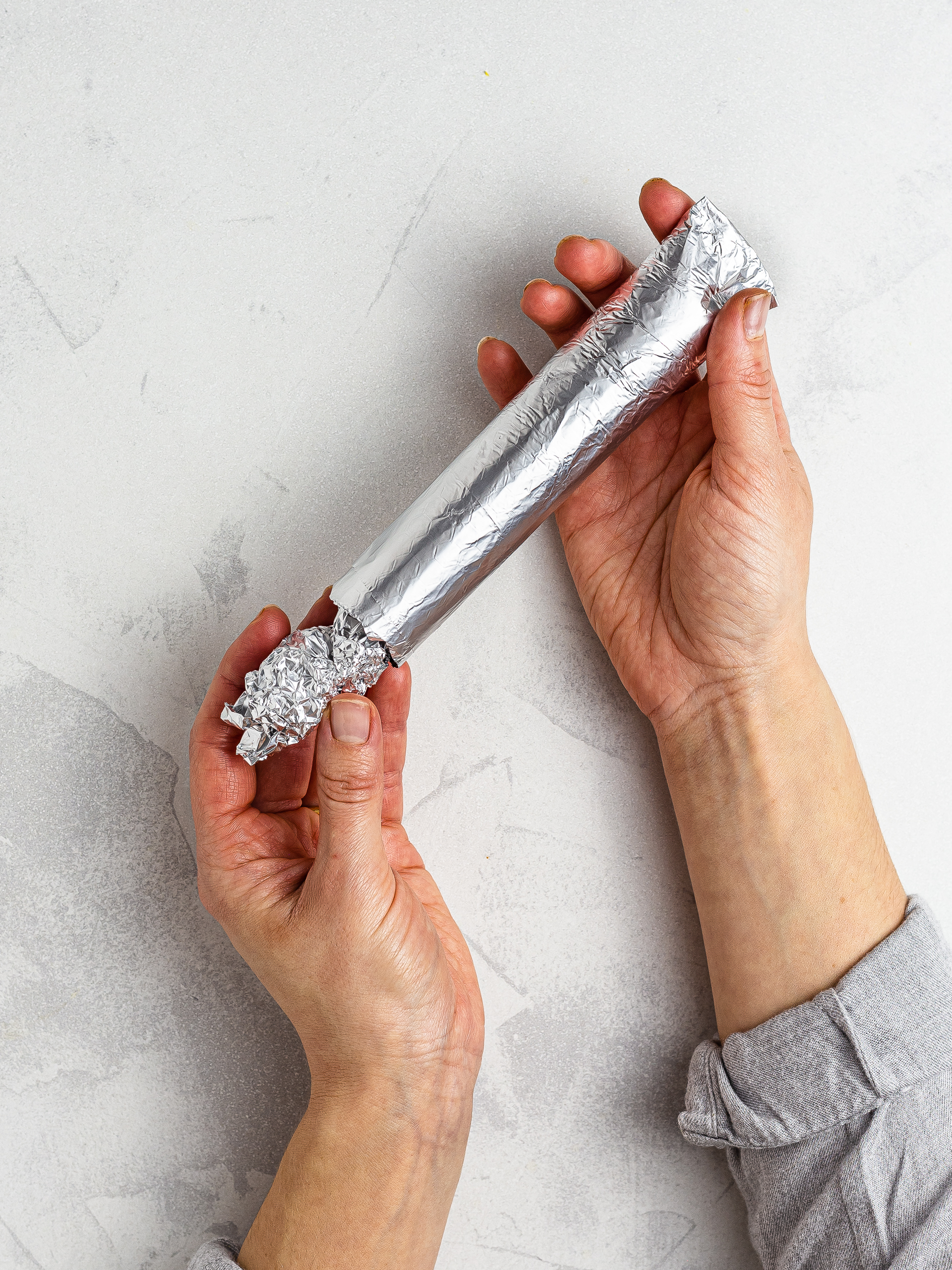 3
Step 4
Now, roll out the cannoli shell dough as thinly as you can, about 1 mm thick. The thinner you flatten the dough, the crispier your cannoli shells will be.
If you have it, you can also use a pasta roller machine for best results.
We recommend rolling out the dough in batches as it will be easier to spread it thinly. Keep any unrolled dough wrapped in cling film to prevent it from drying out.
Then, use a cookie cutter or a sharp-edged bowl to cut out dough discs about 9 - 10 cm (3.5 - 4 inches) in diameter.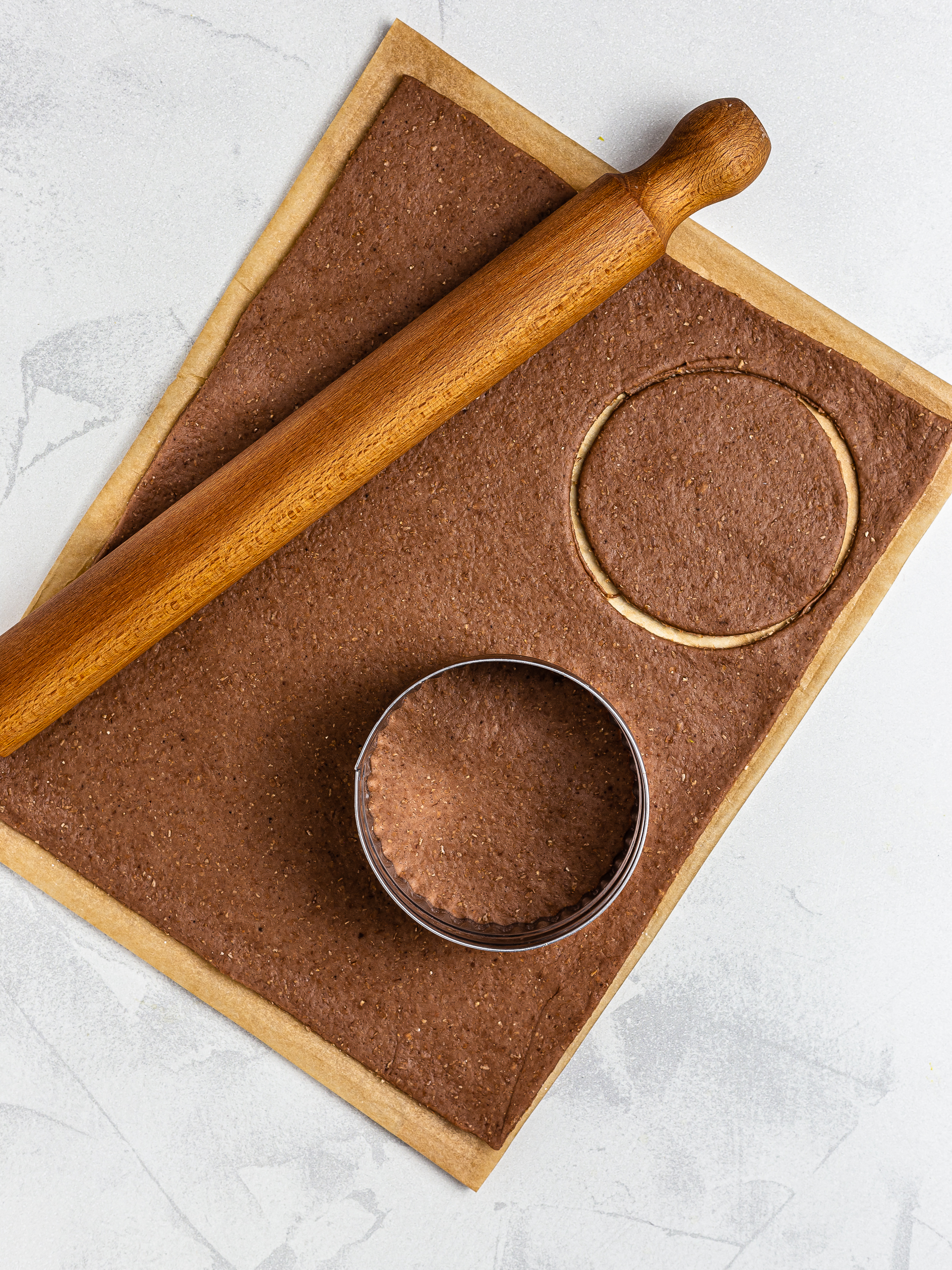 Step 5
Wrap each dough disc around one cannoli mould, greased with a bit of oil. Then, run a wet finger over the overlapping dough and press down to seal the shell around its mould (1).
Now, transfer the cannoli onto a baking tray lined with parchment paper and bake them for 20 minutes at 200°C (390°F) for static ovens or at 180°C (355°F) for fan ovens (2).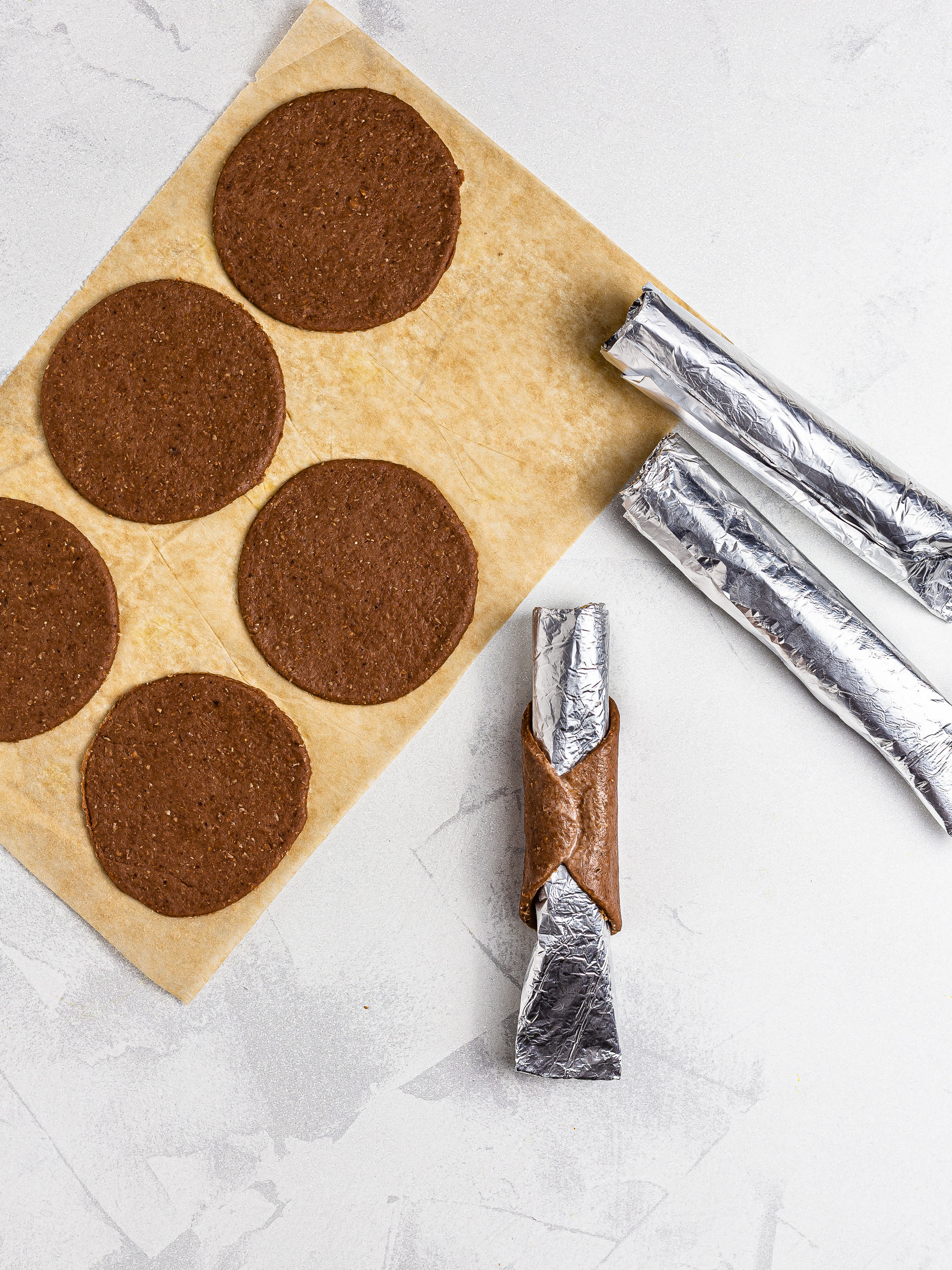 1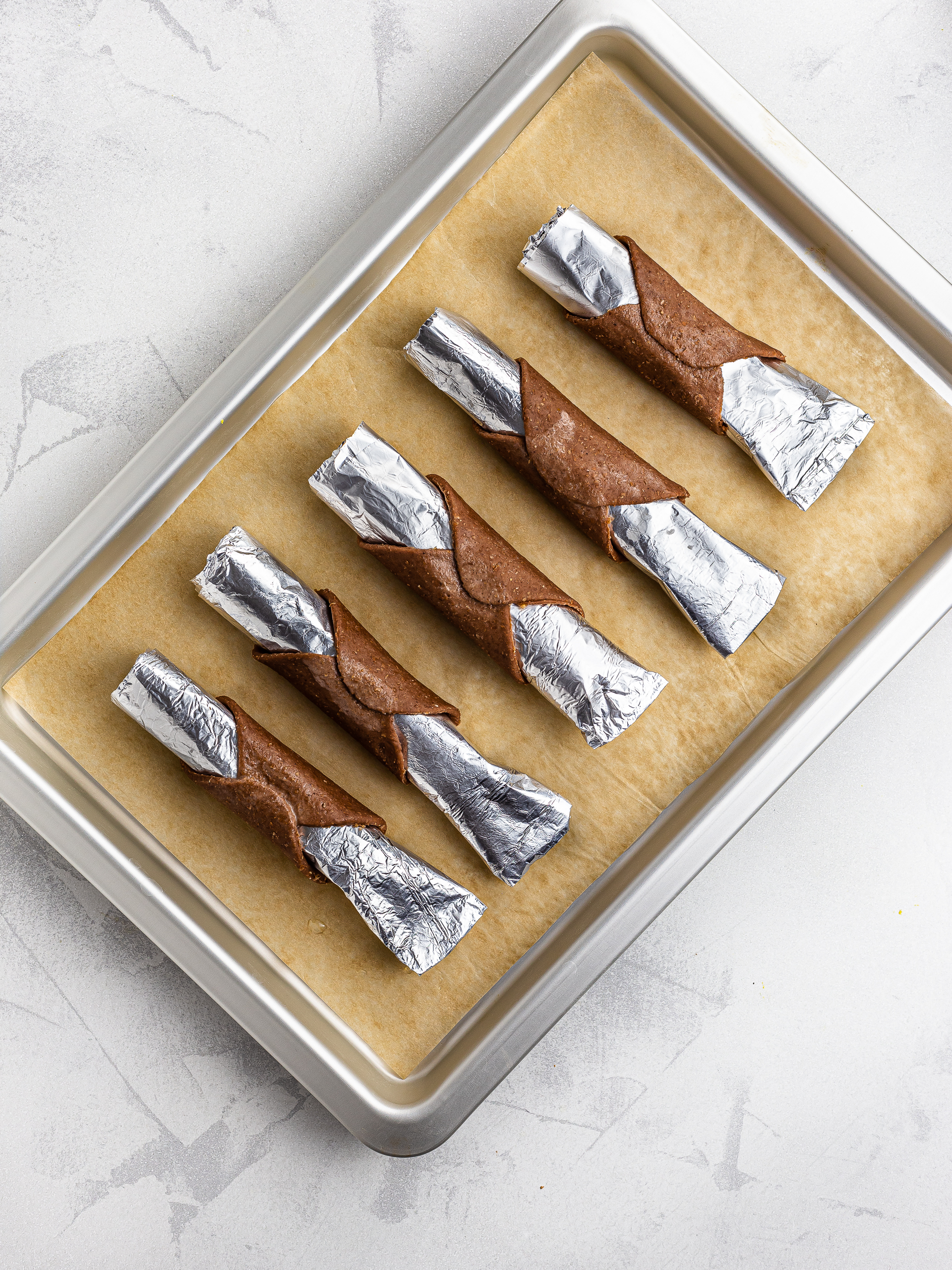 2
Step 6
Once ready, transfer the cannoli onto a wire rack to cool down and harden. Then, remove them from their moulds carefully.
If you're using homemade foil moulds, you can simply flatten them down and then slide them out of the cannoli shells.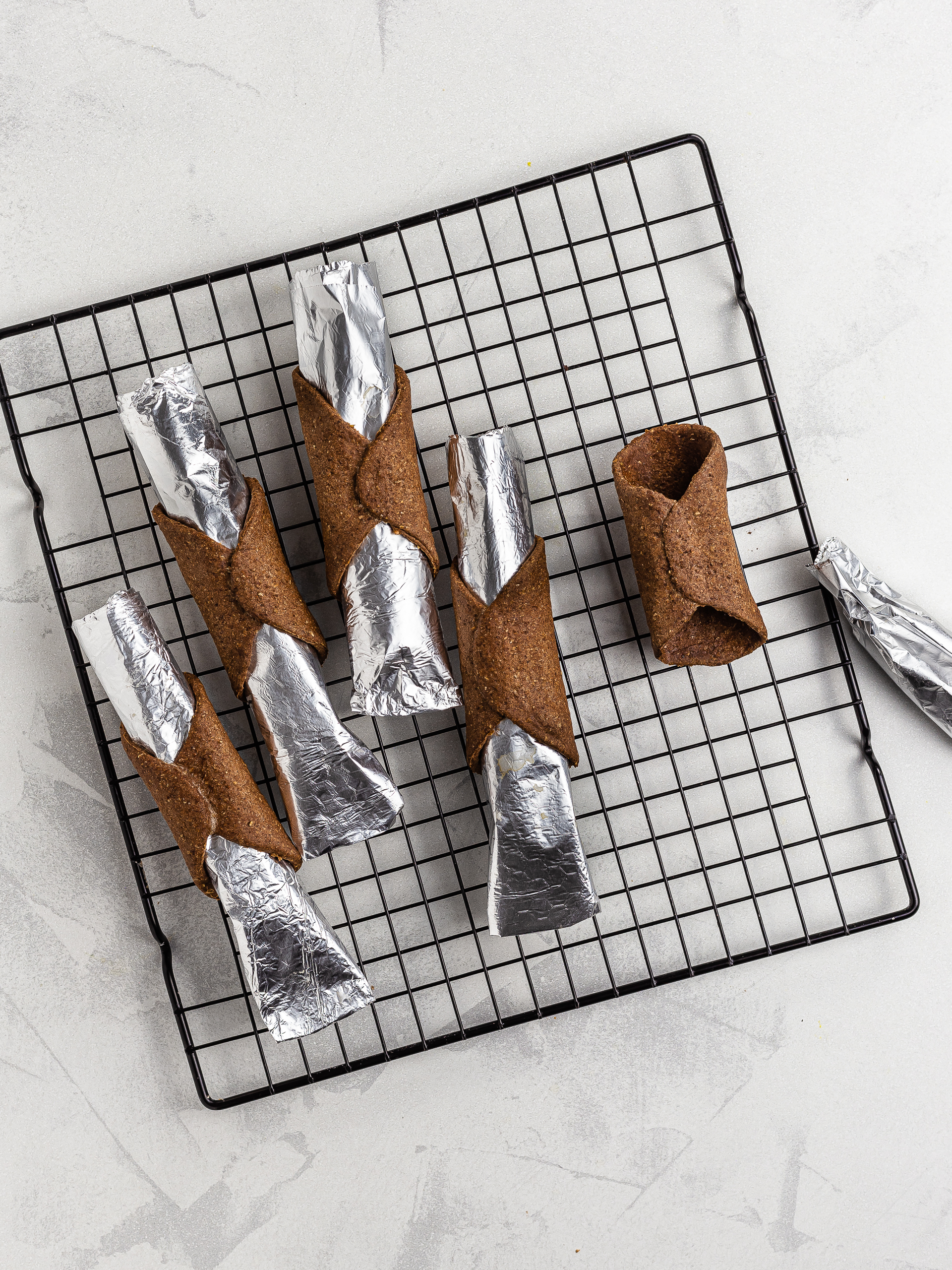 Step 7
While the cannoli shells bake and cool down, let's get the filling ready.
Rinse the tofu block under cold water, drain it well, and squeeze it tightly to remove excess water.
Then, add it to a food processor along with the remaining 120 g of erythritol and pulse until you have a smooth cream (1).
Transfer the blended tofu into a bowl and add finely chopped dark chocolate and orange zest (2). Stir until the ingredients are well incorporated.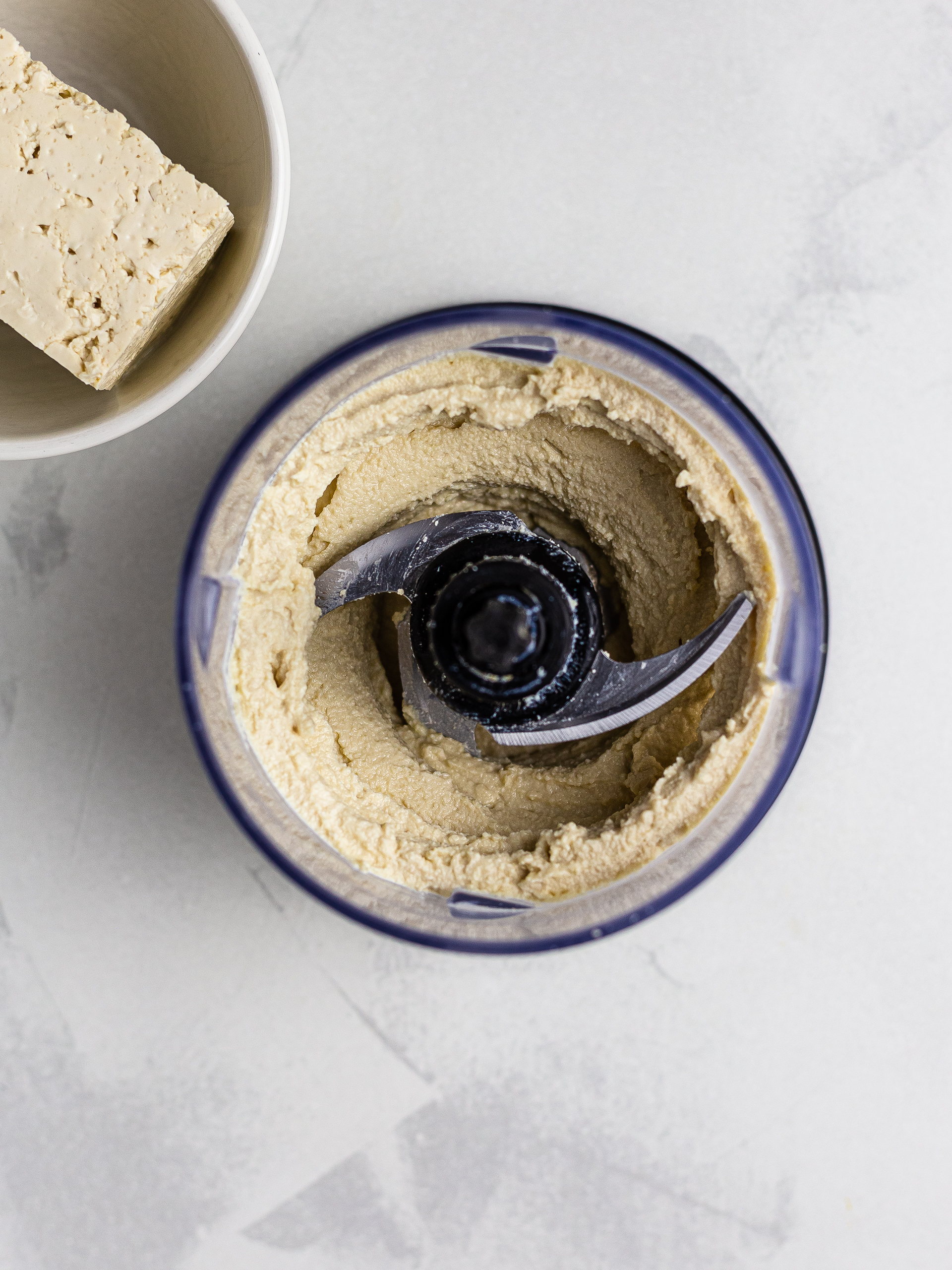 1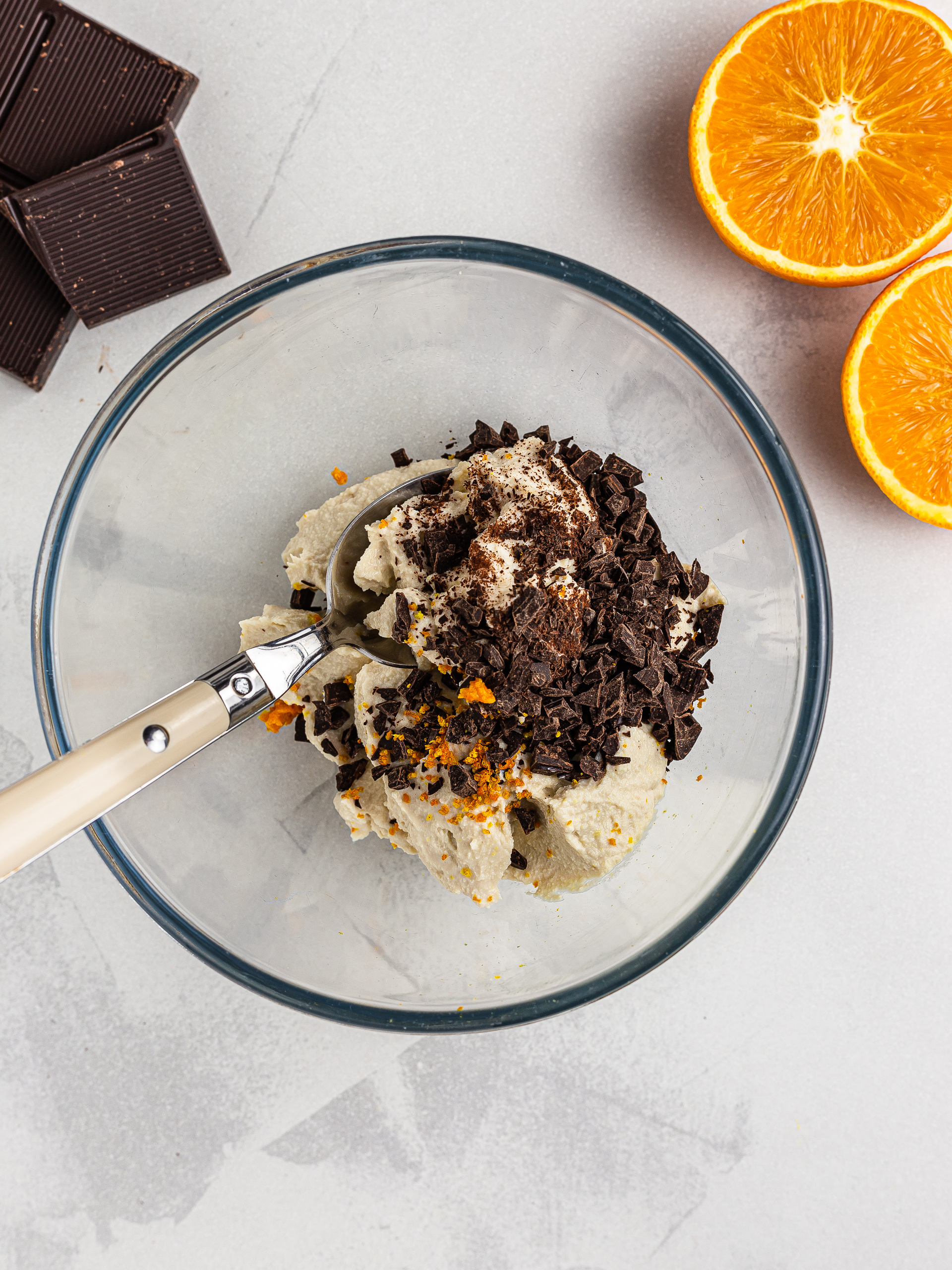 2
Step 8
Spoon the tofu mixture into a piping bag fitted with a wide nozzle and pipe it into each cannolo.
Once filled, we recommend serving the cannoli right away.
If instead, you're making them in advance, keep the tofu cream in the fridge and the shells in an airtight container.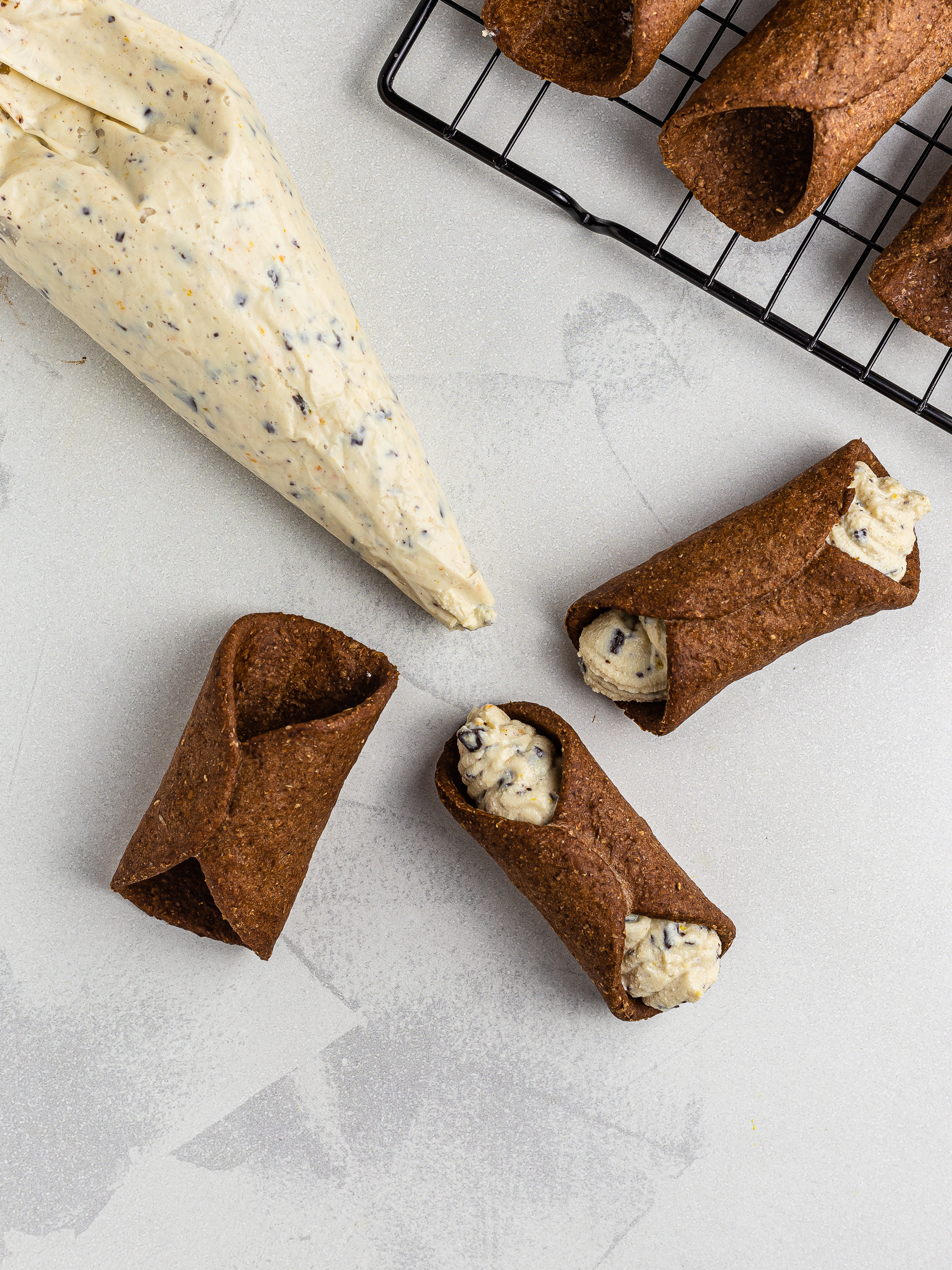 Tips
Instead of orange zest, you can use 2 tsp of orange essence.