This mouthwatering cowboy pie recipe is a hearty dish perfect for a large family dinner or when you have guests over.
Loaded with Mexican-inspired flavours like cumin, paprika, and chillies, this pie is prepared with a rich filling of peppers, beans, tomatoes, and lean mince, then topped with crusty cornbread.
Our cowboy casserole cornbread is not only gluten-free thanks to the combination of cornmeal and rice flour but it's also dairy-free, meaning it has fewer calories and fats than the classic recipe.
Just one serving of this pie has less than 500 kcal and it's high in fibres and vitamin C.
If you love healthy recipes like this, make sure to subscribe to our newsletter and you'll get our newest recipes sent right into your inbox every week, plus our free ebook!
Ingredients
For the Cornbread Topping
Coarse Cornmeal

110 g

Rice Flour

100 g

Baking Powder

2 tsp

Rapeseed Oil

2 tbsp

Salt

1 tsp

Potato Starch

1 tbsp

Ground Flaxseeds

1 tbsp

Oat Milk

200 mL

Lemon Juice

1 tbsp

Unrefined Brown Sugar

1 tbsp

For the Pie Filling
Extra Virgin Olive Oil

1 tbsp

Onion

50 g

Garlic Clove

1

Jalapenos

2

Cumin Seeds

1 tsp

Ground Cumin

1/2 tsp

Chilli Powder

1/2 tsp

Oregano

1 tsp

Thyme

1/2 tsp

Paprika

1 tsp

Bay Leaf

1 tsp

Chopped Tomatoes Tin

400 g

Pinto Beans, Canned

400 g

Yellow Peppers

2

Red Peppers

1

Green Peppers

1

Lean Beef Mince

500 g

Carrots

100 g
Step 1
In a large frying pan, heat the extra virgin olive oil and add finely chopped onions, crushed garlic, and sliced jalapenos. Let them sizzle until soft and fragrant.
Then, stir in all the herbs and spices and cook them for a few minutes.
Add the tinned chopped tomatoes, cooked pinto beans, diced peppers, lean beef mince, and grated carrots.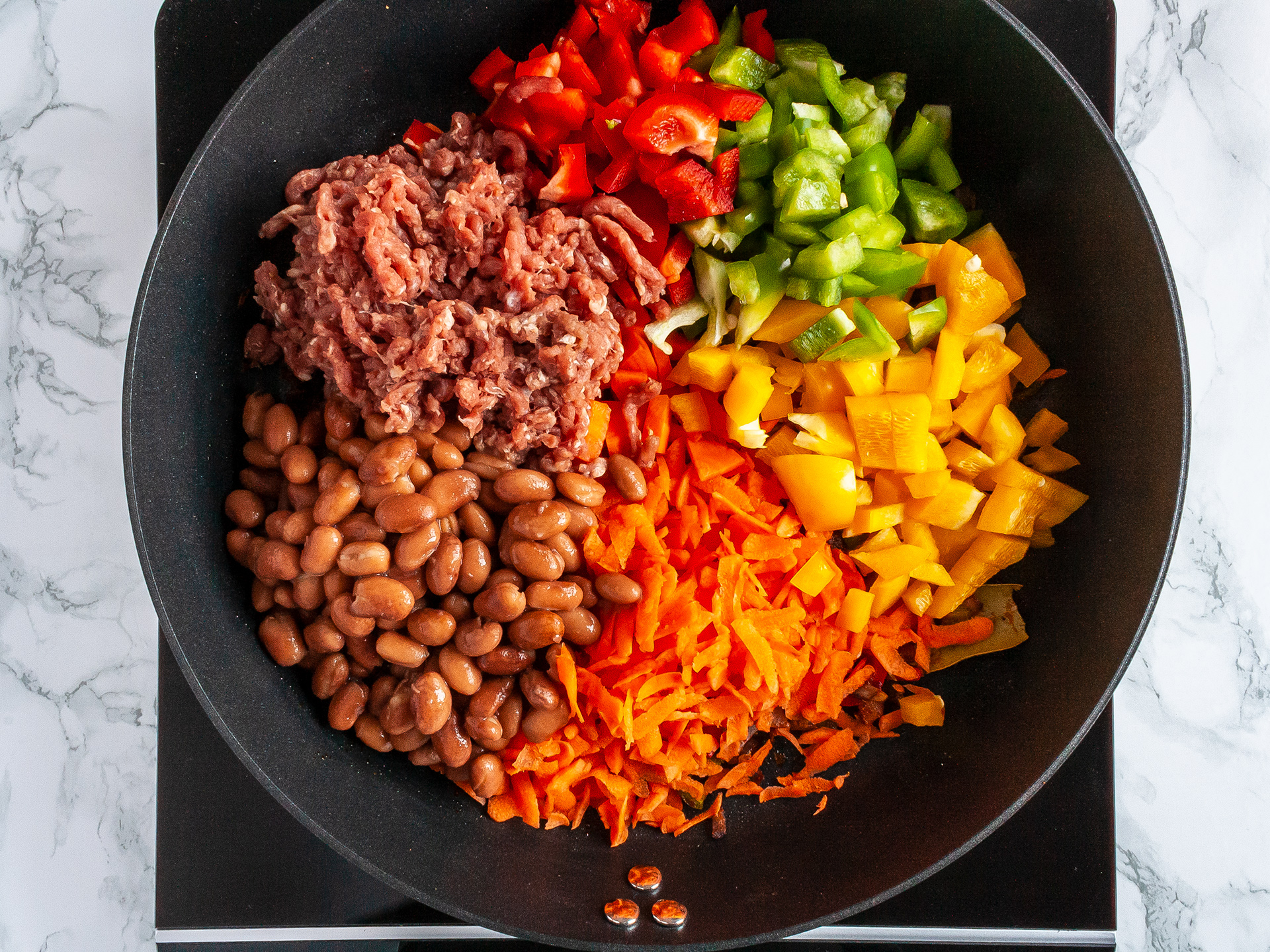 Step 2
Cook the ingredients for the pie filling, covered, for 15 minutes. Then, remove the lid and keep cooking them until the sauce is creamy.
Transfer the chilli beef and beans mixture into an oven-proof dish and spread it evenly.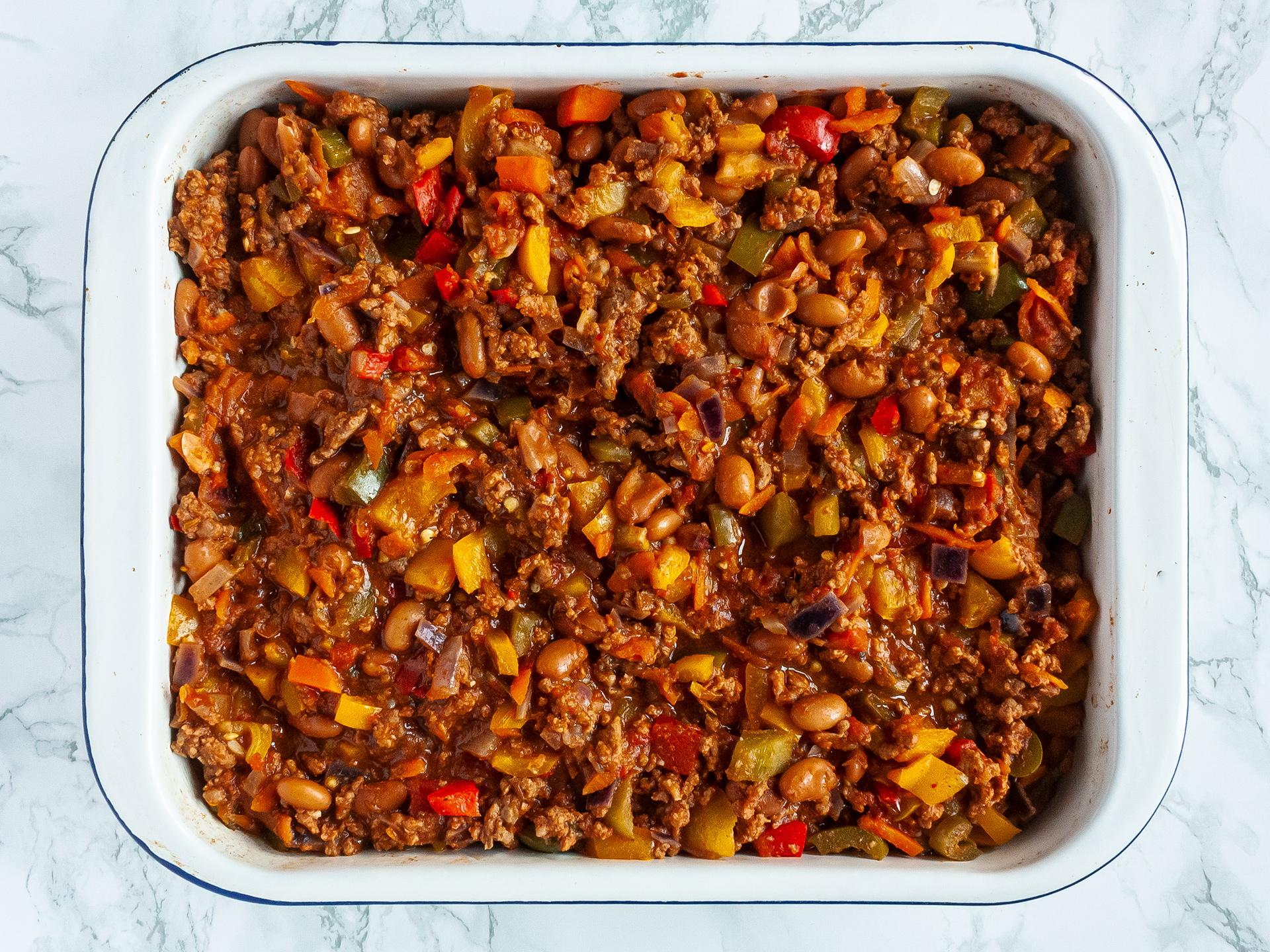 Step 3
Now, prepare the gluten-free cornbread topping by combining coarse cornmeal, rice flour, baking powder, rapeseed oil, brown sugar, salt, and starch in a mixing bowl (1).
Then, add a 'flaxegg' prepared by mixing the flaxseeds with water in ratio 1:3 (1 tbsp of flaxseeds and 3 tbsp of water) and leaving them to thicken in the fridge for 5-10 minutes.
Finally, pour the oat milk mixed with lemon juice in the cornbread batter.
Whisk the ingredients until they are well incorporated and then pour the batter over the pie filling (2).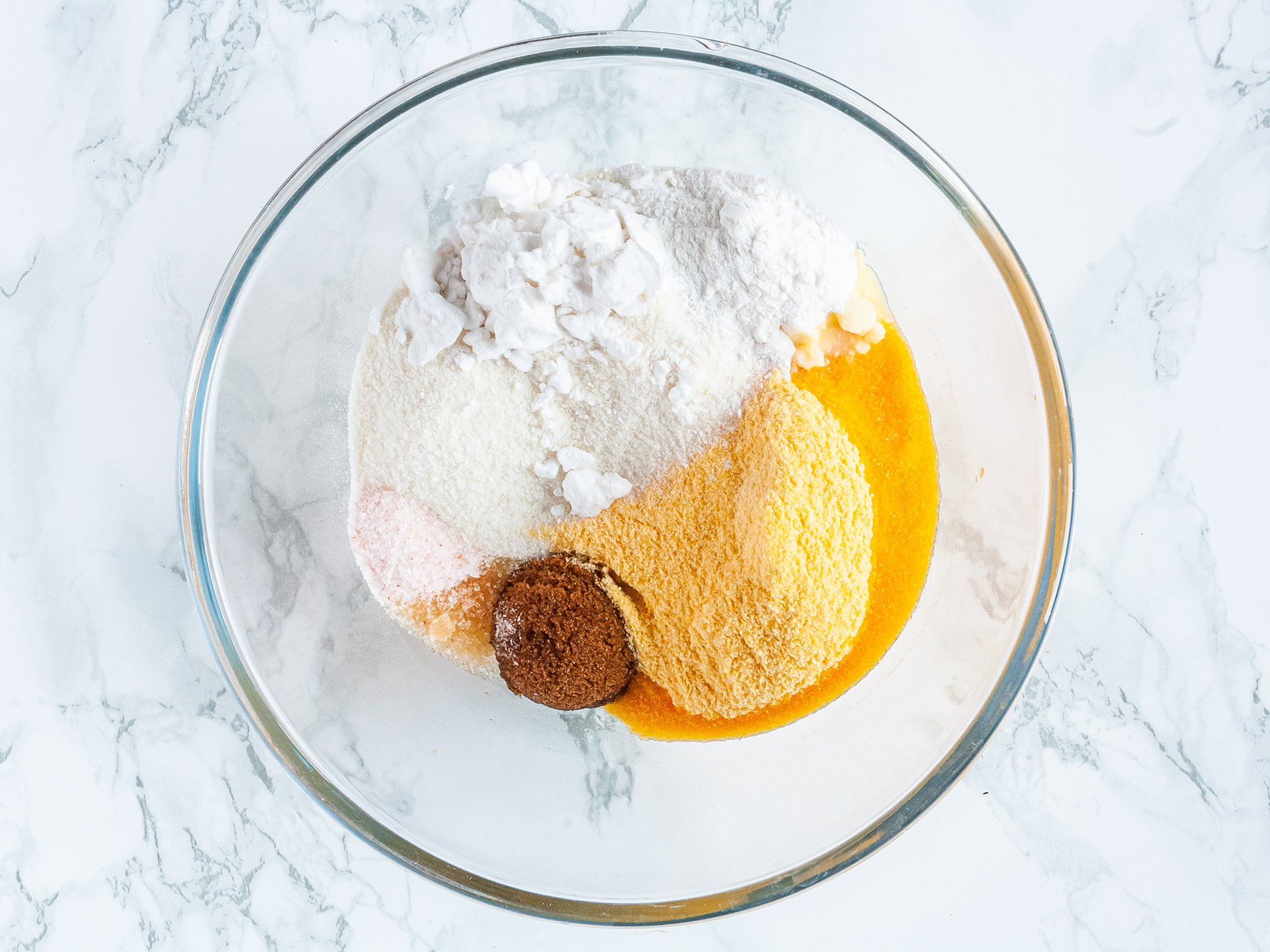 1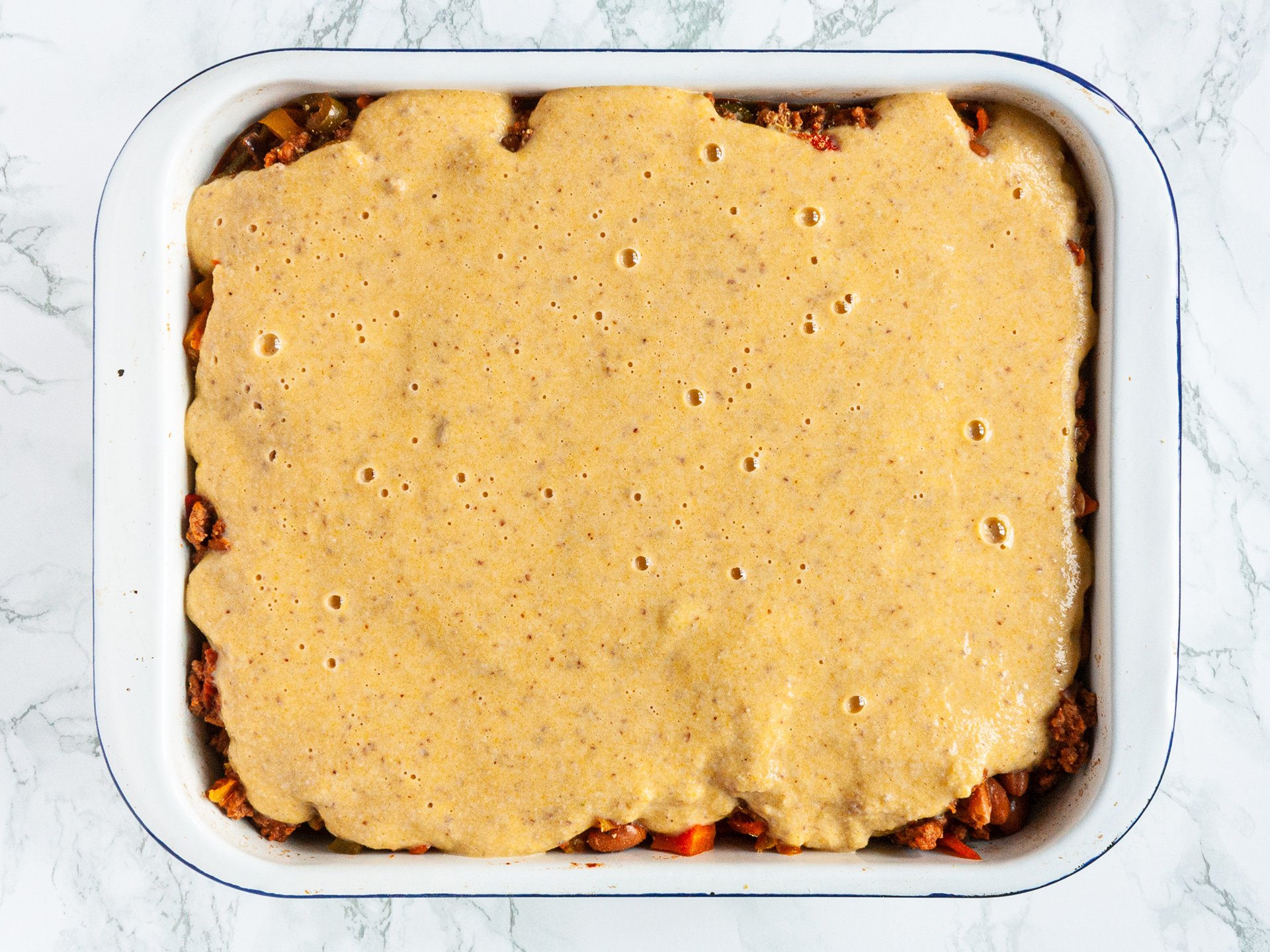 2
Step 4
Bake the cowboy pie for 30 minutes at 200°C (390°F) or 180°C (355°F) for fan ovens. Once the cornbread topping is golden and crusty, the pie is ready.
Allow to cool down for a few minutes before serving.
Sprinkle with sliced jalapenos and fresh chopped coriander and serve with a side salad.
Enjoy your mouthwatering cowboy pie!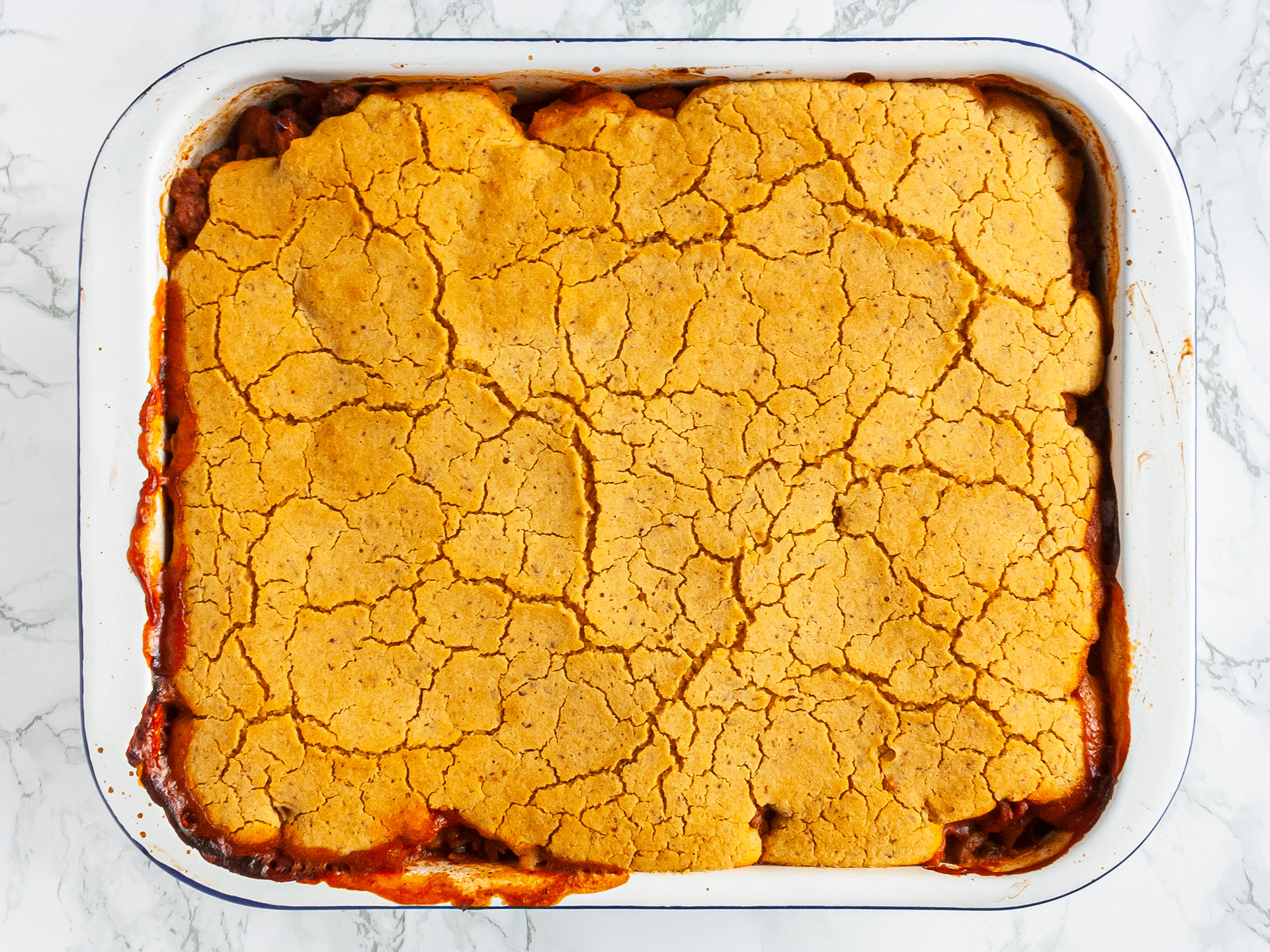 Tips
Store the cowboy pie in an airtight container for up to 3 days or freeze on the same day.

You can make this recipe vegan and lower in saturated fats by swapping beef mince with cooked green lentils or extra pinto beans.

Make sure the pie filling is not too runny and, if needed, you can add some potato starch mixed with cold water to thicken up the sauce.

You can cook the pie filling right into a oven-proof skillet or cast iron pan.