With a moist date cake and a sweet toffee sauce, this gluten-free sticky toffee pudding makes the ultimate decadent dessert. We were inspired by the classic British recipe, but we have made our version healthier and vegan.
The dark sponge cake is prepared with dates, oats, flaxseeds, and almond butter and then soaked with toffee sauce made with vanilla and soy yogurt.
Ground oat is a tasty gluten free replacement to wheat flour, but dates are the real hero here, as they make the pudding sticky and naturally sweet. Our recipes also provides you with 40% of daily fibres, how awesome is that!? You can read more about the nutritional properties of the recipe here.
If you are looking for more healthy and tasty recipes like this one, we can send them right into your inbox every week, all you need to do is to subscribe to our newsletter here, super easy!
Ingredients
| | |
| --- | --- |
| Pitted Dates | 275 g |
| Water | 175 mL |
| Baking Soda | 1 tsp |
| Cocoa Powder | 8 g |
| Almond Butter | 100 g |
| Lemon Juice | 1 tbsp |
| Ground Oats | 60 g |
| Ground Flaxseeds | 40 g |
| Cinnamon | 1/2 tsp |
| Salt | 1 pinch |
| Vanilla Extract | 1/2 tsp |
| Soy Yogurt | 50 g |
Step 1
Place 250 g of dates in a bowl and pour boiling water over them.
Add baking soda and cocoa and stir well.
Allow to soak for 10 minutes or until the dates are soft and can be easily mashed with a fork.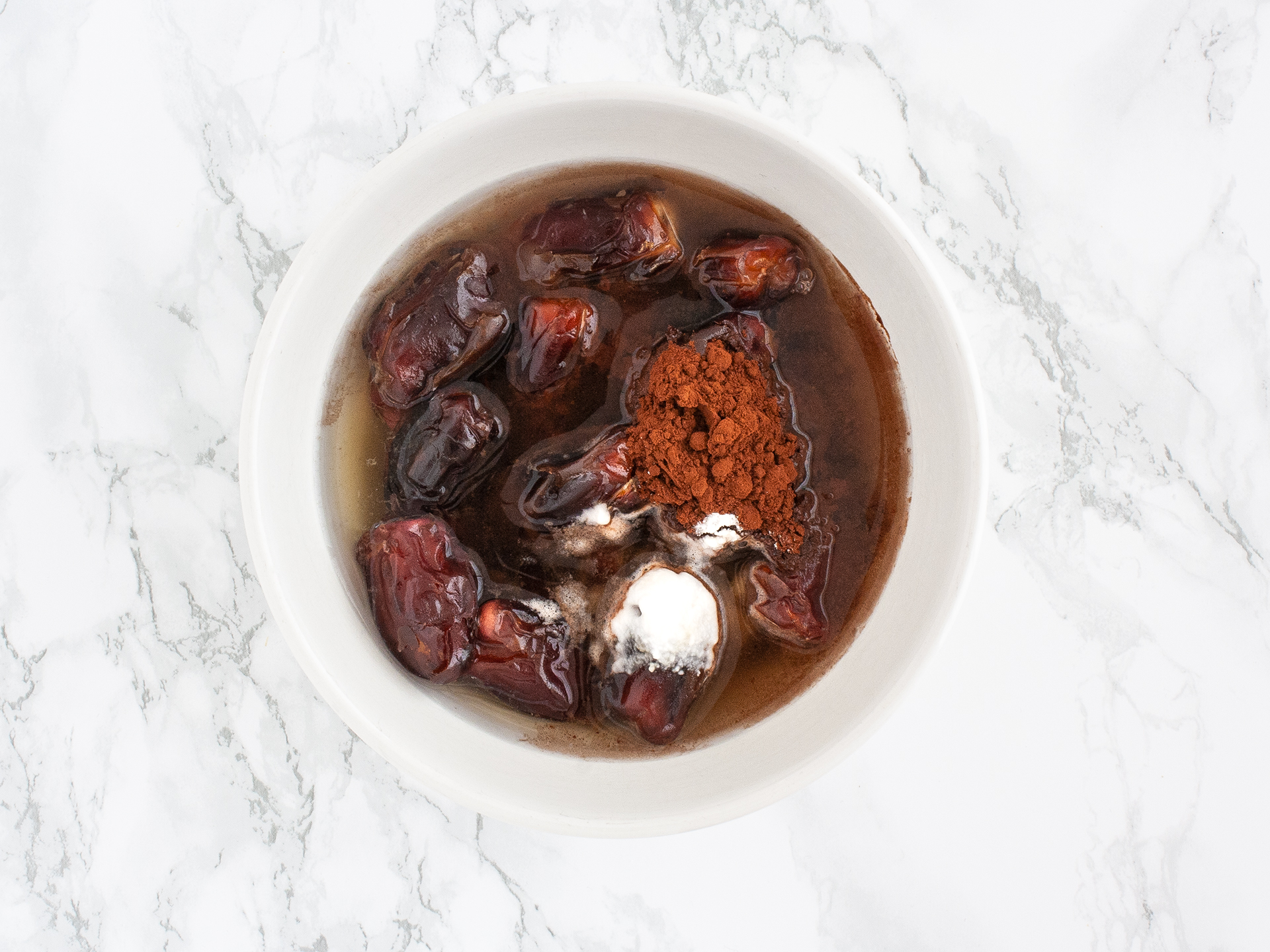 Step 2
Blitz the date mix in a blender until you have a smooth and soft paste.
Then, combine it with almond butter and lemon juice.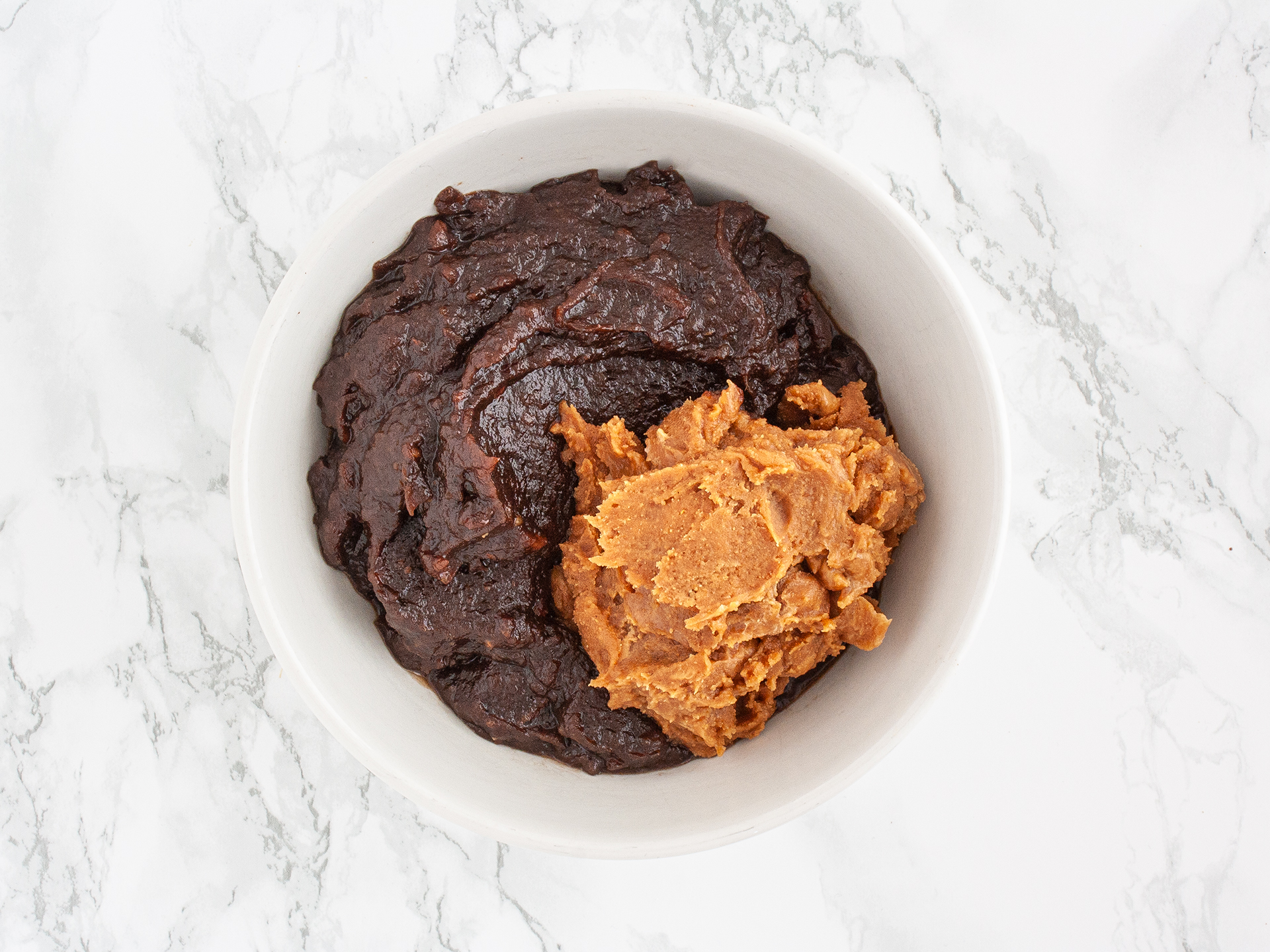 Step 3
In a clean bowl, mix ground oats, flaxseeds, and cinnamon.
Then, fold in the dates paste a bit at a time and stir until well incorporated.
The toffee pudding batter should be quite moist, so add a splash of water or plant milk if needed.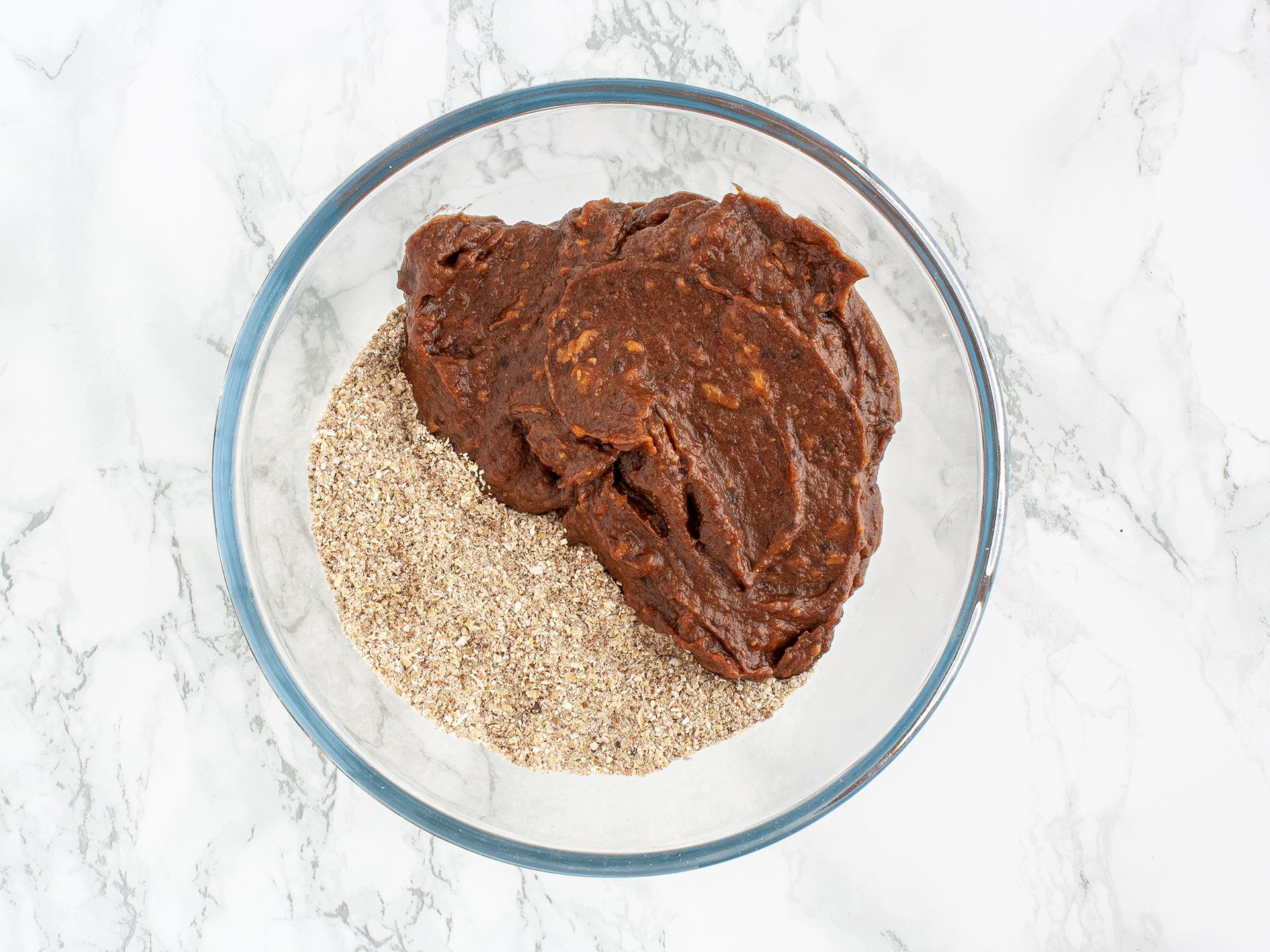 Step 4
Pour the batter into 8 cm (3 inches) single-serving pudding moulds filling them almost to the edge.
Bake for 30 minutes at 175°C (350°F) or at 155°C (310°F) for fan ovens.
Allow to cool down before removing the puddings from the cases.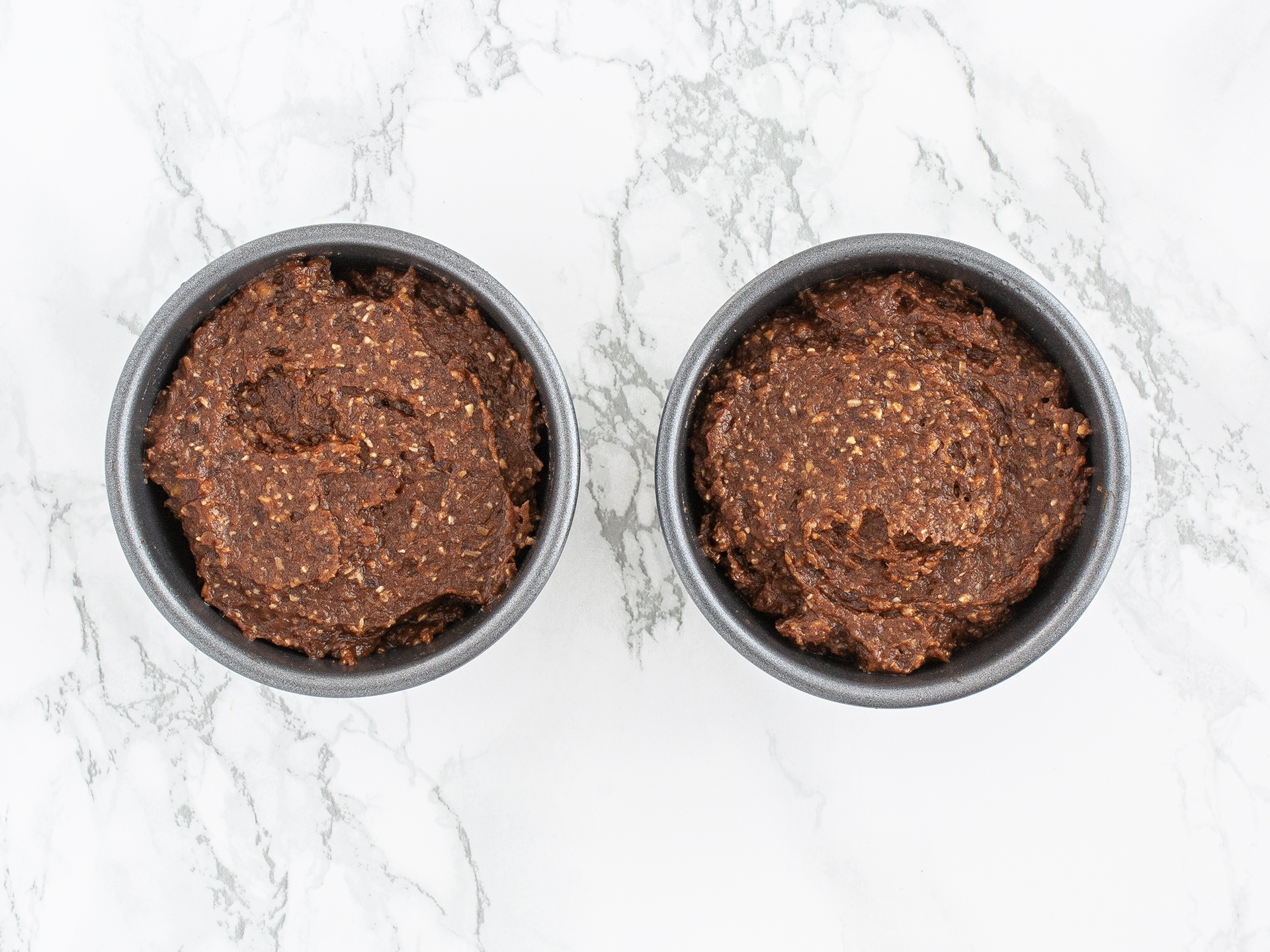 Step 5
Using a cake cutting wire or a knife, remove the crown from each pudding and turn upside down.
Prepare the toffee sauce by blending the remaining ​25 g of dates with salt, vanilla, and soy yogurt until smooth and creamy.
Before serving, pour the sauce over the puddings and sprinkle them with chopped pistachios.
Enjoy your vegan and gluten-free sticky toffee pudding!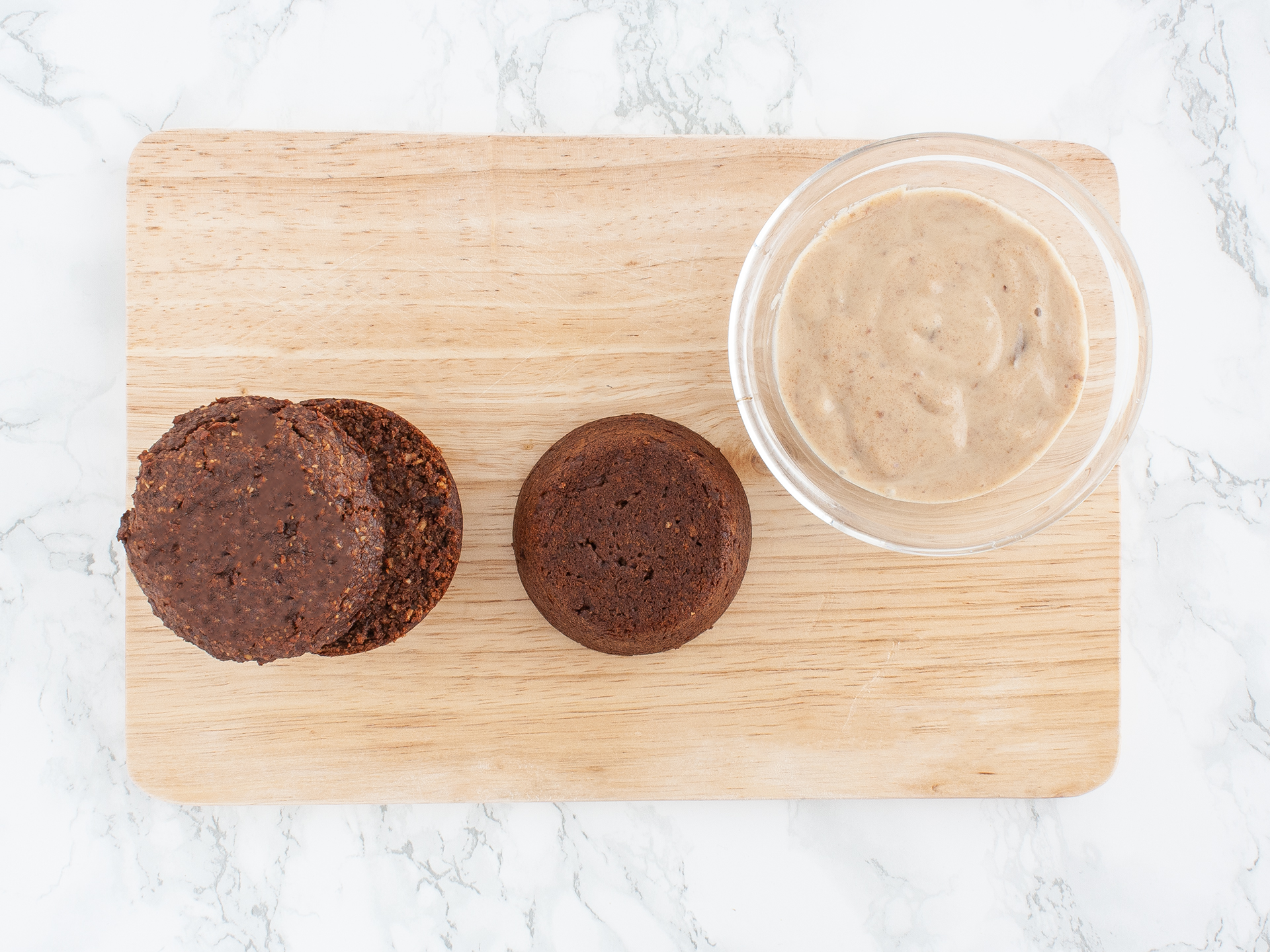 Tips
Instead of soaking the dates in hot water and cocoa, you can use hot brewed coffee.

If your dates are dry make sure you soak them before preparing the toffee sauce.

If you don't have flaxseeds, you can use oats in the same quantity.

You can replace 100g of nut butter with 75ml vegetable oil.

You can store these gluten-free puddings in the fridge in an airtight container for up to 3 days or freeze on the same day.