This vegan avocado weight loss smoothie is a simple and healthy recipe perfect to enjoy on the go when you don't have time to eat breakfast at home.
A weight loss smoothie recipe should remove added sugars and unhealthy fats and provide lots of fibres to help keep your gut healthy and curb hunger.
Our smoothie does all of this!
Most smoothies recipes include banana as a thickener, but here we have replaced it with low-carb chia seeds and avocado.
Other tasty alternatives to bananas for weight loss smoothies include yogurt and flaxseeds — see how we used them in this low-carb kale smoothie recipe.
In this green avocado smoothie, we also used raw wheat bran for extra fibre and low-calorie spinach for vitamins and minerals.
Just one glass of this beauty provides you with almost 80% of your daily fibre intake and packs so many other benefits you wouldn't believe!
In fact, each ingredient bursts with nutrients and health-promoting properties. Let's look at a few:
Avocado and almond butter are a source of unsaturated fatty acids, fibres, and antioxidants.

Wheat bran is a concentrate of fibres which improve your gut health and help to lower bad cholesterol.

Baobab is a true superfood with more iron than red meat and more vitamin C than orange.

Chia seeds provide lots of calcium, iron, fibres and omega-3.
If you want to learn more about how to make a balanced and healthy smoothie and which ingredients you should use, make sure to read this article.
Ingredients
| | |
| --- | --- |
| Spinach | 80 g |
| White Grapes | 90 g |
| Avocado | 1 |
| Pear | 1 |
| Chia Seeds | 1 tsp |
| Baobab Powder | 1/2 tsp |
| Wheat Bran | 2 tbsp |
| Almond Butter | 1 tbsp |
| Fresh Mint Leaves | to taste |
| Water | 200 mL |
Step 1
Let's start by preparing the fruit. Peel and cut the pear, then pit and slice the avocado.
In the food processor bowl, place fresh spinach leaves, seedless grapes, and the fruit.
To prevent the avocado and pear from browning, you can dip them in lemon juice before adding them to the other ingredients.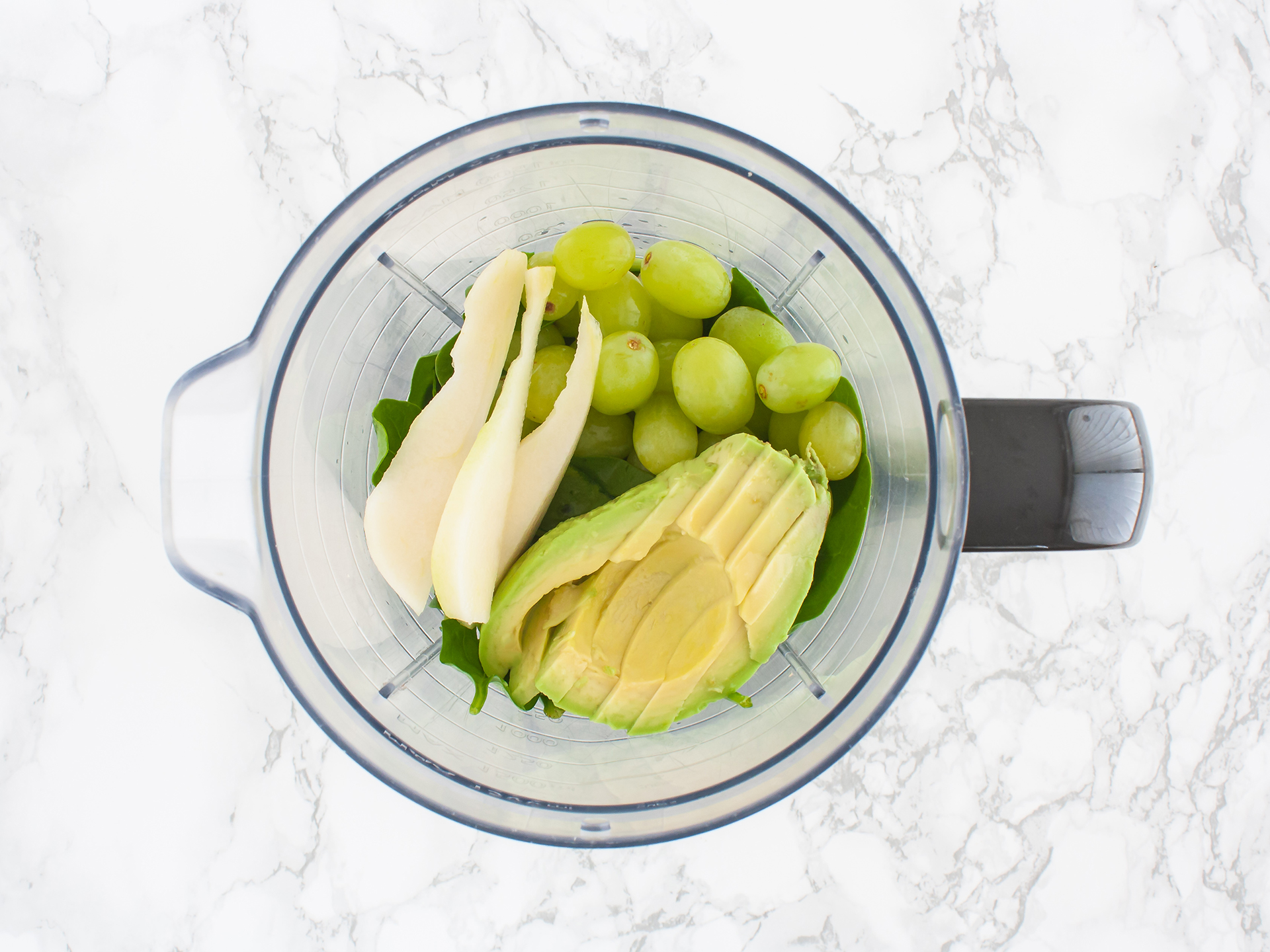 Step 2
Next, add the chia seeds, baobab powder, wheat bran, and fresh mint leaves.
As we mentioned in the intro above, chia seeds are really magic. Their omega-3 fatty acids are an amazing helping hand to your body. They help your system increase the "good cholesterol" (known as HDL) that helps fighting the bad cholesterol and protects against heart attacks and strokes[1]. If you have never had them before, we are happy that you found this recipe and that you will have a chance to try them!
[Optional] If you want to add some healthy fats and proteins for a breakfast smoothie, you can add almond butter.
Then, pour in the water to help the ingredients blend.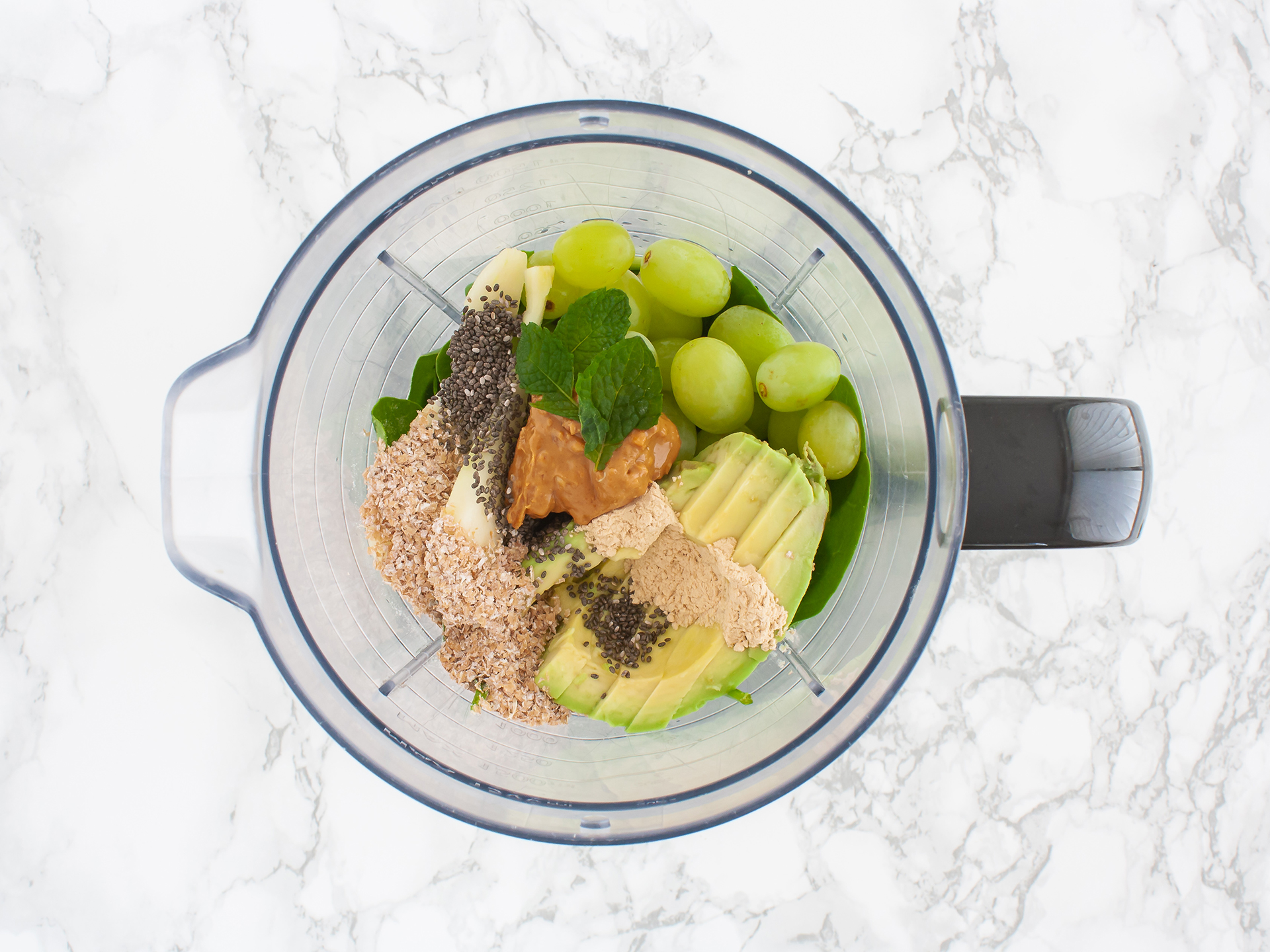 Step 3
Blitz the ingredients until you have a smooth and creamy mix.
Enjoy this delicious green smoothie right away or keep it in the fridge for up to three days.
Tips
You can replace plain water with electrolyte-rich coconut water or with plant-based milk for extra texture and flavour, click here for more inspiration.

You can swap baobab powder with spirulina or with protein powder for extra superfood benefits.
Watch on Youtube