If you were looking for a simple and effective way to turn that lonely hake fillet in your fridge into a tasty and joyous meal, then you are in the right place!
With a few quick steps, we will show you how to make a delicious oven-baked hake fillet crusted in herbs and spices
Crusted you say? Don't you mean battered, or breaded?
Well, no, awesome you. The beauty of this dish is that it requires no butter, milk, eggs or frying oils. Just lay a mixture of breadcrumbs, herbs, and spices on top of the fillet and bake it in the oven.
You'll get a sharp contrast between the grainy texture of the crust and the tenderness of the hake. This will enhance the delicate fish flavour rather than masking it under layers of batter and frying oils.
Our spicy topping also makes the recipe suitable to those beautiful, yet unlucky souls* that are allergic to eggs! A win-win for everyone.
So without further ado, let's get cooking!
If you enjoyed this yummy recipe, please rate it at the end of the page.
*to folks with allergies: you have not been forgotten! If you need help finding allergen-free meals, check out our smart-search (totally free) and say goodbye to the stress of finding suitable recipes!
Frequently Asked Questions
What to serve with oven-baked fish?

The delicate taste of fish makes it a suitable pair for many side dishes.

Here are a few ideas of tasty food that you can serve with our oven-baked hake:

Roasted potatoes: the classic fish and chips, without any frying.

A roasted vegetable mix of sweet potatoes, carrots, and plain potatoes.

Rocket and lettuce salad with a lemon and thyme vinaigrette.

Brown rice or wild rice.

Bulgur wheat or cuscus.

Steamed greens, like spinach or pak choi, served with a garlic sauce.
How to make the breadcrumb coating gluten-free?

If you want to make a gluten-free breadcrumbs coating for this recipe, you'll have to get rid of the wheat. You can do this, and still get a tasty and crunchy finish, by using a mix of nuts and seeds.

We show you how to make gluten-free "breadcrumbs" with nuts and seeds in the FAQ section of our gluten-free arancini recipe. You can follow the tips there and then use the mixture for this recipe.
Can I use frozen fish?

You can certainly use frozen hake or cod in this recipe. We suggest you let it thaw first, and get rid of all released liquids. Then, you can follow the recipe above as is, as all instructions stay the same.
Ingredients
| | |
| --- | --- |
| Extra Virgin Olive Oil | 2 tbsp |
| Salt | to taste |
| Black Pepper | 1/2 tsp |
| Hake | 200 g |
| Breadcrumbs | 30 g |
| Paprika | 1 tsp |
| Oregano | 1 tsp |
| Cayenne Pepper | 1/2 tsp |
| Garlic Powder | 1 tsp |
| Chilli Flakes | 1 tsp |
| Thyme | 1 tsp |
| Fennel Seeds (optional) | 1/2 tsp |
Step 1
Drizzle a roasting tin with 1 tbsp of extra virgin olive oil and add salt and black pepper.
Lay the fresh hake fillets on the prepared tray and rub them with the seasoning on both sides.
Then, arrange them so that the skin-side is facing down.
If you're using frozen fish, check out our FAQ below for extra tips.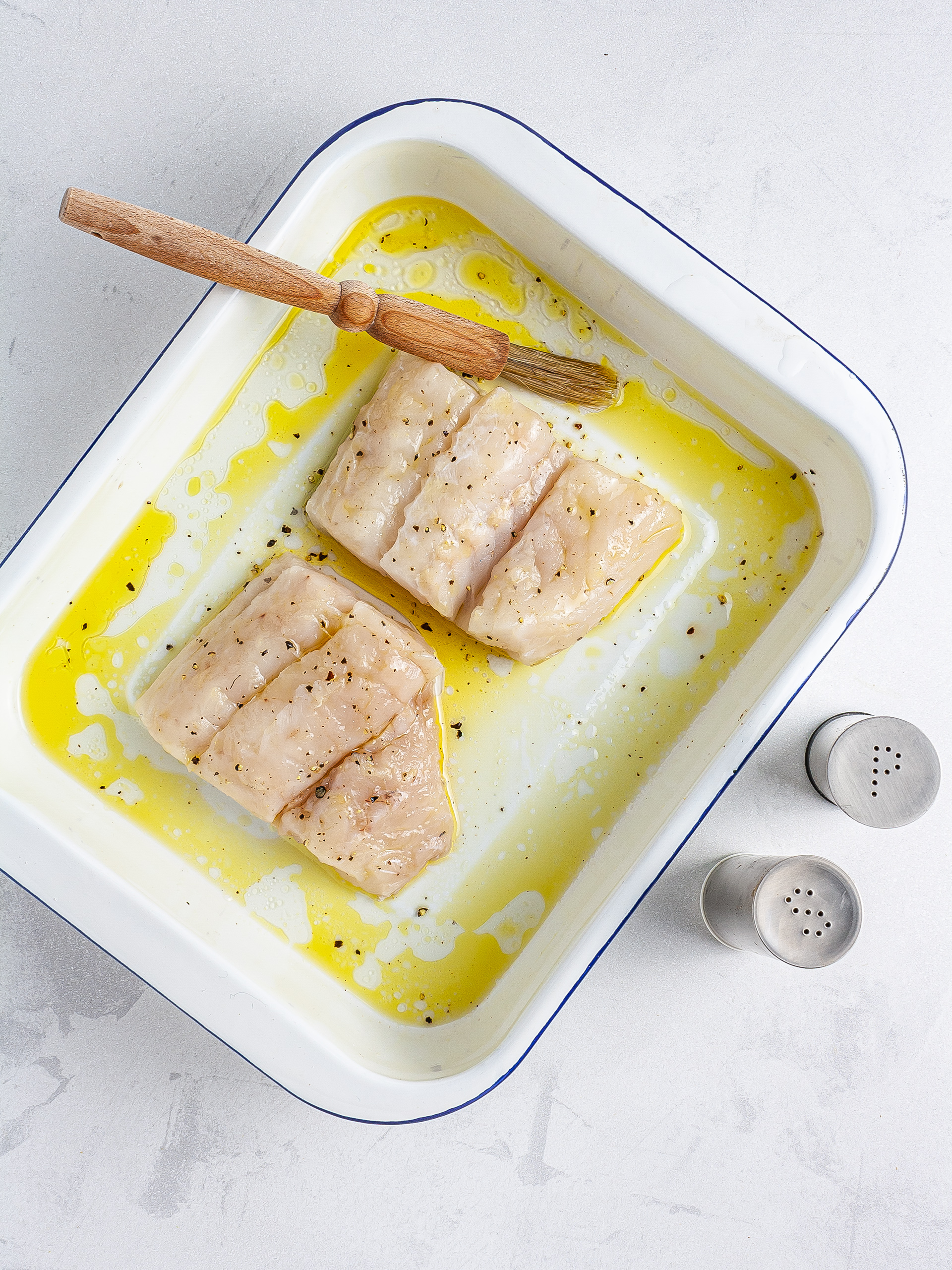 Step 2
In a bowl, combine the breadcrumbs with paprika, oregano, cayenne pepper, garlic powder, chillies, and thyme. Also, add the fennel seeds if you're using them.
Keep in mind that this seasoning will be quite spicy. So, if you prefer a more toned-down level of spiciness, halve the amount of cayenne pepper and chilli flakes.
Give the coating ingredients a good stir to distribute the spices evenly.
Then, pour in the remaining 1 tbsp of olive oil and mix well.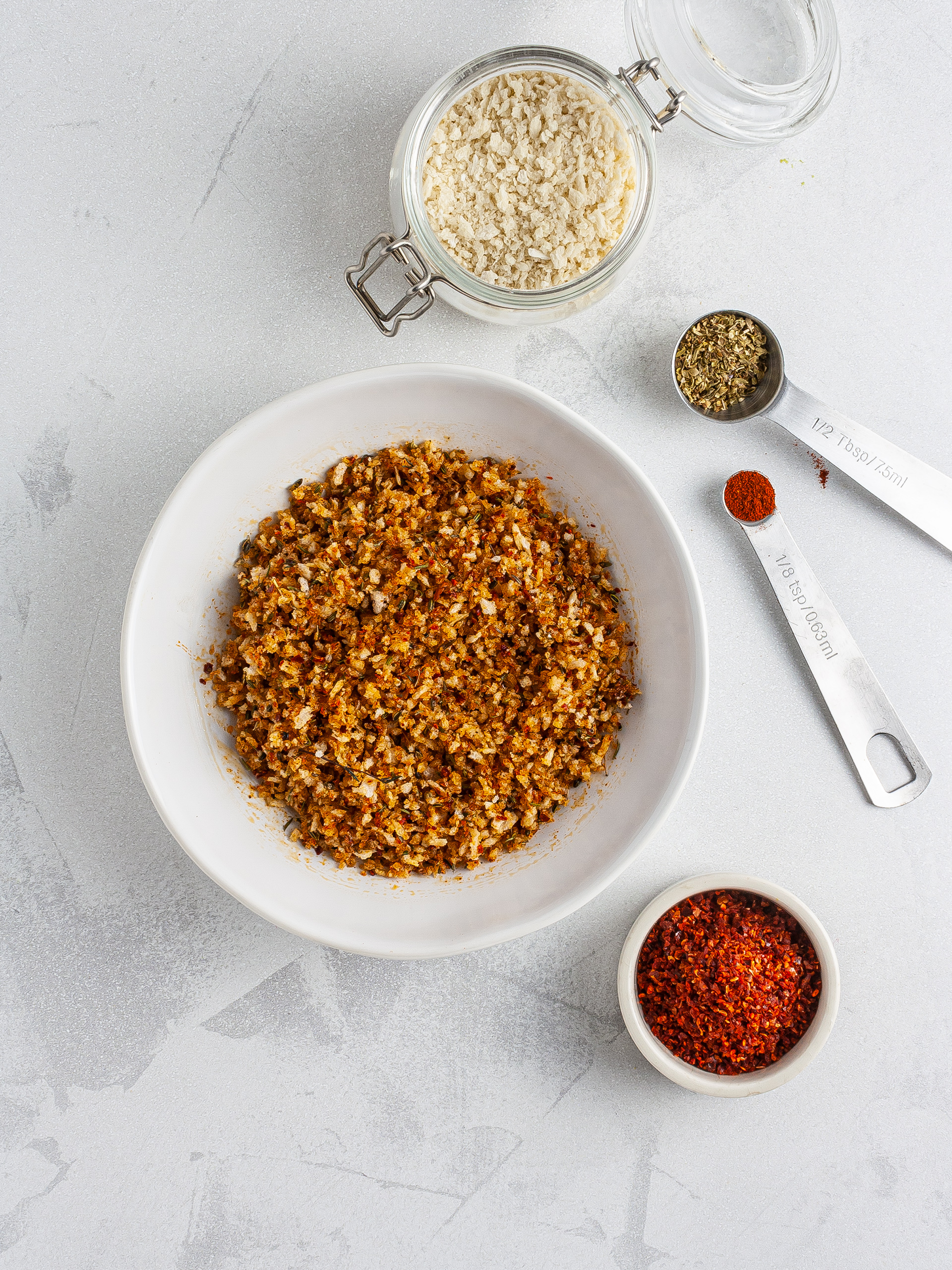 Step 3
Now, coat the prepared hake fillets with the breadcrumb mixture smearing it with the back of a spoon or a spatula (1).
Cover the fish completely and pat the breading with your fingertips to ensure it sticks to the hake's top.
Bake the breaded fish in the pre-heated oven set to grill mode at 190°C (374°F) for 15 minutes.
When the fish is cooked through but still tender and the breadcrumbs are golden brown, remove the tin from the oven (2).
Drizzle with lemon juice and garnish with fresh chopped parsley.
Check our FAQ below for tasty ideas on what to serve with this crusted hake.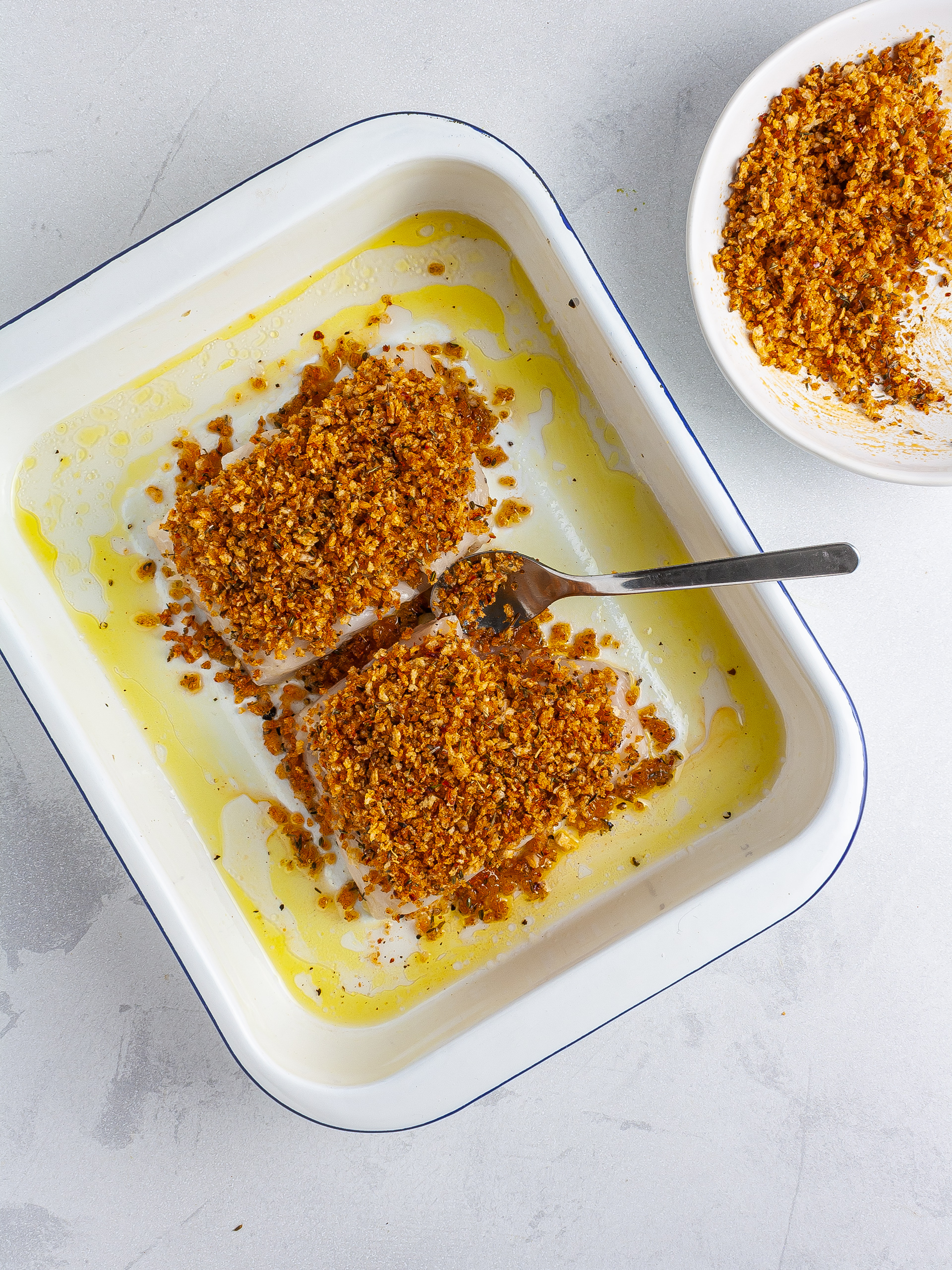 1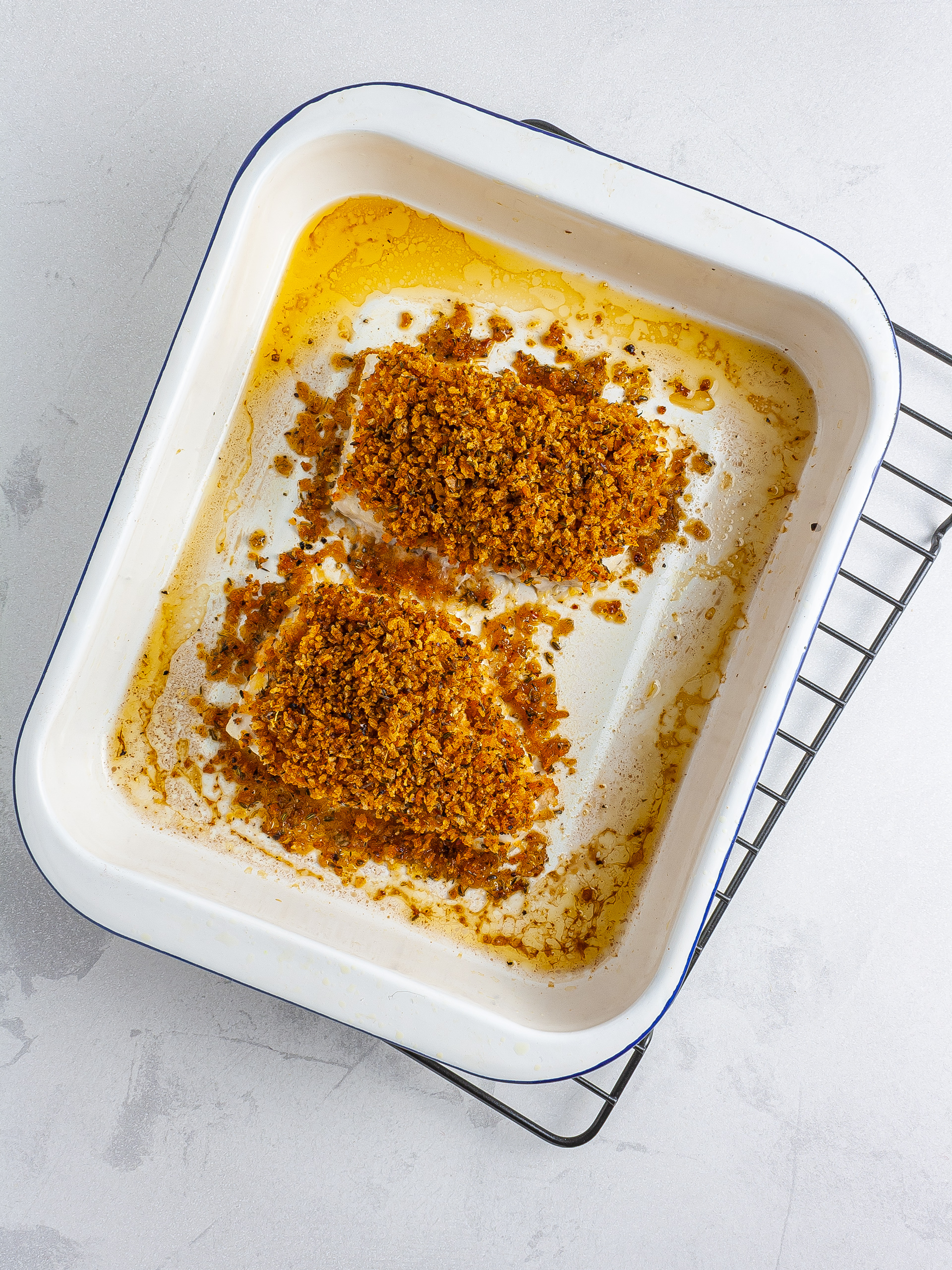 2
Tips
Use panko breadcrumbs to get a super-crispy crust.