We are super excited to share this vegan asparagus arancini recipe with you, as both Marta and I grew up gorging on these crispy croquettes in our early years in Italy.
Building on our knowledge of the classic recipe and its many variations, we bring you a fun alternative with asparagus that is both tasty and vegan. For health's sake, we ditched dairy and other high-fat ingredients and turned to oven-baking instead of frying.
Compared to the classic recipe, our asparagus croquettes have four times fewer saturated fats and double the amount the fibres.
Arancini are a street-food delicacy from Sicily. Simply put, an arancina is a fried rice croquette shaped into either a ball or a cone, filled with all sort of ingredients. If you have ever been on a trip to the southern regions of Italy, you probably had a chance to try these godsend treats at their utmost perfection.
Just like pizza, arancini enable us to choose whichever ingredient we fancy as filling. So there are hundreds of different types that have evolved from the original rice ball with a heart of ragù sauce.
For this recipe, we have combined the freshness of asparagus and lemon with the sweetness of cashew nuts. The result is a unique creamy filling that bursts with flavour.
Enough said? Let's go then! Follow our easy recipe steps below and enjoy crispy asparagus risotto balls in no time.
Frequently Asked Questions
Are all arancini vegan?

Just like for pizza, there are tens of different flavours of arancini. The classic Sicilian rice croquette is not vegan, as it contains bolognese sauce made with beef and pork. Many other well-known arancini also contain either meat or dairy.

But who's to say we can't turn this tasty snack vegan? We did it with our asparagus arancini recipe above, and so did many other chefs and bloggers.

Let us give you some inspiration for more vegan arancini fillings:

Tomato sauce and aubergines - you can find our recipe here.

Courgette and chickpeas.

Black beans and mashed avocado.

The message here is simple: there are no rules when it comes to crafting the perfect vegan rice ball. It's all up to you. Do you have a favourite vegetable? Stick it in there!
How to make gluten-free arancini?

You can easily make gluten-free arancini balls just by changing the coating ingredients. The filling is made only with rice, which is naturally gluten-free.

The croquettes coating consists of a flour batter and breadcrumbs.

We have used plain breadcrumbs, so our recipe above is not gluten-free. But this is easy to fix. To make gluten-free arancini, you can:

Use store-bought gluten-free breadcrumbs.

Make breadcrumbs at home using gluten-free bread.

Making breadcrumbs for arancini at home is easier than you think.

Start with your choice of gluten-free bread. Most bakers here use a combination of rice flour, buckwheat flour or maize flour.

Break the bread into tiny crumbs using your hands, and crisp them in the oven at low temperature. As soon as the bread bits turn light-golden, remove from the heat.

Wait for the crumbs to cool down completely and incorporate them with some parmesan and a pinch of salt. If you are vegan, you can replace parmesan with nutritional yeast. The ratio of parmesan to breadcrumbs should be 10 grams of cheese for every 100 grams of crumbs.

Now put the mix in the blender and pulse a few times. Be gentle here: you don't want to blitz the breadcrumbs into a flour.

For the batter instead, you can easily replace the wheat flour with:

A gluten-free flour of your choice

Buckwheat flour, oat flour, or almond flour are all great choices.

Ground flaxseeds

These fantastic seeds absorb water and form a thick gel-like mix. They're also packed with omega-3 and fibres. It's a win-win!

Finally, follow our recipe above and use your homemade breadcrumbs. Et Voila! You made gluten-free arancini.
Should I bake or fry these asparagus rice balls?

Classic arancini are fried, but if you are after a healthier meal, then baking is the answer.

We opted to bake our asparagus arancini so that we could cut on excess frying oil fats. The result? Wonderful rice croquettes with a crispy crust and steamy heart of rice and asparagus cream. And only 6g of fats per rice ball, a fraction of the deep-fried counterparts.

But if today is your cheat-day and you want to treat yourself to some fried rice balls, we won't stand in your way! Just let us give you a few tips below on how to fry arancini effectively.

The best way to fry arancini is by deep-frying. Doing this guarantees that the entire surface gets crisped equally. Achieving the same homogeneous result in a skillet would be hard, due to the spheric shape of these croquettes.

Once cooked, let them cool down for a minute on a tray. Air must flow all around the arancini for a flawlessly crisp finish.

Finish by gently patting the fried arancini with a paper napkin to remove excess oil and serve hot.
Which is the best rice to make arancini?

The best rice to make arancini balls is the Italian risotto rice, which is also known as arborio, carnaroli, or vialone nano varieties. This type of rice is a short-grain rice, rich in starch, that packs perfectly into a ball.

It's important to cook and cool the rice according to the classic recipe to get the best results.

If you feel like experimenting with other ingredients, we then we recommend these risotto rice alternatives:

Black rice

Brown rice

Sushi rice

Pearled barley

If you are using these variations, we recommend you add a binder to the rice. For example, you could add one egg or grated parmesan. If you're vegan, then a 'flax egg' (1 tbsp of ground flaxseeds whisked in 3 tbsp of water) or potato starch are both excellent alternatives.
Ingredients
For the Asparagus Filling
Garlic Clove

1

Asparagus

120 g

Lemon Zest

1/2 tsp

Cashew Nuts

40 g

For the Coating
White Flour

70 g

Water

100 mL

Breadcrumbs

120 g

Black Sesame Seeds

15 g

Garlic Powder

1/2 tsp

Dried Parsley

1 tsp

For the Rice
Extra Virgin Olive Oil

3 tbsp

Brown Onion

50 g

Arborio Rice

300 g

Vegetable Stock

600 mL

Turmeric

1/2 tsp
Step 1
In a large pan, heat 1 tbsp of olive oil, add finely chopped onions and sizzle until soft.
Then, add the arborio rice and turmeric, and stir it for a few minutes.
In the meantime, bring the vegetable stock to the boil. Pour a ladle of broth in the pan with the rice and stir well.
Allow each ladleful to become absorbed before adding the next and continue to do so until the rice is cooked through. It should take about 15 minutes.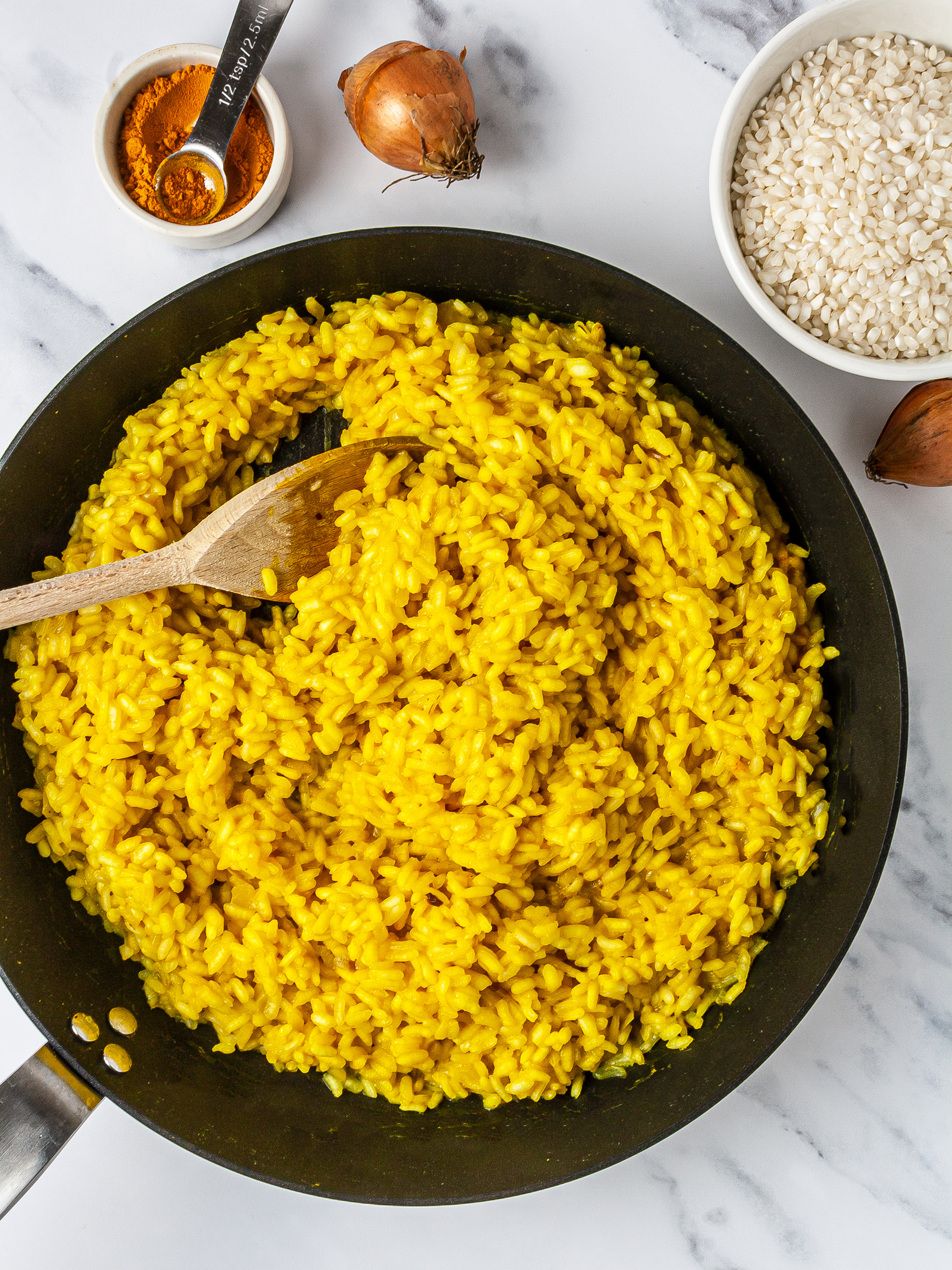 Step 2
Season the arancini risotto with salt and pepper according to taste. The rice should be creamy, not runny otherwise you won't be able to pack it into balls.
Remove the pan from the heat and spread the rice flat over a baking dish. Cover it with cling film and place it in the fridge while you prepare the filling.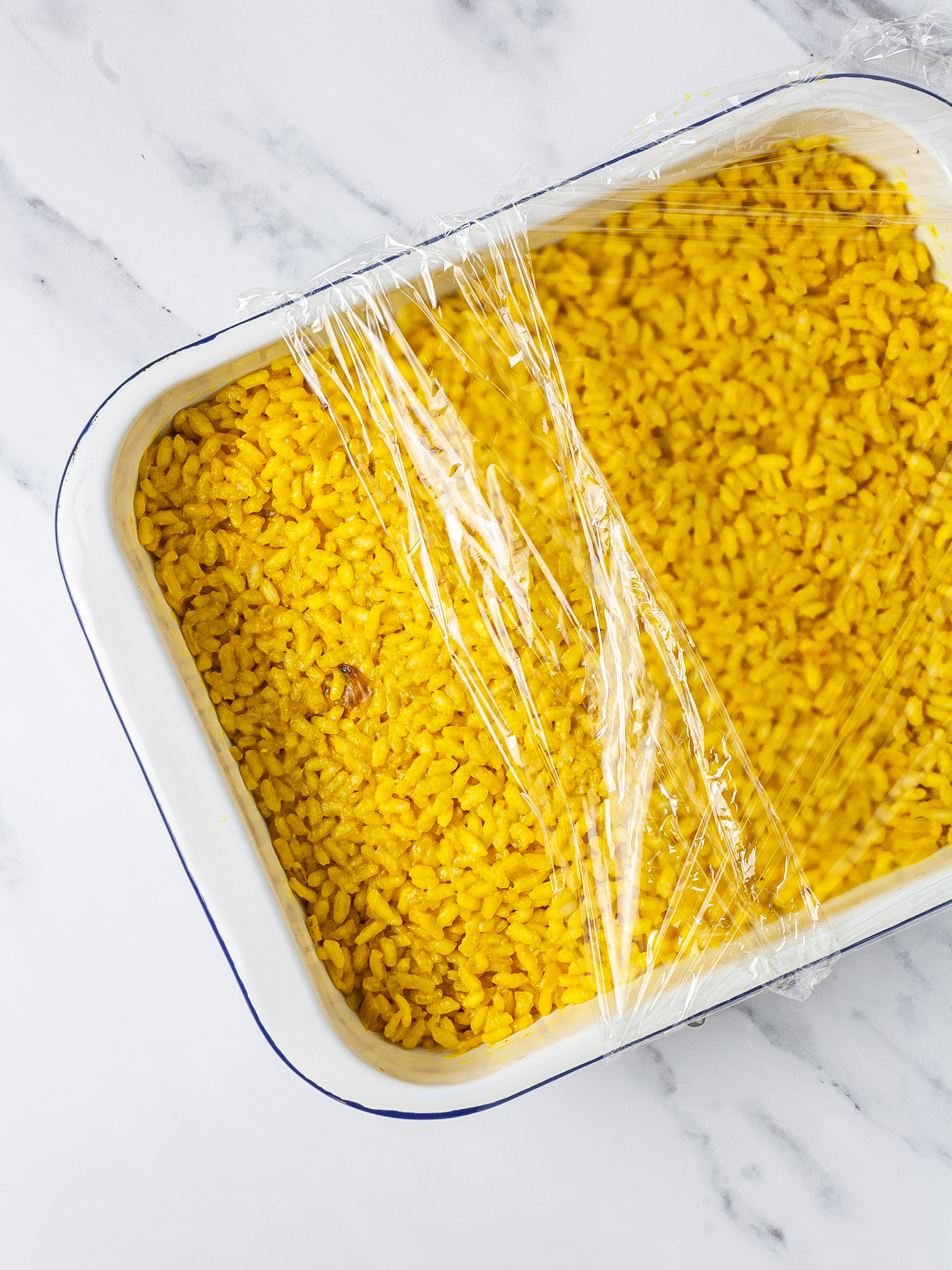 Step 3
Soak the cashew nuts in cold water. They will blend into a fantastic cream once they soften.
Sizzle 1 tbsp of olive oil with crushed garlic until fragrant. Then, add sliced asparagus and cook for 10 minutes (1).
Remove the pan from the heat and blitz half of the asparagus with the soaked and drained cashew nuts, lemon zest, and remaining 1 tbsp of olive oil (2).
You should have a smooth and creamy paste. Add a splash of water if it's too thick.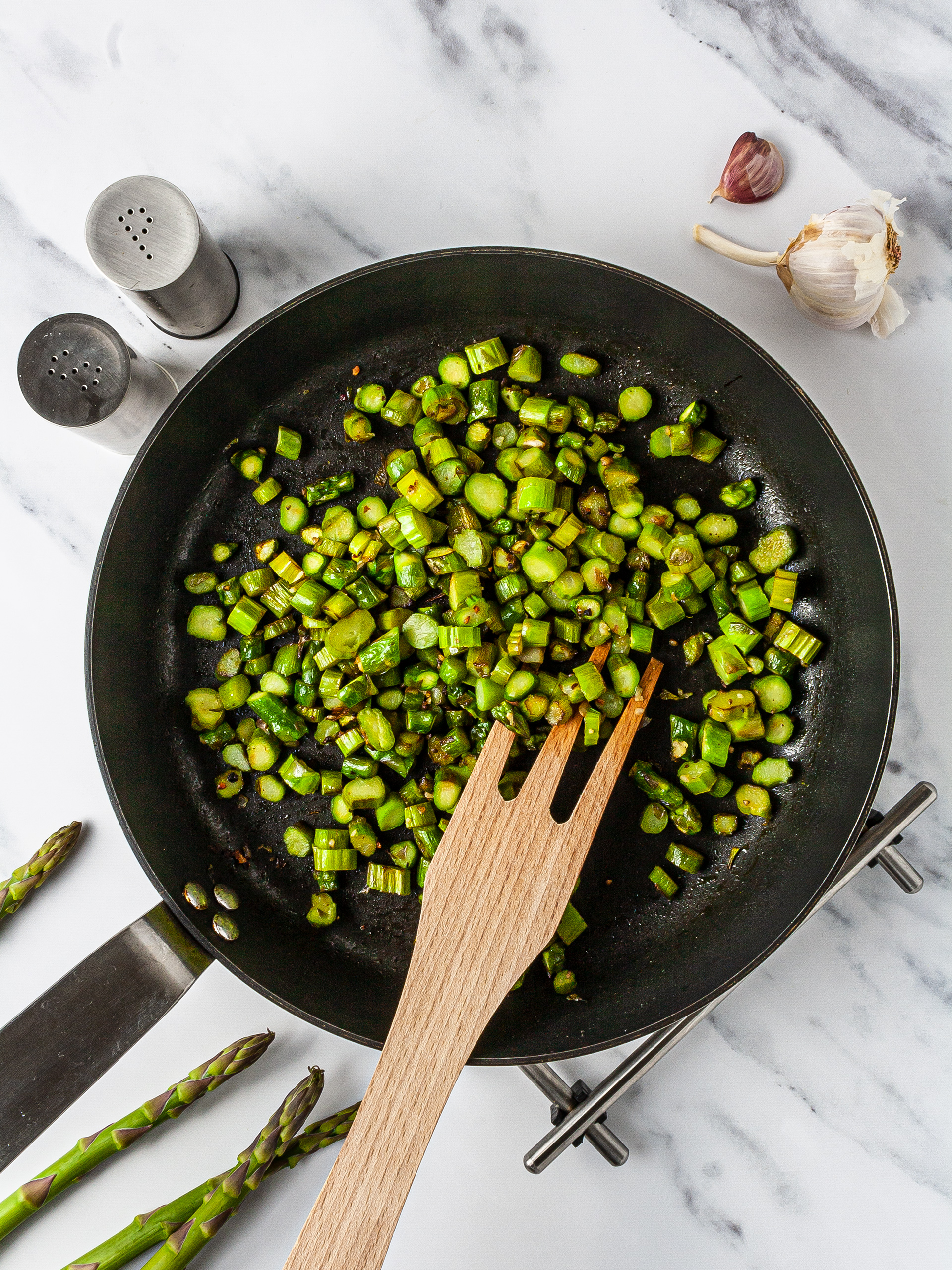 1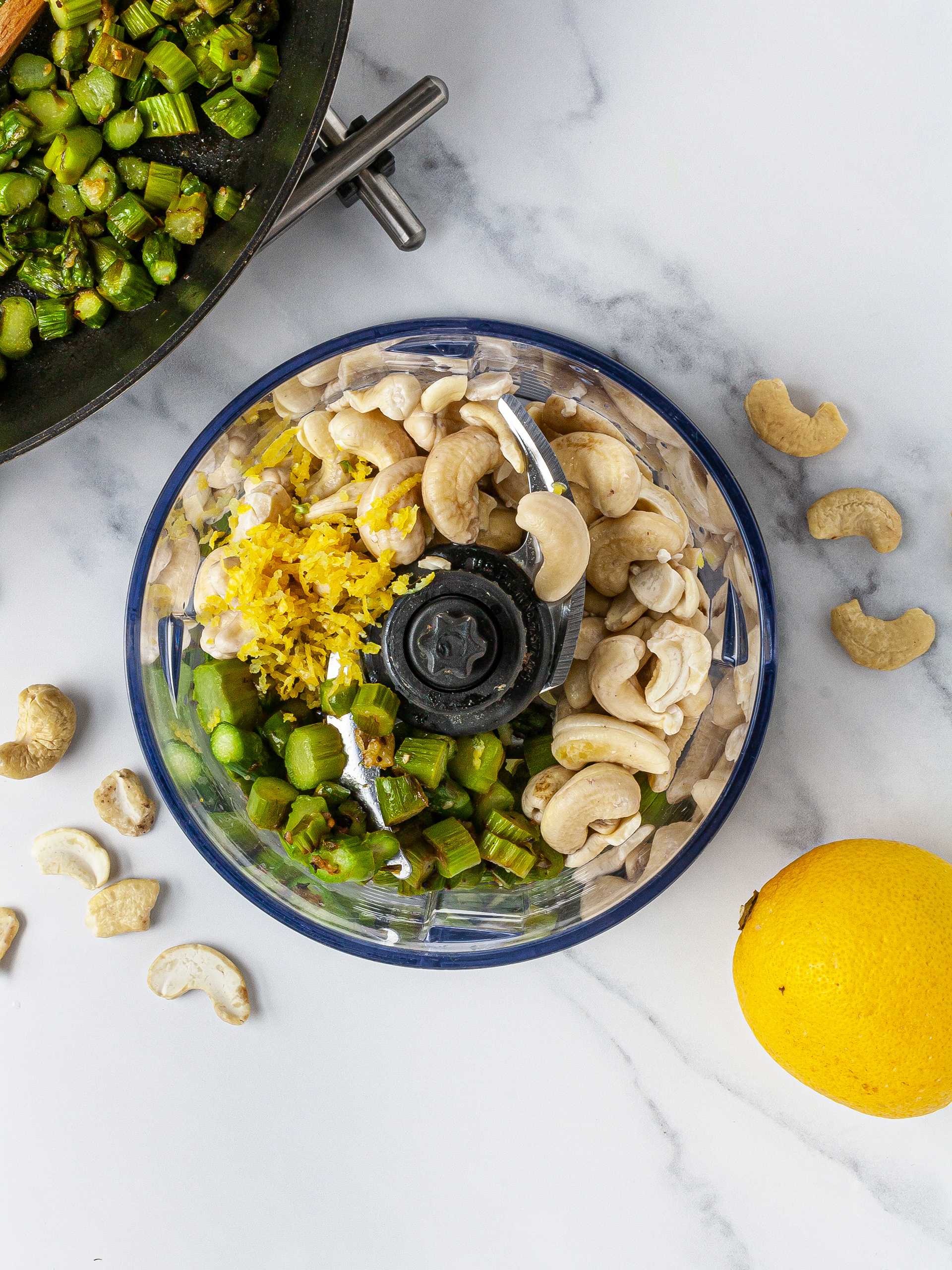 2
Step 4
To make one rice ball, scoop a portion of the rice into your hand and place one teaspoon of cashew cream in the centre. Then, add a few cooked asparagus chips and seal the croquette by wrapping the rice around the filling (1).
Whisk the flour with water to make a smooth batter in a bowl. In another bowl, mix breadcrumbs with black sesame seeds, garlic powder, and dried parsley.
Dip each rice ball in the batter and then roll it into the coating mix (2).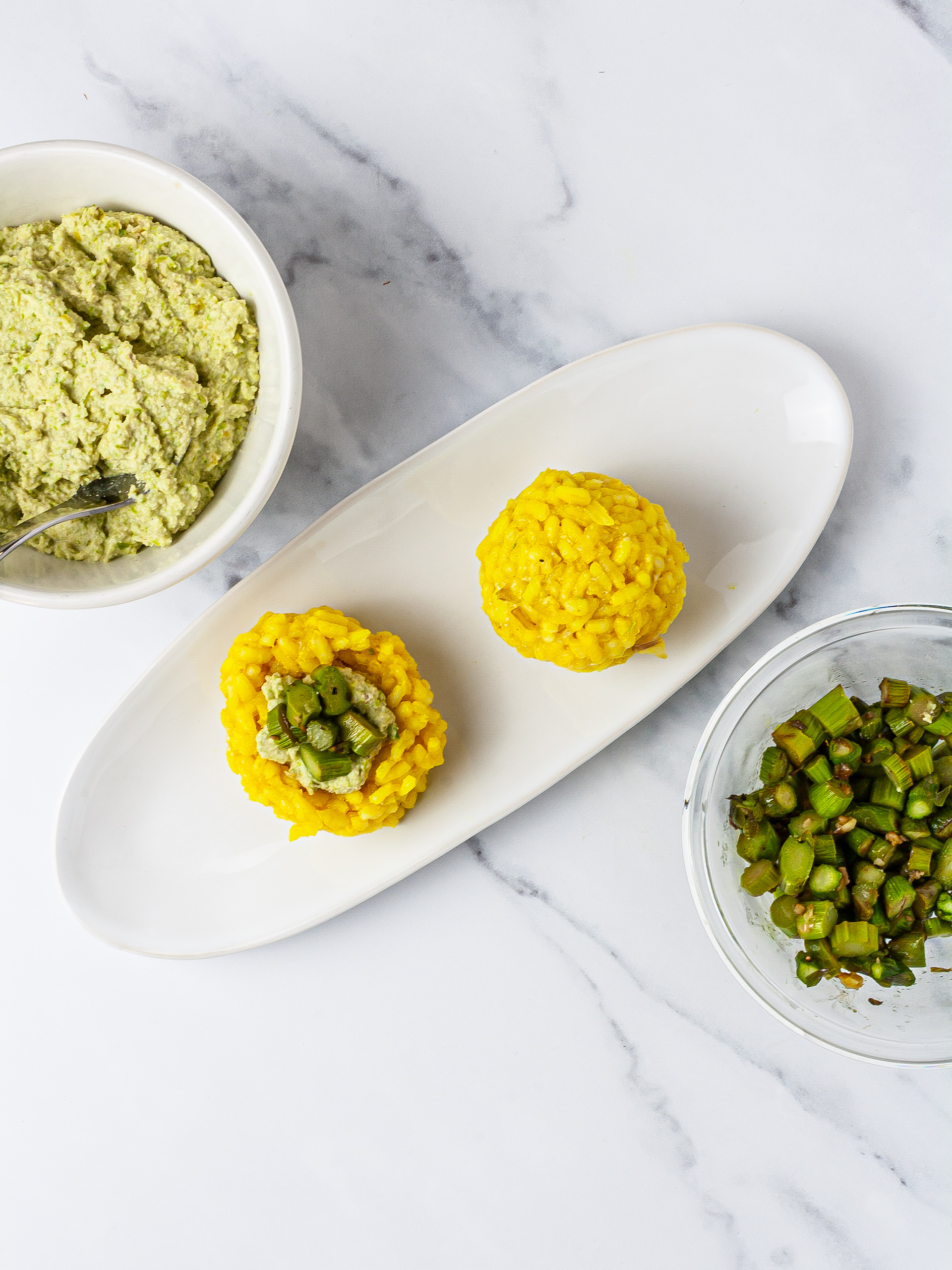 1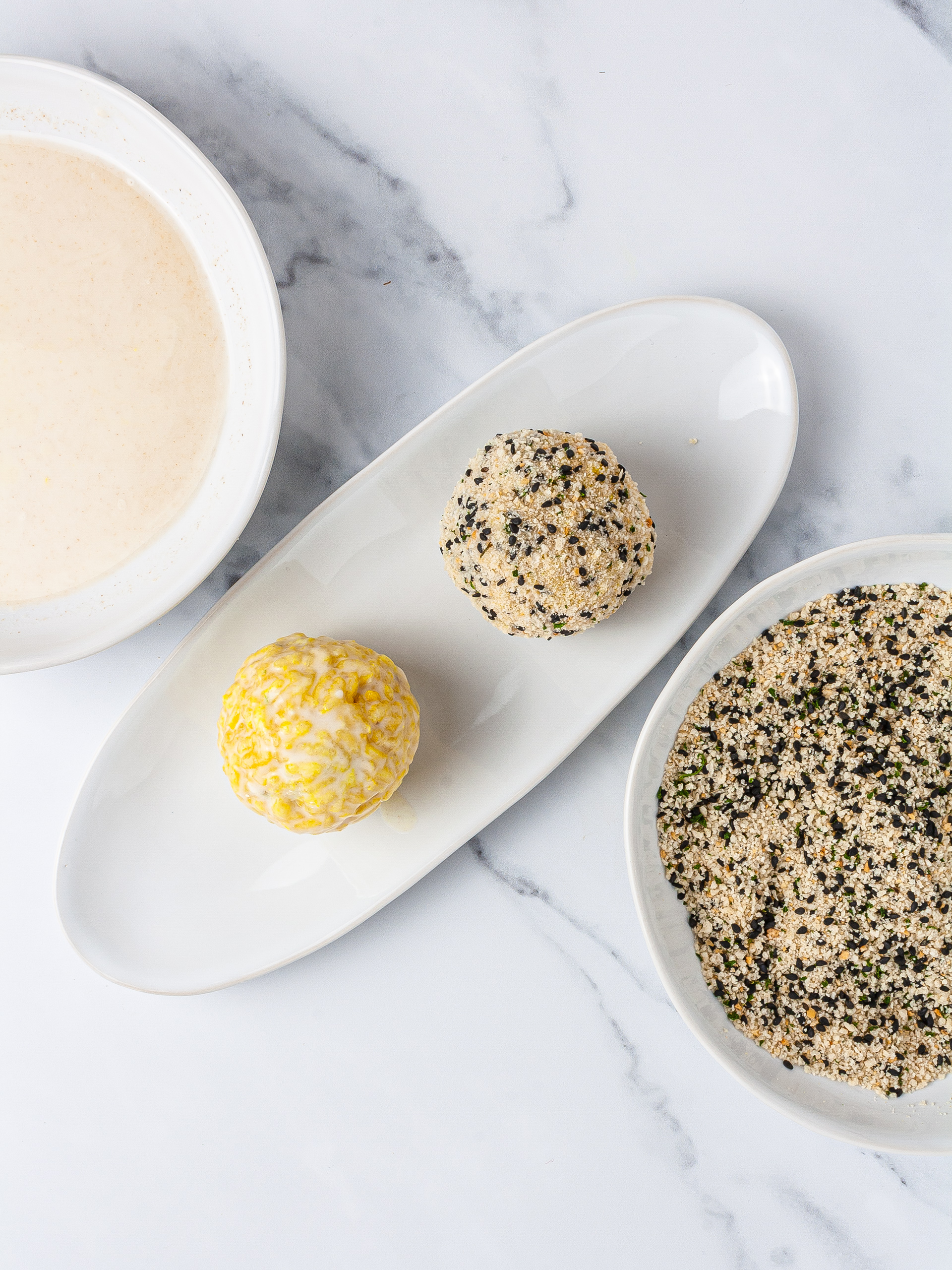 2
Step 5
Place the prepared risotto balls over a baking tray lined with parchment paper. Cook them in the oven for 30 minutes at 180°C (355°F) or 160°C (320°F) for fan ovens. They should be crispy outside.
In an alternative, you can bake these asparagus croquettes in an air-fryer at high heat for 15 minutes. We love using the air-fryer as they'll get evenly crunchy in half the time!
Remove from the oven and allow to cool down a few minutes over a wire rack.
You can enjoy these vegan baked asparagus arancini both warm or cold.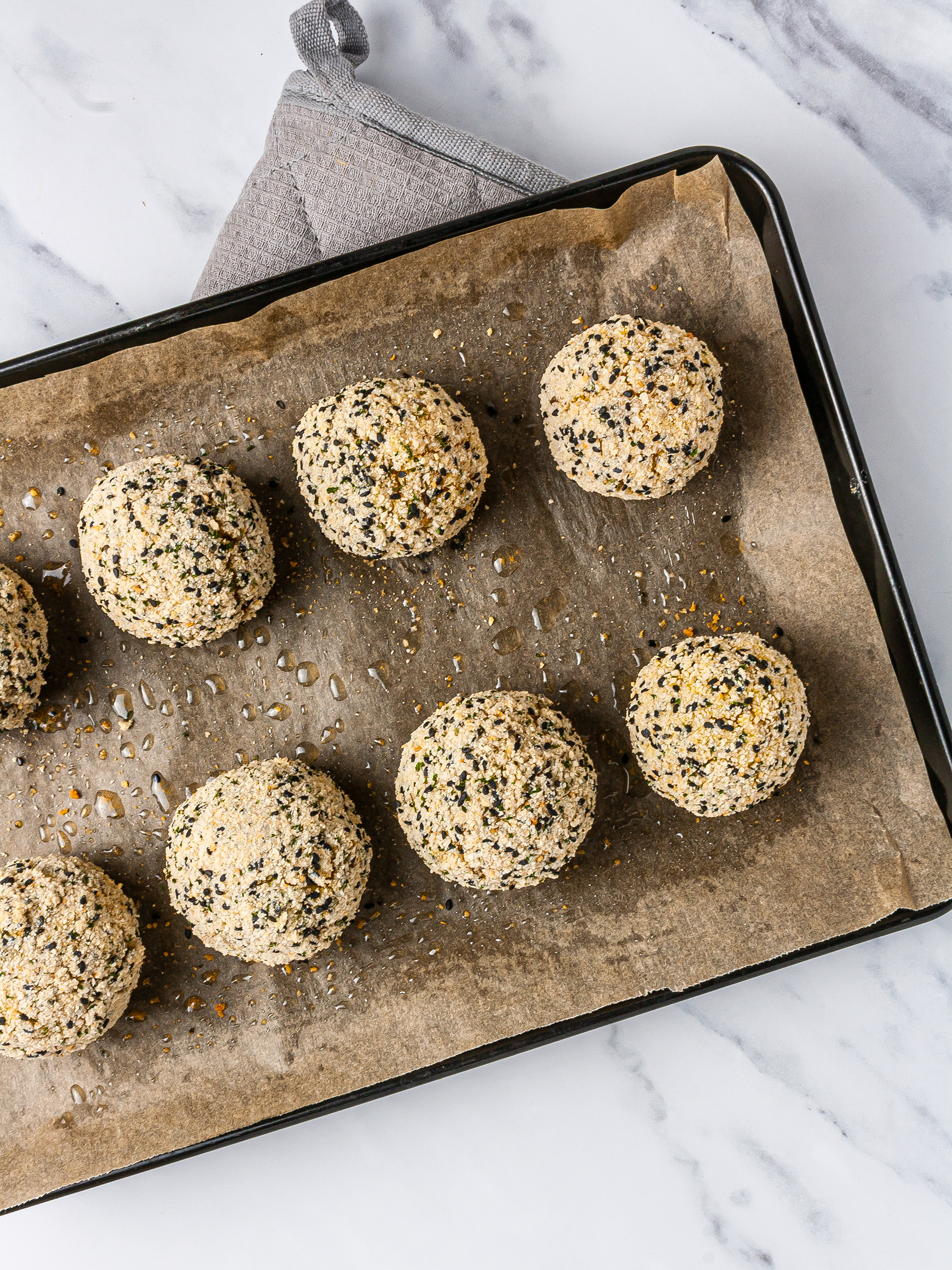 Tips
To make sure the arancini will hold together, both the cooked rice and the filling must be cold before you shape the croquettes balls.

For a boost of B vitamin, add a spoonful of nutritional yeast to the cashew and asparagus cream filling.