This spicy harissa pasta salad is a delicious quick-fix meal that will leave you happy and satisfied, perfect for a mid-week dinner. You'll need a bunch of summer vegetables, a jar of harissa paste and an empty stomach!
A bowl of this yummy pasta packs all the wonderful Mediterranean flavours of aubergines, cherry tomatoes, parsley, lemon, and harissa paste. All you have to do is roast the veggies with extra virgin olive oil, toss them with cooked pasta and harissa, and you're done! Simple, right?
If you've never tried harissa before, you'll instantly fall in love with its smoky and spicy taste. This hot sauce is made with roasted chilli peppers, garlic, and a combo of spices, including cumin and paprika. It's a staple ingredient in Middle Eastern and North African cuisines, used for marinades, dipping sauces, and stews.
In this recipe, we used harissa paste the same way you would use pesto in a pasta salad. We diluted it with a splash of pasta cooking water and mixed it with lemon zest, juice, and aromatic parsley. With zero effort, you'll have a delicious pasta sauce, sure to become your new favourite.
What we love about this pasta recipe is that it tastes great both hot and cold, meaning you can pack any leftovers for your next day lunch-box. You can also prepare it ahead for special occasions like an outdoor lunch or buffet dinner.
A bowl of this nutritious pasta packs two of your 5-a-day for fruit and vegetables, plus plant-based proteins from chickpeas. It comes in just 480 calories, and yet it covers over half of your RDI for fibres and 40% RDI for proteins. Awesome!
Ingredients
| | |
| --- | --- |
| Aubergines | 240 g |
| Extra Virgin Olive Oil | 2 tbsp |
| Cherry Tomatoes | 240 g |
| Wholemeal Pasta (Fusilli or Penne) | 300 g |
| Lemon | 1/2 |
| Dried Parsley | 1 tbsp |
| Harissa Paste | 4 tbsp |
| Canned Chickpeas (drained weight) | 400 g |
Step 1
Dice the aubergines into bite-sized cubes and then toss them with extra virgin olive oil in a baking tray.
Roast them for 15 minutes at 190 °C (375 °F) in static mode (1).
Then, add the cherry tomatoes, sliced in half, and cook all for 10 more minutes (2).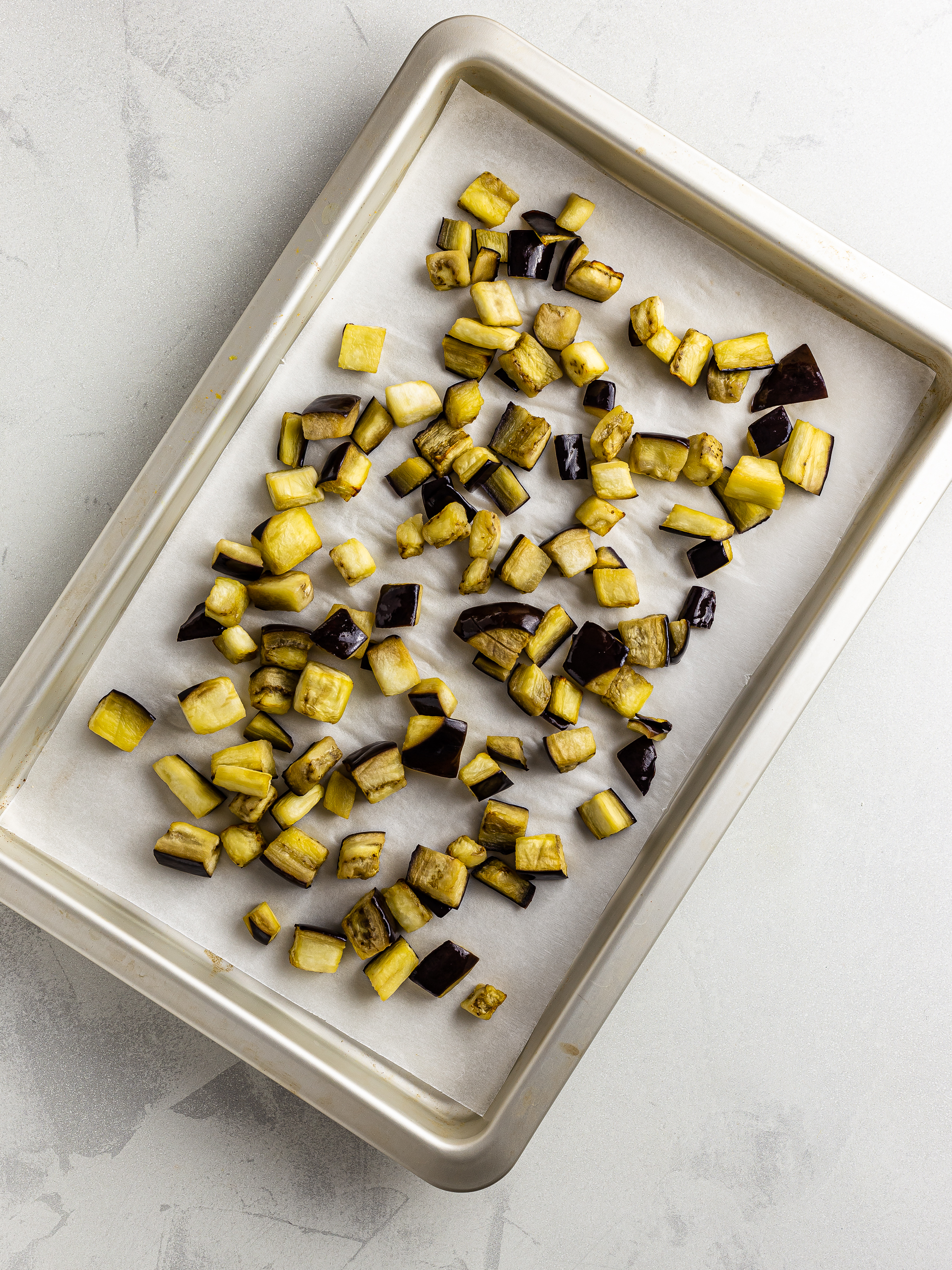 1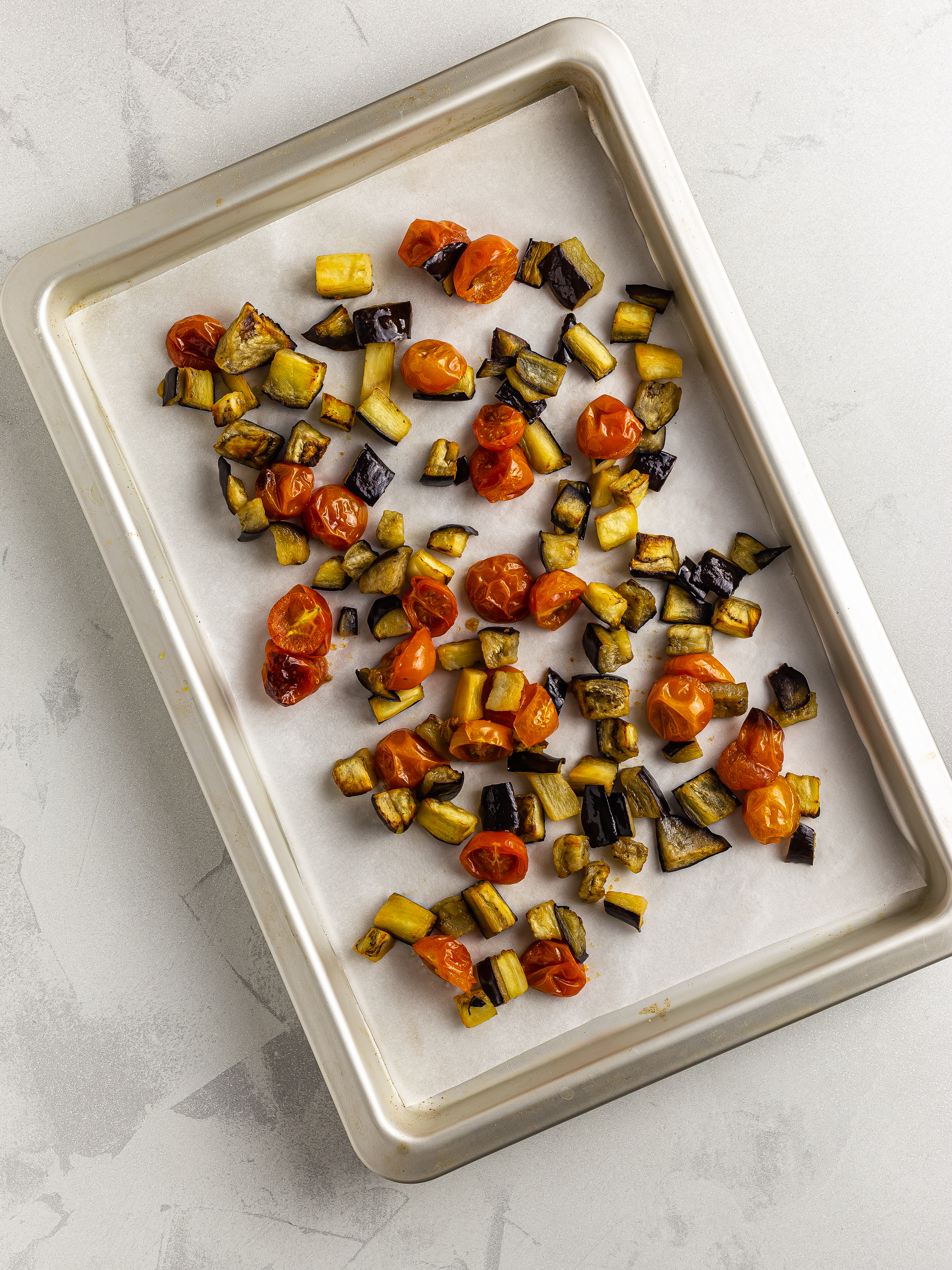 2
Step 2
Meanwhile, bring a pot of water to a boil with a pinch of salt.
Then, add the fusilli pasta and simmer for 8 minutes or follow the packet instructions.
Check the pasta a few minutes before the end of cooking time to make sure it's al dente, meaning cooked through but firm to the bite.
Then, drain it saving some of the cooking water for the harissa sauce.
Step 3
In a mixing bowl, combine the harissa paste with dried parsley, lemon zest and juice (1).
When the pasta is ready, add it to the bowl and toss it until it's well coated.
Pour in a few spoonfuls of the pasta cooking water to help loosen up the sauce and keep mixing (2).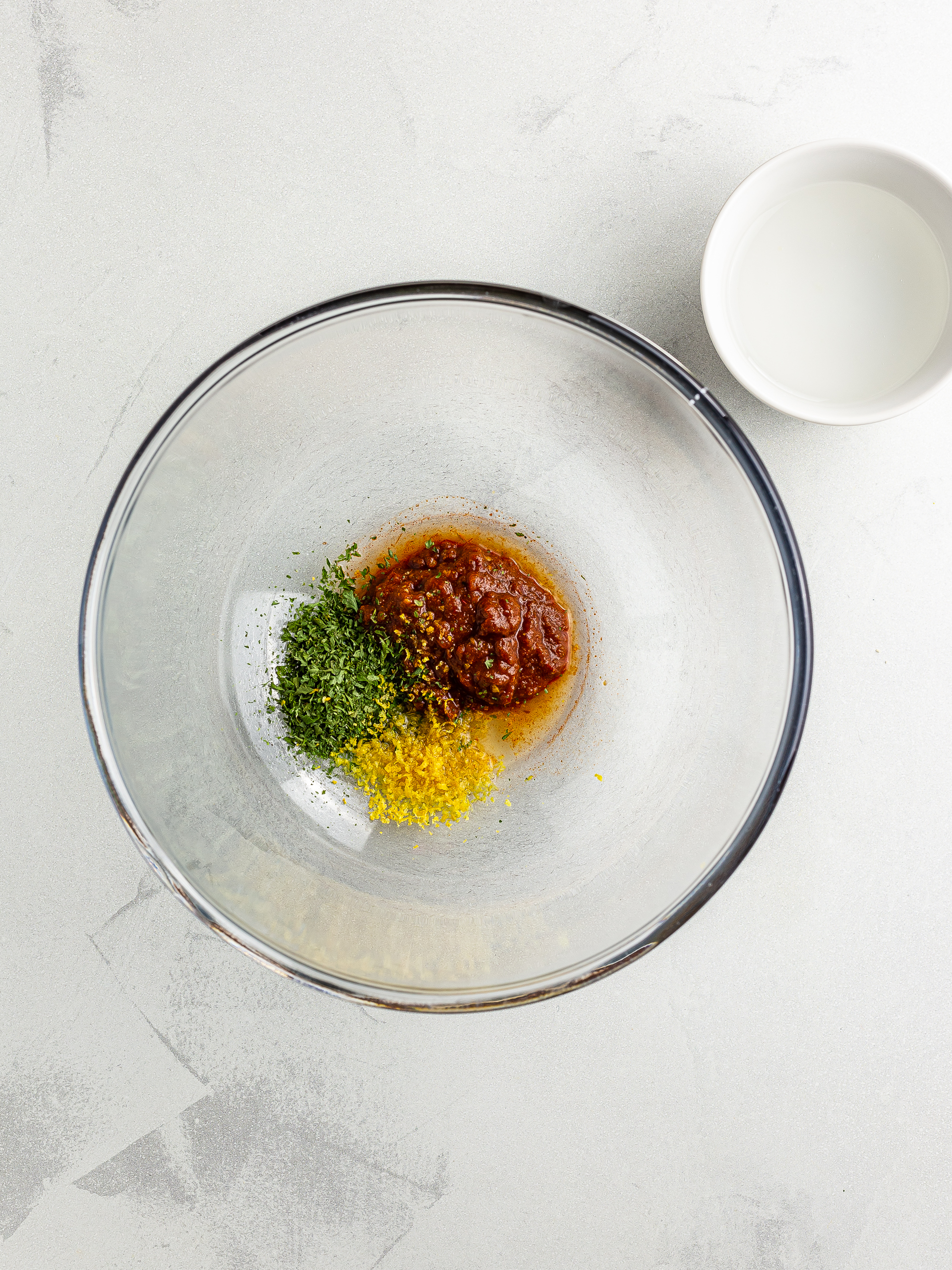 1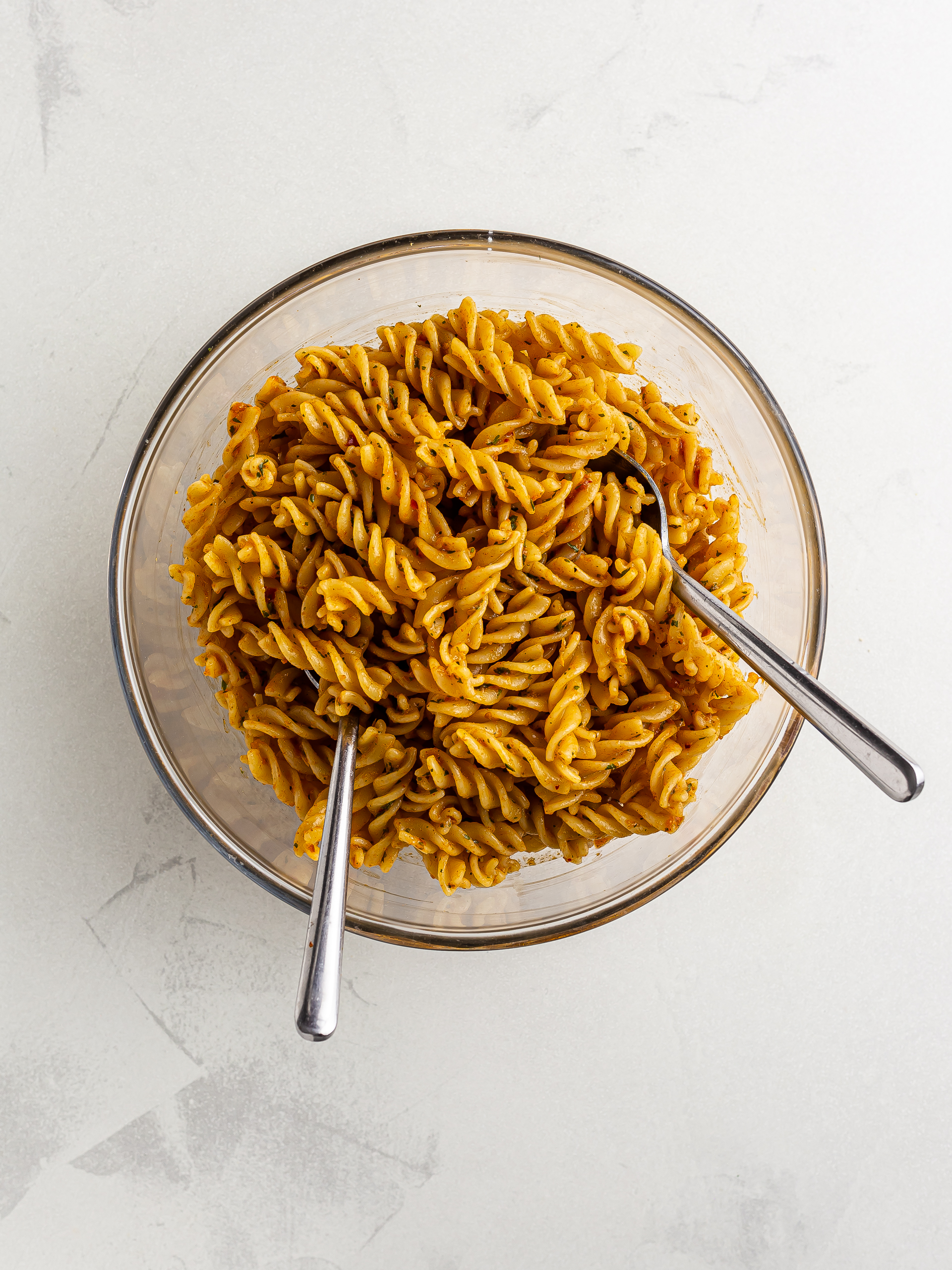 2
Step 4
Finally, add the roasted vegetables and drained chickpeas to the pasta salad, mix well, and serve.
You can enjoy this pasta salad both warm or cold.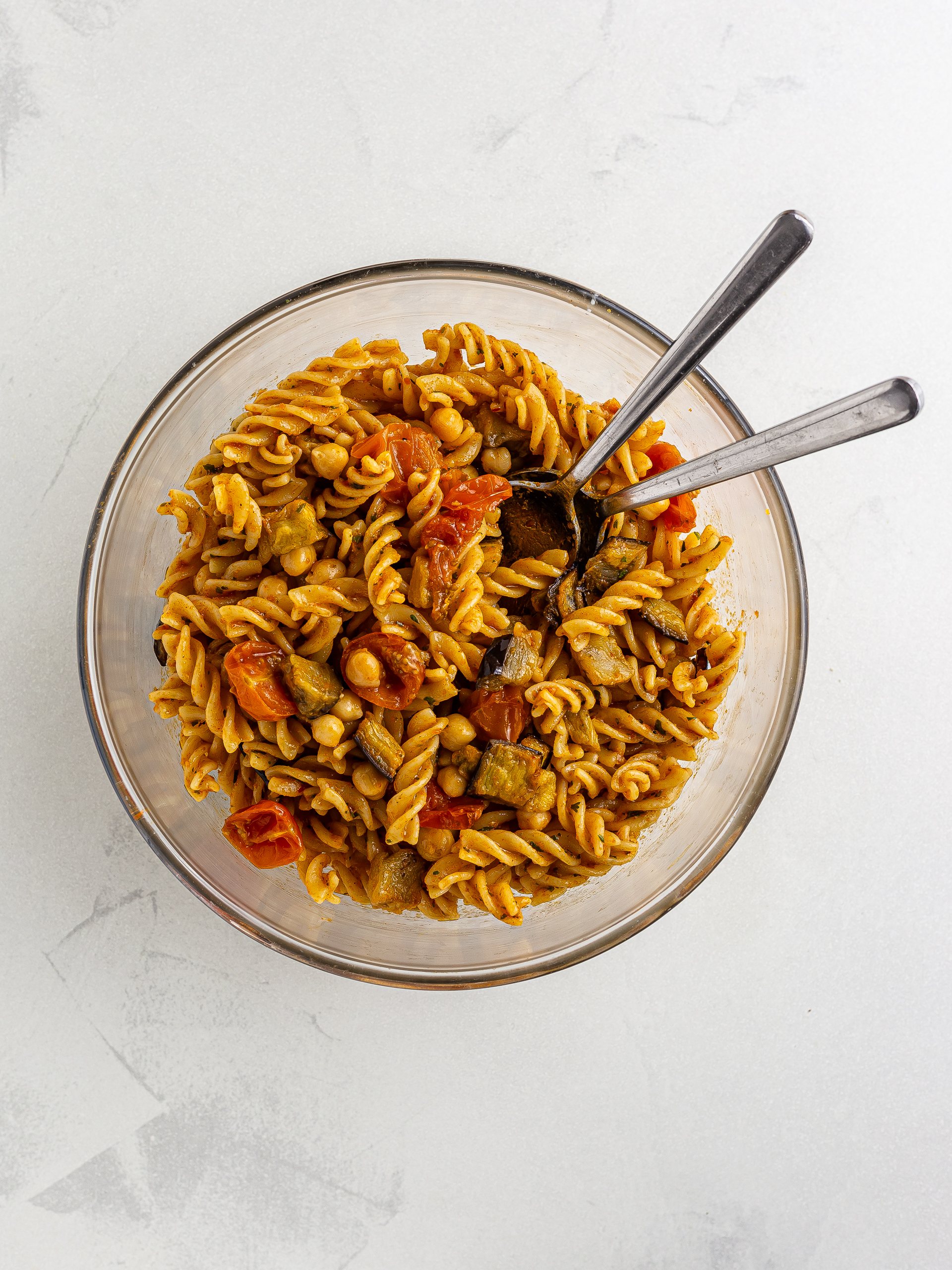 Tips
Add one tablespoon of nutritional yeast per serving for a boost of vitamin B12.

You can top the pasta salad with toasted pine nuts or almonds for a crunchy finish.