If you're into spicy dishes and love Indian cuisine, we have a fantastic new recipe we're sure you'll love: jackfruit biryani. Delicious layers of marinated jackfruit, seasoned rice, and dried fruit come together into a wonderful meal, as tasty as comforting.
Preparing biryani doesn't have to be a complex process, like in the traditional recipe.
If you want an easier way of making this rice dish, you'll appreciate our simpler recipe.
Just layer the prepared ingredients in a pot or skillet and cook them over the hob while you sit back and relax — nice and simple.
A good Indian biryani has three components: a spicy marinated meaty base, a fluffy basmati rice layer, and aromatic toppings.
Fragrant spices like turmeric, garam masala, chillies, and cinnamon give this curry dish its distinctive flavour and colour, while the slow-cooking method ensures the ingredients soak in all the flavours to perfection.
You'll need about one hour and a half from start to finish, although the actual preparation time is no more than 30 minutes.
This jackfruit biryani is an ideal recipe for batch cooking, so you can make a little more and pack some extra meals for the week.
Jackfruit chunks are the "meaty" base of our biryani.
This fruit is actually a staple food in Indian cuisine and also happens to be a wonderful vegan meat replacement.
The unripe fruit has an amazing fleshy texture that feels exactly like chicken. So if you were looking for a vegan chicken biryani recipe, you've hit the spot!
As for the rice, we opted for brown basmati rice for a boost of fibres, but feel free to use white rice if you prefer.
And finally, a good sprinkle of raisins and apricots gives the rice a nice fruity burst while fresh mint cools down the heat from the spices. Getting hungry? Let's get started then!
Ingredients
Marinade
Soy Yogurt

120 g

Large Garlic Cloves

2

Grated Ginger Root

2 tsp

Garam Masala

1 tsp

Turmeric

1/2 tsp

Chilli Powder

1/2 tsp

Baking Soda

1/2 tsp

Others
Canned Jackfruit (drained weight)

400 g

Brown Basmati Rice

300 g

Vegetable Oil

1 tbsp

Brow Onions

1

Bay Leaves

2

Cinnamon

1 pinch

Mixed Dried Fruit (raisins and apricots)

50 g

Fresh Mint

to taste

Canned Coconut Milk

200 mL

Vegetable Stock (or water)

700 mL
Step 1
Rinse the jackfruit well under cold water and squeeze it as hard as you can without breaking it to remove the brine water.
Then, chop any large chunks into smaller bits and toss them in a bowl with soy yogurt, minced garlic, grated ginger, garam masala, turmeric, chilli powder, baking soda, salt and pepper.
Wrap the bowl with cling film and let the jackfruit marinate in the fridge for at least 30 minutes.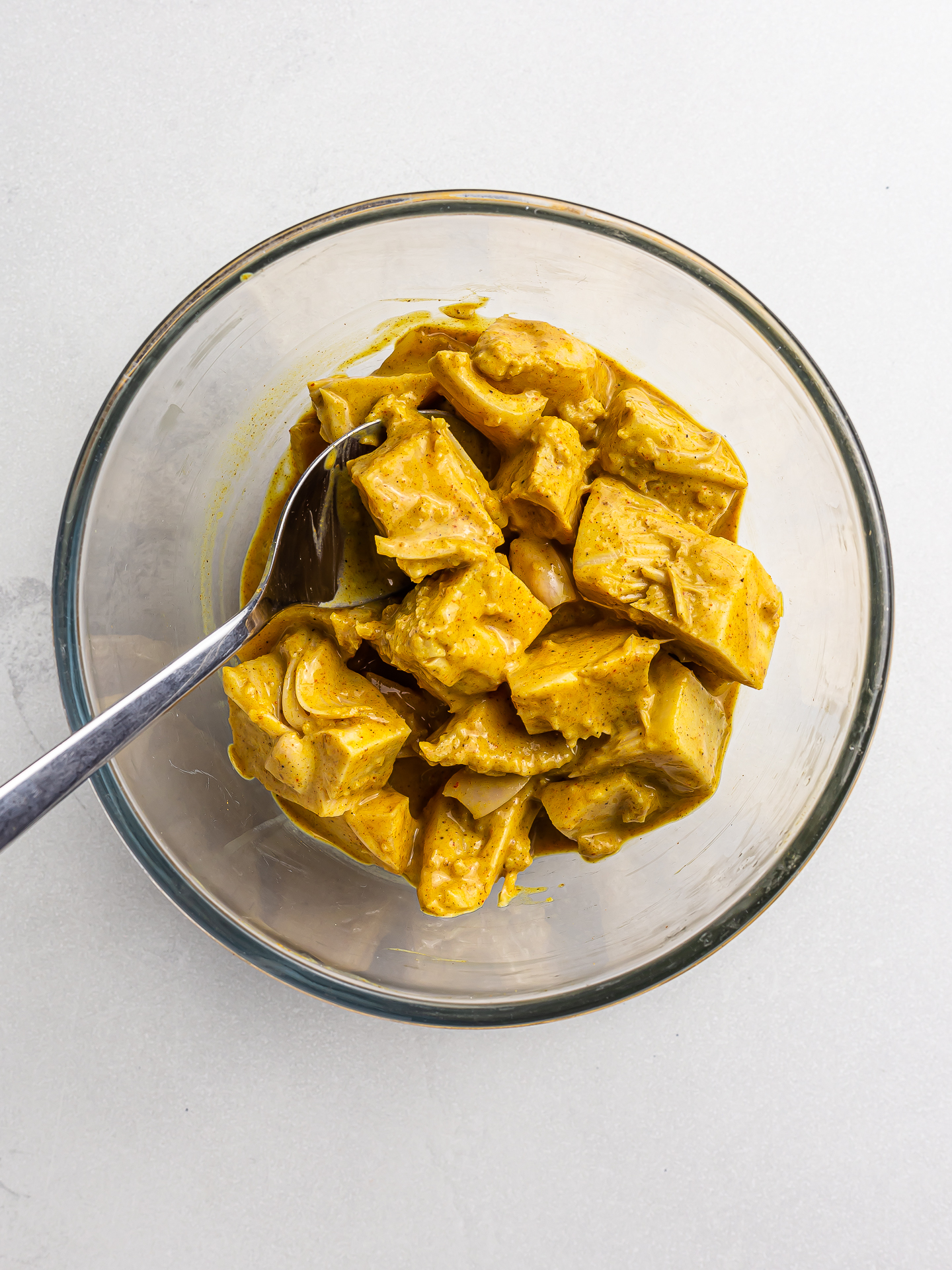 Step 2
Meanwhile, rinse the basmati rice a few times until the water runs clear. Then, add it to a bowl and cover it with lukewarm water.
Let it soak for 30 minutes, and then drain it.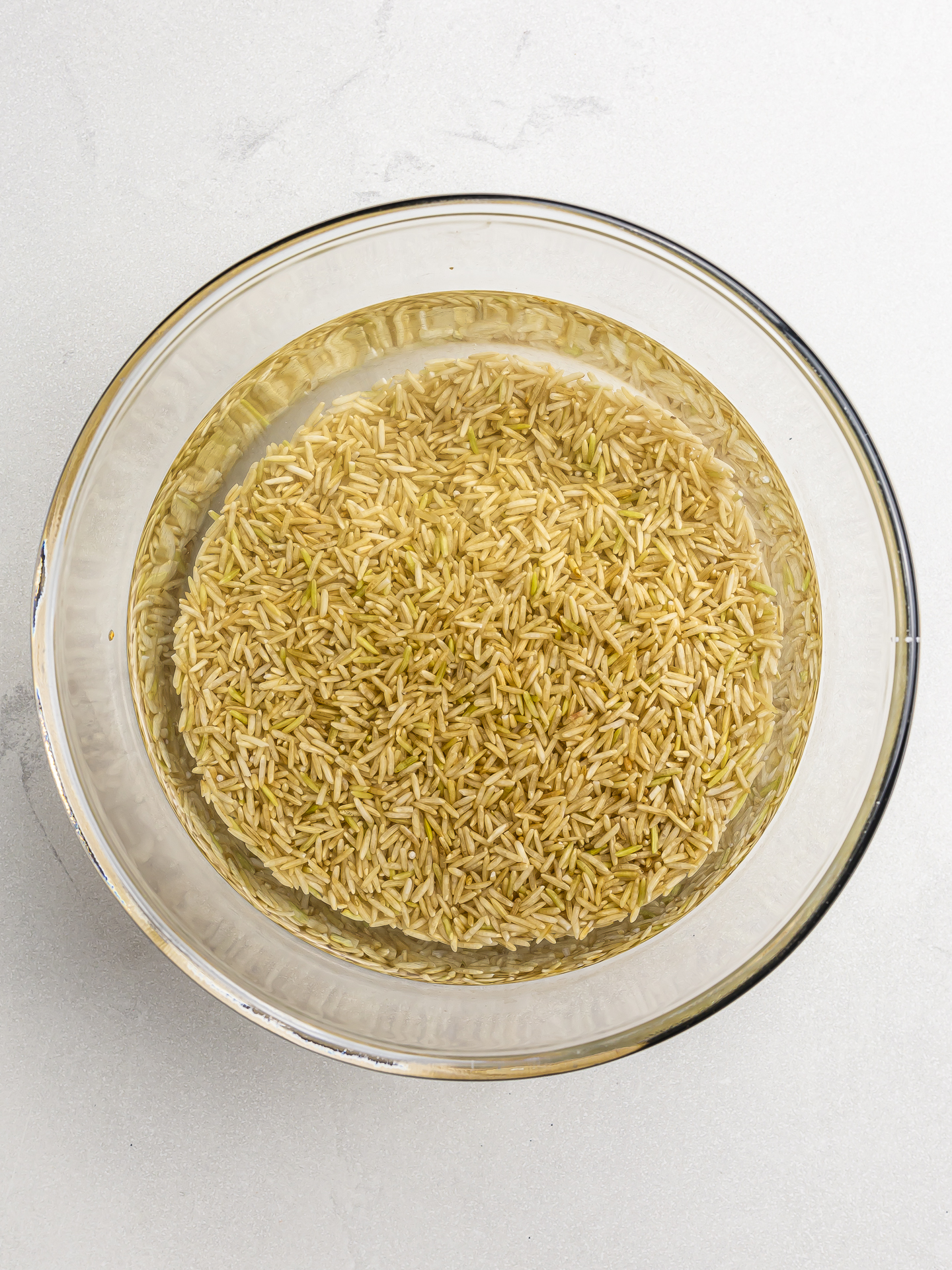 Step 3
Heat the oil in a deep pot or large skillet and add in sliced onions, bay leaves, and cinnamon (1).
Sauteé the onions for 5-8 minutes until soft.
Next, add in the marinated jackfruit and cook it for 5 minutes (2).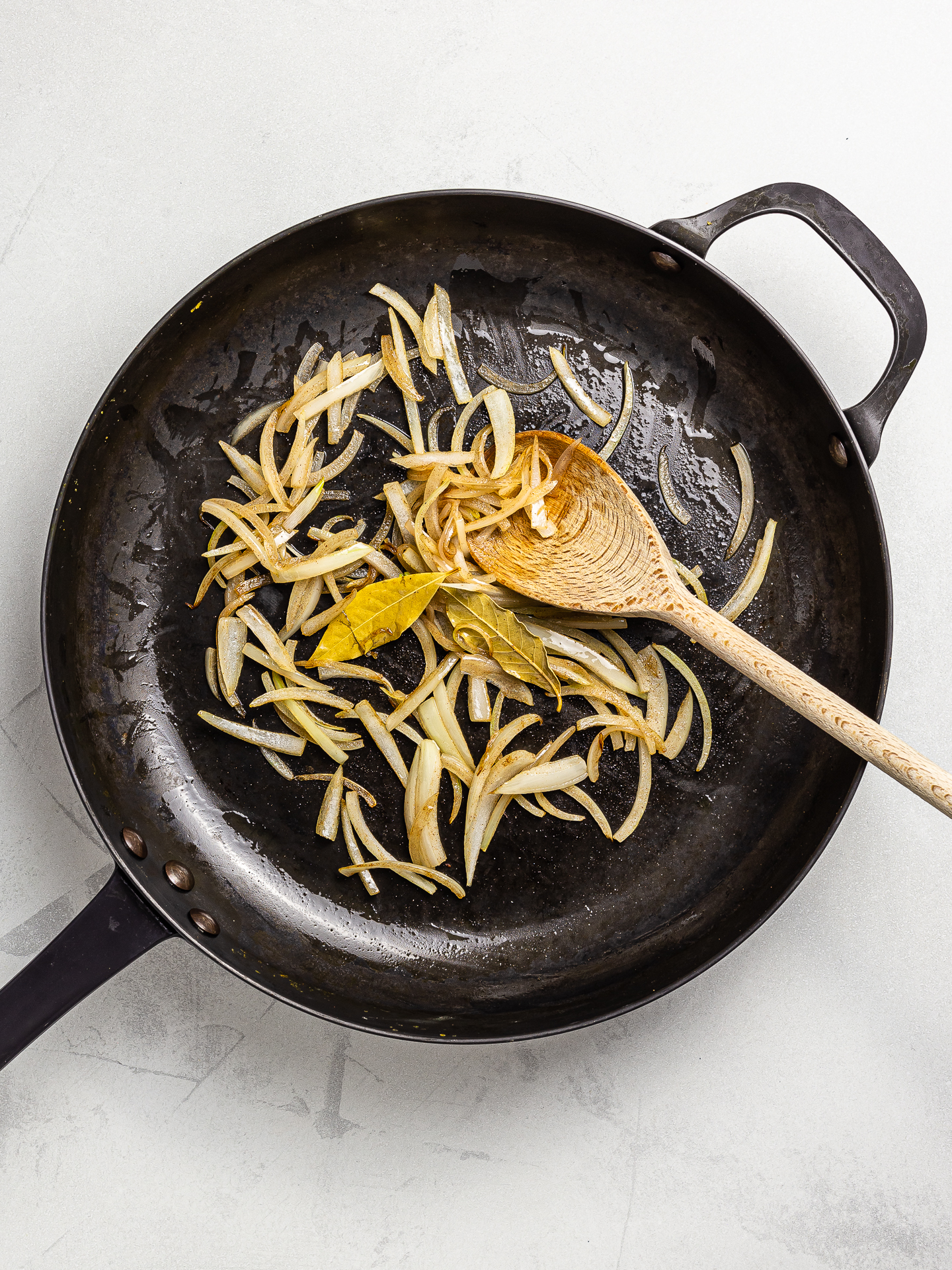 1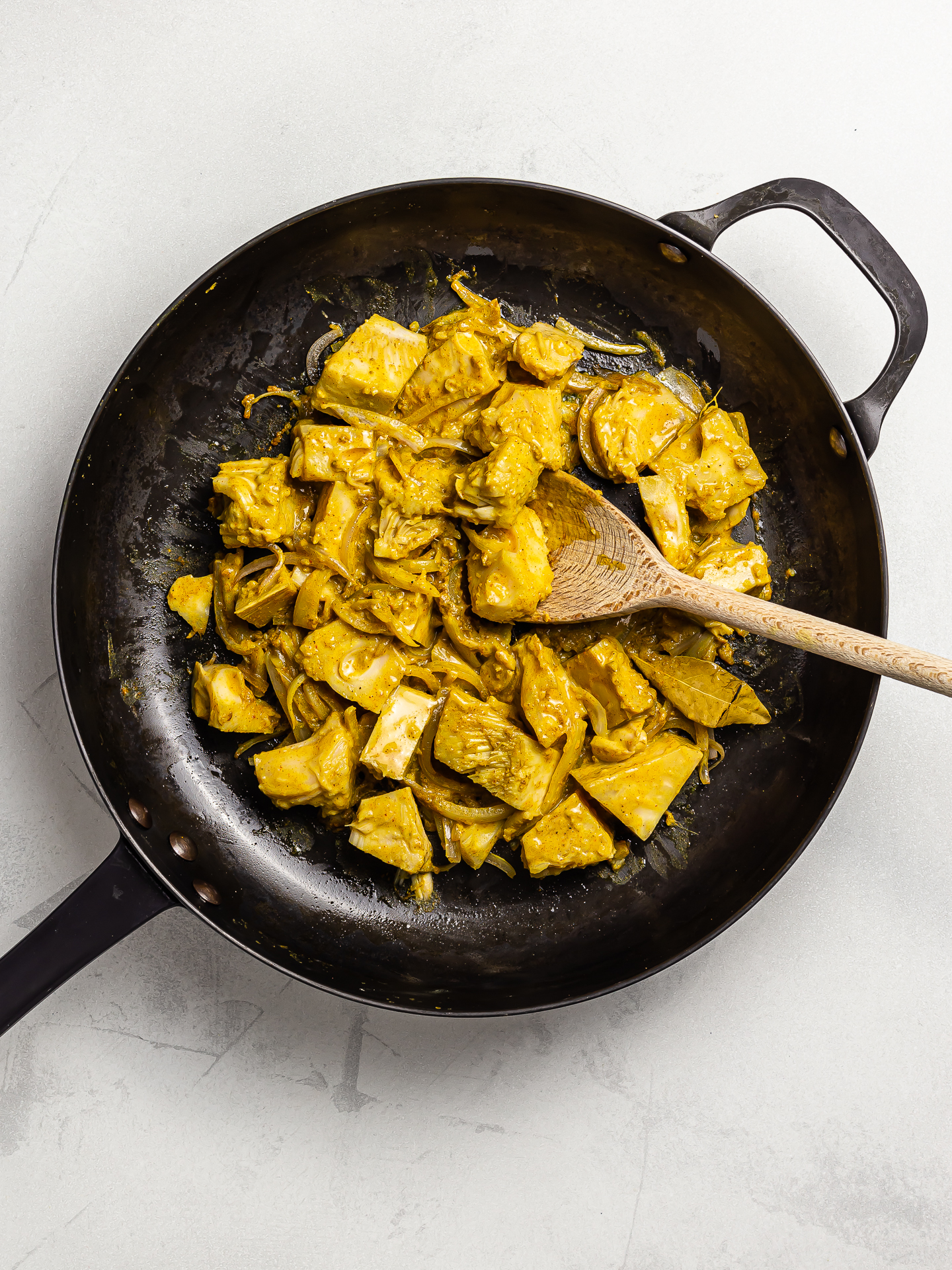 2
Step 4
Now, spread the jackfruit flat and cover it with a layer of soaked and drained rice.
Top the rice with raisins, chopped dried apricots, and fresh mint.
Then, pour in the stock and coconut milk taking care not to displace the rice too much.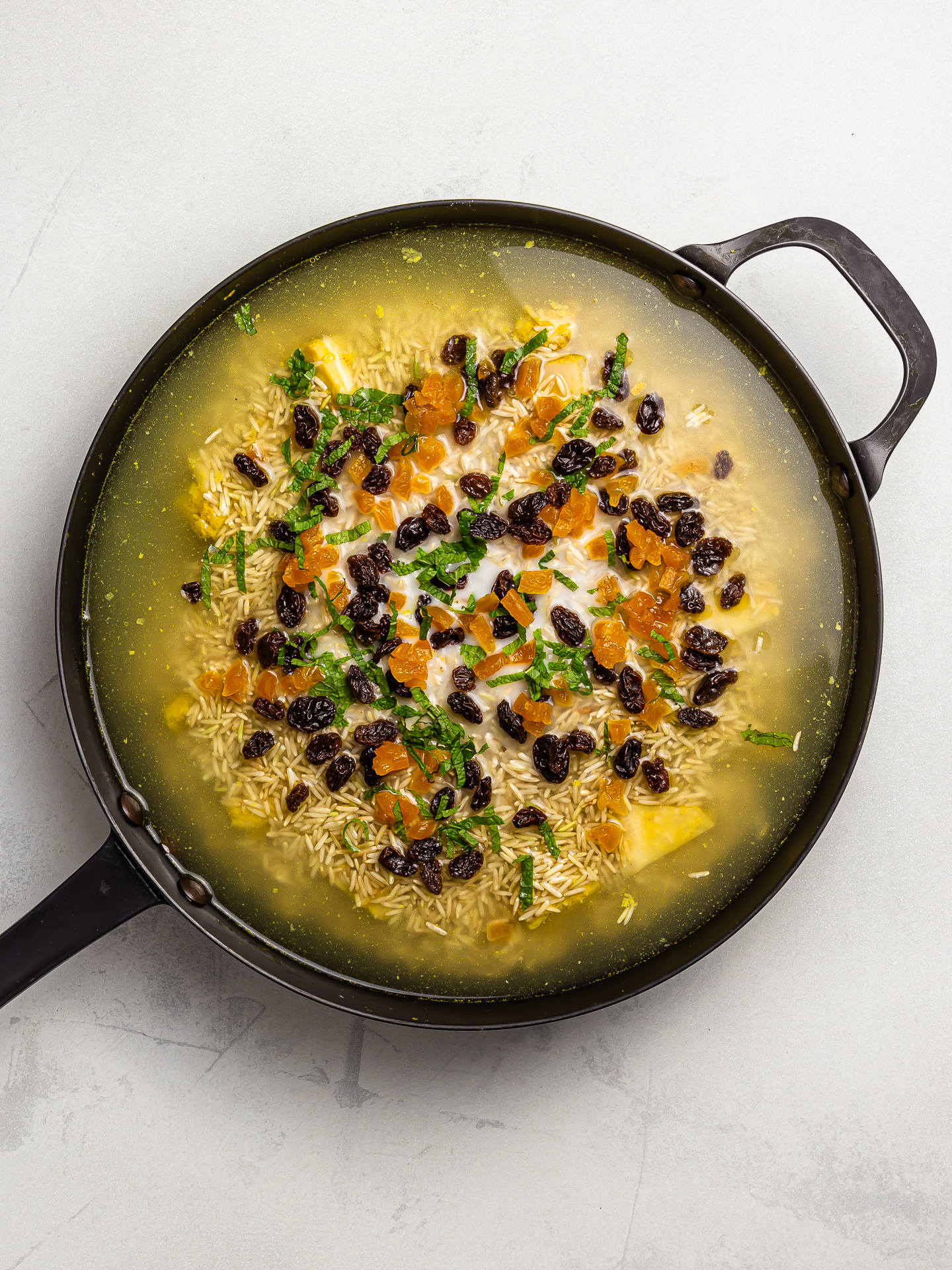 Step 5
Season with salt, but don't stir the rice.
Cover the pot with a tight-fitting lid and bring the stock to a boil.
Then, reduce the heat to low and let the biryani simmer undisturbed for 30-35 minutes until all the water has been absorbed and the riced is cooked.
If you're using white basmati rice, reduce the amount of water and cook it for no more than 15-20 minutes.
Finally, remove the pot from the heat and leave the jackfruit biryani to finish cooking in its steam for 5 more minutes before serving.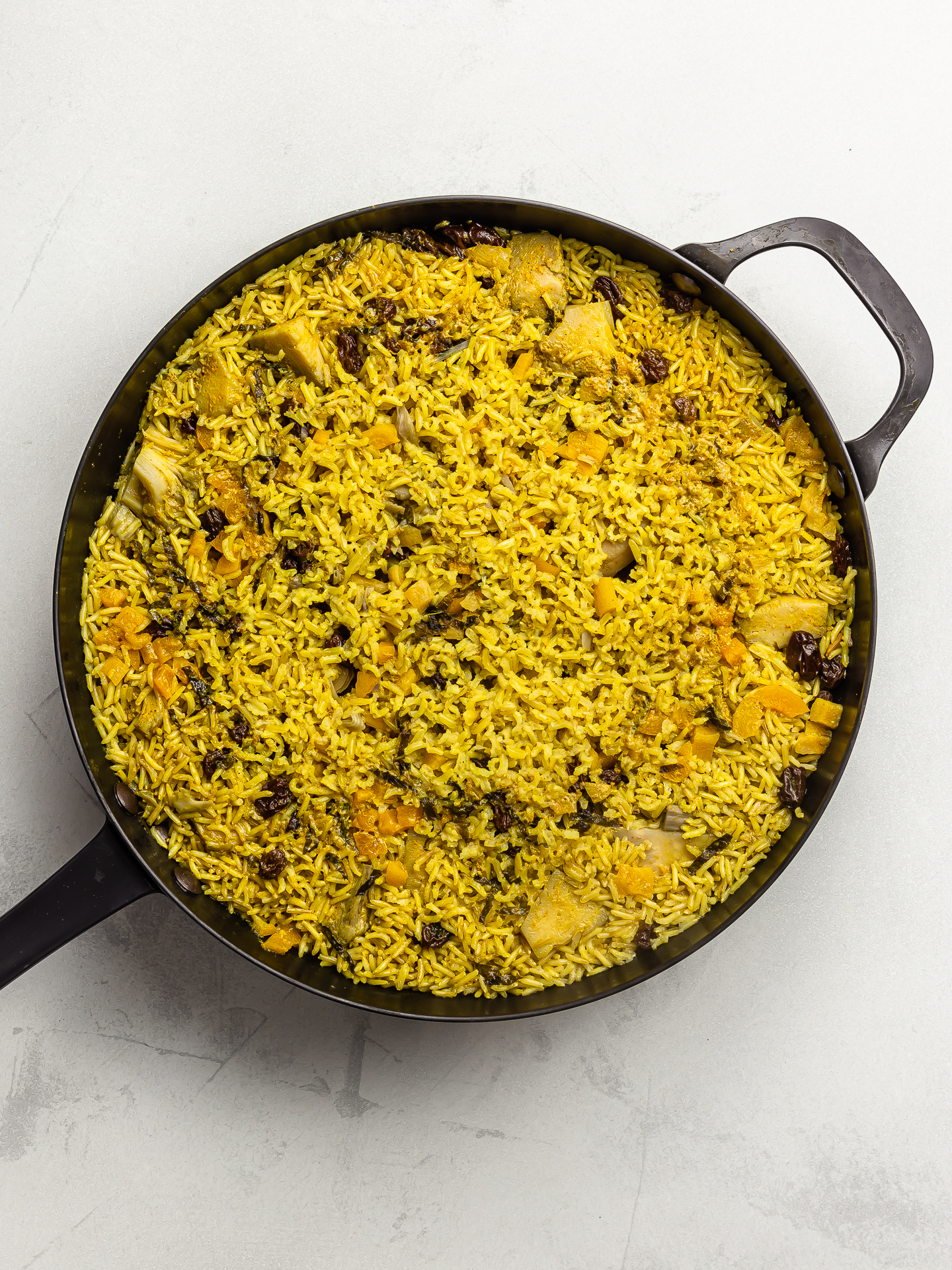 Tips
To prepare the jackfruit marinade, you can use a ready-made curry paste, either store-bought or homemade, like this ginger turmeric paste.

Serve the biryani with fresh mint, caramelised onions and yogurt on the side.