How about a tropical juice to start the day with a little sunshine? This jackfruit smoothie combines three delicious exotic fruits. You can whizz it in minutes, ready for a fantastic breakfast or energising drink!
If you have ever had ripe jackfruit, we bet you loved it instantly, and if it's your first time trying it, you'll be in for a treat.
Unlike the young green fruit, ripe jackfruit has bright yellow pods, juicy and sweet. Its taste is a wonderful cross of four delicious tropical fruits: mangos, bananas, melon, and pineapples. Incredibly good!
You can use ripe jackfruit to prepare exotic desserts and homemade jams like this sugar-free jackfruit jam. And, of course, it's great blended in smoothies.
If you have a local food market that sells ripe jackfruit, you can buy a large chunk there. If the chunk comes with skin, seeds, and fibrous strands, don't worry: we'll show you how to clean and prepare it, ready for whizzing!
Can't find fresh jackfruit? No problem! You can get ripe jackfruit canned in syrup at well-stocked supermarkets or online. Just don't confuse it with the tinned young jackfruit: it's the unripe (firm and tasteless) version of jackfruit often used for mock meat in vegan recipes.
Jackfruit is so flavourful that you basically would not need to add anything else to the smoothie. But being quite "meaty", the fruit doesn't blend very smoothly, especially if it's not super ripe.
So, we tipped in some coconut water to thin it out. Coconut water is tasty, refreshing and rich in electrolytes – the perfect add-on to this restoring jackfruit juice.
We also added the pulp of fresh passion fruits for an exotic burst. They go really well with jackfruit, so we recommend using them if you can find them. But otherwise, you can omit them and use only jackfruit— the smoothie will be just as tasty!
Ok, time to take your trusty blender out of the cupboard and prepare this tropical smoothie together!
Frequently Asked Questions
What's the difference between green jackfruit and ripe jackfruit?

You must use ripe jackfruit to make smoothies: the riper it is, the sweeter and tastier the smoothie will be.

Jackfruit is called green or young jackfruit when it's unripe. It has pale green, firm flesh and a very subtle flavour.

Ripe jackfruit, instead, has bright yellow, juicy, and sweet-smelling fruit pods. Its taste is a cross between bananas, pineapple, melon, and mango.
How do you prepare ripe jackfruit for smoothies?

If you bought ripe jackfruit at the local market, you have to pull out the yellow fruit pods and deseed them before using them.

To do so, cut loose those white and narrow fibrous strands that hold the pods in place and then detach the pods (also called arils) from the hard shell.

Very Important: Before you start, you must oil your hands and knife, as those strands leek a super sticky, milky liquid that's hard to remove even with soap.

Once you have detached all the pods, open them and remove the hard seed and the brownish membrane that holds it.

Finally, thinly chop the ripe jackfruit flesh and add it to the blender with the other ingredients.
How does this jackfruit smoothie taste?

This jackfruit smoothie has a wonderfully tropical taste as it's made with sweet jackfruit, refreshing coconut water, and tangy passion fruit.

Ripe jackfruit tastes like a delicious cross between mangoes, melon, ripe bananas, and pineapples.
What goes well with ripe jackfruit in smoothies?

Jackfruit goes well with other exotic fruits like mangoes, bananas, guavas, and coconuts.

It also pairs well with slightly tangy fruits like passion fruit, papayas, and pineapple, as they balance the sweetness of jackfruit.

You can also tip some nut butter into the smoothie, like peanut or cashew butter, for a creamier finish and nutty flavour.
Ingredients
| | |
| --- | --- |
| Ripe Jackfruit | 200 g |
| Coconut Water | 500 mL |
| Passion Fruit | 2 |
Step 1
Make sure you're using sweet and ripe jackfruit to prepare this smoothie, not the young green fruit (1).
Check our FAQ section to learn more about the difference between green and ripe jackfruit.
You can find ripe jackfruit cut into big chunks (with skin, seeds, and all) at a local tropical fruit market.
Alternatively, you can find it already cleaned and canned (often in a sweet syrup) online or at the supermarket.
If you're using canned ripe jackfruit, drain the chunks and rinse them well to remove excess sugar.
If you're using the fresh fruit, check our FAQ on how to prepare jackfruit.
We calculated that 400g (14 oz) of jackfruit with skin, seeds, and strands yields 200g (7 oz) of cleaned fruit (so about half of the weight).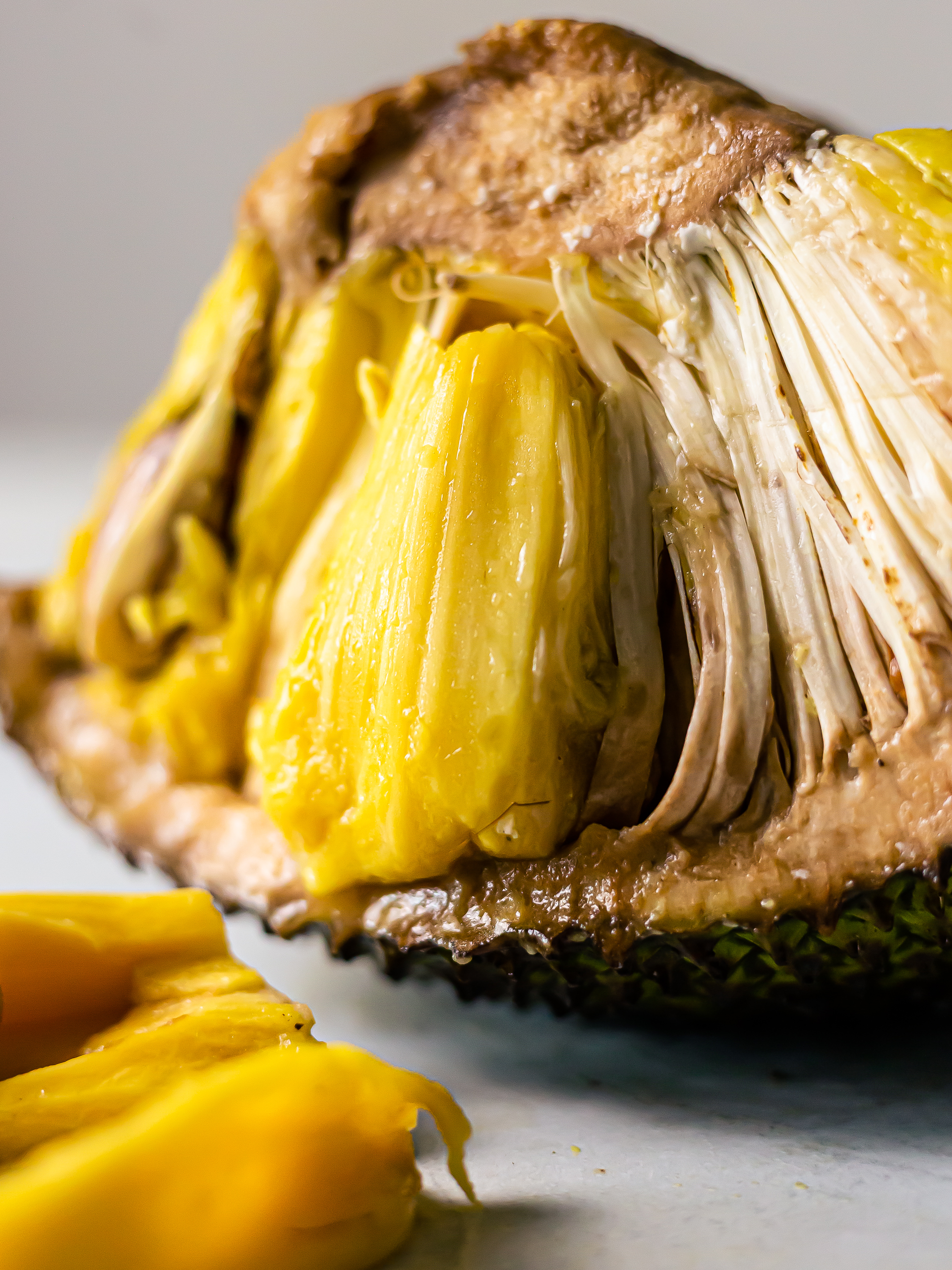 1
2
Step 2
Next, add the prepared jackfruit to a blender, followed by coconut water.
For a creamier smoothie, you can swap coconut water with coconut milk.
Halve the passion fruits and scoop the pulp (juice and seeds) right into the blender.
Passion fruit seeds are edible and actually very nutritious, as they provide beneficial antioxidants and vitamin A.
They also add a satisfying crunch to this jackfruit smoothie!
But if you prefer using only the juice of passion fruits, strain the pulp through a fine sieve or squeeze it through a cheesecloth, extracting the juice and discarding the seeds.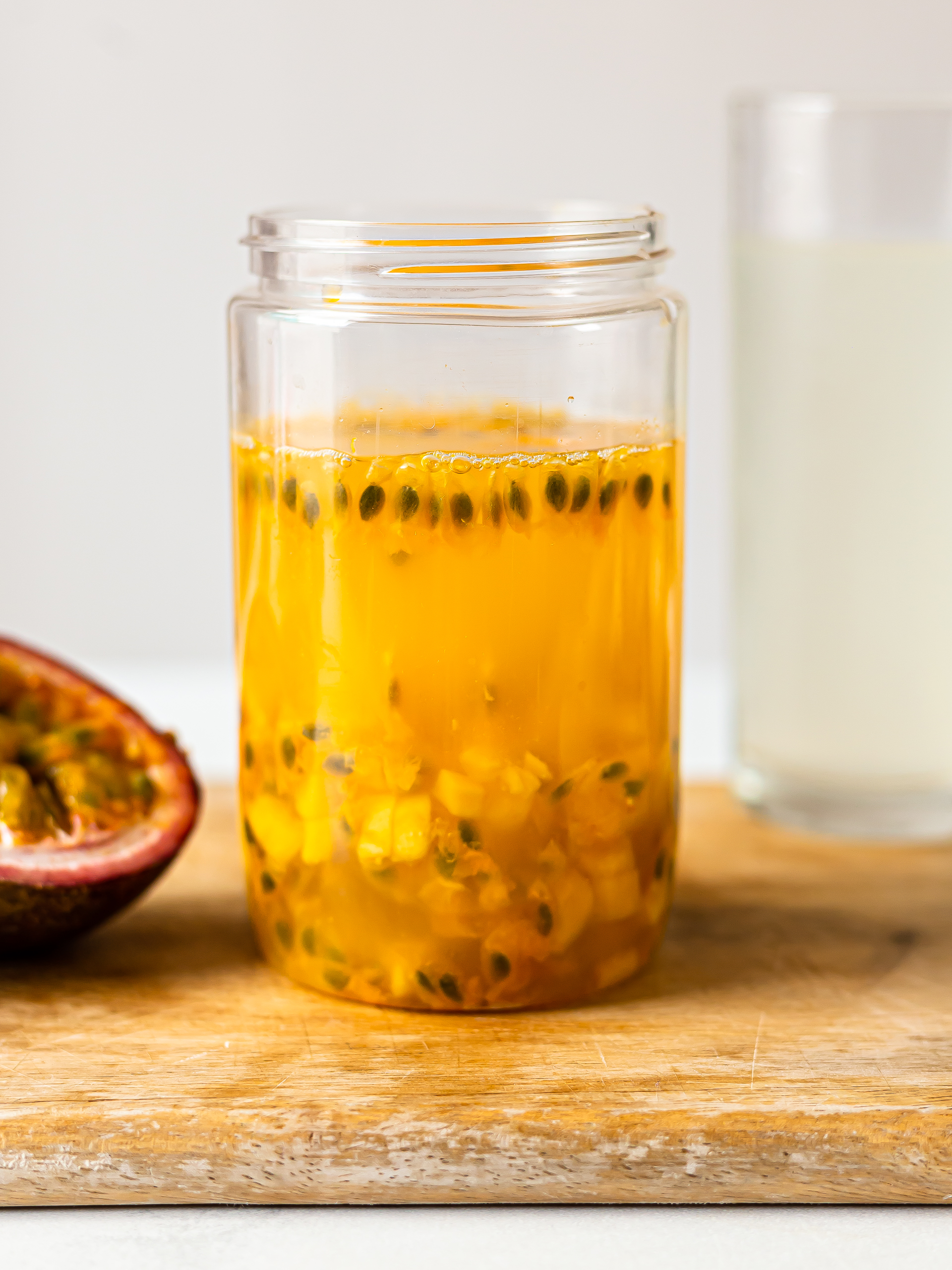 Step 3
Finally, blitz all the ingredients until smooth and serve your delicious tropical jackfruit smoothie in a tall glass. Enjoy!
And if you have leftover jackfruit, why not prepare a homemade jackfruit jam? It's quick and easy with our 30-minute, sugar-free recipe!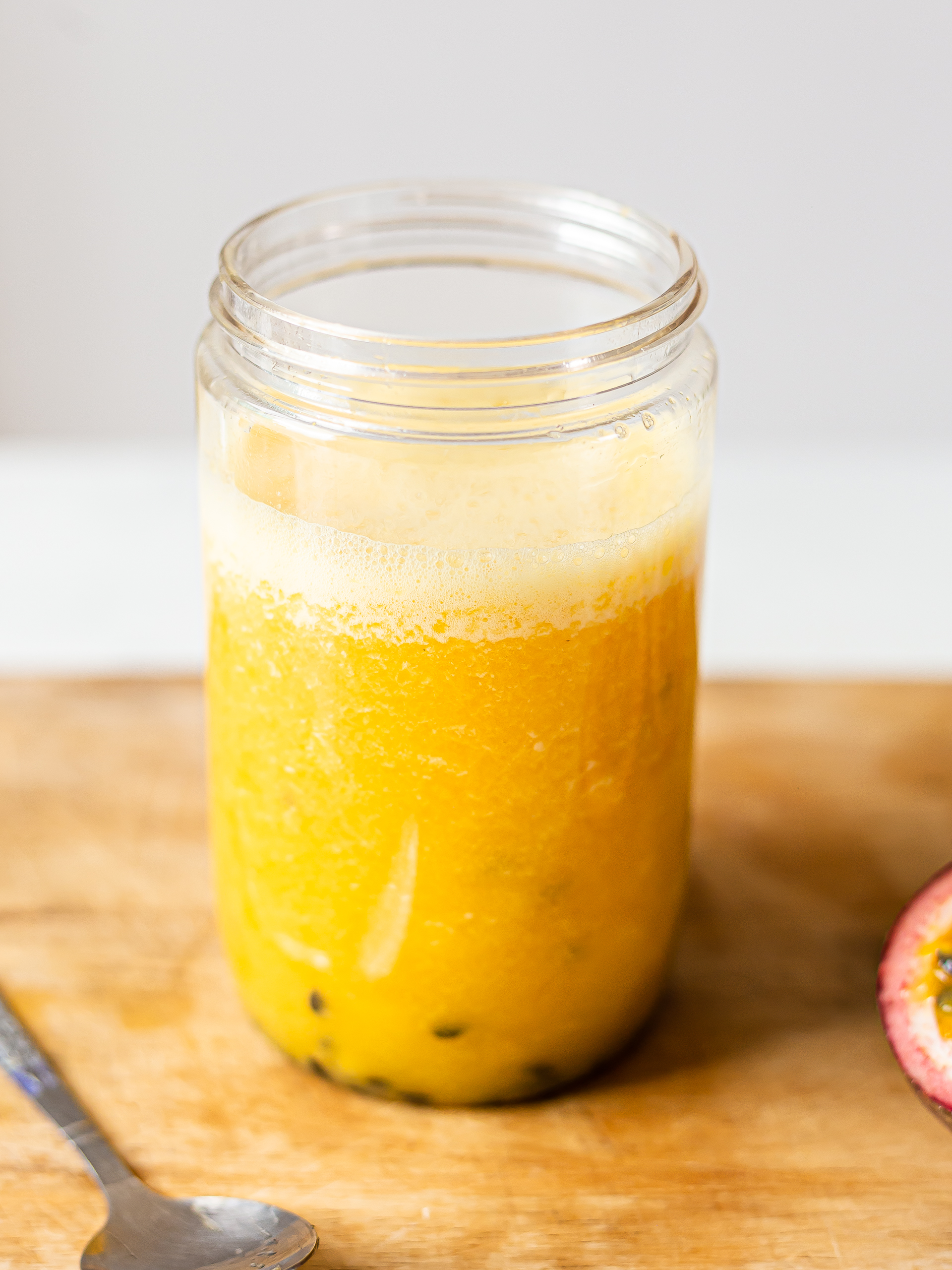 Tips
Use frozen jackfruit pods for an even creamier and more refreshing version of this smoothie.

If you can't find fresh passion fruits, you can use the store-bought juice and add it to the smoothie.