Incredibly bountiful and flavourful, jackfruit is the dream fruit of every jam-maker. So, for today's recipe, we want to show you how to prepare a delightful jackfruit jam at home using nothing but the fresh, ripe fruit — zero added sugars!
If you have ever tried ripe jackfruit, we bet you loved it instantly, and if it's your first time eating it, you'll be in for a treat.
Unlike the young green fruit, ripe jackfruit has bright yellow pods, juicy and sweet. Its taste is a wonderful cross of three delicious tropical fruits: mangos, bananas, and pineapples. So good!
If you have a local food market that sells ripe jackfruit, you can buy a large chunk there, and we'll show you how to clean, deseed, and prepare the fruit for jam-making.
Alternatively, you can opt for the canned fruit, which should be available at well-stocked supermarkets or online.
However, make sure you're buying ripe jackfruit (it's yellow) and not the young green fruit often used as a vegan meat substitute. (By the way, we have lots of green jackfruit recipes if you want to experiment with it!)
Why did we say jackfruit is amazing to make jams?
It's because jackfruit is so sweet and "meaty" but has little water content. So, you can turn it into a thick jam with no need for added sugar or pectin! Amazing.
We have quite a lot of experience in how to make sugar-free jams, and jackfruit has proved to be the easiest fruit so far.
In as little as 30 minutes, you can rustle up a nice big jar of jackfruit jam without loading it up with unnecessary sugars.
Once ready, you can savoury it on toast or use it in desserts and bakes — check out our FAQ section for tasty recipe ideas!
And if you're in the mood for more tropical jams, why not give this papaya jam or this mango apple jam a go? They're both sugar-free and super healthy!
Frequently Asked Questions
Green jackfruit vs ripe jackfruit — which one should you use for jam?

You must use ripe jackfruit to make jam: the riper it is, the sweeter and tastier the jam will be

Jackfruit is called green or young jackfruit when it's unripe. It has pale green, firm flesh and a very subtle flavour.

Ripe jackfruit, instead, has bright yellow, juicy, and sweet-smelling fruit pods. Its taste is a cross between bananas, pineapple, and mango.
How do you clean and prepare ripe jackfruit for jam?

If you bought a nice big chunk of ripe jackfruit at the local market, you have to pull out the yellow fruit pods and deseed them before using them.

To do so, cut loose those white and narrow fibrous strands that hold the pods in place and then detach the pods (also called arils) from the hard shell.

Very Important: Before you start, you must oil your hands and knife, as those strands leek a super sticky, milky liquid that's hard to remove even with soap.

Once you have detached all the pods, open them and remove the hard seed and the brownish membrane that holds it.

Finally, thinly chop the ripe jackfruit flesh and use it to make jam.
How does jackfruit jam taste?

Because jackfruit jam is made with ripe jackfruit, it has a wonderfully sweet and tropical taste.

Its flavour is a delicious cross between mangos and ripe bananas with a hint of tartness like pineapples.

And as jackfruit has low water content, the jam will be naturally thick and creamy, almost as silky as a custard.
What can I do with this jackfruit jam?

This homemade tropical jackfruit jam is delicious and versatile, and you can use it in many desserts, bakes, and treats.

Here are some tasty ideas with jackfruit jam we think you'll like:
Ingredients
| | |
| --- | --- |
| Ripe Jackfruit (fresh or canned) | 450 g |
| Water | 180 mL |
Step 1
Before you start, make sure your jars are clean and dry, and if you want to can or preserve the jam, remember to sterilise the jam jars properly.
The default ingredients yield one 350g (12 oz) jam jar, but you can increase the quantity in the servings/yield tabs.
Make sure you're using very ripe jackfruit to prepare the jam, not the young green fruit (1).
Check our FAQ section to learn more about the difference between green and ripe jackfruit for jam.
You can find ripe jackfruit cut into big chunks (with skin, seeds, and all) at a local tropical fruit market.
Alternatively, you can find it already cleaned and canned (often in a sweet syrup) either online or at the supermarket.
If you're using canned ripe jackfruit, drain the chunks and rinse them well to remove excess sugar.
If you're using the fresh fruit, check our FAQ on how to prepare jackfruit.
We calculated that one 900g (2 lbs) chunk of jackfruit with skin, seeds, and strands yields 450g (1 lb) of cleaned fruit (so about half of the weight).
Once you have the clean and deseed fruit pods, chop them into small pieces (2).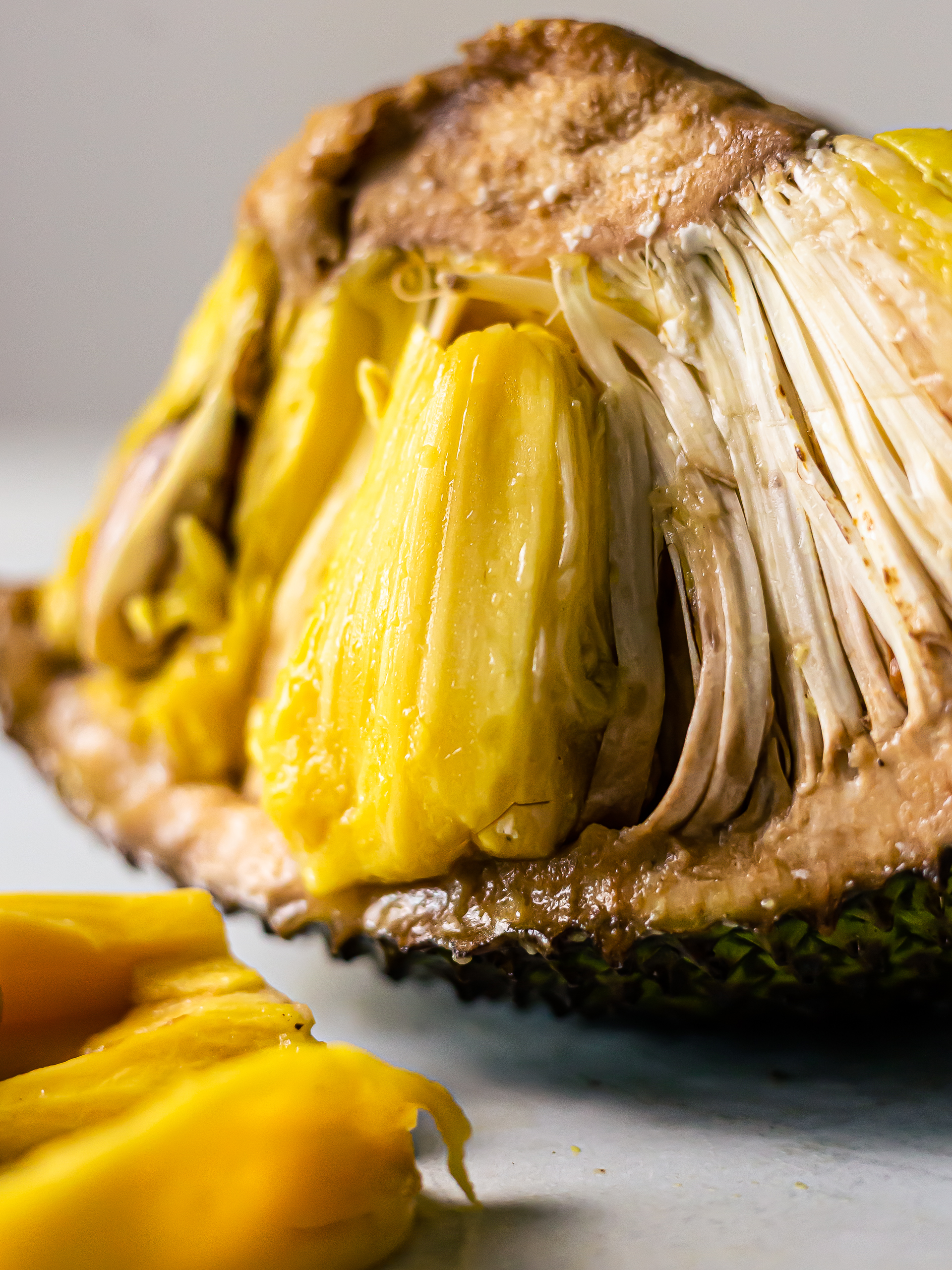 1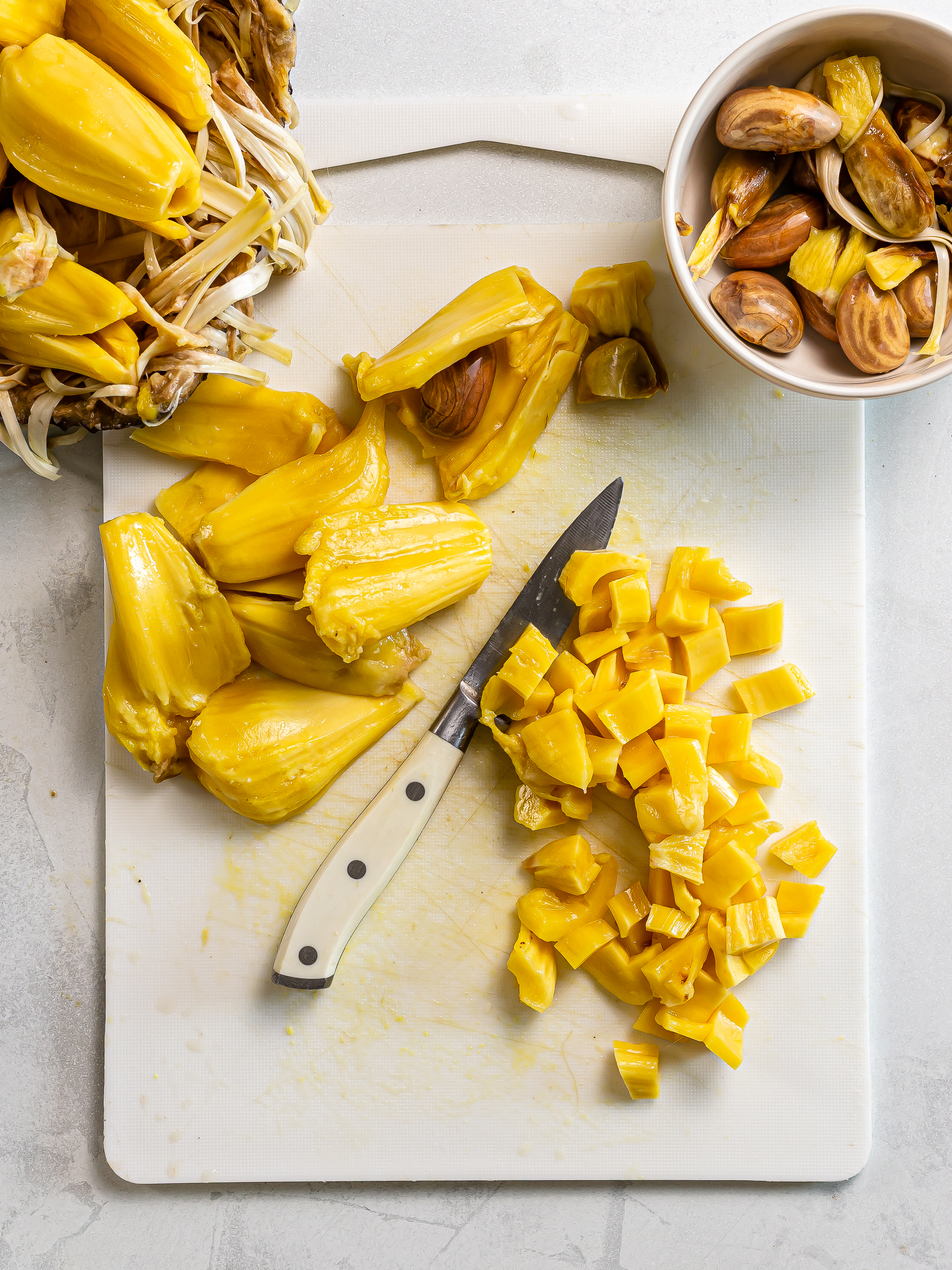 2
Step 2
Add the prepared jackfruit to a pot and pour in the given water.
Bring the water to a boil and then set the heat to low.
Simmer the jackfruit chunks for 20-25 minutes, occasionally stirring so they won't stick to the bottom of the pot and burn.
By the end of the cooking time, all the water should have evaporated, and the jackfruit pieces should be so soft you can easily mash them with a spatula.
If your jackfruit chunks aren't too ripe, you may have to cook them for a little longer, adding a splash of water as needed.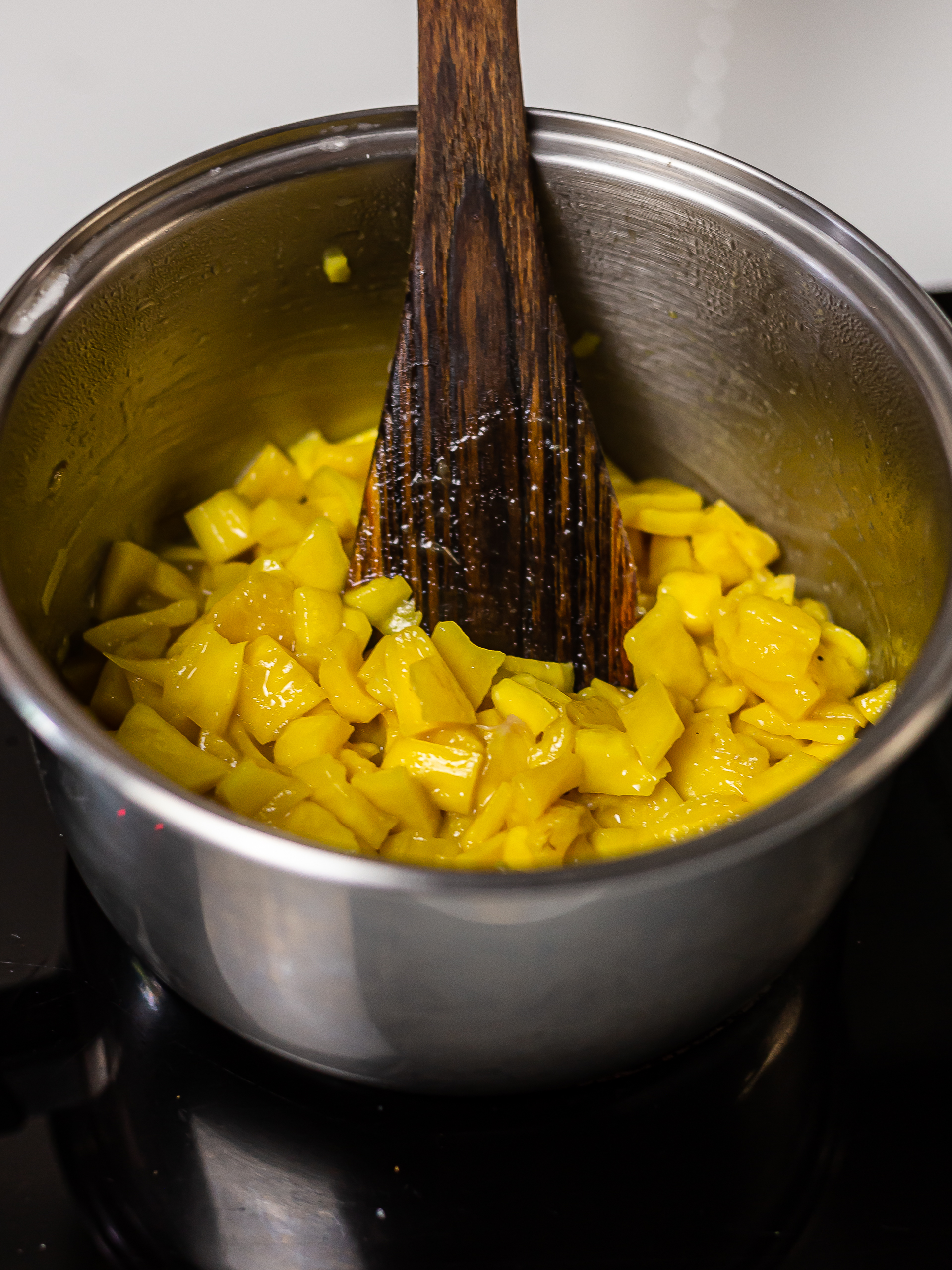 Step 3
Now, blitz the cooked jackfruit with an immersion blender right into the pot until you have a smooth and creamy jam.
If you don't have a stick blender, let the jackfruit pieces cool down before transferring them into a blender. Then, whizz them into a silky jam.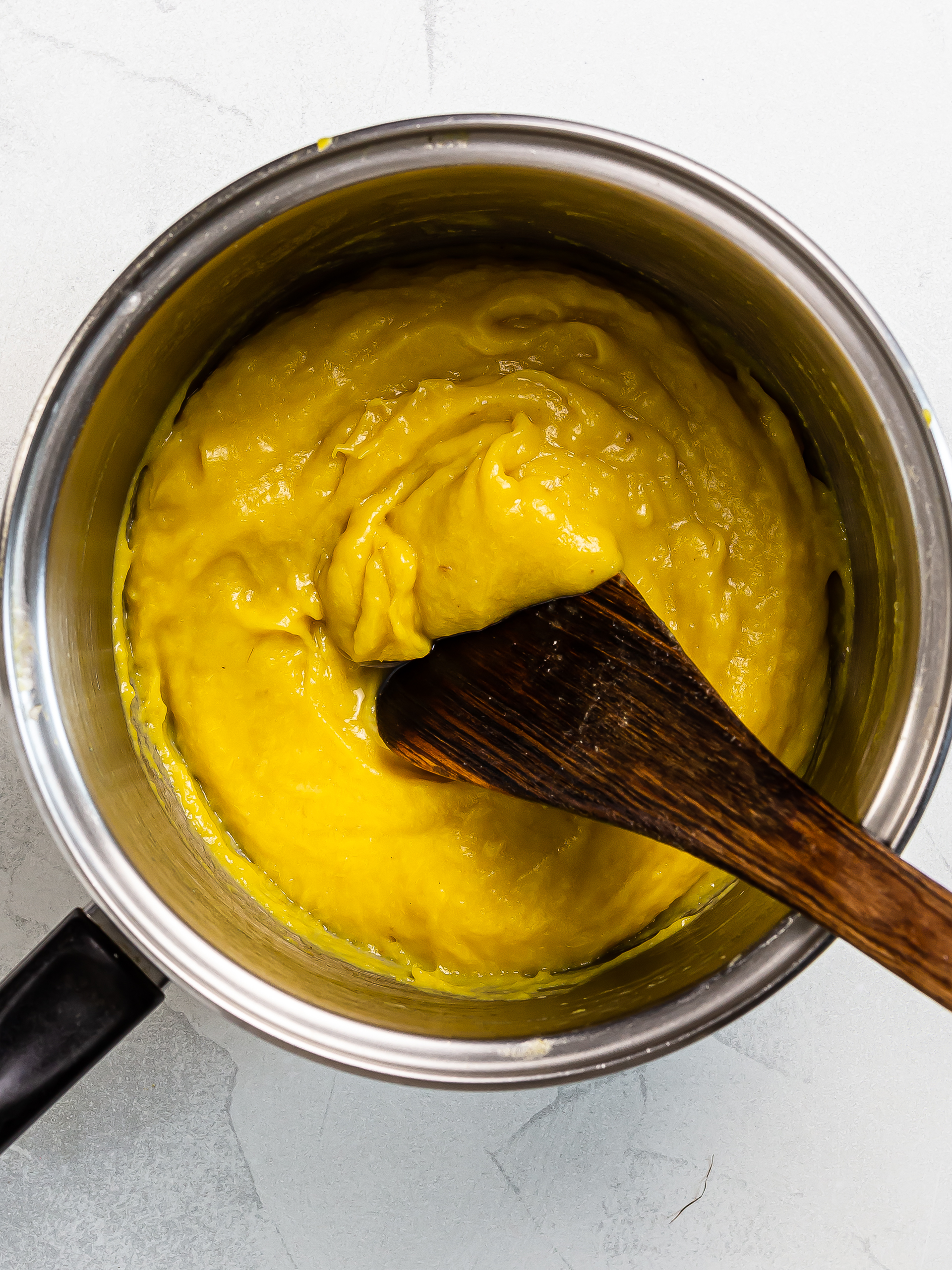 Step 4
Your sugar-free jackfruit jam is now ready.
Transfer it into clean jars and let it cool down completely before serving.
Then, store it in the fridge for up to 2 weeks.
If you want to preserve the jackfruit jam long term, use sterilised jars and fill them to the brim. Then, place the lid on, quickly flip the jar upside down, and screw in the lid tightly.
Leave it for 30 minutes before storing it away; this way, your jars will have a proper air-tight seal.
You can also use the "water-bath technique" to seal the jars if you are familiar with it.
Tips
This jackfruit jam tastes delicious, but you can also spice it up with a few pinches of ground cinnamon, cloves, or cardamom for an aromatic twist.

Use up any leftover jackfruit to prepare a delicious, tropical jackfruit smoothie!