Jackfruit has become our go-to choice whenever we want to adapt a meat-based dish into a vegan one. Yet we thought, why not go back to this fruit's origins and prepare a more traditional jackfruit dish? So, here is our tasty jackfruit stew inspired by the classic Filipino ginataang langka recipe. It's fresh, spicy, and exotic — a must-try!
Even though this recipe is from the Philippines, we used ingredients that are easy to find at most supermarkets.
Jackfruit is a staple food in South and Southeast Asia like India, Indonesia, Thailand, and the Philippines, where you can find it in sweet and savoury dishes. In the Philippines, unripe green jackfruit is used to prepare ginataang langka, a vegetable stew that we'll use as inspiration for our recipe.
It consists of young jackfruit simmered in a broth of coconut milk, garlic, ginger, lemongrass, and onions. We made our stew with a little more broth than the classic one, and we also added king oyster mushrooms for extra flavour and texture, plus a drizzle of lime for freshness.
The result is a vibrant stew with a wonderful combo of fresh, spicy, and citrusy notes. You can sip its rich coconut broth and, at the same time, bite into fleshy jackfruit chunks and mushrooms. It's really unique! We hope you'll like it as much as we did.
The great news is you can cook it all in one pot — no mess, no fuss! And in just 30 minutes, you could be sitting down to a steaming bowl of this delicious jackfruit stew. Not to mention, each serving comes in only 250 calories, yet it will leave you happy and satisfied. Sounds good? Let's jump right into it!
Ingredients
| | |
| --- | --- |
| Vegetable Oil | 1 tsp |
| Garlic Cloves | 1 |
| Brown Onions | 1/2 |
| Thin Green Chillies | 2 |
| Lemon Grass Stalks | 1/2 |
| Fresh Ginger Root | 10 g |
| Canned Jackfruit (drained weight) | 240 g |
| Mushrooms (king oysters or shiitake) | 120 g |
| Canned Coconut Milk | 200 mL |
| Water | 300 mL |
| Lime | 1/2 |
Step 1
Heat the oil in a pot and add minced garlic, thinly sliced onions, chillies, chopped lemongrass and grated ginger.
For tips on how to clean and cut the lemongrass, check out our tips below.
Sizzle all for 2-5 minutes until the garlic is fragrant and the onions are soft.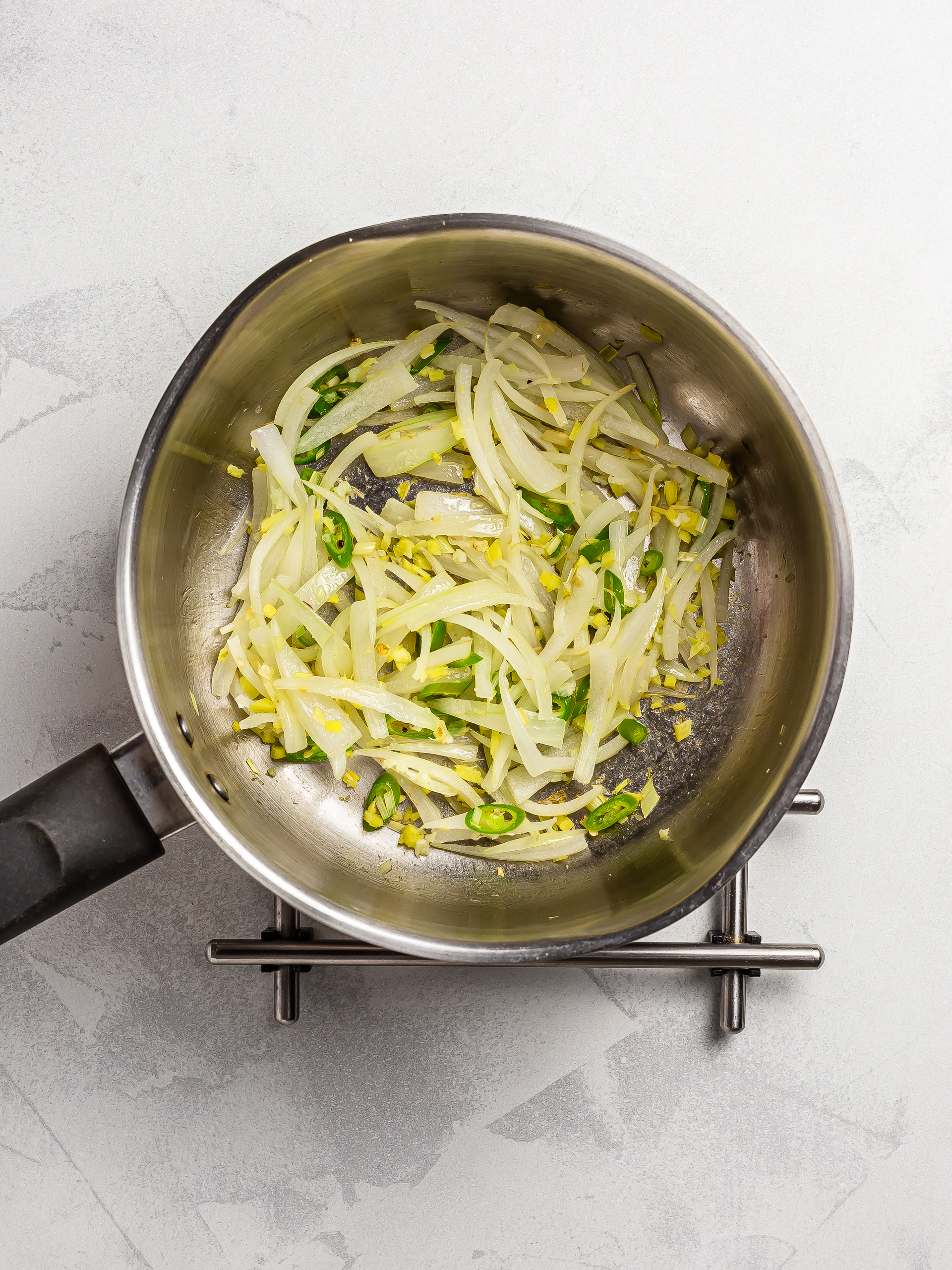 Step 2
Rinse and drain the canned jackfruit, squeezing out as much of the brine water as you can.
Then, chop any large chunks into smaller bits and discard the seeds.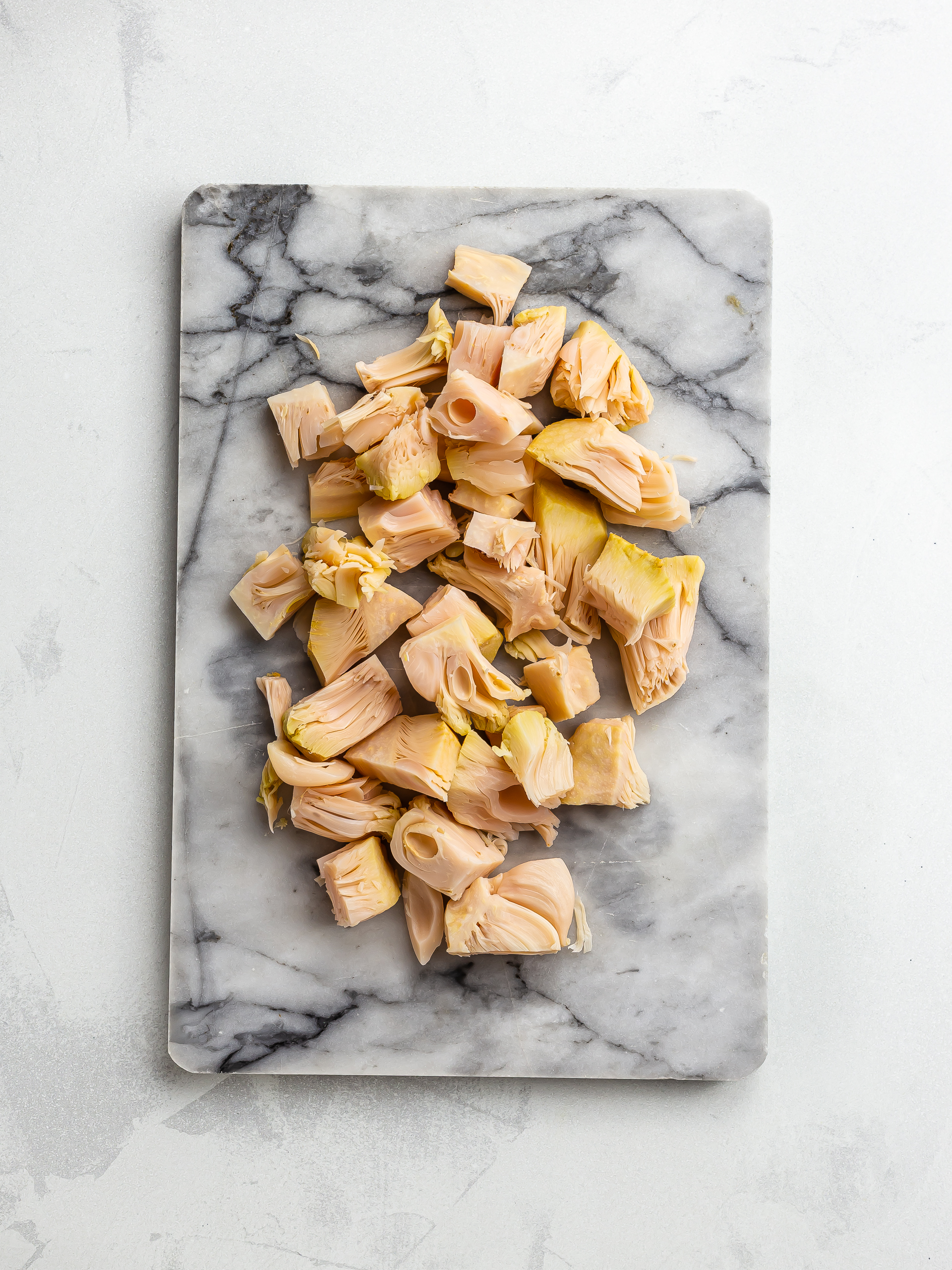 Step 3
Now, add the prepared jackfruit to the pot, followed by sliced mushrooms, canned coconut milk and water.
Bring all to a boil and simmer over low heat for 20 minutes.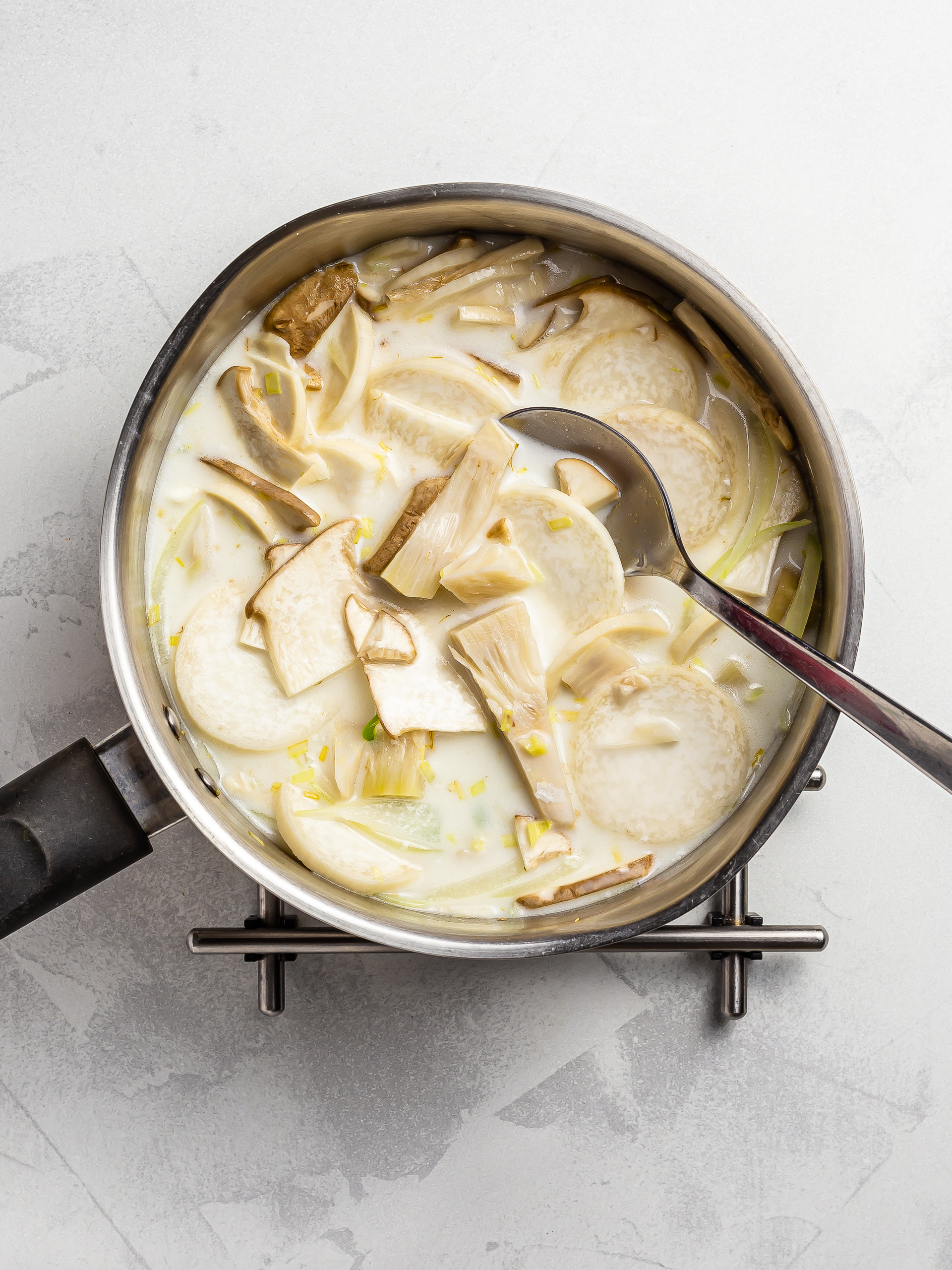 Step 4
Serve your delicious jackfruit stew with a drizzle of lime juice and a few sliced green chillies if you like.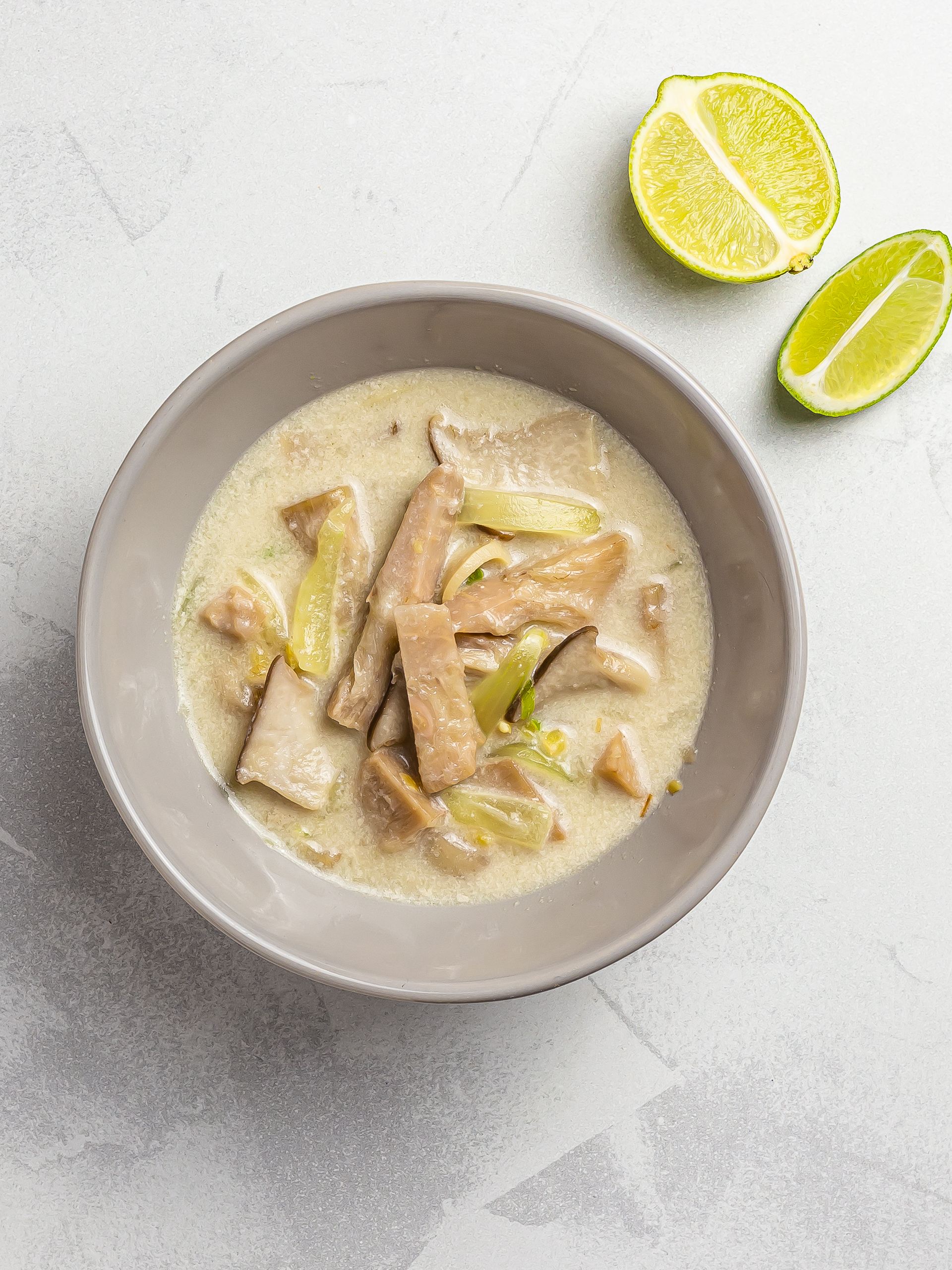 Tips
To prepare the lemongrass, trim off the root end and the tough upper stem of the stalk. Press the stalk to tenderize it and loosen the layers. Peel off the tough outer layers and thinly chop the remaining stalk.