Jamaican vegetable soup is one of our favourite Caribbean dishes, and for good reasons! Beautiful tropical veggies, roots and fruits make a stew that bursts with exotic flavours.
To turn this wholesome dish into a full meal, we have added tasty gluten-free dumplings, and lots of other familiar veggies, like carrots, pumpkin and potatoes. You can replace the pumpkin with sweet potatoes, as they are easier to find all year round.
Judging by our picture, you would swear those are pork meatballs. But they are not! They are vegan dough balls made with gluten-free buckwheat, which look quite "meaty" once boiled.
The best part of this soup is the tropical produce. In our recipe, we use eddoes and cassava veggies and the chayote fruit. Plantains are an excellent addition to this Caribbean soup as well if you have them.
Cassava and eddoes are tubers with a beautiful white flesh and brown skin that resembles that of a coconut. These similar-looking roots are part of a set of vegetables the locals call ground provisions.
Eddoes are rich in fibres, low in fats and rich in vitamins A, B6 and C. They are also a good source of minerals like manganese, potassium and copper. Cassava is an excellent source of energy instead, making it a great addition to a plant-based balanced meal.
Chayote is a big surprise, both in appearance and taste. It is a fruit that looks between a squash and a pear, with a consistency of a crisp apple. This green fruit has no fats at all, and it is rich in fibres, vitamins and antioxidants.
So whether you had this Jamaican stew before or are excited to taste tropical veggies for the first time, you're in the right place. Follow along with our easy steps below and let's cook something fabulous together!
Frequently Asked Questions
Is Jamaican soup with dumplings gluten-free?

It is common for veggie soups or stews to add ingredients like crispy croutons or thickening flour. Choosing the right ingredients makes all the difference when cooking gluten-free. Below we will share how we made our Jamaican vegetable soup suitable for celiacs or people following a gluten-free diet.

First of all, our recipe has lots of starchy vegetables like potatoes, eddoes, and cassava. So there is no need to add thickening flours to the stew and worry about whether they are gluten-free or not.

The only risk here is really in the vegan dough-balls. To make these dumplings we have experimented with three types of flours: buckwheat, rice flour and coconut flour. All three of these flours are gluten-free, so we knew from the start our recipe was going to be suitable for celiacs.

It's good that we ran this experiment because one of these flours failed miserably. We will tell you which one, so that you don't risk making the same mistake and ruining the soup.

At first, we used a 1:1 mix of rice and coconut flour. We added the right amount of oil and water and moulded the mix into compact balls. But as soon as we placed the dumplings into boiling water, they immediately dissolved! The fat in the coconut flour gave in and melted away. The lesson? Coconut flour is not a viable option when boiling vegan and gluten-free dough-balls.

The second experiment with buckwheat didn't disappoint instead. Buckwheat has a strong flavour that blends perfectly with the delicate taste of vegetables. Moreover, this flour takes on a light grey colour when boiled, similar to that of cooked pork meat. Remember about this neat fact, if you are into making vegan pork meatballs that look legit.

So here it is. We recommend you use buckwheat flour to make a gluten-free Caribbean soup with dumplings. If you want to use other gluten-free flours for the dough-balls, avoid the fatty ones, as they will melt.
What makes this Jamaican veggie soup so healthy?

The best thing about our Jamaican vegetable stew is the variety of vegetables used.

The grocery list for this recipe is quite exciting, spanning from the familiar carrots and potatoes to the more exotic chayotes and eddoes.

Here is a list of all the healthy ingredients we used, followed by some interesting facts about their nourishing properties.

Eddoes

Chayote

Butternut Squash

Cassava

Yellow Split Peas

Eddo is a tropical vegetable that is rich potassium and magnesium. These minerals are essential for a healthy heart, to support muscle functions, to boost metabolism, and promote good sleep.

Chayote is a type of squash that makes a fantastic addition to weight loss diets. It is very low in calories and carbohydrates, with as little as 20 calories and 4g of carbs per 100 grams. Moreover, it provides precious antioxidants and plant compounds that promote detox in your body [1].

Cassava is an amazing source of B vitamins and fibres, including resistant starches. These type of fibres are calorie-free as they are not digested in your body. Instead, they fill you up and slow down the digestion of other foods. This way nutrients and sugars are released a bit at a time preventing crush in energy and spike in insulin.

Butternut squash is so high in vitamin A that just a single cup covers your daily intake of vitamin A [2]. This vitamin supports your immune system and eye and skin health.

Finally, we have added yellow split peas to this Jamaican soup to boost your intake of plant-based proteins and fibres.

To sum up, this hearty pumpkin stew makes a nutritional powerhouse as it's loaded with health-boosting vegetables, all in under 500 calories per serving.
Which Caribbean vegetables are ideal for a weight-loss diet?

A well-tailored weight loss diet focuses on eating whole foods that are high in fibres, low in fats, and packed with vitamins. These nutrients fill up for longer, promote healthy weight, and boost your metabolism.

The Caribbean diet is rich in amazing fruits, vegetables, and legumes. If you are trying to lose weight, you can add to your diet the following ingredients:

Pumpkin or butternut squash

Sweet potatoes

Chayote

Yams

Beans like lentils, black beans, and white beans

These vegetables are nutrient-dense yet low in calories and fats. We have used some these in our Jamaican soup recipe to give you a healthy meal.
Ingredients
Gluten-Free Dumplings
Buckwheat Flour

130 g

Rapeseed Oil

50 mL

Water

185 mL

Chopped Coriander

1 tbsp

Salt

1 pinch

Soup
Onion

50 g

Garlic Clove

1

Carrots

120 g

Celery

50 g

Fresh Ginger Root

5 g

Scotch Bonnet Chillies

15 g

Butternut Squash

280 g

Potatoes

180 g

Cassava

100 g

Eddoes

100 g

Chayote

100 g

Yellow Split Peas

200 g

Coconut Milk (canned)

180 mL

Thyme

1/2 tbsp

Cayenne Pepper

1 tsp

Allspice

1/2 tsp
Step 1
Before you start preparing this pumpkin stew, make sure you have soaked the dried yellow split peas in water for at least two hours or even better overnight.
In a deep pan, add finely chopped onions, crushed garlic, diced carrots, diced celery, grated ginger root, and sliced scotch bonnet chillies.
Add a bit of water and sizzle the ingredients at medium heat for 5 minutes until the onions become soft and translucent.
Step 2
Next, cut the butternut squash and potatoes into cubes.
Peel and dice the Jamaican vegetables, namely the cassava, chayote, and eddoes.
Add the prepared vegetables and the yellow split peas to the pan with the onions (1).
Cook for 5 minutes and then stir in the coconut milk and enough water to cover the soup veggies.
Season with dried thyme, cayenne pepper, and allspice, and simmer the broth for 15 minutes (2).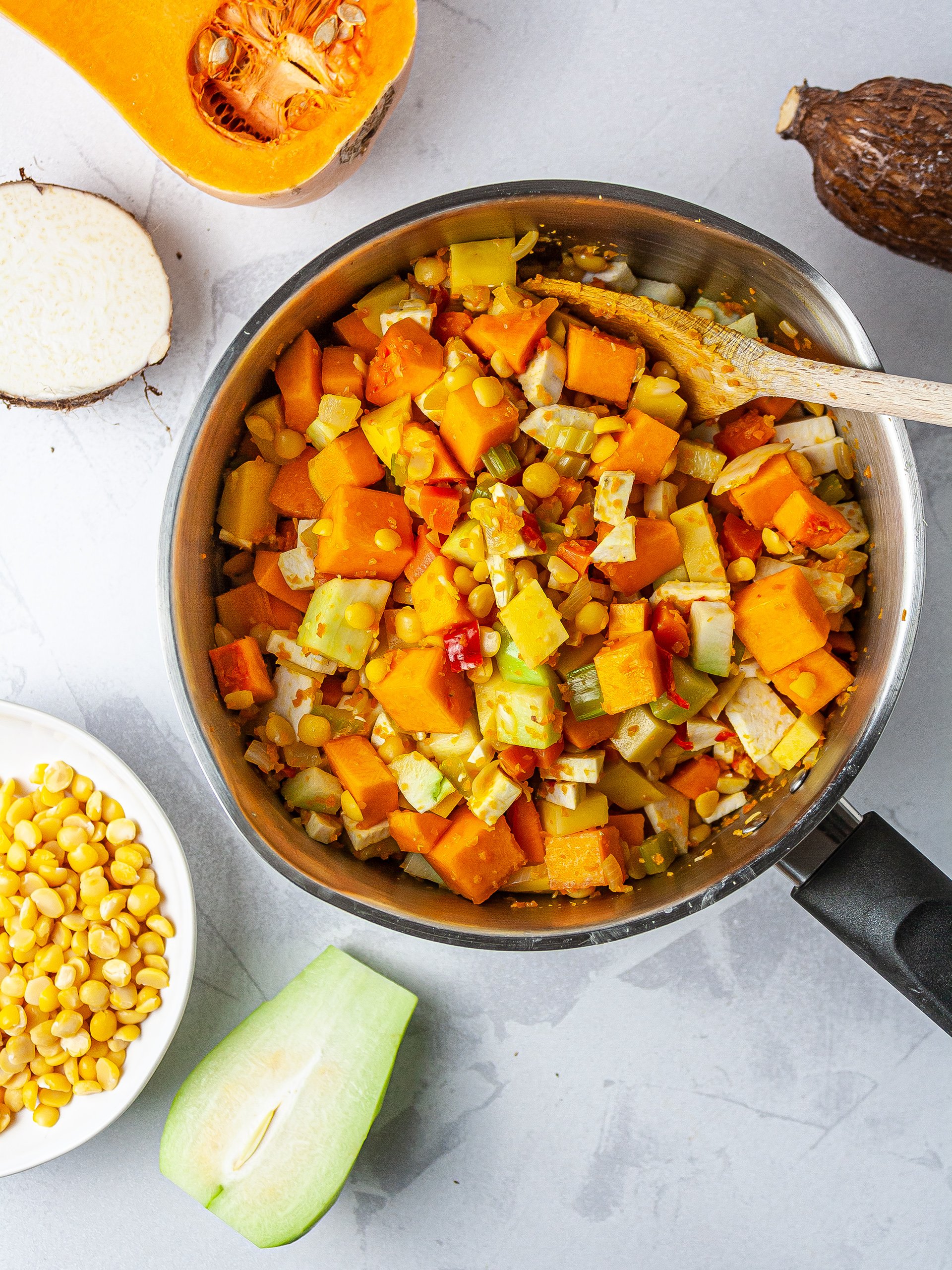 1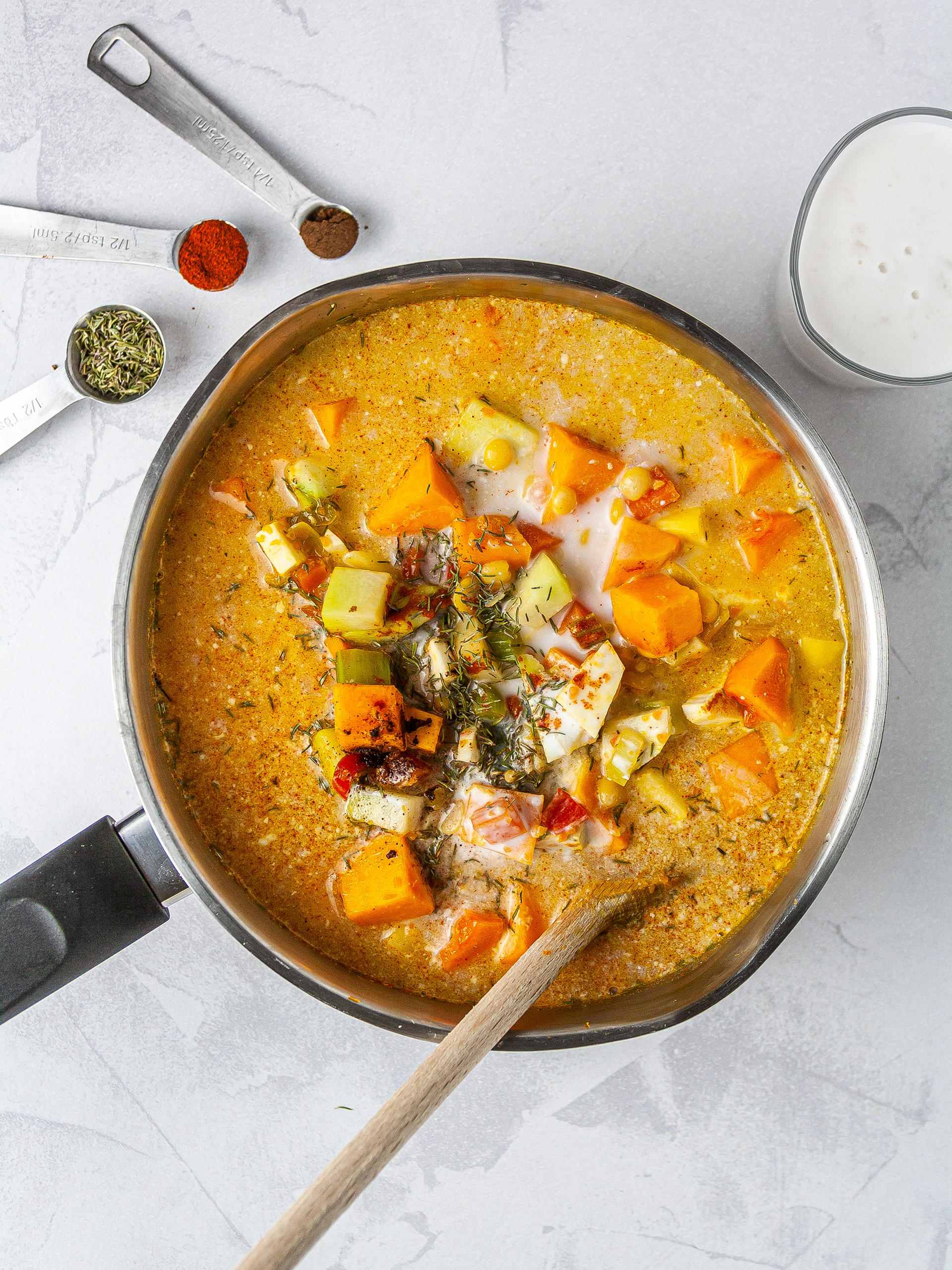 2
Step 3
In the meantime, prepare the gluten-free dumplings.
In a bowl, mix the buckwheat flour, oil, water, chopped coriander, and salt. Knead the ingredients until they come together into a smooth dough.
Pinch off a bit dough and roll it in the palm of your hands into a bite-sized dumpling.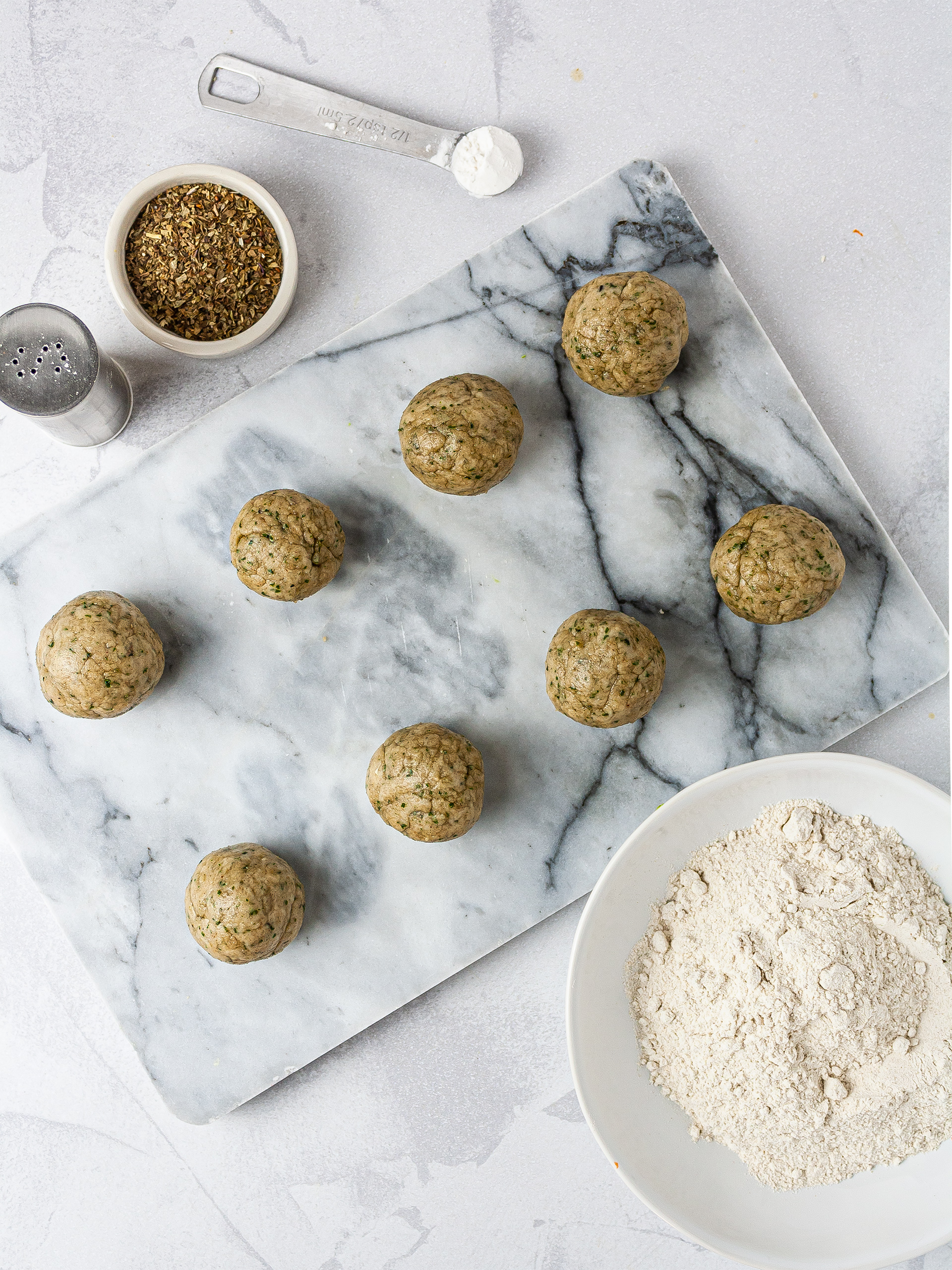 Step 4
Add the buckwheat balls to the soup and simmer for 20 more minutes. Make sure the dumplings are cooked through.
For each serving, pour a few ladles of this pumpkin soup in a bowl with two dumplings. Then garnish with sliced scotch bonnet chillies, thyme, and fresh herbs.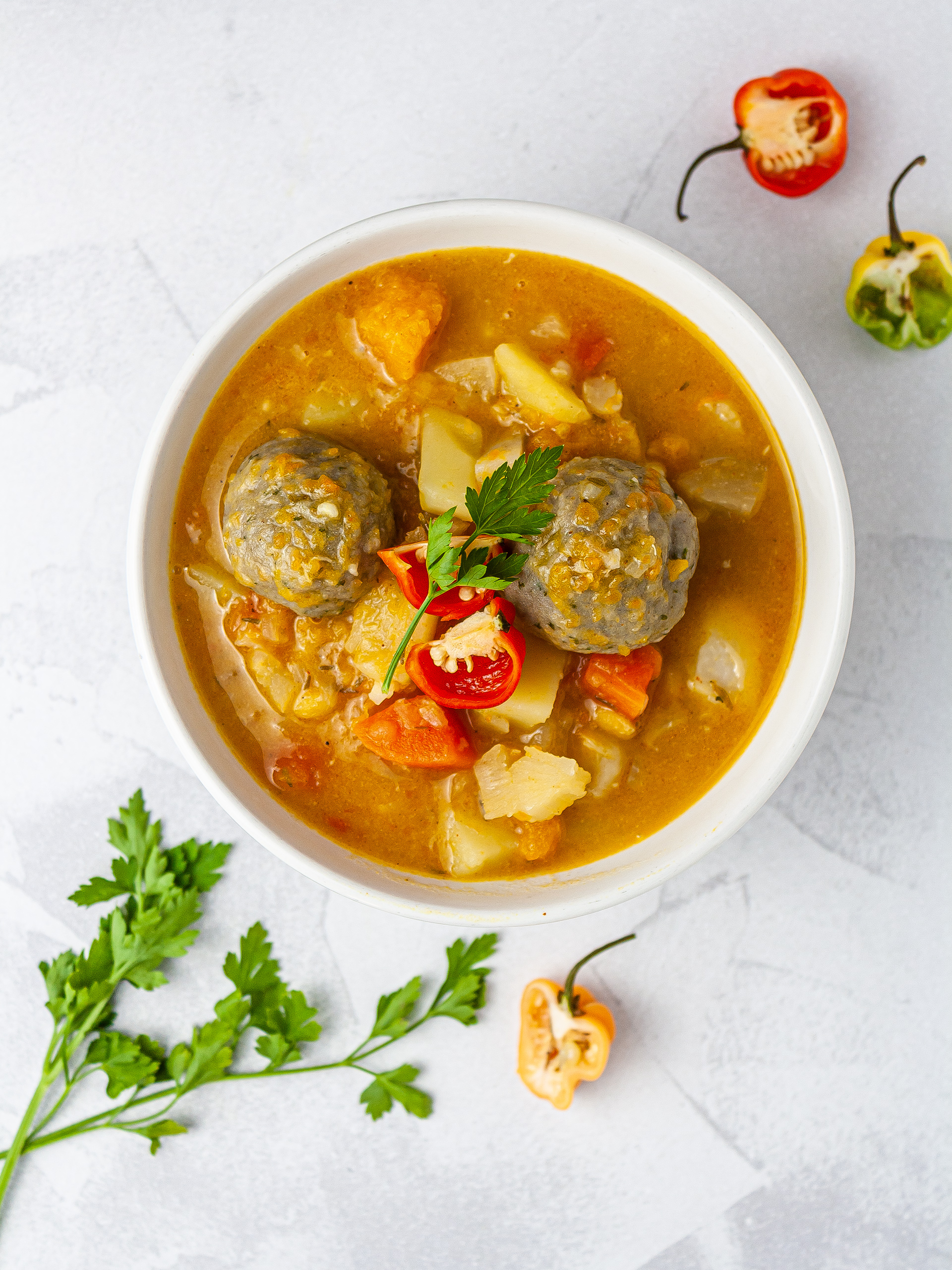 Tips
If you don't have buckwheat flour or you don't suffer from a gluten allergy, then you can make the dumplings with classic wheat flour. To do so, mix 100g of white plain flour with 50g of oil, 1 tsp of baking powder, salt, and herbs, and follow the step 3 instructions as in the recipe above.

Instead of yellow split peas, you can use white beans to prepare this Jamaican stew.

For a nutrient boost, add one tablespoon of nutritional yeast to this pumpkin soup. It provides a vegan source of B vitamins, including vitamin B12.

If you can't find eddoes, you can replace them white potatoes. Also, zucchini make an excellent alternative to chayote.