Today we'd like to propose a healthy and vegan potato salad, inspired to Lebanese cuisine. We built upon the classic fattoush and tabbouleh dishes and selected a mix of exciting ingredients we think you'll love.
This Lebanese potato salad brings together cucumbers, tomatoes and peppers, chickpeas, pomegranate, a selection of Mediterranean herbs, and baby potatoes, of course!
Pomegranate seeds are such a delightful addition. They are sweet, colourful, and festive. If they are out of season by the time you are reading this, worry not. You can still make a delicious Lebanese potato salad without them. Maybe you could add a teaspoon of harissa for a spicy Middle-Eastern twist?
With all these healthy ingredients, you can expect a nutritious meal. A bowl will give you plenty of fibres (44% RDI), proteins (28% RDI), carbs (18% RDI) and most of the vitamins and minerals you need in a day. If you follow a strict vegan diet, we suggest you pair our salad with a few slices of wholemeal bread to get complete proteins.
Because we only used plant-based ingredients, this salad is great to make ahead. You can prepare a big batch and keep it in the fridge for up to a week. No need to reheat before eating either — the ideal candidate for lunch-boxes!
Finally, this recipe is easy as pie and will only take you around 15 minutes to prepare. Have fun making this and enjoy it!
Frequently Asked Questions
Which are the best potatoes for potato salad?

Waxy potatoes are our go-to choice between starchy and waxy varieties when preparing salad potatoes.

Because they're moister and have a lower starch content, waxy potatoes keep their shape better after cooking and have a firm, creamy texture.

In this recipe we opted for baby potatoes, but can also try other waxy varieties like:

New Potatoes

Red Bliss

French Fingerling

Red Adirondack

Desiree

Charlotte

If you can't find any of these, then you can still use all-purpose, white potatoes. However, we recommend checking them frequently while they cook, as they can get mashy more quickly.
Can I make potato salad ahead?

This potato salad recipe is absolutely perfect for meal prepping.

You can boil the potatoes the night before, for example, and leave them to cool in the fridge overnight.

Then, all you have to do the following morning is put the salad ingredients together and toss them with the lemon dressing — you'll have all your lunch boxes sorted for the week!
Is this potato salad good for weight loss?

We designed this potato salad recipe to be as healthy and nutritionally balanced as possible. Each serving covers three of your 5-a-day for fruit and vegetables, and has only 340 calories, covering less than 20% of your total calorie needs in a day.

By boiling the potatoes and tossing them with a lemon-based dressing, we kept fats to a minimum. We also added a serving of legumes to boost this meal with plant-based proteins and extra fibres.

A single bowl of this salad packs a whopping 11g of fibres, covering almost half of your RDI for this nutrient. Fibres help slow down the digestion and absorption of carbs and sugars, allowing a steadier energy release throughout the day, making the best ally to any weight-loss diet.
Ingredients
Lemon Dressing
Extra Virgin Olive Oil

2 tbsp

Lemon

1

Allspice

1/2 tsp

Fenugreek Seeds (optional)

1/2 tsp

Potato Salad
Baby Potatoes

400 g

Lettuce

220 g

Cucumber

180 g

Cherry Tomatoes

300 g

Red Peppers (optional)

1

Pomegranate Seeds

160 g

Canned Chickpeas (drained weight)

440 g

Fresh Mint

to taste

Fresh Parsley

to taste
Step 1
Add the potatoes to a pot of boiling water and simmer them for 12 minutes.
Then, rinse them under cold water, peel them, and cut them into chunks.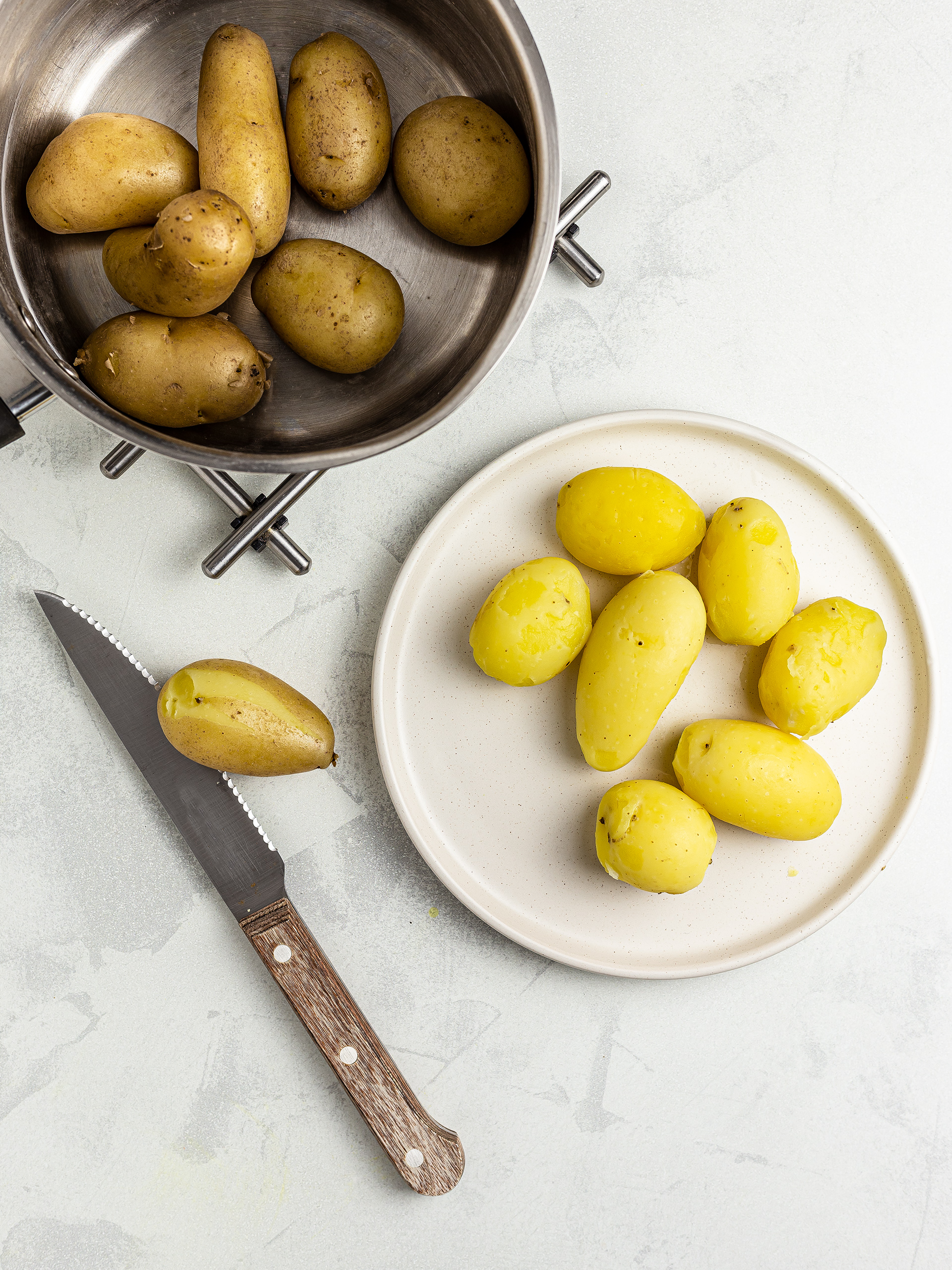 Step 2
Now, let's get the salad vegetables ready.
Shred the lettuce, thinly slice the cucumber, halve the cherry tomatoes, and thinly slice the red peppers, if you're using them.
Then, divide the pomegranate into quarters, pull out the seeds, and discard the white pith.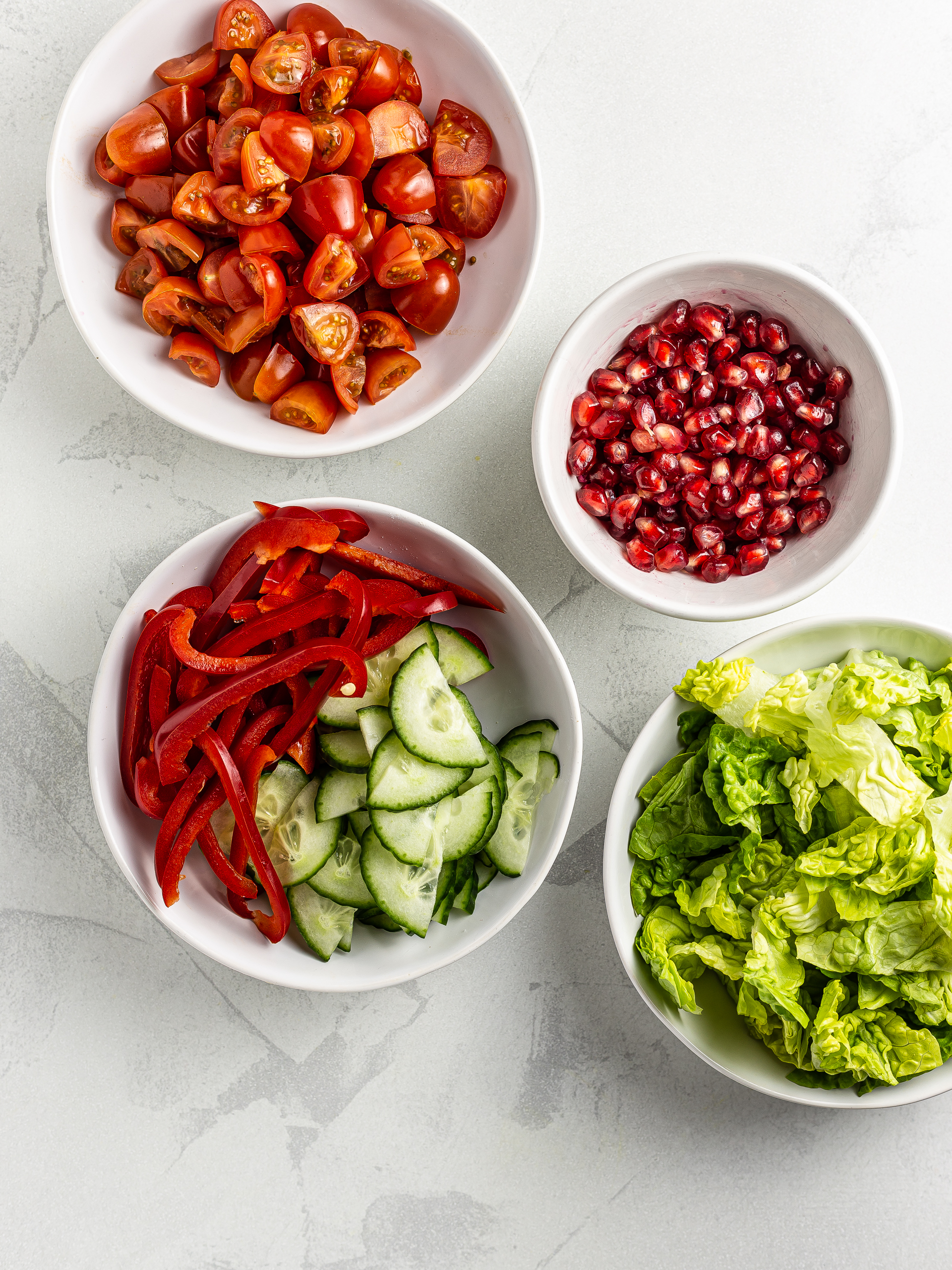 Step 3
For the lemon dressing, combine the extra virgin olive oil with lemon juice, lemon zest, allspice, and ground fenugreek seeds.
Tip in salt and pepper to taste and stir until well mixed.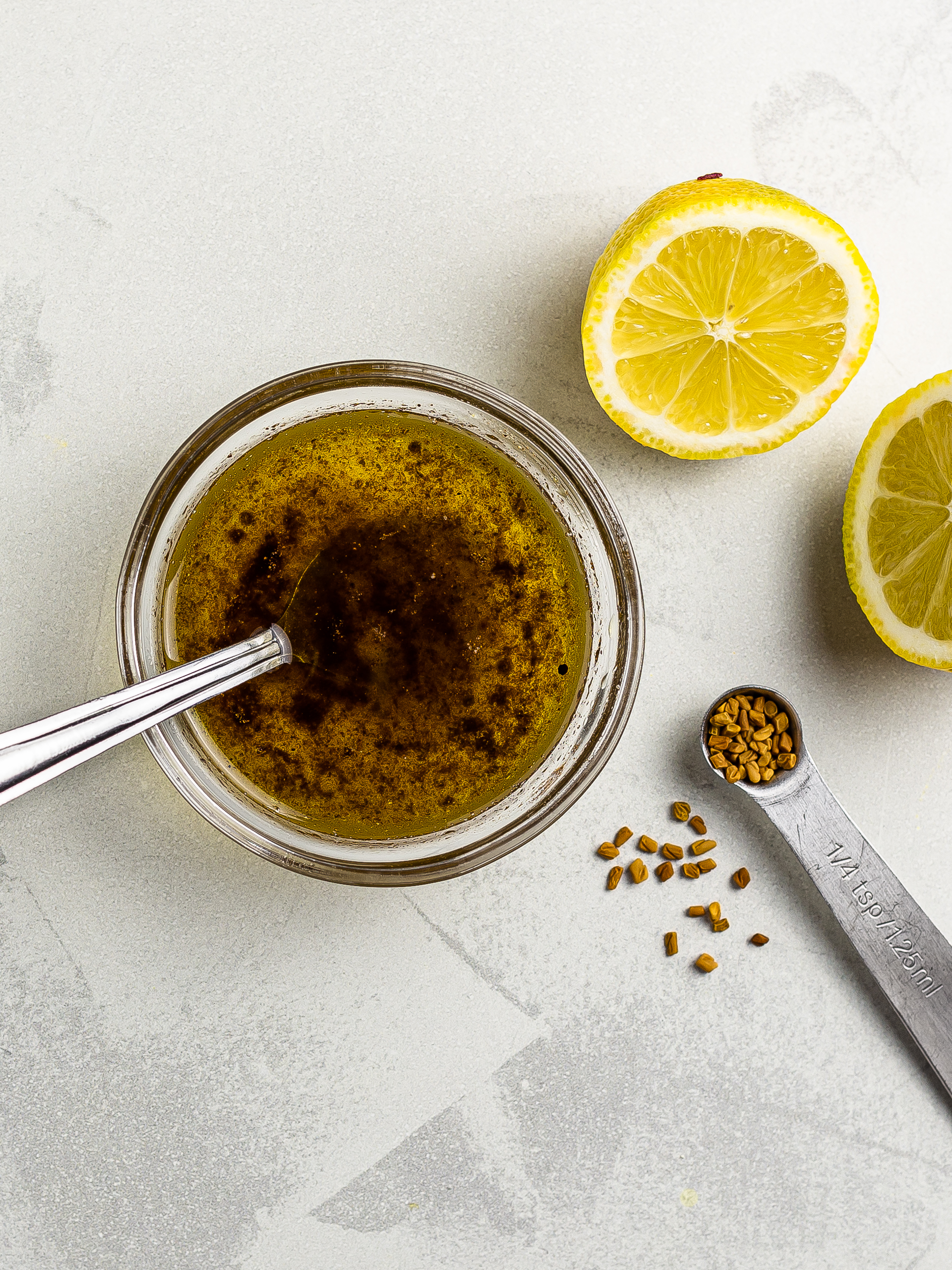 Step 4
Now, let's put our potato salad together.
Add the prepared vegetables to a bowl along with the potato chunks, pomegranate seeds, and canned chickpeas.
Pour in the lemon dressing, add chopped mint and parsley, and mix well.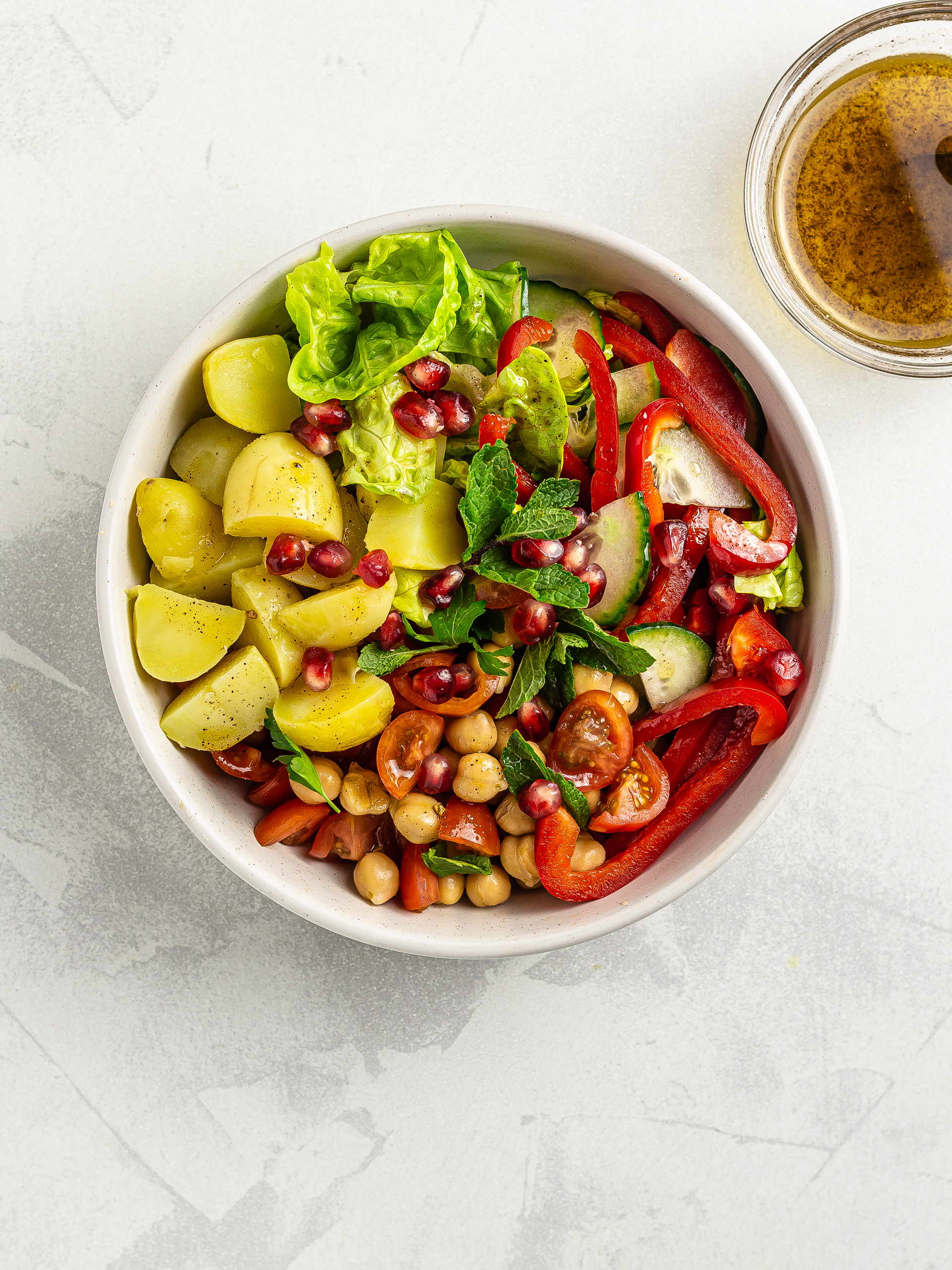 Tips
Instead of allspice and fenugreek, you can use nutmeg and cinnamon.

Store the salad in the fridge in an airtight container for up to 7 days.