Do you like those saucy beans that come in the all-mighty full English breakfast? Then we think you'll love this baked beans toast recipe.
The secret to those yummy beans is the Worcestershire sauce. You may not know this, but classic Worcestershire sauce is not vegan, as it contains anchovies. If you are not on a vegan diet or are not allergic to fish, that's fine. Below we'll show you how to make a "beans on toast" breakfast recipe that is allergy-friendly and vegan.
So the question is, how can we make a taste-alike Worcestershire sauce that is also vegan? In our opinion, the dominant flavours in this classic sauce come from the anchovies, the sugar, and the vinegar. We will need plant-based alternatives that taste acidic, pungent, and sweet. We think soy sauce can take care of the first two, and maple syrup of the latter requirement.
And so we have concocted a delicious yet simple blend of tomato sauce, maple syrup and soy sauce — a 100% plant-based sauce that is cheap and easy to prepare.
With the sauce sorted, the rest of the recipe is a breeze. Just cook the beans with it and layer them over a slice of toasted bread and fresh baby spinach leaves. Opt for some sourdough bread if you can, it makes all the difference. Do you already have sourdough yeast bubbling in your kitchen? Try out this recipe with this pumpkin sourdough bread!
Frequently Asked Questions
Are baked beans vegan?

The classic British baked beans recipe is not vegan. Although it's made with beans and tomatoes, it also includes Worcestershire sauce, which has anchovies.

Moreover, some recipes or store-bought canned baked beans also have chicken broth or pork in the list of ingredients, and therefore they are not suitable for those following a plant-based diet.
How do you make baked beans healthy?

Store-bought baked beans include processed syrups, thickeners, plenty of salt, and other additives to increase palatability.

Moreover, some recipes feature ketchup, white sugar, molasses, and Worcestershire sauce. This means a lot of sugar, salt, and heavily refined ingredients.

Preparing homemade baked beans from scratch means you have complete control over the quantity and quality of the ingredients you use.

In our recipe, we only used five simple ingredients: beans, tomato sauce, extra virgin olive oil, maple syrup, and low-salt soy sauce.

Maple has 30% to 40% fewer sugars than white sugar, and it's less processed too.

Soy sauce is made from a paste of fermented soybeans. You can easily find gluten-free and low-salt soy sauce alternatives at your local supermarket to keep the salt amount in check.

Thus, it's safe to say our easy baked beans recipe is definitely a healthier alternative to most store-bought beans.
Which are the best beans for baked beans?

White beans are a staple in this classic British dish. You can use cannellini, great northern, navy, haricot, or butter beans varieties.

For a twist on the traditional recipe, we used pinto beans, but you can also go for red or black beans.
Ingredients
Baked Beans
Extra Virgin Olive Oil

1 tbsp

Garlic

1

Tomato Sauce

120 g

Canned Pinto Beans (drained weight)

200 g

Maple Syrup

2 tsp

Low-Salt Soy Sauce

2 tsp

To Serve
Seeded Sourdough Bread Slices

4

Baby Spinach

80 g

Fresh Parsley

to taste
Step 1
Heat the olive oil in a skillet, add crushed garlic, and sizzle for a minute.
When the garlic is fragrant, add the tomato sauce and drained beans.
You can use canned chopped tomatoes or tomato purée (passata).
Cook the beans for 10 minutes over medium heat, stirring occasionally.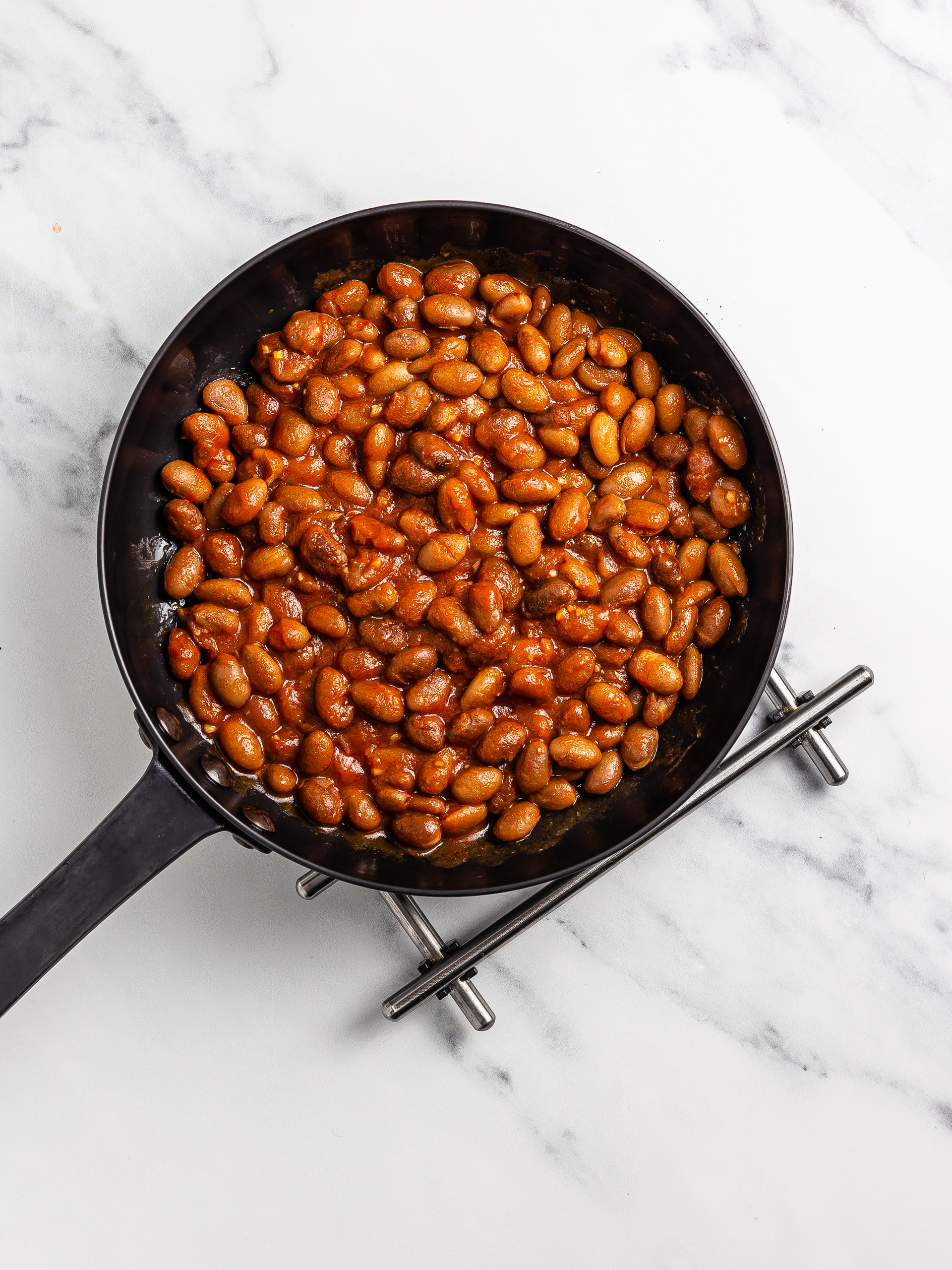 Step 2
In the meantime, combine maple syrup, soy sauce, salt and pepper in a bowl (1). Also, start toasting the bread slices in the oven or a toaster.
Then, pour the sauce into the skillet with the baked beans, stir well, and cook for two more minutes (2).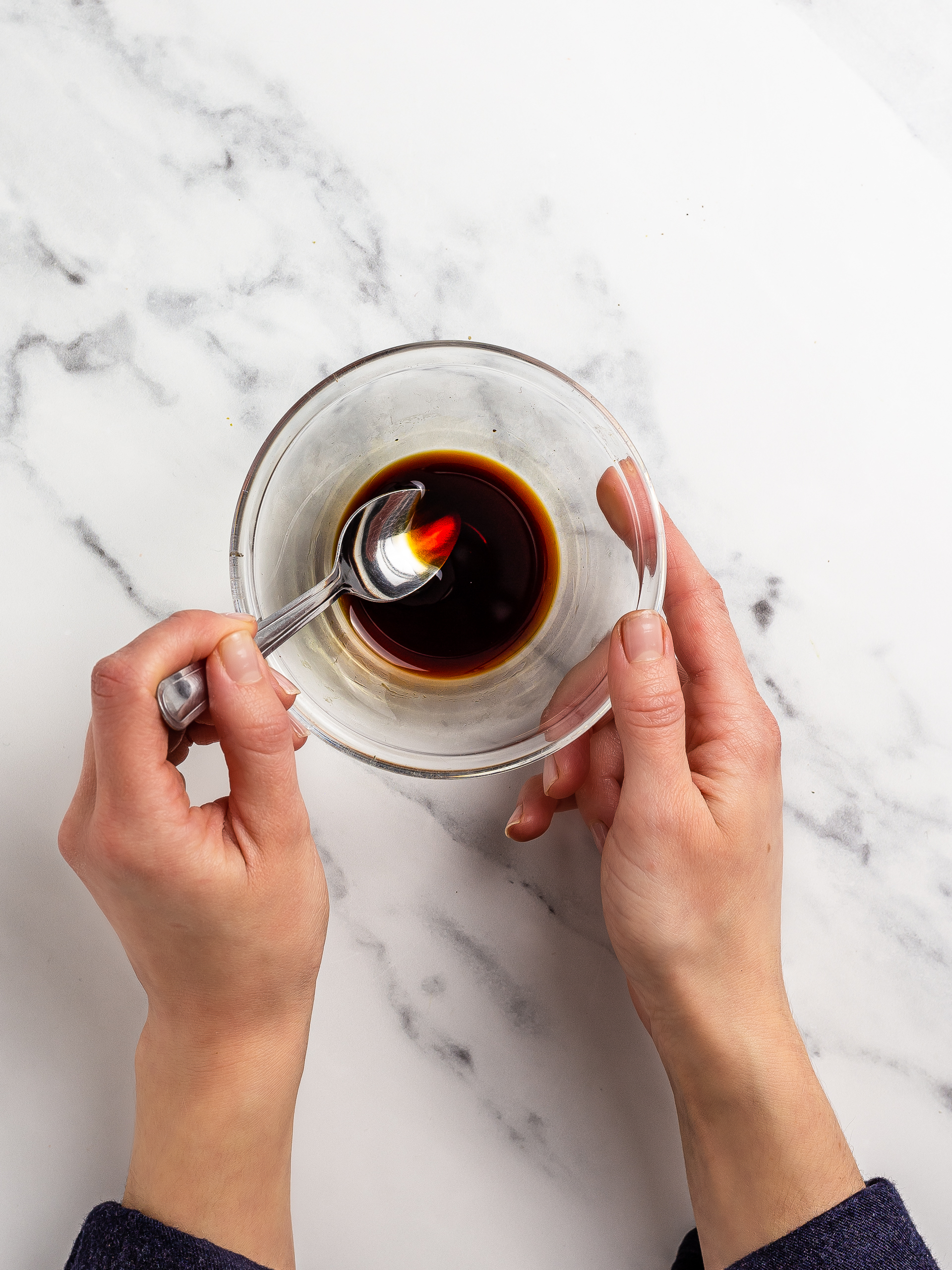 1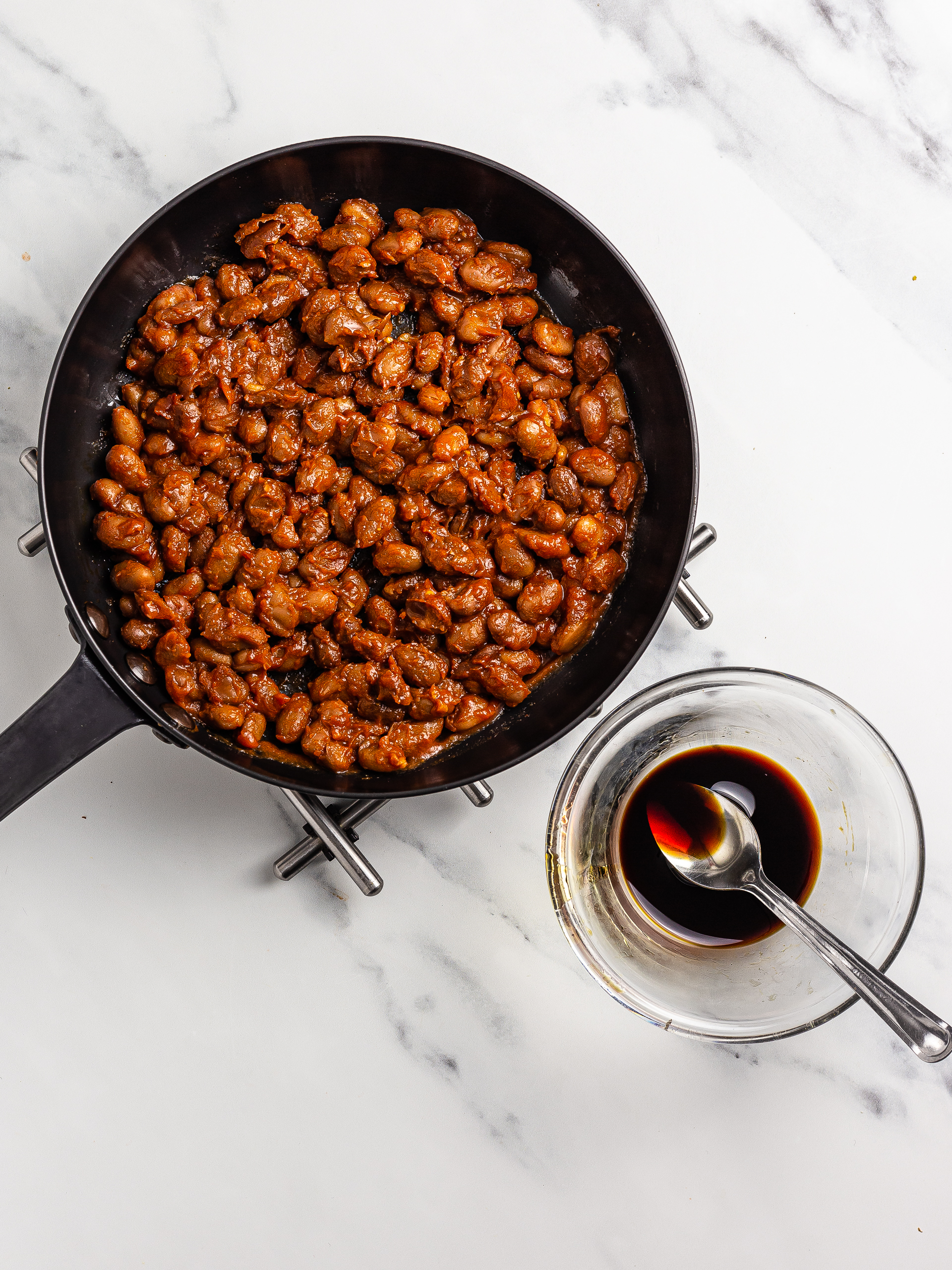 2
Step 3
Allow two bread slices per person and top them with fresh spinach leaves.
Divide the maple baked beans among toasts and garnish with fresh parsley to taste.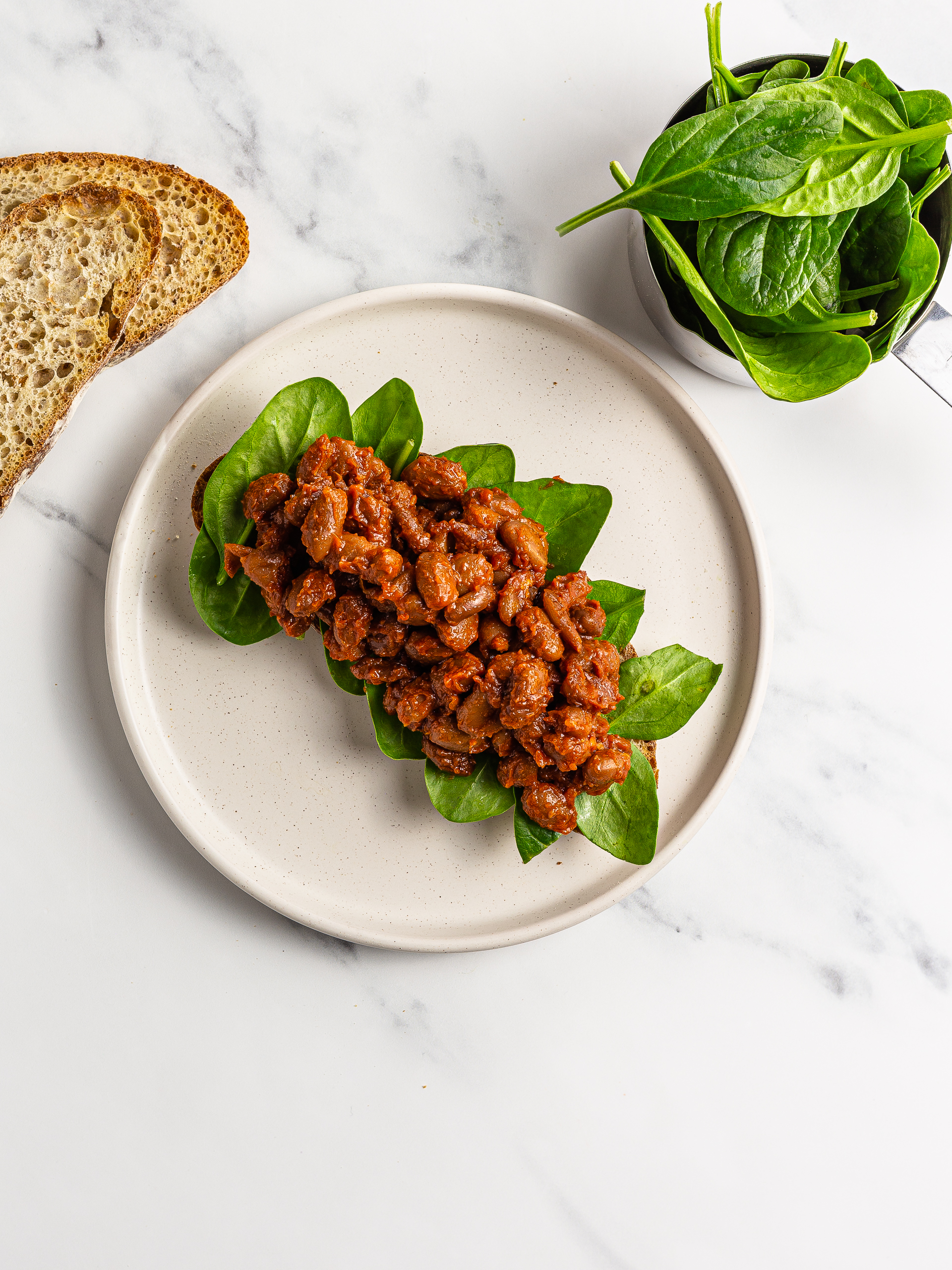 Tips
For a spicy kick, tip in one teaspoon of smoked paprika into the beans mix.

Drizzle the prepared toasts with lemon juice to boost the absorption of plant-based iron.