With our quick step-by-step recipe, you can prepare this delicious and healthy Moroccan cauliflower rice, a vegan and gluten-free dish perfect for dinner or your next lunch box.
Made with grated cauliflower, chickpeas, kale, dried fruit and nuts, and a tasty blend of spices, this rich cauliflower rice bowl not only bursts with Mediterranean flavours but it's also nutritious.
Each serving provides 3 of your 5-a-day for fruit and vegetables thanks to the cauliflower, kale, and Goji berries, which are also high in vitamin B, C, and K, and minerals including calcium.
Goji berries are also rich in vitamin A and health-promoting antioxidants. You can learn more about it in our latest article here. And if you'd like to try more recipes with them, check out this delicious vegan Goji soup.
In this Moroccan salad, we added chickpeas to balance the dish with a source of plant-based protein and fibres, which help you feel full for longer. Pistachios provide healthy fats and a tasty and crunchy finish to this dish.
Each delicious bowl comes in 500 calories and covers half of your daily proteins and fibres — perfect for a healthy and filling lunch!
Ingredients
Cauliflower Rice
Fresh Cauliflower Florets

320 g

Moroccan Dressing
Extra Virgin Olive Oil

1 tbsp

Cumin

1 tsp

Paprika

1 tsp

Allspice

1/2 tsp

Cinnamon

1 tsp

Lemon

1

To Serve
Canned Chickpeas

260 g

Curly Kale

120 g

Goji Berry

30 g

Pistachios

40 g

Fresh Coriander

to taste
Step 1
If you're using a whole cauliflower, slice it in half, pull the florets, and trim off the hard stems.
Add the cauliflower florets to a food processor and blitz them in short pulses.
Four or five pulses should be enough to grind the cauliflower into small grains.
If you don't have a blender, you can use the large side of a box grater, but you'll have slightly coarser grains.
Now, pat the cauliflower dry with kitchen paper as removing excess moisture is key to a good cauliflower rice.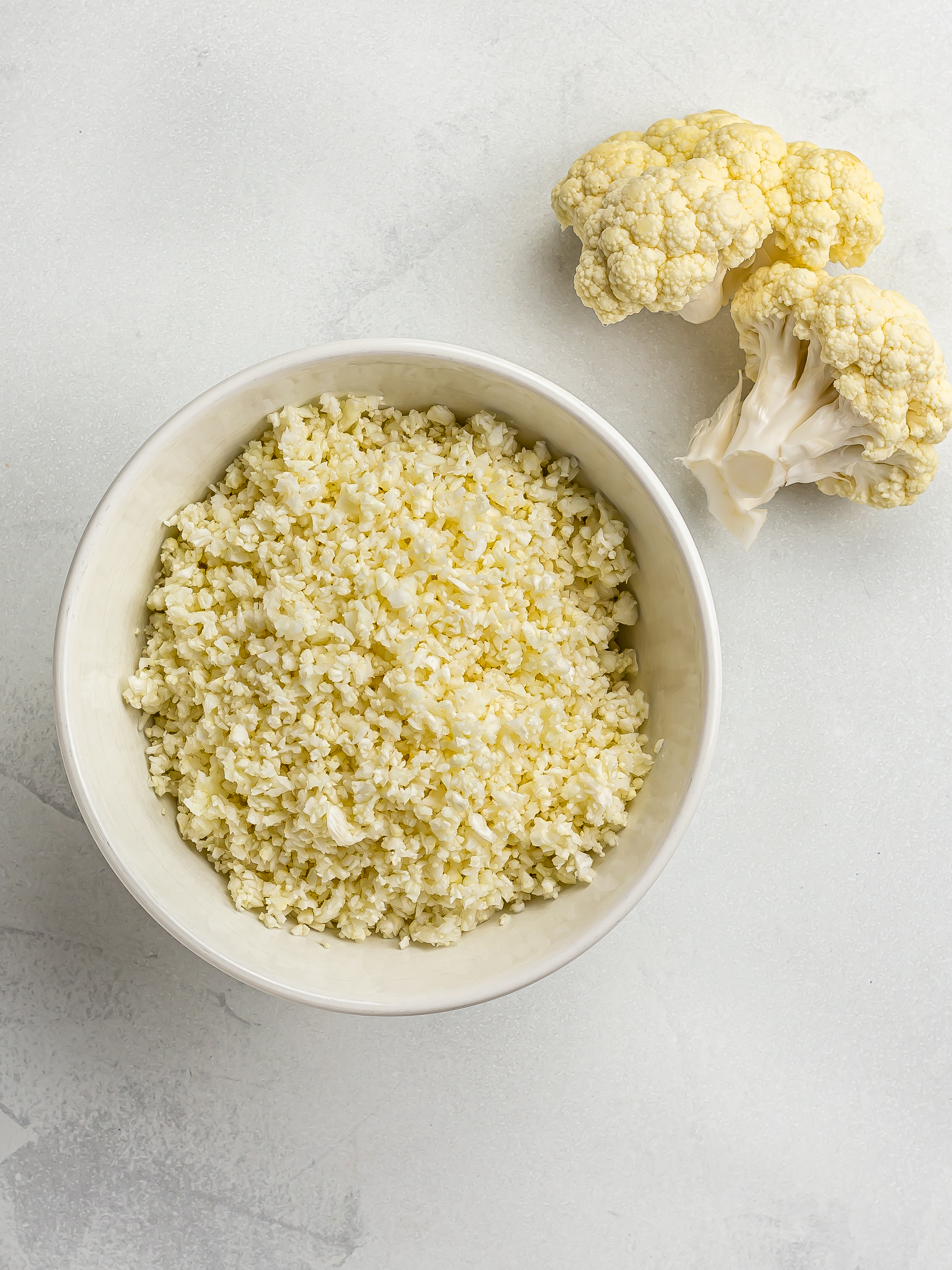 Step 2
Heat a drizzle of olive oil in a skillet, add the prepared cauliflower rice, and season it with salt to taste.
Cook the rice uncovered for 5-8 minutes, stirring occasionally.
The cauliflower has to be just slightly soft and yet feel chewy to the bite, exactly like cooked rice.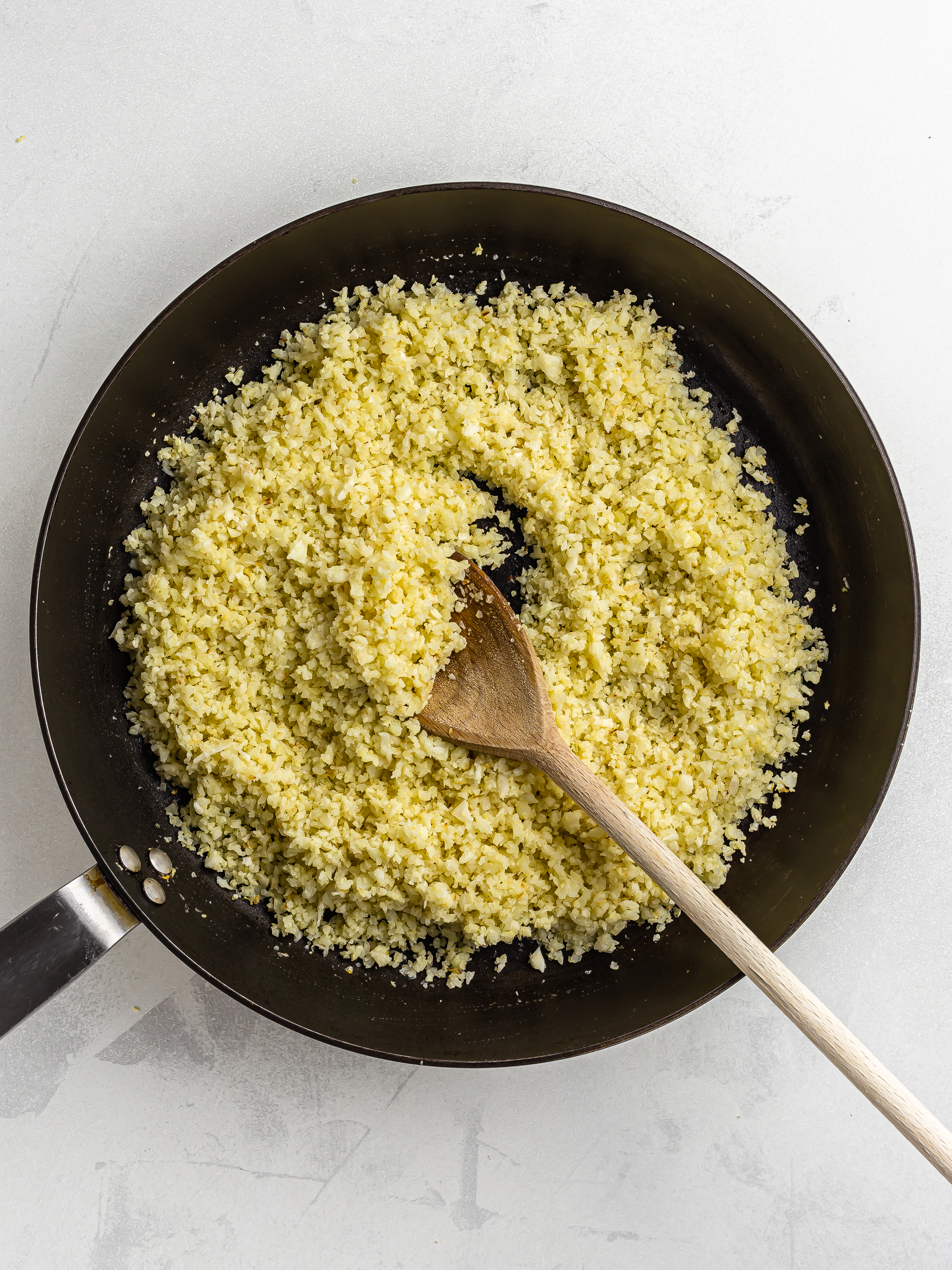 Step 3
Meanwhile, prepare the Moroccan dressing.
Zest and juice the lemon, reserving half of the juice for the kale.
Mix the zest, juice, and spices in a small bowl.
Then, season with salt and pepper to taste.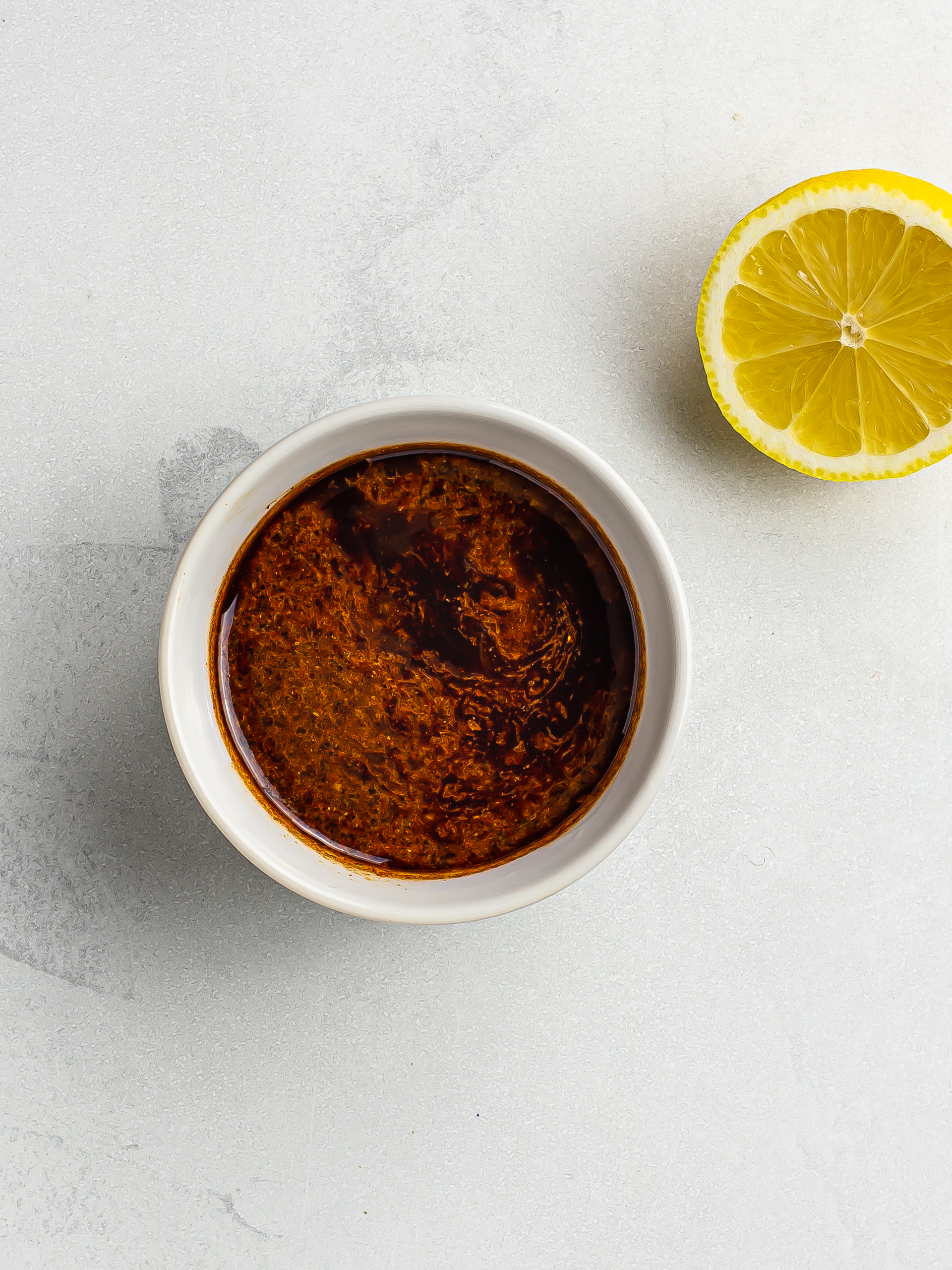 Step 4
Remove the chunky, tough stems from the kale and tear the leaves into small pieces.
Then, toss them in a bowl with the reserved lemon juice.
Squeeze and massage the kale with your hands to soften it.
This way, it will be easier to chew and digest. Still, if you feel the kale is too hard for your tastes, you can cook it for a few minutes in the skillet with cauliflower rice.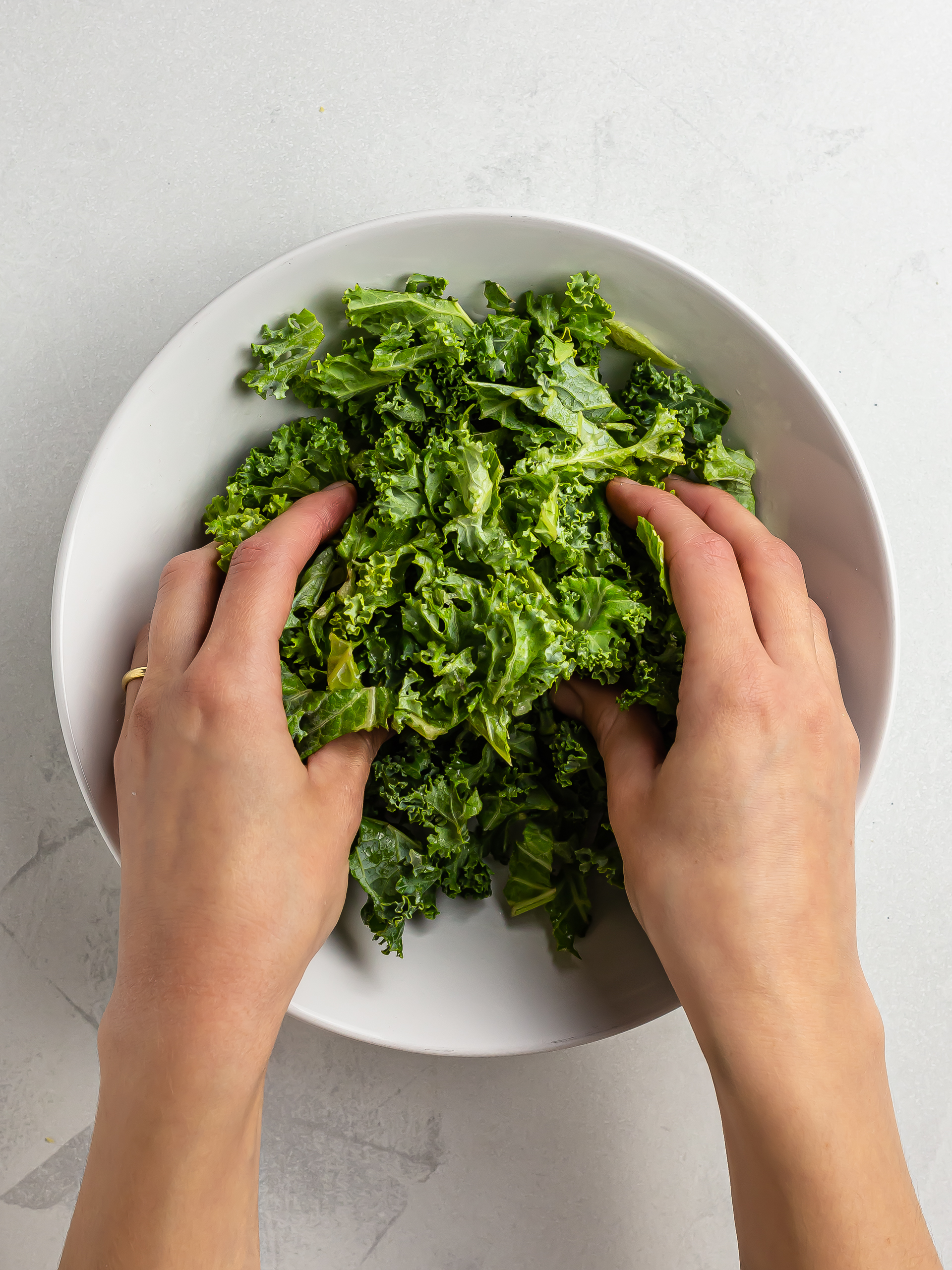 Step 5
Finally, drain and rinse the canned chickpeas and optionally toast the pistachio nuts.
Divide the cauliflower rice, chickpeas, and kale among bowls. Then, top them with goji berries, pistachios, and fresh coriander if you like.
Pour in the dressing, toss well, and enjoy.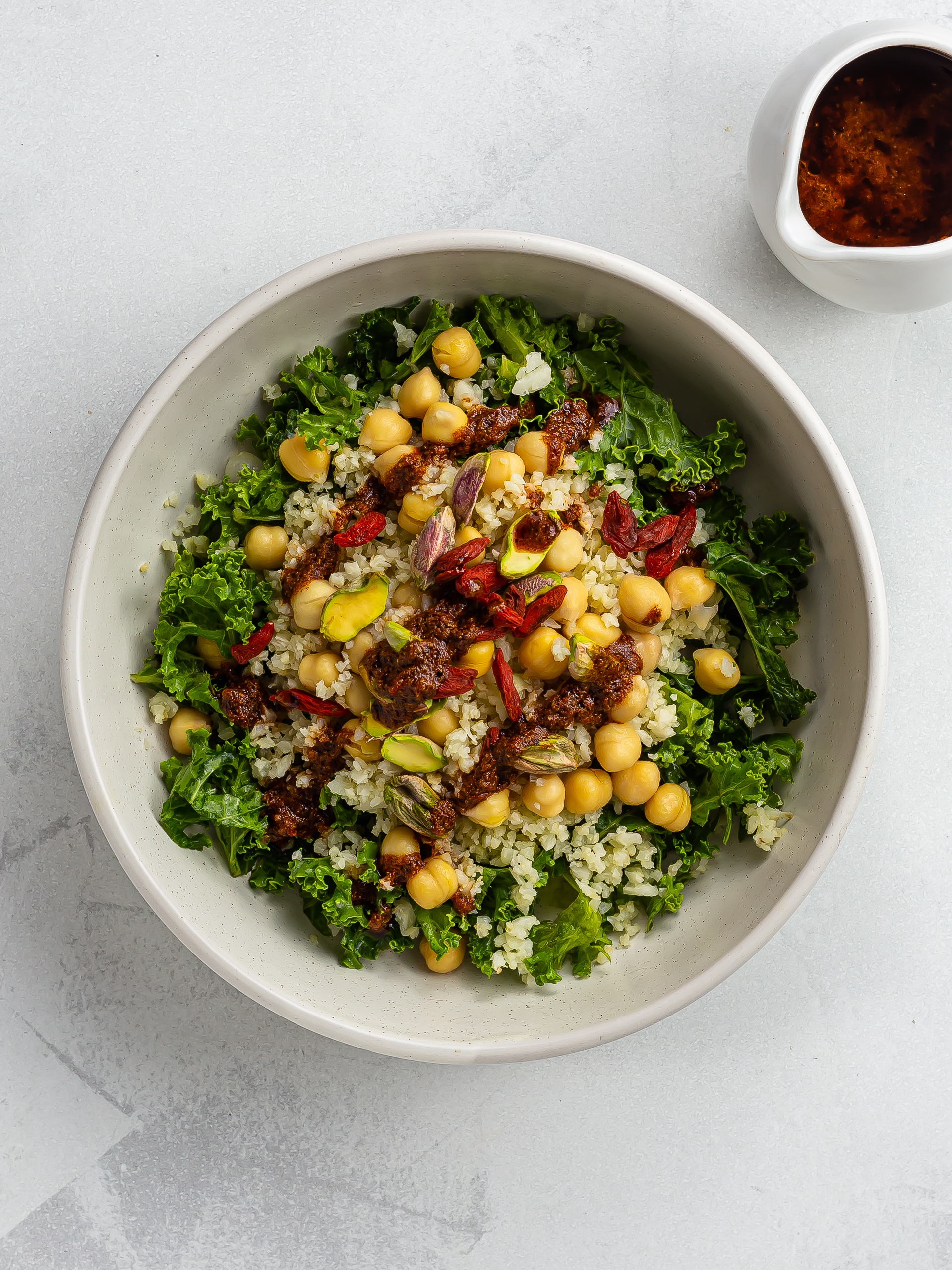 Tips
We recommend using fresh cauliflower as the frozen one retains moisture and water, which will make your rice mushy and soggy. As an alternative, you can find already frozen cauliflower rice.

You can swap pistachios with almonds or pine nuts.

Store this Moroccan cauliflower rice in the fridge for 3-4 days.