After the success of our Vietnamese coffee custard, Japanese matcha flan, and Thai blue pea jelly, we have another Asian-inspired gelatine dessert for you: a gorgeous pandan jelly with a strawberry layer. It's vegan, gluten-free, sugar-free, and incredibly delicious!
It might seem tricky to make, but with our detailed step-by-step recipe, success is guaranteed. All you need is coconut milk drink, fresh strawberries, pandan essence, and vegan gelatine. Prepare three different jellies, two with green pandan and one with pink strawberry, and then layer them in pudding moulds. Job's done!
Classic gelatine desserts are prepared by dissolving gelatine powder in a liquid base like fruit juices or milk, all sweetened with sugar. The mixture is then heated, poured into a mould, and allowed to harden in the fridge. In our recipe, we swapped collagen-based gelatine with vegan gelatine and replaced sugars with naturally sweet strawberries and coconut milk. This means our pandan jelly is suitable for those on a plant-based or low-carb diet.
Pandan is a tropical plant whose leaves are used in Malay and Indonesian cuisines to prepare savoury dishes, cakes, and drinks. They can be turned into a powder or juiced into a dark green extract. Just a few drops are enough to give a lovely flavour and a bright green colour to any recipe. If you've never tried pandan before, we're sure you'll love its sweet and floral taste.
You can find pandan extract in Asian food stores as a paste-like essence. Some brands have only pandan leaves and water as ingredients, while others also include additives like starch, sweeteners, and food colourings. In this recipe, we found that as little as half a teaspoon is enough to give a brilliant green hue to the jellies and infuse them with a grassy, nutty, and vanilla-like flavour.
What's great about this pandan dessert is that it's also low in fats and calories. One serving has only 47 calories and covers 4% RDI of sugars and 3% RDI of fats. Sweet! So, get your apron on, and let's get started!
Ingredients
| | |
| --- | --- |
| Coconut Milk Drink | 680 mL |
| Pandan Paste/Essence | 1/2 tsp |
| Vegan Gelatine (or Agar Powder) | 3 tsp |
| Fresh Strawberries | 180 g |
Step 1
In this recipe, you can use either vegan gelatine or agar powder in the same quantity. If you're using agar flakes instead, you'll need double the amount the get the same results.
Add 450 mL of coconut milk drink to a bowl, tip the pandan essence, and stir until well combined.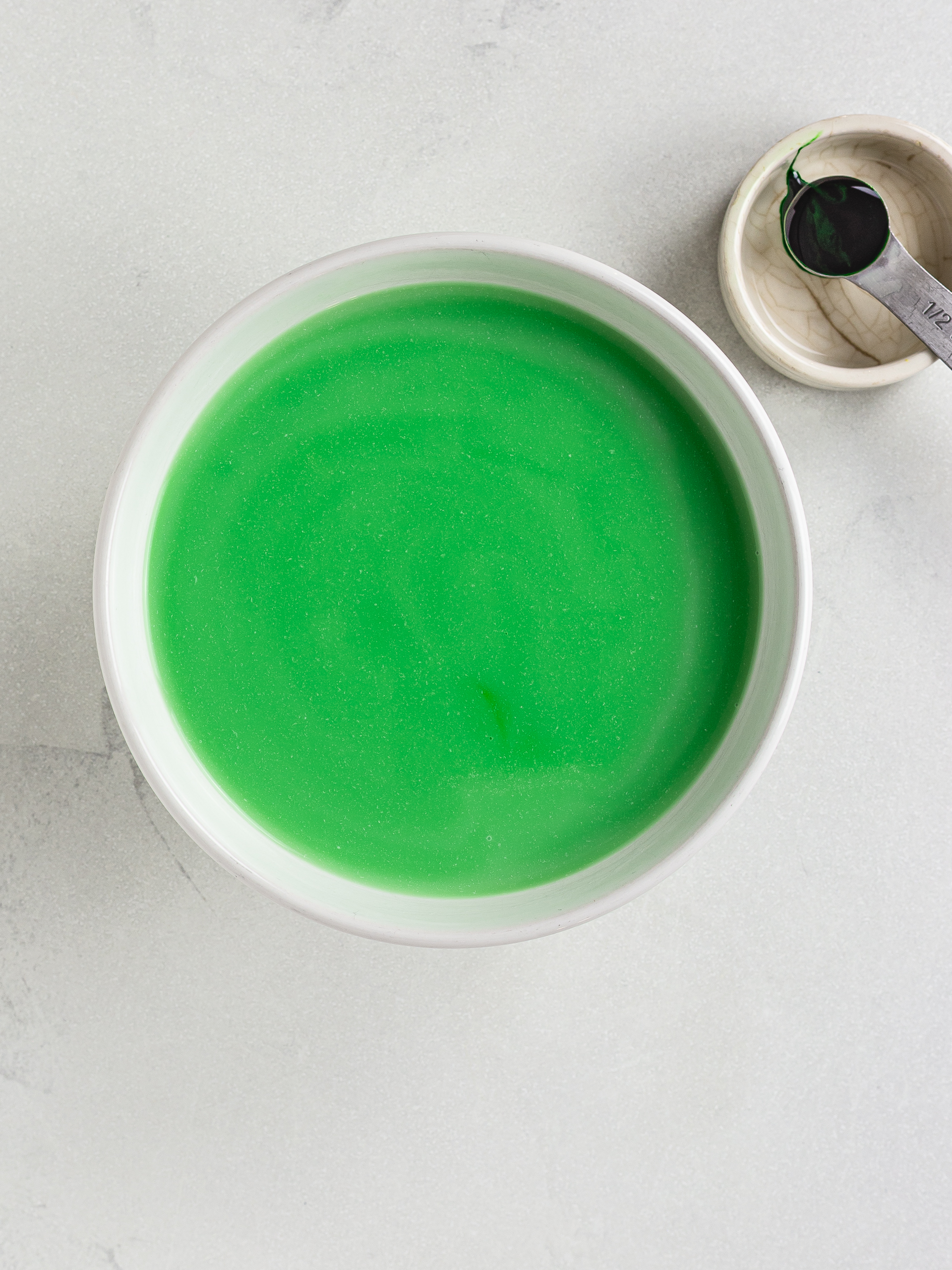 Step 2
Blitz the strawberries with 230 mL of milk in a food processor (1).
Then, strain the milk with a fine-mesh sieve or cheesecloth to extract the strawberry-flavoured liquid into a bowl (2).
You can use the leftover pulp to make a fruit smoothie or just discard it.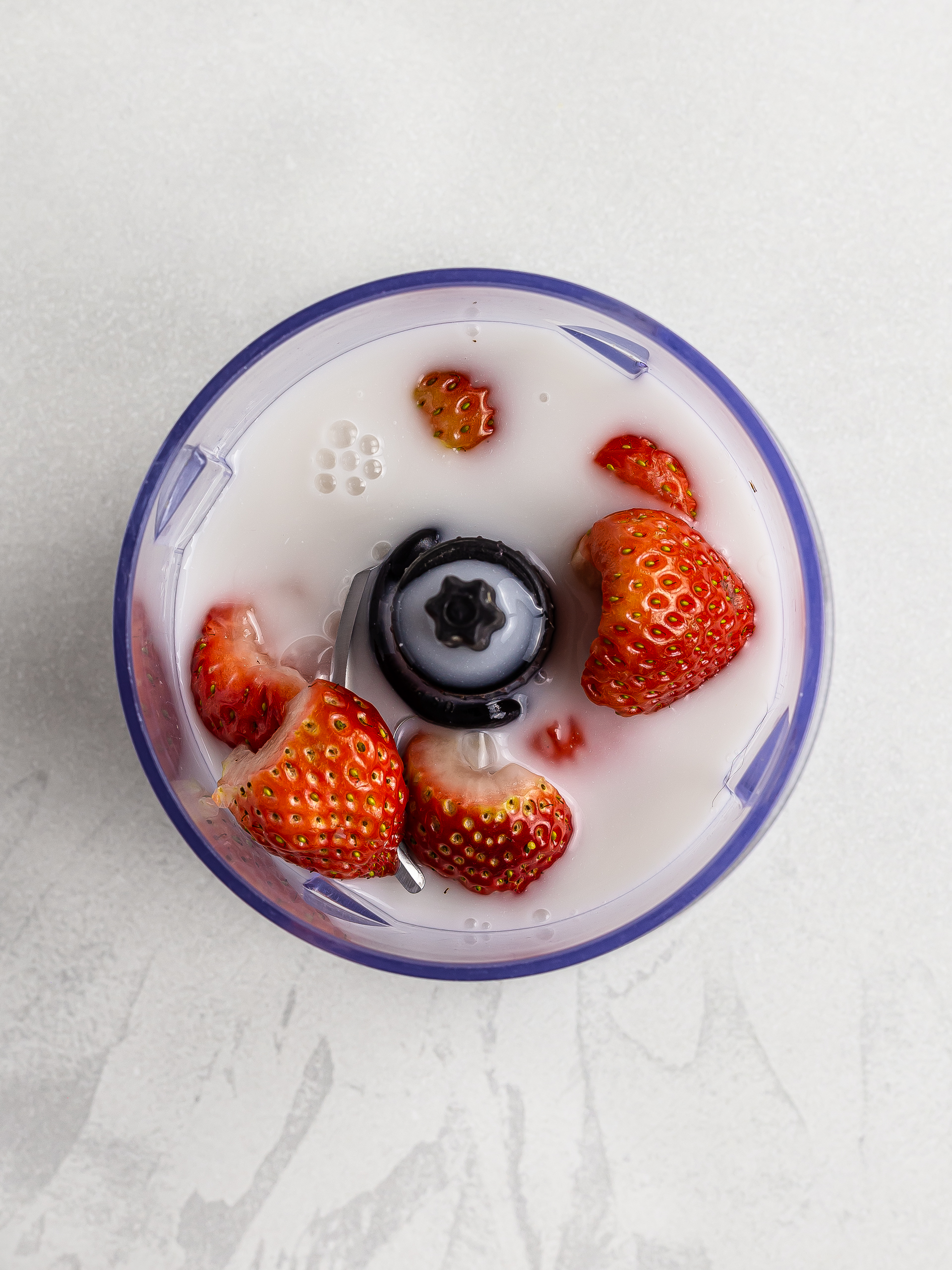 1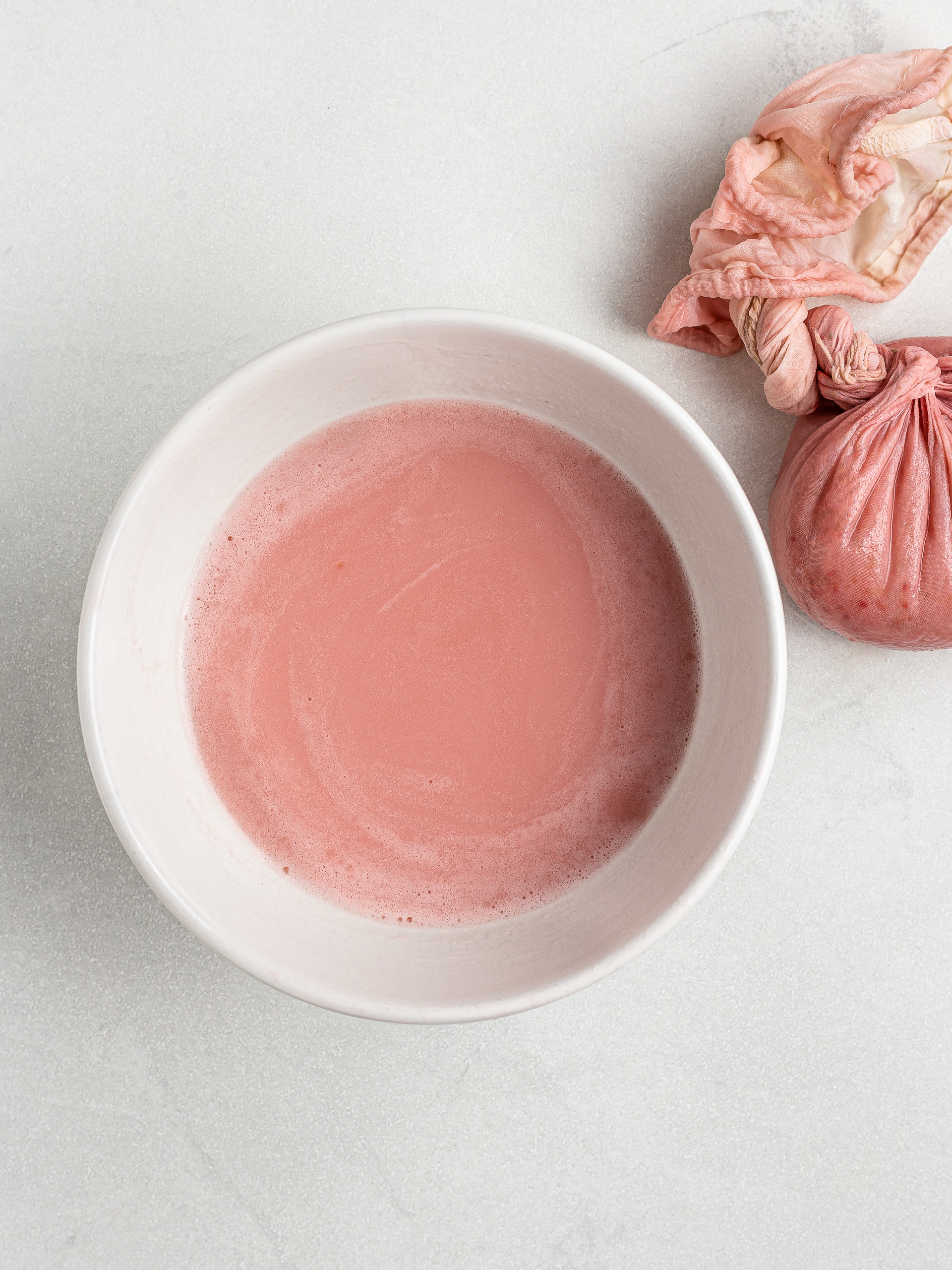 2
Step 3
Now, pour half of the pandan milk into another bowl.
At this point, you should have three bowls, two with the pandan milk and one with the strawberry milk.
We'll use one at a time to make three separate gelatine layers.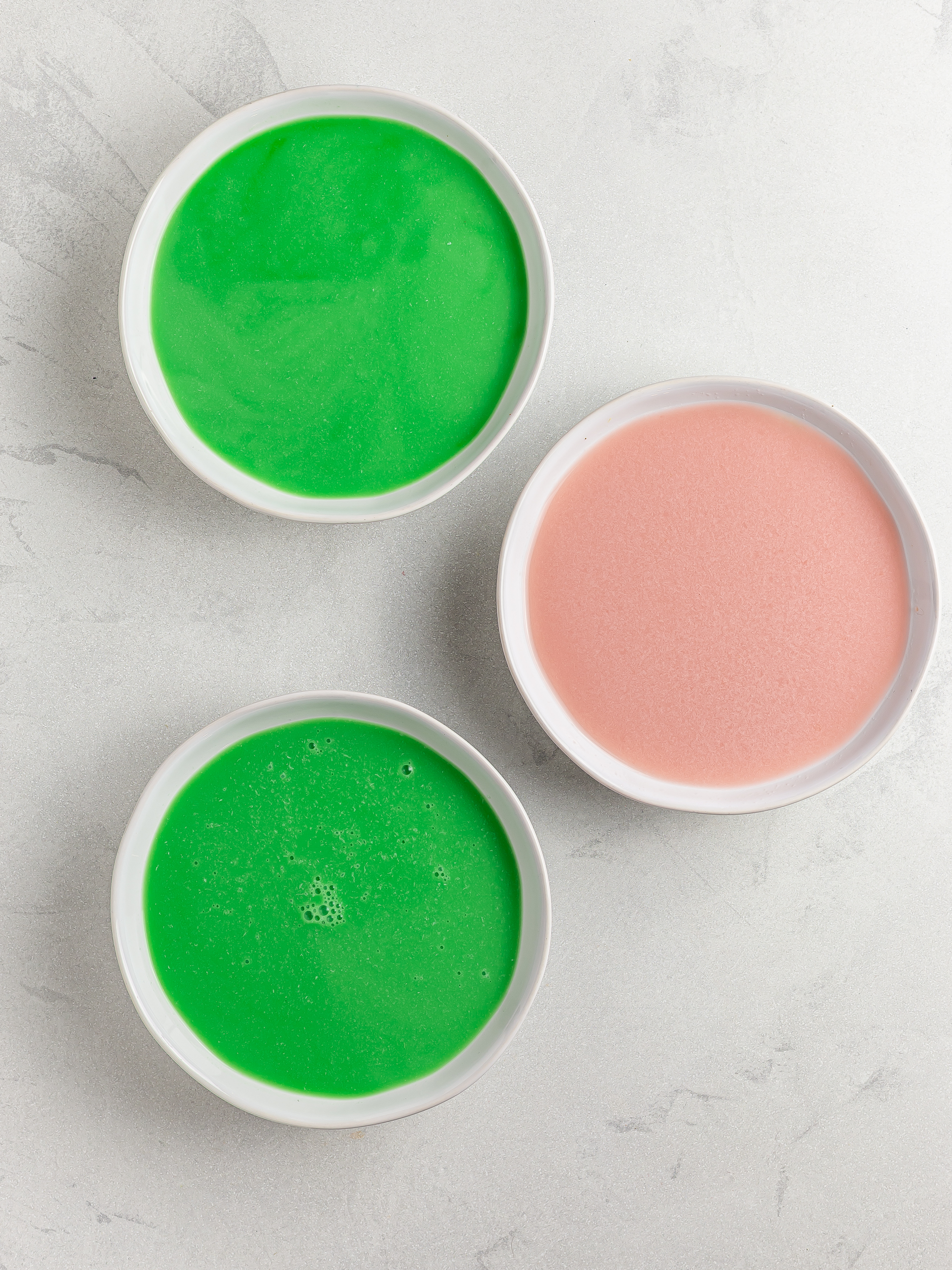 Step 4
Pour the green pandan milk from one bowl into a pot and tip in 1 tsp of gelatine powder.
We recommend adding it a bit a time and whisking until it's completely dissolved to avoid lumps (1).
Now, warm the milk over medium heat while whisking and as soon as it boils, remove the pot from the heat.
Pour the pandan jelly into pudding moulds, filling them at one third (2). If possible, use silicone moulds, as it will be easier to pop the jelly out later.
Let them sit at room temperature.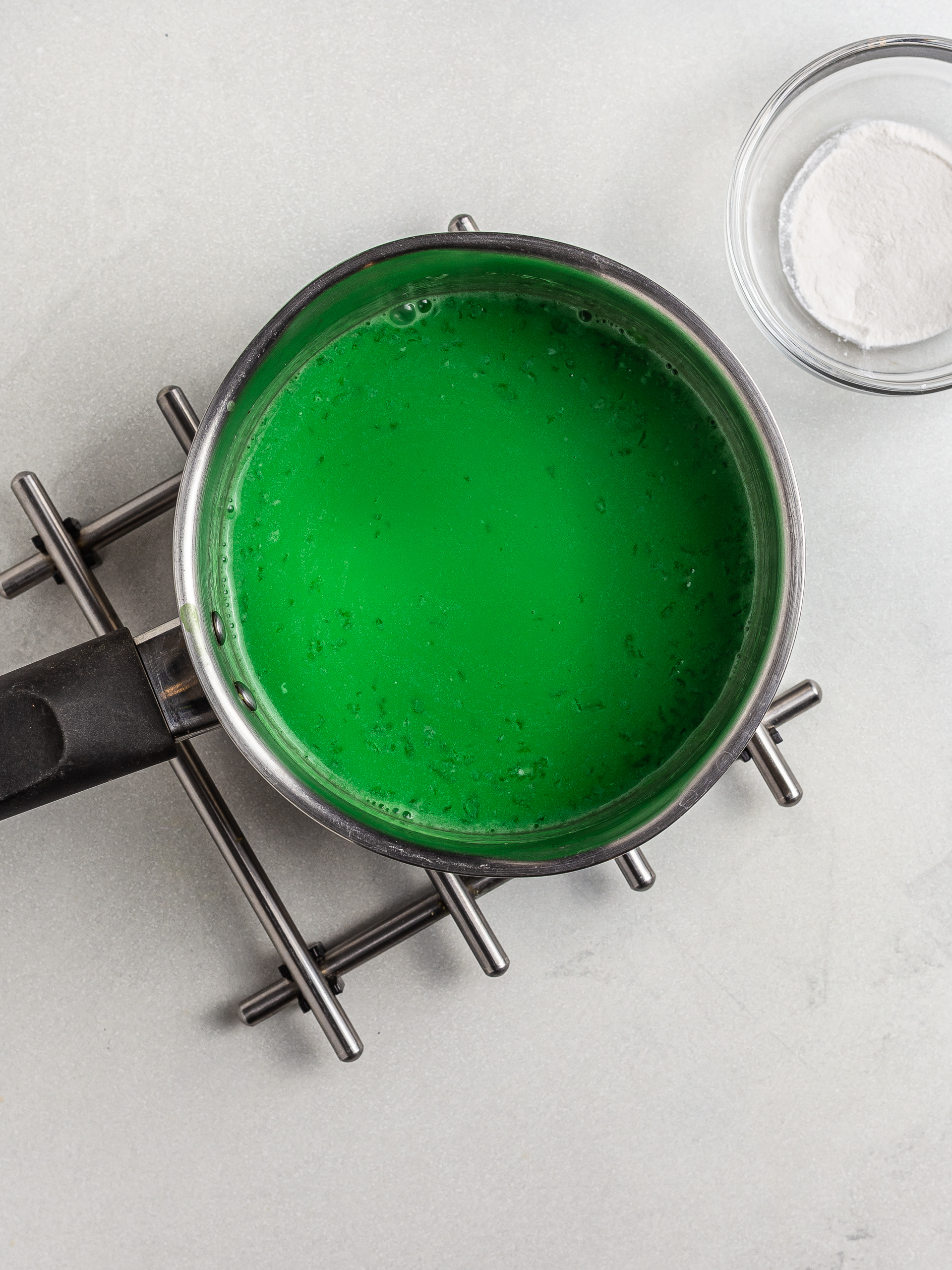 1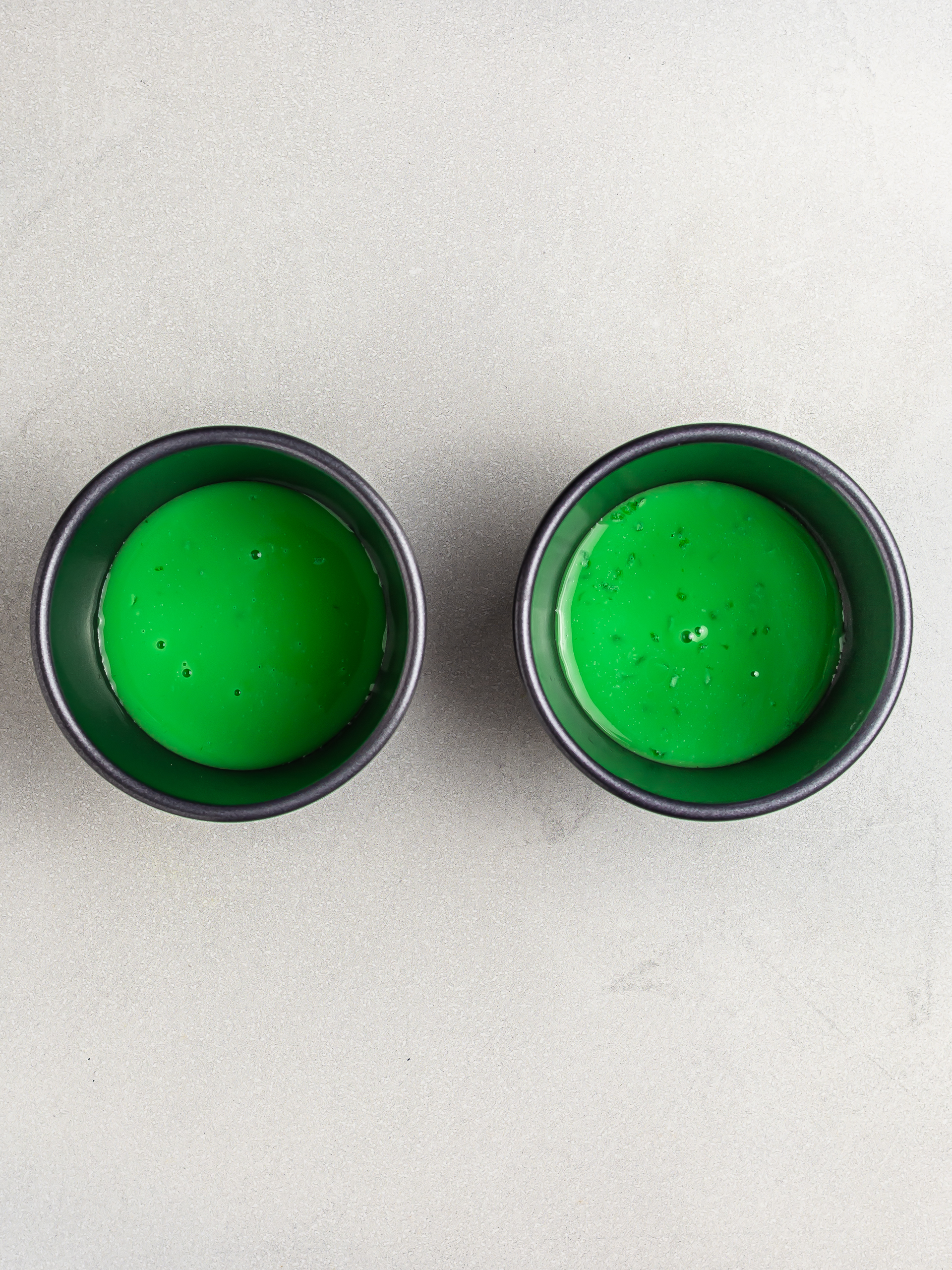 2
Step 5
You must do the following steps as quickly as you can, or the jelly will get too hard and the layers won't stick well.
Add 1 tsp of gelatine to the strawberry milk into a clean pot and stir until it's completely dissolved (1).
Next, bring the milk to a boil while stirring and remove it from the heat.
Pour the strawberry jelly over the green pandan layer into the moulds, filling them at two thirds (2).
Once again, let them sit at room temperature.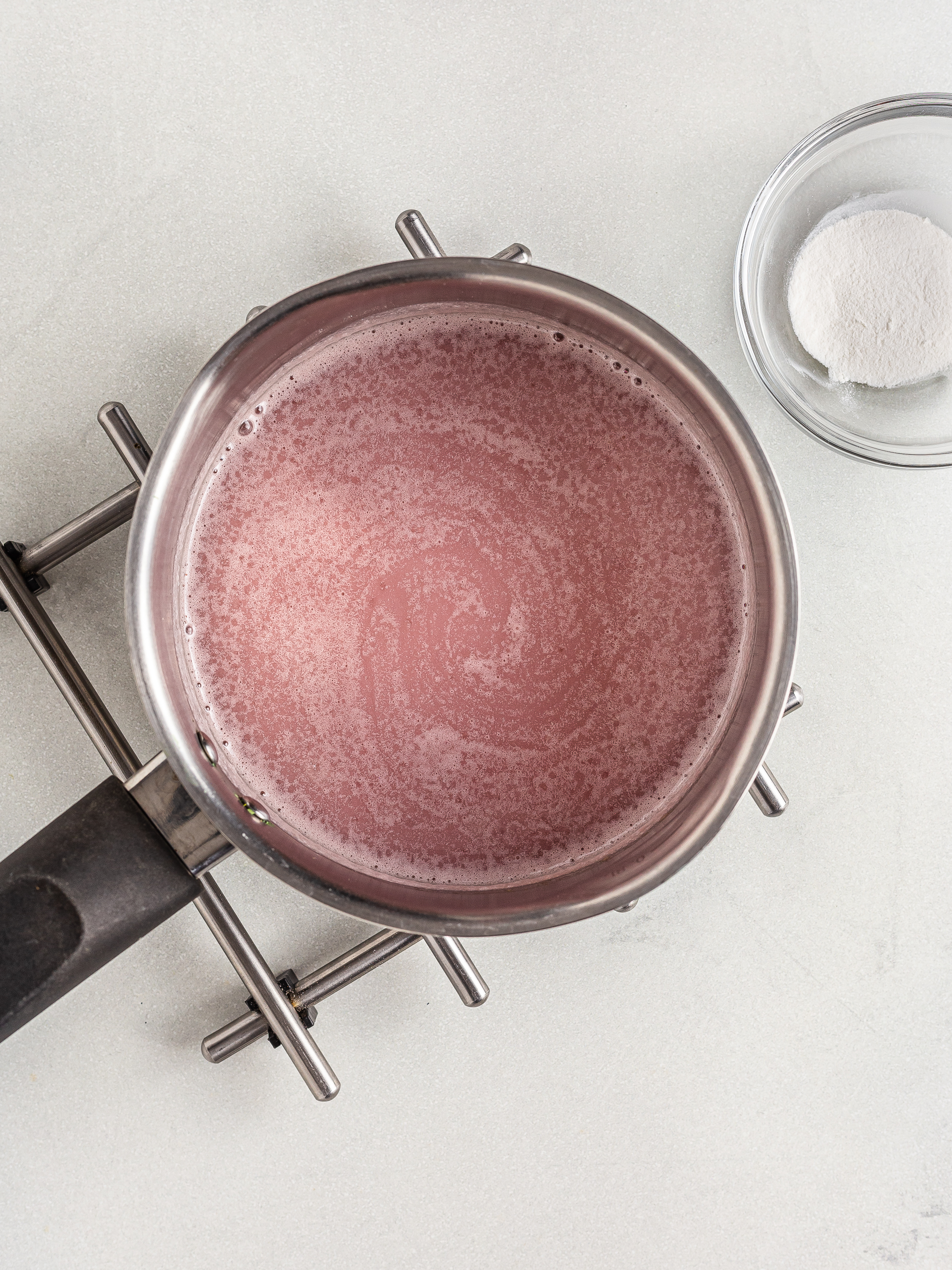 1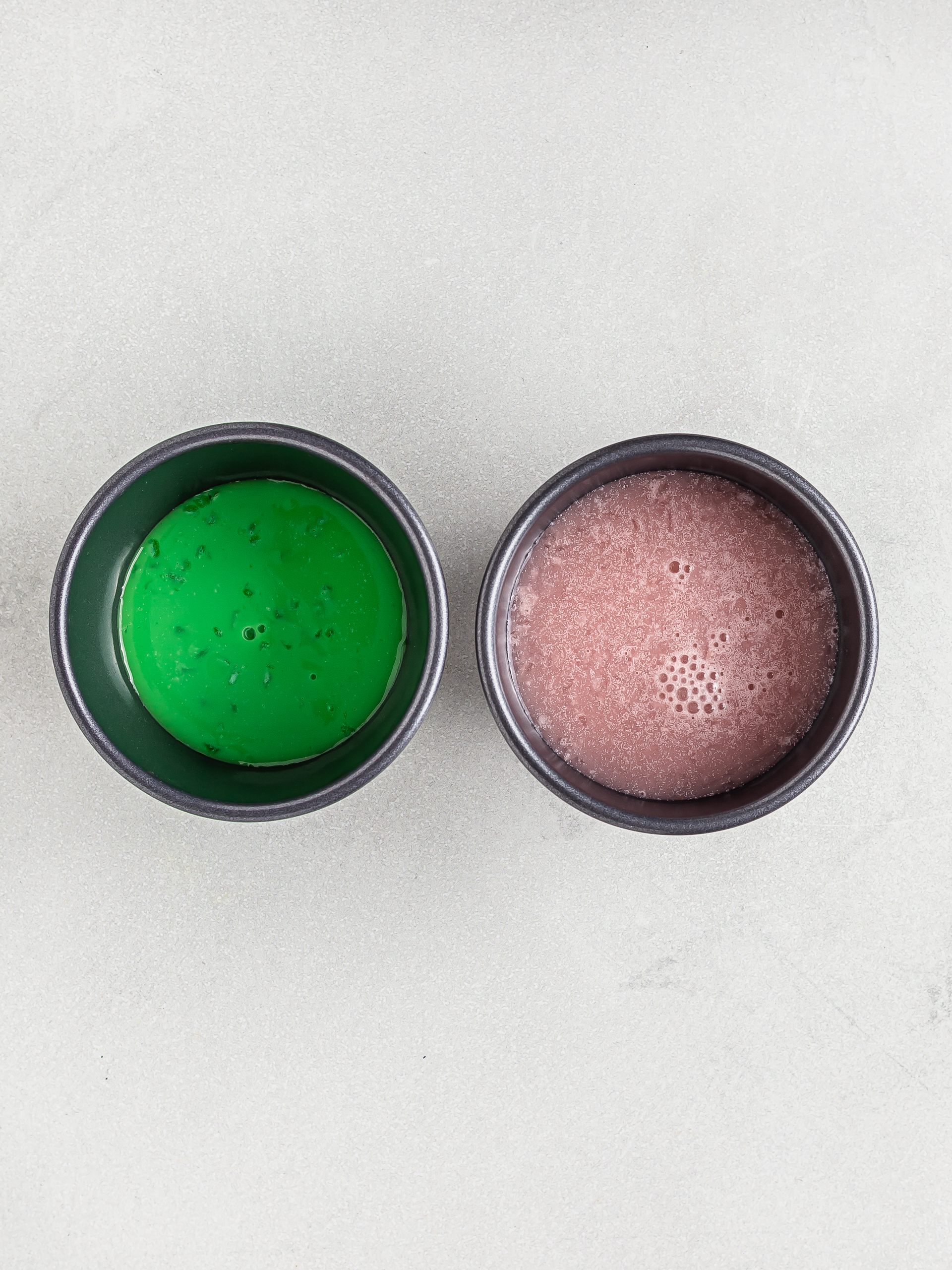 2
Step 6
Repeat step 4 with the remaining green pandan milk and 1 tsp of gelatine. Pour the milk over the strawberry layer filling the pudding cases to the top (1).
Let the jellies harden in the fridge for at least one hour.
Finally, loosen them up from their moulds. If you are not using silicone moulds, run a silicone spatula along the edges and push it all the way down to the bottom to create an air pocket.
Flip the pandan jelly onto a dessert plate and serve (2).
1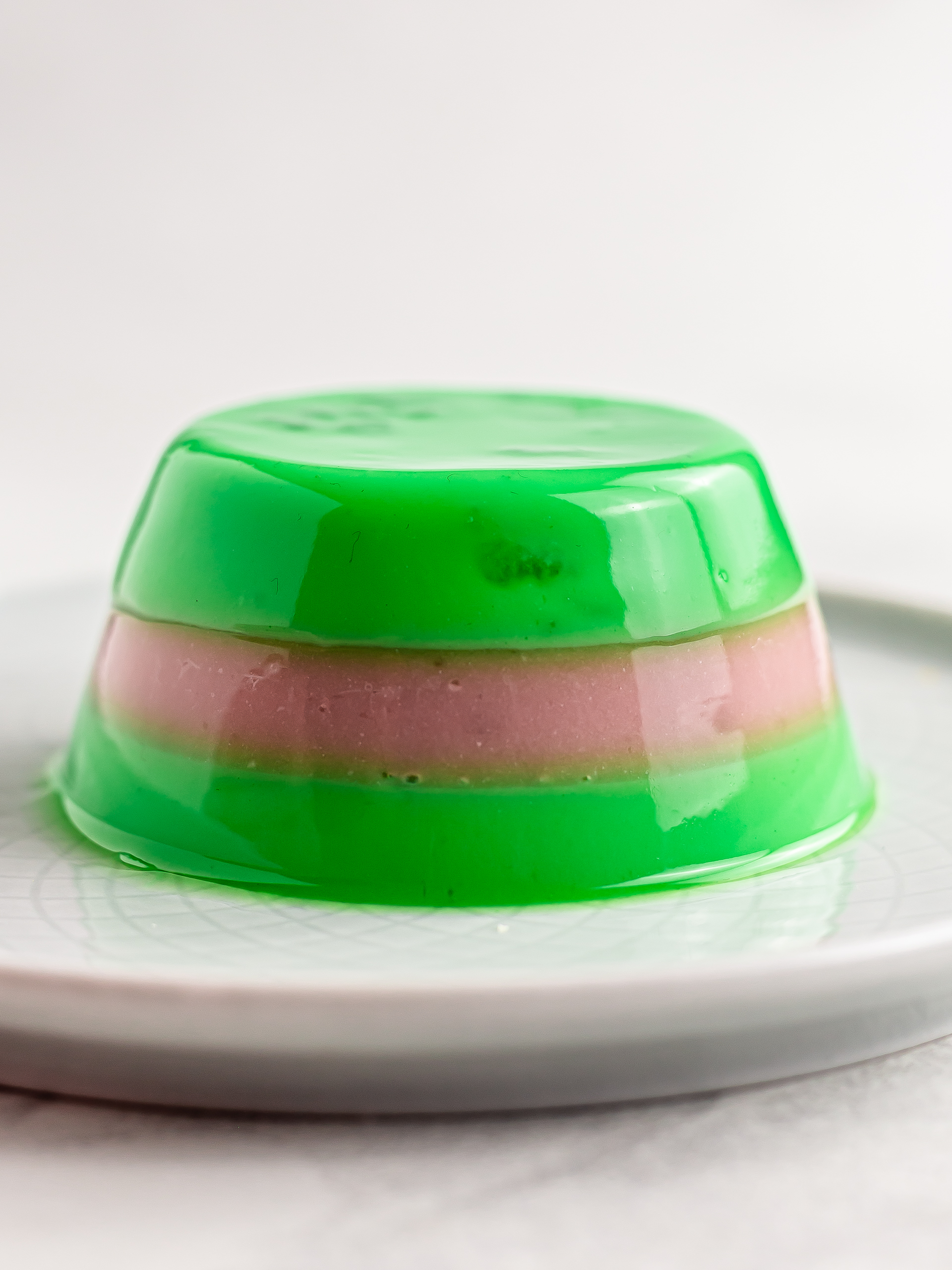 2
Tips
You can use muffin tins if you don't have pudding moulds. Alternatively, use a cake tin and then slice the jelly into squares or rectangles.

We used coconut milk drink for its sweet and rich flavour. If you opt for other plant-based alternatives, we recommend using the sweetened ones, or the jelly won't taste as sweet.