Are you looking for a healthy low-calorie salmon recipe? Then look no further than this honey mustard glazed salmon! It only takes 30 minutes and following three simple steps below to enjoy this nutritious meal.
Our recipe is prepared with fresh salmon fillets glazed with a honey and paprika mustard sauce. The sauce is fantastic, with a sweet and spicy flavour that perfectly complements the tender salmon meat.
And how good is this for you? Very much so! The recipe is gluten, dairy and soy-free and provides a natural source of high-quality protein and omega-3 fatty acids, a type of fats which contributes to healthy joints, heart and brain functions.
We hope we have been able to pick your curiosity and get those taste buds dreaming. So let's dive in and get this honey mustard glazed salmon in your plate!
Ingredients
| | |
| --- | --- |
| Wholegrain Mustard | 50 g |
| Paprika | 2 tsp |
| Garlic Powder | 1 tsp |
| Black Pepper | 1 tsp |
| Honey | 2 tbsp |
| Lemon | 1 |
| Salmon Fillet | 450 g |
| Chives | 2 tbsp |
Step 1
Let's start by preparing the glaze.
In a bowl, combine wholegrain mustard, paprika, garlic powder, black pepper, and honey.
Next, squeeze in the juice of the lemon juice and stir well into a smooth and creamy mixture.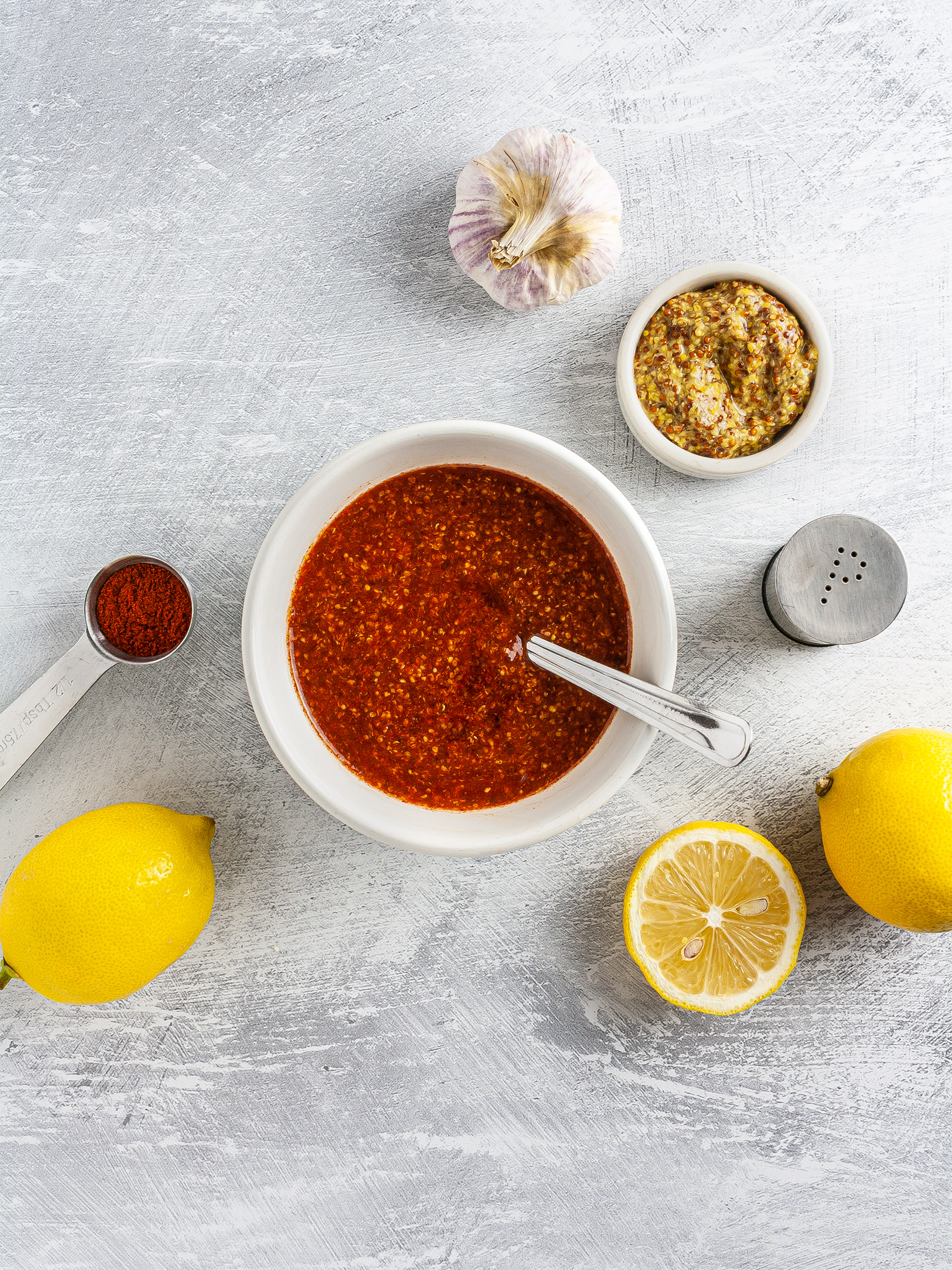 Step 2
Line the bottom of a roasting tray with parchment paper or lightly grease it with a little vegetable oil.
Then, arrange the salmon fillets in the tin and glaze them with the prepared mustard mixture.
Sprinkle the fish with chopped fresh chives and garnish with lemon slices.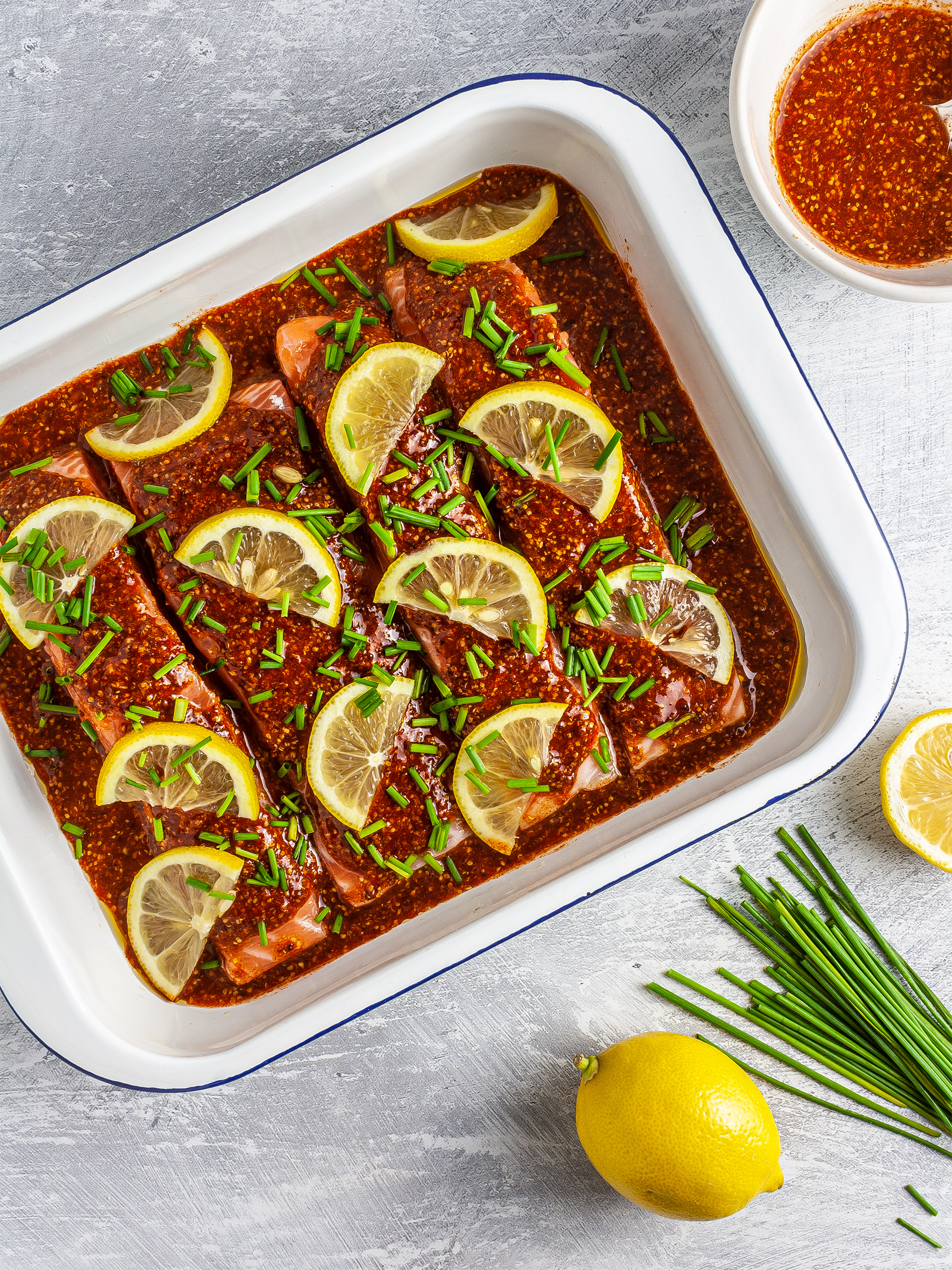 Step 3
Now, cover the prepared salmon with foil to gently steam the fish without burning the honey glaze (1).
Roast it in the oven for 15 minutes at 200°C (392°F) for static ovens or at 180°C (355°F) for fan ovens.
Then, remove the foil and broil the fish for a further 10 minutes or until the salmon is thoroughly cooked and the spiced mustard sauce is lightly browned (2).
Avoid overcooking the fish or it will become chewy and dry. The middle of the salmon fillet should be just lightly cooked and have a slightly lighter tone.
Finally, remove from the oven and serve with a good sprinkle of fresh chives and cracked pepper.
1
2
Tips
Try to use smoked paprika instead of the classic paprika for extra flavour.

If you are using thick and dense honey, warm it up before adding it to the other ingredients. This way, it will be incorporated more easily.

If you prefer baked salmon with a crispier result, you can switch the oven to grill settings for the last 5 minutes of cooking time.

You can replace wholegrain mustard with Dijon or English mustard.