Banish those boring lettuce lunch salads with this mouthwatering yet healthy pumpkin, spinach and feta salad recipe.
Thanks to the combination of vegetables, healthy fats, whole grains, and low-fat proteins, this easy-to-make salad is a nutritionally balanced yet satisfying meal which will keep you full for longer.
Paprika and maple-roasted pumpkin chunks are so flavourful the will become your new favourite salad toppings! Pumpkin is a low-calorie superfood vegetable, high in powerful antioxidants, vitamin A and C, and fibres.
This quick pumpkin, walnut, and feta salad provides over 100% of your RDA for vitamin A, two of your 5-a-day serving for fruit and vegs, and 6g of fibres.
If you love healthy recipes like this, make sure to subscribe to our newsletter and you'll get our newest recipes sent right into your inbox every week, plus our free ebook!
Ingredients
| | |
| --- | --- |
| Pumpkin | 400 g |
| Maple Syrup | 1 tsp |
| Extra Virgin Olive Oil | 1 tbsp |
| Paprika | 1 tsp |
| Walnuts | 60 g |
| Salt | to taste |
| Black Pepper | 1/2 tsp |
| Pearled Spelt | 240 g |
| Fresh Spinach | 240 g |
| Low Fat Feta | 160 g |
| Pumpkin Seeds | 40 g |
Step 1
Chop the pumpkin into chunks and transfer them onto a non-stick baking tray.
Toss them with maple syrup, olive oil, paprika, chopped walnuts and season with salt and pepper.
Roast the pumpkin at 200°C (390°F) for 20 minutes or until it's cooked through and slightly browned.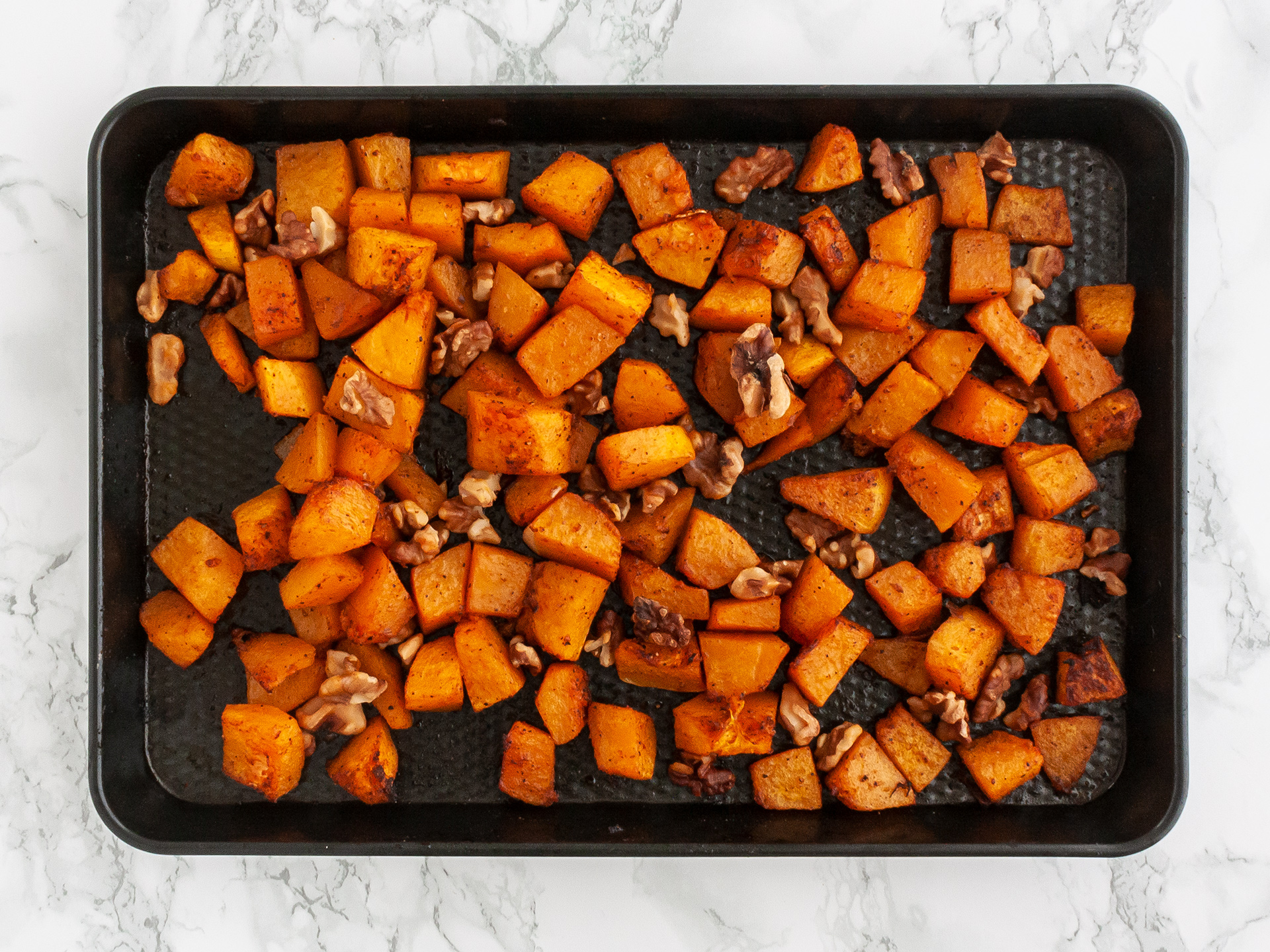 Step 2
In the meantime, simmer the pearled spelt in water or vegetable stock for 20 minutes or cook according to packet instructions.
Then, drain it and toss it with fresh spinach leaves in a serving bowl.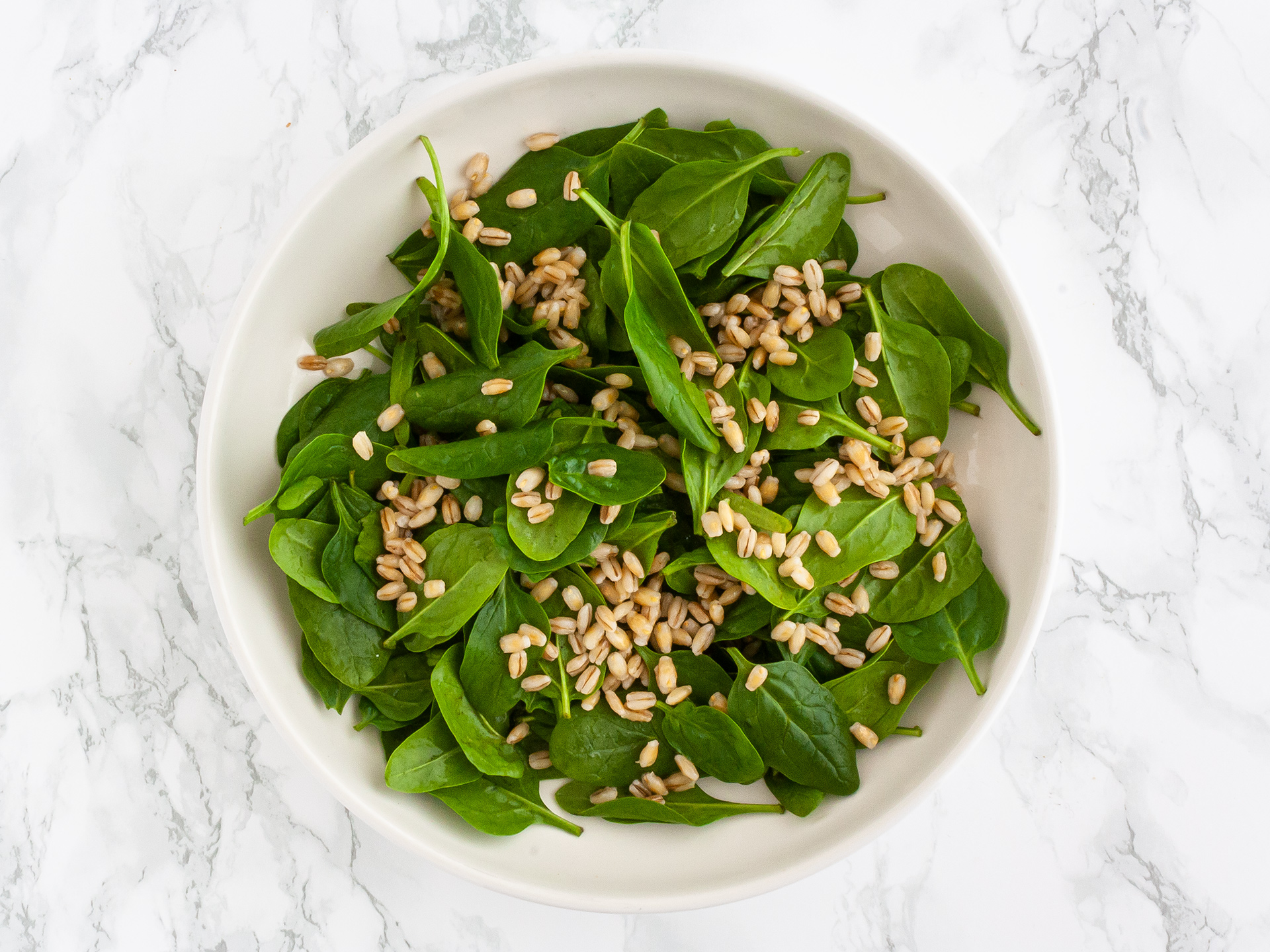 Step 3
Top the spinach salad with the roasted pumpkin and walnuts.
Finally, garnish with crumbled feta cheese and pumpkin seeds.
Enjoy this healthy pumpkin, spinach, and feta salad warm or cold.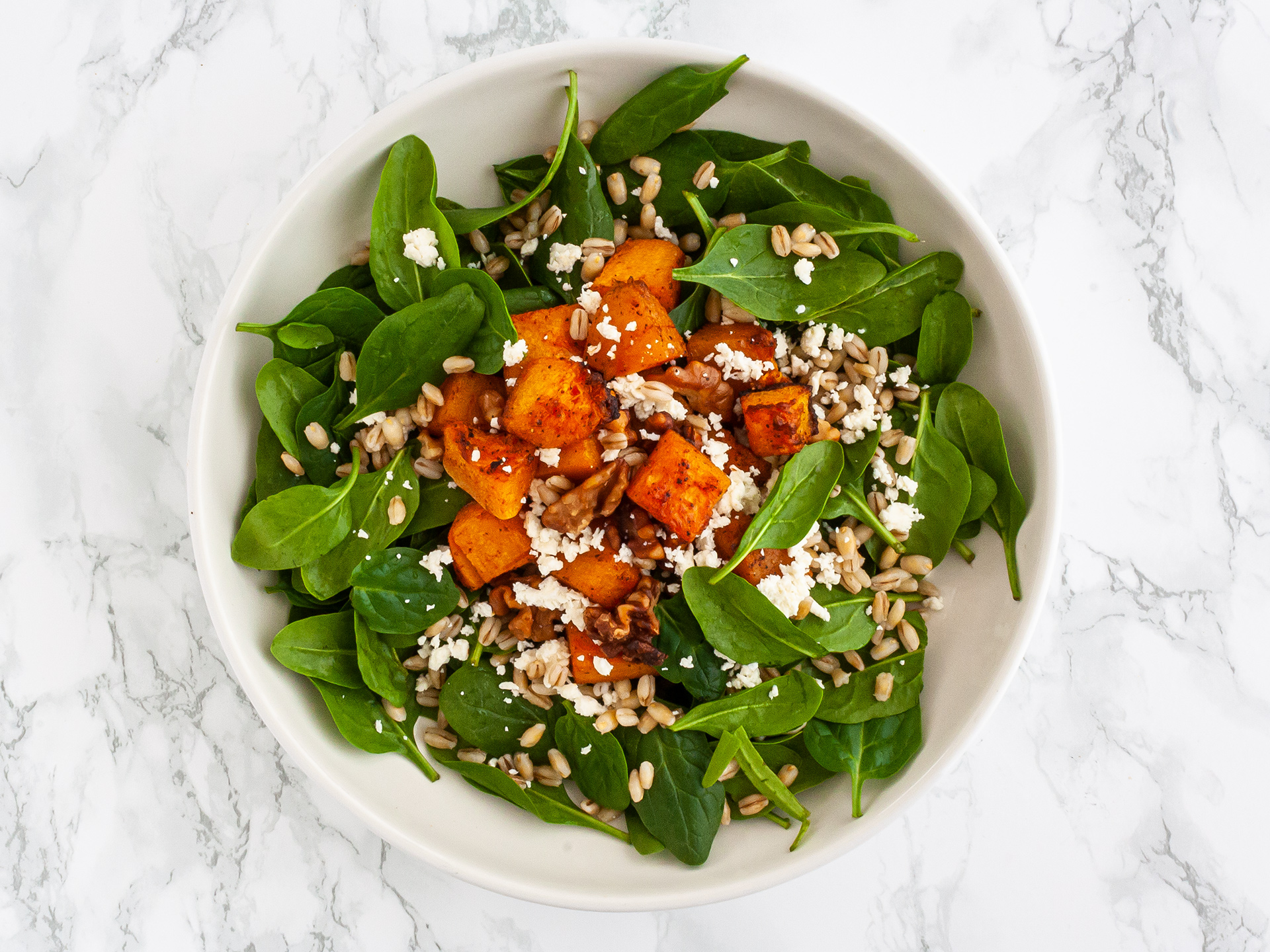 Tips
Sprinkle this amazing salad with nutritional yeast flakes for a boost of vitamins and minerals.