As we move further into autumn, the craving for cosy, heartwarming soup grows. So how about making one with some yummy seasonal veggies? Here is a wholesome pumpkin and kale soup for you, with barley, brown chickpeas, and crunchy peanuts.
This recipe makes a balanced and nutritious meal, with 58% RDI of fibres, and 38% of proteins, but only 10% RDI of saturated fats.
You could get even fewer calories by using a low-carb grain replacement, like cauliflower rice. But in a balanced meal, carbs contribute a lot of energy and are hence important. And if you want that rustic, cosy feeling, barley is the way to go.
As for the veggies, we used seasonal butternut squash and cavolo nero (black kale) from our kitchen garden. Such a wonderful combo! Kale is rich with free-radical fighting antioxidants and pumpkin gives you a lot of vitamin A. Put them together, and you get a heck of health boost.
For that extra countryside soup feeling, we chopped the veggies in rough chunks instead of blitzing them. If you prefer a velouté, or a creamier soup we'll give you the option to blend the vegetables in the steps below.
Well, we hope we whetted your appetite so far! Now, let's get a warm kale and pumpkin soup down your belly, shall we?
Frequently Asked Questions
How can I make this kale stew gluten-free?

In this recipe, we have used pearl barley which contains gluten. To make this soup suitable for celiacs or those suffering from gluten sensitivity, you can replace this grain with the following options:

Quinoa

Brown Rice

Buckwheat Groats

Sorghum
Which are the best beans for this soup? And can I use them dry?

To add a source of fibres and plant-based proteins to this kale stew, we have added chickpeas, in particular brown chickpeas. They are smaller and darker than the classic ones, and they keep their texture very well.

Some of the most common pluses used in soups include cannellini beans, red lentils, yellow split lentils, and borlotti beans. We also recommend butter beans, especially if you want to blend the soup into a creamy velouté.

Using canned beans in soups is extremely convenient if you don't have much time, but you can also use the dried varieties if preferred.

To do so, make sure you have pre-soaked them in cold water for at least 4 hours, even better overnight. However, you may skip this step if you're using lentils. Then, cook them in boiling water until they have softened, about 20-40 minutes depending on the bean type. Then, add them to the pumpkin soup following our recipe above.
Which type of kale is best in soup?

Kale comes in many forms and colours, from green to purple and flat to curly.

Two of the most common varieties include curly kale and Tuscan black kale, also knowns as cavolo nero or Lacinato kale.

The former has a bright green colour and its leaves have many frills, while the latter has a dark green almost blue shade and long, slender leaves.

Curly kale is probably the easiest to find all year long at your local supermarket. However, when it's in season, you shouldn't have too much trouble finding the black kale too.

In this recipe, we decided to use the Tuscan kale as it has a softer texture and a slightly sweeter taste than curly kale. However, feel free to use any variety you like, considering they're also nutritionally equivalent.
Ingredients
| | |
| --- | --- |
| Extra Virgin Olive Oil | 2 tbsp |
| Red Onions | 1 |
| Garlic Cloves | 2 |
| Chilli Flakes | 1 tsp |
| Turmeric | 1 tsp |
| Cinnamon | 1/2 tsp |
| Cumin Seeds | 1 tsp |
| Pumpkin | 700 g |
| Canned Brown Chickpeas | 400 g |
| Pearl Barley | 180 g |
| Tuscan Black Kale (Cavolo Nero) | 120 g |
| Peanuts | 40 g |
Step 1
Heat the extra virgin olive oil in a pot and add finely chopped onions and crushed garlic.
Sizzle them for a few minutes over medium heat and then stir in the chilli flakes, turmeric, ground cinnamon, and cumin seeds.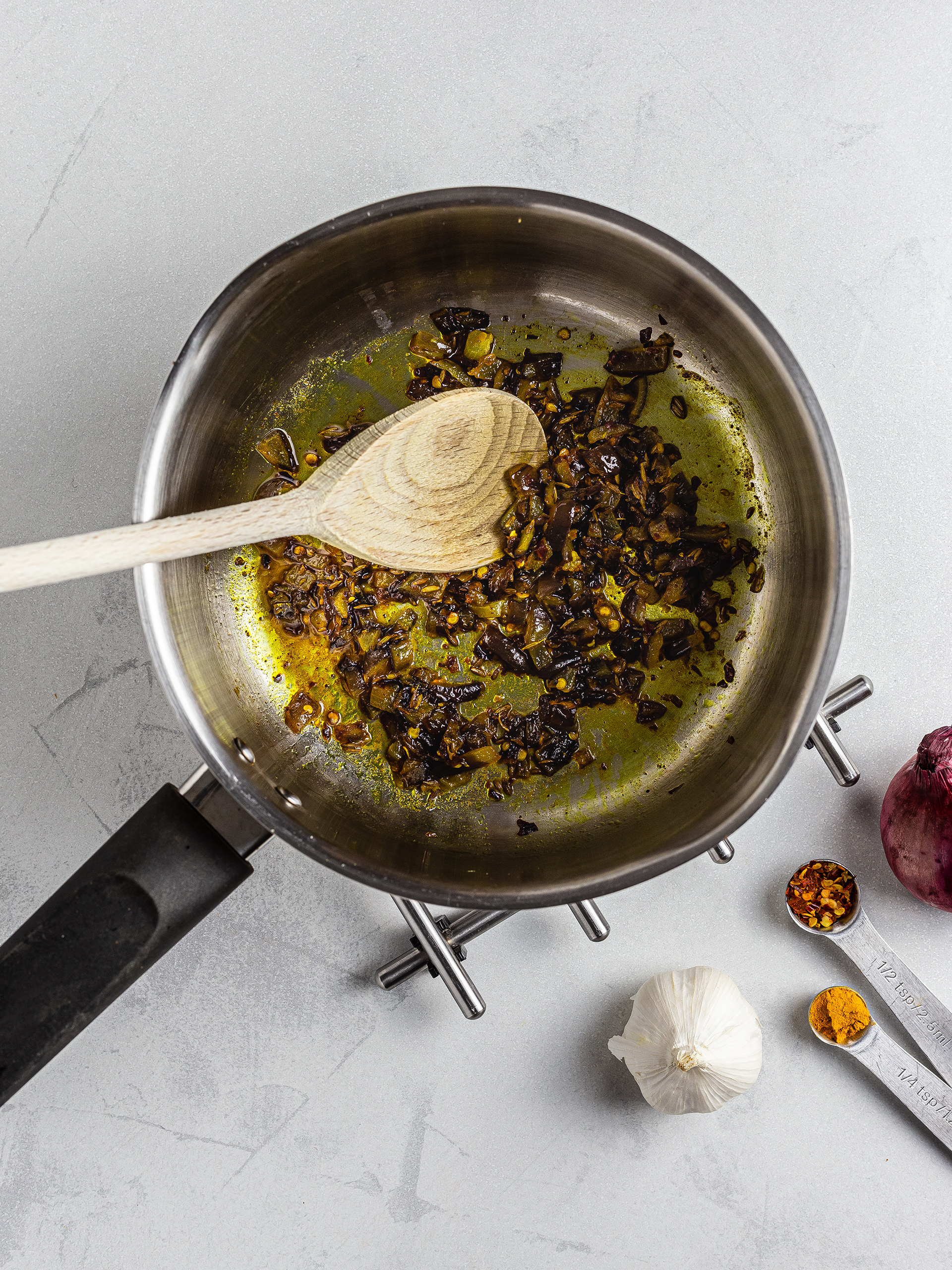 Step 2
Now, add diced pumpkin and canned brown chickpeas to the pot.
Then, pour enough water to cover the ingredients and bring to a boil.
Simmer the soup over medium heat for 15 minutes or until the pumpkin is soft. Then, season with salt and pepper to taste.
Step 3
Meanwhile, let's cook the barley.
Rinse the grains thoroughly under cold water and then add them to a clean pot.
Cover with water and simmer for 15 minutes or until the barley has softened.
Then, drain it and set it aside.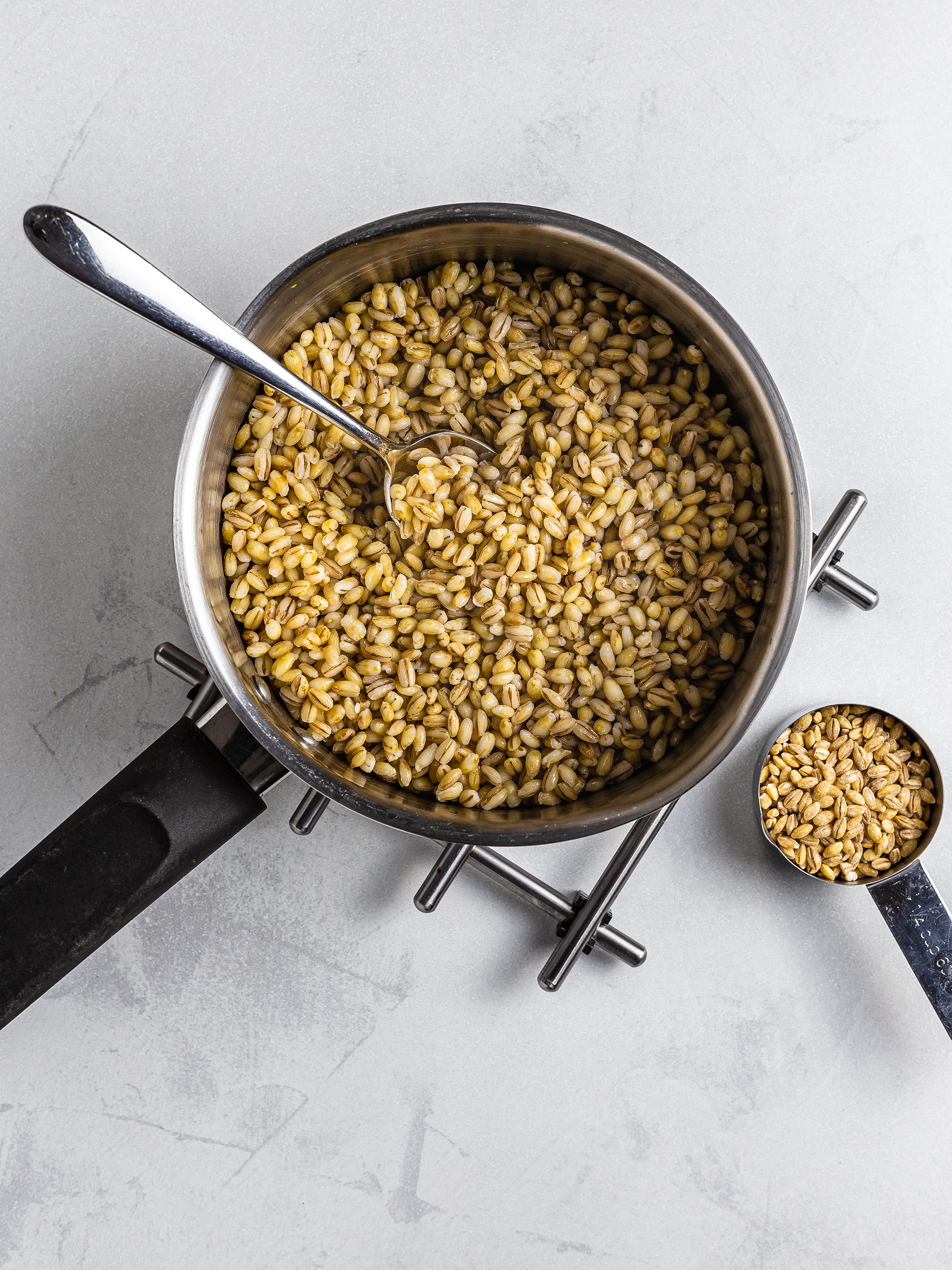 Step 4
At this point, if you like your soup creamier, you can blitz part or all of the pumpkin stew with a food processor or immersion blender.
Then, shred the black kale into strips and add them to the soup along with the prepared barley.
Cook all for a further 5 minutes and the remove the pot from the heat.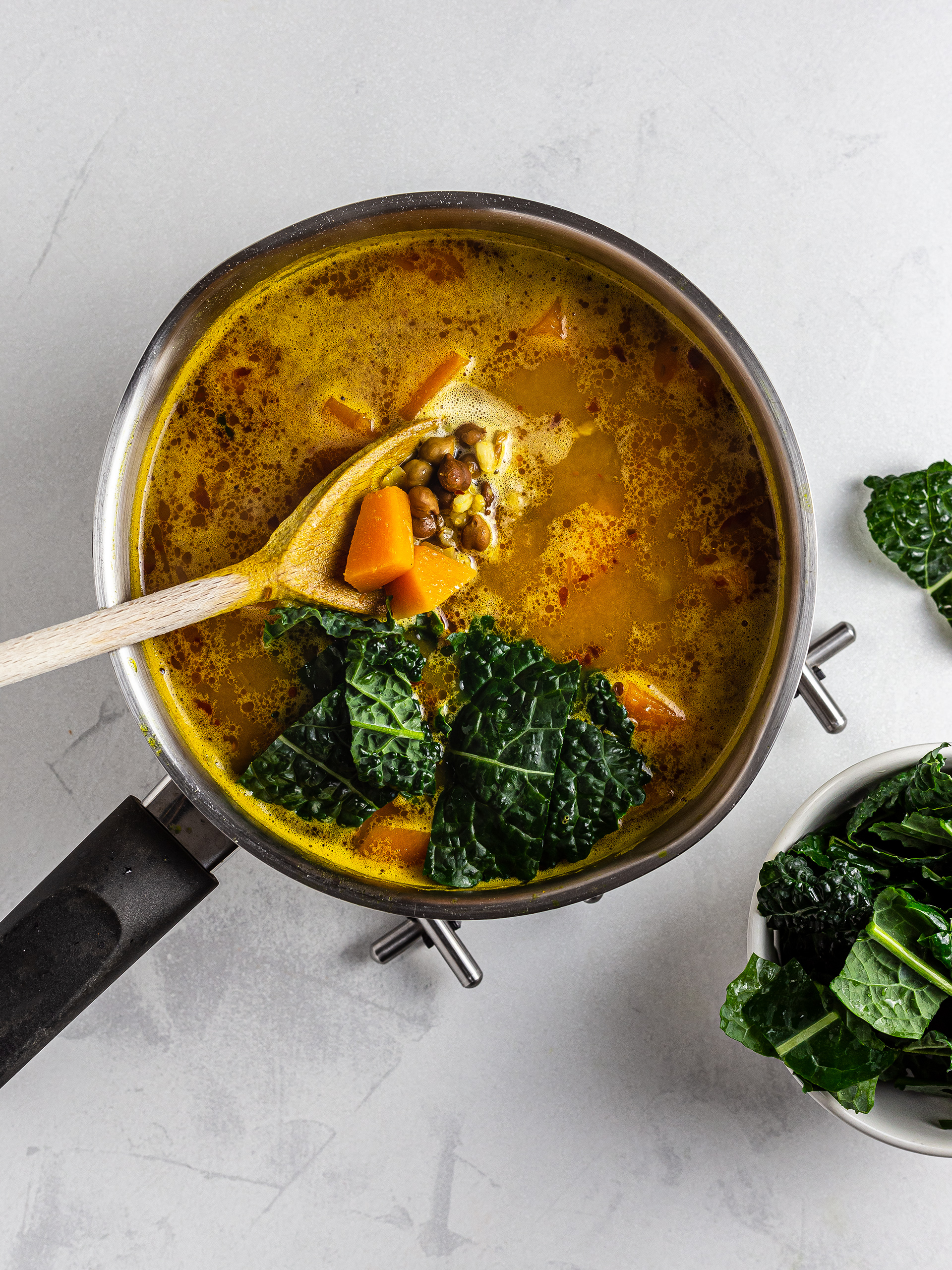 Step 5
Finally, roast the peanuts in the preheated oven for 5 minutes at 190°C (375°F). Alternatively, you can dry toast the nuts in a non-stick skillet over high heat until lightly browned.
Divide the kale soup among serving bowls, top it with the toasted nuts and sprinkle with extra chilli flakes.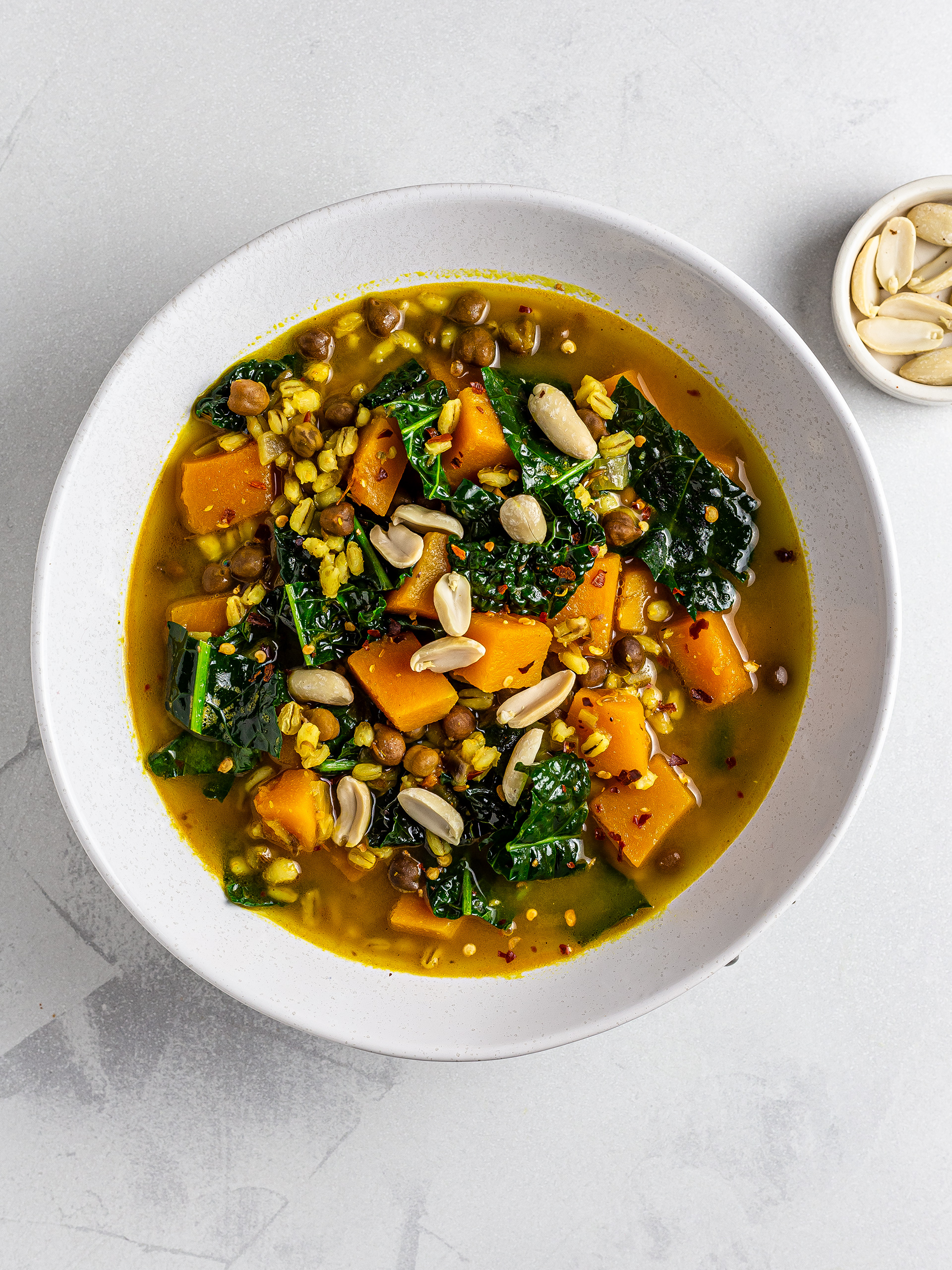 Tips
Store any leftover soup in an airtight container in the fridge for up to 3 days or freeze it for one month.

You can use classic white chickpeas instead of the brown ones, or any other pulses like lentils and cannellini beans.

Replace peanuts with pumpkin seeds, sunflower seeds, or hemp seeds for a nut-free option.