Today we'll show you how to make no-bake energy bars with puffed rice and raisins. This recipe is sugar-free, gluten-free, and vegan and makes truly healthy snacks. Let us tell you a bit more about the ingredients we used and the substitutions you can make!
As a base, we used puffed brown rice. You can use plain puffed rice, puffed oats, puffed spelt, or puffed wheat. Note that spelt and wheat are not gluten-free, so stick to rice or oats if you are intolerant to gluten. Whichever you use, we suggest you buy the sugar-free variety (not the Krispies), to make these bars super healthy.
These bars are no-bake, so we needed some sticky ingredients to hold everything together. A classic and easy choice is honey or maple. But as we didn't want to use any added sugars, we instead opted for a mix of almond butter and banana. Nut butter is also an excellent source of proteins, making these bars a great post-workout snack.
So how did we make these bars sweet without any sugar? We used dried fruit! You can use raisins, dry blueberries, or any other you fancy. As a final touch, we sprinkled in some crushed hazelnuts, for extra crunch and a boost of proteins.
These puffed rice bars are great for energy release. Instead of using fast-energy sources, like sugar, we rely on the power of dietary fibres to give your body a slow and steady stream of energy. A single bar has 155 calories and it provides 8% RDI for fibres, 8% RDI for proteins, and only 2% RDI for saturated fats.
It will take you less than 10 minutes to make this recipe, with no need to use the oven. Then leave the bars to cool in the fridge for 20 minutes, and they'll be good to go. Sweet deal, right? Let's do this!
Frequently Asked Questions
What is puffed rice? And is it healthy?

Also known as popped rice, puffed rice is made by heating the rice kernels at high pressure and in the presence of steam. The grain then expands at a volume much larger than the starting one, similarly to popped corn.

Puffed rice made from brown rice is much healthier than the one made from white rice. That is because it retains the hull (the outer bran layer) which packs lots of fibres, vitamins, and minerals. Fibres help to slow down the digestion and absorption of sugars, thus helping you feel full for longer without energy crashes.

If you can't find puffed brown rice, you can opt for other popped grains like puffed oats, puffed spelt, or puffed wheat. We recommend always checking the product label to make sure the puffed grains are sugar and oil-free.
Are these puffed rice bars gluten-free and vegan?

These delicious breakfast bars are prepared with rice, nuts, and fruit which are all vegan and gluten-free ingredients. Also, we didn't use any added or refined sugars, but just fruit to make these bars naturally sweet and super-healthy.
Are these rice bars good for weight loss?

We designed this recipe to be as healthy and nutritious as possible. While most of the store-bought rice bars include white rice, added sugars, syrups, and preservatives, our puffed rice bars are 100% natural.

We used only raw ingredients like brown rice, nut butter, bananas, and raisins. Combined together, these plant-based ingredients make our bars low in sugars and high in fibres. Fibres are key for a healthy diet and to support weight loss, as they fill you up and slow down the rate at which sugars get absorbed.

Nuts are high in healthy unsaturated fats and proteins which suppress appetite, helping you stay on track with your daily calorie goals.
Ingredients
| | |
| --- | --- |
| Ripe Bananas | 1 |
| Puffed Brown Rice | 100 g |
| Almond Butter | 130 g |
| Raisins | 100 g |
| Hazelnuts | 50 g |
Step 1
Before you start, make sure your bananas are very ripe as they will taste sweeter. Also, we recommend using nut butter stored at room temperature as it will make it easier to mix the bars ingredients. You can gently warm it in a pot until it loosens up for best results.
For tips and substitutions for puffed rice, check out our FAQ section.
Add the bananas to a food processor and blitz until smooth.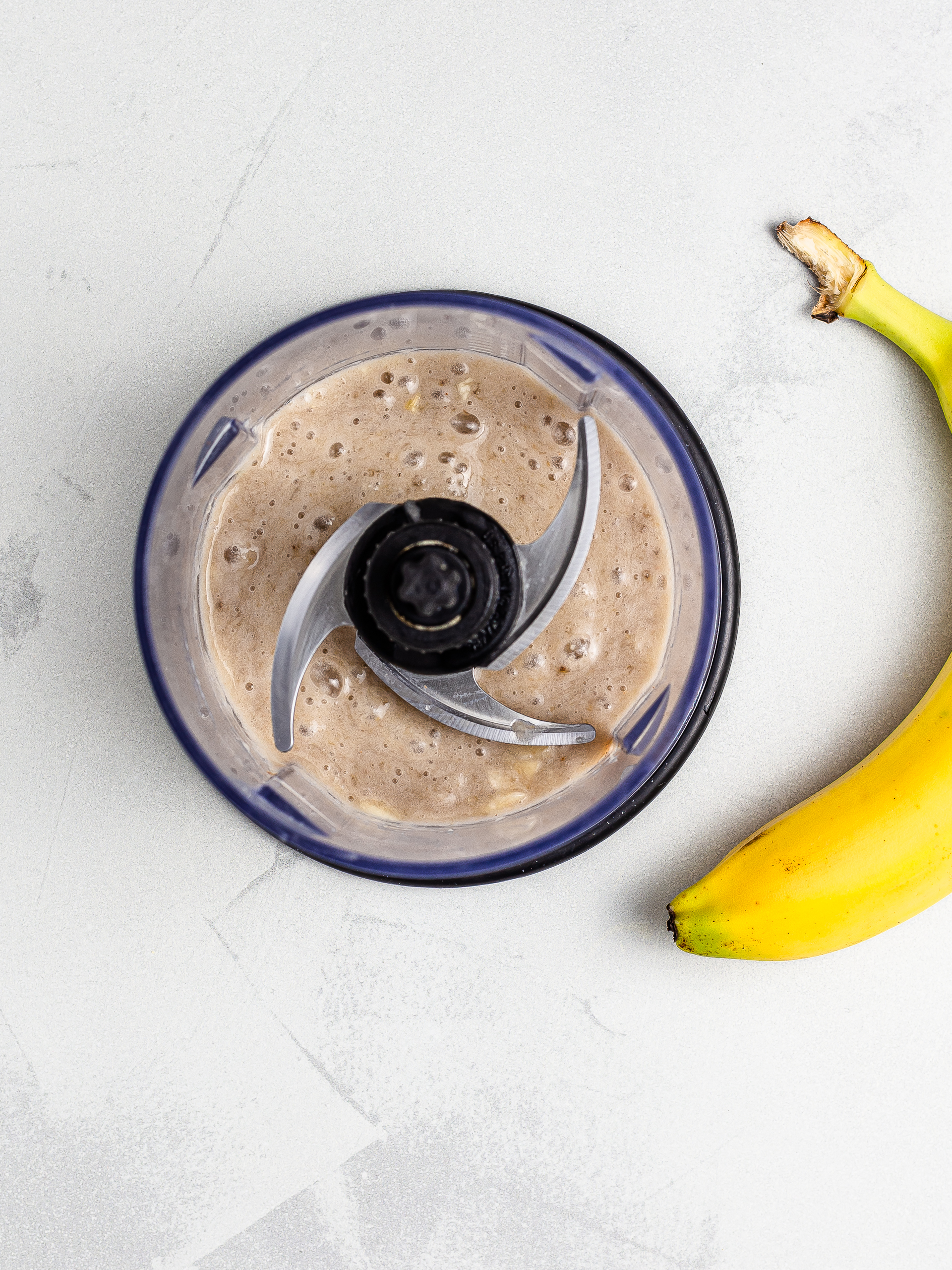 Step 2
Then, transfer the banana mash into a large bowl and add the puffed rice, almond butter, raisins, and finely chopped hazelnuts.
Work the ingredients with your hands into a dense and sticky dough. When pressed into a compact ball, the mixture should hold together.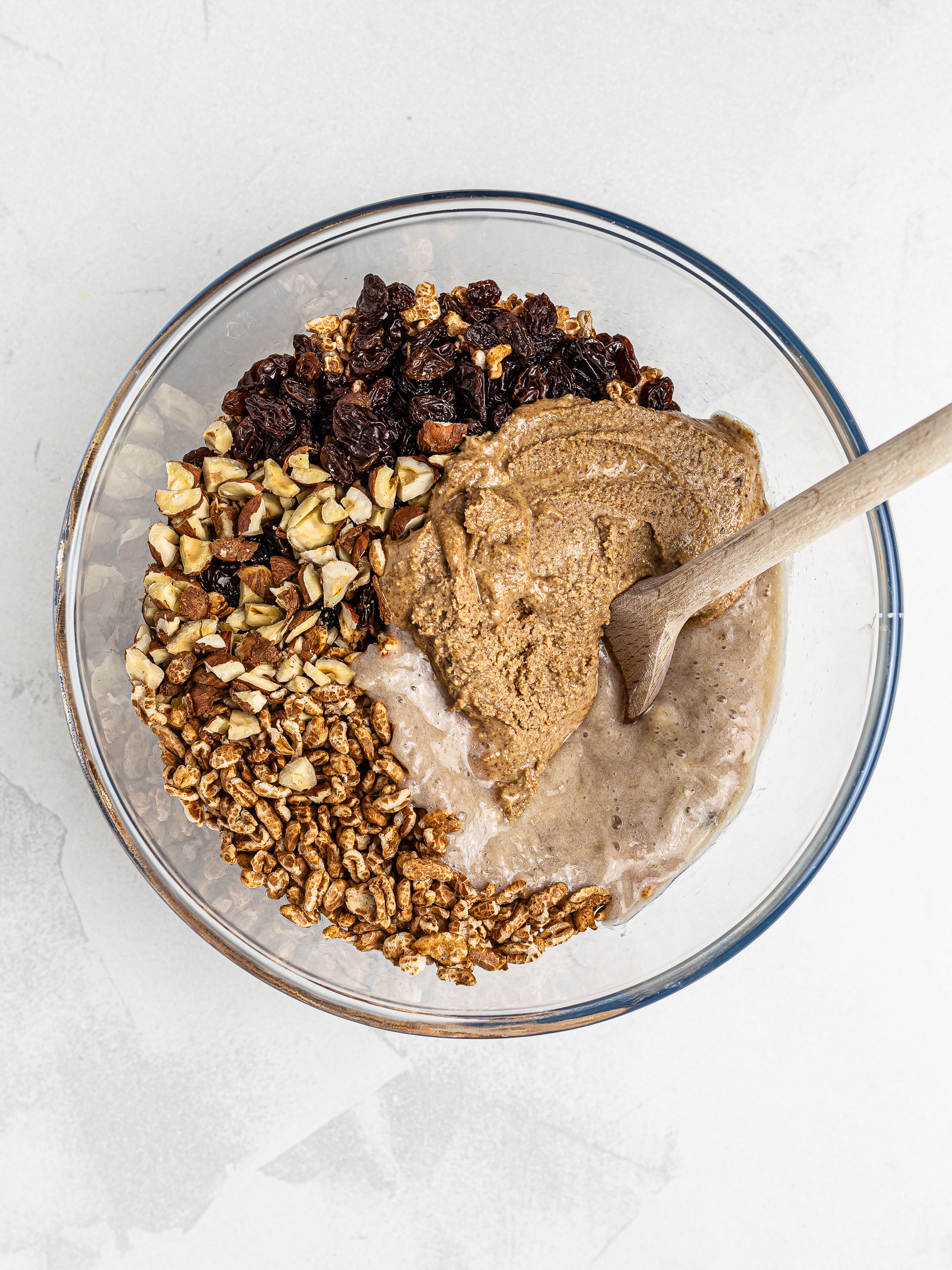 Step 3
Line a square 20 x 20 cm (8x 8 inches) baking tin with parchment paper and then, transfer the puffed rice mixture into the prepared tin.
Flatten the dough pressing down with the back of a spoon as hard as you can to make sure the bar ingredients hold together.
Check out the tips below to learn about a neat way to press the dough tightly and evenly.
Step 4
Keep the tin in the fridge for at least 20 minutes to allow the puffed rice mix to harden.
Finally, remove the rice slab from the tin and use a knife to slice single-serving bars.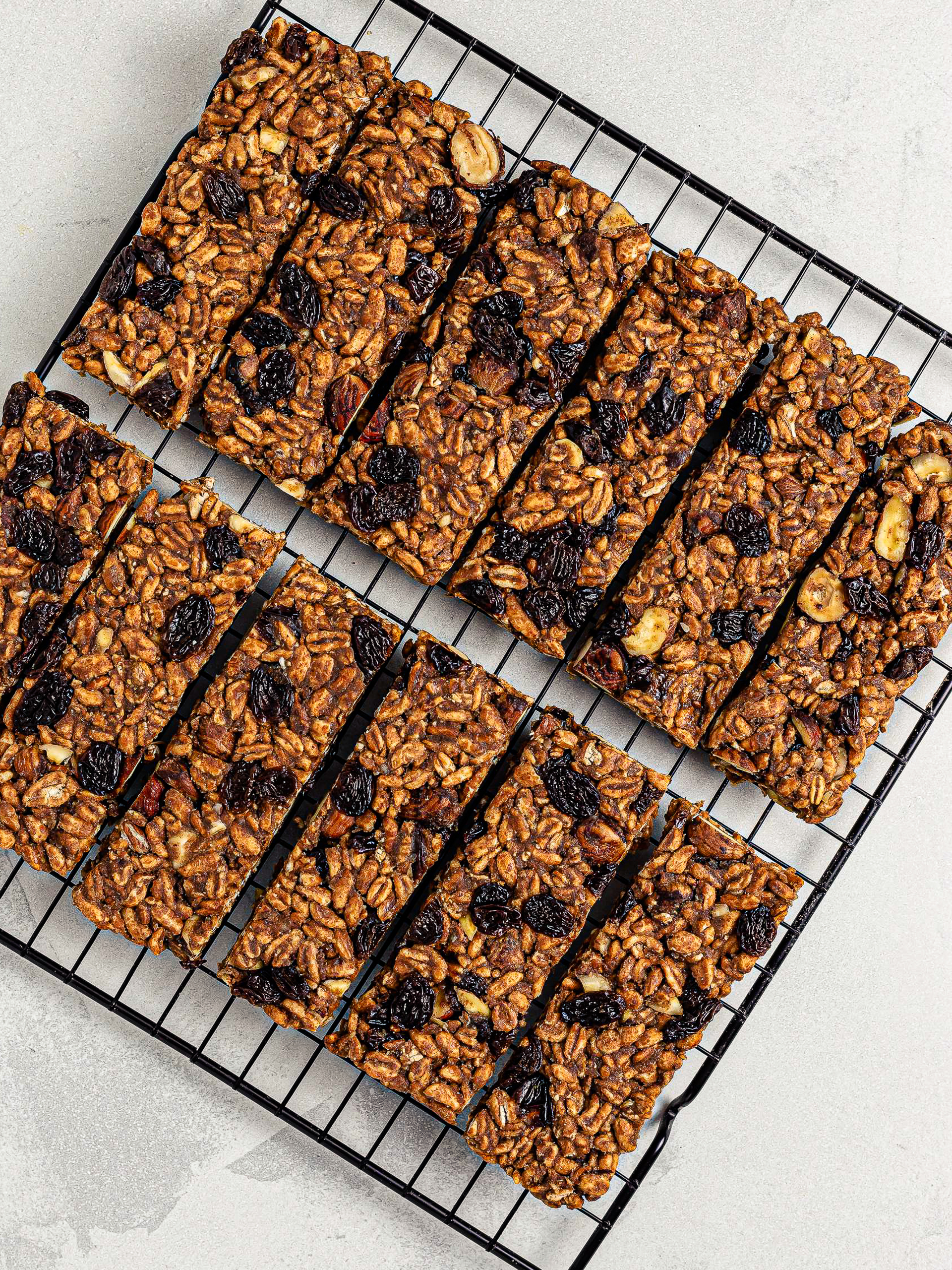 Tips
To flatten down the bars dough tightly and evenly, follow these simple steps:
Cover the slab with parchment paper.

Flatten down the edges of the dough with a spoon, pressing down hard.

Get a second tray that is small enough to fit inside the one containing the dough, and push down hard as you slide it around. The edges will have probably come up again at this point, so push them down once more with the spoon.

Repeat as many times as you wish, until you have a flat and even surface.
If you have time, we recommend roasting the chopped hazelnuts. They will be more flavourful and make your rice bars extra crunchy.

Store the rice bars in the fridge in an airtight container for up to 5 days or freeze them for two months.