To make these gluten free raspberry muffins, we have selected simple and healthy ingredients that pack lots of nutrients to help you get off your feet like a champ. They are also dairy-free, and sugar-free. Let's take a look at what we have done and then straight to baking!
To actually make them gluten-free we have replaced wheat flour with Oat and rice flour. They are both great alternatives to wheat, but as they lack gluten - which makes dough stretchy - we used baking powder and whipped eggs to compensate.
To cut on added sugars, we experimented with stevia, a natural no-calorie sweetener. You could also use honey as a sugar replacement, although that would come with some calories.
So basically we crafted super yummy muffins that are less than 120 Kcal each and give you 22% and 18% of your daily recommended dose of proteins and fibres respectively. Amazing right? So let's get baking now and you'll burst through the work-day tomorrow!
Note: The default ingredients yield 6 regular muffins and each serving consists of two muffins.
Ingredients
| | |
| --- | --- |
| Ground Oat | 50 g |
| Rice Flour | 30 g |
| Potato Starch | 30 g |
| Baking Powder | 16 g |
| Lemon | 1 |
| Thyme (optional) | 1 pinch |
| Stevia | 5 g |
| Egg White | 2 |
| Salt | 1 pinch |
| Egg Yolk | 2 |
| Extra Virgin Olive Oil | 25 mL |
| Soy Yogurt | 130 g |
| Vanilla Extract | 1 tsp |
| Raspberries | 80 g |
Step 1
To save some time later, preheat the oven at 210°C (410°F) or 190°C (375°F) for fan ovens.
Now let's start by combining the ground oat, rice flour, potato starch and baking powder in a mixing bowl. Then add the zest of the lemon, finely ground dried thyme and stevia (1). Mix well to distribute the ingredients evenly.
In another bowl, whip the egg whites with salt until you have firm peaks (2). You know you have whipped the whites properly if they won't fall off the bowl when you try to flip it upside down.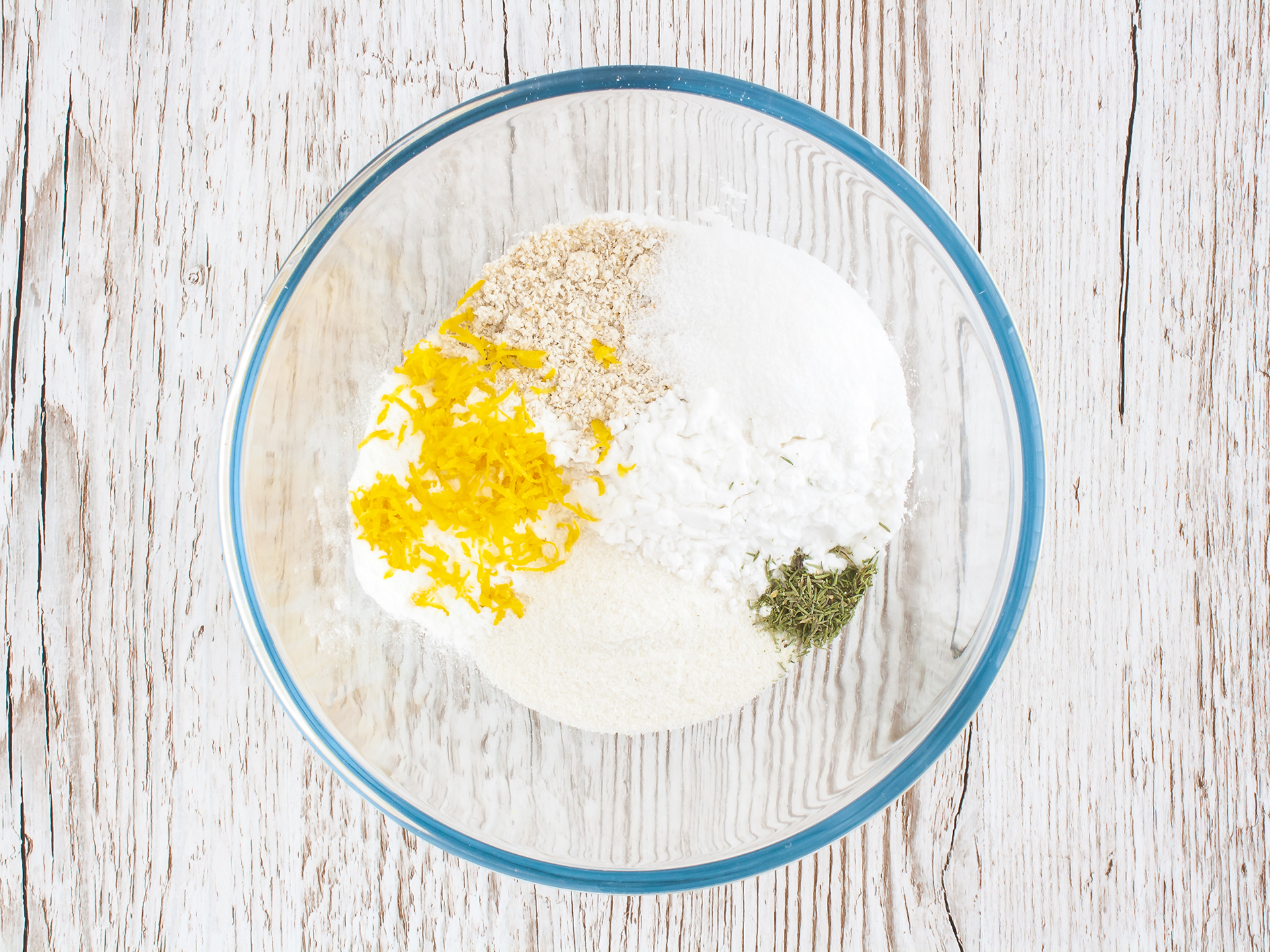 1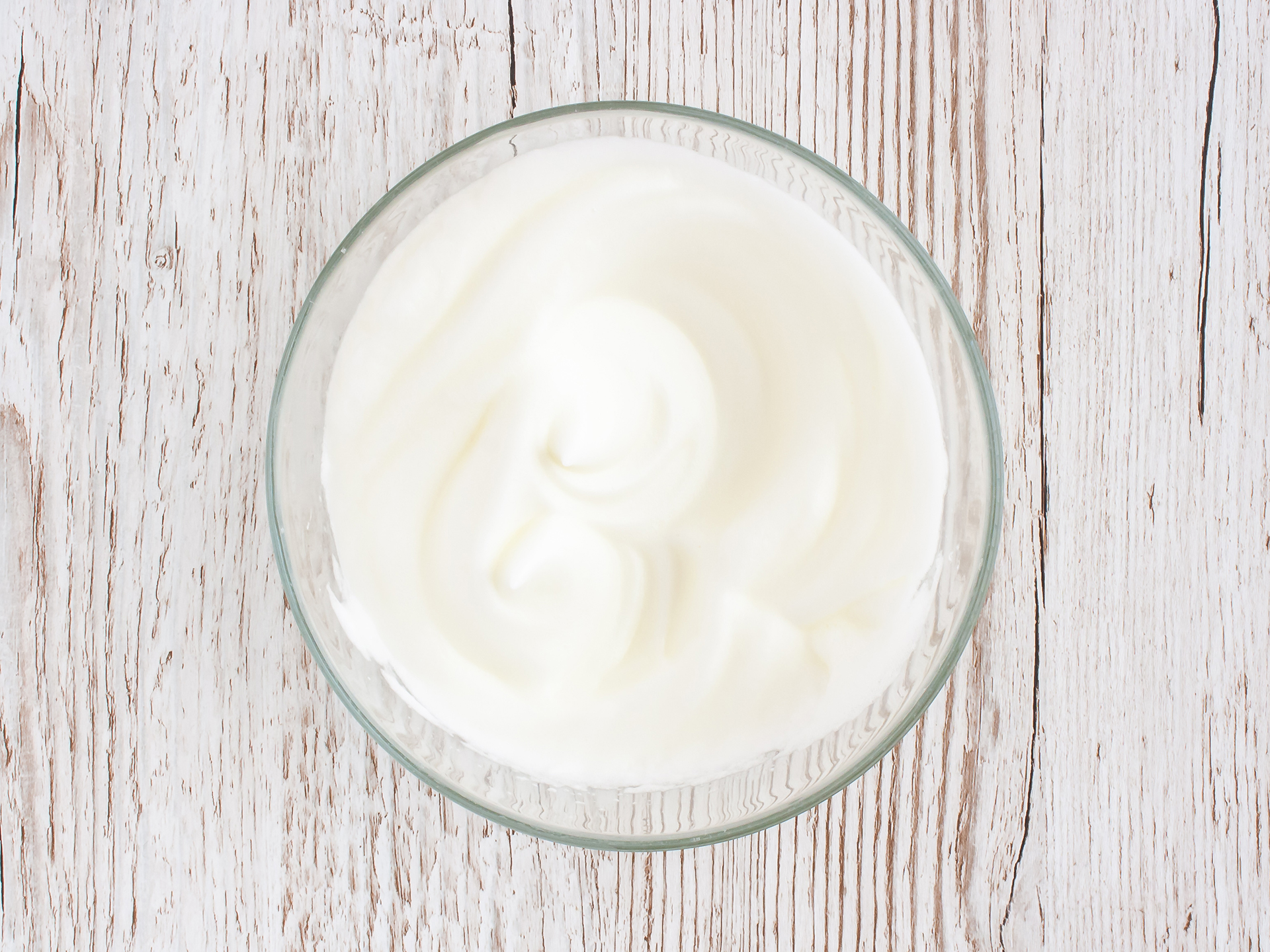 2
Step 2
Now let's take another bowl and whisk the egg yolk, extra virgin olive oil, soy yogurt, and vanilla extract(1).
Proceed by mixing the liquid and dry ingredients prepared earlier. Do this a bit at a time so to avoid getting lumps in the dough.
Add in chopped raspberries, saving some for decoration, and "fold in" the whipped egg whites (2). The fold in motion is important: you want incorporate the egg whites with the rest of the dough by gently rotating your wrist. The objective is to make the dough airy and fluffy.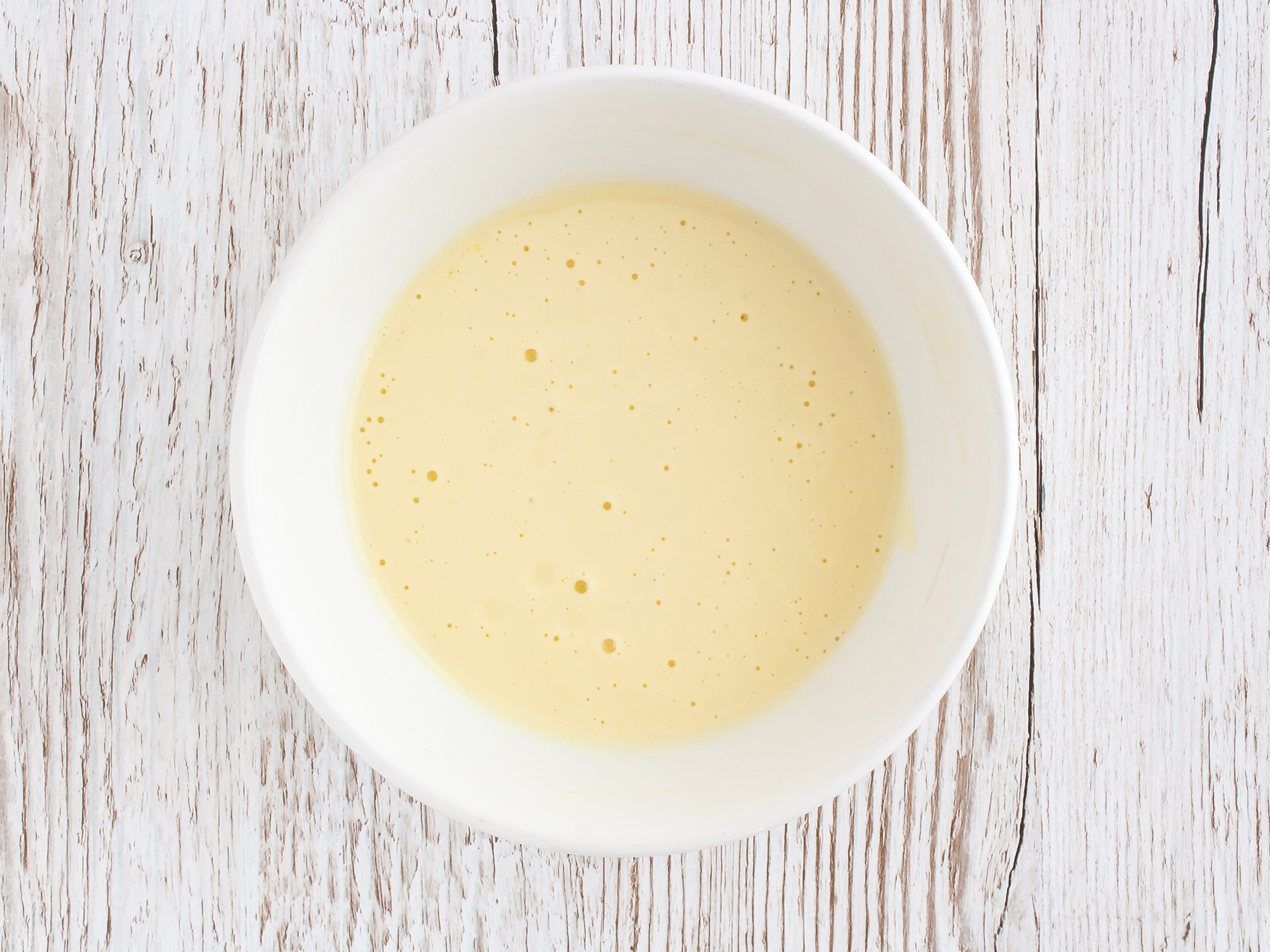 1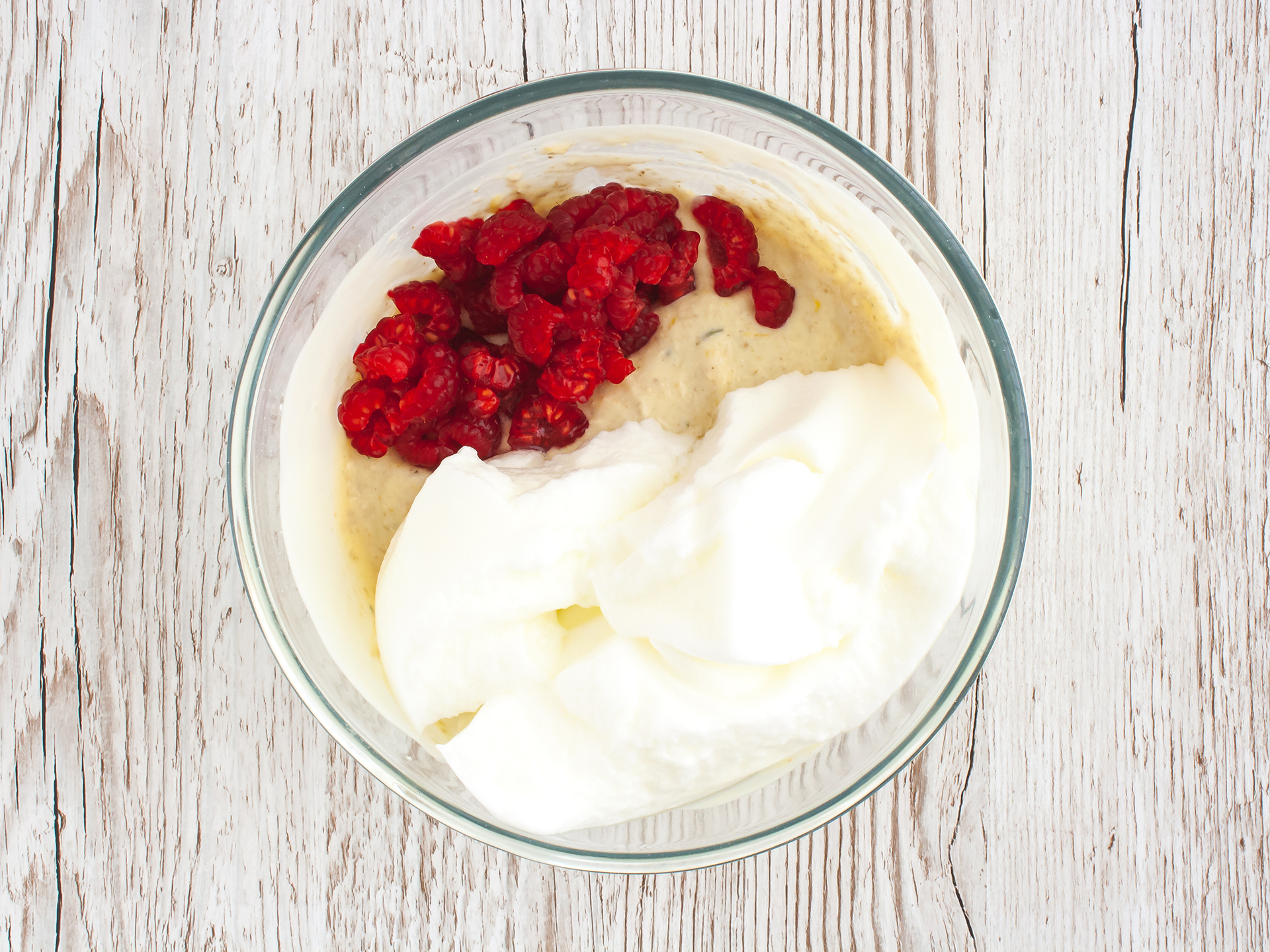 2
Step 3
Now that the batter is ready, let's divide it among muffin cases filling them at two-thirds. Garnish with raspberries and oat flakes (1).
Bake the muffins in the preheated oven for 20-25 minutes (2).
Once ready, let them rest in the oven with the door open for 5 minutes, then remove and transfer to a wire-rack to cool down. Using a cooling wire-rack will guarantee your bakes will dry evenly all around and keep them from getting soggy. The rack is also useful for cakes and pies.
Congratulations you are done! Go enjoy these delicious muffins and (try to) keep some for your friends, they'll love them.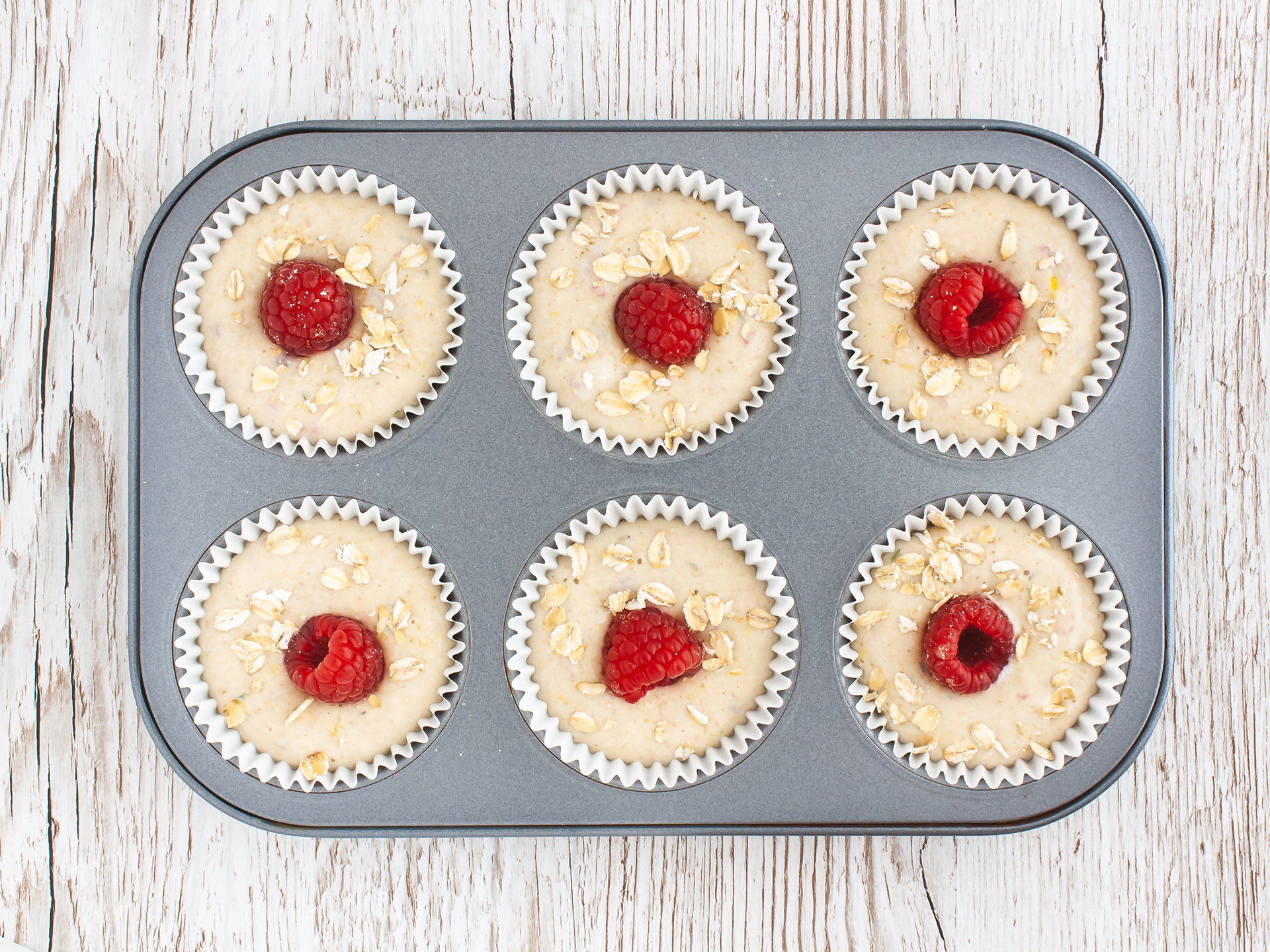 1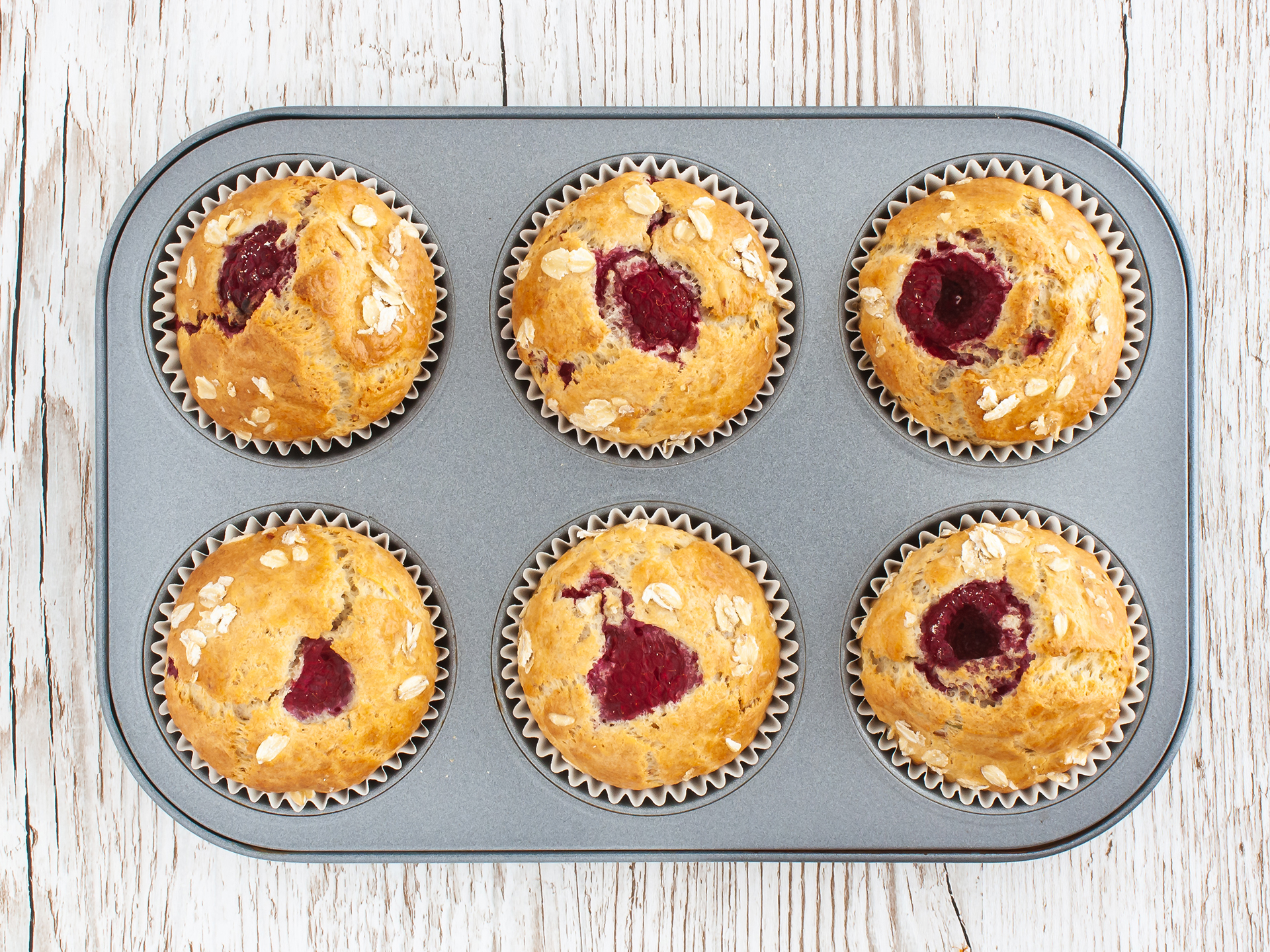 2
Tips
Check out our easy baking guide for perfect results.

Store in an airtight container for up to 4 days or freeze on the same day.

In alternative to stevia, you can use maple syrup or honey but reduce to amount of liquids accordingly.