This easy red lentil pasta salad is great both warm and cold, and it's perfect for cooking ahead for a crowd, your next day lunch, or an outdoor meal.
Inspired to the Italian cuisine, this mouthwatering dish bursts with Mediterranean flavours like roasted tomatoes, olives, capers, and fresh basil. We have added roasted Shiitake mushrooms and hazelnuts to make it even tastier and nutritious.
Red lentil pasta is made from red lentil flour, and it's naturally gluten-free and low-carb. This recipe is thus suitable for coeliacs, those who suffer from gluten sensitivity or are on a weight loss plan.
Compared to wheat pasta, red lentil pasta is also higher in fibres, proteins and iron. A bowl of this vegan salad provides more than half of your recommended daily intake for proteins and fibres. Awesome!
If you love healthy recipes like this, make sure to subscribe to our newsletter, and you'll get our newest recipes sent right into your inbox every week, plus our free ebook!
Frequently Asked Questions
Is red lentil pasta gluten-free?

Red lentil pasta is an excellent gluten-free alternative to regular wheat pasta. It's made from lightly roasted red lentils ground into a fine flour. This type of pasta is higher in fibres and proteins and lower in carbs than standard pasta.

Red lentils do not contain gluten, like other legumes. Therefore it's safe for celiacs or those with gluten sensitivity to eat beans, lentils, peas, and peanuts[1].

As finding gluten-free recipes is crucial for those with this condition, we have a super handy SmartSearch Tool to help you filter our best gluten-free recipe. Make sure to check it out!
Is red lentil pasta low carb?

If you're on a low carb diet, you can still enjoy a bowl of red lentil pasta, but with moderation. Gram per gram, red lentil pasta has almost half the amount of net carbohydrates compared to regular wheat pasta.

Net carbs include only those carbohydrates that are converted into energy, thus giving calories. Therefore, they don't include fibres as they remain mostly undigested.

A 75g serving size of wheat pasta has 54g net carbs and 56g total carbs. The same amount of dried red lentil pasta, instead, has only 29g net carbs and 38g total carbs. Not only this gluten-free pasta has fewer carbs than regular pasta but also more fibres, which will keep you full for longer.

A low-carb diet restricts carbohydrates, especially those from refined sugars, bread, and pasta. It also limits the intake of starchy vegetables and focuses on lean proteins and healthy fats. In this type of diet, legumes, and thus red lentils, can be included but with moderation [2].

While a standard diet allows 130g to 225g of carbohydrates, a low-carb one restricts them to under 130g per day [3].

Moreover, in very-low-carb diets like the ketogenic diet, the amount of carbs drops to under 20-30g per day. Therefore read lentil pasta is not suitable for keto diets as a single serving already covers all the carbohydrates allowed in a single day.

If you are following this type of diet, then we recommend you opt for non-starchy pasta alternatives like spiralised zucchini, eggplant lasagna, yellow squash spaghetti and so on.

We have an easy-to-use SmartSearch tool to help you filter out recipes based on your nutrition needs from specific diets, including keto diet, to nutrients breakdown, like carbs and proteins. Be sure to check it out!
Red lentil pasta VS wheat pasta: what is the difference?

While regular pasta is made with wheat, red lentil pasta is made from red lentil flour. Therefore, red lentil pasta is a gluten-free alternative, perfect for celiacs or those with gluten sensitivity.

Moreover, red lentils are nutritionally superior to wheat. They have:

Fewer Carbs

They provide just half of the net carbohydrates compared to wheat pasta, which is great if you're following a low-carb diet.

More Fibers

They are rich in fibres, almost five times more than wheat. Fibres have so many health benefits; for example, they promote a happy digestive system and lower bad cholesterol.

More Proteins

Red lentils like other legumes are a source of proteins, and a 75g serving of this pasta had twice the proteins of its wheat counterpart. Proteins take longer to digest, filling you up and curbing hunger.

More Iron

This trace element is essential for you wellbeing as it keeps you focused and energised. Red lentil pasta provides almost three times more iron than wheat pasta

Besides its nutritional profile, red lentil pasta also tastes so good, and it's a versatile ingredient, easy to add to your favourite recipes.
Why is red lentil pasta good for you?

Red lentil pasta is incredibly healthy as it provides a source of plant-based proteins, fibres, and iron. Compared to wheat pasta, it is more nutritious and lower in carbohydrates.

Eating fewer carbs will help you lose weight as you'll reduce the number of calories drastically. Moreover, a low carb diet also helps to keep bad cholesterol, blood sugar and insulin levels under control [4] .

Red lentil pasta can be included in a low carb diet, but with moderation. Your whole body will benefit from the extra fibres, proteins, and iron. They will keep you full for longer, curb hunger, and make you feel more energised and focused.
Ingredients
| | |
| --- | --- |
| Cherry Tomatoes | 180 g |
| Extra Virgin Olive Oil | 2 tsp |
| Salt | to taste |
| Black Pepper | to taste |
| Red Lentil Pasta | 140 g |
| Shiitake Mushrooms | 170 g |
| Hazelnuts | 60 g |
| Capers | 1 tbsp |
| Kalamata Olives | 70 g |
| Fresh Basil Leaves | to taste |
Step 1
Halve the cherry tomatoes and toss them with 1 tsp of extra virgin olive oil. Then season them with salt and black pepper to taste.
Transfer them onto a baking tray lined with parchment paper.
Roast the tomatoes for 20 minutes at 190°C (375°F) if you're using a fan oven or at 210°C (410°F) for a static oven.
Flip them halfway through cooking time to get them nicely browned on both sides.
Then, remove them from the oven and set aside.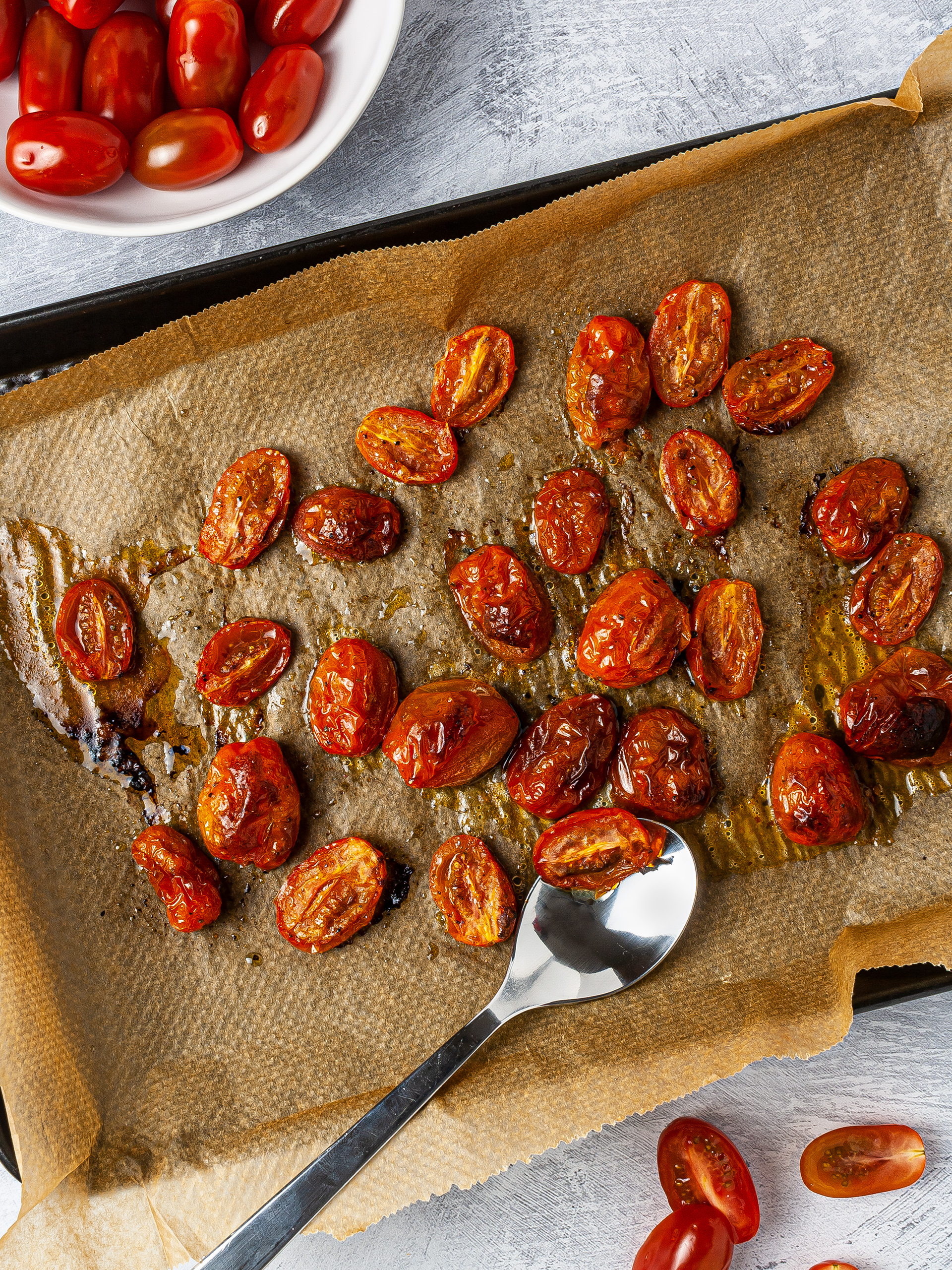 Step 2
In the meantime, cook the gluten-free red lentil pasta. Add it to a pan of salted boiling water and simmer for 6 minutes or follow packet instructions.
Once the pasta is cooked but firm to the bite, drain it and set it aside.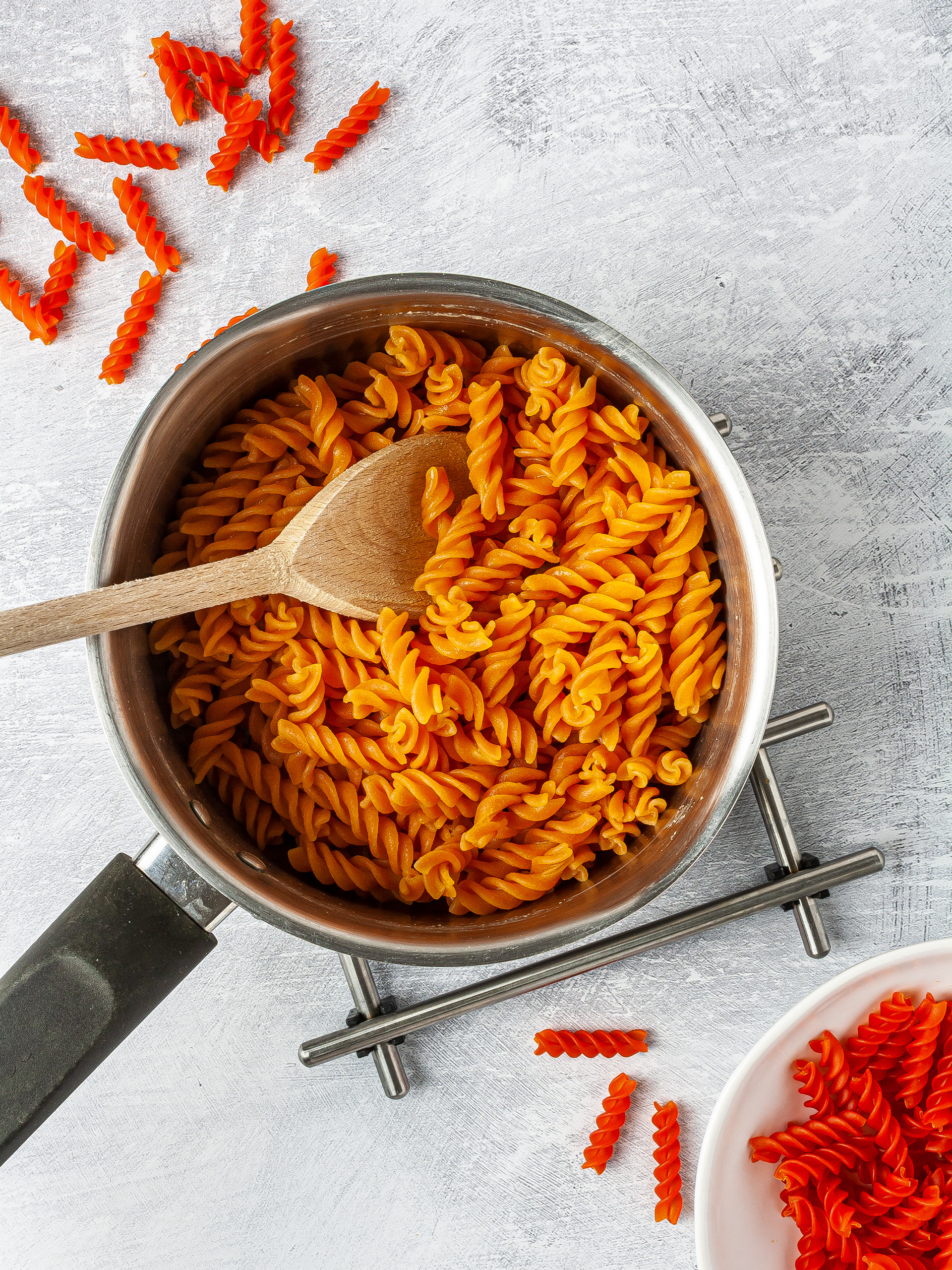 Step 3
Next, roast sliced shiitake mushrooms onto a baking tray lined with parchment paper for 7-10 minutes at 190°C (375°F) for fan ovens or at 210°C (410°F) for static oven.
Then, remove the excess water released during cooking.
Now, add chopped hazelnuts, the remaining ​1 tsp of extra virgin olive oil, salt, black pepper, and capers to the tray with the mushrooms.
Roast the ingredients for further 10 minutes until they are fragrant and browned.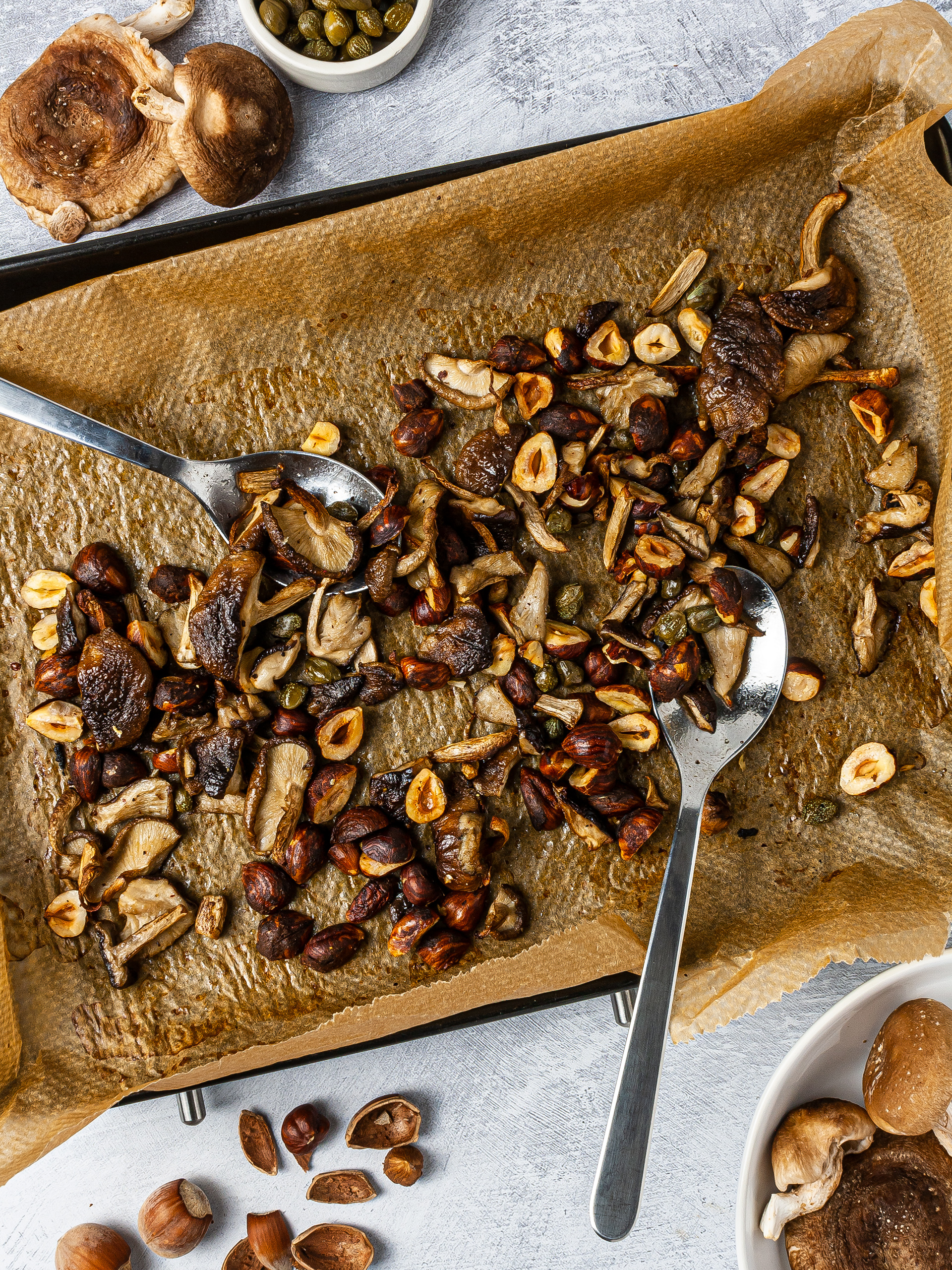 Step 4
In a salad bowl, combine the cooked red lentil pasta, the roasted tomatoes and mushrooms.
Add pitted black olives, like Kalamata olives, and garnish with fresh basil leaves.
Give it all a good stir, and you're ready to enjoy this delicious Italian pasta salad.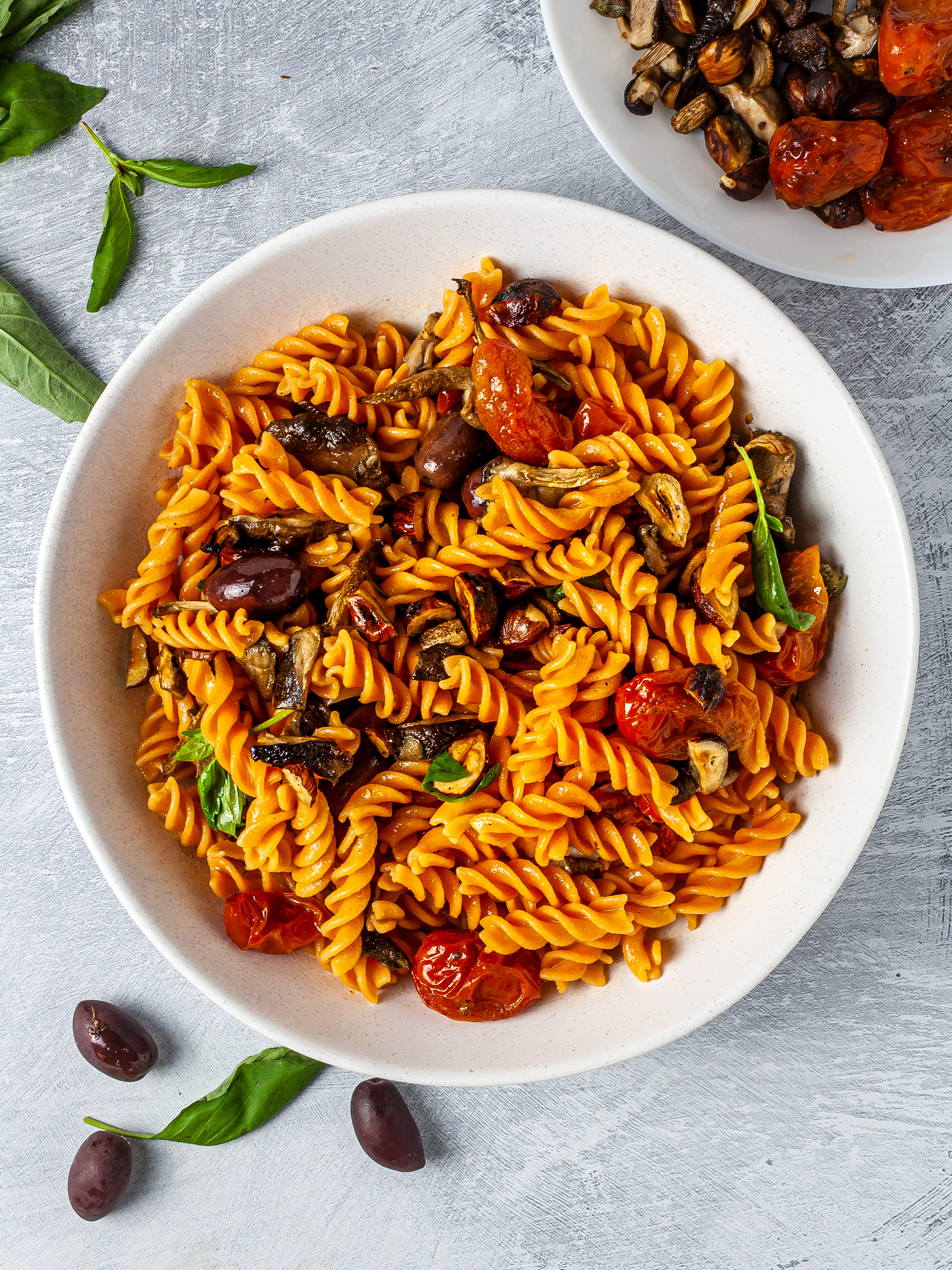 Tips
You can replace Shiitake mushrooms with other varieties, like portobello, chestnut, or wild mushrooms.

Add chilli flakes for extra flavour.