If you're looking for an exciting yet healthy breakfast recipe, our savoury curry oatmeal is a must-try. It combines the creaminess of classic porridge with a spicy Indian twist to give you a filling meal full of flavour. It's ready in just 15 minutes, pan to bowl!
After many sweet oatmeal recipes, we looked at a savoury Indian breakfast porridge called upma and came up with a tasty variation. Classic upma consists of dry-toasted semolina stewed with lentils, onions, tomatoes, and peas. It's often seasoned with mustard seeds, ginger, turmeric, and chillies.
For our Indian porridge, we swapped semolina with jumbo rolled oats and added mung dal and black mustard seeds. We cooked them with coconut milk drink and curry powder until creamy and golden. Finally, we topped the oatmeal with fresh mango, cherry tomatoes, and roasted cashews.
What makes this curried porridge so good is the contrast between soft and crunchy textures and hot and cold ingredients. It has a unique flavour that we're sure you'll love!
This Indian oatmeal is not only tasty but also incredibly healthy. It's dairy-free, gluten-free, and vegan, perfect for everyone to enjoy. It packs plenty of fibres and proteins to keep you full and satisfied until lunchtime. Each bowl provides two of your 5-a-day, plus healthy fats from olive oil and cashew nuts.
One serving has less than 350 calories, and it covers 13% RDI of carbs, 32% RDI of proteins, and a whopping 62% RDI of fibres — all within the recommended amount of fats per meal. Amazing!
Ingredients
| | |
| --- | --- |
| Extra Virgin Olive Oil | 1 tsp |
| Brown Mustard Seeds | 1 tsp |
| Dry Mung Dal | 60 g |
| Coconut Drink (or Oat Milk) | 350 mL |
| Water | 200 mL |
| Jumbo Rolled Oats | 60 g |
| Curry Powder | 2 tsp |
| Cherry Tomatoes | 120 g |
| Cashew Nuts | 30 g |
| Fresh Mango | 120 g |
Step 1
Sizzle the mustard seeds in a pot with oil for 1 minute until they sputter.
Rinse the mung dal well, add them to the pot, and cook them for 1 minute.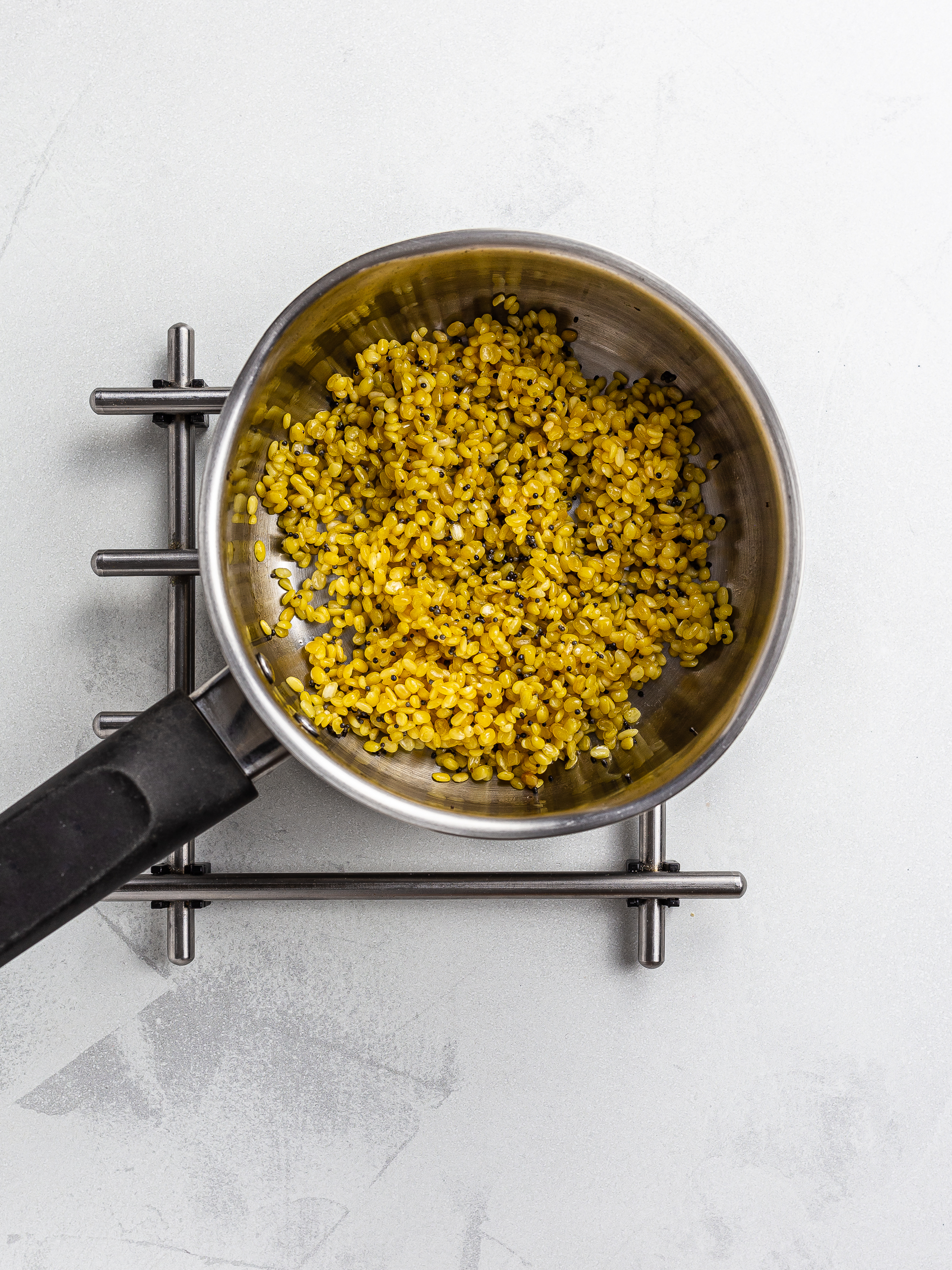 Step 2
Next, add in the coconut drink, water, rolled oats, and curry powder.
Mix well and bring to a boil.
Simmer the porridge over low heat for 10 minutes, stirring occasionally.
Then, season with salt and pepper to taste.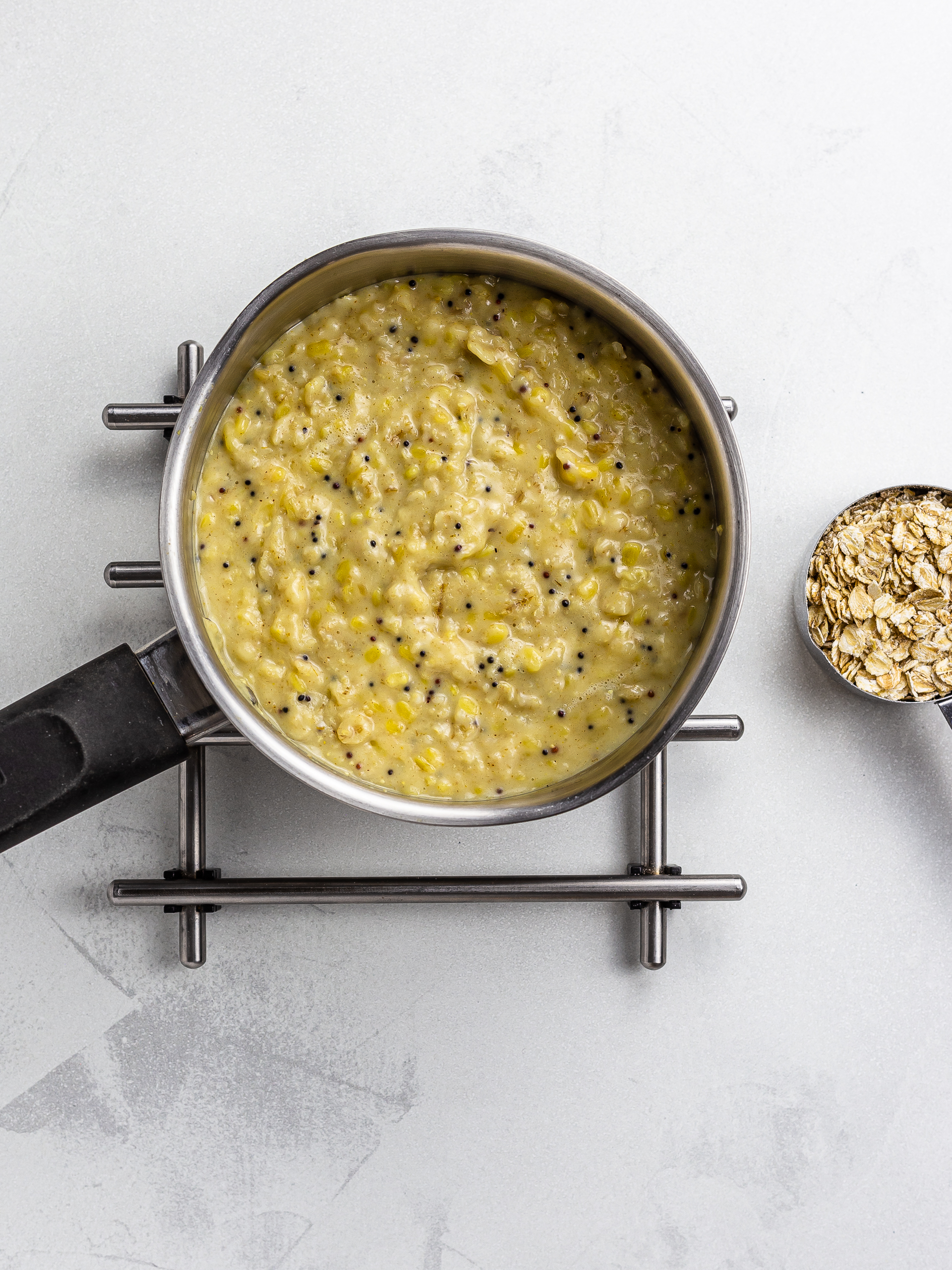 Step 3
When the oatmeal is thick, creamy, and cooked through, remove the pot from the heat.
Divide the porridge among bowls and top it with chopped tomatoes, roasted nuts, and diced mango.
Garnish it with chopped fresh coriander and serve it warm.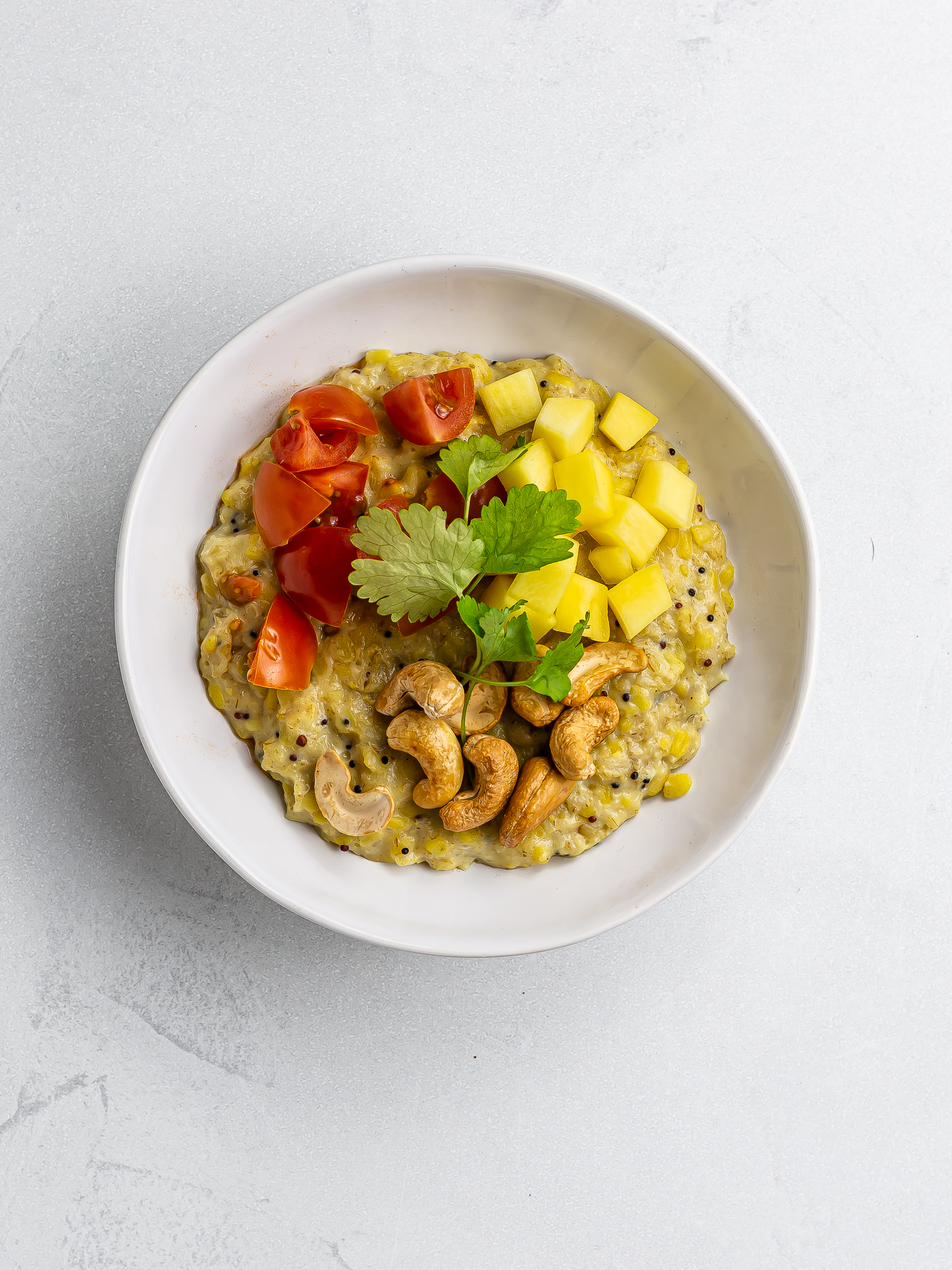 Tips
You can sprinkle the porridge with a handful of raisins or goji berries for extra flavour.

Instead of rolled oats, you can use steel-cut oats or oat groats: add an extra 100 ml (3.5 oz) of water or coconut drink to the pot and cook the porridge for 20 minutes instead of 10 minutes.