In this recipe we will show you how to make your own flatbread and then we will top it with delicious basil pesto and smoked salmon!
Our healthy flatbread recipe uses wholemeal flour, extra virgin olive oil, and unrefined brown sugar. It's very easy to make, and it will require just shy of an hour to be ready for cooking. The fragrant smell of the rising dough will fill your kitchen and before your are done cleaning up the drooling, you will be enjoying an wholesome flatbread, we promise!
And it's not just good for your taste buds, it's good for you as well! Our recipe makes a healthy and balanced meal with 300kcal, lots of fibres, healthy fats like omega-3 from the salmon and good monounsaturated fats from extra virgin olive oil.
As for the pest, You can likely buy it from your local store... Or we can show how to make it yourself with our classic basil pesto recipe!
NOTE: the default ingredients yield 3 flatbreads and one serving consists of one flatbread.
Ingredients
| | |
| --- | --- |
| White Flour | 70 g |
| Wholemeal Flour | 80 g |
| Dry Yeast | 1/4 tsp |
| Salt | 1/2 tsp |
| Oregano | 1/2 tsp |
| Rosemary | 1/2 tsp |
| Thyme | 1/2 tsp |
| Brown Unrefined Sugar | 1/2 tsp |
| Extra Virgin Olive Oil | 1 tbsp |
| Water | 100 mL |
| Basil Pesto | 40 g |
| Smoked Salmon | 120 g |
| Parsley | 10 g |
Step 1
Prepare the homemade wholemeal flatbread by combining white flour, wholemeal flour, dry yeast, salt, oregano, rosemary, thyme and sugar in a mixing bowl (1).
Add extra virgin olive oil and give a nice stir.
Form a "well" in the flour mix, add warm water and stir with a spoon to roughly incorporate the ingredients.
Transfer to a floured worktop and knead the dough pressing it down and forward with the heel of your hand. Then fold back, turn sideways and repeat (2).
Knead for at least 2 minutes to help develop the gluten.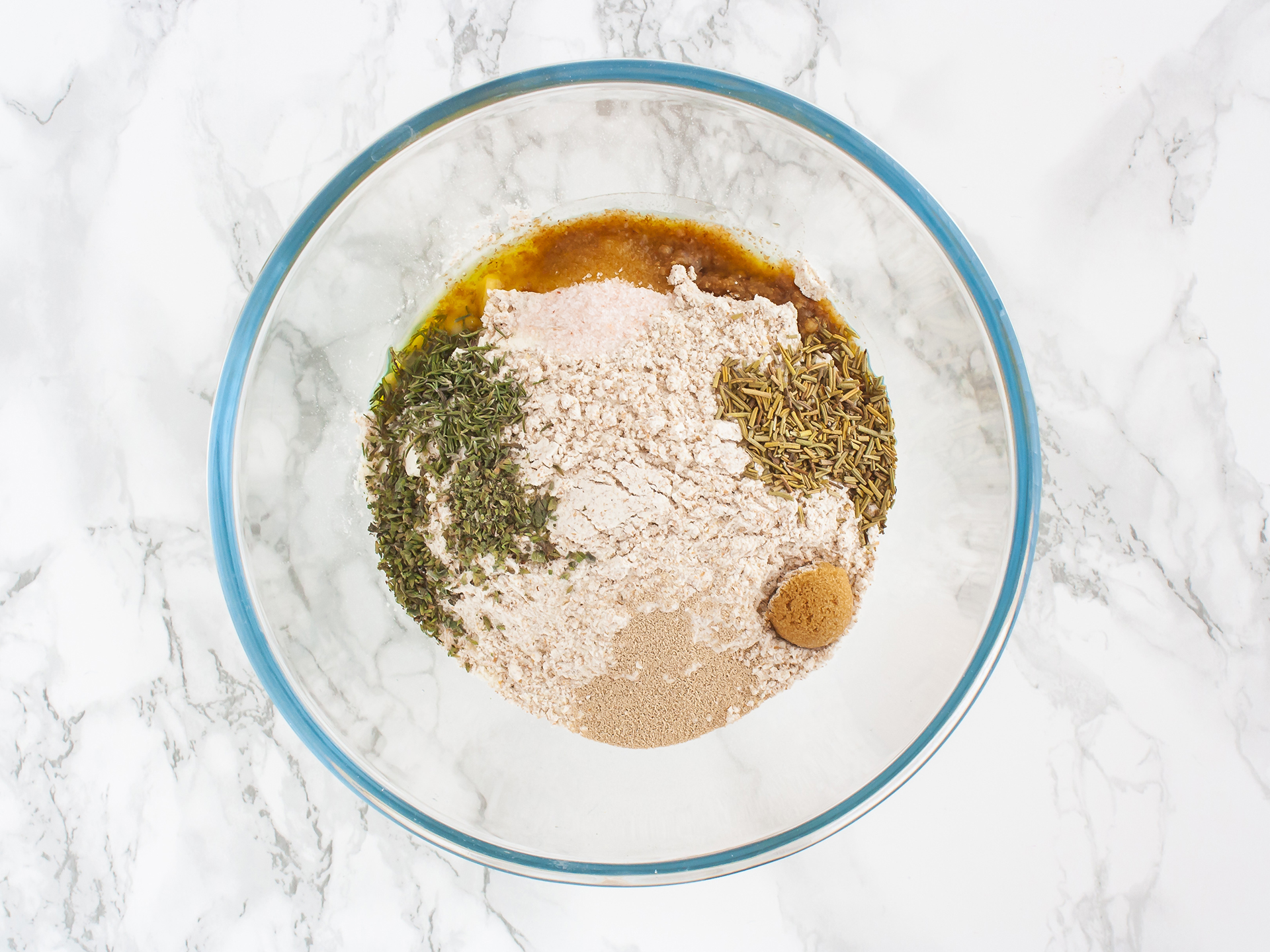 1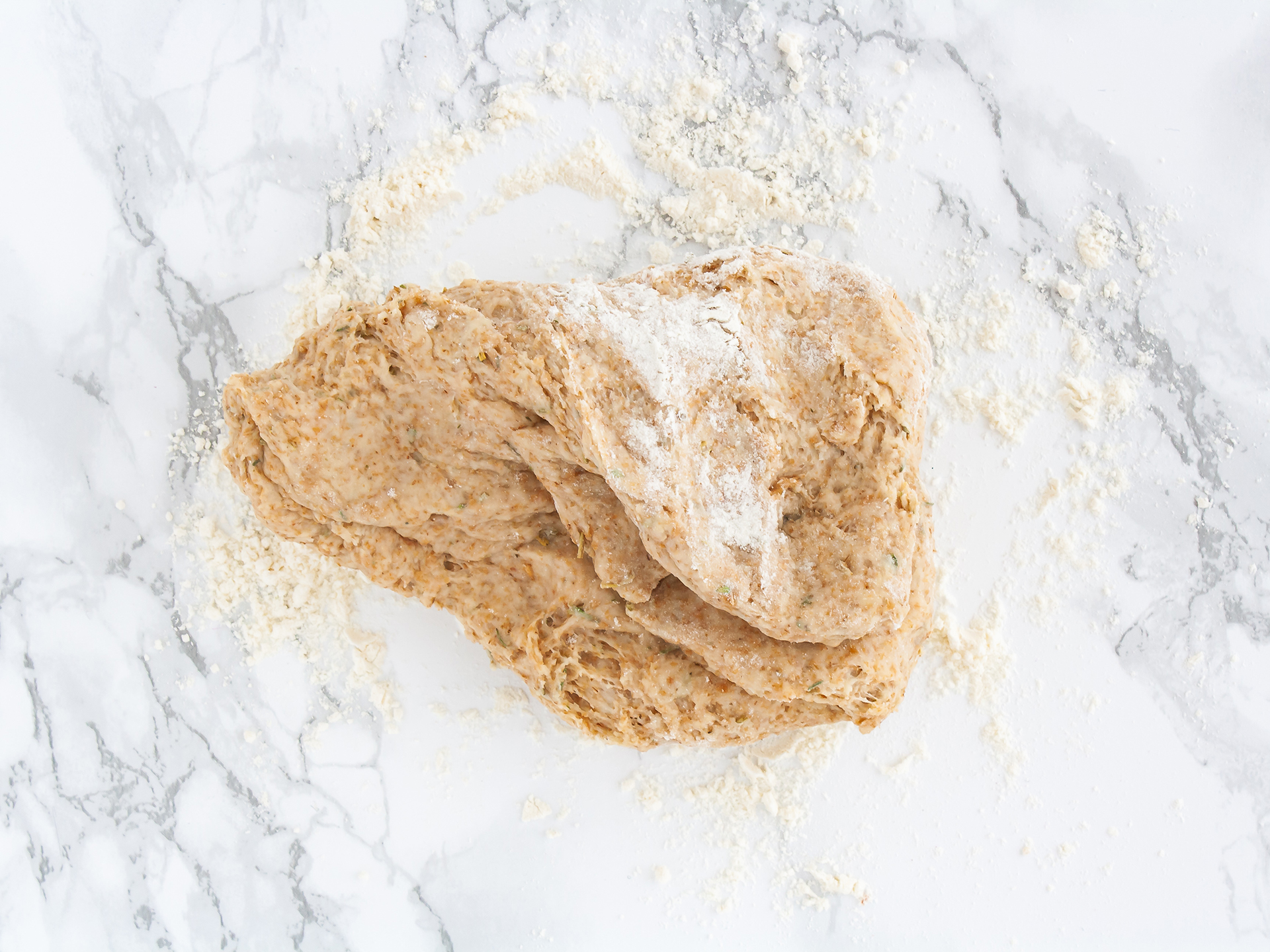 2
Step 2
Roll the dough into a ball, transfer to a bowl greased with oil and cover with a damp cloth (1).
Place in a warm place like in the oven with the light on or under a wool blanket. Let the dough rest and rise for at least 1 hour or until it has doubled its volume (2).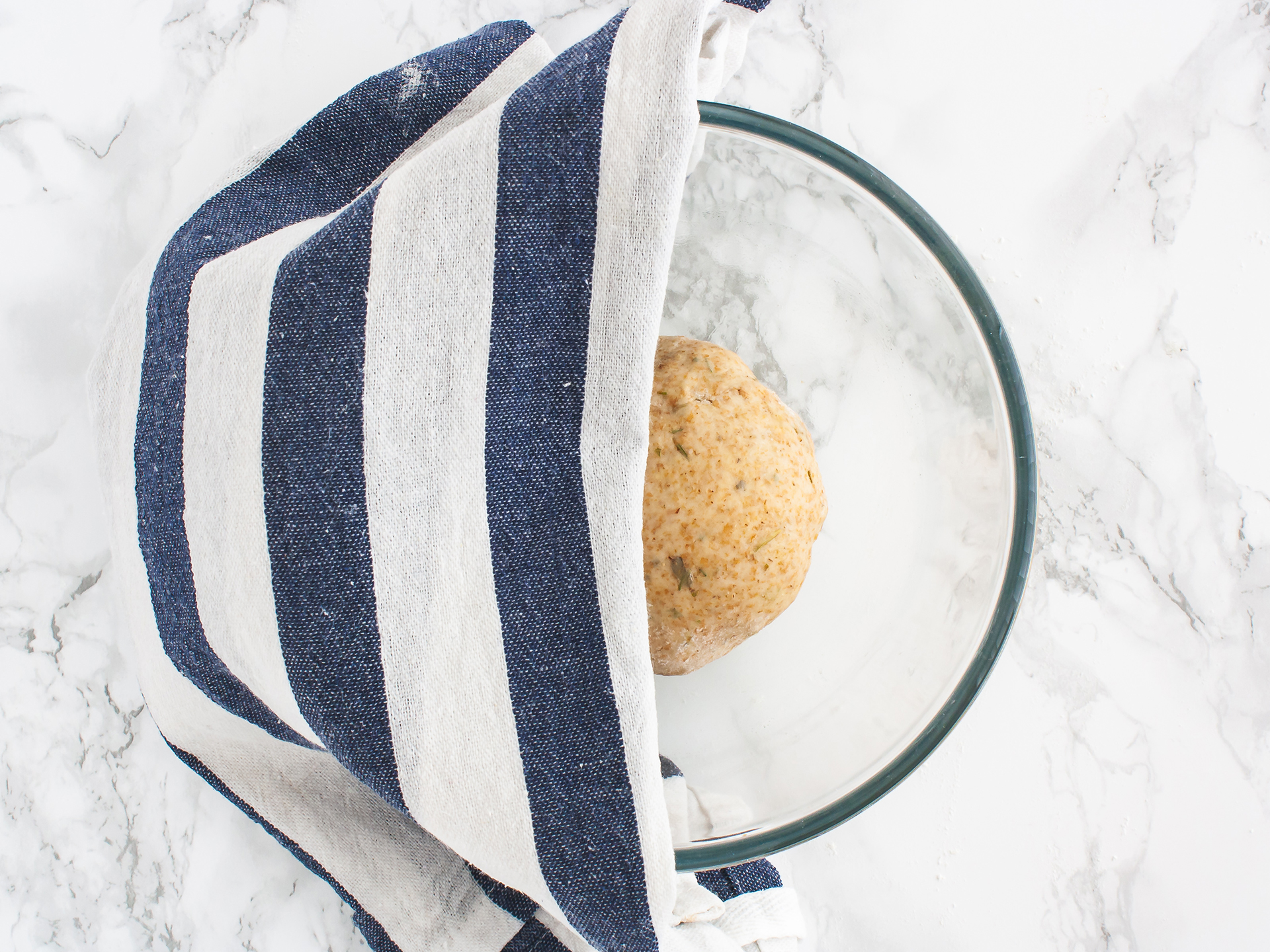 1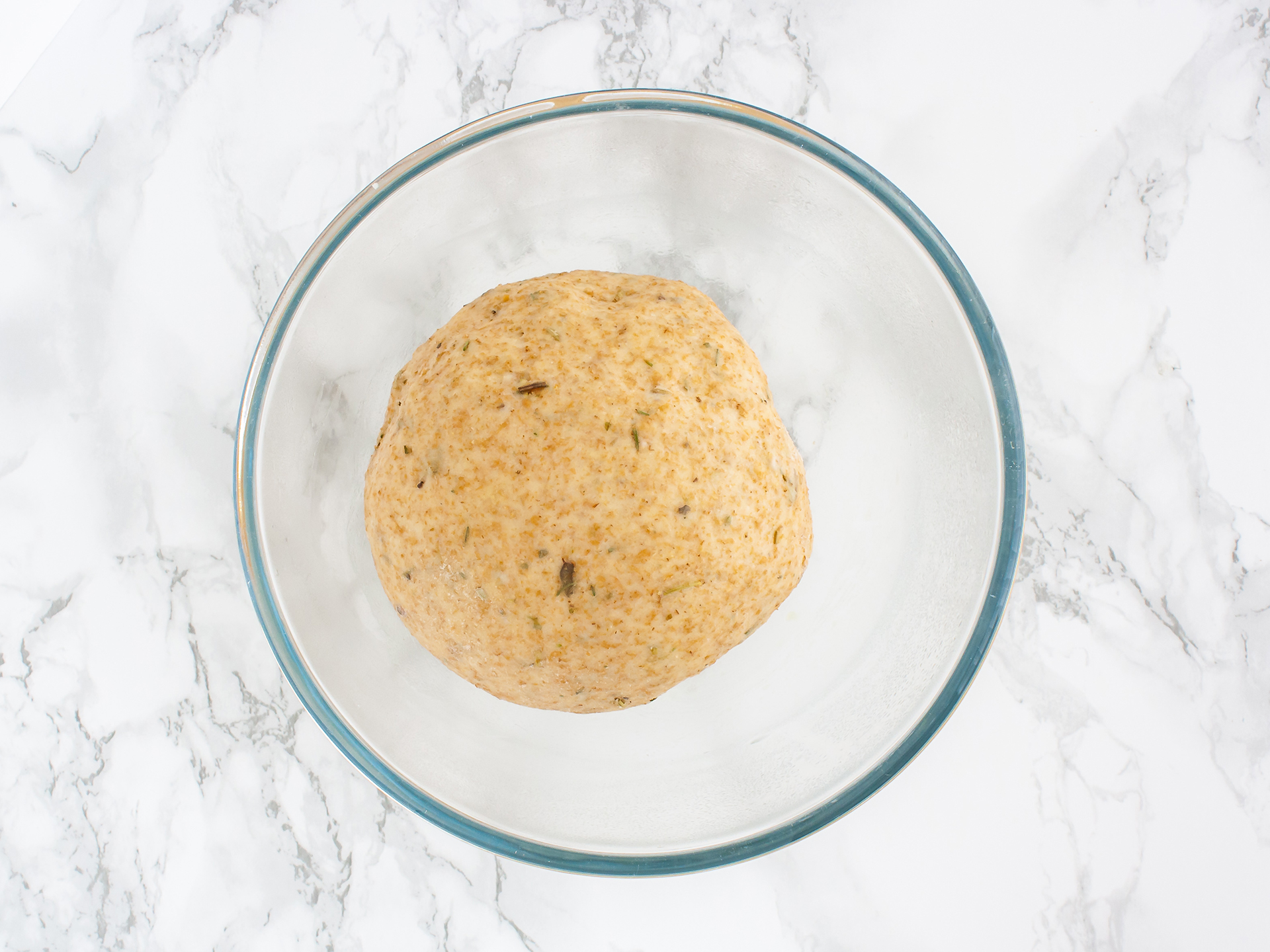 2
Step 3
Next, quickly work the dough again on the floured worktop to remove excess air and pinch off as many balls of dough as the number of servings.
Flatten down each portion with the help of your fingertips into a 5 mm (0.2 inches) thickness.
Heat a drizzle of oil in a skillet and cook the flatbread for 3 minutes (1) then flip and cook for 3 minutes on the other side (2).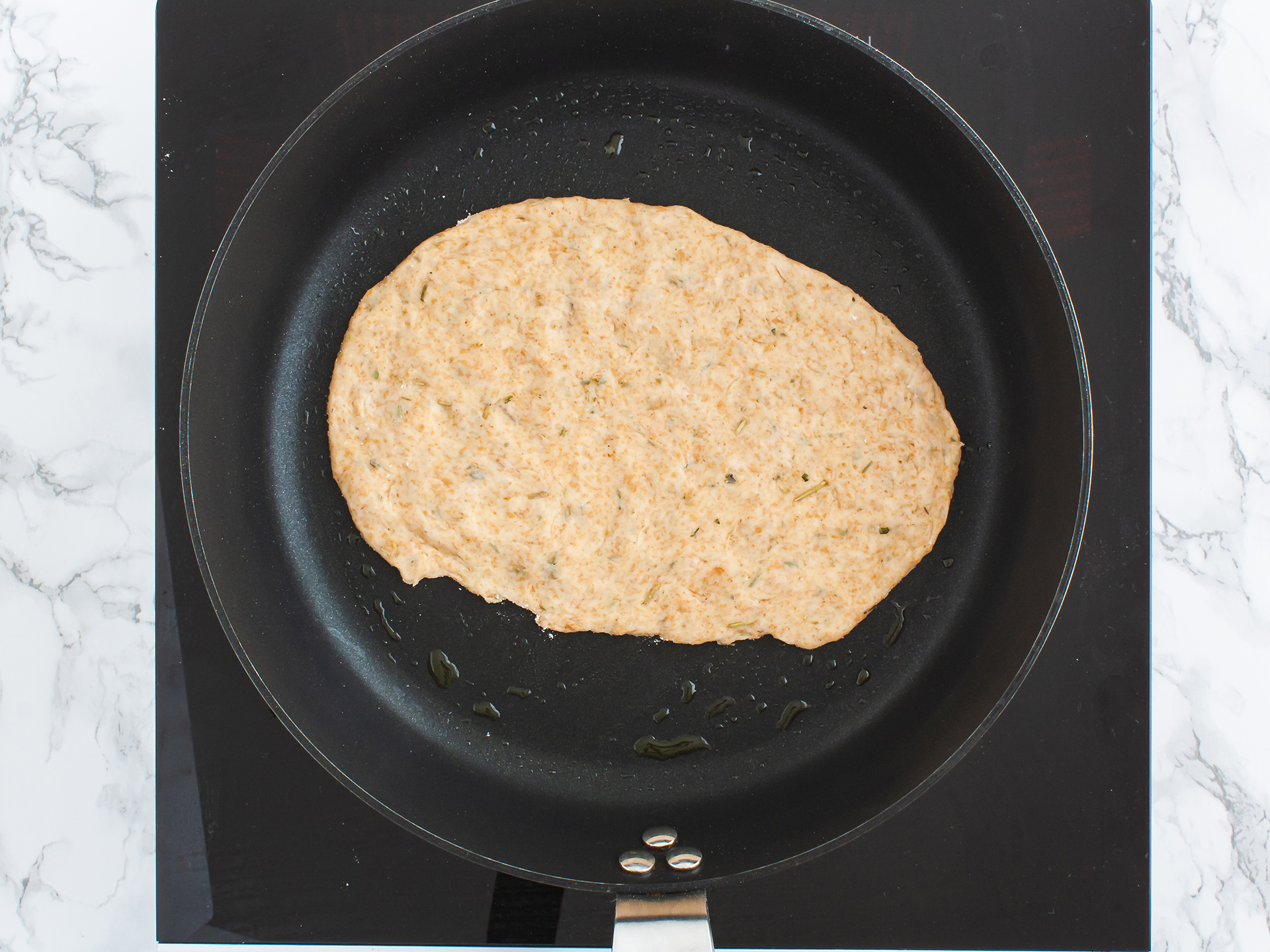 1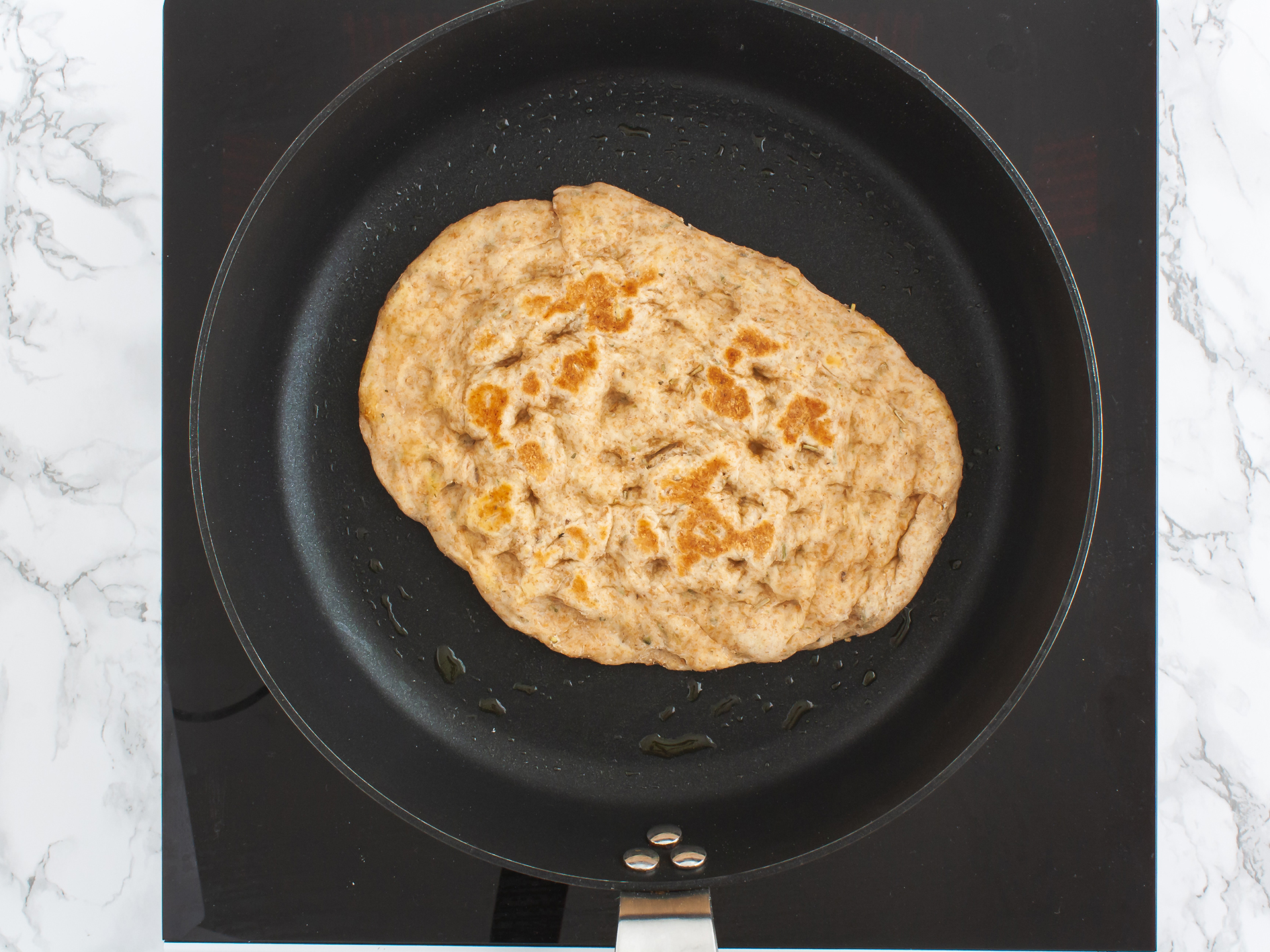 2
Step 4
Now for the final part spread two teaspoons of homemade basil pesto over each flatbread and distribute smoked salmon strips.
Garnish with fresh chopped parsley and before serving cut into strips with a pizza cutter.
Done! Enjoy your delicious salmon and pesto flatbread with a side salad.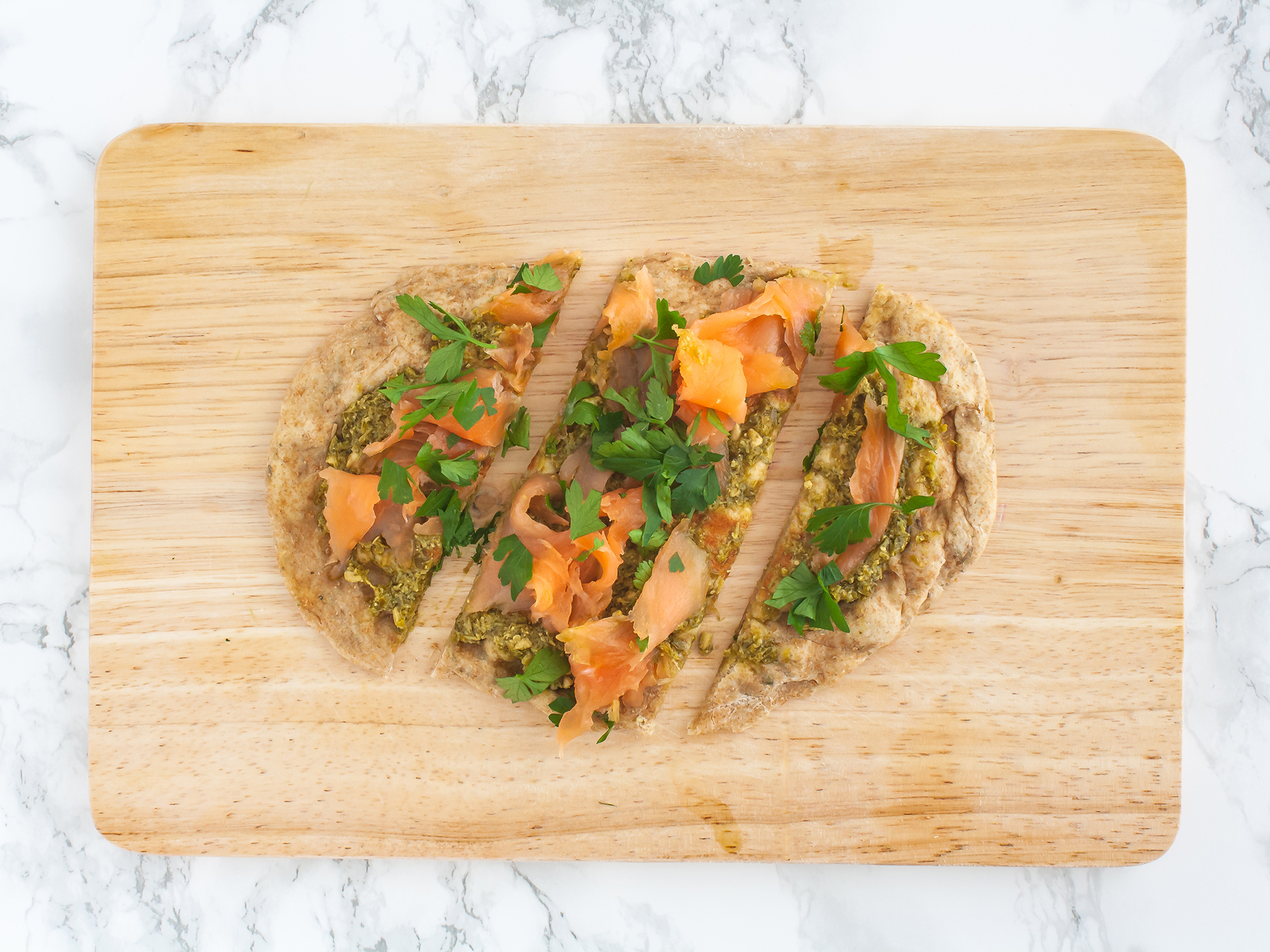 Tips
Make sure the water is not too hot or it will inactivate the yeast; so don't let it boil but just heat in a pot until you see the steam rising.
Watch on Youtube