This chicken mushroom wrap is a tasty and easy recipe ready in under 30 minutes, perfect for a quick midweek dinner or your lunch-box meal prepping.
We spread fibre-rich wholemeal tortillas with a creamy mix of hummus and smoked paprika and then filled them with tender cubes of chicken and juicy mushrooms sautéd in spicy oil, garlic, and white wine.
What is so great about this recipe, apart from being a bomb of creamy deliciousness? We have combined healthy ingredients to make a balanced meal that provides slow energy-releasing carbs, lean proteins, and gut-friendly fibres.
Each wrap comes in about 500 calories and covers only 16% of your recommended daily intake (RDI) for carbohydrates, and will give you over 90% of your RDI for proteins and 50% for fibres. Pretty awesome!
By swapping plain white tortilla wraps with wholemeal seeded alternatives, you'll enjoy a burrito lower in carbs and higher in fibres. Fibres help to slow down digestion, fill you up for longer, and decrease the rate at which blood sugars are released in the bloodstream.
Mushrooms are a low-calorie food with zero fats and cholesterol, also rich in B vitamins, precious nutrients that regulate metabolism and body functions.
Adding hummus to this chicken burrito brings up the number of proteins making this recipe perfect for gym-goers or those on a high-protein diet. Proteins make you feel full for longer helping you consume fewer calories later in the day.
Great both warm and cold, this mushroom wrap has many health benefits, and you can make it gluten-free using corn tortillas or other wheat-free wraps. Also, for a vegan alternative, swap diced chicken with cubed tofu and you're good to go.
If you liked the recipe, please let us know at the end of the steps by rating us! You can also get two new tasty recipes like this one every week and get our free-ebook by signing-up to our newsletter!
Ingredients
Extra Virgin Olive Oil

1 tbsp

Fresh Chillies

2 tsp

Garlic Clove

1

Mushrooms

220 g

White Wine (optional)

40 mL

Chicken Breast

200 g

Oregano

1/2 tbsp

Hummus

recipe

80 g

Smoked Paprika

1/2 tbsp

Wholemeal Wrap

2
Step 1
On a chopping board, thinly slice fresh chillies and set them aside. Then, cut the mushrooms into chunks and dice the chicken breast.
In a skillet, heat the extra virgin olive oil and add the garlic clove, crushed, and the prepared chillies. Sizzle the ingredients for a minute or until the garlic is fragrant.
Next, add the mushrooms, white wine, chicken, oregano, and salt to the skillet. Cook at medium heat for 15 minutes or until the juices have evaporated forming a creamy sauce.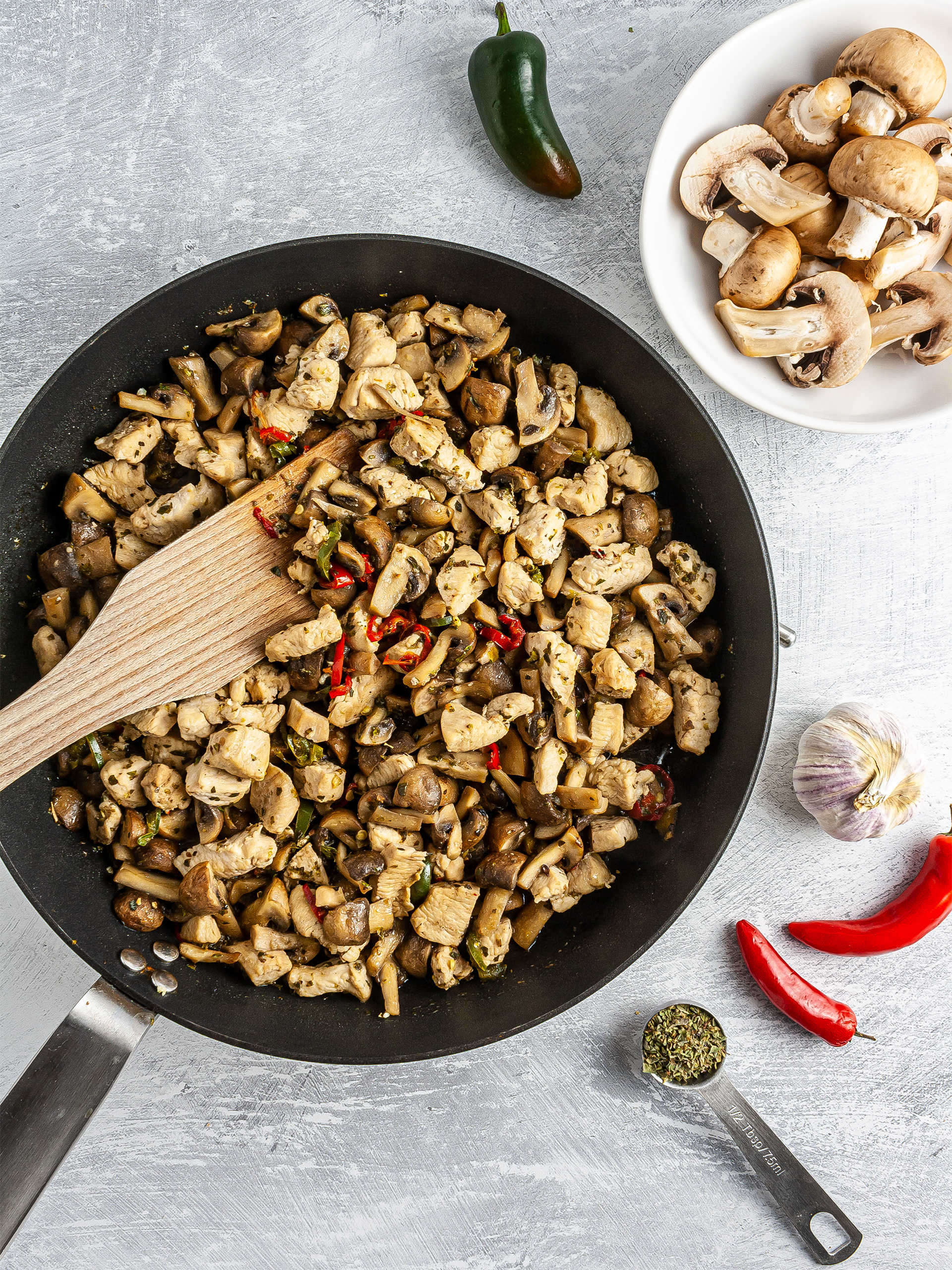 Step 2
In the meantime, combine the hummus with paprika in a mixing bowl.
We have an easy step-by-step recipe for homemade hummus. It tastes so much better than the store-bought one, and you'll have complete control over the ingredients and thus fats, calories, and salt.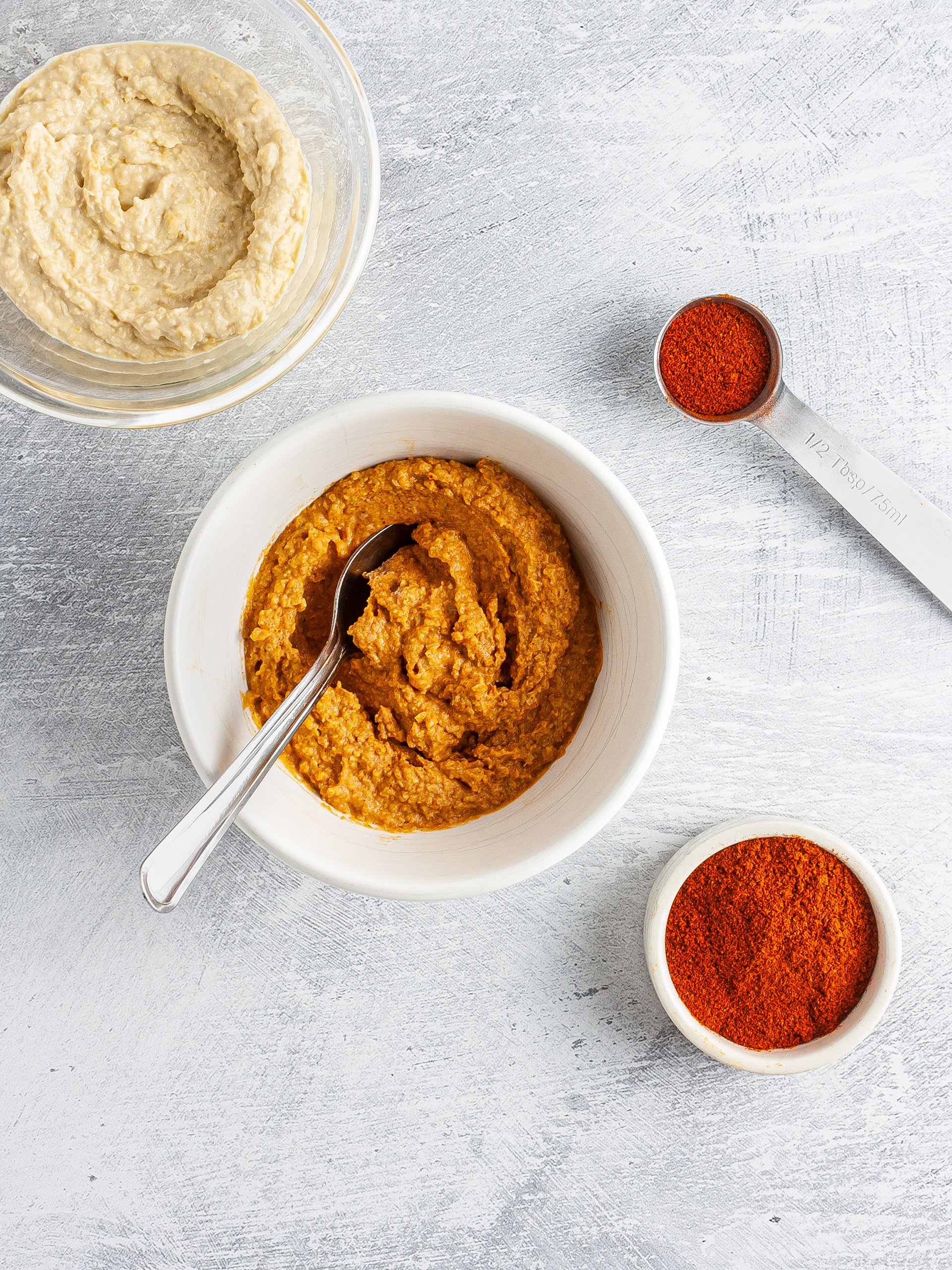 Step 3
Although tortilla wraps taste great also when cold, we recommend you warm them in the oven, microwave, or in a clean flat pan until they're softened. This way, they won't crack as you fold them into burritos.
Divide the paprika hummus among wraps spreading it over one half of the tortilla. Also, leave a couple of inches free on the edges to prevent the filling from leaking when folding.
Then, top with the prepared mushrooms and chicken and wrap the burrito following these simple steps.
Line the tortilla so that the half side with filling lies horizontally in front of you. Then fold in the sides almost to touch each other and keep them pulled as you bring up the bottom flap on the side of the filling. Roll the bottom of the tortilla tightly and keep rolling one or two times until it is closed and secured.
Serve this creamy and spicy chicken mushroom wrap on a bed of fresh lettuce leaves and halved salad tomatoes.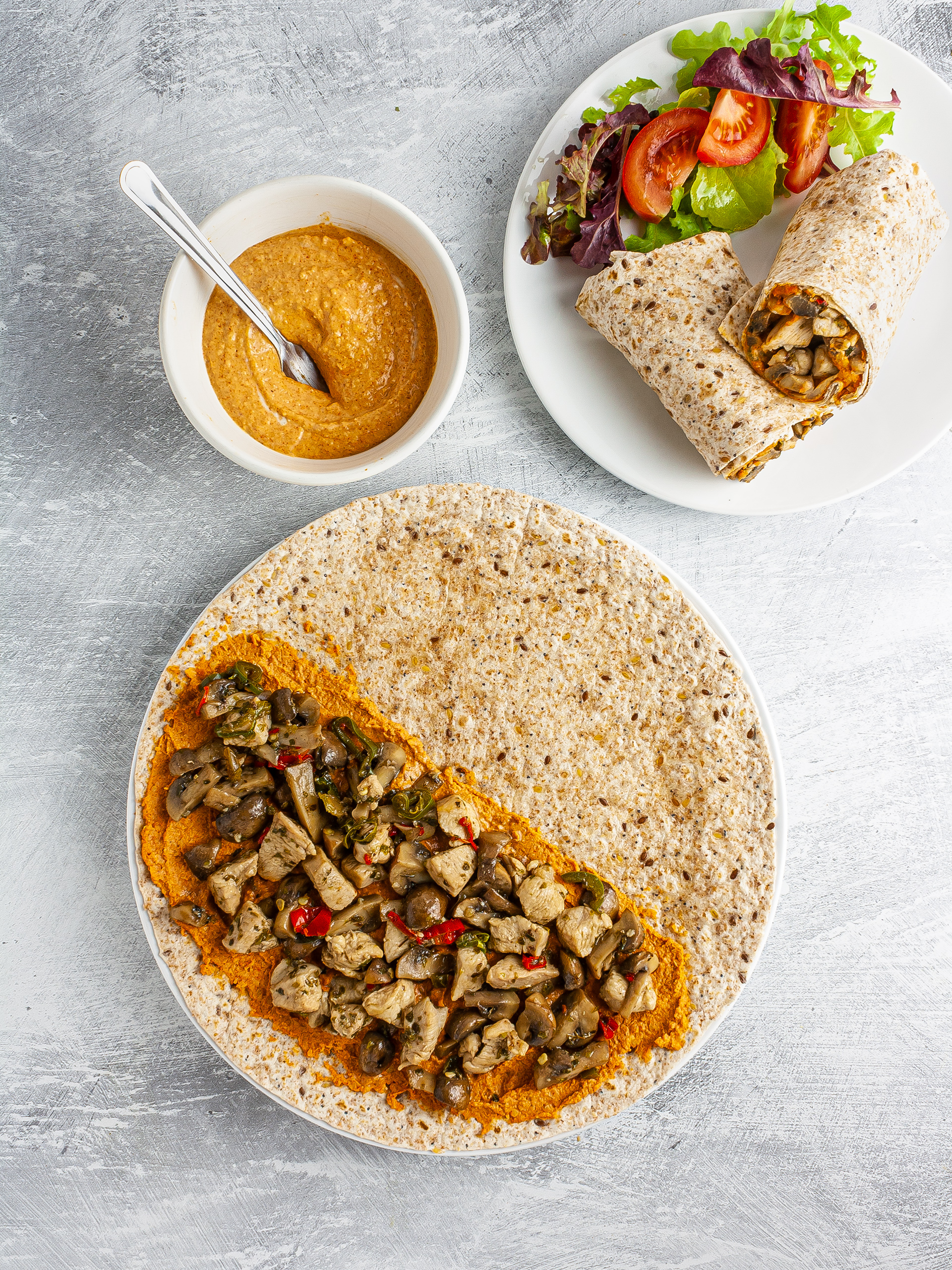 Tips
Instead of fresh chillies, you can use chilli powder and chilli flakes. We recommend the "Ghost Chillies", one the spiciest on Earth!

To spice up this chicken and mushroom burrito, even more, we suggest you top the filling with a hot sauce before folding the wrap. For example, Sriracha sauce, Tabasco, Nando's hot peri peri sauce, or Cholula hot sauce are excellent choices.
Watch on Youtube