Looking for a new delicious sauce for tofu? You've come to the right place. This Asian glaze with honey, garlic, and chillies is the perfect sauce you'll want to try in your next tofu stir-fry. It's quick and easy!
Tofu is a super nutritious and versatile ingredient. But it needs a little kick of flavour to stand out in a dish.
So, marinating or glazing it with sauces is an easy way to make tofu taste really good.
After roasting tofu bites with firecracker sauce, marinating tofu in miso sauce, and baking tofu steaks with teriyaki sauce, we've come up with another exciting tofu seasoning idea!
It's a sweet and spicy glaze inspired by Asian flavours from Thai, Chinese, and Japanese cuisines.
It's made with 4 simple ingredients you may already have in your pantry:
soy sauce;

red chillies;

garlic;

honey.
And if you want, you can finish it off with some roasted sesame seeds.
How does it taste? It's sweet and fiery, savoury and fragrant. An irresistible combo that will bring that tofu block to next-level goodness!
And there's more!
The beauty of this recipe is all in the glazing process.
This means reducing the liquid sauce over high heat until it coats the tofu cubes with a glossy, caramelised, and deeply flavoured glaze. Divine!
And because we marinated tofu in a little soy sauce beforehand, the whole dish will pack even more flavour.
So, gather the ingredients and let us show you how to prepare this spicy honey-glazed tofu in less than 30 minutes, start to finish.
And if you need more tips and info on the ingredients, check out the FAQ section, or jump right into the recipe!
Frequently Asked Questions
Which type of tofu should I use?

Make sure you're using firm tofu for this recipe, and not silken tofu.

Firm tofu is harder and drier, and it doesn't fall apart when you stir it.

Firm tofu itself can come in different types: medium-firm, firm, or extra-firm — so check the packaging when you buy it.

We used medium-firm tofu as we like the tofu bites a bit softer and spongier. But if you like a firmer, crispier finish, opt for extra firm tofu instead.

Also, before you dice it, you can optionally sandwich the tofu block between two chopping boards lined with kitchen paper and press down to squeeze out more moisture.

This step will make the tofu drier, so it will have a firmer consistency once cooked.

You could also try this recipe with tempeh, following our crispy tempeh nuggets or buffalo tempeh wings recipes.

Tempeh is like a cake of tightly packed, fermented soybeans. It's super healthy and incredibly nutritious!
Which honey type is best for this Asian tofu glaze?

Because this glazed tofu recipe is all about the honey sauce, we recommend using a type of honey that's very aromatic for extra flavour.

So, try swapping the usual, mild acacia honey with more flavourful honey varieties. Here are some ideas:

Chestnut honey — dark and nutty;

Buckwheat honey — molasses-like colour and strong taste;

Orange blossom honey — citrusy notes;

Eucalyptus honey — fresh, menthol-like, and herbal;

Or maple syrup if you're looking for a vegan option.

As we made the recipe while in Thailand we used a local honey made from the flowers of the logan fruit. It's very floral, sweet, and herbal — quite similar to eucalyptus honey!

Also, try to use raw, unfiltered honey if you can as it retains more nutrients and beneficial compounds than commonly processed honey.
Which spicy chillies can I use?

Fiery Thai red chillies are the go-to choice for this sweet and spicy glaze.

Also called bird's eye chillies, Thai chillies are very spicy, thin red chillies that are widely used in Asian spicy sauces.

You should be able to find them at big supermarkets or at your local Asian food store.

If you can't get Thai chillies, you can opt for red jalapenos (which are used to make the famous spicy Sriracha sauce).

If you think Thai chillies are too spicy for you, you can scrape away the seeds before using them or add them whole.

Dried red chillies or chilli flakes are an alternative to fresh red chillies. Replace each Thai red chillies with half dried chilli or half a teaspoon of chilli flakes.
Can you bake this honey-glazed tofu?

In the recipe, we'll stir-fry the honey tofu bites in a hot wok, but you can also bake them in the oven if you prefer.

To do it, follow the same steps of this baked miso-marinated tofu recipe, but omit the water from the sauce ingredients or the glaze will be too watery.
Ingredients
| | |
| --- | --- |
| Firm Tofu | 500 g |
| Gluten-Free Soy Sauce | 3 tbsp |
| Water | 100 mL |
| Vegetable Oil | 1 tbsp |
| Large Garlic Cloves | 2 |
| Grated Ginger Root | 2 tsp |
| Fresh Thin Red Chillies | 4 |
| Honey | 2 tbsp |
| Sesame Seeds (to serve) | 2 tsp |
| Spring Onion Stalks (to serve) | 2 |
Step 1
Let's start by marinating the tofu to make it more flavourful.
Rinse the firm tofu block under cold water and squeeze it as hard as possible without breaking it to remove excess water.
Dice the tofu into bite-sized cubes and add them to a shallow bowl, followed by 1 tbsp of soy sauce and 30 mL of water.
Toss and turn the tofu bites a few times to coat them evenly with the soy marinade.
Then, let them soak for 15 minutes.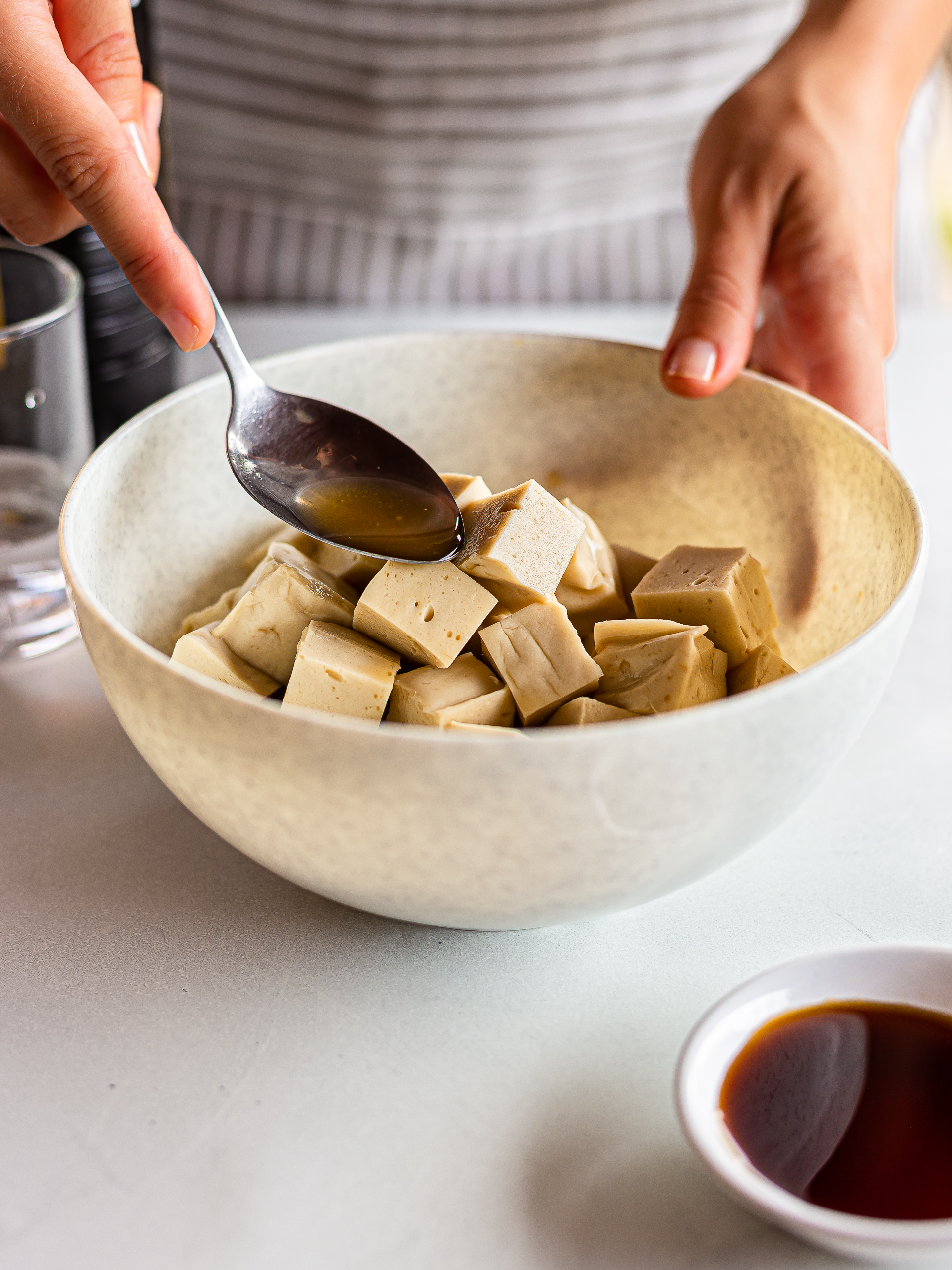 Step 2
Heat half of the oil in a wok (a cast iron pan or non-stick skillet will work too).
Drain the soy-marinated tofu cubes and add them to the hot pan.
Cook them over medium-high heat until the liquids have evaporated.
Then, sear the tofu cubes until they're lightly browned, tossing them around the pan to char them nicely on all sides.
Once ready, remove them from the pan and set them aside.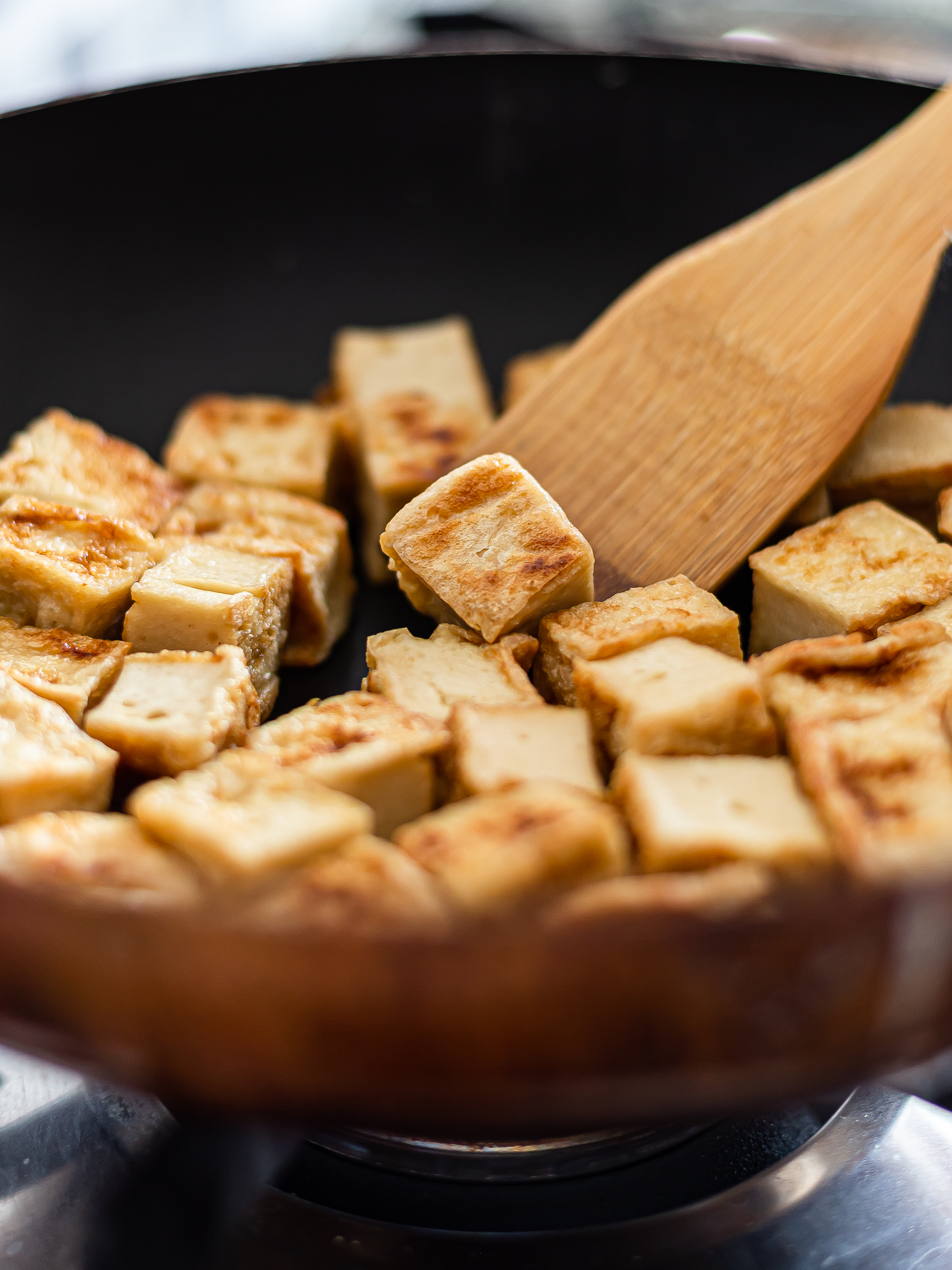 Step 3
Now let's make the garlic honey glaze for the tofu.
In the same pan, heat the remaining oil with minced garlic, finely chopped or grated ginger, and thinly sliced red chillies.
Sizzle them for a minute over medium heat until fragrant (1).
Then, tip in the honey, the remaining 2 tbsp of soy sauce and 70 mL of water.
Stir and bring the sauce to a boil, then simmer it for 2 minutes (2).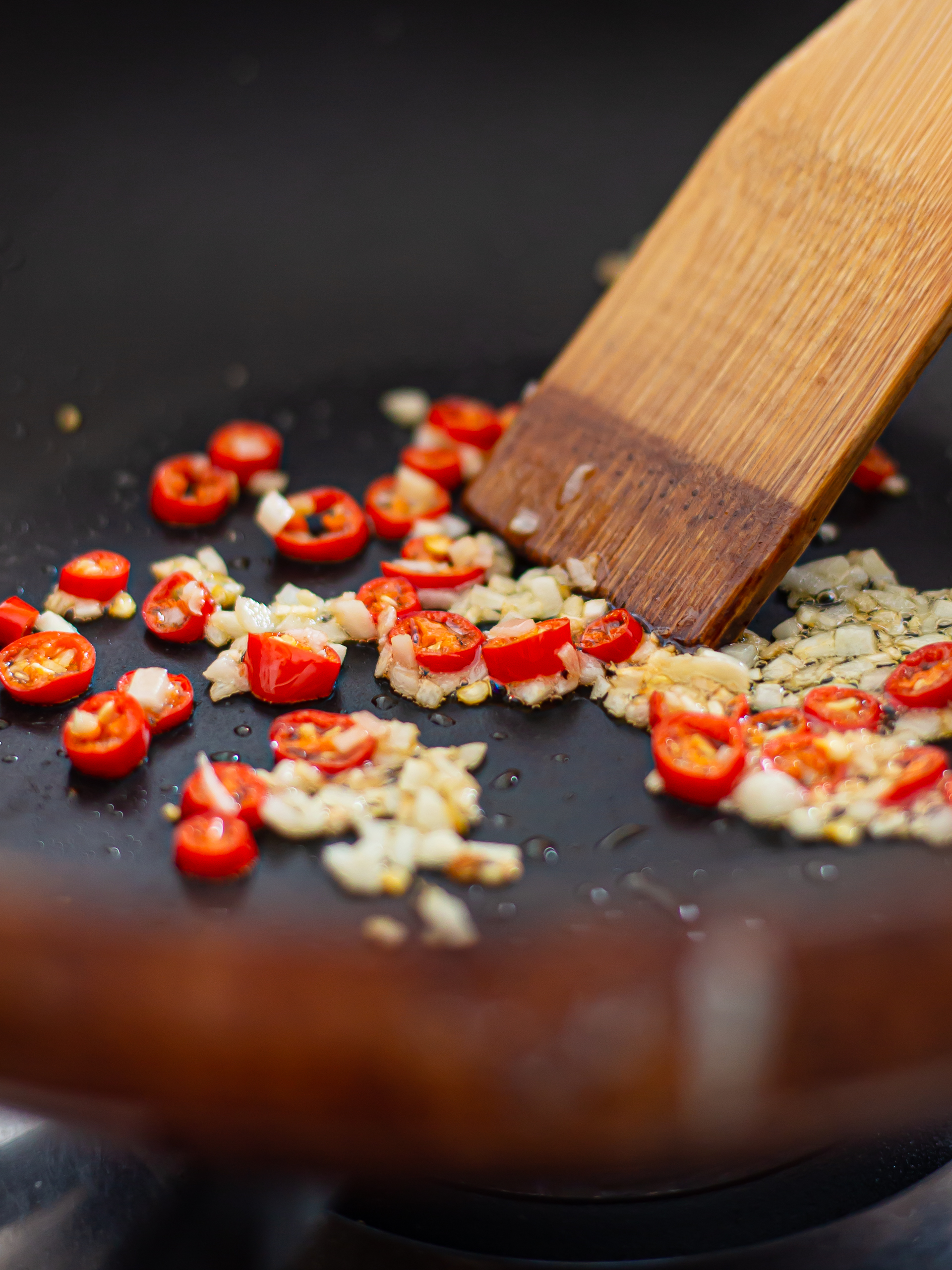 1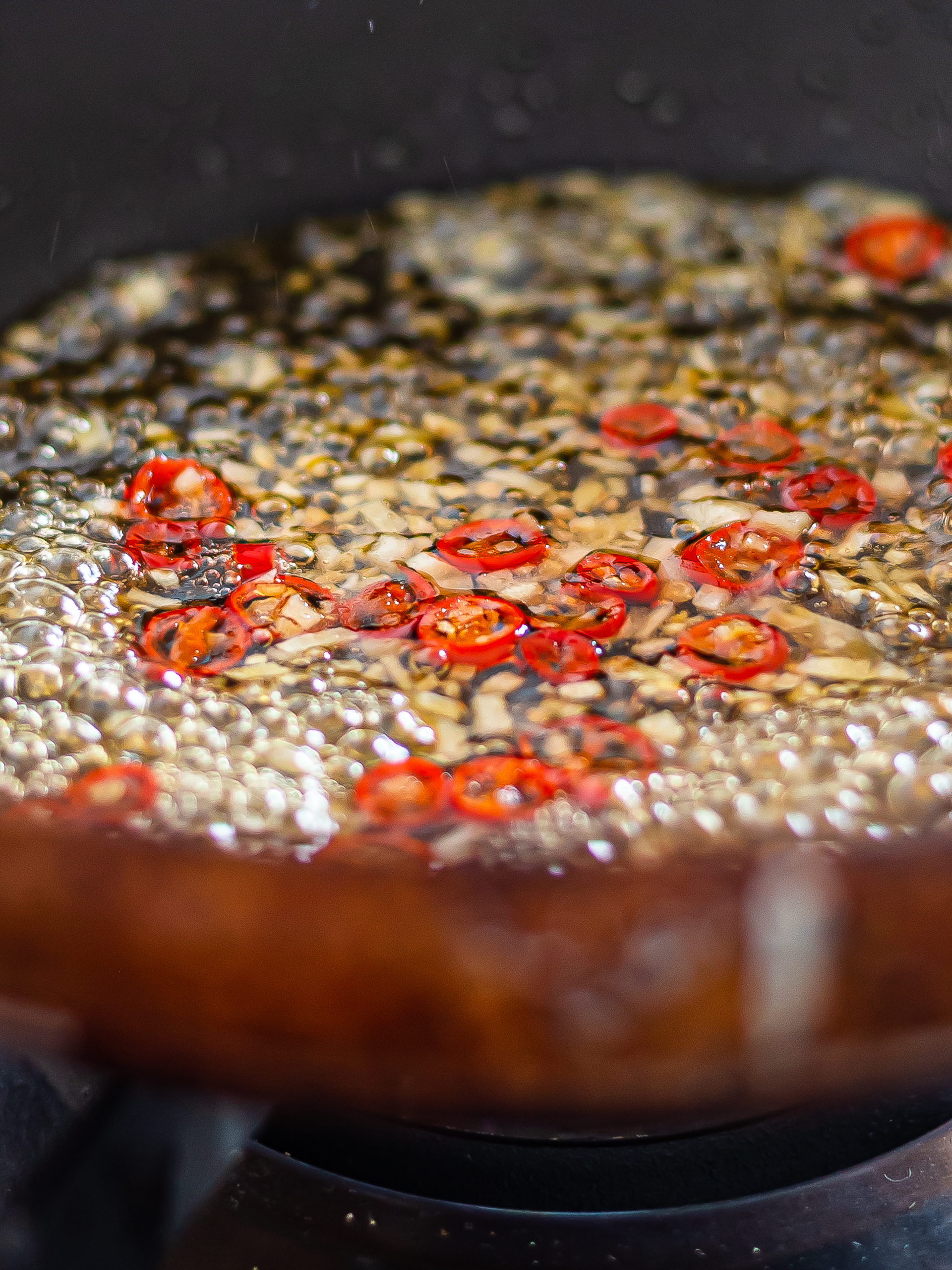 2
Step 4
Now, add back the seared tofu bites and stir well to coat them evenly with the honey sauce.
Keep cooking and stirring the tofu over medium-high heat for 2 more minutes.
You want the sauce to reduce to a glaze, the honey to caramelise, and the tofu to get nicely golden brown.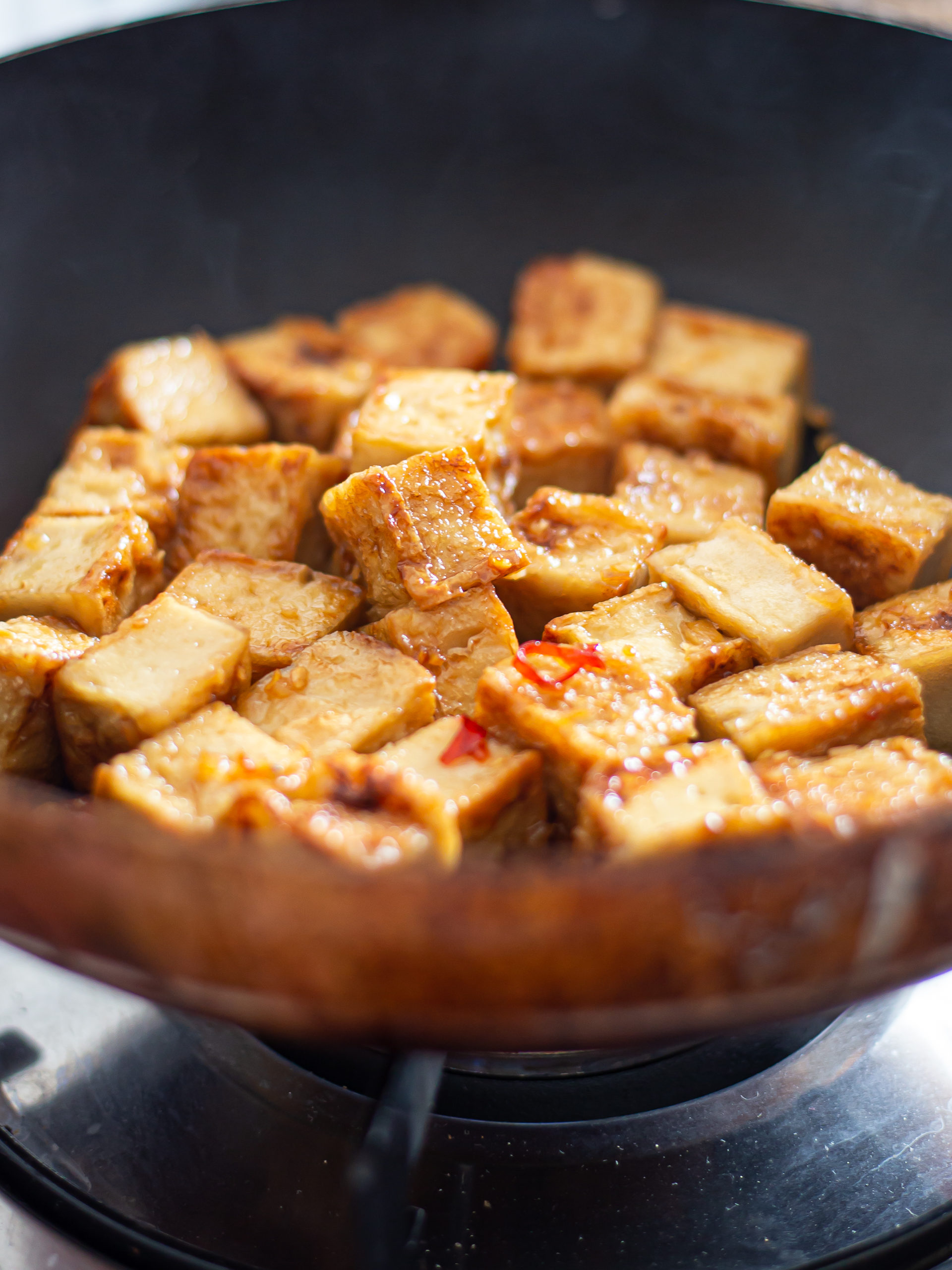 Step 5
Your spicy honey-glazed tofu is ready!
Optionally sprinkle it with roasted sesame seeds and chopped scallions.
Enjoy it piping hot with noodles or rice, plus steamed greens on the side for a balanced meal.
We served these sweet and spicy tofu bites on a bed of steamed rice with wakame, cucumber, and lime.
But you can add them to a noodle stir-fry, like this glass noodle pad Thai or Korean japchae.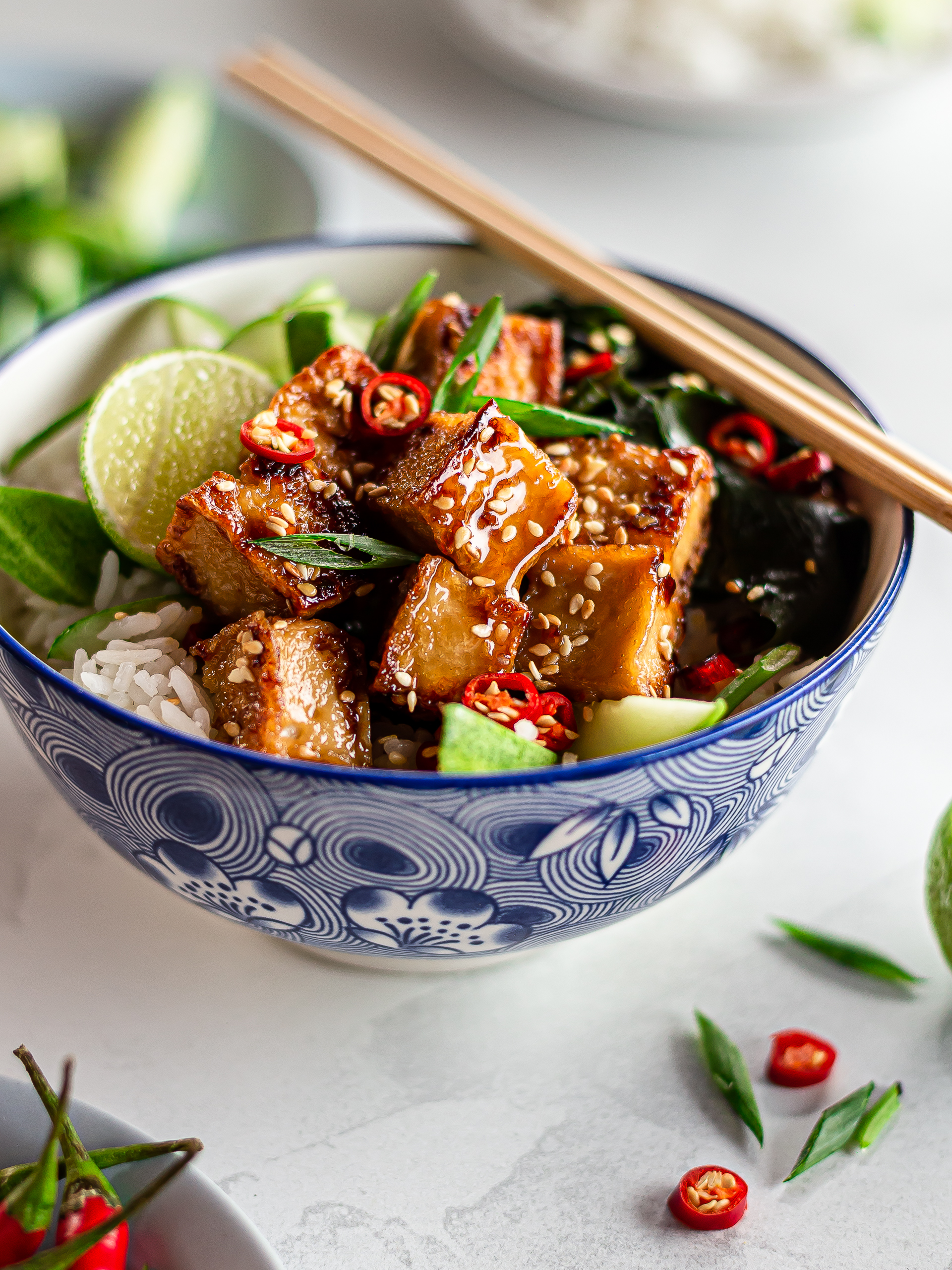 Tips
Swap vegetable oil with sesame oil in the garlic honey sauce for an intensely roasted, nutty flavour.

Tip a few roasted cashews in the honey glaze sauce for a nice crunch and extra flavour, as we did this in this Thai cashew tofu stir-fry.